Denver is a foodie hotspot and the brewery capital of the U.S. Their caffeinated liquid isn't bad either.
Denver, Colorado is the cultural hub of this outdoorsy U.S. state. This up-and-coming urban destination attracts numerous visitors annually. In fact, a grand total of 31.5 million people make their way to Denver on average each year. The incredible nearby Red Rocks Amphitheatre is a world-renowned concert venue. This place also happens to be the largest outdoor amphitheatre in the nation. No matter what you plan to do in Denver, make sure you plan plenty of time to eat and drink. If you enjoy a nice cold glass of freshly poured craft beer, then Denver is going to be your best friend. The city is part of the Denver Beer Triangle, in addition to Boulder and Fort Collins. At an astonishing 72, this part of the state ranks as the number two destination with the most breweries per capita. If day drinking is not your thing, rest assured you can compensate with some incredible caffeinated liquid as there are also numerous best coffee shops in Denver.
Denver has over one hundred coffee shops throughout the city, making it easy to snag a cup of coffee, but hard to narrow down which is best. There are also numerous factors that go into the decision process such as location, menu options, and seating availability. Fortunately Denver is a laid back city, which means it will not be a challenge to find somewhere to relax with a good caffeinated beverage. To ease this process even more, we have narrowed down the city's selection into a list of the 10 best coffee shops in Denver.
Make these top 10 best coffee shops in Denver a priority when you visit here.
1. Crema Coffee House

Credit: Crema
Crema Coffee House continually ranks as one of the best coffee shops in Denver, and once you visit here, you will see why. This eclectic café has an artsy interior, with exposed brick walls and funky décor. Try Crema's sweet potato waffles for a delicious coffee paring and the perfect brunch. Crema Coffee House is right in central Denver, so you can stop here during that shopping spree. There are two locations right on Larimer Street, with one right inside Denver Central Market. This ideal location leaves you right in the center of all things fun. There are numerous local musicians who spend plenty of time inside Crema Coffee House just working on their next masterpiece.
2. Black Eye Coffee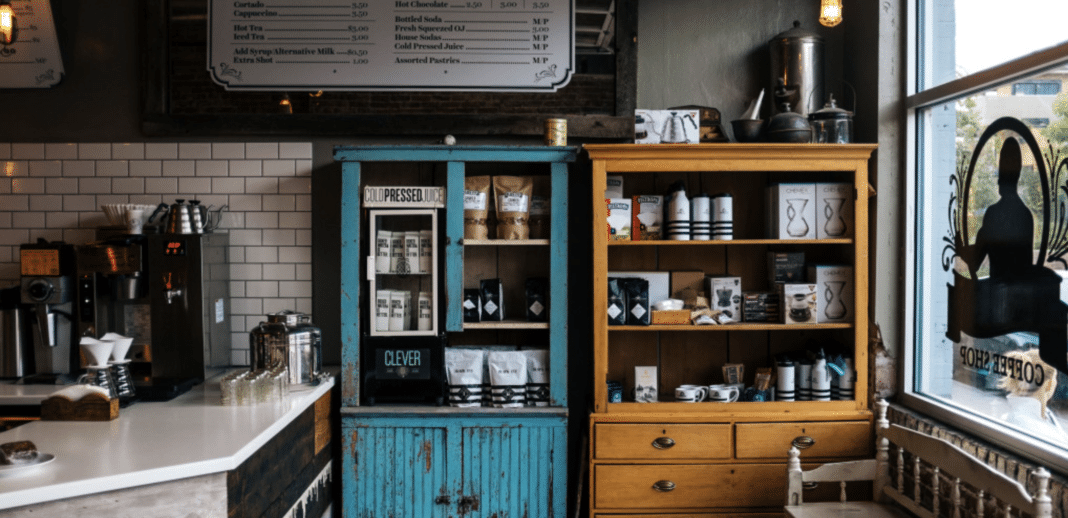 Credit: Black Eye Coffee
Don't let the name intimidate you; this classy venue is the perfect place for a coffee date. Right within a North Denver neighborhood, Black Eye Coffee has a rich history. In fact, this particular location was actually a combination live theater and bar in the early 1900s. Here, the Coors family hosted performances and sold their frothy brew, which earned their name. As time went on, this portion of North Denver retained its prominence during the Prohibition era, where speakeasies ran amok. Knowing this offers an entirely new level of character and charm to this café experience. With that being said, the coffee here really does pack a punch.
3. Thump Coffee
Good morning Denver! Come surround yourselves with coffee, plants, and natural light. Be productive or just chill with us, we're here for ya!
[tcb-script async="" src="//www.instagram.com/embed.js"][/tcb-script]
Thump Coffee is the ultimate hipster minimalist dream. You'll know it when you see it, because of the big red logo on the outside of the brick corner building. Right in the heart of Capitol Hill, Thump Coffee has quality brews waiting for you on the daily. Thump Coffee also roasts their own coffee and espresso beans, which they source from all over the world. Enjoy the unique flavor notes in your brew, such as graham crackers, raisins, and lemon meringue. They also serve fresh pasteries at the counter so you can snag the perfect paring to go with your brew. In the name of all things trendy, Thump Coffee also offers local beer and kombucha on tap.
4. Huckleberry Roasters
Credit: Huckleberry
Relax and unwind for a while at Huckleberry Roasters. They have been here roasting since 2011, and easily rank as one of the best coffee shops in Denver. The environment of Huckleberry Roasters simply oozes creativity. Marvel at the colorful walls and bright ambiance of the café interior. Chat with the friendly and knowledgeable baristas as you wait for them to brew you a cup of delicious freshly roasted coffee. The clear windows inside give you a little behind the scenes peek at Huckleberry's roasting process. Their beans are regularly roasted on site and distributed daily. Overall, this large café space allows for maximum chill, and not to mention, perfect parking. Enjoy the numerous parking spaces in the back, where you won't have to stress about city parking for a while.
5. Amethyst Coffee
[tcb-script async="" src="//www.instagram.com/embed.js"][/tcb-script]
Amethyst Coffee is all about taking care of people and creating a space where you can freely connect, all over a good cuppa joe. They avidly advocate for equality and peace. Really, everyone is welcome here. The women owned and operated café ranks high on the list of best coffee shops in Denver. Amethyst Coffee is situated right next to an art deco theater, which of course adds to the creative juices. This café regularly serves coffee beans from Commonweath Coffee, a local roaster, with a rotating out-of-state roaster each quarter. There is also an alcoholic beverage menu, as well as an array of lighter fare available to order. You will surely be captivated with Amethyst from the moment you stroll through these shiny glass doors. The all female workforce here shines through in the calculated décor, with a splash of everything nice.
6. Purple Door Coffee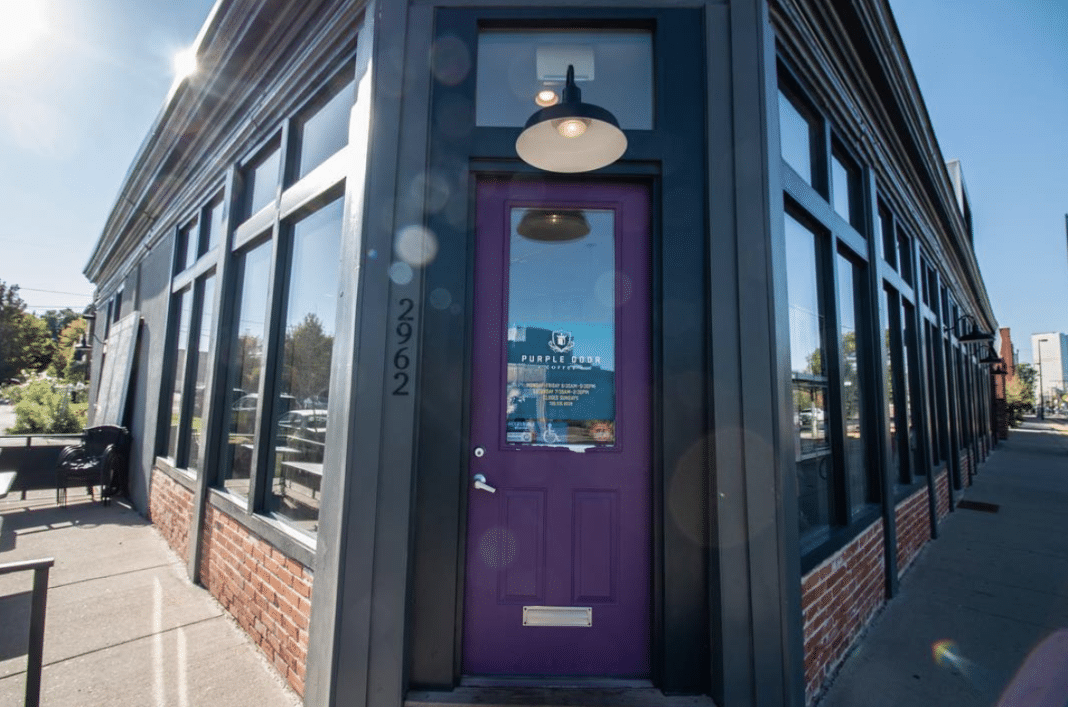 Credit: Purple Door
You will surely not miss this coffee shop as you stroll through the streets of Denver. The café venue is quite hard to overlook, with its iconic purple door. Purple Door Coffee offers specialty espresso and a quality coffee bar. The coffee tastes a bit sweeter too, as your coffee funds are going to a good cause. Purple Door Coffee is dedicated to employing teens and young adults who are fighting to beat homelessness. Their coolness does not stop there. This café's door is purple for a reason, not just because it is a rad color. Purple Door Coffee serves to represent the color of royalty, as this color so resembles. In their own words, "We truly believe that every person, no matter their station in life, has unsurpassable worth and value and deserves to be treated like royalty." Now that is a good cup of coffee.
7. Prodigy Coffee House
Prodigy Coffee House is special because they are more than just a café. The craft coffeehouse and apprenticeship creates a space to teach adults critical life skills. As the name alludes, Prodigy Coffee House is purposed to help shape the next generation of world influencers. With the Prodigy Apprenticeship, young adults have the opportunity to learn about life and the coffee craft over the course of a year. This healthy and compelling learning environment is ideal to build excellent mindsets and teach valuable skills that these adults need in the workforce. Of course with all of this coffee training, you can bet that your coffee will not disappoint. Come check out one of the best coffee shops in Denver, and maybe learn a thing or two.
8. The Molecule Effect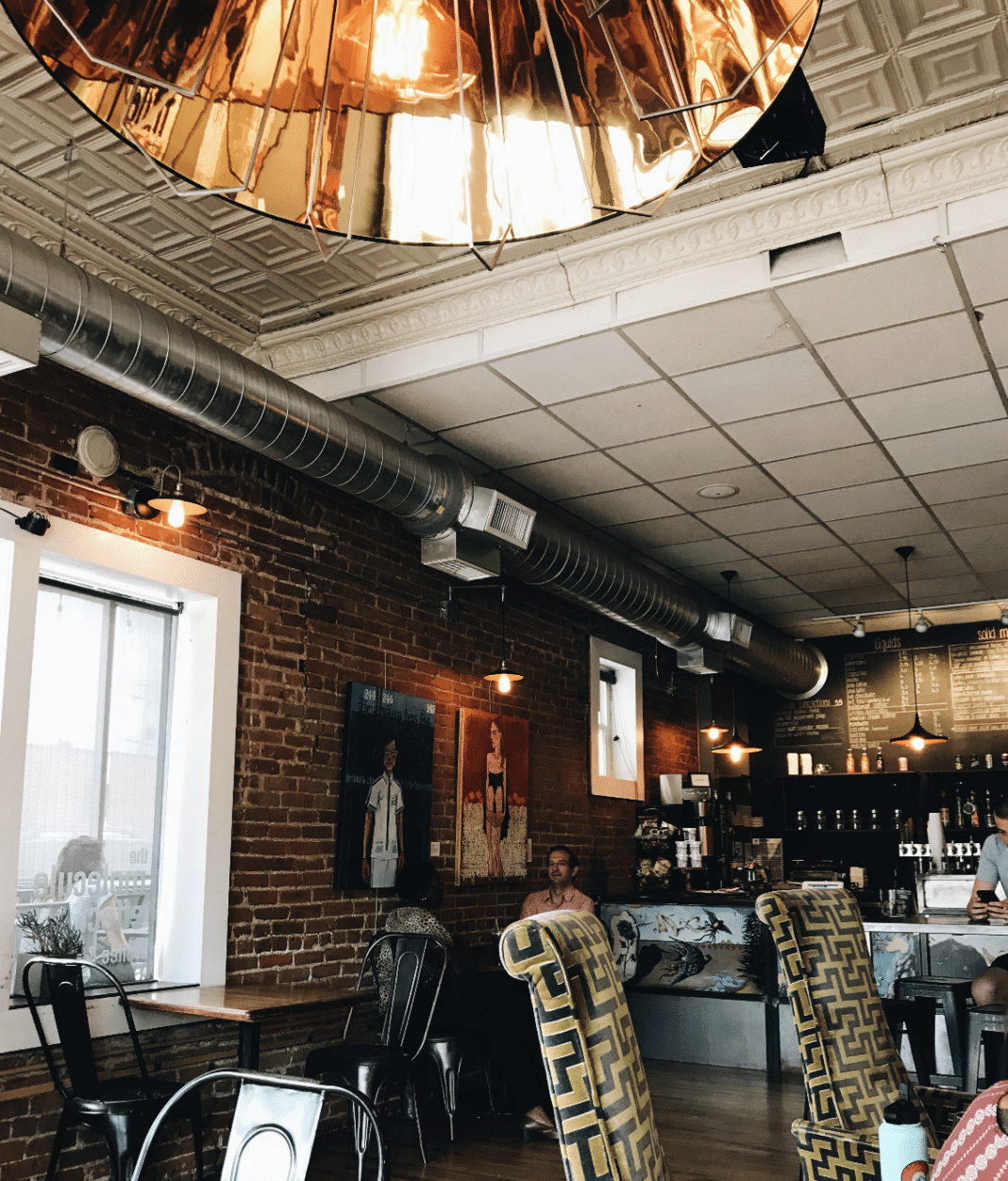 Credit: Faith Walls
Is it a café or is it a bar? Well actually, it's both. This quirky joint is a dwelling place for the local creatives. Right on Santa Fe, in Denver's Art District, The Molecule Effect is changing the café game. With the fresh menu offerings, you have everything you need to get you through all parts of your day. Here, the goal is to integrate art and Denver's local culture. Correspondingly, the eclectic café vibe, velvet lounge sofa, and daring wine selection all scream Denver. Spend a few hours here just reading a book or chatting with a stranger, which could very likely happen. There is just something about this vibe that makes people that much friendlier.
9. The Bardo Coffee House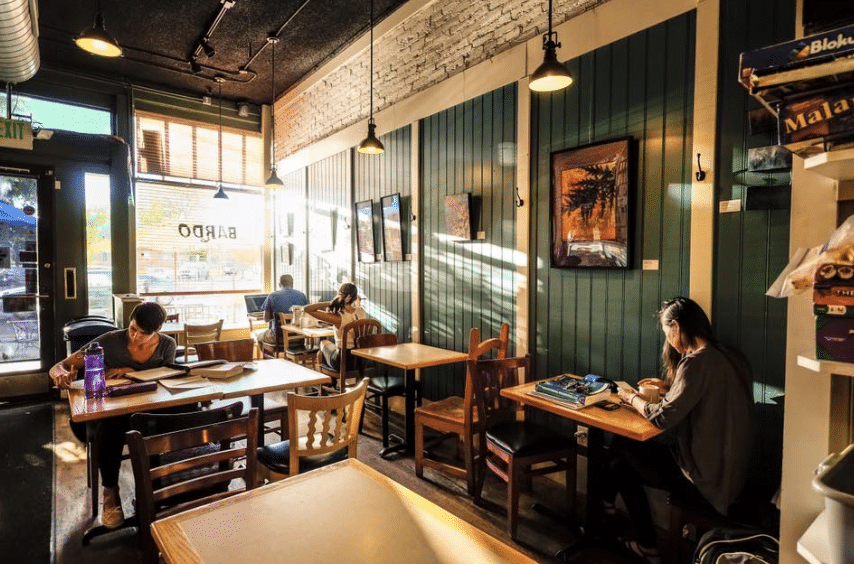 Credit: Bardo Coffee House
This late night coffee café is a quaint little joint where you can get your caffeine fix any time of the day. The Bardo Coffee House is open early and they don't close until late, midnight as a matter of fact. If you are looking for the best coffee shops in Denver to get some major work done, then Bardo Coffee House is where you need to be. This café is quite spacious, with ample seating all around. Head up the counter to order a coffee and snag a loyalty card for later. The two Bardo Coffee House locations are both excellent venues for relaxing or working. Their relaxing lighting and quaint features such as a faux fireplace and shelves of books help keep the vibe cozy. There won't be any nodding off here though, as that cup of coffee will keep you awake.
10. Little Owl Coffee
[tcb-script async="" src="//www.instagram.com/embed.js"][/tcb-script]
Little Owl Coffee is certainly one of the best coffee shops in Denver, but it is also one of the cutest. This café boasts a fresh design, with its marble splashed walls and wood paneled ceiling. What it lacks in square footage (only 380 square feet!) Little Owl Coffee makes up for in charm. This café is situated right on the first floor of the SugarCube Building. These high-end condos and apartments are expertly designed by the iconic architect Bruce Kuwabara. The owner of Little Owl Coffee wanted to create something completely unique to Denver with her café. A simple glance around at the aesthetics within this venue reassure that visitor that she did just that. This well lit collaborative space simply oozes positivity. The minimalist appearance make for the coolest spot to simply sit and enjoy some great coffee. Little Owl Coffee is a proud sourcer of MiddleState, an excellent local Denver roaster. This coffee roastery offers beans sourced from top locations around the globe.
These top ten best coffee shops in Denver are sure to hit the spot.
How do you feel about visiting Denver now? If anything, you are probably realizing just how much you could go for a good cup of coffee right about now. Well, hurry to Denver, because their coffee game is almost too strong. Explore the best coffee shops in Denver at your leisure and allow yourself to try something new at each place. With these coffee shops for good causes and excellent creative spaces, it is hard to leave here uninspired. Stop by Purple Door Coffee to support the fight against homelessness and then spend a few hours inside Huckleberry Roasters as you create something amazing. During your time in Denver, also leave plenty of room to brewery crawl and try different restaurants. You really can't go wrong taking a brewery tour or two here either. Like we said, the food and drink here is simply perfection.
Related Article: 10 Best Coffee Shops In DC For Millennials