When it comes to rainy day destinations, it's important to have the best travel umbrella.
Unless you're planning a trip to Dubai, it's always smart to plan for some rain. The fall season brings a lot of showers with it and its best to pack for it. The best travel umbrella should be small enough to fit into your everyday tote bag or backpack. It also needs to be durable enough to withstand the jolts and jostles of travel. Some styles are built to withstand high winds while others are constructed from materials like fiberglass. To take the guesswork out of it, we've searched, tested, and tried them out so you don't have to.
Here Are Our Picks for the Best Travel Umbrella Styles
1. Repel Windproof Travel Umbrella with Teflon Coating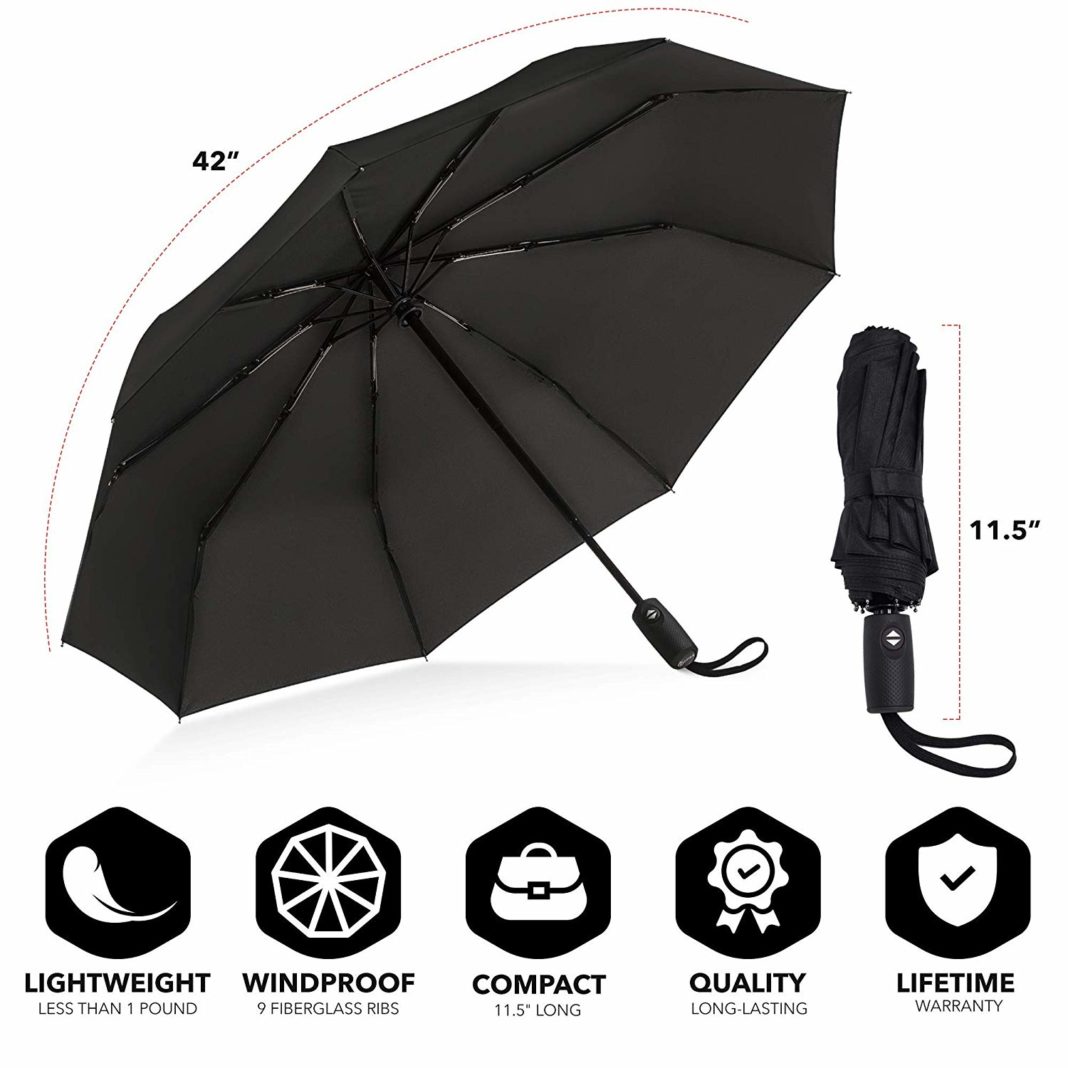 Compact, stylish, and wind defying, Repel sets the bar higher. Their umbrellas are designed with you in mind and built to provide the ultimate comfort in any weather condition. Measuring in under one foot long and weighing less than one pound, they are super easy to store. That's what makes it the best travel umbrella for adventurers. You can easily store it in your purse, briefcase, backpack, and more.
Unlike most standard umbrellas, the Repel Windproof Travel Umbrella is designed with 9-resin-reinforced fiberglass ribs. These ribs bend ever so slightly under the pressure of wind without that annoying turning inside out problem. It's easy to see the quality of workmanship. Thanks to the three-fold chrome metal shaft and frame, you can enjoy greater stability in even high winds. In addition, it has an automatic open and close function, state of the art Teflon water-repellent technology, and a slip-proof handle. With a rubberized wrist strap, it's easy to carry and hold.
Tech Specs:
Automatic open and close function

11.5 inches long

1 lb.

check

Wind-defying construction

check

Superior water repellency

check

Quality workmanship

check

Lifetime replacement warranty

check

Rubberized wrist strap
2. Rain-Mate Compact Travel Umbrella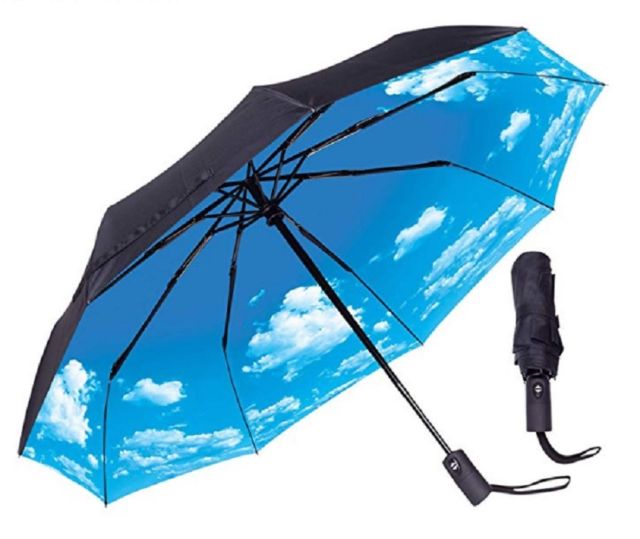 Is the Rain-Mate Compact affordable? Yes. Is it cheaply made? No. If anything, this wind resistant umbrella is heavy duty. Put it this way. You will be ready to handle whatever nature may bring. Enjoy extremely durable construction, an automatic open and close mechanism, and peace of mind. This very well could be the last umbrella you will ever need.
Why do we love this style so much? Well, for one, it's just the right blend of size, strength, and durability. Since it's both waterproof and windproof, you can rest easy knowing you will stay dry and warm on your travels. When you are out and you're on the move, this could very well be the best travel umbrella to have.
One of the things we appreciate the most about this umbrella is its portability. The 42" canopy collapses down to only 12" in length, making it an ideal choice for the minimalist traveler. Simply use the touch auto button to open and close it. You won't have to deal with the annoying folding of the traditional umbrella anymore. So, you can keep one hand free at all times and avoid those annoying finger pinches.
All in all, you get the very best of nature's elements. It's all wrapped up in a compact-size umbrella that fits anywhere you want it to. Keep it in your car for those random rain showers, take one on the road with you, and carry it on the plane. Sure, bulky umbrellas seem like a good idea in theory. But just wait until your wrangling it – trying to turn it back right side in during a high wind while holding a cup of hot coffee with the other hand. It can soon become a mess. Skip the hassle and get this umbrella from Rain-Mate. It's really that easy.
Tech Specs:
Windproof Design

Indestructible canopy

Lifetime replacement guarantee

check

Folds down to 12" for perfect travel size

check

Affordable

check

Durable construction

check

Automatic open and close button
Tiagogear Windproof Travel Umbrella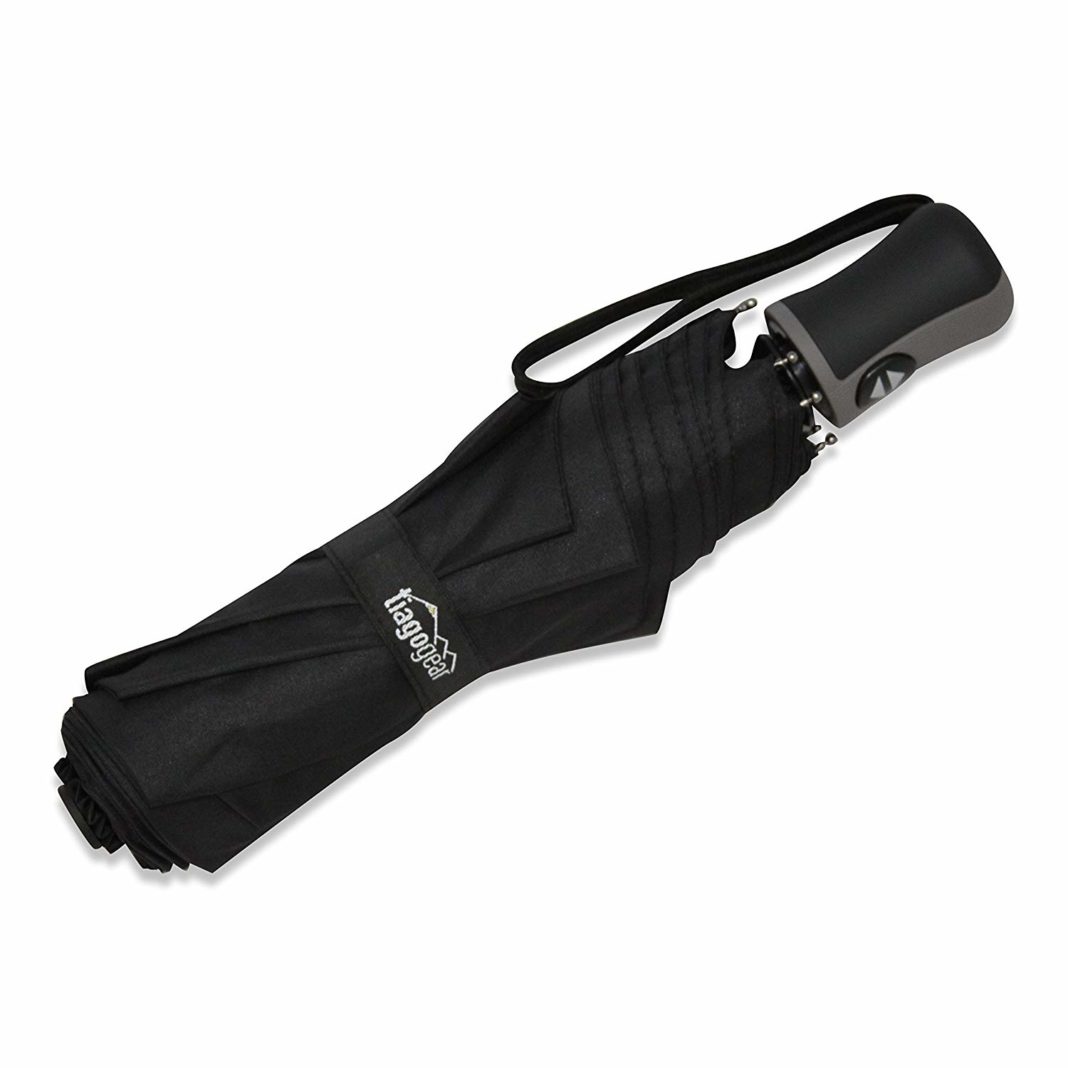 Looking for the best travel umbrella? The Tiagogear Windproof Travel Umbrella presents a great option. Measuring in under eleven inches and weighing in less than one pound, you can easily store it in your car's glove compartment, purse, or briefcase. Always be prepared. With an easy to use design, you can open and close your umbrella with the single touch of a button. Don't be fooled by the sticker tag. Despite the affordable price, the 9-ribbed frame is built to withstand wind speeds up to 60 mph. This quality guarantee is backed by the company's lifetime warranty guarantee.
Tech Specs:
Convenient 1-touch button open and close

Compact and lightweight

Under 11 inches long

check

Under one pound in weight

check

Durable

check

Windproof design

check

High quality canopy
4. Bodyguard Travel Umbrella
If you're looking for the best travel umbrella, you've found it in this style from Bodyguard. While there are plenty of umbrellas on the market that offer windproof capabilities, this one takes things up a notch. With ten fiberglass ribs, you can minimize the risk of your umbrella turning inside out on a windy day. The strong metal frame allows for greater stability.
When it comes to the fabric, the Bodyguard Travel Umbrella offers a state of the art teflon technology. This means that the umbrella not only repels water but it dries quickly. Let's put it this way. All you have to do is shake the water off. But you don't have to limit yourself to using it only on a rainy day. There are plenty of travelers who take an umbrella with them on sunny days to block harmful UV rays.
It's large enough to accommodate two to three people. Last but certainly not least, it's automatic and super light. Thanks to the auto open and close function, you can operate it with one hand easily. When you're done using it, slide it back into the waterproof leather case.
Tech Specs:
Windproof

Super fast auto and open feature

Convenient one-handed operation

check

Durable stormproof design

check

State of the art Teflon fabric

check

11 inches long

check

Fits 2-3 people

check

Comes with a waterproof leather case
5. EEZ-Y Compact Travel Umbrella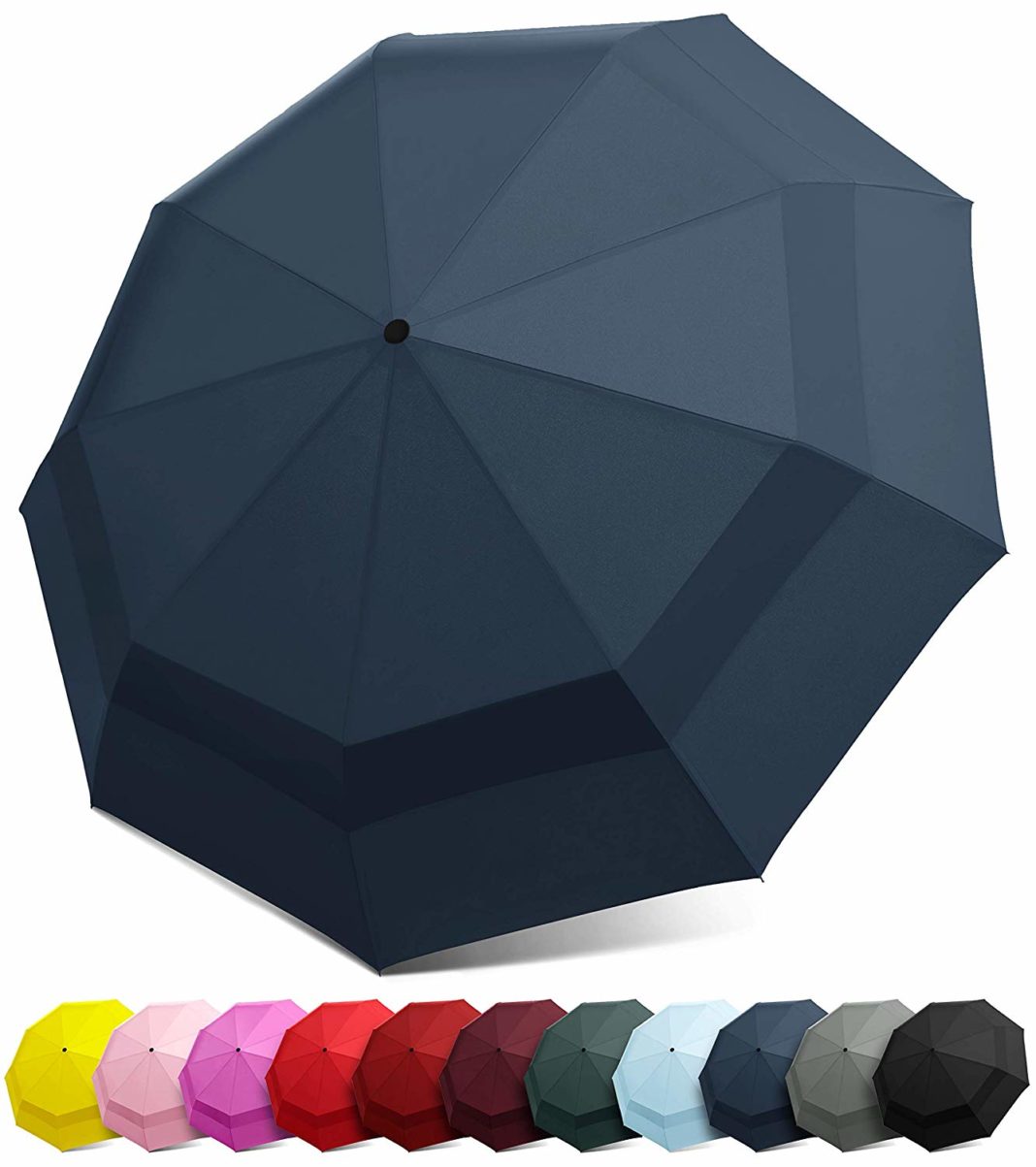 Live life the easy way by planning ahead. While regular umbrellas can easily get flipped inside out of bent by the wind, the EEZ-Y Compact Travel Umbrella stands strong. With a double vented canopy construction, wind passes through the vents, preventing it from flipping over or breaking. Here's the best part. You won't have to replace your umbrella every season.
Unique frames of durable fiberglass and stainless steel support the structure. With nine fiberglass ribs, you can ensure wind resistance of up to 55 miles per hour! You no longer have to choose between protection and portability. Despite its durable structure, the EEZ-Y Travel Umbrella is surprisingly lightweight and compact. You can have the best of both worlds. It is foldable down to eleven inches, an easy size to slip into any backpack or tote bag.
EEZ-Y strongly believes that an umbrella should be easy to use. That's why their styles have a fully automated, one-hand operable system. Open or close your travel umbrella with the simple push of a button. Enjoy quick rain or sun protection whenever you need it most. But you don't just have to take our word for it. Try it out. Their lifetime guarantee ensures that you can test out the product. For the first 90 days, they will offer a full refund in the event that it doesn't meet your expectations. And you will enjoy a replacement warranty for the lifetime of your purchase.
Tech Specs:
Vented double canopy construction

Windproof up to 55 mph

Durable fiberglass and stainless steel structure

check

9 fiberglass ribs

check

Lightweight and portable

check

Foldable down to 11"

check

90 day refund policy

check

Lifetime replacement warranty

check

Lightweight and compact
6. Glamore Compact Travel Umbrella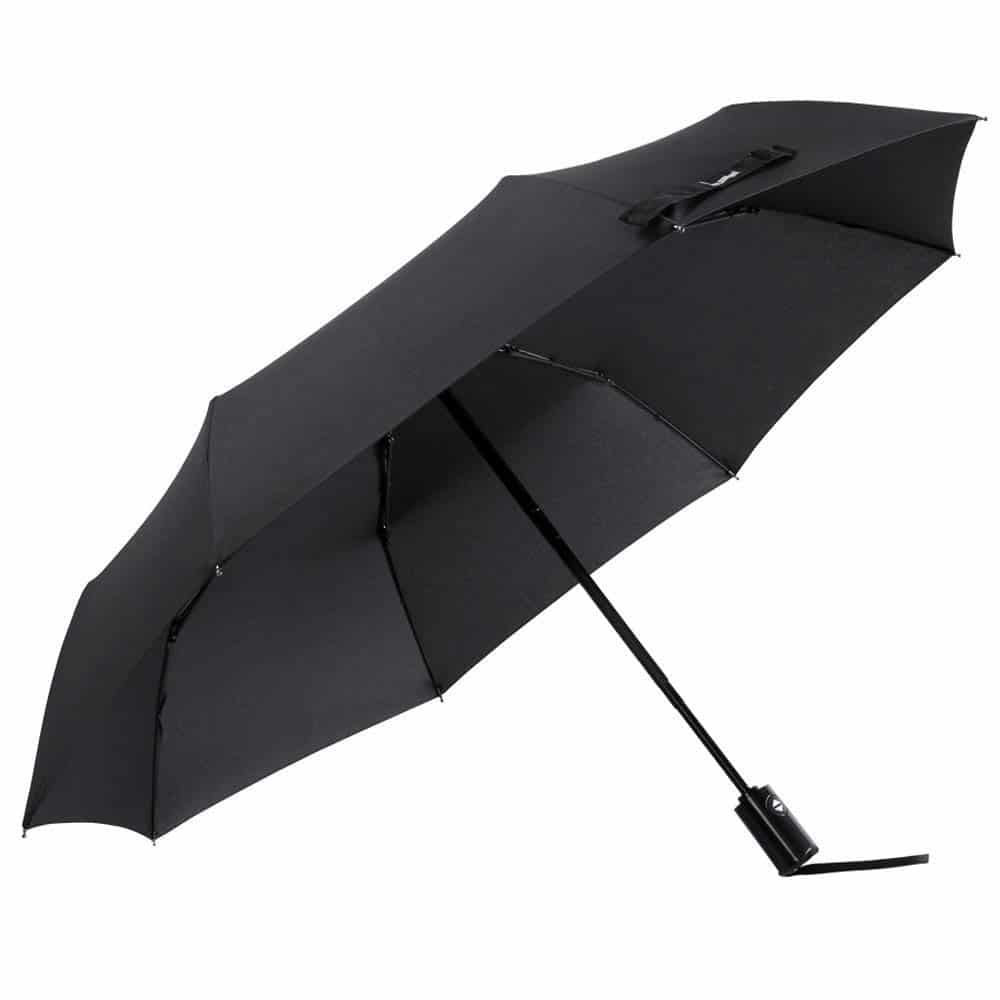 You can bring this Glamore umbrella with you wherever you go. The simple open and close function allows you to operate it with one hand. So when you're running to catch the bus and trying not to spill your coffee, you can still shield yourself from the rain. At an affordable price, the Glamore Compact Travel Umbrella offers a sturdy style with teflon coating, wind protection, and long lasting reliability.
One of the most unique features it has to offer is as simple as its shape. With a Memory Flex frame, the umbrella redistributes wind force by intentionally flipping inside out. With a simple movement, it is easily flipped back to the original shape. Furthermore, it is guaranteed for 600 opens, and has a company guarantee for replacement should a problem occur.
Even more impressive its ability to stand up to 60 mile per hour winds. A strong chrome plated alloy frame and eight fiberglass ribs offer both mold resistant and water repellent materials. When you are finished using it, there's no hassle with a wet, oversized umbrella. Simply shake off the rain and store it away. The compact size makes it easy to store into an oversized purse or travel bag.
Tech Specs:
Teflon coating

Wind protection up to 60 mph

Redistributes wind force

check

Guaranteed for 600 opens

check

Chrome plated alloy frame

check

8 fiberglass ribs

check

Mold resistant and water repellent

check

Compact size makes it easy to store away
What to Look for in the Best Travel Umbrella
When it comes to choosing the best travel umbrella, there are several things you should consider. First, make sure that the material and construction are strong. Second, you want a waterproof and weatherproof design. Lastly, make sure the umbrella is portable (aka small enough to pack into a carry-on bag). After you narrow down your options to ones that meet these criteria, you'll know you are making a good purchase. Whether you're prepping for a rainy adventure in Ireland or blocking a little sun in Barbados, a good travel umbrella will serve you well.
Related Article: 17 Best Coffee Accessories You Need in Your Life