Sip your favorite drink from a Contigo Autoseal Transit Mug.
If you're someone who travels often, you could benefit from a functional travel mug. You can take drinks on the go, like coffee and iced beverages, and enjoy them as you move. These mugs allow you to sip on your favorite beverages all day long, no matter where you are. However, not all travel cups have the same quality and capabilities. Some mugs won't keep drinks warm, and leak liquids at the slightest movement. Thankfully, the Contigo Autoseal Transit Travel Mug has everything travelers need in a portable drinking container. Check out our article below to read all about this top-notch product.
Contigo Autoseal Transit Stainless Steel Travel Mug Features & Benefits
Insulating Elements
Travelers searching for a mug to keep their coffee warm need products that maintain optimum temperatures. Often, travel mugs claim that they can keep drinks at a certain temperature, but don't live up to those promises. This leads to frustrations, as users will have to sip on lukewarm drinks or buy a new mug. You don't want to waste time and money on products that fail to provide you with what you want. Thankfully, you can find mugs that do maintain the ideal drinking temperatures for hours.
With the Contigo Autoseal Transit Travel Mug, travelers can drink hot coffee hours after they've made their brew. The Contigo Thermalock Vacuum insulation helps keep beverages at the preferred temperature for longer. This mug keeps warm drinks hot for seven hours, while cold drinks stay cool for 12. You'll get to enjoy your favorite beverages all day at work or while outdoors exploring the landscape.
Easy to Use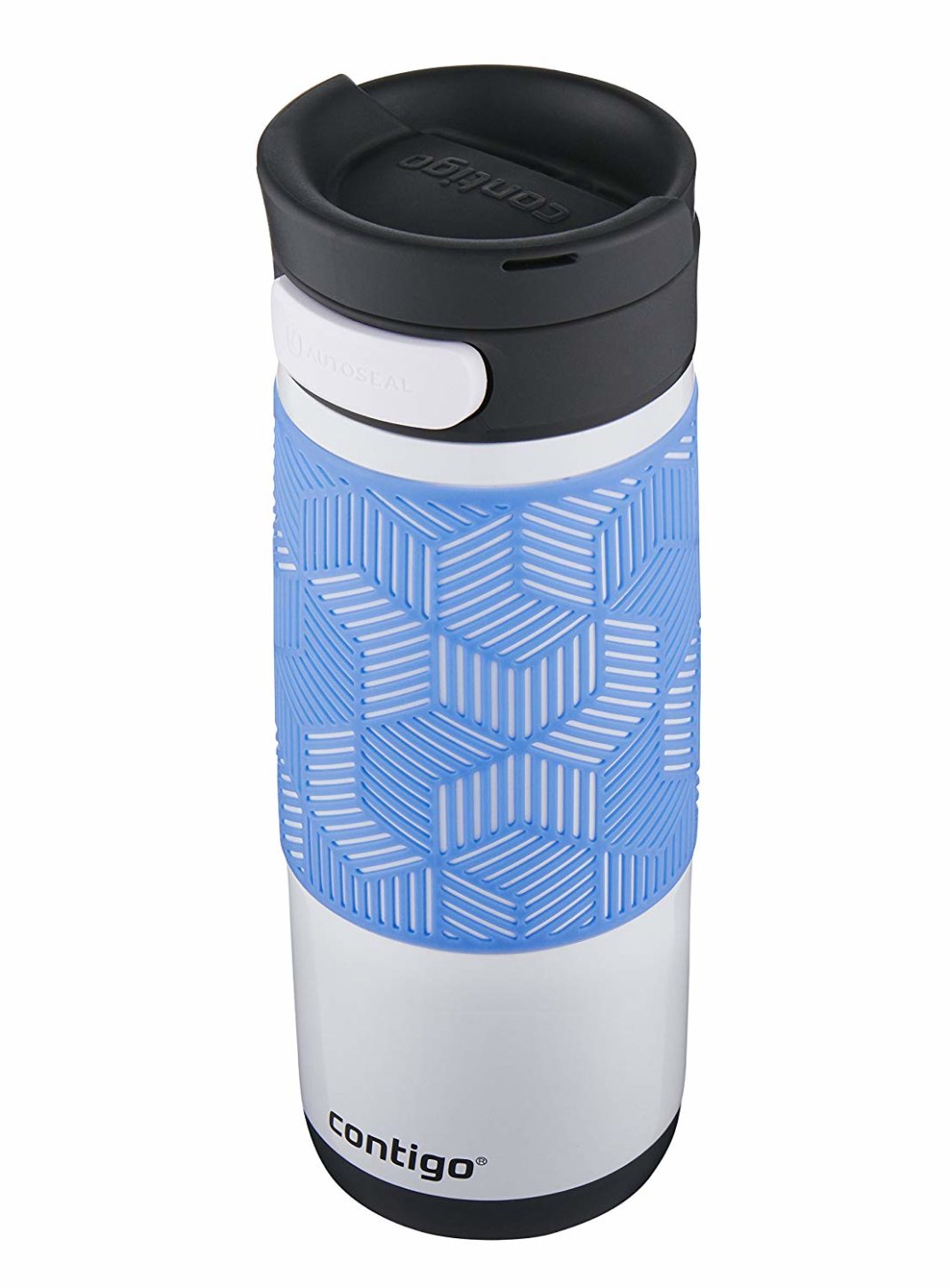 When you're on the go, you need products that fit your fast-paced lifestyle. A lot of travel mugs require you to remove the lid with both hands in order to drink. If you're holding multiple things at once, you'll probably have trouble opening the mug to sip your beverage. Other coffee mugs make it difficult to open the lids due to faulty designs. This means you'll be frustrated as you try to wrench the lid off while you're in a hurry.
The Contigo Autoseal Transit Travel Mug makes it easy to sip on drinks while you're multitasking. Drinking coffee and tea with one hand is made possible with the special design of this mug. A button near the top of the mug allows you to press it and open the mouth spout. This lets you drink your favorite beverages with the simple push of a button. You can sip on warm brews and refreshing sodas while holding items in your other hand.
Leak-Proof Design
Sometimes, certain travel mugs can cause spillage when you try to sip from them. If you're trying to drink while driving a car or walking, leaks can be a huge problem. Many shirts and pants have been ruined by coffee mugs that spill drinks down your front. Travelers don't need to deal with stained clothes while they're working or adventuring through new locations. You might also run into problems with spilling drinks inside vehicles, requiring you to stop and clean your car. Overall, mugs that leak can ruin your day and your travel experience.
The Contigo Autoseal Transit Mug has a unique design that prevents leaks and spillage. A Clean Guard lid rotates in order to lock the Autoseal button lock. This ensures the lid will stay in place after you drink, so you can carry it without fear of spilling. Travelers may throw the mug inside their purse or backpack, and not have to worry about the mug leaking.
Extra Cleanliness Features
Many stainless steel travel mugs require you to spend lots of time handwashing them in the sink. The lids on these mugs may be difficult to remove, making it challenging to clean them. These mugs can get dirty quickly, and leave you annoyed after struggling to wash the products. Additionally, the lids on travel mugs tend to collect dirt and germs. You don't want to sip on dirty lids that can't be properly cleaned.
On the Contigo Autoseal Transit Mug, you can find the Clean Guard lid that protects the spout. This prevents bacteria and dirt from remaining on the lid. You won't be putting your mouth on a dirty spout when you drink. An easy clean lid also makes it simple to take apart the mug and wash it. This lid opens completely, so you don't have to worry about cleaning in awkward spots. There won't be any separate parts to lose either, meaning you can wash the mug worry-free.
Style Options
Lots of travel mugs come in plain designs, like silver or black. While these can be attractive, they don't look very exciting. The simple appearance of these kinds of mugs can get boring after a while as well. Your daily travel mug should make you feel excited and ready to start your day. You also want the mug to match your personal tastes, so it goes with your style.
When you consider the Contigo Autoseal Transit Mug, you'll get to choose from a variety of colors and patterns. Shades such as opaque white and periwinkle and white greyed jade will look vibrant and fun. You'll be able to stand out from so many other basic travel mugs. If you want a more classic look, pick the matte black style mug. The straightforward design should match with countless outfits and looks. Travelers will enjoy carrying these mugs around with them wherever they go.
What Travelers Are Saying About the Contigo Autoseal Transit Stainless Steel Travel Mug
Travelers who purchased the Contigo Autoseal Transit Stainless Steel mug loved how the product kept their drinks warm for hours. Those who brought their mugs to work had a hot coffee even after drinking all morning. The lack of mess while sipping was also a perk, as reviewers didn't spill on themselves while drinking. Multi-tasking could be achieved with ease, with the Contigo Autoseal Transit mug's button for opening and closing the product. Others appreciated the mug's rubber grip, as it prevented the cup from slipping out of users' hands.
Some found that the mug was not very practical for taking into the car and drinking while driving. The reviewers had to tilt their heads back far in order to get the coffee out. A few thought that the Contigo Autoseal Transit mug wasn't as functional as it was attractive. The button could be difficult to press very easily, according to some travelers. However, the majority of reviewers considered the mug to be a great product for drinking while traveling.
Alternative Travel Mugs You May Like
1. Bottlebottle 20 oz Insulated Tumbler Cup Stainless Steel Coffee Mug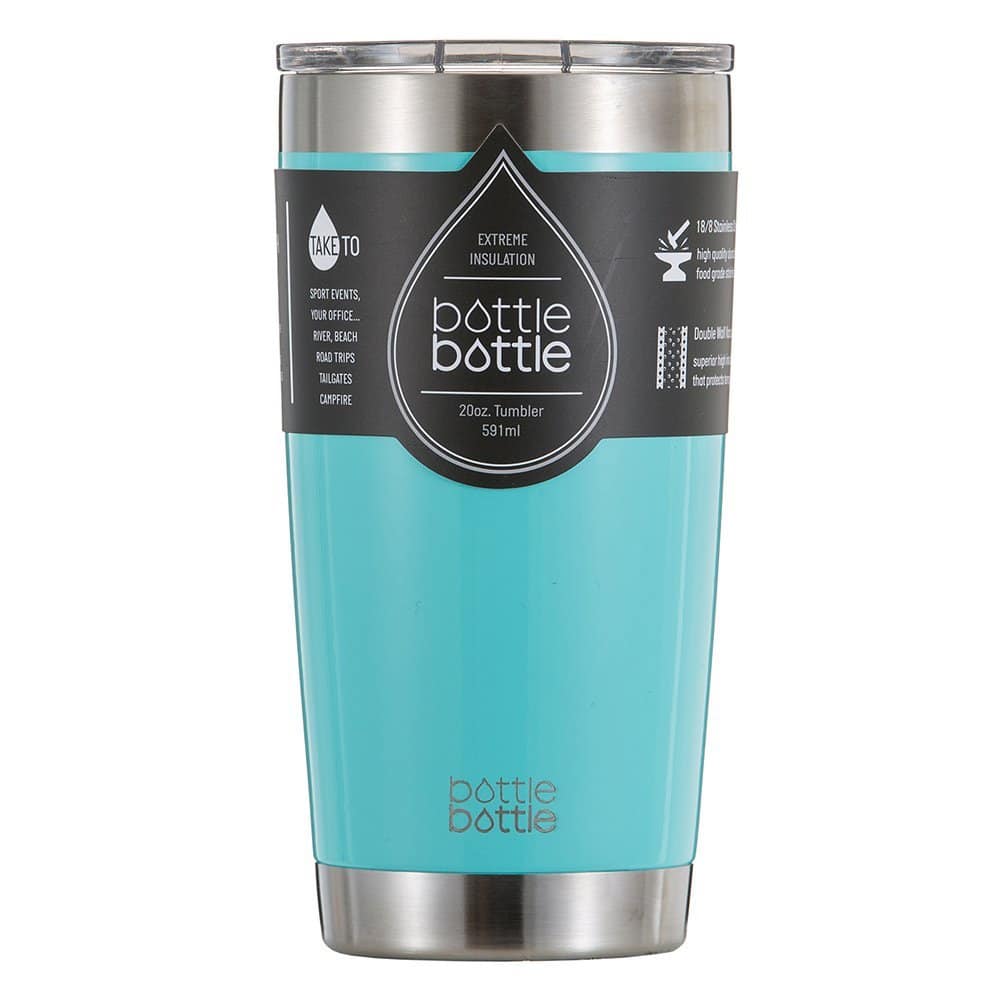 If you're searching for a comparable product to the Contigo Autoseal Transit mug, think about purchasing the Bottlebottle Tumbler Cup. This mug promises excellent temperature retention, so your beverages will stay hot or cold for as long as you need. A wide-opening mouth on the mug's lid allows for easier drinking and putting ice inside the product, if desired. With a stainless steel structure, the mug remains resistant to rust and bumps and bruises. A no-sweat exterior prevents condensation from forming on the outside of the mug. This mug's powdered coating also provides a softer feel while holding the mug and carrying it out around. The product even comes in a variety of fun colors, like cotton candy blue, cherry pink, and hunter green. You'll love picking out your favorite shades amongst so many vibrant choices.
2. Ello Cole Vacuum-Insulated Stainless Steel Travel Mug
The Ello Cole Vacuum-Insulated Stainless Steel Travel Mug provides an excellent alternative to the Contigo Autoseal Transit mug. With a vacuum insulated, stainless steel composition, the mug keeps drinks cool for 10 hours or hot for five. The mug has a unique cork base, which provides better stability while the mug remains standing. This base also protects surfaces, like wood, from getting damaged by heat or condensation. The product's unique size fits comfortably in most cupholders, such as those found in cars. A patented slider lid enables easy transport and prevents liquids from leaking. The entire mug has been crafted without BPA and other dangerous chemicals, meaning you can drink with peace of mind. In order to clean the mug, you can simply throw the mug along the top rack of a dishwasher. Just make sure you don't stick this in the microwave, as it isn't made for that.
3. CamelBak Forge 16 oz Vacuum Insulated Travel Mug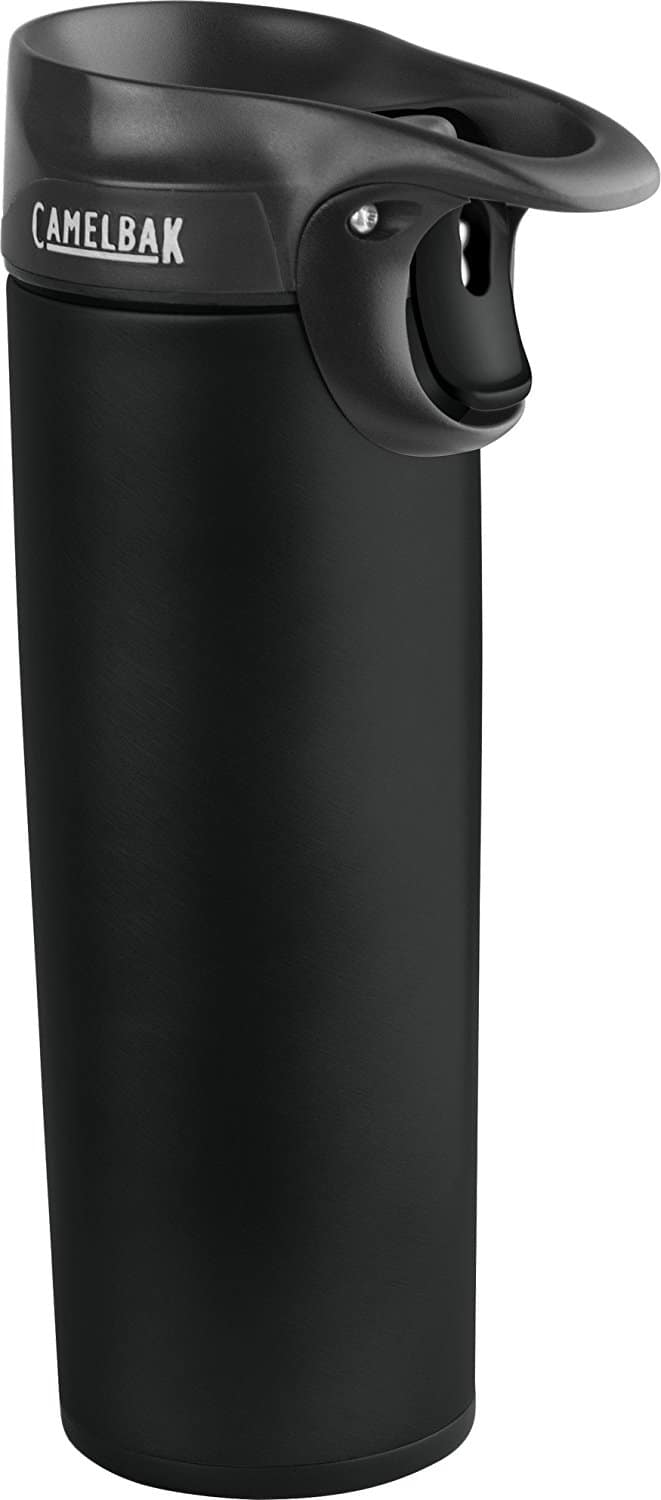 With the CamelBack Forge Travel Mug, you'll be able to bring your drinks with you through all your travels. The mug has a special design that makes it ideal for carrying in backpacks or in hand. Like the Contigo Autoseal Transit mug, this product has a stainless steel composition. A leak-proof, self-sealing cap also prevents liquid from spilling out as you travel. This mug's cap remains easy to remove and clean, so you can wash it in a cinch. An additional finger carrying loop gives travelers the chance to hold the mug without worrying about dropping it. If you purchase this mug, you'll also have the CamelBak Got Your Bak Lifetime Guarantee. Even if something happens to the mug, you can get a replacement for free, instead of buying a new product.
Carry your Contigo Autoseal Transit Travel Mug with you wherever you go.
Anyone who enjoys drinking coffee or tea while traveling will love a stainless steel mug. These products hold your beverages as you move from place to place, keeping them warm or cold. If you want an excellent product for holding your hot drinks, consider purchasing the Contigo Autoseal Transit mug. This travel mug has many desirable features, from stainless steel insulation to an easy clean lid. Once you start using this mug, you'll never want to put your coffee in anything else. Make the Contigo Autoseal Transit mug the next thing you add to your Amazon shopping cart.
Related Article: Choose the Best Travel Mug for Your Next Adventure | Review