Step into style with the women's Superga 2750 Cotu Sneaker. This style has been featured on countless travel blogs but we're sure you have just one question: are they good for travel? Well, read on because we're putting them to the test. Read on for our Superga sneakers review.
Okay, even if you've never been into the athleisure trend, you've got to admit that the Superga sneakers, particularly the 2750 Cotu, have style. They're not your ordinary athletic shoes you wear to the gym or grocery store.
What Are Superga Sneakers, Anyways?
You might not have heard of the brand Superga before. We hadn't until just a few years ago. This Italian footwear brand is best known for their 2750 Cotu Classic style mentioned above. While the design is over 100 years old, it has been revolutionized with new fabrics, weather-friendly options, and more.
Furthermore, the Superga sneakers look like traditional sneakers – think Keds or Converse. For some reason, they've attracted quite the celebrity following. In fact, Kate Middleton was spotted wearing a pair of Superga sneakers at the London Marathon and a few other places. Maybe the Superga sneakers are the type of shoes you wear if you don't normally like sneakers. Why? The Cotu sneaker is more polished and put together.
How Do Superga Sneakers Fit?
First things first. For the most part, Superga sneakers fit true to size. They are made to run on the narrow side though, so if you have wider foot measurements, we recommend going up a half size. They're also very comfortable; we swear they'll soon become a staple in your daily wardrobe.
Do Superga Shoes Provide Good Support?
Superga sneakers don't have built-in arch support. But that can easily be fixed. Many travelers use a removable arch or gel insole to adjust for their own levels of comfort.
Are Superga Shoes Good for Travel?
The only complaint we have about these shoes is that they're heavy. We recommend wearing them on the plane instead of packing them in your suitcase. When you're packing for your next big trip to Europe, don't stuff heavy, bulky items in your bag. They don't take up that much room but they do add a bit of weight.
How to Wear Superga Sneakers
We're so glad we gave the Superga sneakers a shot. They are great for wearing all day long, even in light rain. These shoes are ideal for mild weather travels, cool summers, and light rain. In addition, they're super stylish and can be paired with just about anything. Don't forget they're celebrity and blogger approved.
Women's Superga 2750 Cotu Sneaker Features & Benefits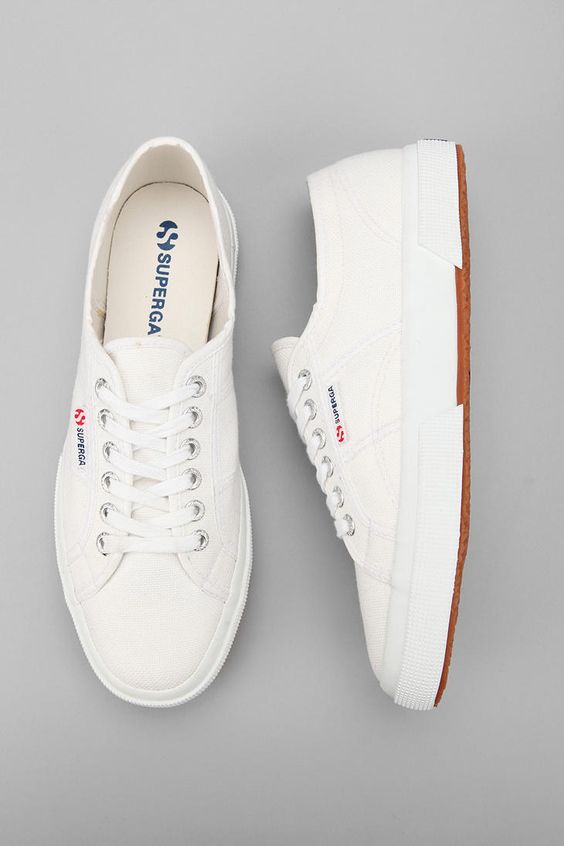 Credit: Amazon
We've already talked about a few benefits of the Superga sneakers. Let's dive in a little deeper.
Stylish fabric and design can easily be paired with many outfits

Minimalist appearance

Heavy, sturdy shoe body

check

Comfortable to wear all day; we recommend adding gel insoles

check

Tend to run narrow
Elastic and Soft Shoe Mouth
Without grinding feet

Elastic topline for easy off and on

Fit Fashion
Flyknit Material
Breathable and durable air mesh upper allows the foot to breathe

Open mesh on the upper and hole on the sole provides for superior breathability and quick drying

Wash resistance

check

Fastness
Pigskin Damping Latex Insole
Classic Pigskin insole with cushion for comfort

Breathable pigskin lining

Latex arch insert for added support

check

ComfortDry sockliner provides the optimum cushioning performance that creates a cooler, drier and healthier shoe environment
Outsoles
Slow shock jump

Solyte midsole provides an exceptionally lightweight midsole with excellent bounce-back and durability

Soft and comfortable
What Travelers Are Saying About Women's Superga 2750 Cotu Sneaker
Superga's have such a classic appearance, but they aren't ideal for a narrow female foot. We find the length too be a little long and narrow, which is not a big deal. The thick sole adds a bit of weight to your bags when packing but you don't feel weighed down when you're walking.
Moreover, if you find Converse or Keds to be a bit too narrow, this is most likely not the travel shoe for you. Travelers gave the Superga sneakers 4 stars primarily for appearance but took off a star because the shoes are best suited for those with narrow feet.
Other Comfortable Sneakers That Are Perfect for Traveling
If you want to shop around a little more before you settle on that perfect pair of travel sneakers, check out these additional brands + styles.
Tioesbon Women's Casual Mesh Walking Shoes
Let your feet breathe easy in the latest iteration of upper fabric. Tiosebon has created a simple, natural, comfortable, environmental shoe. The Perfect accord with human body engineering, these casual mesh walking shoes sport a green, healthy concept design.
An Amazing Bargain
This is an amazing budget deal. Even at first glance, you can tell a stretchy upper fabric makes the Tioesbon a very comfortable shoe. They're sleek and sophisticated-looking too. Since they don't have a zipper, you might need a finger to slide them on. You might even need to go up a half a size. This is a wonderful shoe and at only $19.99 – $29.99, you can't beat the price.
We would wear these anywhere on vacation. While this breathable fabric isn't a good pick for a cold winter, they'll be amazing for spring through fall travels. The only downer about them is that they won't be as durable or sturdy as top-notch brands. Make sure to wear some good thick socks with them too. Since they have a low cut, they could potentially rub a little and give blisters.
Adidas Original Prophere Shoes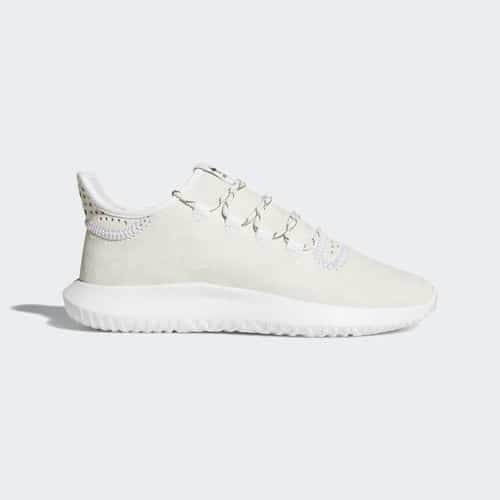 Have you ever been to Europe and realized your style doesn't fit in at all? If you've ever been to London, Paris, Prague, or Berlin, we're sure you've seen sleek tan pea coats paired with well-tailored jeans and stylish athletic shoes. If you want to fit in with the locals and stay comfortable, opt for the Adidas Original Prophere Shoes. Why should you have to look sloppy just because you want to be comfortable? For more tips on and examples of European street style, click here.
How to Pick What to Wear
When you're picking what to wear, think minimal, neutral colors and a nice fit. Besides being stylish, these shoes are also very practical for every day. Admittedly, they're a bit pricier than the Superga sneakers. However, The price isn't too steep and Adidas is another top-name brand you can rely on for quality. The shoes feature a comfortable OrthoLite sock liner, a knit upper fabric that adapts to the shape of your foot and ankle, and a durable rubber outsole.
Ecco Women's Leisure Tie Sneaker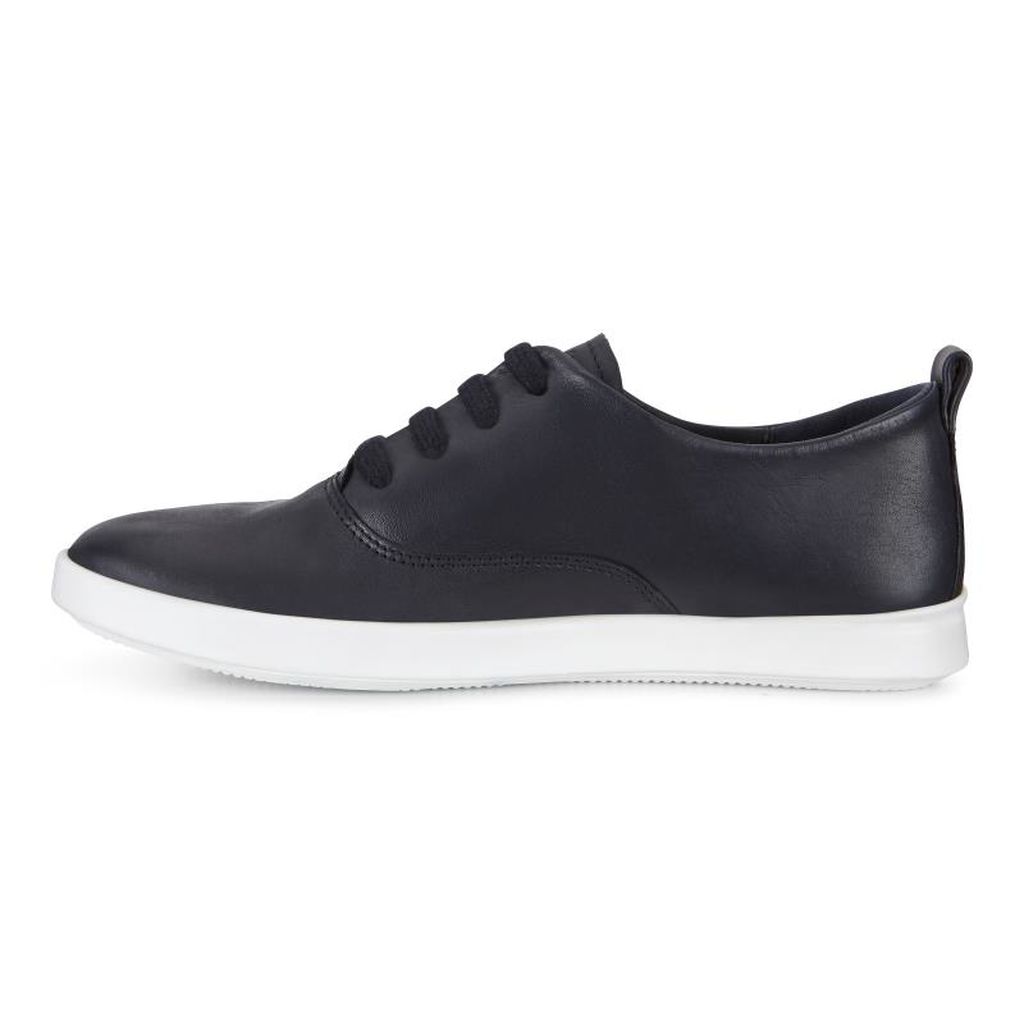 Experience a fit like no other. ECCO designs footwear to meet your needs, whether you're taking the stairs, walking around the city all day, or hiking across over rugged rocky slopes; ECCO delivers a superior fit, great durability, support, and flexibility. Their advanced construction techniques and continuous exploration in materials science add up to comfort you can count on. You'll notice the difference immediately – and at the end of an intense hike or after walking a dozen blocks in a new city, you'll continue to appreciate the difference of ECCO.
The Ecco Freedom Fit
You're not looking for ordinary walking shoes. Conventional shoes fit across your feet at the toes, restricting the way your toes spread as you walk. ECCO's Freedom Fit is different; it offers a roomy toe box and fits more narrowly from heel to instep, suitable for most widths. Toes spread naturally to support your weight and foster a more comfortable walking experience. Unlike the Superga sneakers, feet of nearly all widths feel good in ECCO, comfort straight from the box.
ECCO Comfort Fiber System
Let's take a look at the sole and fiber system. This exclusive inlay sole is designed with a vegetable-tanned leather surface. Underneath is a soft layer of unique, moisture-absorbent foam; treated with AGION for long-lasting and effective control of bacteria and odor. The pumping effect of the foam is activated as you walk- pushing air through tiny holes in the lining to create comfortable air circulation around the foot.
Polyurethane Soles
Polyurethane (or PU) is a manufactured material that can take the place of rubber. PU is the longest lasting material for outsoles; often lasting 2-3 times longer than traditional materials. In an ECCO shoe, PU is made to be flexible and shock absorbing; requiring little to no break-in period and allowing the wearer to be comfortable longer. PU also retains its shape or 'Memory' longer, allowing the wearer the same support from the first day to the last in their ECCO shoes.
These ECCO shoes have a nylon or TPU shank allowing the wearer to breeze through some security checkpoints without removing their shoes.
Direct Inject Process
Direct inject Production or DIP is a highly specialized process in which ECCO is a world leader. This discipline represents the core competence of ECCO sole technology- and one of the secrets behind the special and famous 'instant fit' of an ECCO shoe.
It's a process where the upper is placed into the mold, and liquid polyurethane (PU) is injected to shape the and anatomically correct midsole and/or outsole. Robot precision ensures a consistent quality regardless of the production location.
Get A Comfortable Pair of Sneakers for Your Next Trip
No matter where you're going, investing in a pair of comfortable sneakers makes all the difference on your travels. Don't pull the newbie move and try to traverse the streets of London in 3-inch high ankle boots or flip-flops. The Superga sneakers present an affordable, durable option for exploring. We highly recommend these shoes. If you're looking for stylish, affordable lightweight luggage, click here. For a list of the best travel accessories, click here.
Related Article: Most Comfortable Sneakers For Fashion-Conscious Travelers