The Tortuga Travel Backpack is an urban travelers dream!
I have spent countless hours packing and repacking my backpacking pack for a weekend trip. I love the portability of my cylinder-style bag, but it drives me crazy to open up the drawstring compartment and look down into my pile of squashed clothing. The Tortuga Travel Backpack is the perfect solution. Opening book-style, the main compartment is front-loading and allows users to pack their bag just like a suitcase. Still, the bag carries like a backpack. The Tortuga bag would have saved me a lot of headache.
A Little About Tortuga Travel Backpacks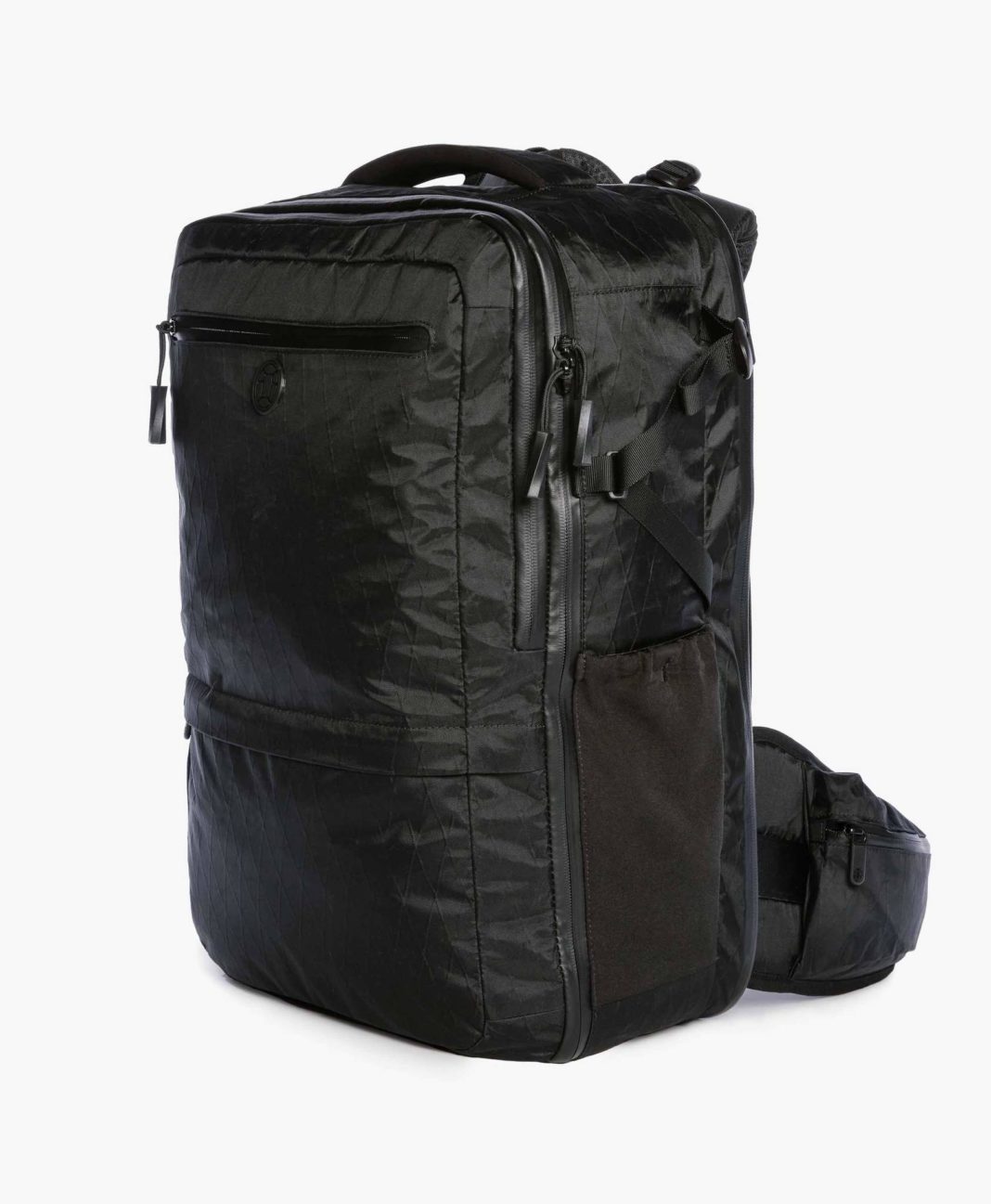 Credit: Tortuga
Several years ago, the Tortuga founders encountered a problem on their own backpacking trip in Europe: their luggage wasn't suited for city travel. The team at Tortuga crafted backpacks that have become their solution! Currently, the Tortuga company is crafting three travel backpacks: the Outbreaker, the Setout, and the Homebase. Each bag is specifically designed for individual travel needs. Formerly, older models like the Tortuga v2 backpack offered users key features like the front-loading main compartment, packable straps, and large outside pockets. The newest models offer these features but in new, ergonomic ways.
For all my backpacking friends that seek grand outdoor adventures, the Tortuga Travel Backpack is for the urban explorer. Whether you are dipping in and out of a new city, jumping from flight to flight, or crashing on a new bed each night, any of the three Tortuga travel bags can be of service to you. Browse our Tortuga Travel Backpack review and find out if one of the Tortuga bags is right for you.
Tortuga Travel Backpack Features & Benefits
Suitcase Meets Backpacking Pack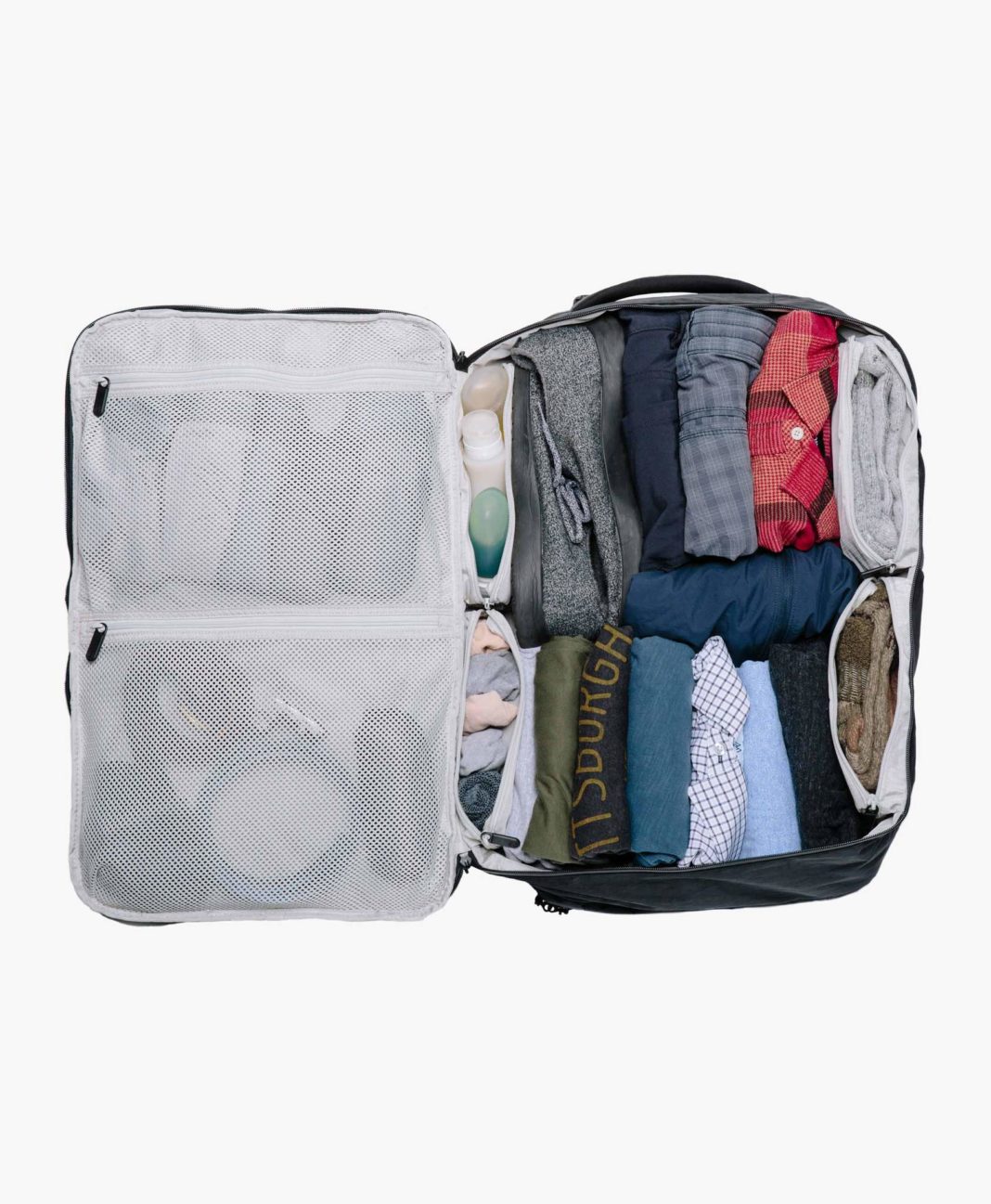 Credit: Tortuga
The Tortuga Travel Backpack combines the portability of a backpack with the packing space of a suitcase. Any Tortuga pack will come equipped with sturdy backpack straps. Most notable, is the structure of the bag. Most backpacking bags require its users to stuff their personal items top to bottom. The Tortuga Travel Backpack opens up book-style. Notably, users can pack their bag like they would any suitcase. Adjacent handles allow travelers to carry the bag suitcase-style. This makes it ideal for quick carrying purposes.
Carry On Size
Credit: Tortuga
Forget paying extra baggage fees when using Tortuga luggage. Each Tortuga Travel Backpack is a mid to maximum-sized carry on. Notably, the depth and openness of the Tortuga backpack offers an abundance of room. Because of the varying backpack sizes and liter amounts, you can go for a backpack that works for your needs. The 45L Outbreaker is designed for long-term travelers and max packers. Organization comes easy with its multiple pockets. This makes it easy to find things in your carry-on backpack. Comparatively, the 35L is for those of you that love to find those budget airline fares and pack minimally. There is no need to worry about going over the maximum carry-on size with these backpacks. Of course, you can go right through security with the Tortuga Travel Backpack! No questions asked.
Lightweight, Durable Material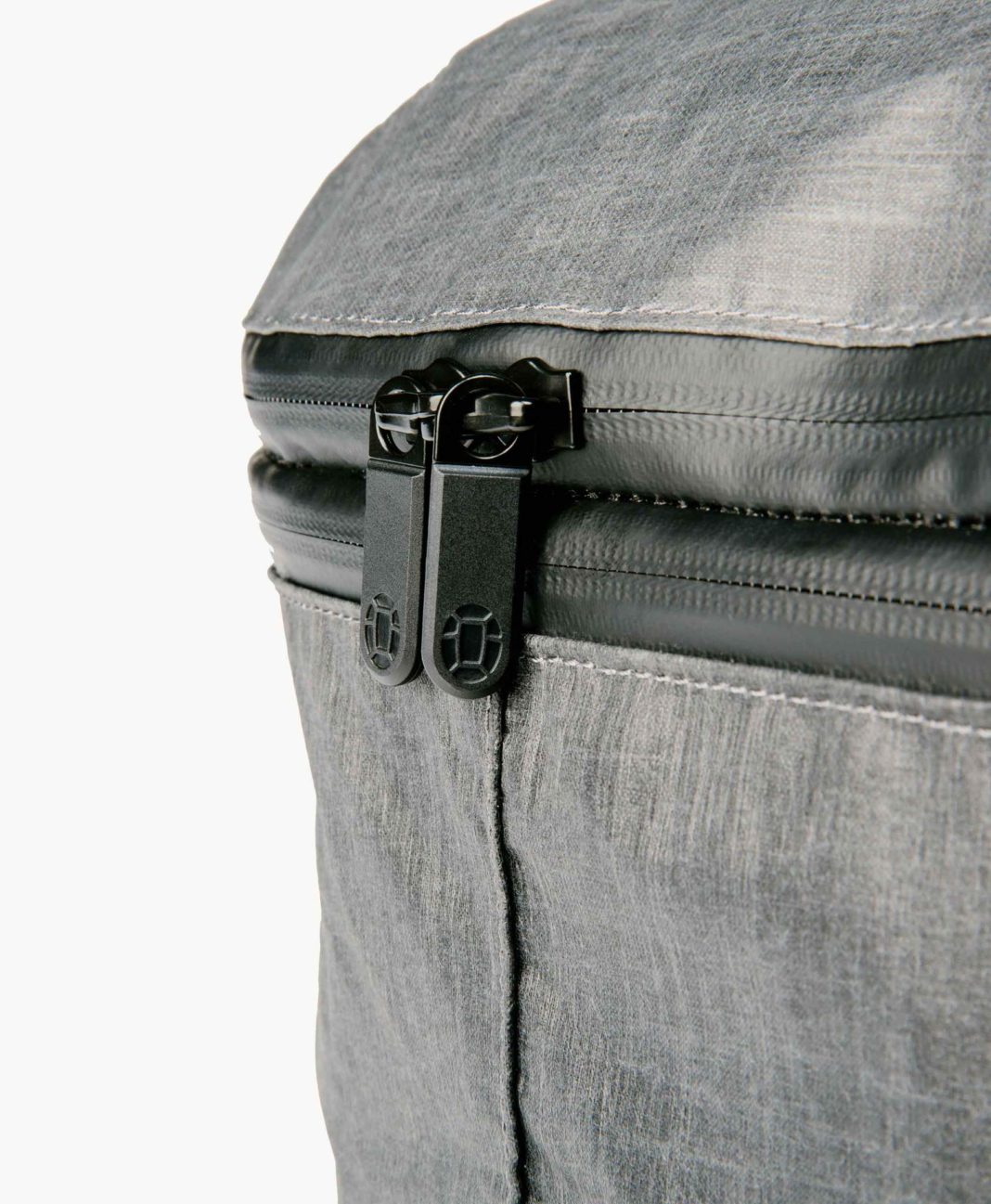 Credit: Tortuga
Regardless of which Tortuga Travel Backpack you choose, you can be sure it can weather any adventure. The Outbreaker backpack is coated in waterproof sailcloth, a material used for protecting racing boats, protecting your all your stuff in questionable weather. The Setout, designed for the city traveler, features a durable polyester. Lastly, the Homebase is known for the LiteSkin waterproof sailcloth. This particular travel backpack is lightweight, but still as durable as the Outbreaker. The bag itself weighs just over 2 pounds. That's a light bag! Moreover, due to the rigidity of the material, each Tortuga Travel Backpack is sure to stay unstretched and unweathered. Additionally, each Tortuga bag uses lockable, durable, and weather-resistant YKK zippers. The highest quality on the market.
Pockets, Pockets, and More Pockets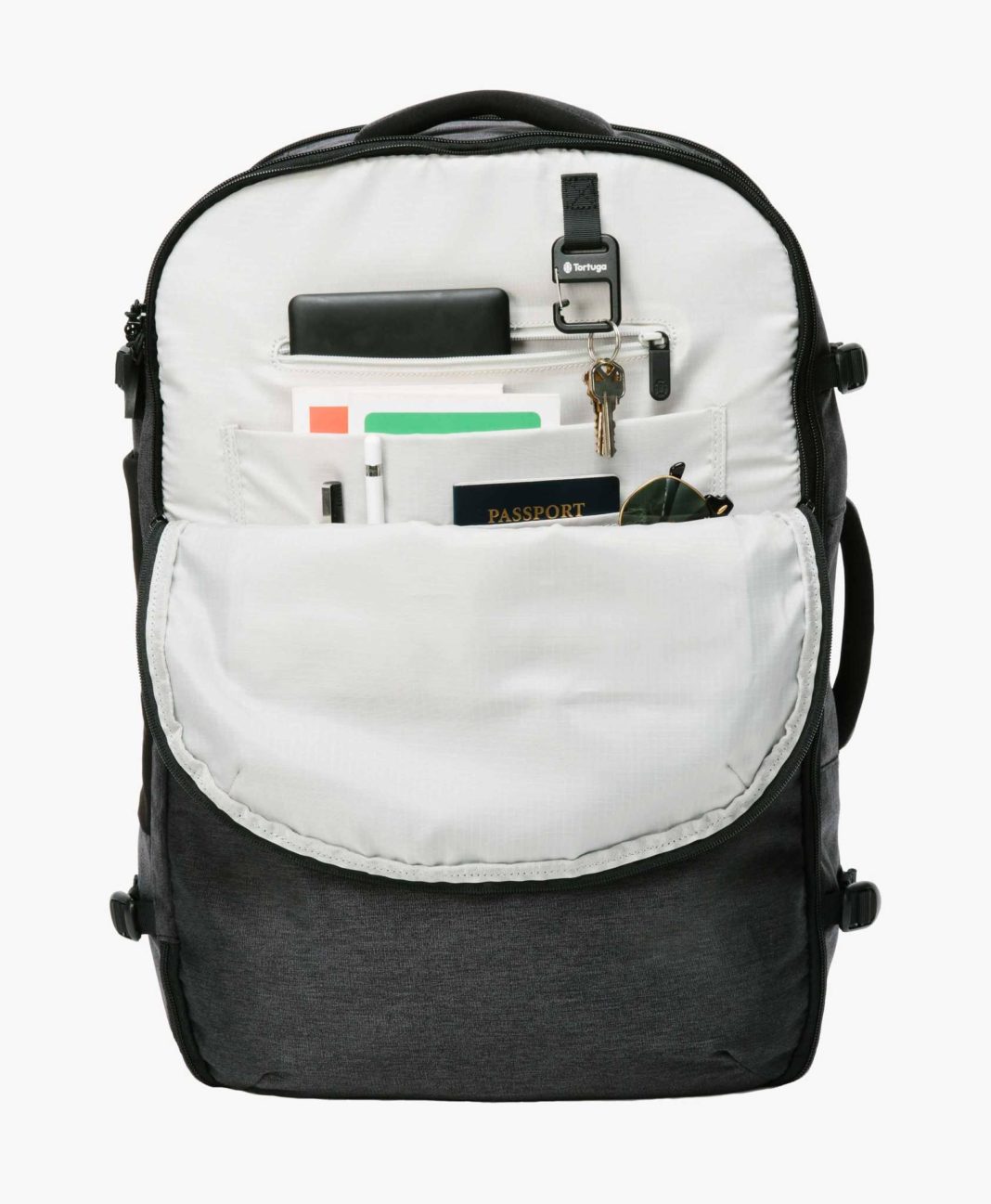 Credit: Tortuga
Like an english muffin, Tortuga backpacks are full of nooks and crannies. In particular, the Outbreaker and the Setout backpack feature internal pockets galore. In their words, they offer "obsessive organization." Each backpack has a front loading pocket with several slots inside. Passports, credit cards, and other personal items fit snugly into this pocket. This offers easy access to these items. Next, inside the main compartment of the tag, mesh pockets line the deep interior as well as the flap. Now techies get excited, there is a full TSA-friendly, padded laptop compartment. Mesh pockets on the adjacent side can store all your chargers and electronic accessories. Finally, a lie-flat water bottle pocket can be found on the side of the bag. This makes the backpack ideal for anything ranging from school, work, and even a road trip!
Straps and Hip Belt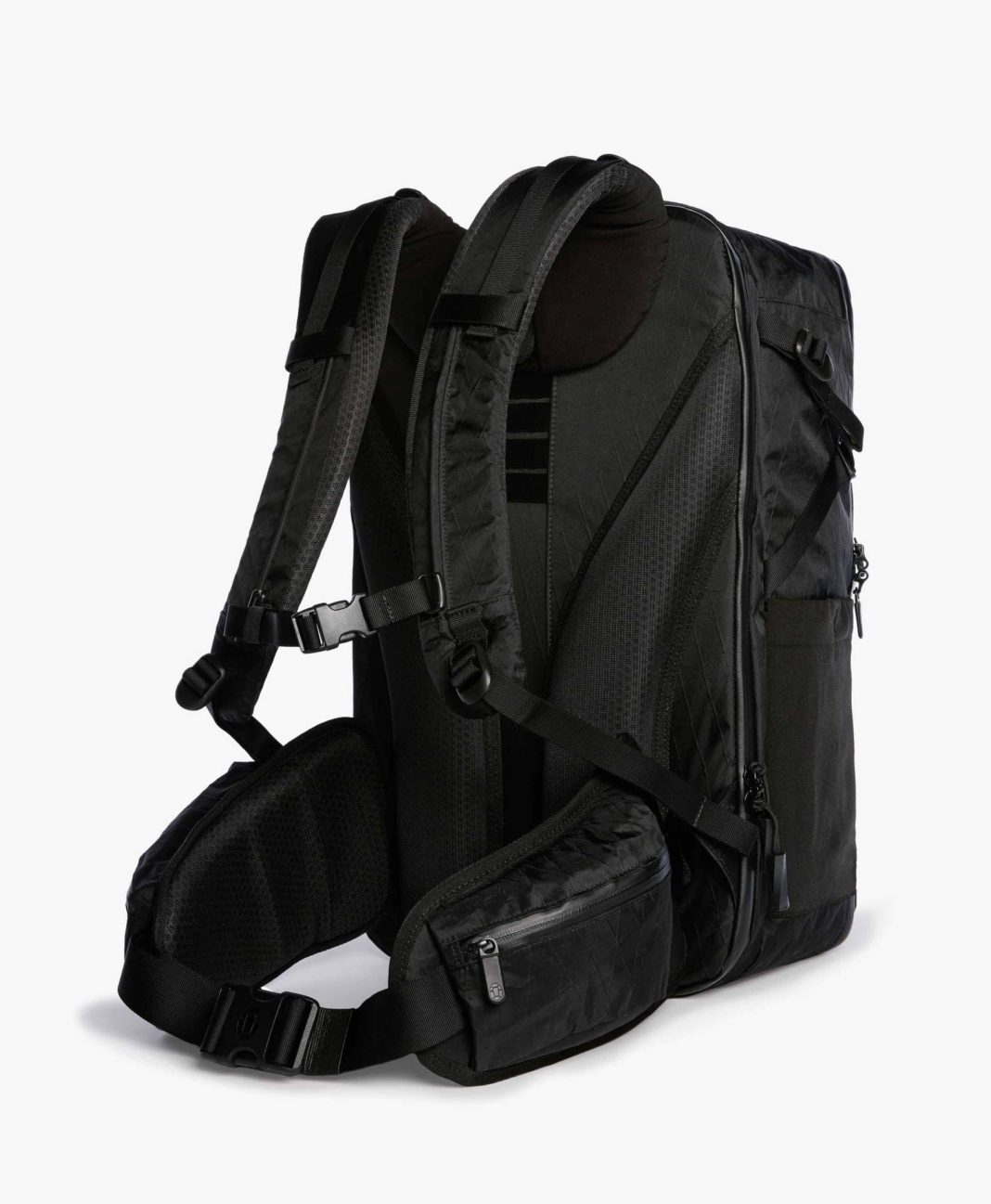 Credit: Tortuga
Tortuga Travel Backpacks do not take the "backpack" part lightly. Because Tortuga bags are revamping the typical backpacking backpack, there are some key features that mimic what you might find in one of those packs. Consider the Outbreaker. First, adjustable straps allow users to adjust the bag to their height and to fit their torso. Second, Airaprene foam pads your shoulders and wicks away sweat. Similarly, the Setout backpack mimics the backpacking pack. This Tortuga travel pack has adjustable injection-molded straps as well as a strap hideaway. The strap hideaway comes in handy when stowing or carrying your bag through narrow spaces. Both the Outbreaker and the Setout Tortuga Travel Backpack have pocketed hip belts that take the strain off your shoulders. Similar to a backpacking pack, the bag transfers 80% of the bag's weight to your hips. This keeps your body safe, unstrained, and ready for your next adventure! Lastly, each Tortuga bag has two sturdy handles. One handle is for carrying vertically and the other is for carrying horizontally.
A Bag for Everyone
Credit: Tortuga
Whether you plan to take off on a short weekend vacay or a long-term road trip, there is a Tortuga Travel Backpack for your adventure. In fact, there are 3. Plan to travel at weeks at a time? Find yourself feeling like an organization fanatic? The durable Tortuga Outbreaker is for you. Perhaps you want to bring lots of your favorite person items on your trip, but you'd like your bag to have some flair. The Setout is the choice for you. For those of you that consider yourself a minimalist or perhaps travel in short-trip segments, the Homebase would be the right option for you. In short, everyone and anyone can find a Tortuga Travel Backpack that works for their needs!
What Travelers Are Saying About the Tortuga Travel Backpack
All in all, Tortuga travelers are raving about their travel backpacks. Most users note an unforeseen amount of space for packing all their items. In the same way, they are pleasantly surprised by the way their Tortuga Travel Backpack keeps their items organized on travel. Repeat customers repurchase new Tortuga packs because of the durability and lightweight material. The carry on size is the buzz in Tortuga reviews. Travelers are taking trips with ease when packing in a Tortuga bag. Most users say that they can even fit their Homebase bag under their airplane seat! For a select few, the Tortuga Outbreaker may be too large for small travelers. The Homebase may be a better option! Overall, customers stay loyal to these backpacks because of the quality product they are receiving.
Alternative Travel Backpacks
Osprey Porter 46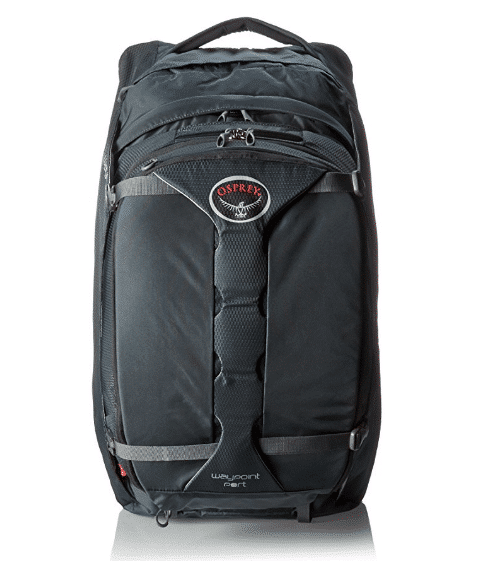 ​The Osprey Porter 46 is a perfect alternative for the Tortuga Outbreaker or Setout backpack. First of all, the Osprey pack features the suitcase-like function. The main compartment is front-loading, comparable to the Tortuga design. Specifically, the Osprey bag has firm side panels that keep the bag open and upright. Techies will enjoy the separate laptop compartment, similar to the Outbreaker and Setout bags. Notably, this bag has two straps on the front of the pack that hold an attachable Osprey Daylite pack (sold separately). The Daylite packs accommodate additional carrying capacity. The straps accommodate additional items like sleeping bags, blankets, or rolled jackets. The Osprey Porter 46 is a perfect alternative for Tortuga Travel Backpack fans!
Deuter Transit 50 Backpack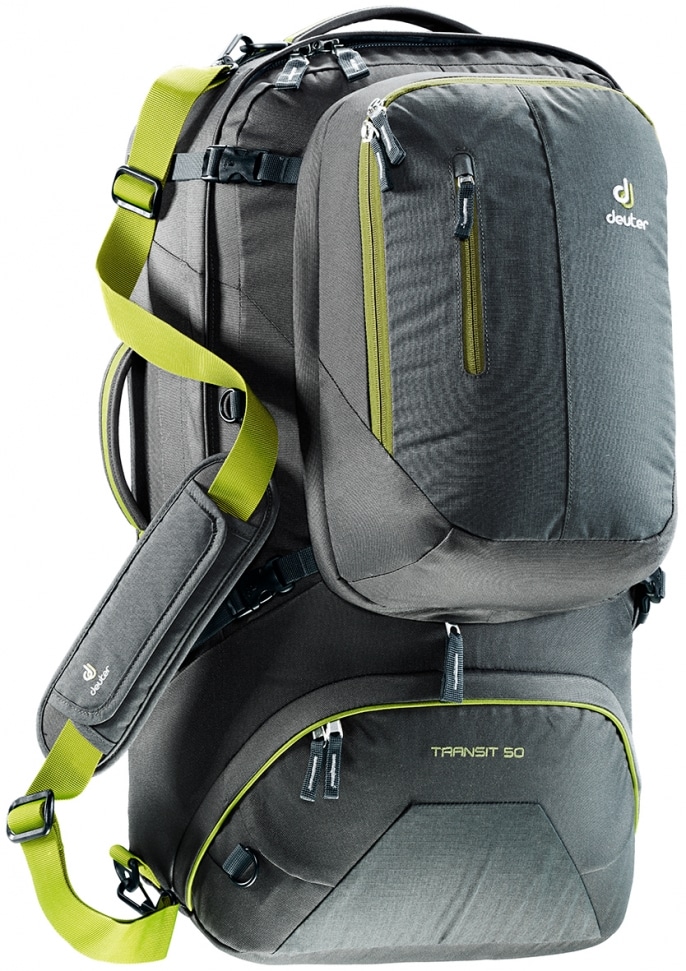 The Deuter Transit 50 is another ideal alternative for a Tortuga pack! The bag features a u-shaped zip compartment, similar to the front loading style of the Tortuga Travel Backpacks. The bag has similar features to the Outbreaker or Setout packs. Handles for carrying, stowaway shoulder straps, and an adjustable suspension system are some of the features you will find in a Deuter and a Tortuga bag. Specifically, the Deuter bag features external compression straps that compress your pack for greater traveling ease. The backpack comes from Deuter,  outdoor-focused company, but the Deuter Transit 50 is designed for the urban explorer. Give the Deuter Transit 50 a look!
Patagonia Black Hole Backpack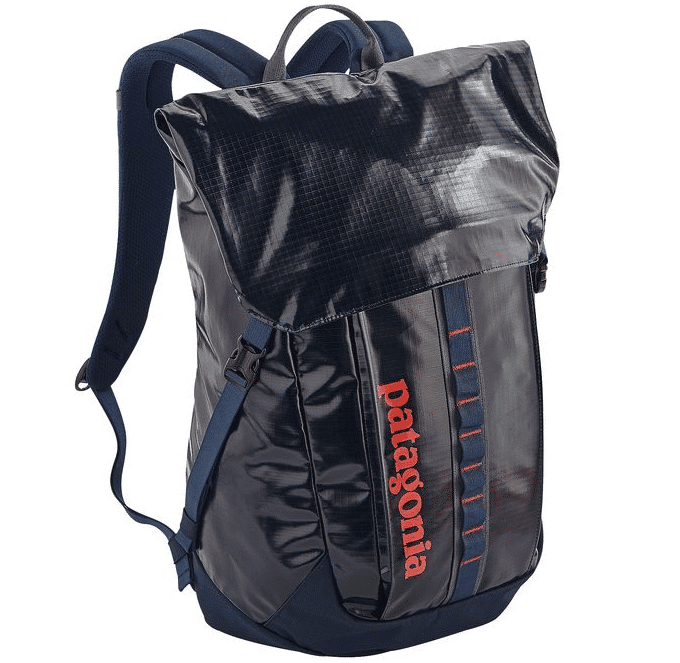 This commuter bag is a comparable alternative to the Tortuga Homebase Backpack. First, the bag itself weighs just over 1 pound, a key feature of the Homebase pack. Durable water repellent material covers the Patagonia Black Hole, making it an ideal alternative to the Homebase LiteSkin material. Next, The Black Hole opens cylinder-style. Items can be packed top down as opposed to suitcase style in the Tortuga Homebase. This Patagonia bag has one shoulder and one hip strap, features omitted from the Homebase design. Altogether, the trusted Patagonia company has made another dependable product that is worth checking out!
Be Free With the Tortuga Travel Backpack!
Finally, you can say goodbye to the nightmare that is packing and stuffing your travel backpacking bag. Now, say hello to ease and durability with the Tortuga Travel Backpack. Imagine grabbing your bag packing it to the brim in a spacious main compartment or organized additional pockets. Picture yourself wearing your bag on your back or carrying it down the aisle of a narrow airplane. Any traveler knows that portability, versatility, and ease are key when adventuring. You shouldn't have to settle for one or two of these characteristic. The Tortuga bag addresses the issues so many urban explorers have encountered. Dare to take a look? You might walk away with your new favorite travel backpack.
Do you think you could use a Tortuga Travel Backpack? Leave a comment below and share which bag is right for you.
Related Article: ​​10 Best Travel Backpacks of 2018 for Your Next Adventure​​​