The Delsey Quilted Rolling Underseat Tote is so much more than just a duffel. Carry your gear in style.
Are you looking for a no-fuss carry on? This easy-breezy bag is compact and comes with friendly features. It has everything you need and offers quick and easy access. Stash it under the seat on a bus, fit it in the overhead compartment on a plane, and wheel it behind you in the airport for extra convenience. We're excited about the Delsey Quilted Rolling Underseat Tote.
About the Brand
Delsey is a French manufacturer of luggage and other travel-related accessories. Based in Tremblay-en France, it employs some 400 staff members and holds the second place in the global luggage market behind Samsonite.
Delsey Quilted Rolling Underseat Tote Features and Benefits
If you came to this review looking for a high-quality duffel bag, you are in luck. Yes, this bag has a generous amount of space for a carry on item. But this bag is so unique, it's hard to label it as simply a duffel. Read on to see the features and benefits. We'll help you see if this is the right bag for your journeys.
Telescopic Handle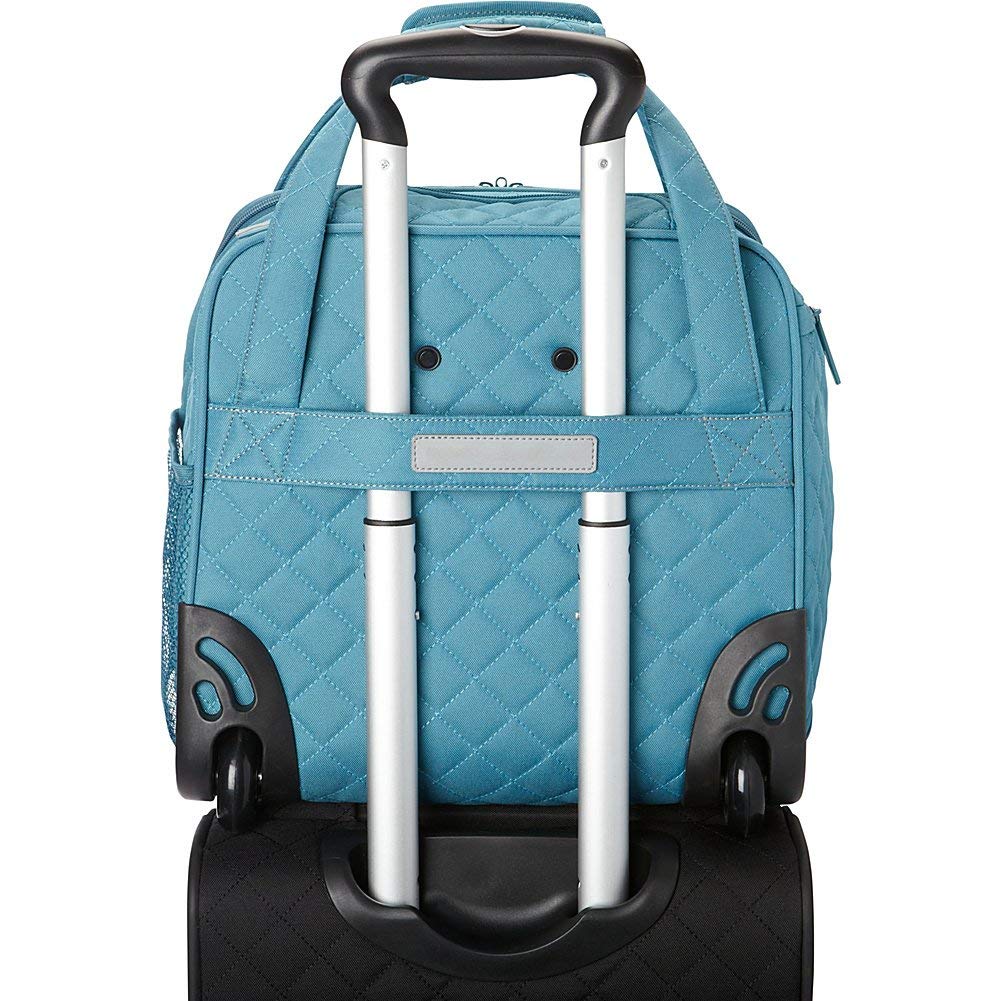 Credit: Amazon
What's the point of a rolling bag if you don't have a long enough handle to pull it around comfortably? While there wasn't a technical need for a handle on this bag, Delsey made it easy on travelers. When it's not in use, the telescopic handle collapses into the bag for easy storage. This is one of the best features about the Delsey Quilted Rolling Underseat Tote. After you've made it to your gate, you can collapse the handle and store it away. It's really that easy.
Compact Size Yet Generous Storage
Credit: Amazon
While it may look small, the storage capacity in this bag is much larger than you may think. What's the secret? It's in the packing. The compartments are well thought out. This means you can really maximize your space through efficient storage. There are several side pockets, front pockets, interior pockets, and a large space for storing bigger items like apparel, shoes, etc. Some of the bungee pockets are great for easy access storage.
We were actually surprised by just how much interior space the Delsey Quilted Rolling Underseat Tote has to offer. While it looks small from the outside, it can actually hold a few days' worth of clothing. Apart from that, it has plenty of interior pockets in which you can store your toiletries and electronics. Since the interior pockets are padded with foam, you won't have to worry about your fragile items and electronics incurring any damage.
Durable Construction
Credit: Amazon
The Delsey Quilted Rolling Underseat Tote is constructed with durable denier polyester, which makes it a great travel bag. Not only does it hold its shape well but it also can take a beating on the road. You won't have to worry about snags, tears, or rips.
Stylish and Functional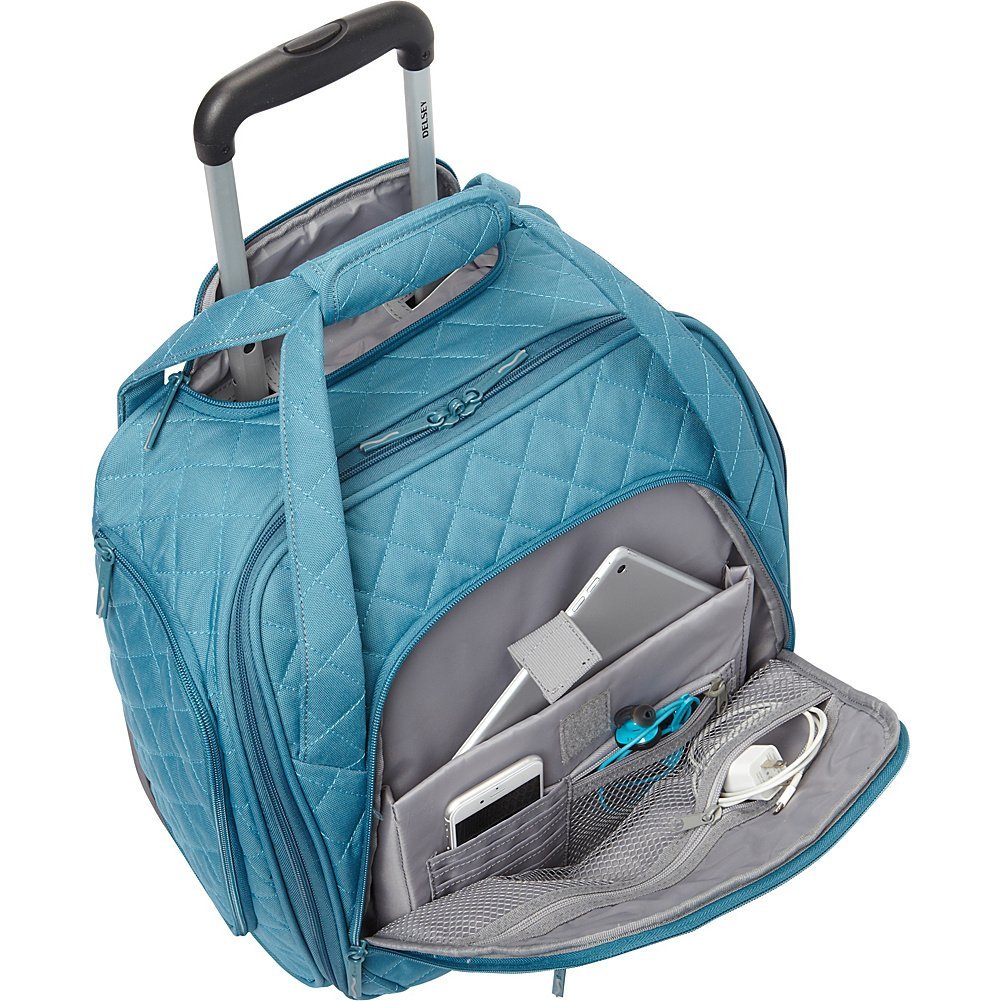 Credit: Amazon
Business people and other frequent travelers will appreciate the sleek, minimal aesthetic of the Delsey Quilted Rolling Underseat Tote. This is one of the few classic carry on bags designed to suit women. This tote rolls easily and is much less cumbersome to travel with than other standard carry on bags. After looking through and testing out various other gear options, this one emerged as a clear winner. Not only does it offer functional pockets to maximize space but you can also access them from any position. Although the bag is not a square shape, the top of it is flat enough to use as a purse.
Size
If you are a frequent flier, you will want a carry on bag that complies with standard domestic airline restrictions. Carry on restrictions for Delta, American Airlines, and United Airlines are 22" x 14" x 9" (H x W x D). It is important to note that the wheels are included in the measurement. The Delsey Quilted Rolling Underseat Tote measures 14.5" x 14" x 9". Therefore, you won't have to worry about travel size restrictions. You will never have to be one of those people trying to sneak an oversized, overstuffed bag onto an airplane again.
Tech Specs:
Fits most domestic airline requirements for carry on restrictions

Dimensions: 14.5" x 14" x 9"

Durable denier polyester material

Spacious interior

Comes in five different color options

Stylish quilted exterior

Easy front access organizer

Plenty of interior pockets and compartments for convenient storage
What Travelers Are Saying About the Delsey Quilted Rolling Underseat Tote
Travelers are in love with this little powerhouse. Are you tired of lugging a large shoulder bag for your laptop and other small items aboard the plane? Then this is your perfect fit. Every pocket, zipper pouch, and side pockets are designed perfectly. The main section is big enough for 13′ laptop and files, some clothes, and a pair of shoes.
The two front zipper compartments are a convenient place to store flight passes and miscellaneous paperwork. The pockets are not sewn so tightly that you can't slide your hand in and grab what you need. In addition, there are extra pouch compartments inside the pockets. This does wonders for keeping you organized. The wheels work well, are easy to maneuver, and the telescopic handle is high enough to accommodate most heights.
Alternative Underseat Luggage That Might Work Better For You
Samsonite Eco-Nu Wheeled Underseater Carry-On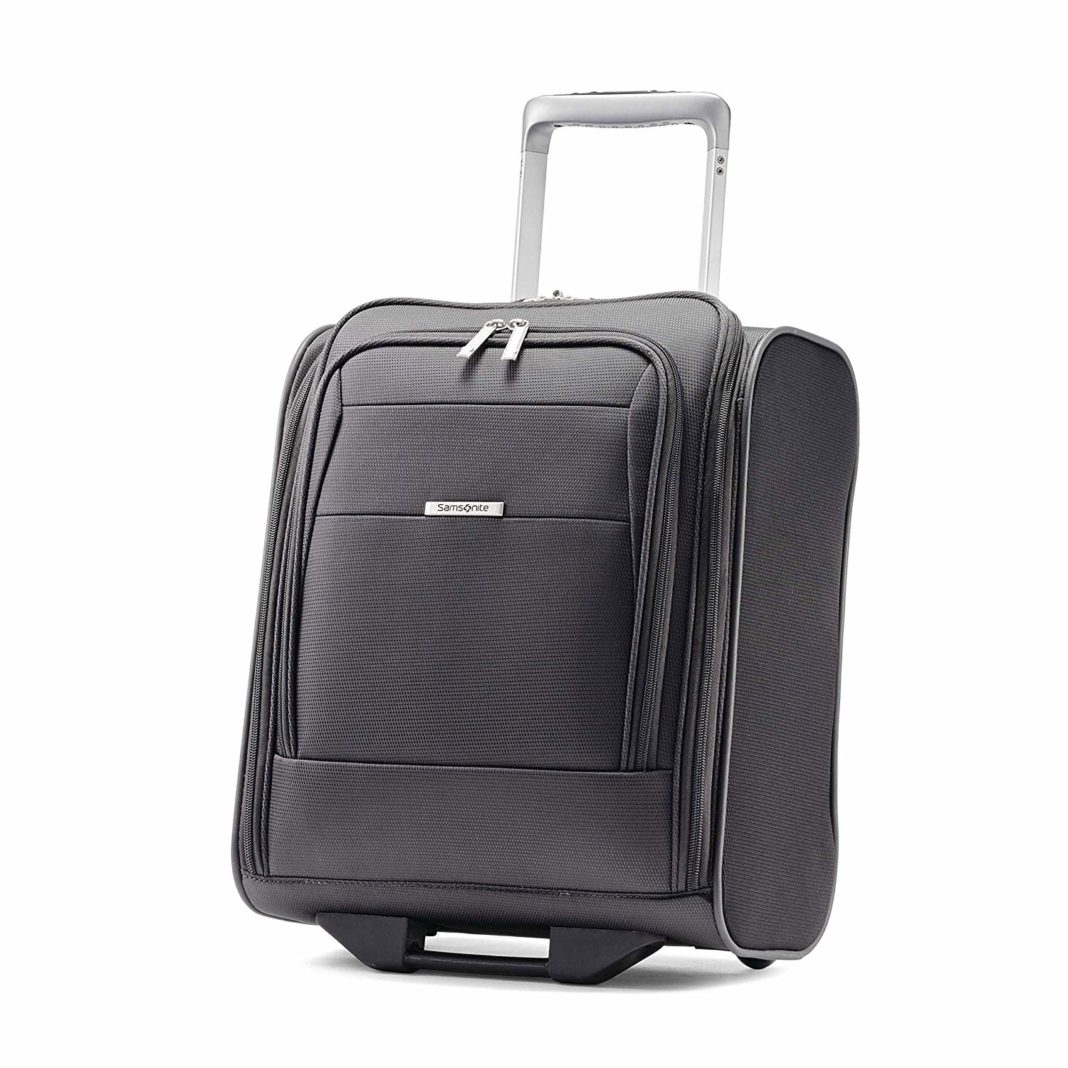 Smooth to the touch and appealing to the eye, the Eco-Nu Wheeled Underseater Carry-On from Samsonite is made from recycled fabrics, . We appreciate that all of the material including the liner is composed of 100% post-consumer recycled plastic bottles. Did we mention that it is also durable? Since the fabric is ripstop, it won't easily get caught or snagged. In addition, it is sewn extra carefully in places prone to wear and tear.
In terms of maneuverability, you can count on the Samsonite Eco-Nu Wheeled Underseater Carry-On. The wheels are made from polyurethane with ball bearings in order to minimize frictional resistance. They offer just the right amount of support for structural integrity and durability. Thanks to reduced resistance, you will enjoy smooth rolling. Gone are the days of struggling to haul your heavy luggage around the airport terminals.
Extended from the suitcase, the retractable handle provides easy maneuverability. After it is fully extended, it locks into place. It is just the right height; you won't have to stoop over far to wheel your luggage. Having the right length for the retractable handle makes all of the difference. When it's not in use, you can store it easily back inside.
The underside of the front features a large mesh pocket which makes for convenient, easy access storage. You will also find two pockets above the main compartment. One is large enough to fit a laptop and the other is the perfect size to fit your tablet or iPad.
Tech Specs:
Made from recycled fabric (100% post-consumer-recycled plastic bottles)

Inline skate wheels with ball bearings

Smart sleeve

Retractable handle that locks into place when fully extended

One thin exterior zippered pocket

Two interior pockets

Spacious main compartment

Reduce resistance for smooth wheel rolling
The Minima Carry-On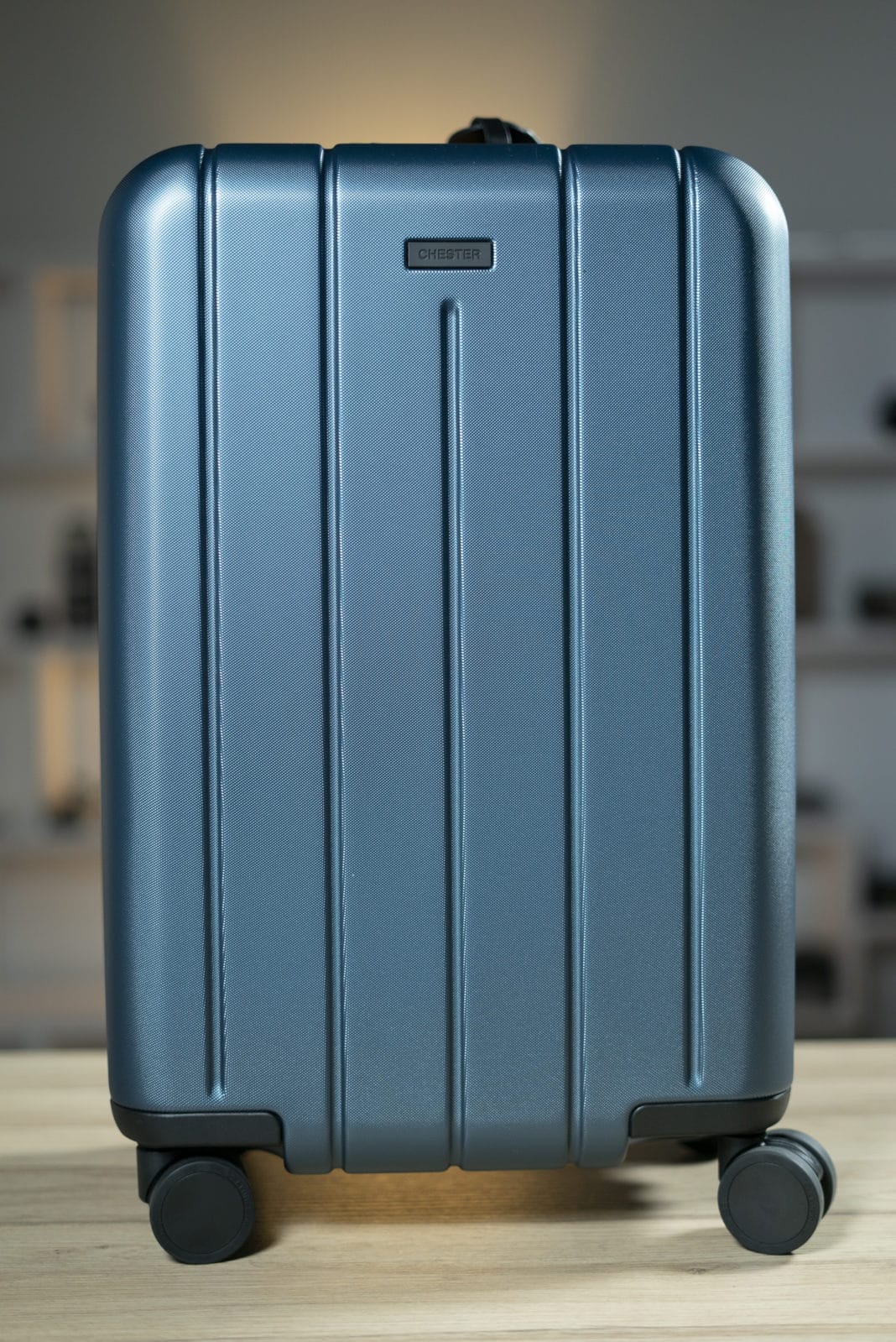 Are you a frequent flyer? If so, you know the significance of having a good carry-on bag. This type of luggage is not only great for weekend trips but longer ones as well. The trick is to know how to pack like a minimalist. Carry on luggage gives you a space to keep your belongings safe without having to hassle with a large, heavy bag. This way, you can get from point a to point b quickly. The lightweight, ergonomic design is just one of many reasons why we love the Minima Carry-On from Chester Travels. The Minima Carry-On holds a lightweight design, making transport a breeze.
Travelers who want to carry their belongings this way will never feel weighed down. You can fit clothes, shoes, toiletries, and more in this bag without it being too heavy. Weighing in at only 7 pounds, this is one of the more lightweight styles on the market. Finally, the bag is also durable and water resistant. Composed of a purely Makrolon polycarbonate hardshell, it is lighter than aluminum and more durable/flexible than most plastics.
Tech Specs:
Durable and lightweight

7 lbs.

Construction: Makrolon polycarbonate hard shell

TSA and IATA approved dimensions

Organized compartments

Easy handling

Aluminum telescoping handle

10-year limited warranty
Invest in the Delsey Quilted Rolling Underseat Tote for Your Next Trip
We hope you enjoyed reading our article on the Delsey Quilted Rolling Underseat Tote. Whether you're a solo traveler, bringing the family, or traveling with your significant other, there is something on this list to meet any need. To avoid any bumps in the road on your trip, make sure your packing items meet your airline's criteria for a carry on bag.
For the minimalist seeking a piece that will hold up for years on the road, you have found your perfect fit. The Delsey Quilted Rolling Underseat Tote is geared towards frequent travelers. Durable polyester fabric, a telescoping handle, plenty of interior space and easy to maneuver wheels come together to form the perfect travel accessory.
Related Article: The Best Underseat Luggage For Every Journey