Are you looking for a great carry-on style? Consider the Travelon 18-inch Wheeled Underseat Bag.
In black, blue, purple, and red polyester, this stylish carry-on is spacious too offering a roomy main compartment and a padded pocket for your electronics. Mesh and open pockets of varying sizes are perfect for keeping your belongings in order. In addition, there is a water bottle side pocket that folds flat when it is not in use. The Travelon 18-inch Wheeled Underseat Bag has everything you'll need for a quick trip.
Travelon 18-inch Wheeled Underseat Bag Features and Benefits
Affordable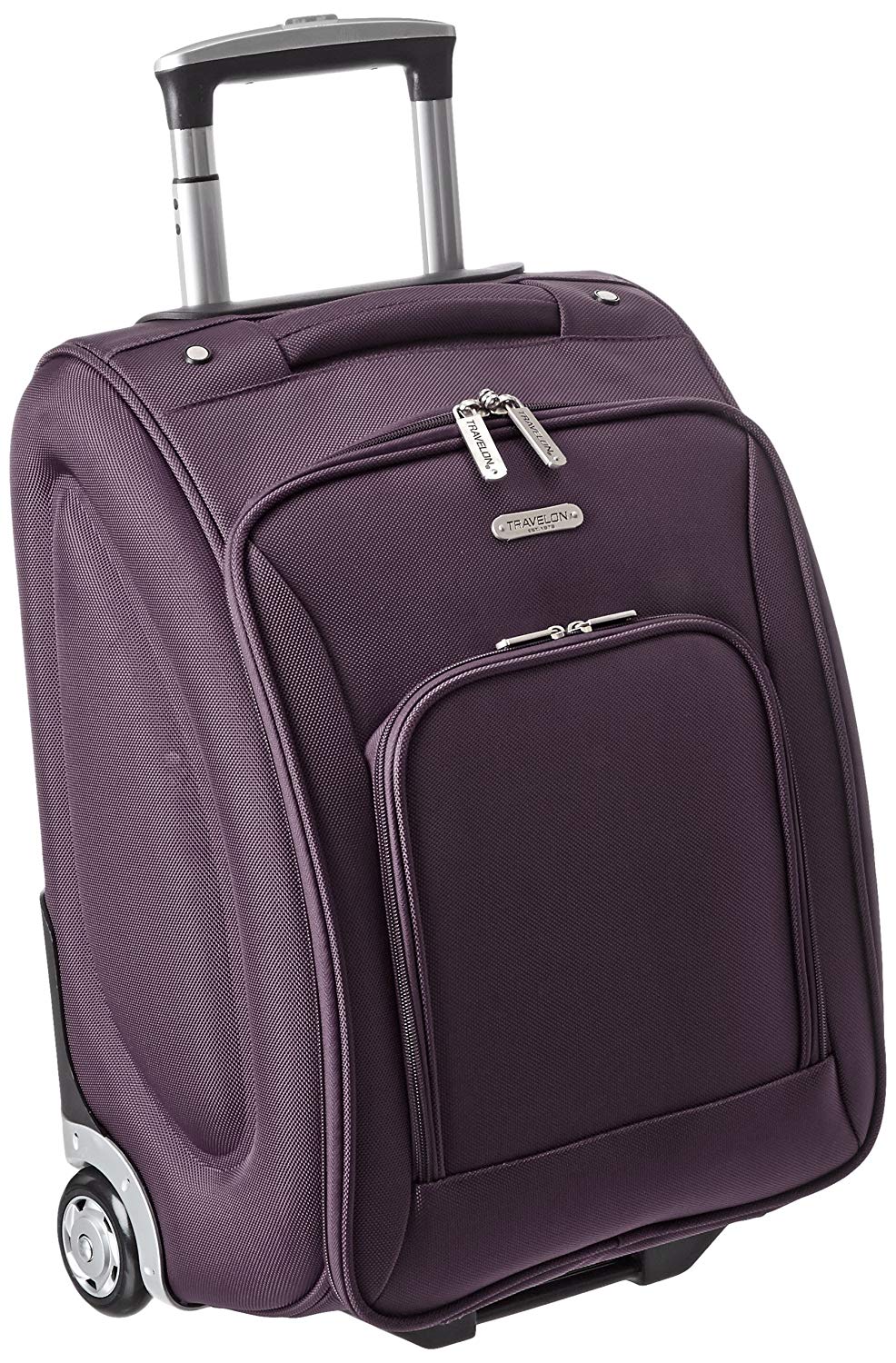 Credit: Amazon
At a reduced price of only $82, the Travelon 18-inch Wheeled Underseat Bag can fit your budget. Although this bag is quite durable, we're well aware that no bag lasts for a lifetime. There's no point in spending hundreds and hundreds of dollars on a piece that won't last for a while. There have to be multiple benefits to it.
With this style, you will get all that you want and more for a business trip or other short jaunts. We're very happy with our purchase. It also makes a great gift or convenient footrest during a flight, just saying. You'll find your trips more comfortable than ever.
Padded Compartments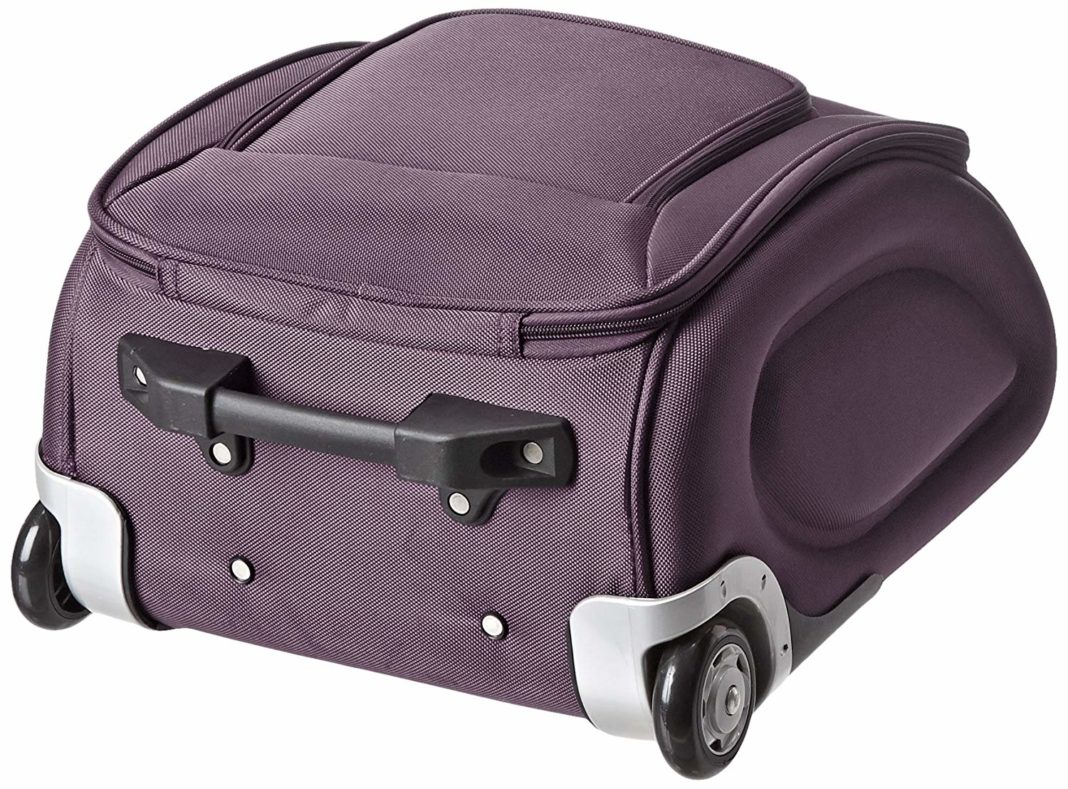 Credit: Amazon
We treasure our electronics. Don't let your work laptop or iPad get damaged in a flimsy carry-on bag. Although protective covers and cases are useful, you should still take extra precaution not to damage electronics while traveling. With the Travelon 18-inch Wheeled Underseat Bag, you will feel very safe. The padded compartments provide enough protection for your laptop.
Spacious Interior
Credit: Amazon
While the bag looks small from the outside, the interior is actually quite spacious. If you're one to typically pack a lot on your trips, this is something you will appreciate. Some users noted that they could pack a pair of formal shoes, several pairs of socks, one pair of pants, three shirts, ties, one long sleeved shirt, and underwear inside. There was even enough space for toiletries afterward. Your laptop and iPad can be stored away in pouches. The Travelon 18-inch Wheeled Underseat Bag is amazing.
It Fits Anywhere
If you are petite and short, it is convenient to keep the Travelon 18-inch Wheeled Underseat Bag under the seat during your flight. It also fits rather conveniently into overhead bins on international flights. You can roll it along with ease since it is small and handy. We all know how wide some carry-on suitcases can be.
Durable Construction
While this bag is more practical than stylish, it is a good deal for the sticker price. It's high quality and simple. Thoughtfully designed, it offers a strong material, easy access storage, plenty of interior space, and is slim enough to wheel down the airplane aisles with ease. Spare yourself the back and shoulder pain from lugging around heavy backpacks; get this wheeled carry-on bag for yourself.
Telescopic Handle
Another feature that we love is how long the telescopic handle is. It's so convenient to walk around with the handles extended; this is rare on small luggage. You won't have to stoop way over to wheel your bag around. Enjoy the ease of movement and a style that lasts for a long time to come.
If you have ever used single-pole handle, you will appreciate this so much more. Those types of handles cause bags to tip over easily when you move around. It would be very annoying to hold that style the entire time you are on the trip. With the telescopic handle of the Travelon 18-inch Wheeled Underseat Bag, you can let go of your bag in line without worrying about it tipping over. When you place the bag in the plane's overhead bin, retract the handle. Then, face the part of the bag with the handle to the outside. It will be easier to pull it out when you want to.
Tech Specs:
Dimensions: 9" x 18" x 14"

Size: International carry-on

Weight: 7.9 pounds

Material: polyester

Spacious interior

Made in China

Telescopic handle

Plenty of pockets for organization
What Travelers Are Saying About the Travelon 18-inch Wheeled Underseat Bag
Travelers can't begin to say enough positive things about this bag. It's honestly one of the best investments you will ever make. For those of us who travel frequently, having the right gear can make or break your trip. From an outside perspective, it's easy to think that this bag would not have enough space to accommodate what you need for a weekend or a few days trip. Quite to the contrary, you will find that there is plenty of space.
Many reviews mentioned how much they appreciated the outside pocket. It's a convenient place to store documents, extraneous paperwork, and can also safely hold your electronics. As far as durability, we have no concerns. We have already taken this bag up and down countless flights of stairs, drug it over curbs, and gravel, and it has held up beautifully with minimal signs of wear. The wheels have never once slipped or stuck. The retractable handle has worked flawlessly every time.
As far as airlines are concerned, it can easily be fit under the seat (so long as you don't overstuff it) or be stowed in the overhead compartment. You could use this bag as a carry-on and easily fit a couple days worth of clothes in it but probably only one pair of shoes plus a pair of sandals. Most travelers definitely recommend this Travelon bag to anyone looking for a great carry-all. Should anything ever happen to this one, we would buy it again in a heartbeat!
Travelon offers two sizes for their underseat bags. We found that the 18-inch size was perfect for the overhead at the airport. This little guy is perfect for an overnight or an extended stay. One review really stuck out to us. The user packed 4 thick sweat pullovers, two jackets, three slacks, socks and underwear in this bag without it being overstuffed. And best of all, it was a perfect fit in the overhead on American Airlines. Plus the long handle is really great. This user is 6'5″ and the telescoping handle was long enough for his height. All in all, it is a fantastic bag.
Alternative Underseat Luggage That Might Work Better For You
Hartmann Carry On Expandable Glider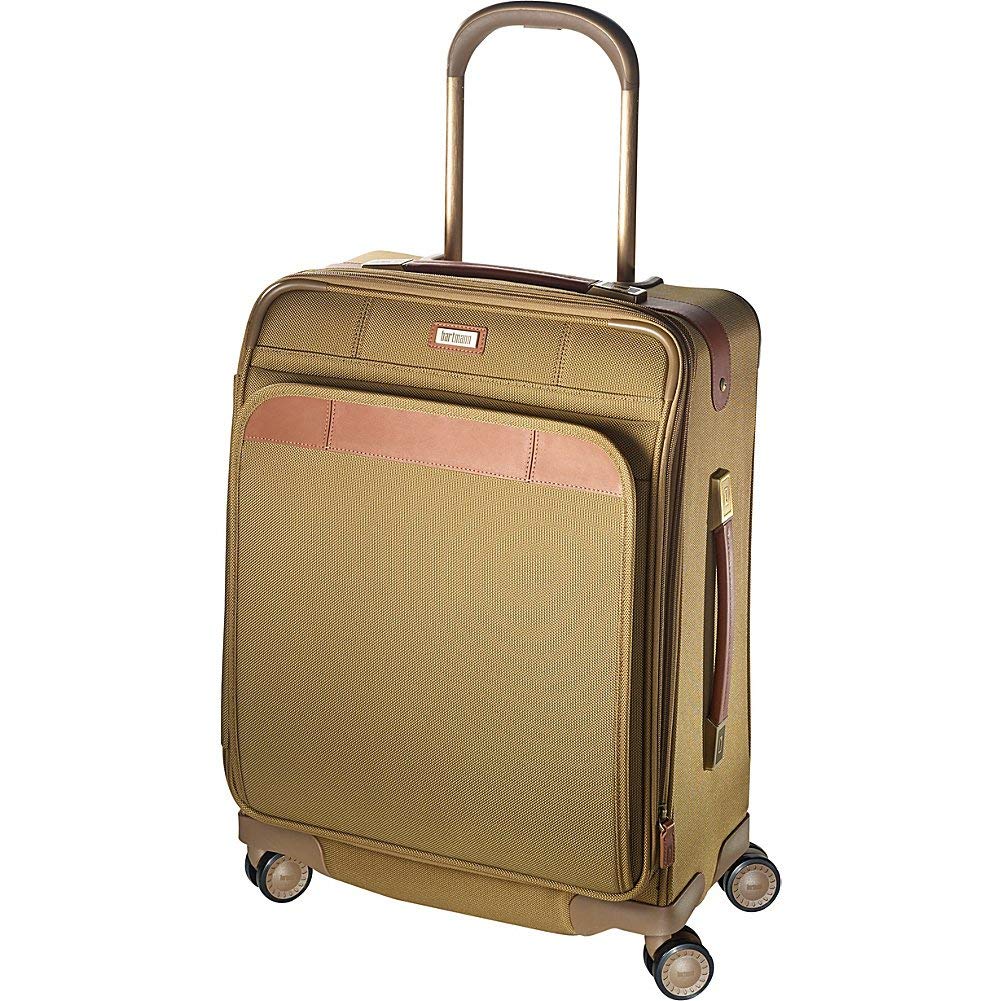 Credit: Amazon
If you're willing to spend a little more for a stylish, durable bag, we're in love with this style from Hartmann. Every aspect of your travel experience will be improved with this new style. Thanks to a gravity-hugging profile and a wide wheelbase, your bag will stay sturdy on a variety of surfaces and terrains. A twelve position contoured handle tailors the traveler's physiology and allows for multiple points of comfort. Inside, a tailored interior offers outstanding organization measures. This is one of our favorite Hartmann luggage pieces.
Tech Specs:
Durable ballistic nylon

Wide handle system with 12 options for height adjustment

Sleek carrying handles

Spacious interior

Gravity-hugging profile

Wide wheelbase

Multiple pockets for optimum organization

Adjustable tie-tapes to secure belongings

Dimensions: 21.7 x 14.0 x 9 inches
Werks Traveler 5.0 27-Inch Dual-Caster Spinner Suitcase
Are you looking for a durable style that's just a little larger than a carry-on size? We've got just the thing from Victorinox. For those of you about to go on an extended trip, this is a great fit. Great packing capacity and 360-degree movement come together for an overall easier and more comfortable travel process. One of our favorite features is the Pack More Divider. Paired with x-shape compression straps, and zippered expansion, you have room for an extra pair of shoes or two as well as some souvenirs to take home.
Out of all the Victorinox luggage pieces, the Werks Traveler is one of our favorites. It comes in black, navy blue, and olive green. Made from 100% ballistic nylon, it's strong enough to resist tears and snags that would happen more easily with other bags. A sturdy aluminum handle offers an easy way to pull the bag around. The handle has three different height settings and locks in with the push of a button.
Tech Specs:
Ballistic nylon fabric

Sturdy aluminum handle

Great interior space

Lightweight

Three different handle height settings

U-shape front pocket

Intelligent packing system (dividers, compression strap, zippered expansion, etc.)
Here's Our Final Opinion on the Travelon 18-inch Wheeled Underseat Bag
For those seeking a classic, functional carry-on bag, this is your dream buy. Not only is it affordable and spacious but it fits under the airplane seat and into the overhead bins with ease. Whether you are petite and tall, it is easy to maneuver and the telescopic handle can accommodate a variety of heights. Some of the reviews on Amazon are a bit misleading and others do not fit at all. We have used this bag on a variety of trips and are very pleased with it. For the price, you're getting a steal.
Related Article: The Best Underseat Luggage For Every Journey