Discover the best underseat luggage for your travel adventures.
When you're traveling somewhere new, you need the best luggage to keep your items safe and sound. You don't want to deal with faulty bags that can't carry your belongings or remain easily transportable. Every traveler requires a decent piece of luggage for holding items during their journeys around the world. This remains especially important if you're going to be riding on planes or trains. Since these modes of transportation have rules about luggage, you'll have to bring bags that adhere to those standards. As such, travelers should consider investing in some high-quality underseat luggage. These kinds of bags fit easily underneath seats on planes or trains. You'll be able to keep every necessary belonging nearby when you utilize these products. Check out our article below to learn about the best underseat luggage to bring along on your travels.
QUICK NAVIGATION
What Qualifies as Underseat Luggage?
Convenient Size and Shape
Among the many advantages that come with underseat luggage, one of the most important remains its convenient size. When you're deciding to travel by plane or train, you're going to need luggage that complies with transportation standards. You don't want luggage that doesn't comply with regulations when you're on the go. This can lead to frustrations, as you won't be able to bring the bags you require on your trip. Accordingly, travelers need luggage that has been designed with transportation sizing rules in mind. If you have properly sized bags, you won't need to worry about finding the right bags while you're traveling.
Underseat luggage has been especially crafted to adhere to standards put forth by airlines and other modes of transport. These pieces of luggage will be able to fit easily underneath seats, no matter how you travel. As such, underseat luggage remains very convenient for travelers, as you can maintain peace of mind when stowing away bags. The size and shape of these kinds of luggage ensures you won't need to check bags or leave them behind. Since these products have been designed to fit underneath airline seats, they'll always follow airplane standards.
Easy to Transport
If you're constantly moving from place to place, you need luggage that can move with you. Some pieces of luggage may have bulky and immobile designs, making it hard to transport them. You don't want to deal with lugging around a massive bag that weighs you down. Bags should also be easy to carry when you're in a hurry and trying to catch connecting flights. On a similar note, the bags you carry may cause back pain if you purchase ill-designed products. Travelers with back and shoulder issues require luggage that doesn't add to pain levels. This means you need to find bags specifically designed to reduce the amount of pain you might experience.
When you purchase a piece of underseat luggage, you'll want to think about ease of transport. Thankfully, these bags have been manufactured to travel easily and efficiently. You can pick up your underseat luggage and go. These products may utilize carrying handles or shoulder straps to assist in transporting the bags. Others may contain wheels so you can roll them along as you walk. Overall, underseat luggage should be straightforward to bring from place to place and on every travel expedition.
Durable
Travel gear and accessories should always maintain durable constructions. If you're going to be moving from place to place, you need high-quality luggage. This ensures your belongings won't be damaged if you're not being extremely careful. At the same time, you shouldn't have to worry about your belongings becoming damaged due to flimsy luggage. Those who purchase top-notch bags for travel should not have to deal with items that have been dented or bruised. Furthermore, the best luggage for air travel should be designed utilizing materials that can withstand rough handling. These kinds of bags will remain intact, even after experiencing a few bumps along the journey.
When you decide to purchase underseat luggage, you'll be able to maintain peace of mind while traveling. These bags have often been made using materials that can withstand all kinds of travel. This kind of luggage will not incur dents or marks after only being used a few times. As such, you can rest assured knowing that your belonging won't be affected by extreme travel conditions. Underseat luggage will stay intact as you stow it away or carry it along on travel expeditions.
Common Features of Underseat Luggage
Perfect size for underseat storage on airlines

Small and compact shape

Includes organizational features like pockets

check

Utilizes carrying straps, handles, or wheels

check

Durable construction
How to Choose the Best Underseat Luggage for Your Travels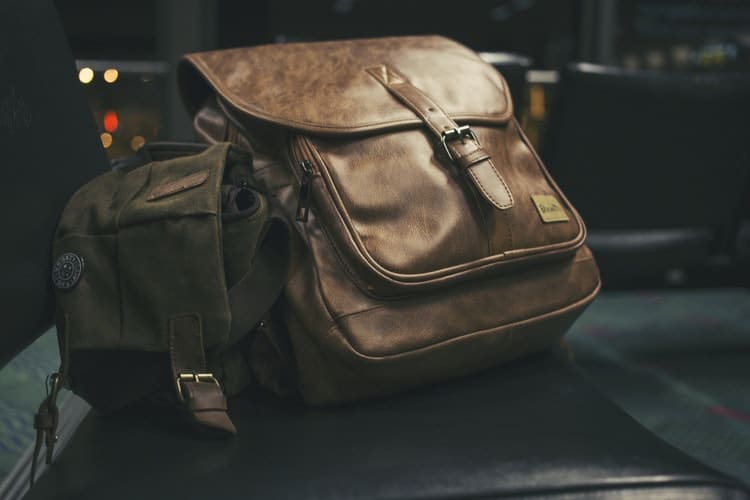 Questions to Ask Yourself Before Beginning Your Search
1. What size bag do I need?
Before you decide to purchase luggage for travel, you should think about the size bags you require. Some travelers may only need small bags for overnight or short weekend trips. This means they won't need to invest in bags that offer lots of space for numerous belongings. Conversely, those who will be traveling for long periods require more room in their luggage. Lots of items, like many clothes and toiletries, will take up space inside bags. Accordingly, think about the amount of space you need in your bag before buying luggage.
When travelers consider buying underseat luggage, they should take into account the size of bag they need. If they need lots of room in their bags, they'll have to research accordingly to find the ideal luggage. At the same time, when you travel by plane, you'll have to adhere to plane luggage regulations. Certain airlines may not allow bags above a certain size and shape. You'll also have to think about if your bag will fit easily underneath a seat. Thankfully, underseat luggage has been designed to fit easily underneath airline seats. This means you won't have to worry about your bag fitting where it needs to go on your flight.
2. How much am I willing to spend?
Travelers on a budget know the importance of finding travel accessories that don't cost too much. Some products, like luggage, may cost a hefty sum. This will put a damper on travel plans if you find that you can't afford the proper bags. On a similar note, the luggage you purchase shouldn't cause a huge decrease in your travel budgets. You don't need to sacrifice an amazing travel experience simply to pay for a decent piece of luggage. However, travelers may find that certain bags may cost more than others. This will depend on the quality of the bag and the various design features included with the product.
When you decide to buy underseat luggage, you'll find bags that remain available at a range of prices. While some bags may cost more than others, travelers will certainly find a product within their budgets. The best products should fit with your budgeting needs, and your luggage should be no exception. Do take note that a few pieces of underseat luggage may cost more due to branding and stylistic features. Accordingly, consider how much you want to pay before spending your hard-earned money on a piece of luggage.
3. Are there any additional features I would like to have?
Various kinds of luggage come available with a variety of features. A lot of luggage remains equipped with things like shoulder straps and carrying handles to make transportation easier. You could grab your bag and go if you have convenient features like straps. Additionally, certain luggage may come designed with wheels, making it simple to roll the bag along the ground. Travelers who experience back or shoulder pain may find wheels appealing. This will eliminate the need to heft around heavy bags when traveling. Other luggage might maintain designs that enable greater levels of organization when packing. For instance, some bag may contain tons of pockets, ensuring travelers can find multiple places to store items.
If you're interested in purchasing underseat luggage, you should think about the additional features you might want. Many kinds of underseat luggage have been designed with convenient features that assist you in your travels. Things like varying sizes of pockets help travelers organize their items according to different categories and needs. Other luggage might utilize wheels, allowing travelers to roll bags next to them while they move. These unique features make traveling even easier, as you can eliminate packing worries and strains on the body.
Things to Consider Before Buying
Size
As previously mentioned, travelers should consider the size of their luggage before investing in a bag. The size of your luggage will make a difference in your traveling experience, especially if you're traveling by plane. Since airlines have specific luggage regulations, your bag will need to adhere to those rules. As such, you should make certain that your bag fulfills any requirements before you take a flight somewhere. You don't want to arrive at your airport and realize your bag won't be able to fit underneath a seat. If you consider the size of your luggage beforehand, you can reduce any travel anxieties or roadblocks.
With the best underseat luggage, travelers won't need to worry about their bags fitting underneath airline seats. These bags have been especially created to fit easily underneath seats when on flights. Accordingly, travelers can remain calm when they're getting on their flights with this kind of luggage. At the same time, travelers may want to think about how much room they need in their bags. Some underseat luggage may be smaller, appealing to those embarking on shorter trips. Others might have slightly larger sizes to accommodate larger amounts of belongings.
Features
Like this article discussed above, certain types of luggage maintain varying useful features for travelers. Features such as pockets and wheels make your traveling experience easier and more convenient. For example, having many pockets assists travelers when they're trying to pack. You can find a place for every important item if your luggage has enough pockets for organization. At the same time, wheels allow travelers to move in a hurry and without pain. The luggage can move along beside you as you run to catch a flight, instead of weighing you down.
Underseat luggage can come with a variety of convenient features. Different sized pockets help travelers decide where to put their belongings before they embark on a trip. Wheels ensure travelers can reduce pain and uncomfortable movements when they move from place to place. You might also appreciate bags that have few pockets, but larger spaces to pack items. This will allow travelers to decide how they want to organize their belongings. In this manner, you should think about the varying features you might like to have before buying luggage.
Cost
Those hoping to save as much money as possible while traveling may prefer to spend less on luggage. Some pieces of luggage come with hefty price tags, taking big chunks out of your travel budget. You don't want to fork over tons of cash simply to have a decent bag for travel. On the other hand, certain travelers may appreciate high-quality luggage. These travelers might not care about spending a lot on their bags if it means they can have luxurious products. Just take note of your budgeting requirements prior to investing in a piece of luggage.
If you're interested in buying underseat luggage, make sure to consider the price you want to pay. Those who don't want to pay a lot for luggage will find affordable options easily. Others may like to spend more in the hopes of gaining bags of higher quality. In the end, every traveler can find luggage that fits within their allotted price range. You won't need to sacrifice a huge portion of your travel budget in order to obtain top-notch luggage.
Here Are Our Picks for the Best Underseat Luggage
1. Delsey Quilted Rolling Underseat Tote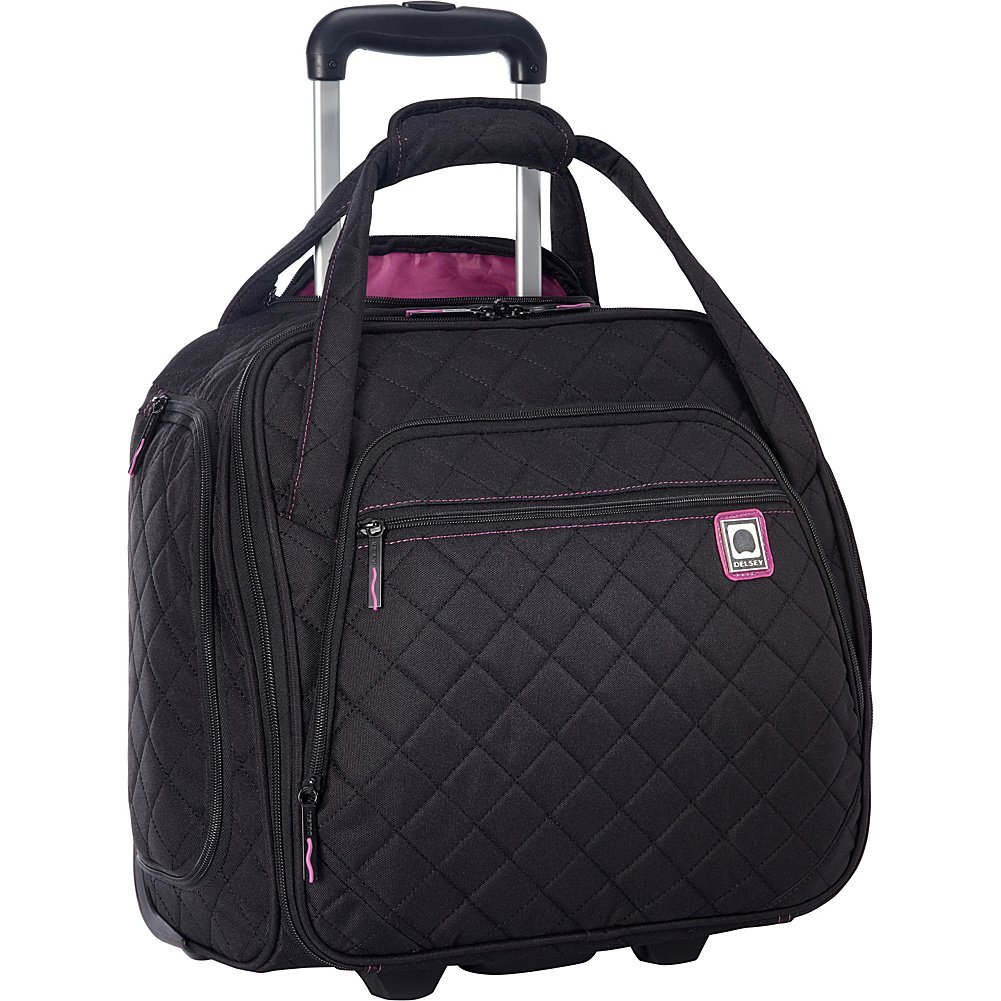 Pros
plus

Airline compliant dimensions

plus

Lightweight

plus

Pockets for organization

plus

Wheels aid transportation
Cons
close

Quilted material not as durable
2. Travelon 18-inch Wheeled Underseat Bag
Pros
plus

Spacious main compartment

plus

Front organizer

plus

Wheels aid movement

plus

Different color options
Cons
close

May not fit under every airline seat
3. Steve Madden Wheeled Underseat Bag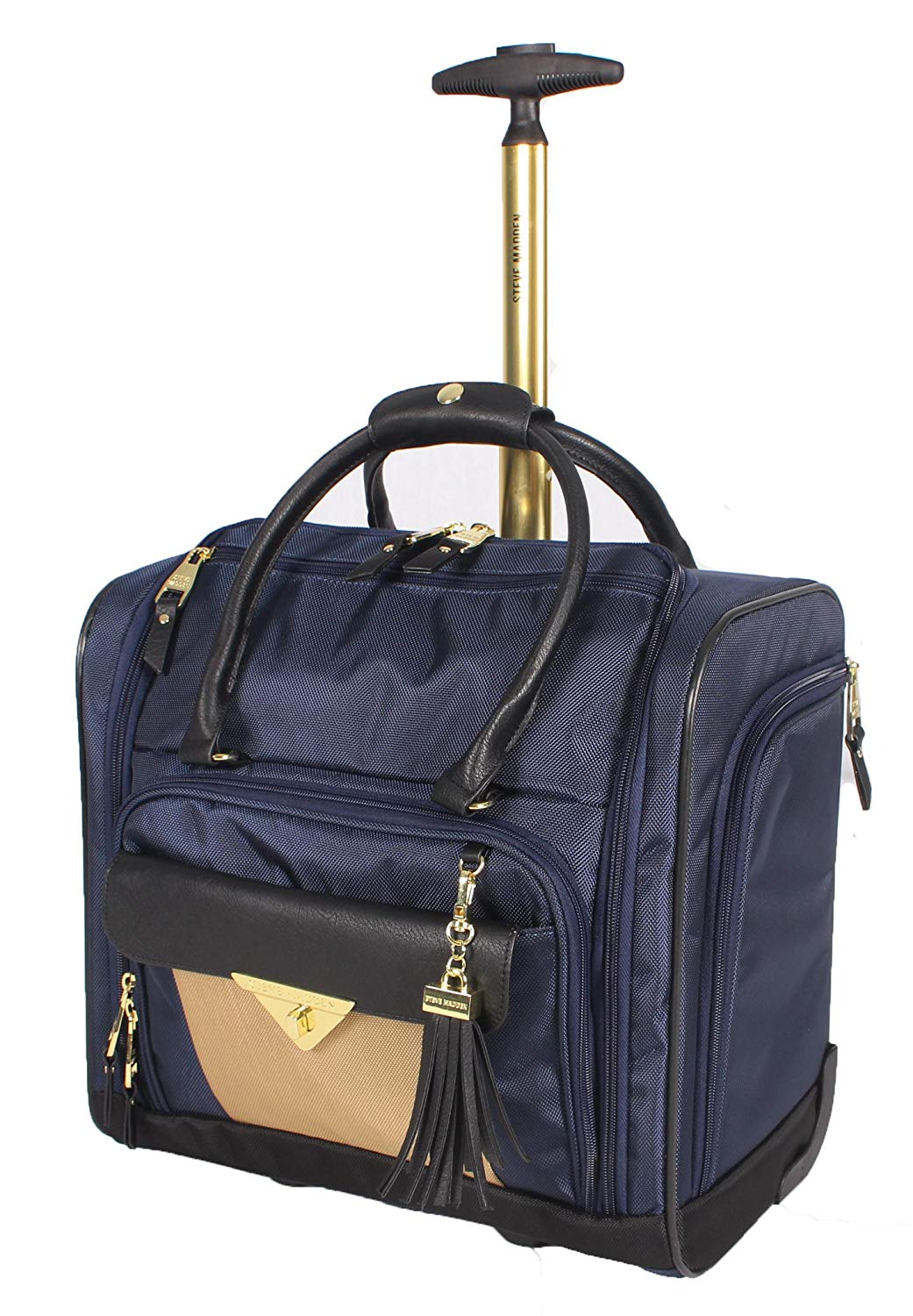 Pros
plus

Various pockets for organization

plus

Push button handle

plus

Lightweight design
Cons
close

Not extremely durable
4. Samsonite Eco-Nu Wheeled Underseater Carry-on
Pros
plus

Wheels provide greater mobility

plus

Retractable handle

plus

Durable material
Cons
close

May not fit under every airline seat
5. Kenneth Cole Reaction Chelsea 16″ Polyester-Twill 2-Wheel Underseater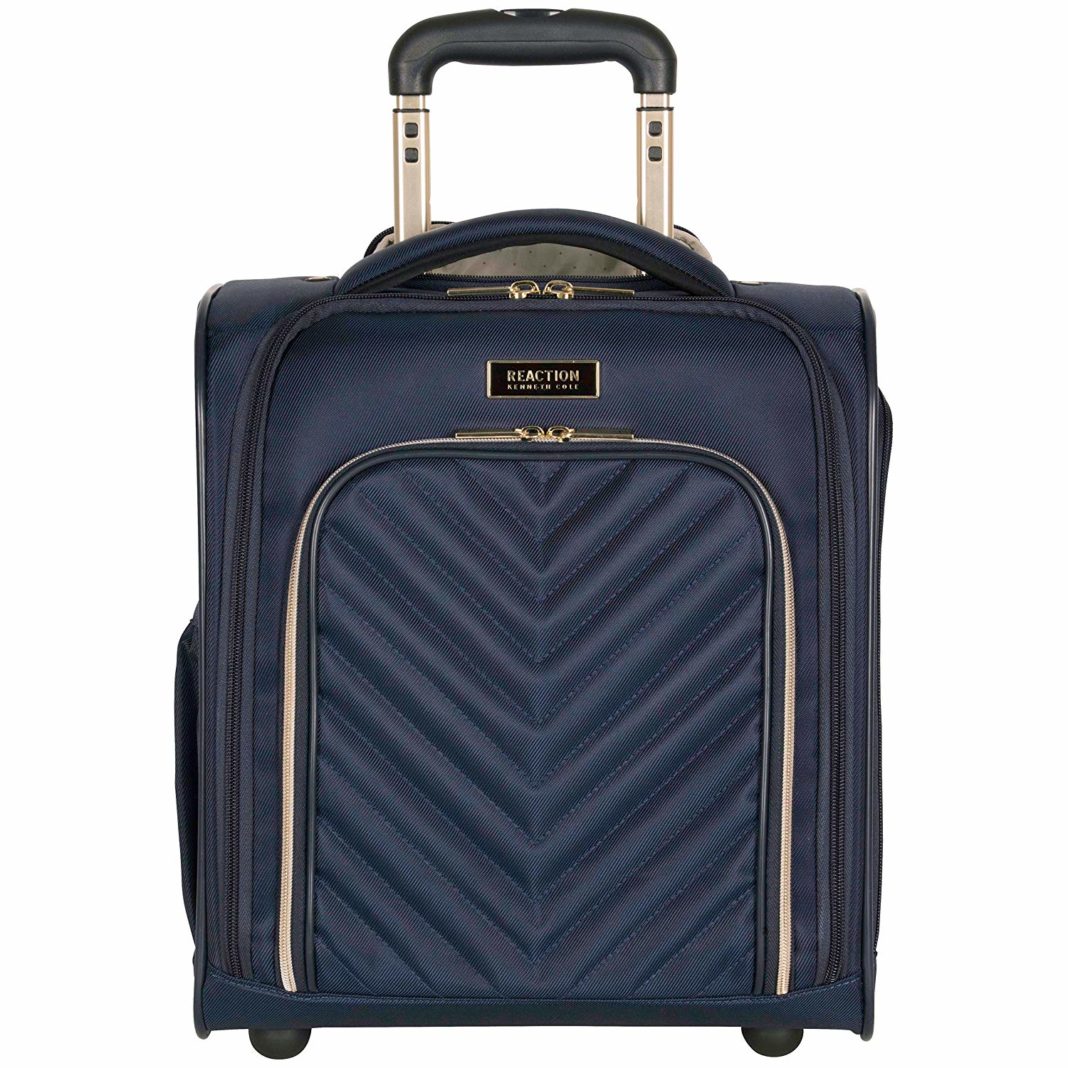 Pros
plus

Stylish design

plus

Multiple pockets for organization

plus

Wheels and handle offer ease of mobility
Cons
close

Bulkier construction
Additional Travel Accessories You May Love
Check out these three travel accessories to bring along with your new underseat luggage:
Never embark on a travel expedition without your perfect underseat luggage.
If you're planning a trip to somewhere exciting, the luggage your bring can make or break the experience. Those who fail to carry the proper luggage may find themselves struggling to fit bags on planes or trains. At the same time, the bags you bring should be able to hold every necessary item. Accordingly, travelers should consider purchasing a piece of underseat luggage. These products allow travelers to carry their important belongings while adhering to plane and train luggage standards. You could slide your luggage underneath your seat, then sit back and relax. Make sure to buy one of these travel accessories before embarking on your next travel adventure.
Related Article: ​8 Best Spinner Luggage Styles for Frequent Travelers
Meghan Ochs
Meghan loves writing in all forms. In her free time, she alternates between reading and daydreaming about publishing her own novels someday. While she's only visited two countries, she wants to travel around the world, with France and Spain the first sites on her list. Before that happens, though, she plans on adopting at least one dog from a local animal shelter.