It's almost summer time which means families will be grilling on the barbecue, heading to the beach, and embarking on a road trip to find the ultimate camping spot. We don't know about you but we're ready for a camping adventure. Enter the awesome 4-person Coleman Sundome tent.
Coleman has brand recognition in the world of camping. Generally speaking, their products are pretty high quality and very reliable. The Coleman Sundome doesn't seem to be any different. Even better, it's not going to set your bank account back too much (college students, we're talking to you here). While there may be a few tents on the market that are better in size, they come at a higher price. However, if you're not looking to do some heavy camping and just want to take an escape for a four day weekend or so, this is definitely the right choice for you. Here's why. 
Coleman Sundome Overview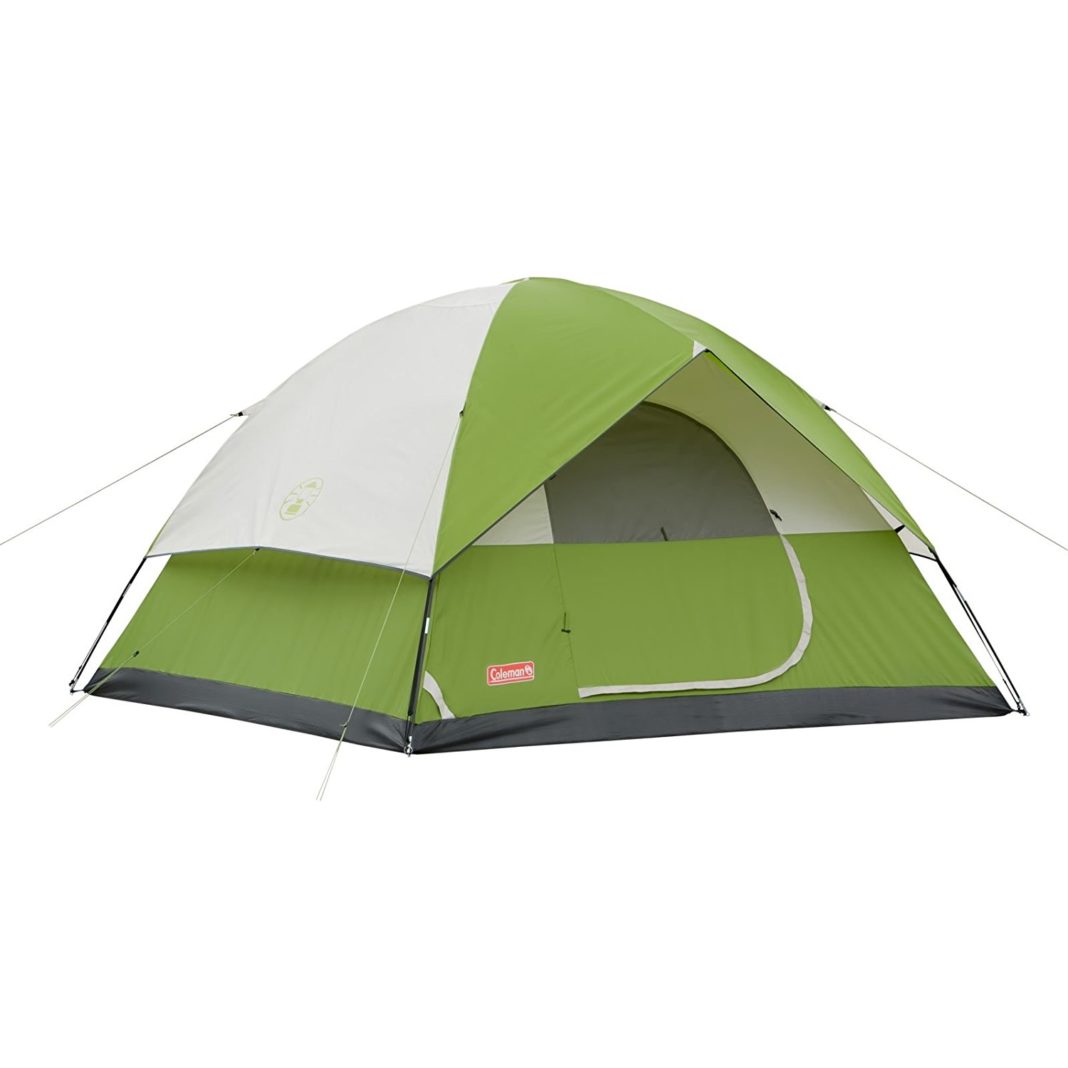 Credit: Amazon
As advertised, the Coleman Sundome measures 10 feet x 10 feet with a 6 ft. center high. This means you can easily fit two queen-size airbeds inside. It's also available in 2-person, 3-person, and 4-person tents. It's just as spacious as it sounds, so you don't have to worry about squishing yourselves in to fit while trying to make room for your gear as well. There is also a little mesh gear pocket on the inside of the tent where you can store things like your wallet and phone to keep them off the ground.
Who Is the Coleman Sundome Perfect For?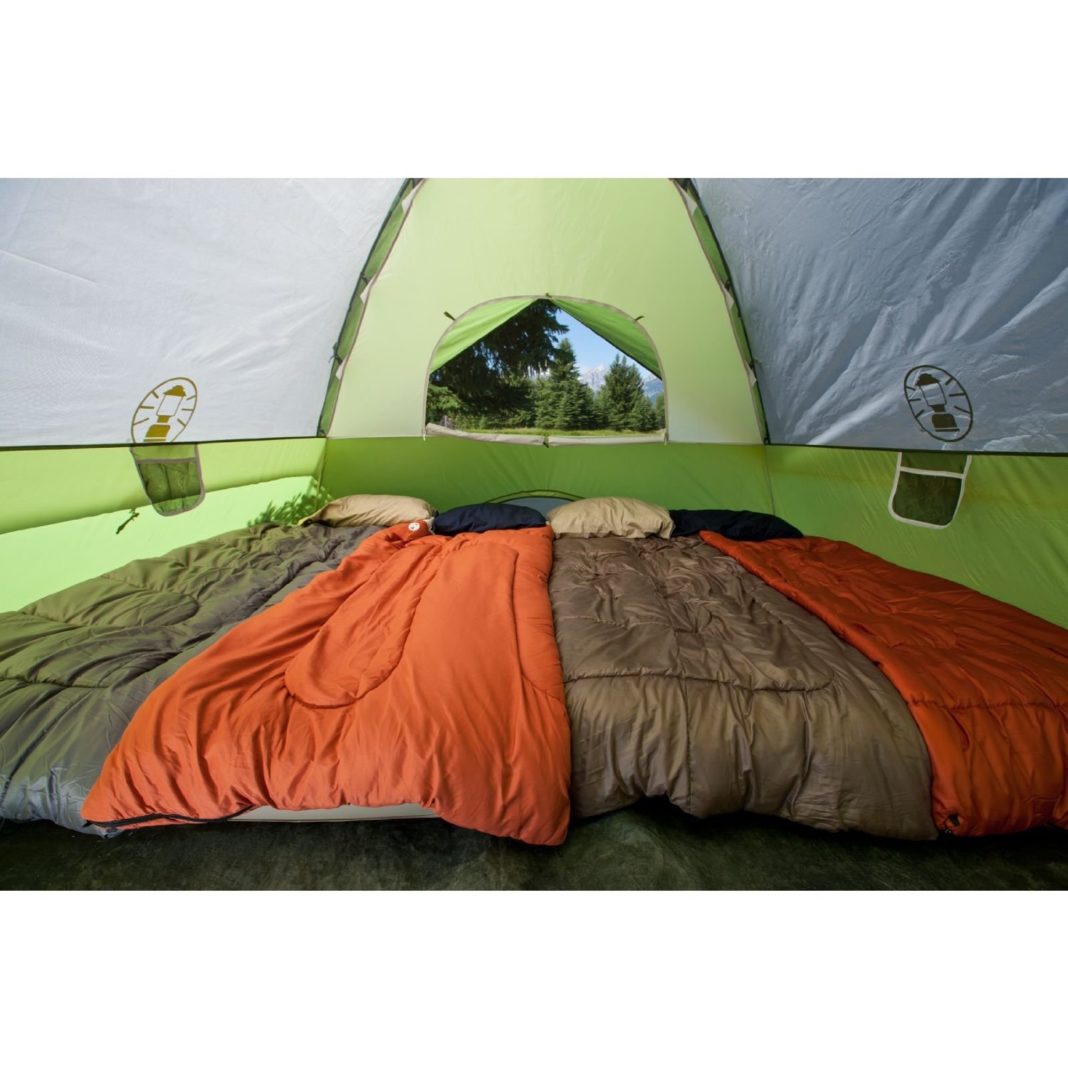 Credit: Amazon
If you've found your camping skills lacking as of lately (aka haven't pitched a tent since your scout camping days), then this is the perfect tent for you. Why? It's virtually foolproof. Tent assembly has never been so painlessly simple. The standard shock-corded fiberglass frame and freestanding tent design offer plenty of room for people to have a little wiggle room and store some small amounts of gear inside too. 
In addition, the Coleman Sundome has been known to withstand hours of wind and rain successfully. That means even if you didn't set it up flawlessly, it won't collapse on you and your family in the middle of the night. Luckily for you, the wall and fly fabric are made from a solid polyester along with a thick 450 mm coating.
Furthermore, the strong 1000D polyethylene tent floor (similar to a bathtub that wraps around all sides), provides total protection against water leaking. While this is a perfect option for summer camping, you might want to consider another tent or packing tons of winter sleeping gear when the temperatures drop a bit lower.
The Coleman Sundome Tent Experience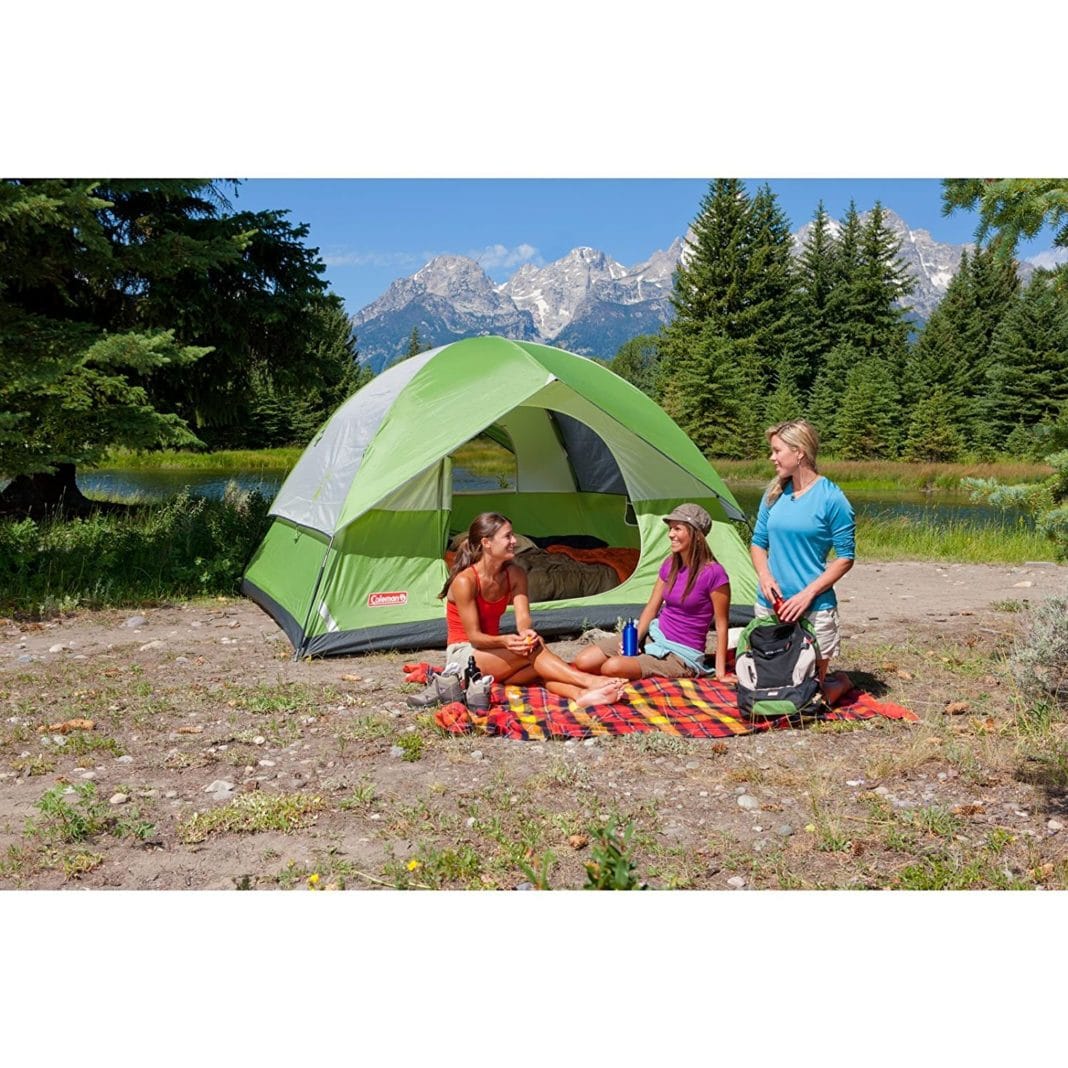 Credit: Amazon
Like we said before, this tent is light, airy, and easy to set up. Here's another plus, it shields you and your stuff from all those bugs floating around in the wild. Even amidst the seemingly worst of elements, you'll stay cozy and dry. Cool summer evenings will be particularly wonderful. Thanks to the hooded rainfly on the window, you can enjoy fresh air from the great outdoors.
The electric point allows you to use AC current and rechargeable electronic gadgets like your phone, camera, LED lamps, etc. Last but certainly not least, the tent can easily be rolled up into a small package. For this reason, it is extremely easy to carry around anywhere during camping without feeling weighed down.
What are the Benefits of the Coleman Sundome?
check

It has a 10×10 ft. base area and can accommodate two large queen airbeds with up to four people inside the tent.

check

You can expect full protection from rain and wind with the polyester fly. The tent doesn't stretch even after hours of rain.

check

The 6 ft. center tent ceiling is high enough that you can use a chair inside if you want to and sit comfortably. We promise your head will not touch the ceiling.

check

The tent can be folded up into sections as small as paper towels and then arranged neatly one on top of the other.

check

The Coleman Sundome comes equipped with an attached mat to place at the front of the tent door. Say goodbye to tracking mud in and hello to a clean, comfortable tent.

check

At the top center of the tent, there is a hook for an LED light or electric lantern.

check

The electrical port access allows you to charge all your devices. So, you don't have to worry about your phone running out of juice in the middle of nowhere. If you wanted to, you could even use it for an electrical lamp.
Extra Information You Might Want to Know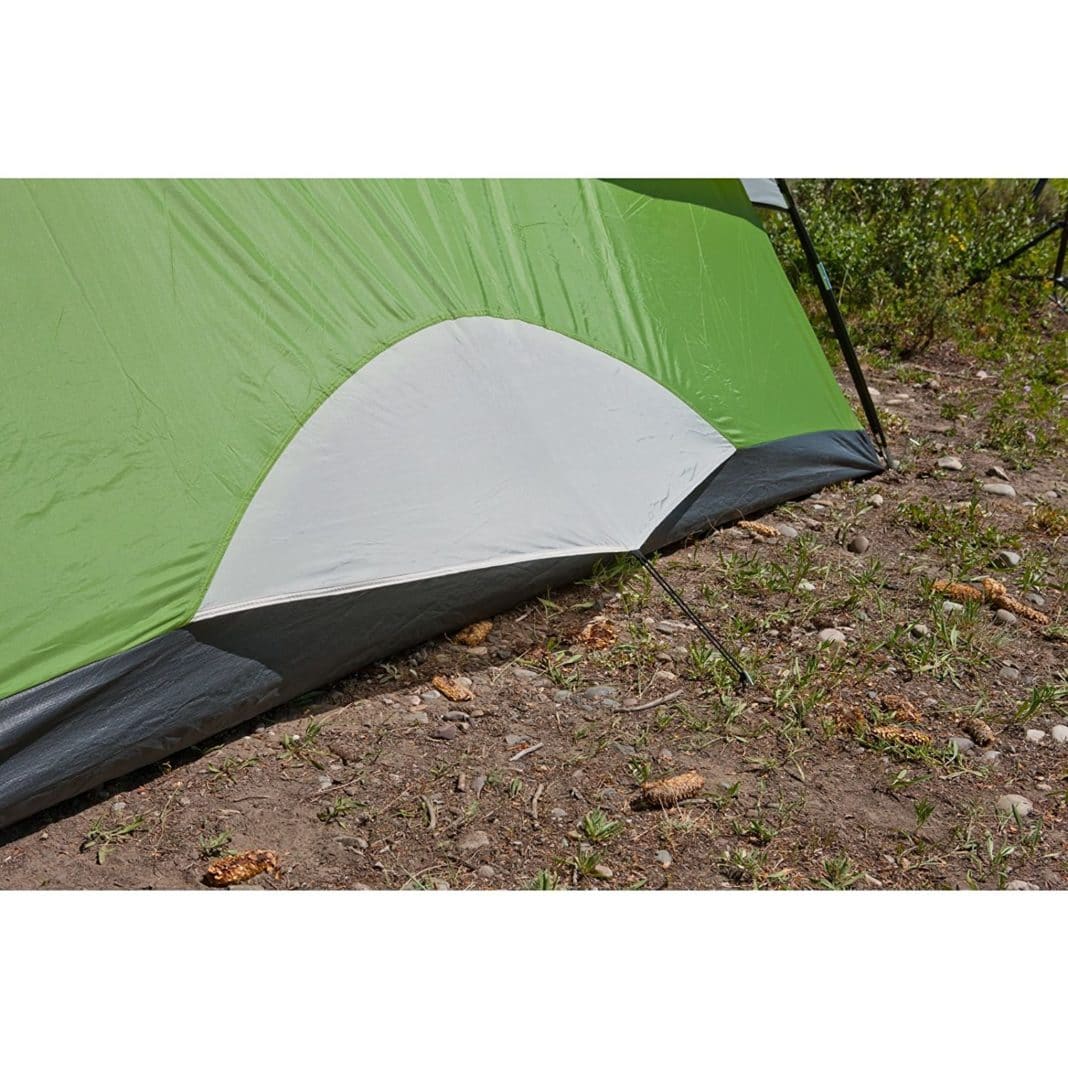 Credit: Amazon
Overall the Coleman Sundome is a really great tent. But to keep it in prime condition, you'll need to get up to speed on some tips for maintenance and use.
Tips for Maintenance and Use
First, this may sound straightforward but you should always follow the tent instructions to erect and pack this tent. It will save you a lot of time and allow for a hassle-free use. Second, if you checked the weather app and know there's some pretty heavy rain on the way, you can always apply some extra waterproof sealer at the seams of the tent near the floor and walls. 
What Travelers Are Saying About the Coleman Sundome
Travelers love the simplicity of the Coleman Sundome, aptly calling it a no-nonsense tent. For setup, all it really requires are two poles to hold the tent up and one extra pole to hold the rainfly up. Some albeit more skilled users managed put the tent up in a Florida thunderstorm in less than 5 minutes (talk about mad skills).
 It only took another 5 minutes to set the 7 guy lines. Even if you don't get the opportunity to spray and seam seal the tent when it is raining, it won't leak much – even through some very powerful Florida rainstorms. Travelers who took it out in the worst of elements only managed to find a few raindrops around the electrical port zipper. 
If you want a tip from us, you should seal that spot. When the wind was rough, travelers love that it stood its ground and didn't move around too much. You can pack a lot into it too.
Some reviews from travelers said they had a cooler, a big box fan, and two pieces of luggage in there with room to spare. It's perfect for two people, comfortable with three, and can manage four if you're good with space management and organization.Two pockets are attached inside, and a welcome mat was included.
Taking the tent down was just as simple. Just fold in half twice, then fold into thirds and roll up. It fit right into the bag with no problems. Users say it is the easiest tent they have ever dealt with!
Here's A Recommendation
We would highly recommend a 10×10 tarp to go under the tent and a 10×20 tarp to go over it. There are two huge mesh panels on the top of the tent, which are great for ventilation, but bad for sideways rain that can sneak under the rainfly. We recommend putting the tarp longways over these vents and it kept out the sideways rain but there was still plenty of ventilation. There is a hook at the top to attach an LED light/fan.
All in all, travelers say the Coleman Sundome is a fantastic tent for warm/hot weather camping. While there might be too much ventilation for late fall camping, perhaps you can figure out a way of blocking those mesh panels.
Alternative Camping Tents
If you're still looking to shop around before you decide on that perfect camping tent, don't sweat it. We've got you covered. Here are two of our other favorite tent styles that might be better suited to your needs.
MSR Hubba Hubba NX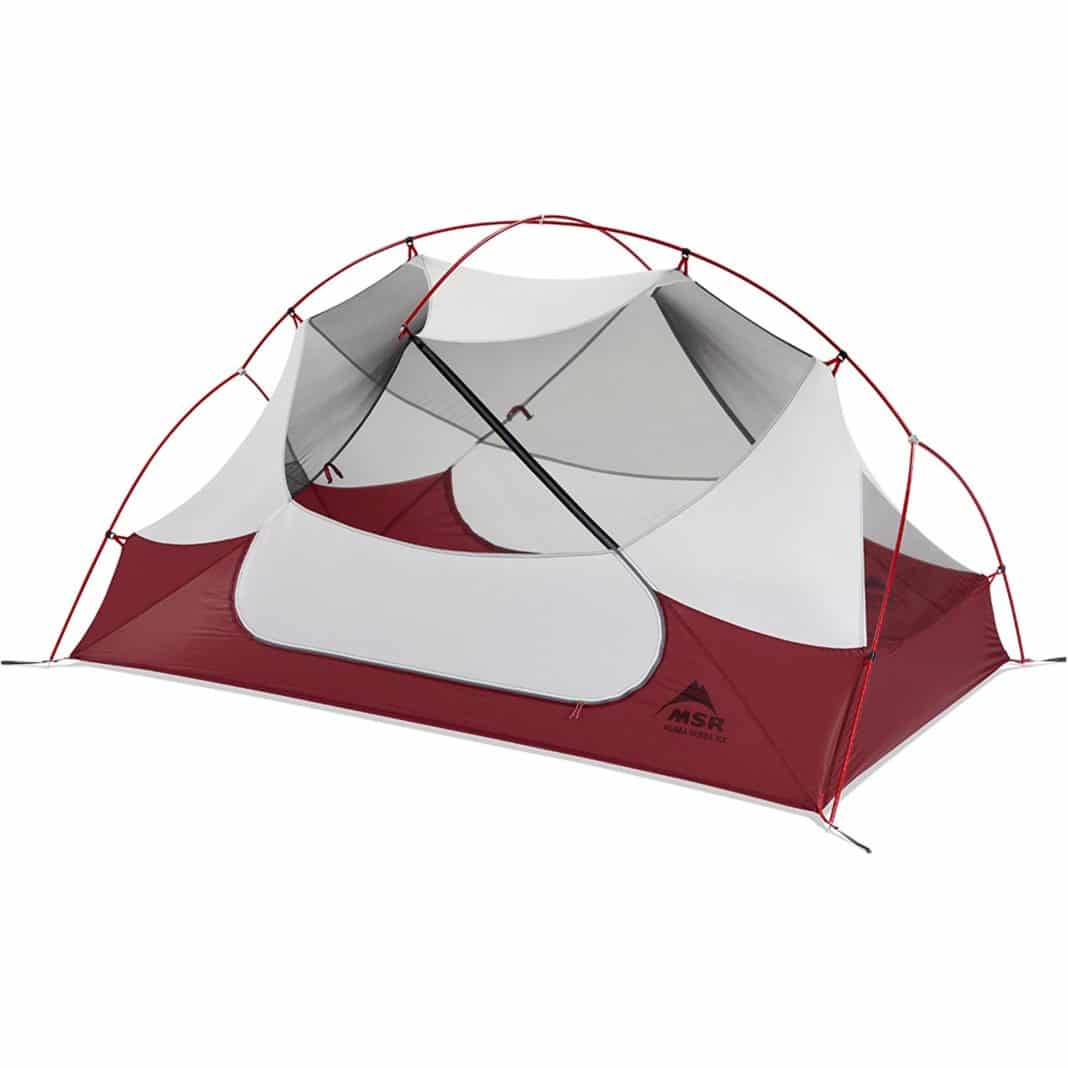 If you're looking for something smaller and in a cheaper price range, the MSR Hubba Hubba NX might be a good fit for you. It can comfortably sleep two people and is also lightweight and easy to assemble. Users particularly loved that they could carry it around without feeling like they were lugging too much extra weight around with them.
The set up is so easy, you can pretty much just pull it out of the box and have it all set up for you. MSR really thought ahead on this one. Luckily for you, it is just as easy to take down.
Black Diamond Hilight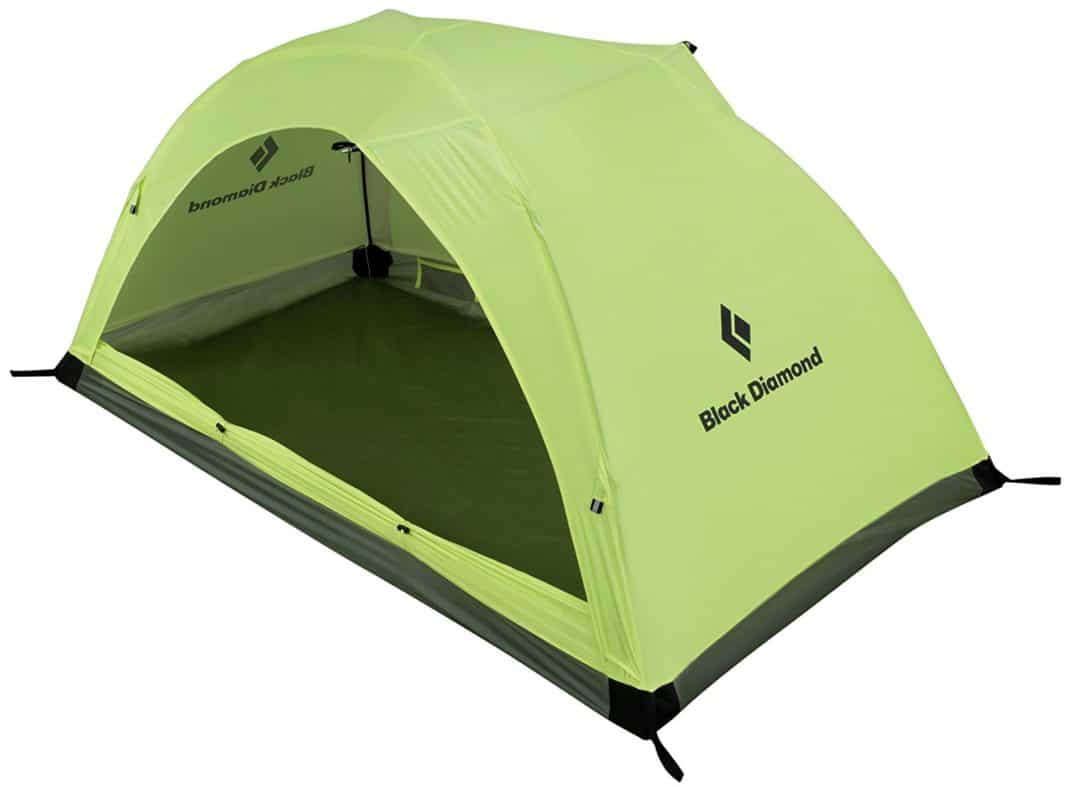 This spacious tent is perfect for either solo travelers or a traveling couple. A roomy, steep-sided design provides for an open-feeling interior and the two and a half pole design offers up twice the strength of a drip-free awning. While it has a highly water-resistant breathable fabric, it is probably best to take out in the spring or summer time, as it is designed to offer more ventilation than insulation.
Our Take on the Coleman Sundome 4-Person Tent
All in all, the Coleman Sundome passes the test of tent quality in every way. It has been thoughtfully designed to withstand harsh weather conditions like high winds and heavy rainfall. The setup is easy and overall, painless. An airy and spacious interior makes for a comfortable night's sleep. The lightweight design makes it easily portable. This is the perfect option for people who want to travel light, yet purchase a high-quality tent. We highly recommend the Coleman Sundome.
Related Article: 5 Best Camping Tents For Outdoors Adventurers