You will not have an issue staying warm in the wintertime with the Canada Goose Langford Parka.
Canada Goose Langford Parka wears with a long design that keeps thighs warm and full of Canada Goose feathers. Most Canada Goose coats possess everything you could want in a jacket- and more. Formerly known under the name, "Snow Goose," Canada Goose products are famous for their intentional designs that provide purpose and luxury style. Since 1957, these forward-looking statements are created with extreme detail and precision. The Canada Goose jacket rose to the top of the winter apparel game with ease, to rugged workers and fashionistas alike.
Canada Goose prides their company on the fact that their jackets are developed and made in Canada. The primary study where they gather inspiration comes from Canadian surroundings. Environments all over North America, including the Hudson Bay and Ungava Bay, help the brand develop what people want in outerwear. The harsh elements of the outdoors influenced the creators of Canada Goose to build something durable for rough laborers. The quality and durability attract Vestiaire Collective and other high-end companies.
Credit: Canada Goose
The Langford Parka has a storm flap over the center zipper, and it contains two inner pockets to keep your important things safe. The front flap pockets ensures everything is readily accessible. Trust us, you're going to appreciate the care that's gone into this coat to ensure you stay warm all winter long. This parka should definitely be your go-to coat during the cold winter days or your next winter vacation. Carefully designed, this will keep you warm even if the temperature reaches -25°C. Since it's waterproof, you can rest assured that you will be kept dry and warm (even if you go outside during heavy snowfall).
Read on for the details that make the men's Canada Goose Langford Parka such a winner.
Canada Goose Langford Parka Features & Benefits
1. Insulation and Shell Materials
The Canada Goose Down Parka does not compromise when it comes to room and space within its compartments. This Canada Goose parka comes built for blustery weather and the coldest ski areas. It is insulated with seriously warm (625 fill) power white duck down. You will essentially sit nice and toasty in any weather. This down insulation enables the Canada Goose Langford Parka to sustain more warmth and heat than other down parkas.
Majority of the coziness comes from the closely-compacted plumule that store and tightly pack warm air. This great feature of the parka increases heat without weighing down the jacket. The lightweight quality of the parka easily ranks one of the parka's most significant assets. Canada Goose has perfected the technology of down insulation. People are not surprised, because of the fact that Canada Goose continues to improve their craft. Their company may have started small, but now they have dominated the game for more than fifty years.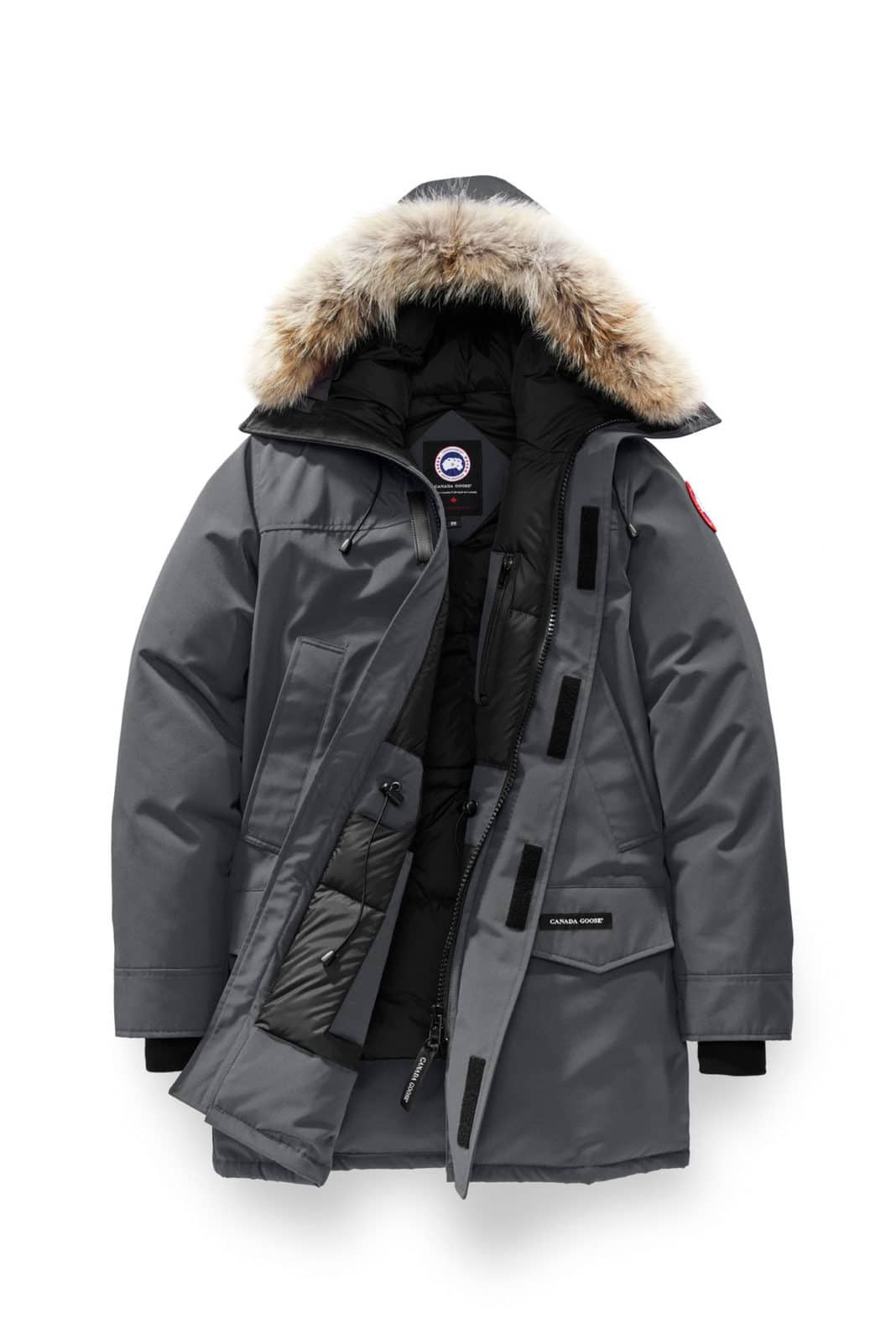 Credit: Canada Goose
More on Insulation and Shell Materials
Canada Goose uses down due to it being the world's best, natural insulator. It provides three times the warmth per ounce in comparison to synthetic insulations. The shell will insulate with a flap that covers the double zipper. This development helps to keep the cold air out and add additional warmth.
The parka comes equipped with a hood that insulates against the cold. The hood creates turbulent air flow; furthermore, protecting the face from frostbite. The fur easily removes off the hood when you prefer a more subdued look.
It also boasts a water-resistant shell that repels snow, rain, and sleet. No need to worry about getting soaked through to your layers underneath! The Men's Canada Goose Langford Parka expertly stitches to cover any opening that might allow a chill to enter. With the notably fantastic insulation, one cannot help but praise it as one of the best windbreakers out there. Enjoy a chilly evening or snowy night's walk without concern- every time. You may just see this coat necessary; especially if you live in regions with long winters.
2. Pockets, Zippers, and Other Details
This piece definitely gives off a more urban vibe, but it compares to the similar Chateau and Banff styles that Canada Goose offers. The Langford provides a slightly longer wear for leg protection, yet still offers clean lines and a modern feel.  The company even created a "Thermal Experience Index" that levels off their different styles. Through the "TEI," Canada Goose will help you choose the jacket fitted best for your body, activities, and lifestyle. The Langford ranked "Enduring," which wears comfortably for 5-degree to negative 15-degree weather. They were inspired by the Arctic environments and created this parka for persevering everyday warmth.
The fleece-lined pockets in the front allow your fingers a cozy, warm place while you're walking or standing around in the cold. Heavy-duty YKK front zippers offer a first enclosure to ward off the cold air. Again, the storm flap over the center zipper and two inner pockets keep your important things safe and tucked away when needed. However, the front flap pockets also ensure that everything is readily accessible. It's safe to say that this coat pays attention to the details.
Credit: Canada Goose
More on Details
The Canada Goose Langford Parka is the most significant addition to your wardrobe for the coldest latitudes, and it offers plenty of storm resistance for the more intense days. The blend of polyester and cotton finishes with a durable water repellent. All of the Canada Goose textiles and wear are also graded by their "Arctic Tech" system. This tells consumers if specific jackets are created for more extreme conditions or not. This parka features elasticized wrist cords that help seal out drafts. No draft can sneak in through the cuffs with this choice. This hypoallergenic parka offers multiple benefits.
3. Genuine Coyote Fur Hood
Created to withstand freezing temperatures, it will prevent your face from freezing due to its hood insulation. Mentioned before, a big problem for people living in the coldest regions is that the skin around their faces easily freeze when the weather brews its most brutal temperatures. Many people residing on that side of the world are looking for the best face covering. What will protect you from the devastating long-term effects of constant cold weather? The Canada Goose Langford Parka is a perfect choice, and it promises superior protection in this type of climate.
The fur trimming around the Canada Goose Men's Langford Parka is unbelievably soft, and genuine, too. Again, this authentic coyote fur makes the circulation of "turbulent" air around the face possible. The warm airflow will keep your face from being hit with some nasty frostbite. Besides, this parka does not only break the flow of cold air coming from the outside. It makes sure to keep your face heated by making the flow of warmer, insulated air possible. Reminder: the fur trim is also removable, so you can wear it either way and stay even warmer in inclement weather. Many remove the trim for daily wear and put it back on for more extreme activities.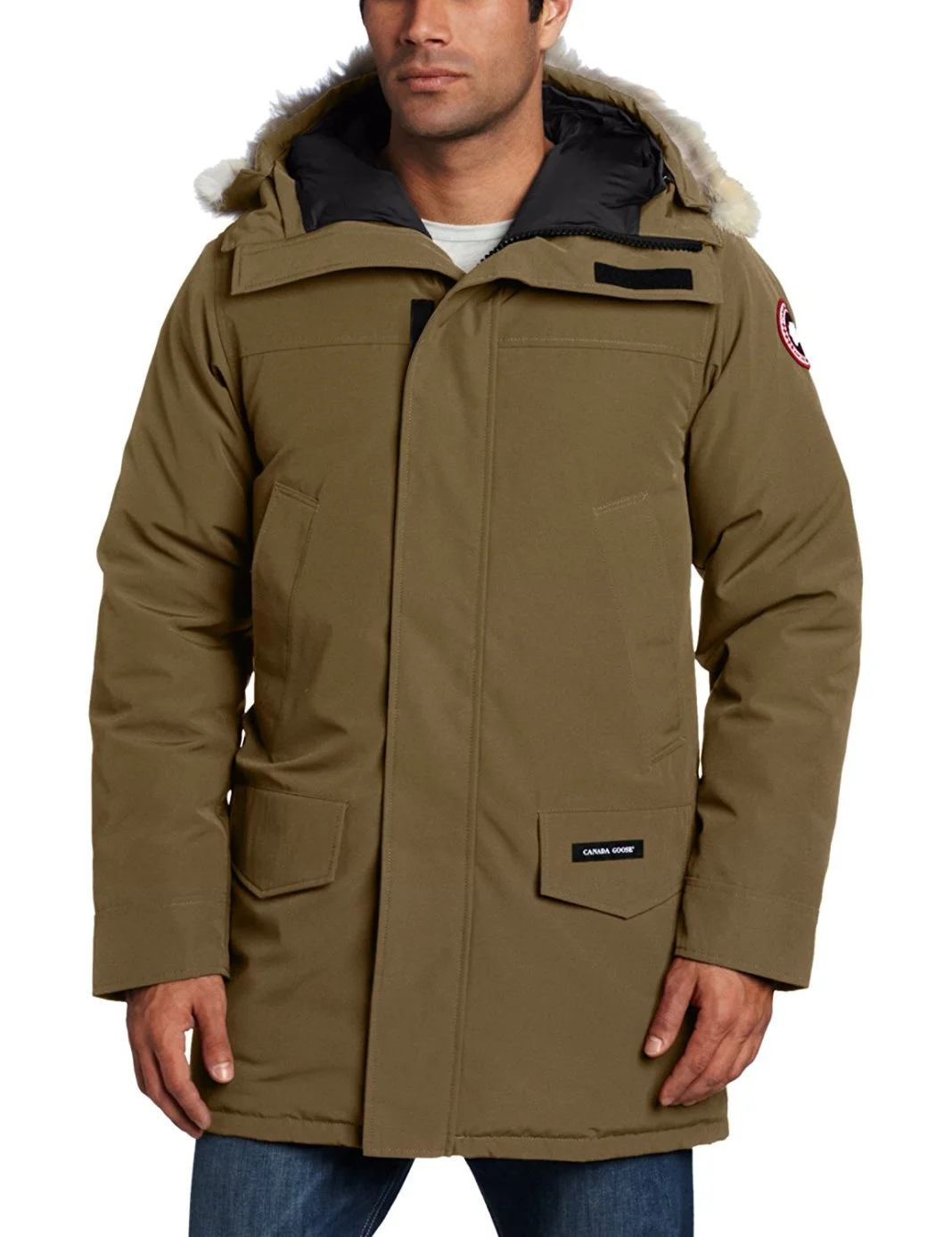 Credit: Amazon
More on the Coyote Fur Hood
Canada Goose doesn't use fake fur for many reasons. Firstly, the main correlating to the fact that it would not provide such warm air circulation. Faux fur only functions for appearance and vanity's sake; and while the designs are popularly loved, that's not what this company solely cares about. It might look fashionable, but the real stuff looks just as good (if not better). The real thing actually protects you in extreme weather. The company started with the goal to process fur for its protective properties and functionality—not because it's a fashion statement.
4. Ethical Creation and Sourcing of the Canada Goose Langford Parka
Canada Goose cares about the impact they're having on animal life, and they have taken the steps to prove it. The company chose coyote fur over others because of their high number in comparison to the other species. The abundance of these natural predators, on and off, causes a significant problem in Canada because of their destruction of livestock and pets. This factored in the heavy consideration when Canada Goose chose where to source their fur. Canada Goose also carefully follows the law when it comes to acquiring the fur (specifically that of the Agreement on International Humane Trapping Standards).
The sustainability goes on and includes the down of the migratory birds used in the making of their products. There are subspecies of Canada geese: Snow goose, Cackling goose, and Barnacle goose- just to name a few. There are multiple common nouns when it comes to the Canadian goose, and Canada Goose outerwear harvests their high quality down ethically. They ensure the process of these birds from eggs in the nest, to goslings, and into adulthood. When consumers buy Canada Goose, they are purchasing intentional products that go beyond goose hunting- and even the standard of overall waterfowl hunting.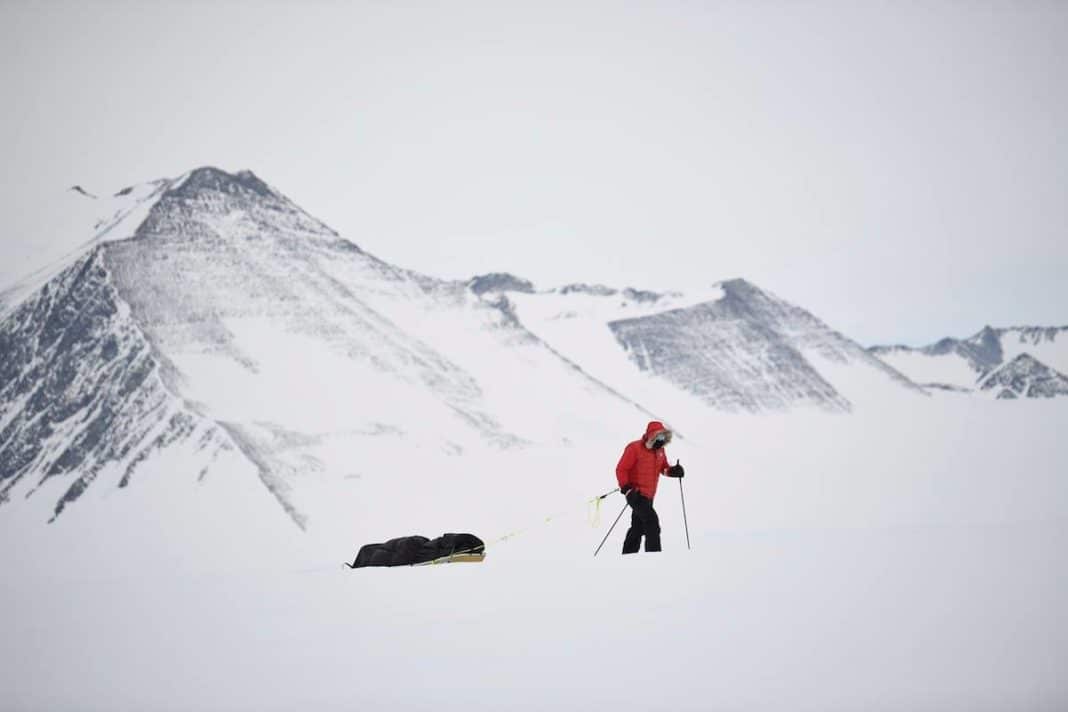 Credit: Canada Goose / Facebook
More on Ethical Creation and Sourcing of the Canada Goose Langford Parka
In fact, Canada actually leads the charge when it comes to the adherence of this law. It set the foundation—particularly that of the scientific basis, for the finalization of the agreement. Canada Goose's efforts to support sustainable fur procurement show their high regard and respect for aboriginal communities in Canada's northern regions. By carefully considering the environment and method of acquisition in North America, Canada Goose seeks to maintain harmony between nature and people. Additionally, this ideal coat is made right in Canada and not overseas somewhere in a sweatshop.
Canada Goose offers high-quality workmanship in this parka, fair working conditions, and appropriate treatment of employees in the process. The fabric, the stitching, and the zippers are all made of first-class design and handiwork without sacrificing ethics. The Canada Goose Langford Parka is the product of half a century's carefully-conducted efforts. Their company wants to produce clothing that is more than just garments equipped with all the protective essentials. They advocate for better treatment of the environment, of animals, and of people by way of example and relationship.
What Travelers Are Saying About the Canada Goose Langford Parka
The Good
Designers created this outerwear to withstand extreme weather conditions. Consumers have the assurance that the Canada Goose Langford will not quickly wear and tear. The Arctic clothing technology that goes into its creation makes this coat a common sight in ski slopes and mountains. Many travelers love the classic style and find the jacket very attractive in appearance. It fits right to size for many and feels roomy enough to wear a heavier sweater underneath it if required.
People also report that they can sense the quality workmanship of the parka and that the body has exceptionally well-made construction. They confirm that it performs well in winter weather and keeps the wind and cold weather out. Additionally, it apparently succeeds in repelling wind, rain, and other weather elements to keep you plenty warm. Customers also appreciate that they can carry their phone, keys, wallet, etc. right in the deep pockets—which are reportedly super comfortable to put cold, exposed hands into. Reviewers state that they love the soft, warm fur trim on the hood, and find the hood super easy to remove when not desired. The hood also adjusts easily to frame the face or to shroud it according to preference to ward off cold weather.
The Bad
A few customers have complained that the feathers tend to leak out on occasion, so you might be covered in them if you are not careful. This might be solved by wearing clothing and fabrics that do not attract them as much. Some have had issues with the zippers due to their location on the left side; most commonly find this a bit more challenging. These customers are not sure if this is due to the jacket itself, the placement of the zippers, or a combination thereof. The zipper has also been difficult to line up and zip correctly for some but will eventually work with some rigging according to reviews. All in all, many travelers hail it as ideal for a stylish, all-weather parka that removes any worry of getting cold. Any remaining issues also have the option of being fixed through the lifetime warranty if purchased through Canada Goose.
Alternative Men's Winter Jackets
1. Mountain Equipment Lightline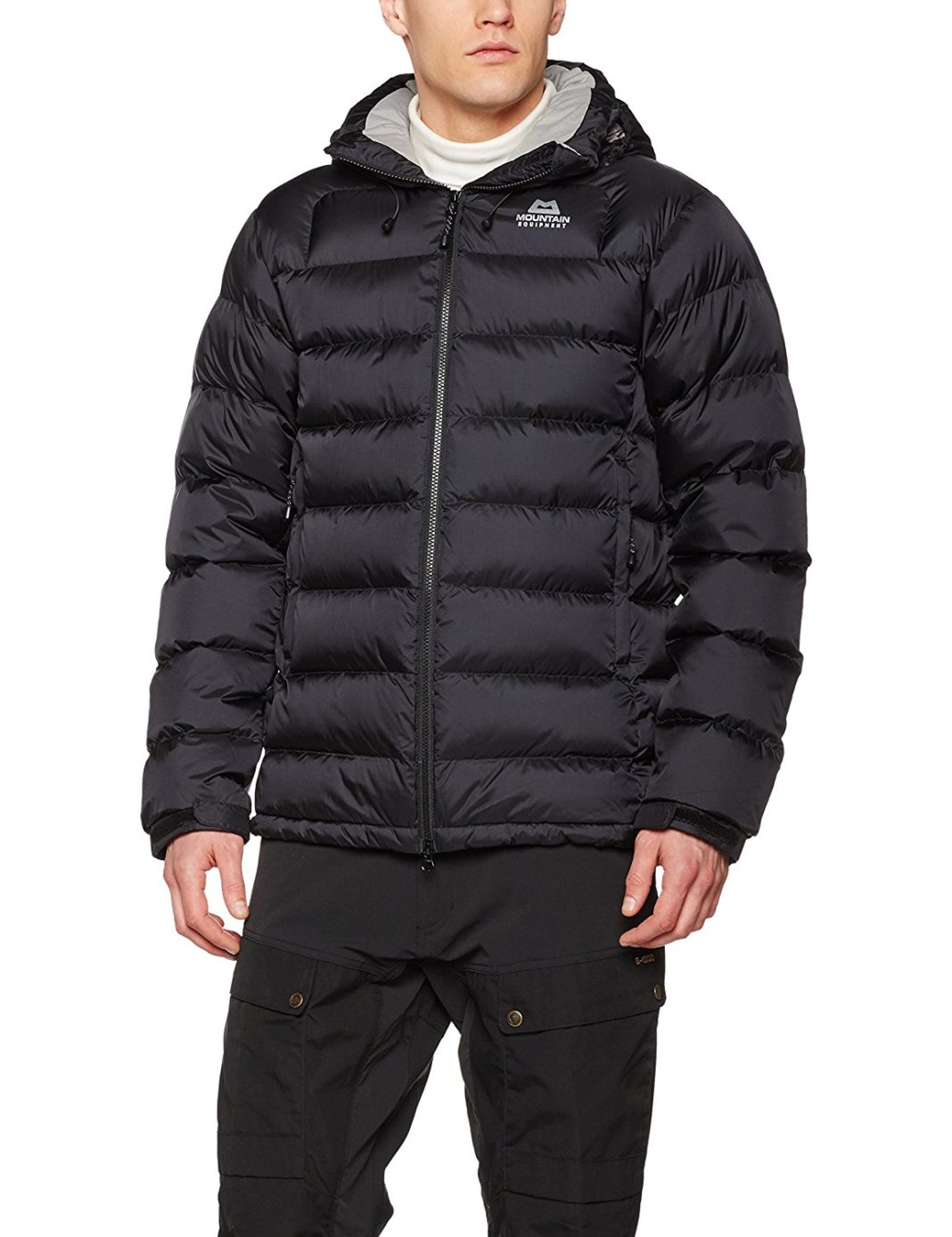 Going for a sportier look? The Mountain Equipment Lightline jacket ensures safety from the cold and offers plenty of great details. With a windproof and water-resistant shell, you can brave the harsh weather in a more athletic style. It appears a little less eye-catching without a fur hood in comparison to Canada Goose's Langford, but it keeps in line with the sporty vibe that it offers. That being said, this winter jacket serves better days for exploring cities with cold weather and not necessarily venturing into the Arctic tundra.
Based in the United Kingdom, the Mountain Equipment brand also holds a track record of being in the outdoor gear game for many years. This brand also attempts to integrate social compliance into its production. The materials going into making the jacket and the labor are noted in detail on their website. You can visit their website to see their audit on duck down that goes into their coats, including the Lightline. The Mountain Equipment Lightline grades a good fit for the traveler with a low-key style and no big plans to go snowboarding into rural mountain peaks.
2. Columbia TurboDown Barlow Pass Jacket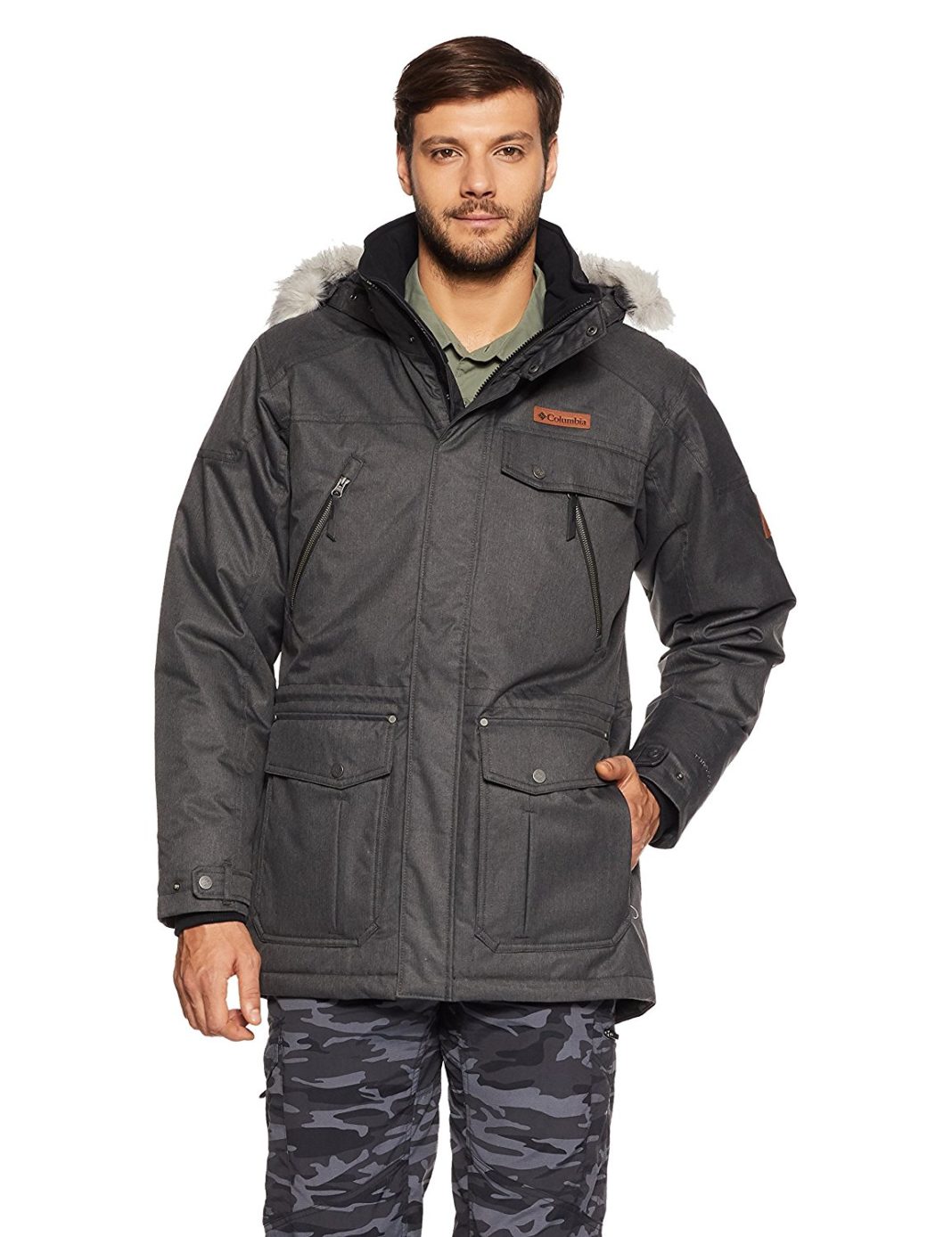 The Columbia TurboDown Barlow Pass jacket is next on our list. Prices for this coat vary from just $200 to $400 in total. This depends on the exact style you choose and the retailer where one purchases it from. Columbia designs a variety of lookalikes that are all of the excellent quality and will handle multiple weather conditions well with similar features. Climates down south with shorter winter months may prefer this option due to it being a durable yet less of an investment cost-wise.
The Barlow Pass jacket features 550 of Columbia's "TurboDown," which uses a combo of their "Omni-Heat Thermal" synthetic technology and treated goose down. "Omni-Heat" is a breathable material that reflects body heat, while Columbia's "Omni-Tech" provides a semi-permeable waterproof and breathable material. Both of these features are found on the Barlow Pass. Columbia also claims responsibly-sourced down and communicates an ethical company standard throughout. The Barlow Pass serves as an ideal alternative for those looking for something even more lightweight than the Canada Goose Langford Parka.
3. The North Face Men's McMurdo Parka III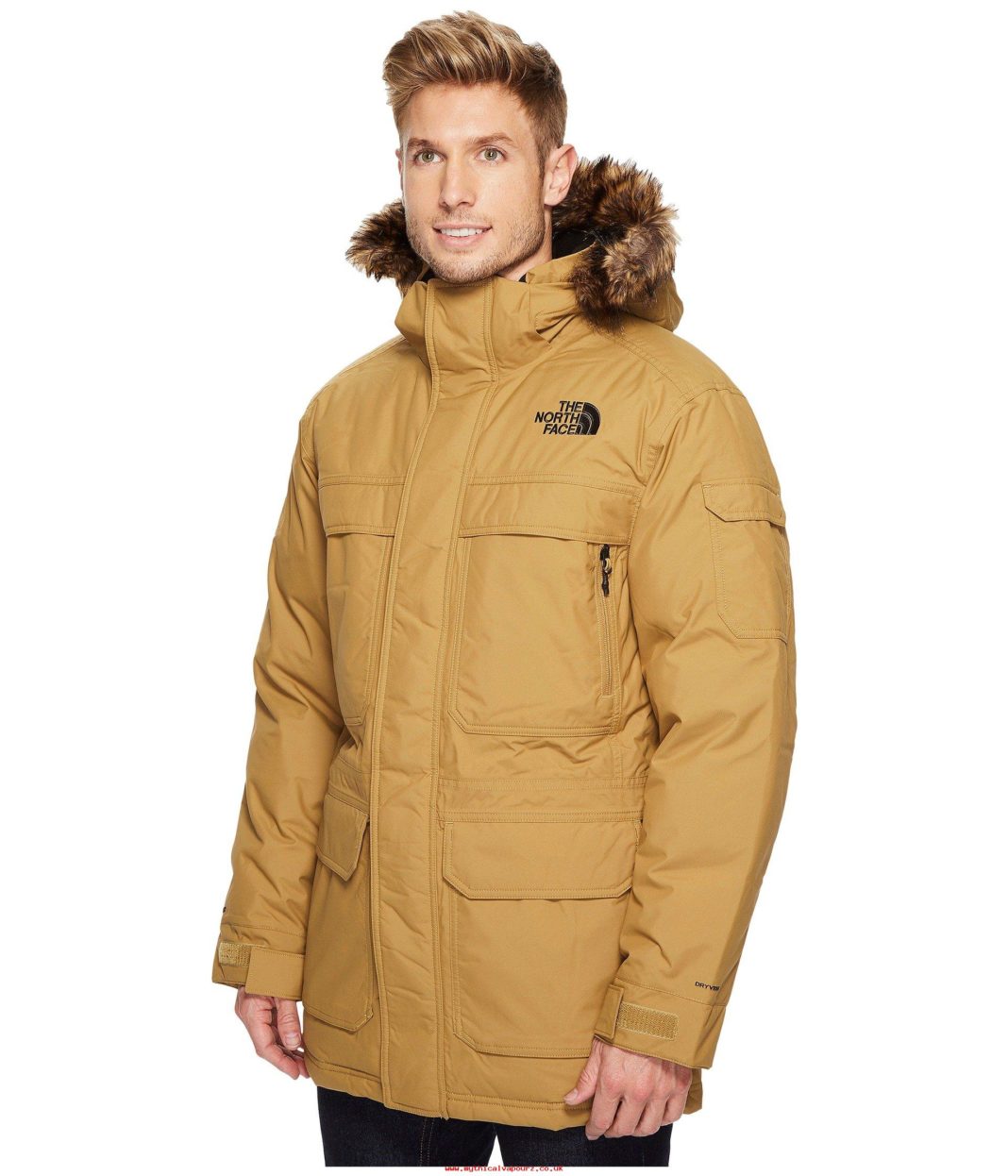 The North Face McMurdo III is another great favorite that comes in at approximately one-quarter of the price of a Canada Goose Parka. Although they categorize it lightweight, this jacket does tend to weigh in a bit heavier than the Langford Parka according to reviewers. This coat weighs approximately five pounds. When you are cold, that can seem like a lot of weight to be wearing around. However, the other features outweigh that according to reviewers for the price you are getting this at.
The McMurdo III colorways are pretty neutral and also fit well for city wear. North Face claims to have responsibly sourced 550-fill down insulation for this particular choice too. This jacket also contains a zip-off hood alongside the removable faux-fur. Like its competitors, McMurdo III breathes with a waterproof shell and windproof fabric. Nevertheless, the design of the McMurdo III looks excellent and will do wonders to keep you warm and dry in wet and cold environments.
4. Penfield Hoosac Faux Fur Hooded Down Mountain Parka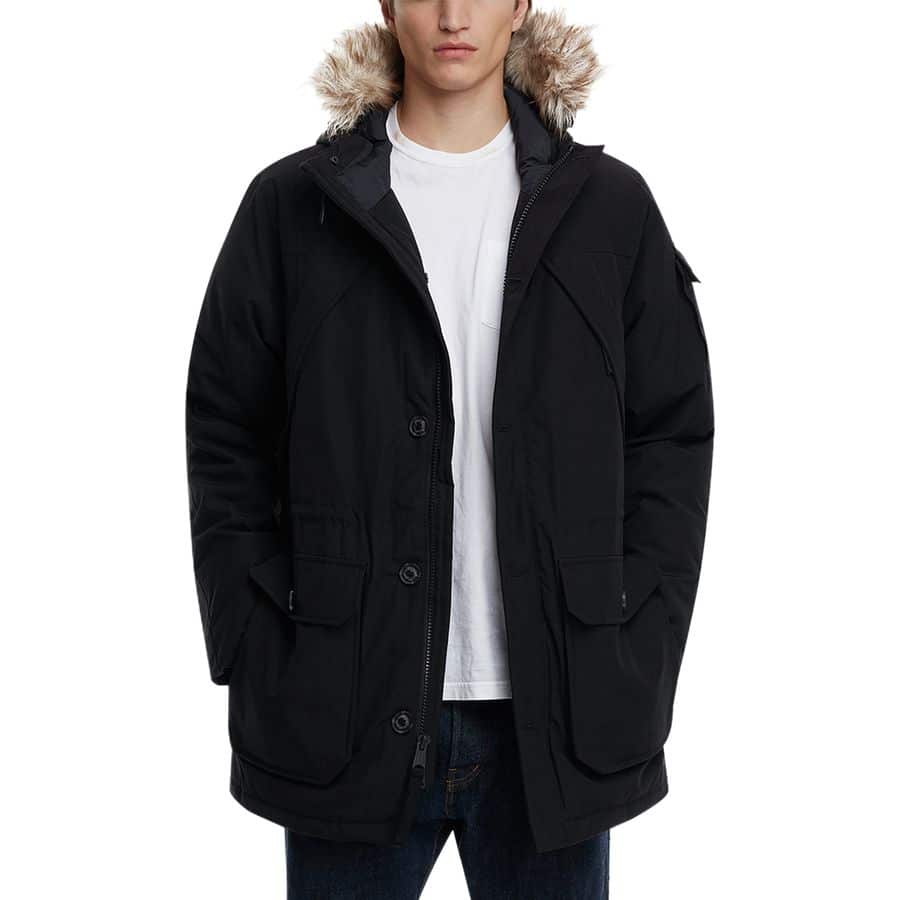 Credit: Backcountry
The Penfield Hoosac offers a warm and handsome alternative jacket for the winter weather. Think of a clean, Euro-feel aesthetic when it comes to the design and color choices of the Hoosac. This Penfield jacket offers a unique blend of a down insulation faux fur hood. It also incorporates 550-fill down for the rest of the coat. Although, the sustainability standard set in other jackets are not set out clear with the Penfield brand.
This jacket boasts clean lines and doesn't incorporate Velcro or bloating chest pockets. It also contains a DWR coating to repel outside moisture from snow, rain, and general stains. The two-way zipper and button-down storm placket prevent drafts going into under layers. Ranging in the lower $200 prices, you definitely get your money's worth. It's similar to a classic survival jacket according to many wearers, so if that's what you're going for, this is your pick.
Beware of Fakes!
The popularity of the Canada Goose Langford Parka resulted in the increase of fakes. Make sure to do your research before purchasing one to confirm that you're buying is authentic. Canada Goose doesn't mass produce jackets but rather carefully create each one to ensure maximum comfort and protection. Many things go into making a parka with this kind of quality. Since Langford Parka imitations have fake furs, they won't do much to protect you in cold weather.
The Canada Goose logo sewn onto each parka helps you determine which is genuine (aside from the obvious price point). Even some logos are fake and created to fool consumers. You can ensure you are purchasing an authentic Canada Goose through Canada Goose online, or you can buy from an official Canada Goose store/ retailer. Remember, you will not commonly see "Sale Canada Goose" due to each carefully curated jacket. You also may want to stay away from ads that say, "cheap Canada Goose," "Canada Goose cheap," "Canada Goose outlet store," or "Canada Goose outlet." You get the picture. Run fast and far! You will appreciate the workmanship that goes into the real thing.
The Canada Goose Langford Parka is a quality-designed jacket that offers a serious bang for your buck with all the bells and whistles.
Whether you're on a high-altitude climb or commuting to work, the protection the Canada Goose Langford Parka offers stands out and far surpasses others of its kind. If we were you, we'd put this men's winter jacket on your wardrobe list.
What do you think of the Canada Goose Langford Parka? Share your thoughts with us in the comments below!
Related Article: ​Best Winter Jackets for Men Who Travel​​​
*This post was written by guest author, Lovelyn Angalao.