Experience higher quality in sound and durability with the Anker Soundbuds Curve.
Precise design and premium materials come together in the Anker Soundbuds Curve. The result? Remarkable in-ear comfort. These headphones truly are exceptional. Experience 12.5 hours of playtime thanks to nker's world-renowned power technology, SoundBuds Curve will play for over a week's worth of workouts on a single charge. But that's not all. They're also water resistant. Meticulously engineered casing with a hydrophobic nano-coating ensure sweat and rain pose no threat. But before we give away all the details, let's take a quick look at the company.
A Little Bit About Anker
Anker is the global leader in charging technology. This includes wireless charging, car charging, and our best-selling portable and wall chargers. Anker is pioneering Power Delivery technology to charge phones, tablets, and laptops at unprecedented speeds. Climbing up the ladder, they are now recognized for powering lives in more than fifty countries across the globe.
Anker SoundBuds Curve Features & Benefits
Let's take a look at the features and benefits of the Anker Soundbuds Curve.
Design
Credit: Amazon
The Anker Soundbuds Curve Wireless offers a solid design. Take one look at them and you'd have no idea they only cost $25.99. The earbuds are dense, durable, and are more comfortable than your standard in-ear headphones. They are also equipped with an in-ear hook design and additional stability fins so they are stable enough for use in the gym. You will also find they offer a straightforward control scheme and come with a good case.
Style
Sleek and black, these minimalist headphones offer ample opportunities for easy wear. The style isn't loud and the portable design allow you to take them just about anywhere. Go for a run in the morning, wear them on a longhaul flight, or take them to the gym. The Anker Soundbuds Curve Wireless is set to become your favorite new travel accessory.
Thick, flexible ear hooks and a matte finish make them feel more premium than they actually are. While they do not come in many color schemes, this understated style is set to accommodate most tastes.
Comfort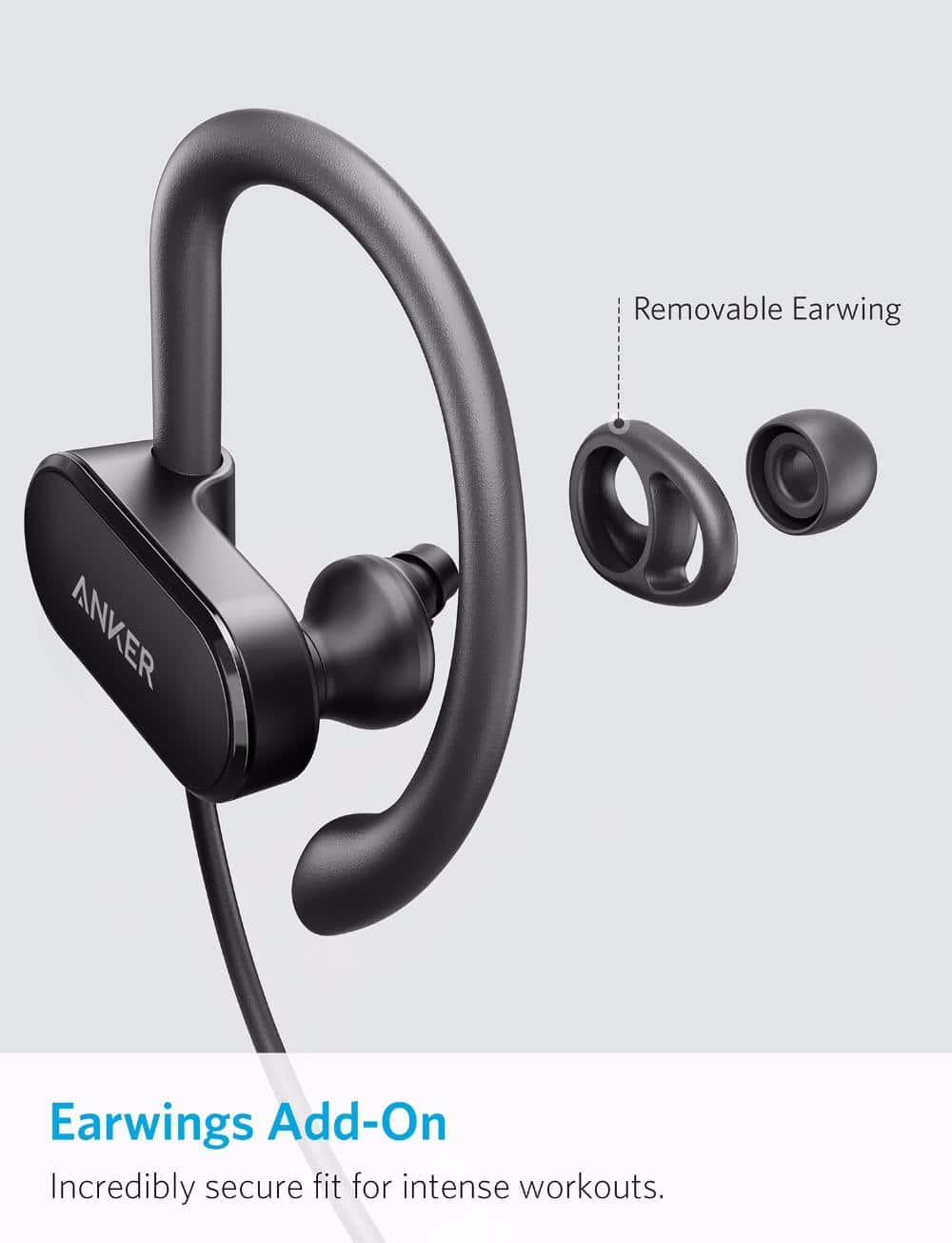 Credit: Amazon
Have you been looking for a comfortable in-ear design? Well, you've found it in the Anker Soundbuds Curve. They're so comfortable, you'll almost forget you're wearing them. The soft tips prevent the aggravating soreness and pain listeners sometimes experience with cheap stock soundbuds. In addition, they come with six different tip options, so finding the right fit will be easier than ever. Think of them like the Cinderella's shoe of the headphone world.
Controls
We love the simple 3-button layout of the Anker Soundbuds Curve. There's no additional features. Just that – easy peasy. This user-friendly control scheme has all the functions you need and nothing that you don't. Make a call, skip till you find that one song you love the most, turn up the volume on your favorite movie. If you'd like, you could even use the in-line remote for controls. Our only complaint here is that we wish the buttons were a little bigger. All in all though, that's a pretty minor issue.
Breathability
We bet you never knew this was important with headphones. But it really is. The Anker Soundbuds Curve are actually very breathable headphones. Like most in-ears headphones,  they do not actually cover the outer ear. This means, you'll remain relatively cool when exercising and working out. They do cover a bit more surface area than typical in-ears due to their ear-hook, earbud-like design but it's a negligible difference and won't make you sweat like on-ears or over-ears do.
Portability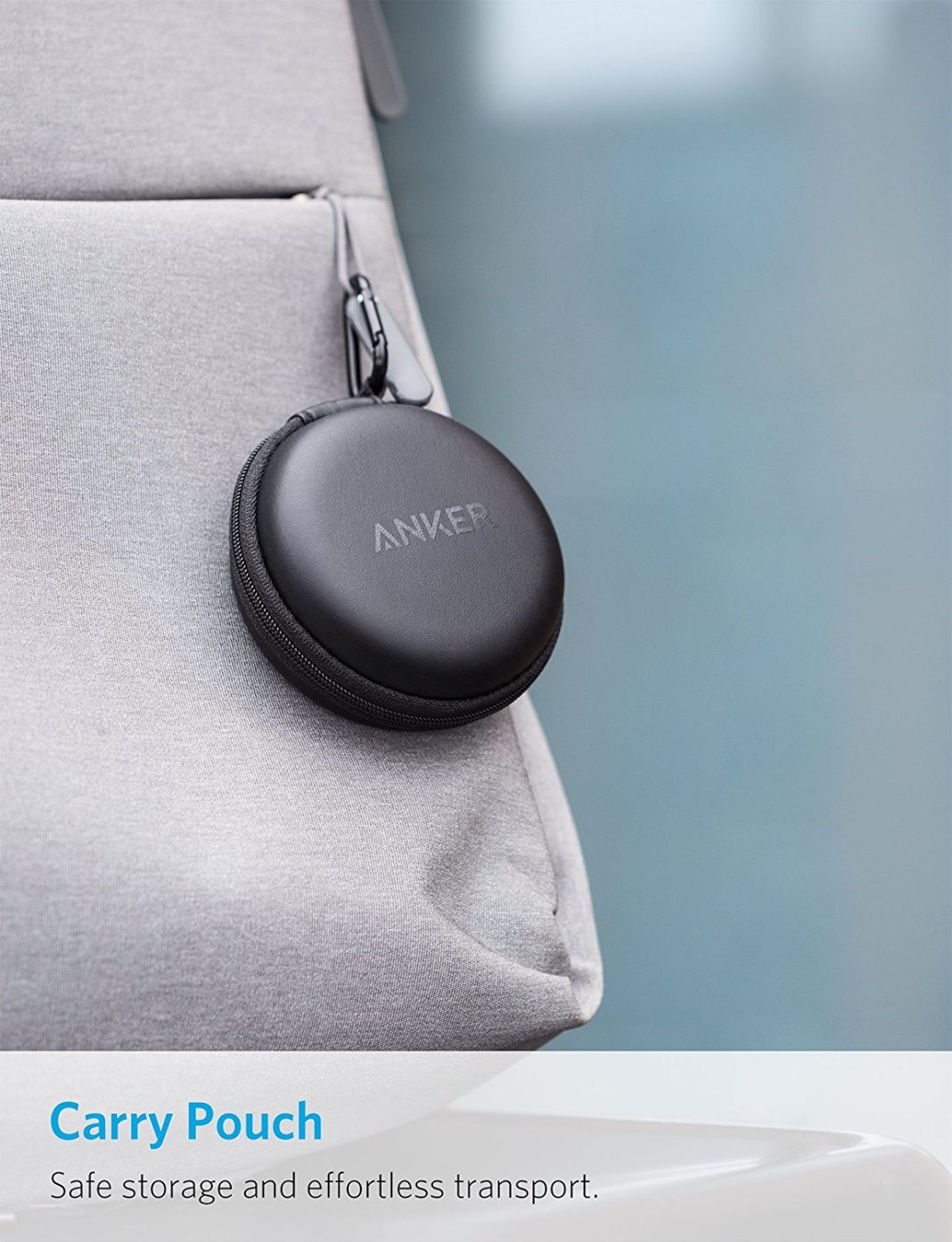 Credit: Amazon
The Anker Curve are easy to carry around on your person. They're compact, lightweight and you can fold them to easily fit into a pocket, bag, or purse. They're slightly larger than straightforward, wired in-ear designs, but are still very portable and come with a decent case.
Stability and Quality
The Anker Soundbuds Curve Wireless offer a stable earhook design. That means they will stay secure even while you're at the gym for an intense workout sessions.  They also have some stability fins included that make them even more stable for wear.
All in all, the Anker SoundBuds Curve have a decent build quality, especially for their price range. The thin audio cables and the earbuds and ear-hooks are fairly sturdy,offering a better build  than some cheaper sports-oriented like the Mee Audio X6 Plus.
Sound
Okay, now let's get to the good stuff – we're talking sound quality. The Anker Soundbuds Curve offer a decent pair of closed-back in-ear headphones. You'll find they have a deep, powerful, and consistent bass, as well as a clear and neutral sounding mid-range. The treble is well-balanced too. Some reviewers said the bass is a little too overpowering but if you ask us, that's not a bad problem to have. The imaging performance is great and they don't sound overpowering like a speaker on a stage.
What Travelers Are Saying About the Anker SoundBuds Curve
Travelers almost can't believe their good fortune. Quality bluetooth earbuds at this price point almost sound too good to be true. You simply cannot complain about these – they fit your ears with frankly too many optional "ear tips" and "ear wings", stay in place, are really comfortable, isolate sound reasonably well without pressurizing your ear canal (we hate that feeling).
They're waterproof, the controls are intelligible, use is intuitive…even the little confirmation sounds it makes for power on, pairing, etc. are pleasant compared to many other Bluetooth styles we have have tried.
The sound is rich, thick, balanced and encompassing. If you're extremely picky about sound quality like we are, you'll be pleasantly surprised with the Anker Soundbuds Curve. These though have way more bass than they you would imagine. This has quickly become my standard and we can't say we're mad about it. And don't you just love all the additional accessories that come in the box?
Tech Specs:
Superior sound quality with Qualcomm aptX audio and cVc noise cancellation technology for clear phone calls.

Tailored To You: Customizable Ear Tips for the perfect everyday fit and additional Ear Wings to keep your headphones in place during tough workouts.

Full Power: With 12.5 hours of music time you'll need to recharge long before your headphones do. A 10-minute charge keeps you going for one hour.

check

Superior Defense: Water-resistant casing and an impermeable Nano-coating effectively protect internal components against liquids.

check

What's In The Box: SoundBuds Curve, Multiple Ear Tips, Ear Wings, Micro USB cable, PU Leather Carrying Pouch with Aluminum Carabineer
Alternative Wireless Earbuds You May Like
Do you want to shop around a little more? We've got you covered. Check out these additional picks for some of the best, affordable wireless earbuds on the market.
FocusPower F10 Mini Bluetooth Earbud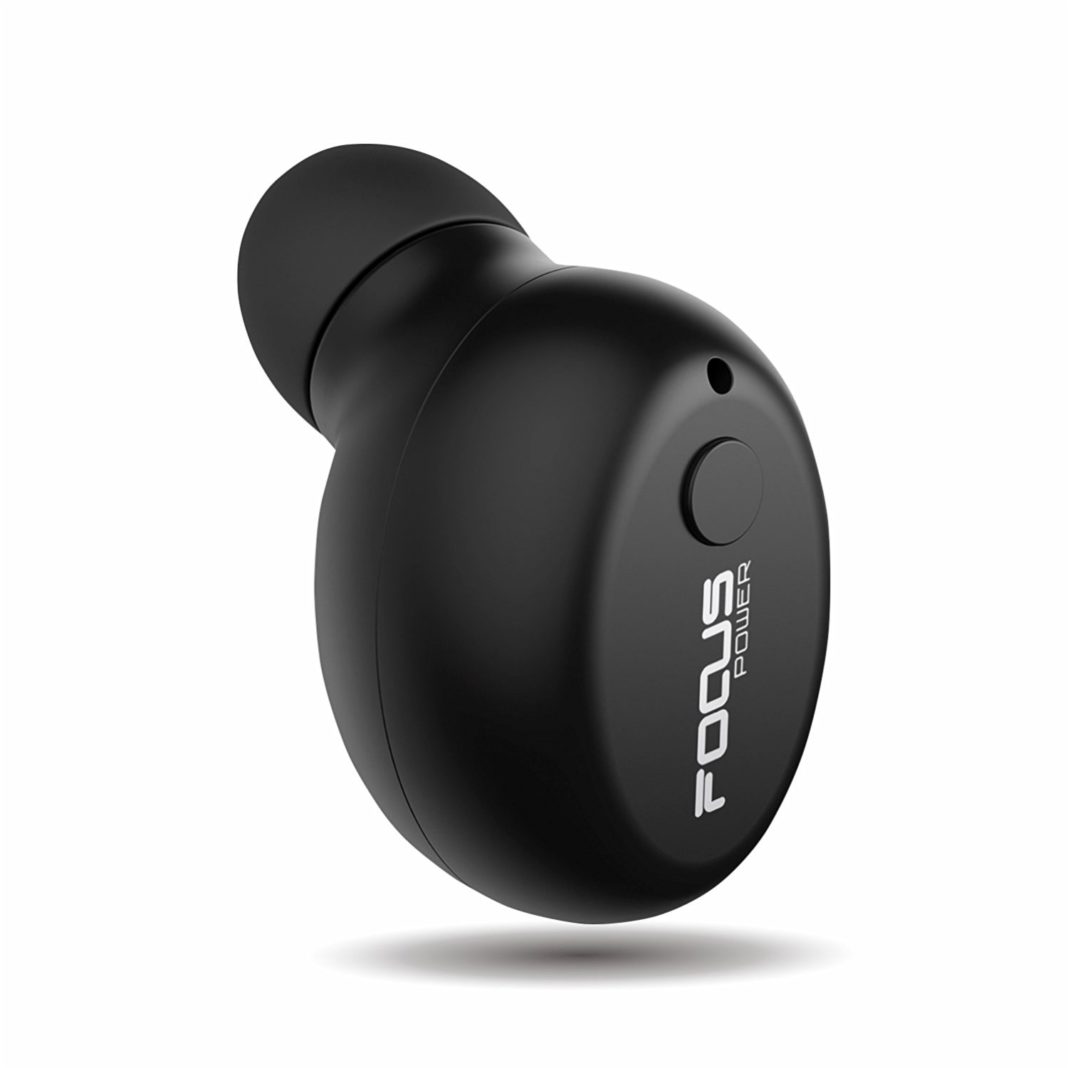 We're not gonna lie. Life is more enjoyable with 6 hours of continuous playtime of your favorite tunes. Enter the FocusPower F10 Mini Bluetooth Earbud. These are some of the best cheap wireless earbuds on the market. Why? Well, they are ergonomically designed and conform well to the shape of your ear. Gone are the days of annoying earbuds that fall out every time you move. The FocusPower Mini Bluetooth Earbuds feel so light, you almost forget they're there.
The high-quality sound they produce is perfect for listening to music, audiobooks, podcasts, and hands-free calls. A small but powerful 55mAH Lithium-ion battery delivers great play time. Even better, , charging time only takes a half an hour. You'll never have to mess with cords again. To charge your device, simply place it atop the charger and let automatic adsorptions work their magic. Pair these with your Kindle, buy some audiobooks, and you're good to go.
Tech Specs:
Multipoint Connection- At the same time connect 2 mobile phones

Energy Conservation – Generally speaking, the battery can keep 3.5 hours life for all similar products, but these products have a high capacity battery which 1.5 times than others. Premium quality lithium accumulator allows you listening audio on 30-40% volume about 7 hours and 6-8 hr talking time, 4.5 hr on full volume.

Bluetooth 4.1 & EDR Technology – Compatible with all Bluetooth-enabled devices. Instantly connected to your smartphone or tablet from up to 33 feet away.

check

Magnetic Inductive Charging  – Never Have to fiddle with cords, you put it to charge and pick it up when you are ready to go
TrebLab X2 Bluetooth Earbuds with Beryllium Speakers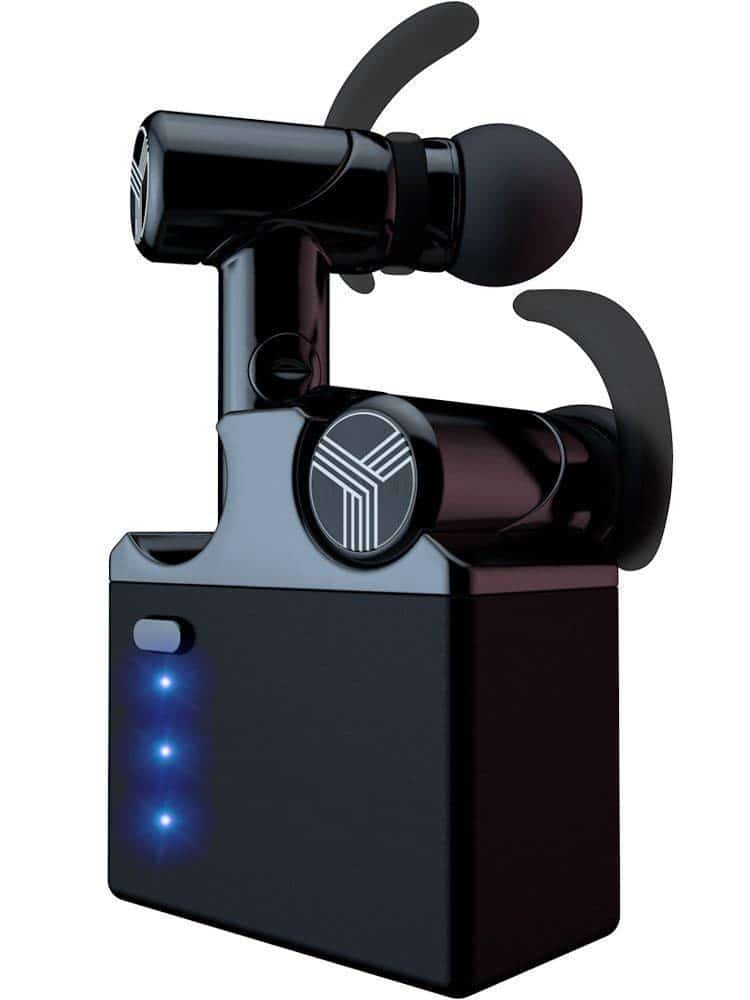 These tiny little earbuds pack a musical puch. You'll enjoy some of the most advanced bluetooth technology in the industry. So what do we love about the TrebLab X2 Bluetooth Earbuds? First and foremost, they offer noise-canceling qualities and a secure fit. Second, when you're on the go, these earbuds block out all the loud noises on the plane and won't fall out when you need them most.
They've got everything you need for your dynamic lifestyle and it's easy to answer your calls. You get 12 hours of battery life, Siri support, and it's waterproof and sweat-proof. It really doesn't get any better than this. TrebLab has some of the best cheap wireless earbuds.
Tech Specs:
True Revolution in Wireless Headphones – After years of R&D, we've made the best, super premium Bluetooth headphones, which will rock your world…literally! Incomparable sound quality, revolutionary design, perfect connectivity.

Cosmic  Beryllium Ultra-HD Sound – X2's speakers are made of Beryllium, an element common in stars' core and used only in top Hi-end & Pro audio. Relive the moments of pure joy and emotional goosebumps with perfect, 3D sound.

Unstoppable Battery – 12 HOURS (5hr + 7hr Charge Box) of pure, uninterrupted sports or running fun. Perfect wireless connection – New Bluetooth 4.2 ensures a stable signal with Android, iOS, Mac, PC, Tablet, Ipad

check

Made to Get Active – Love sports like running or working out in the gym? X2 is perfect for athletes! IPX4 Water-resistant and sweat-proof certified earphones tolerate your sweaty fitness workouts or a jog in the rain.

check

100% Satisfaction Guarantee– Make everything you do more fun with X2 Bluetooth earphones or we'll refund you! Lifetime warranty and 30-day returns make this a zero-risk purchase. Also, expect the world-famous A+ Customer Care.
Invest in a Great Pair of Wireless Headphones – aka the Anker Soundbuds Curve
We hope you enjoyed reading our article on the Anker Soundbuds Curve. As you can see, these little headphones pack a lot into a small package. They are great for on the go – whether you're hitting up the gym, going for a run, or bringing them on your next big trip. You won't find a better pair of wireless headphones for the price point.
Questions and Comments
Do you have any questions or comments for us? If so, we would love to hear them. Feel free to leave a message for us below. We will be sure to get back with you soon.
Related Article: 6 Best Cheap Wireless Earbuds: Take Your Pick