Power up your phone on the go with the Anker PowerCore 13000 Portable Charger.
Travelers who must work on their phones while moving from place to place could benefit from a portable phone charger. These devices keep your phone charged and ready to use whenever you need them. Instead of stopping somewhere to plug in your phone, you can charge as you go. With so many phone chargers available to buy, you might not know the best device to choose. If you want a reliable and powerful charging device, consider the Anker PowerCore 13000 Portable Charger. This phone charger will ensure your phone never loses power during your travels. Read our article below to learn all about the features of this awesome phone charger.
A Little About Anker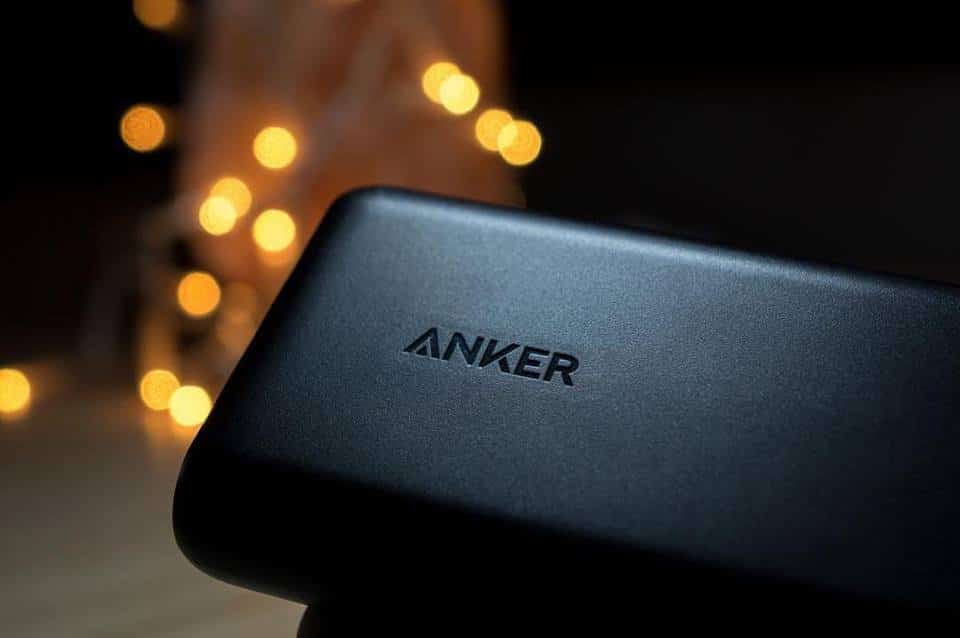 Credit: Anker / Facebook
Anker has made a name for itself as a worldwide leader in creating innovative charging technologies. The company's Power Delivery technology enables a variety of devices to be charged in a flash. Laptops, phones, tablets, and other devices will easily power up when you use an Anker charging product. Besides their popular portable and wall chargers, Anker also creates wireless and car charging devices. Anker even produces USB and lightning cables, so you can get everything for your device in one place. Additionally, Anker sells LED flashlights, speakers, headphones, phone cases, screen protectors, mice, keyboards, and other tech products. If you want reliable and innovative technologies for everyday life, check out Anker.
The Anker PowerCore 13000 Portable Charger Features & Benefits
Superior Power Capacity
When you're looking to purchase a portable charger, you should prioritize an elevated power capacity. This means the charger will be able to hold a lot of power even when you use it frequently. Many portable chargers can only power up your device once, before they stop working. Or, you'll have to spend hours and hours recharging the portable charger while your phone remains dead. Thus, the portable charger will have to be charged often, when it should be charging your phone. In this case, you might wonder why you decided to buy a portable charger if it can't do its job.
Thankfully, the Anker PowerCore 13000 Portable Charger has a super high power capacity. You won't have to spend an entire day repowering this charging device before it can boot up your phone. An elevated PowerCore 10400 makes this charger capable of holding tons of power. A 13000 mAh capacity also means the device can charge phones multiple times in a row. If you need to charge multiple devices at once, you can plug in both into this charger.
Quick Charging Speed
While portable chargers might be a convenient way to boot up your phone, they don't always charge devices quickly. You might purchase a charger that promises lightning-fast charging speeds, only to find that it powers your device slowly. This only leads to frustrations, as you'll have to wait a long time before getting to use your phone again. When you need to use devices in a cinch, inefficient chargers will cause unnecessary stress. Furthermore, you might find yourself driving somewhere to plug the phone in to save valuable time.
When you decide to purchase the Anker PowerCore 13000 Portable Charger, you'll never have to worry about slow charging times. The Anker Charger offers a fast charging speed, so devices will power back up in a cinch. PowerIQ and VoltageBoost ensure the charger boots up devices in a short amount of time. You won't have to wait around for hours while your charger tries to revive your devices. Once you plug your phone into the Anker Charger, you'll get to use it soon after. Additionally, the device can charge two phones at the same time. While other chargers might experience a slower speed when charging multiple devices, this won't occur with the Anker product.
Compact Design
Credit: Anker / Facebook
Countless portable phone chargers feel heavy and bulky, especially when carried around for hours. These devices remain impractical to bring along on long trips, as they weigh you down. Heftier phone chargers might also take up valuable room in your travel bags. This means you'll have to prioritize packing items in your travel backpack or purse. Conversely, tinier phone chargers might be more portable, but these lack the power you need. Small and slim phone chargers appear more practical yet fail to power up your phones reliably.
With the Anker PowerCore 13000 Portable Charger, you'll have both a slim design and charging power. The compact design of this device makes it ideal for bringing along on a variety of journeys. You won't ever feel encumbered by a bulky, clunky device rolling around in your backpack. This charger maintains a lightweight structure, so you'll barely notice when it's inside bags or purses. Anker even claims this charger has a smaller size than most wallets.
Reliable
Technological devices don't always remain functional for hours and hours of usage. Products like portable chargers may not continue to work after months of use. Additionally, these chargers could break when you're taking them on various adventures around the world. The best portable charger for you should keep charging your devices long after you've first purchased it. On a similar note, portable chargers tend to maintain flimsier constructions than desirable. Certain chargers may only have a slim design that makes them prone to breaking.
The Anker PowerCore 13000 Portable Charger has been constructed to make it last for countless hours of usage. You won't find this device prone to breaking or lacking the ability to charge phones after using it multiple times. Despite the compact structure of this charger, the Anker product will remain intact throughout your travels. While certain chargers might deal with broken connections from plugging devices in frequently, this charger will remain completely functional. This charger even comes with a worry-free, 18-month guarantee in case you ever run into any issues.
Charges Multiple Devices
Portable phone chargers can be annoying to carry around from place to place. If they have a bulky design, this makes it even more difficult to fit them alongside other belongings inside bags. Travelers who need to bring multiple devices, like phones and tablets, may not get to charge both simultaneously. If your phone charger doesn't allow you to power up multiple devices, you may have to buy multiple chargers.
Devices like the Anker PowerCore 13000 Portable Charger allow travelers to boot up two phones or other items simultaneously. This makes the device ideal for those who want to charge multiple devices at the same time. You won't have to worry about carrying more than one portable charger inside your travel bags. The two, high-speed USB ports on this phone charger ensure you can boot up a tablet and phone at once.
What Travelers Are Saying About the Anker PowerCore 13000 Portable Charger
Travelers who purchased the Anker PowerCore 13000 Portable Charger raved about the product's charging capabilities. The device charged reviewers' phones in a very short amount of time, and always worked when they needed it. While some portable chargers weren't as reliable, the Anker PowerCore 13000 Portable Charger always remained functional. On a similar note, while the Anker Charger felt relatively small, the device still held a lot of power. Even after charging devices with the Anker product for long periods, the charger remained full of charge. Some reviewers also appreciated the travel bag that comes included with the phone charger. This made it easy for travelers to take the charger from place to place.
A few reviewers related that the Anker Portable Charger felt heavier than they expected. Accordingly, travelers recommended using this charger for long-term travel, rather than quick trips. Additionally, some reviewers thought the Anker Charger should have been more durable. For example, after using the device for a few months, the charger no longer powered up reviewers' phones. However, for the most part, travelers found the Anker Charger ideal for quickly charging phones on the go.
Alternative Portable Phone Chargers You May Like
1. RavPower Portable Charger 22000mAh External Battery
Travelers who weren't completely impressed by the Anker PowerCore 13000 Portable Charger should consider the RavPower Portable Charger External Battery. This device will charge your phone in the same way of the Anker device. Instead of trying to desperately search for somewhere to plug your device in, the RavPower device can charge your phone. The RavPower Portable Charger has a massive battery, letting you charge an iPhone X 4.9 times. If you have a Galaxy S8, you can charge the device 4.4 times, or an iPad mini 4 2.6 times. After you've used the portable charger all day, the device will power back up in 10 hours. Additionally, the RavPower Charger can charge three devices at the same time. Three iSmart USBs allow multiple devices to power up at once, while maintaining a 5.8A output. A secure high-density, Li-Polymer battery maintains around 70-80% of its capacity after 500 charging cycles. Travelers who like to have vibrant accessories will also appreciate the color choices for this charger. You can choose between red, blue, and white, as well as black, for this device.
2. Uni-Yeap 11000 mAh External Battery Charger Power Bank
The Uni-Yeap 11000 mAh External Battery Charger remains a great alternative to the Anker PowerCore 13000 Portable Charger. This attractive charger has a sleek and portable design, making it ideal for travelers. With a thin, lightweight construction, you'll never feel weighed down while carrying it in your travel bag. The shiny and bright display makes this charger exciting to use and carry with you from place to place. An LED display lets you know how much charging power remains on the charger. Thus, you'll never have to worry about not knowing if your charger will work when you need it. Despite the Uni-Yeap's slim structure, the device can easily charge your phone in a cinch. This device has enough power to charge your iPhone 6 or 7 up to five times. Accordingly, you won't have to reboot this charger every time you decide to use it. The Uni-Yeap External Battery Charger even has universal compatibility, meaning every type of device will work with it.
3. Benanna Portable Charger 10000 mAh Lightning & Micro-USB Input Power Bank
With the Benanna Portable Charger, travelers will get to power up their phones anywhere, at any time. Like the Anker PowerCore 13000 Portable Charger, this device charges phones while you're on the go. You won't have to wait forever for your devices to gain power. This charger has a lightning fast charging speed, so you'll phone will be ready to use pronto. A slim body makes the Benanna Portable Charger ideal for stowing away in purses and backpacks. Travelers can avoid feeling encumbered by heavy devices when they bring this charger on trips. The aluminum alloy construction also maintains an anti-fingerprint design, meaning your device will always look clean. A Smart Safety system embedded within the charger makes certain the device won't cause issues with your phone. This power bank also remains compatible with various kinds of devices, including Apple and Android phones. Never leave home without a portable charger like the Benanna Power Bank if you always want to use your phone.
Charge while you travel by using the Anker PowerCore 13000 Portable Charger.
When you're constantly on the go, you might not have the opportunity to charge your phone. This leads to frustrations when you can't use your device for work or to stay in contact with others. If you're traveling all over the world, finding somewhere to stop and charge your device can also be a hassle. Thankfully, charging equipment like the Anker PowerCore 13000 Portable Charger exists to make your life easier. This awesome device will keep your phone charged no matter where you go. Make sure to purchase your Anker Portable Charger before embarking on another travel adventure.
Related Article: Best Portable Phone Charger: A Travel Accessory for Your On The Go Lifestyle