Why should you travel with a collapsible water bottle?
There are many reasons to use a collapsible water bottle. First, you reduce your environmental impact. Each year, thousands of plastic bottles fill landfills instead of being recycled. Only one in five plastic bottles are properly recycled. Did you know that plastic can take up to 1,000 years to decompose? Care for the planet by purchasing reusable bottles.
Second, you will save yourself a lot of money – and space in your bag. Instead of spending $4 for water in the airport, you can fill up at a drinking fountain after you pass through security. You won't have to worry about adding extra weight to your bag or taking up precious storage space either. The popularity of the collapsible water bottle has grown exponentially over the past few years.
Generally, these bottles are made from light, flexible materials like silicone. This means you can flatten, roll, fold, and even twist them to get them to fit in your bag. Then, when it comes time to fill up again, they will expand. Below, we have listed our top collapsible water bottle styles for travelers. They won't collapse while you're trying to drink and all are cost efficient.
Here Are Our Top 6 Choices for a Good Collapsible Water Bottle
1. Nomader Collapsible Water Bottle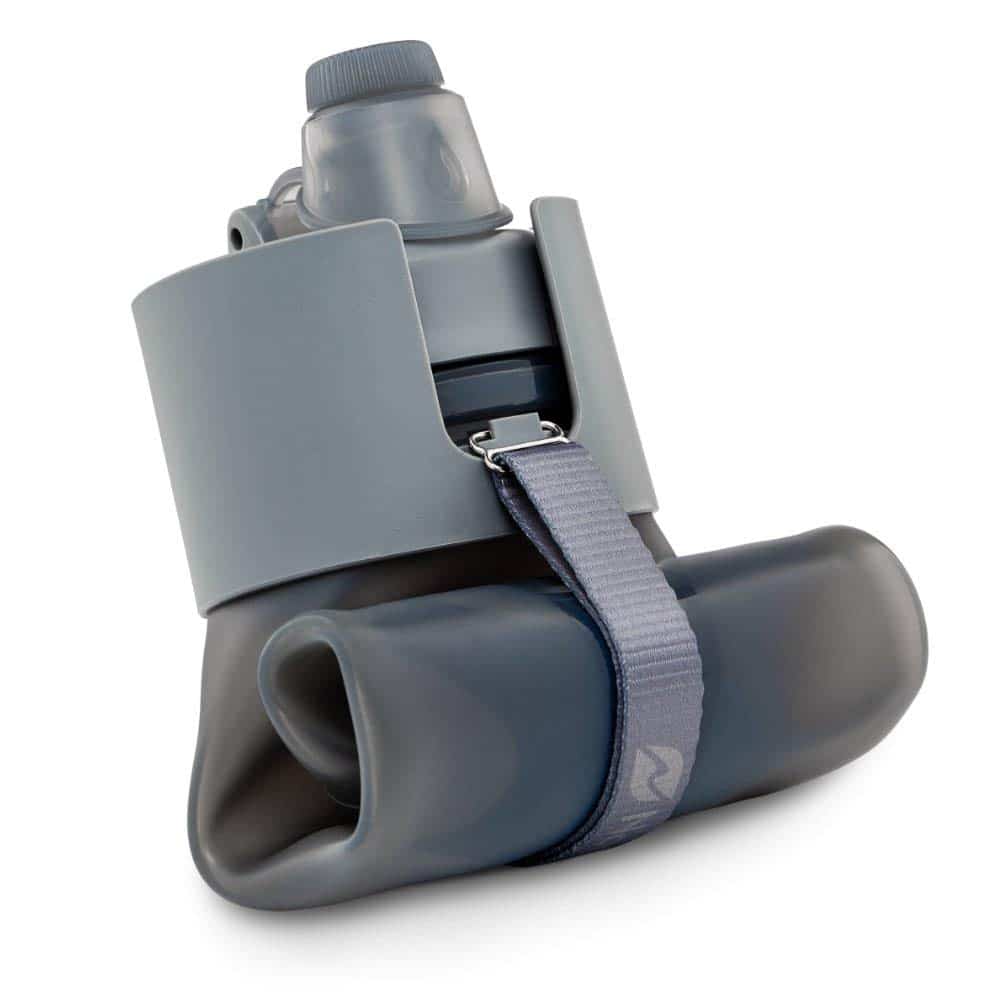 It's all in the name. This collapsible water bottle was made for travelers like yourself. What makes Nomader a top choice? It's portable. Sturdy and easy to drink from, it rolls up for minimalist travel. You can roll it up and clip it to your belt loop for an easy carry option or attach it to your bag for fast grab access.
The construction is durable. Tough enough to survive drops, this shatter-proof silicone body is made to endure the elements while you're on the go. So no matter the journey you're on or the activity you're doing, you can stay hydrated. Did we mention that it's also leakproof? Nomader has eliminated spills and leaks with their sealing twist cap. It doubles as a hygienic spout to keep the germs off of your mouthpiece.
Last but certainly not least, it's versatile and safe to use. After a long day of use, you can throw it in the dishwasher to get clean. Made from 100% food grade materials, the Nomader Collapsible Water Bottle can handle hot or cold drinks. It is free from BPA, BPS, PVC, lead, latex, and other harmful chemicals. This water bottle is the traveler's ultimate dream accessory. Here's the best part. The Nomader bottle comes with a lifetime warranty and a 100% satisfaction guarantee.
2. Hydaway Collapsible Travel Water Bottle
We almost can't believe how portable this bottle from Hydaway is. It's so compact that it folds down to only one inch. Easily slip it in your pocket, pack, carry on, or anywhere. At only six ounces, you can stow it away and forget it's there until you need it.
Even after you fill it up and pack it away, you won't have to worry about it springing a leak. Watertight seals ensure that you can travel with ease of mind.But that's not all. It's also 100% BPA free, taste and odor free, and dishwasher safe.
Whether you are a frequent flier, schedule-packed parent, or off the grid adventurer, this water bottle is made to be as adaptable as you are. It's a terrible thing to waste space. Say goodbye to lugging around bulky empty bottles and adding more disposables to heaping landfills. Available in a variety of fresh colors, Hydaway is bolding paving the way where few companies have gone before. Needless to say, we're in love with the Hydaway Collapsible Water Bottle style. It's ultra stashable, eco friendly, and you can hydrate anywhere. What more do you need?
3. Que Collapsible Water Bottle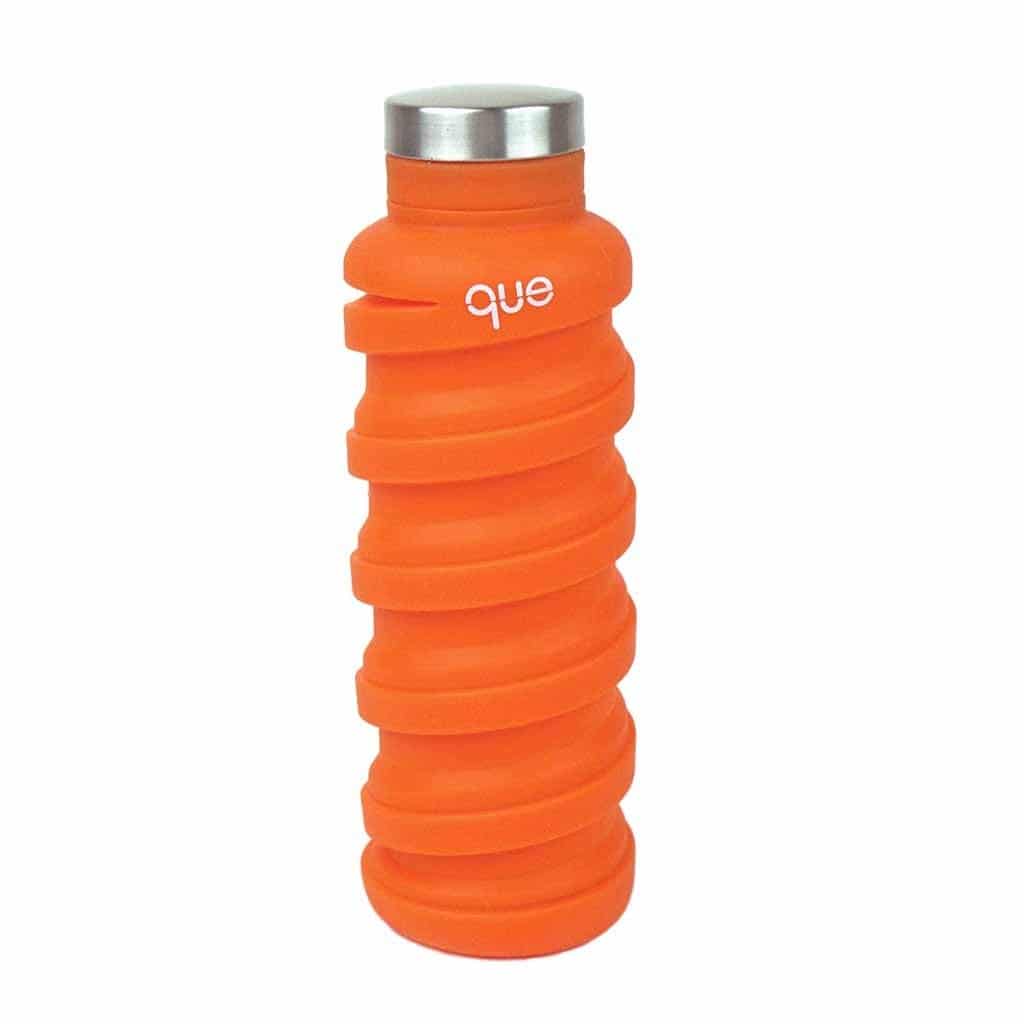 The Que Collapsible Water Bottle was specifically designed for travel. It's extremely compact and lightweight. With just one simple push, it condenses into a small cube and fits into virtually any bag. Stop carrying around bulky and heavy bottles while you travel.
This bottle checks the box for both style and function. We love the spiral design and variety of six color options. Even better, it's safe to use. The bottle is 100% FDA and LFGB certified, taste and odor free, and safe to use for both hot and cold beverages. There's no burning and no melting. However, the company does not recommend using it for liquids over 140 degrees Fahrenheit; you don't want to burn your hand. Use a drink sleeve and be smart.
With a durable construction, you can take this bottle anywhere you want to roam. Made from 100% leak-proof kitchen grade 18/8 stainless steel, it's designed to brave the elements. This makes it great for all types of activities and sports. Bring your Que bottle to the gym, beach, outdoors, on trails, running, hiking, camping, and more.
Finally, it's functional. The Que Collapsible Water Bottle is dishwasher safe, easy to clean, and designed with a wide mouth opening if you need a cold drink. When it's fully collapsed, the bottle stands at 4.8 inches tall and weighs in at 6 ounces. After expanding, the bottle measures 8.4 inches tall. We love this brand.
4. Kemier Collapsible Silicone Water Bottle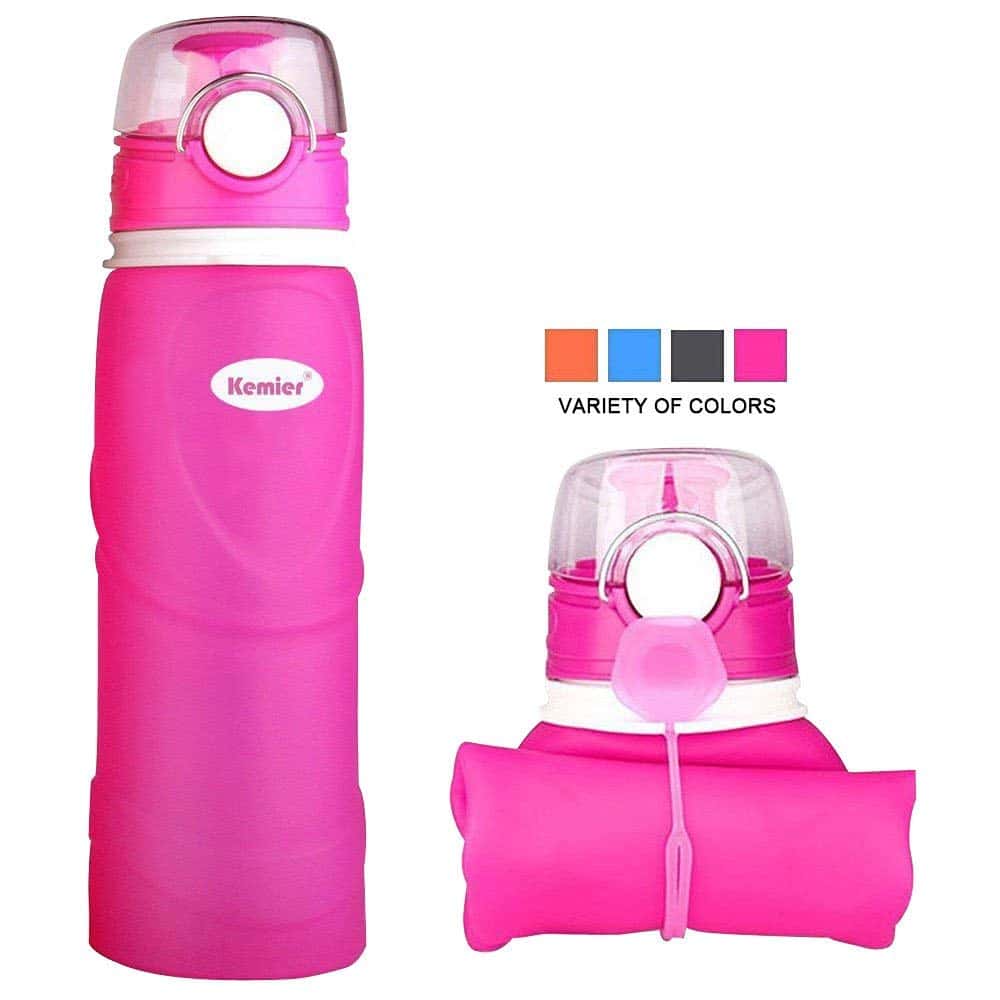 This collapsible water bottle from Kemier has everything you could need. Fashion forward and professionally designed, it offers one of the best hydration solutions for outdoor enthusiasts and urban users alike. Crafted in a modern and stylish look with a holder to carry, it offers an on-the-go flip-top locking spout among many other innovative features.
Do you want to take your travel savvy to the next level? Then consider this collapsible water bottle for your trip. One of the most distinctive features is that it's designed from 100% food safe materials. It's entirely free of BPA, PVC, BPS, latex, plastic and odor, and approved by the FDA. Plus, there is an anti-germ spout cover designed to keep the mouthpiece clean. It is dishwasher safe too.
The wide spout makes drinking easy. It's the perfect size for both refilling and an easy wash. With a twisting cap, you won't have to worry about it leaking. Just fill up and put the bottle in your bag. It really is as simple as that. Lastly, the lightweight, collapsible design makes it easy to roll up and store away. Clip it to your wrist for outdoor sports or outside of your bag for quick access.
5. Platypus Platy 2-Liter Ultralight Collapsible Water Bottle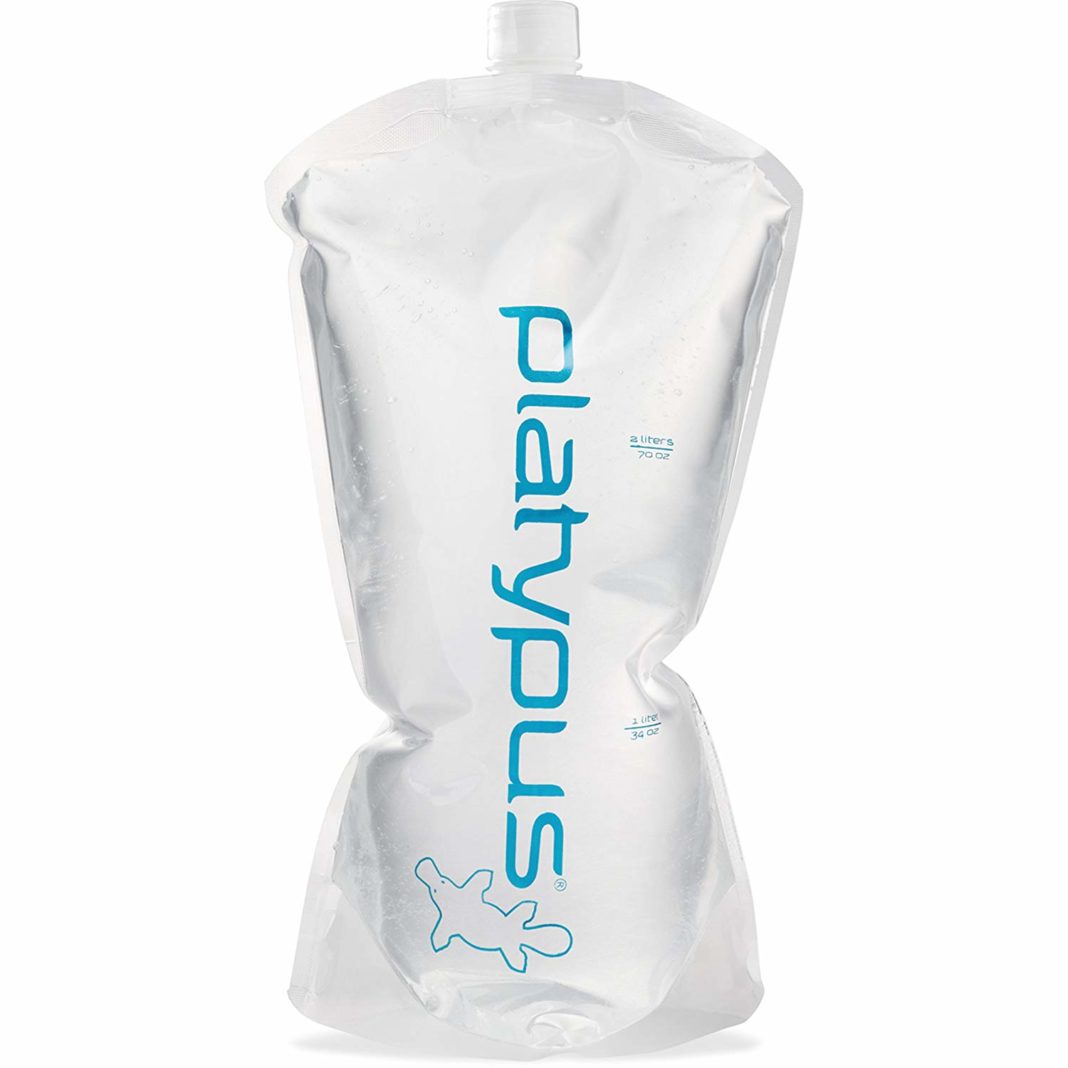 Outdoor adventurers, we found the perfect collapsible water bottle for you. But we're going to take it a step further. This isn't just an essential for the outdoors, it's an anytime, anywhere travel accessory. As long time fans of the brand Platypus, we have to say it. This time, they have really outdone themselves.
Reusable and refillable, it is significantly lighter in weight than a hard bottle of water. When the bottle collapses, it occupies significantly less space than a standard reusable water bottle too. It's easy to see why the collapsible water bottle is quickly becoming the traveler's greatest accessory.
While the Platy 2-Liter Ultralight Collapsible Water Bottle is designed for outdoor pursuits, it's perfect for regular, everyday travel too. BPA, BPS, and plthalate-free, the food-grade polyethylene liner does not taste like plastic and it does not retain flavors. So, if you'd like to fill it with water one day and wine the next, be our guest.
When filled up, the base expands so that the bottle stands tall. A screw top design keeps the contents secure. Since the Platy 2-Liter Ultralight Collapsible Water Bottle is compatible with all types of Platypus cups, hydration packs, and drinking tubes. Pair it with a filter system if you would like. Weighing in at 1.3 ounces and measuring 13.8 x 17.5 inches, it's the perfect size to take on all of your adventures.
6. Chicmoda Collapsible Foldable Water Bottle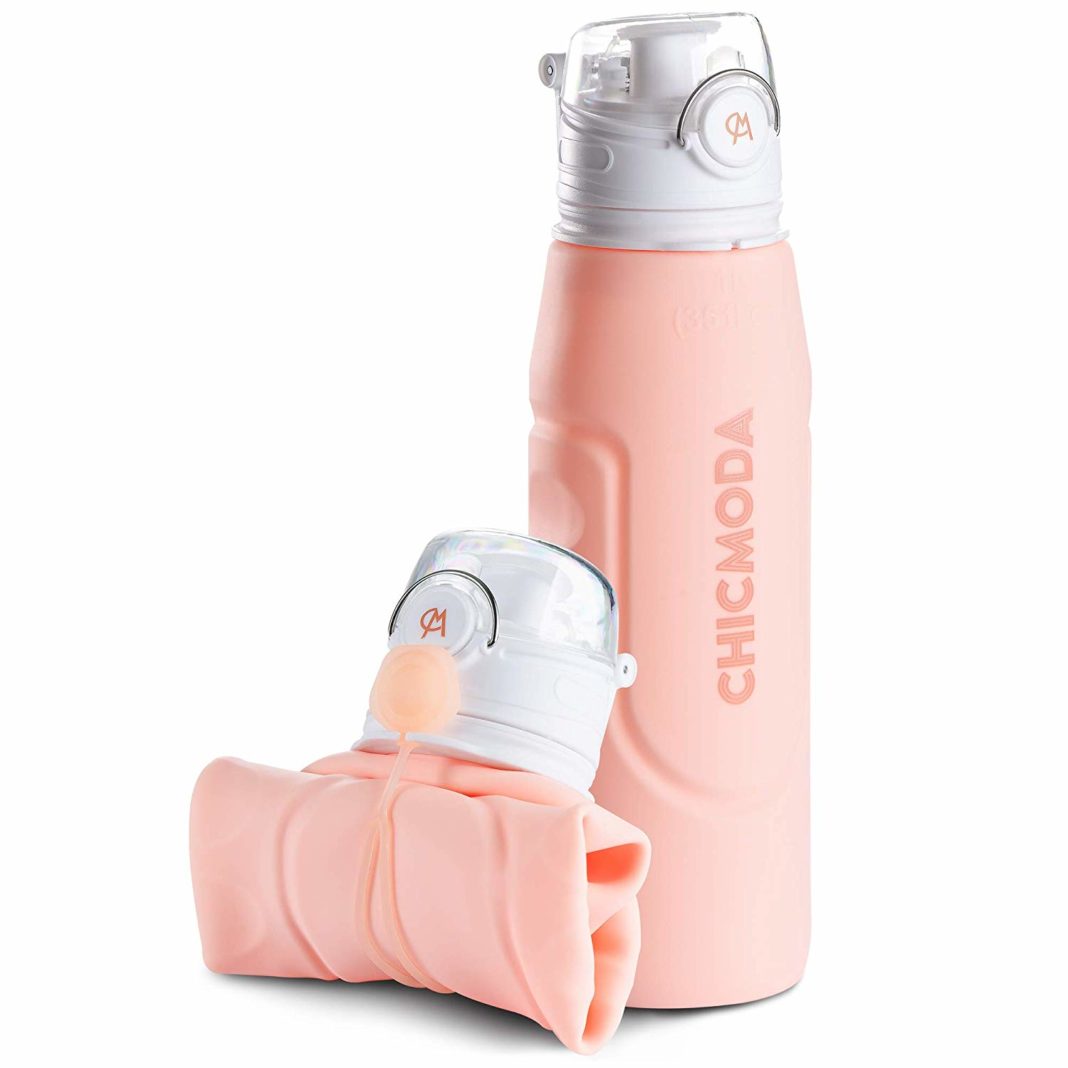 Enjoy spill-proof sipping on the go with the Chicmoda Collapsible Foldable Water Bottle. This silicone water container offers a collapsible and portable design, making it easy to roll up and store. Save yourself some space for souvenirs. Wherever you decide to travel, this innovative and versatile water bottle has your hydration needs covered. It's designed for hiking, biking, camping, climbing, urban city exploration, and everything in between.
We also love that this bottle from Chicmoda is certified BPA free. You don't have to worry about your water carrying harmful toxins after leaving the bottle out in the sun. Furthermore, there's no plastic taste and no odor. This eco-friendly water bottle is made from durable, food grade material. Did we mention that it is also leak and dust proof? An automatic push button with an anti-leak silicone cap means you can take it any and everywhere without worrying about spills.
As if that wasn't enough it's fashionable too. This stylish bottle comes in aqua blue, gray, and pink for those seeking a little variety. All in all, this pocket-sized reusable water bottle is the perfect fit for any adventure.
Invest in a Collapsible Water Bottle for Your Upcoming Adventures
We hope you enjoyed reading about our top collapsible water bottle picks. As you can see, having the right travel gear makes all the difference on your trip. Whether you are planning for an urban city exploration or going a bit off the grid, these bottles have got you covered for all of your hydration needs. Do you have a favorite style or brand you like to use? Let us know in the comment section below.
Related Article: 8 Cool Water Bottles For Your Next Adventure