The North Face Summit Series VE 25 Tent is arguably the best winter tent for expeditions.
If you have ever slept in a tent in the backcountry, you'll know not to joke around with a tent's quality. If you're beginning your outdoor camping adventures, trust us that you don't want to be stingy on a tent. Please do not be tempted by cheaper, less-quality products, especially regarding frigid temperatures and rugged terrain, You'll likely end up miserable and stuck (trust me, I've learned the hard way). I've personally  recently purchased a North Face tent, after spending time considering a lesser-known brand. I'm most definitely pleased with the results. In general, North Face tents are well made, which means they are durable, pack easily, set up smoothly, and offer good protection.
The North Face Summit Series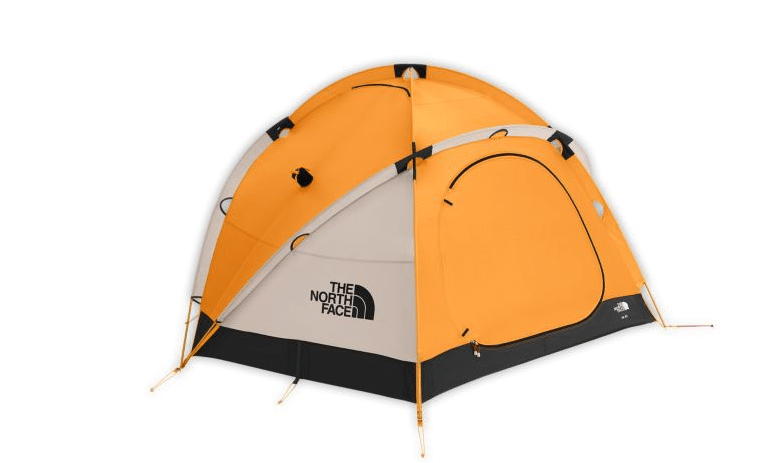 Credit: The North Face
Additionally, the North Face Summit Series includes all the little perks that can help make your camping trip go smoothly. This includes an ease in all aspects, from carrying it to your campsite, setting it up, getting in and out, storing your gear, sleeping cozily, and packing it up.
The North Face Summit Series advertises itself as the "world's finest alpine equipment." The North Face Summit Series Tents include the VE 25, the Mountain 25, the Bastion 4, and the Two Meter Dome, all totally ready to take on the elements!
This collection of gear from North Face, which extends to apparel, but includes tents, is intended for some real mountain climbing. Many of these tents provide shelter in extreme elements, including frigid temperatures. These North Face Summit Series tents are not intended for an overnight summer backpacking trip or car camping. Instead, the goal of the North Face Summit Series VE 25 is durable shelter in the cold (and snow and ice). And boy, does this tent meet that goal.
The North Face Summit Series VE 25 Key Features
checkDurable
checkIdeal for winter camping
checkThree-person yurt means extra head room
checkTop ventilation
checkClear plastic port window
checkEasy set-up
Strong against the elements (especially the frigid temperatures)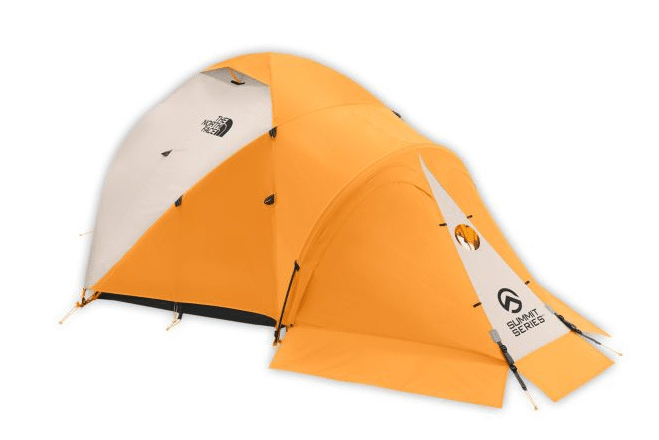 Credit: The North Face
To begin, we'll start with the ground level. The floor of the tent is totally waterproof. This North Face Summit Series tent doesn't come with a footprint, or an extra ground protection, but this can be purchased separately. However, the floor is fully taped and nylon. It is considered a "bucket floor" which means that it rises up all four edges to provide extra durability and waterproofing. Furthermore, the North Face Summit Series VE 25 comes with four fabric snow stakes, Next, to prove North Face's ingenuity with frigid temperatures, the VE 25 tent features a Polyurethane port window, guaranteed not to crack up to negative sixty degrees.
Furthermore, we appreciate the evidence that North Face totally understands winter camping. This summit series tent features so many interior pockets, on the top and sides of the tent. These are great for storing your extra gear that accompanies winter expeditions: all the extra layers of clothing for example.
Tent Components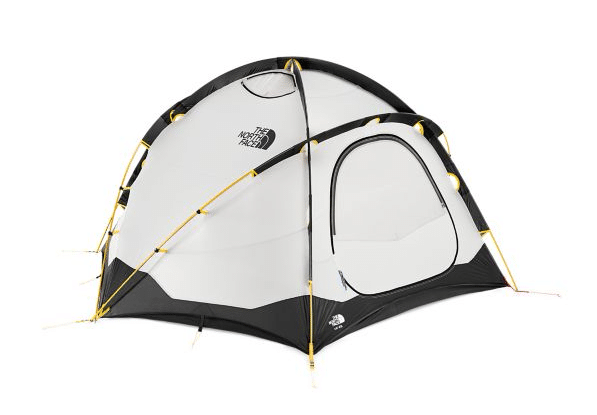 Credit: The North Face
This three-person tent offers great space for two campers and their gear. The floor area covers 48 square feet. Because of the shape of the tent, North Face considers it a "yurt." The fabric of the tent is nylon ripstop with a water resistant coating. The guylines are no-stretch Kevlar and include a camming adjuster to make it easier to set up. It's important to note that the tent is definitely not one of North Face's lightest tents available. However, this tent's primary goal is to withstand the elements, not offer a light sleeping space with the danger of blowing away. This tent's total weight is over 11 pounds, while the fast-pack option (leaving some parts out) is around 7 pounds.
Easy Set-up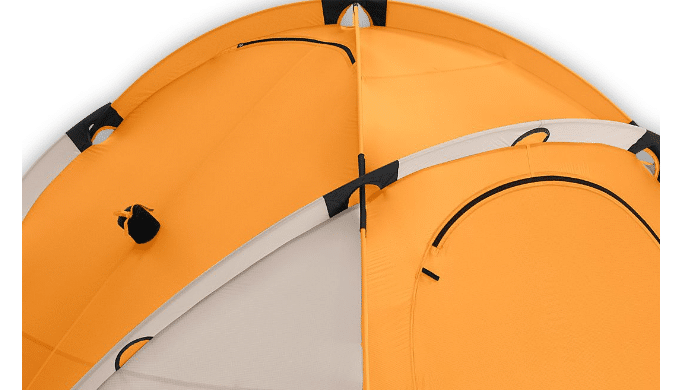 Credit: The North Face
The North Face Summit Series VE 25 includes four main poles to provide extra support (rather than other tent options that involve just two). These all fold up nicely and pack together. The tent poles do require a bit of strength to pull towards the base, but that ensures the tent material remains taut. Feed the tent poles through the sleeves, then fit them in the four tabs on the tent's base.
When you set up the fly, there's a foam spacer (you likely thought: what's that strange thing?) on the tent's side, to help keep the fly off of the tent's body. Adjustable Kevlar guylines make adding the fly easy. Additionally, this North Face Summit Series tent's rain fly features extra space on both the front and back to store your gear under some shelter.
What Other Travelers Are Saying About the North Face Summit Series VE 25 Tent
To begin, it's important to recognize that this tent is best in the environment it was created for: pretty extreme cold. We don't suggest purchasing this tent as a beginner camper looking to spend a few days at a campground. If you're up for a real adventure of climbing mountains in all conditions, this is the tent for you. Those who summit mountains (hence the "North Face Summit Series" title) find this tent to be just the home they're looking for while out on their journeys. Many appreciate that it's truly a great product in snowy conditions.
Some negative reviews involve the condensation on the tent. In order to keep the heat inside, the ventilation needs to be compromised. This leads to complaints about the gathering moisture inside the tent. Additionally, the tent's expensive. Unless you're set on some rugged adventures on mountains in the snow, you may want to consider a step down. However, this North Face Summit Series VE 25 tent is durable in various rough conditions, and many customers can attest to that.
Alternative Camping Tents
MSR Hubba Hubba NX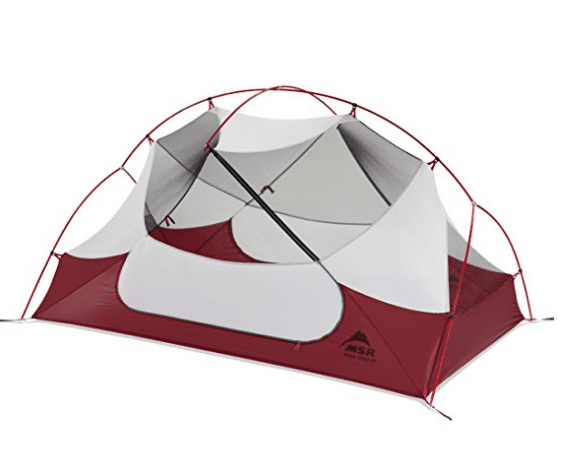 This tent is one of the best out there for backpacking. It's a two-person canopy-style tent. The absolutely greatest quality of this tent is its lightweight durability. This tent weighs only three pounds and seven ounces. Additionally, it packs down really small in a compression sack, which really makes it great for backpacking. Set up is extra easy thanks to color-coded poles. Two doors on either side make it great for accessing gear and getting in and out. Of course, it's not incredibly roomy, but can accommodate two people and even some gear inside. The MSR Hubba Hubba scores highly in its category of lightweight backpacking tents. Because of this tent's quality material and ultra lightweight, the tent is pricey, so it's not ideal for car camping. However, if you'll be carrying this tent in a backpack, you'll most definitely appreciate how light and durable it is!
Coleman Sundome
This six-person tent is the best for this type of scenario: you want your friends or family to be together, and you're able to drive up to a campsite. The dome shape means that there are two poles that intersect in the middle and then plug in to the loops on the four corners of the tent. The top of the tent features sleeves for the tent poles, while the sides have hooks to make the whole set up easier.
It's quite a large tent, so there's plenty of room to move about inside. In fact, you could even set up two queen mattresses inside. Therefore, not the kind of tent you'll bring on your Appalachian Trail backpacking trip, but ideal for friends and family who want to drive up to a campsite along a river. This tent is built to help keep water out, with Weather Tec floors and inverted seams. It's ideal for warm-weather camping, with large doors that you can zip open to catch the breeze.
Nemo Losi LS 3P Tent
This three-person tent is ideal for backpacking, or other camping adventures. It's not an ultra-light backpacking tent, but it's still important to note that it's big enough to accommodate three people, or two people with full backpacking gear inside. Architecture of the tent involves two main poles, that pull into the Jake's Feet on the ground. This is perhaps slightly different than other tents, since it's not just a grommet to draw the pole into. However, the idea remains the same: the two poles become staked into the four corners of the tent. Then, two additional poles help provide extra support when they hook into the tent's middle section. Two large doors and interior pockets help to make your whole experience with this tent positive!
The North Face Summit Series VE 25 Tent will likely become your new favorite shelter for springtime in the Rockies or winters on the Appalachian Trail.
The North Face Summit Series VE 25 Tent will likely help to create a positive mountain climbing adventure for you. Stay warm and dry, and sleep well to refuel for your expedition. For those seeking the daring adventures of winter summits, this North Face Summit Series is just for you.
Related Article: ​5 Best Camping Tents for Outdoors Adventurers​​​