A Resort for Everyone in Orlando, Florida
Between the theme parks, incredible resorts, and all around fun vacation activity spots, Orlando is a magical place. Just like there is a spot for everyone to do something they enjoy in Orlando, there is also a hotel for every family. Whether you have kids to make memories with or you're a couple on a romantic getaway, there is a perfect resort in Orlando Florida for you on our list below.
Resort & Spa:
The Grove Resort & Spa Orlando
The Grove Resort and Spa Orlando
This resort and spa are so much more than just a spa experience. The pride and joy of this resort is their location. Their close proximity to Disney World Makes them a good option for many visitors right off the bat. They have special packages for Florida and Georgia residents, so this may be a good option for you if you are from either of these places! There are also spa packages. If you are in desperate need of a massage or other spa experience, this is the place for you. Another great thing about this hotel is their military discounts. They are clearly very generous in the way they discount, which is a huge plus when it comes to looking for resorts in Orlando, Florida.
Amenities & Activities
This is a great option for those who want to have fun in the sun at a waterpark without ever leaving the hotel. You can lounge around all day and watch the kids play while reading a book and sipping a pina colada, or you can get wet in the sun with them! This waterpark opens at 10am every day. This is no small waterpark, it features a variety of water slides, a lazy river, and a surfing simulator. There are plenty of drink and food options, as well as private cabanas.
The hotel also offers plenty of dining options to choose from as well as bars to buy drinks. You truly never need to leave the resort to have a nice time. The spa is the star of this category, so let's explore it a bit. There are a variety of different experiences to choose from such as manicures and pedicures, facials, body treatments and massages, waxing, enhancements, and even spa experiences offered by the poolside.
Westgate Lakes Resort and Spa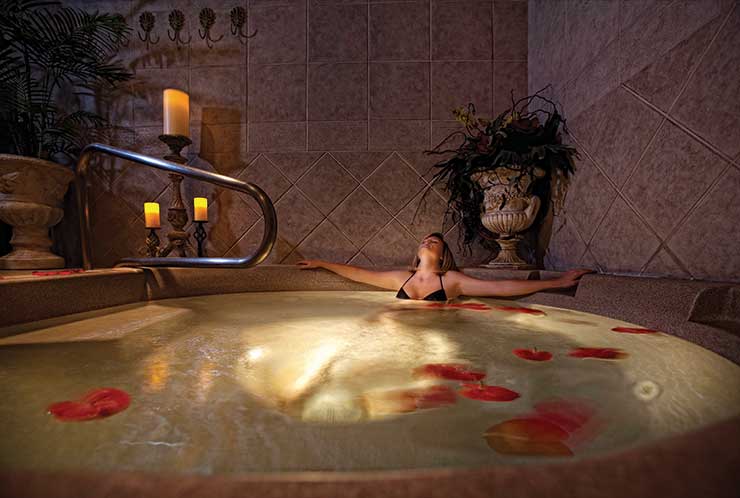 Westgate Lakes Resort and Spa
The Westgate Lakes is another one of the resorts in Orlando, Florida that is located very close to the Disney World theme parks. The name of the spa here is Serenity Spa and it is an area with 10,000 square feet of space, all there to pamper you! This is a full-service spa. So that means if there is a treatment you can think of, they offer it. This resort has facials, massages, salon and nail services, and body treatments. They also offer mini spa services for the kiddos! While you relax and unwind, there is an a la carte menu for you to enjoy chocolate dipped strawberries, your pick of meditation music and many other things. They even have baths here where you can choose a bath to be prepared for you with creams, oils, a candle, and ice cream.
Affordable:
Legacy Vacation Resort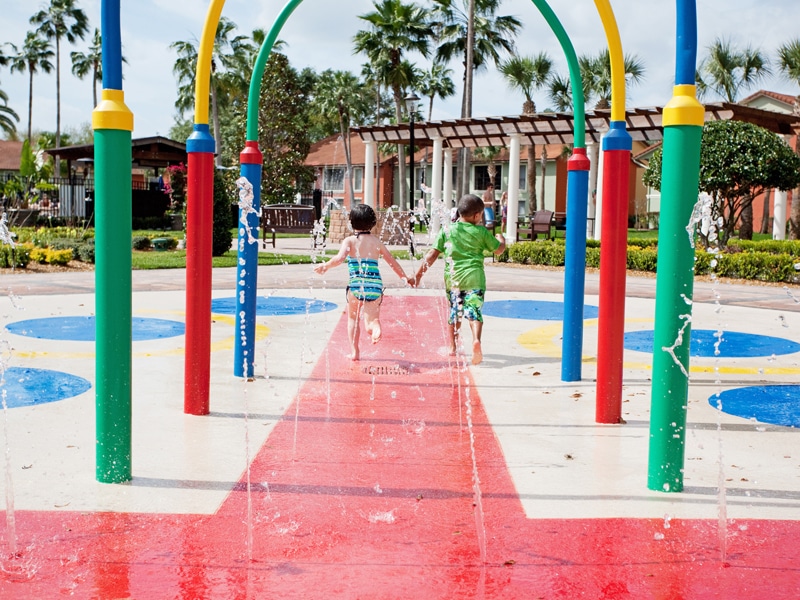 Legacy Vacation Resort
Legacy is a sustainable resort, which is one of their main perks and prides They have vowed to do their best to offset their carbon footprint on the world. They have a variety of nice and spacious rooms. There is also a variety of amenities, especially those for children, such as a splash pad and an activities center. There is a pool with parts that are indoor as well as a volleyball court. A fun family activity is the mini golf course! There are also drinks, snacks, and a bar and grill for the adults. Don't forget to have a picnic during your stay in the grilling area! This hotel has a fitness center as well as a basketball court. There is more than enough to keep everyone in the family busy here, and the prices are very affordable. This is a great resort in Orlando, Florida!
Cypress Point Resort
Cypress Point Resort
Cypress Point Resort always has a deal running or special offer. They are a great hotel that was created with the family in mind. This is another resort that is located near Disney World, but since they are affordable, that makes them a great option for the families on a budget. The coffee is steaming hot and complimentary and the things to do nearby are endless. There is a bowling alley, picnic area, plenty of restaurants and shopping, areas for nightlife, theatre, mini golf, hot air ballooning, game room, and so much more.
Of course, the theme parks nearby may be your biggest selling point for choosing Cypress Point when looking for resorts in Orlando, Florida. Universal Studios, Sea World, and of course the aforementioned Disney World are all close to the hotel. At the hotel, there are areas for you to BBQ with the family and then dine in the picnic areas. There is shuffleboard, volleyball, a nice lake, and a fitness center, and much more. Having things to do on-site at your hotel as well as parks right around the corner is the best way to vacation.
The Grand Orlando Resort at Celebration
Grand Orlando Resort at Celebration
This hotel prides itself on having it all. Any amenity you could wish for can be found here. One great accommodation is the shuttle that will take you to Disney World. Check in is at 4pm and check out is at 11am. There are 718 rooms and suites range from a junior suite to a business class double-double room. Many of these rooms offer a complimentary breakfast each morning. There are a variety of dining options, including in-room dining. You are graced with three on-site restaurants. One is a buffet called Mandolin's, another is a deli diner called Parkway Deli Diner, and they serve Starbucks coffee. And lastly, they have a sports lounge and poolside bar. This resort in Orlando, Florida is very nice and has great service, but they are also affordable. It's a win-win the whole family can enjoy!
Upscale:
The Ritz Carlton Orlando
The Ritz Carlton Orlando
Having a golf course in Florida is always a good idea. The green course at The Ritz Carlton Orlando is also a certified nature sanctuary that protects the beautiful scenes of wonder and the habitats hidden in the green. They offer lessons on this 18-hole golf course, so this course allows for the professional and the up and coming alike to enjoy it. In order to have a great family outing, there is a deal where people under 17 years old are not charged for each adult that plays a round.
The luxury spa is another amazing amenity offered by this hotel. There is a large spa menu of treatments to choose from and enjoy. There is a kids program called Ritz Kids where children are able to be children. You can drop your children off to enjoy indoor and outdoor activities, dance parties, arts and crafts, obstacle courses, and so much more. There are daily programs that educate them on nature and how to take care of the earth, as well as lessons about cultural diversity. Check their site out for times and prices.
The Great Outdoors
Another great thing about The Ritz is it's activities in the great outdoors. They have tennis courts where you can showcase your skills, or take a lesson or two. Plenty of heated pools outline the hotel as well as access to a lazy river. You can rent a multi-person bike for a ride around the outside areas, or maybe rent a pedal boat or kayak for a 30-minute ride. Another fun and rare outdoor activity is the ability to ride a mountain bike down the bike trail led by a guide who will give you background on the wildlife you encounter. The Ritz has a well-known name, but you may not have known all that they offer. This is not a stuffy resort in Orlando, Florida. It is a fun and family oriented one!
Waldorf Astoria Orlando
Waldorf Astoria Orlando
The rooms here at the Waldorf are incredible from start to finish. They have a homey yet refined feel that will leave you feeling comfortable. The best part, though, has to be the views from the rooms. These views capture the stunning Florida palm trees and wide open spaces of untouched greenery. Just like the Ritz, this resort offers a golf club/course as well as a spa.
Waldorf also offers transportation to the Disney parks. Don't forget to check out their store and ticket booth where you will find all things Disney World. You can buy a souvenir and a ticket to the theme park all in the same place. They also have a kids club, a fitness center, and plenty of dining options here. But the thing that truly sets this hotel apart from the rest of the resorts in Orlando, Florida on this list is their planned itineraries. You can choose a planned itinerary package that best fits you and those you love such as "A Perfect Weekend at Disney", "Magical Family Weekend" and "Romantic Couples Weekend".
Disney & Universal Orlando:
Disney's Animal Kingdom Lodge
The Animal Kingdom Lodge is truly a special place. They offer views of the "Savanna" right outside your hotel room. There is a water slide at the pool that resembles a watering hole out in the wild. Over 30 species of amazing animals live here for you and your family to explore with a safari ride and dinner. Another way to explore is by looking at the guide found right in your room and identifying the animals grazing in the wide open spaces. There are plenty of campfire activities to enjoy with the family at Jambi House. The restaurants here are award-winning and unmatched based on flavor and look. Restaurants like Jiko-The Cooking Place, where you can have an authentic African cuisine experience in what feels like the heart of the Savanna.
Another amazing restaurant that will take you to Africa is Boma-Flavors of Africa. This restaurant is similar to an African marketplace. It has a buffet-style meal for those who are hungry after a long day of activities around the resort or in the parks! There are foods from over 50 African countries available to eat at Boma. Traditional American foods for those who are looking for familiar flavors are also available. Another great experience is A Tour for Your Senses where you can sample South African wines paired with cheeses every Wednesday at the resort. The Animal Kingdom Lodge is an amazing experience for any family to enjoy authentic flavors or the great outdoors in a unique way. This is a great Resorts in Orlando, Florida to choose!
Disney's Art of Animation Resort
This Disney Resort now has rooms starting at $136.00 per night. This is a steal when you learn about all this hotel has to offer. Their exhibits are for the dedicated Disney lovers. The first thing you need to know is that there are three pools, each with separate themes. The one that is Finding Nemo themed is the largest pool in the resort. Underwater speakers play Disney tunes here and everything. The other two pools are created after the movies Cars and The Little Mermaid.
The rooms fit up to six people, so the largest families can be comfortable staying here! All of the rooms are created to reflect an animated Disney movie. Another great accommodation is the pet policy. Up to two dogs are allowed to stay in the room with you. There are services for dogs during the day that provide care and for your best pal while you're away. There are a variety of different food places to try such as Landscape of Flavors in the dining areas, open for all meals of the day. There is also a bar by the pool and a dine-in pizza delivery service to make your stay as easy as possible after a long day of exploring! This is an incredibly exciting and fun option out of the Resorts in Orlando Florida.
Further Adventure
You can add to the party in your room by purchasing an in-room celebration package such as a Happily Ever After Package with champagne or the Birthday Celebration Package in order to celebrate all things Disney on your special occasion, whatever it may be. There are plenty of fun things to do here like watching Movies Under the Stars, which you can get the schedule for on their website, to the jogging trail they have if you want to experience the beautiful Florida weather and take in the scenic views of this resort. There are also games in the Pixel Play Arcade or in the Disney themed playground. Bus transportation is available to the theme parks and water parks and most all areas in that exist in Walt Disney World Resort.
Universal's Cabana Bay Beach Resort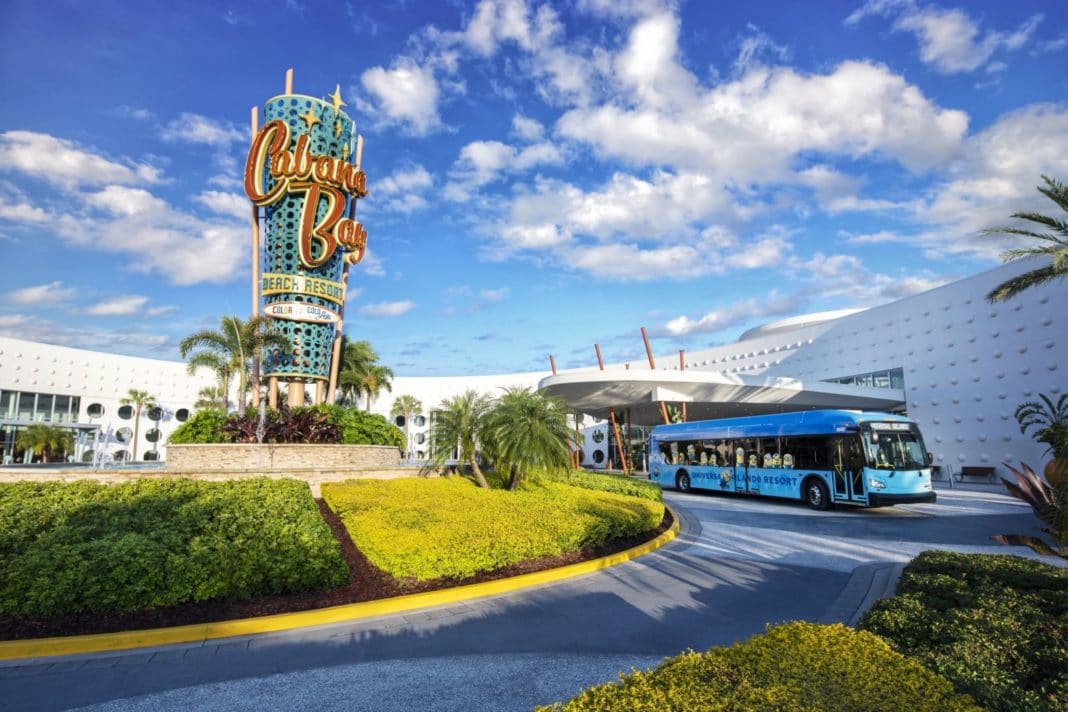 Universal's Cabana Bay Beach Resort
The theme of this resort takes on the life of the retro resorts that were all the craze in the 1950s. Check-in is at 4pm and the check-out is at 11am. There are swimming pools throughout the hotel as well as a lazy river. There is also a sandy beach where you can get the full Florida experience! Since this hotel is so close to the theme parks, there are tons of benefits for guests to enjoy. There is one-hour early admission into the parks, water buses that take you to them, and character appearances.
There are tons of other benefits as well such as exclusive golf programs and live entertainment. Priority seating available in the restaurants throughout the theme parks and Universal's Citywalk if you stay at this hotel. One of the best benefits, as if these are not great enough already, is the free express ride passes that allow you to skip the lines. These are high value! These benefits are for anyone staying in any of the onsite hotels with Universal! This is a great resort in Orlando, Florida.
Resorts in Orlando Florida for All
No matter you need when it comes to finding the perfect resort in Orlando, Florida… An affordable resort close to the theme parks. An upscale resort that you will never need to leave to have the best time of your life. A resort with a great spa that will allow you to relax unwind. Or a themed resort that has a piece of the parks packed into them. Endless activities and eateries to choose from are at these resorts. There is something to choose that the whole family will enjoy when it comes to the resorts in Orlando, Florida!
Related Article: Here Are 10 Free Things to Do In Orlando