Coined France's Prettiest Town, We Are Sure You Will Fall Head Over Heels in Love with Annecy, France.
Mountains border the crystalline lake on all sides. Canals lace through the old town. Cafés, shops, and markets are abundant. Travelers, you won't regret booking your next trip to Annecy France. And if you aren't convinced yet, we are revealing all of the best things to do and see within France's prettiest town. Take a walk along the canals, go hiking in the mountains, cycle aimlessly about, enjoy all of the four seasons, try paragliding, rent a Volkswagen van and drive around the lake in vintage style, and eat French pastry delights. Oh, do we have even more to share with you about this adorable, restful, yet adventurous town.
From water sports to winter sports, put Annecy France on your bucket list of places to visit at any time of the year. The town of Annecy rests in southeastern France, only a 45-minute drive outside of Geneva. Its proximity to Geneva allows for Annecy to be a convenient day trip when touring around France. Here are the main reasons why you have to visit Annecy on your next trip to Europe.
1. Lac d'Annecy
Lac d'Annecy is named "Europe's Cleanest Lake," so travelers who have fears of germs don't need to worry here. Time at the lake can be passed as lazily or as actively as you would like. Sit on one of the two beaches, Plage la Brune at Veyrier-du-Lac or Plage Municipal in Saint-Jorioz. Appreciate the glassy water and rolling mountains in the background. Paddle from one side of the lake to the other. Whatever you decide to do, you will find that the landscape itself can be admired for hours.
If you are able, visit on the first Saturday of August to see this small town quadruple in size for the annual fireworks display! Imagine colors bursting overhead and showering down as you sit on the edge of Lac d'Annecy. With bright, blazing colors reflecting off the dark water, there is nothing like it.
2. La Vieille Ville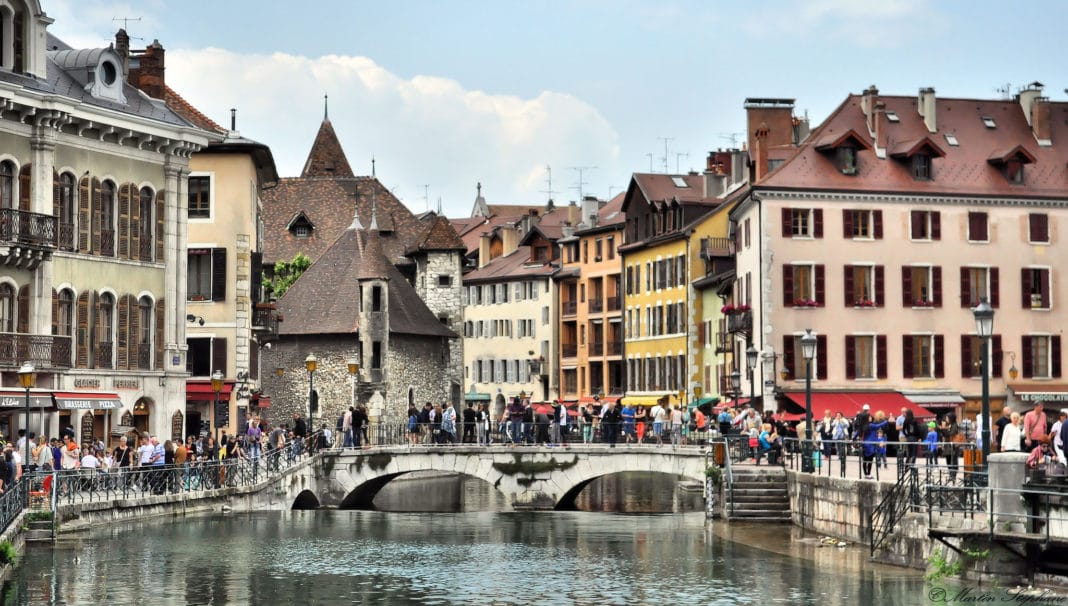 Travelers must allow for sufficient time to mosey throughout the old town of Annecy. Pop inside ice cream shops, meander in and out of the churches, stroll through the parks, and take all the photos. With cobblestone roads and rolling hills, La Vieille Ville features picturesque beauty. In this town, you will find canals weaving between pastel-colored buildings, fresh flowers climbing up fences and bridges, and delectable French cafés and restaurants serving local delights. There are many little side streets to explore in the old town, making the adventure unending at La Vieille Ville. In the daytime, you will find the streets full of performers and in the evening, even more musical performances can be found. This is a town for people of all ages and a must-visit when in Annecy France. Come rain or shine, travelers will find the old town of Annecy to be filled with absolute charm.
3. Pont des Amours
Ah, the bridge of love. Legend has it that if a couple kisses on the bridge, they will be together forever. Whether you believe in legends or not, Pont des Amours is a famous and scenic site worth visiting. With the Alps stretching high into the sky, the canal sweeping below the bridge, and trees arching overhead, Pont des Amours is a postcard-perfect place to see while in Annecy France at all time of the year. However, we are particularly fond of Pont des Amours in the fall…
The bridge can be crowded (many couples wanting to share a kiss with hopes of staying together forever?), but if you come in the quiet of early morning to leisurely walk the small bridge you will find it vacant enough to enjoy without the crowds. The bridge spans the Vassé canal and connects the Jacquet Promenade with the Jardins de l'Europe. So, while you visit the bridge be sure to take a stroll through these two parks as well. Keep your cameras out because the photo opportunities are never-ending in Annecy, if you haven't already noticed.
Related Article: Why Lyon, France Should Be Your Next Travel Destination
4. Jardins de l'Europe
Translated to the European Gardens, this park is conveniently placed just next to Pont des Amours. What is now the breathtaking Jardins de l'Europe used to be a marshy island. However, in the 19th century when Annecy decided to plant a city garden, the area began to be transformed. Digging into the soil, over 600 trees were planted creating the thriving park that travelers can see today. Under the shade of trees, locals and out-of-towners can walk from tree to tree and learn about the different species planted within Jardins de l'Europe. Each has a plaque that tells you about that specific tree. Park yourself on a bench and read a book or simply people watch and admire the stunning surroundings. Pack
Park yourself on a bench and read a book or simply people watch and admire the stunning surroundings. Pack food, spread out a blanket, and picnic beneath a tree while listening to the rustling leaves. Children will love playing in the grassy areas and adults will love seeing the kiddos so excitedly playing around.
5. Palais de l'Isle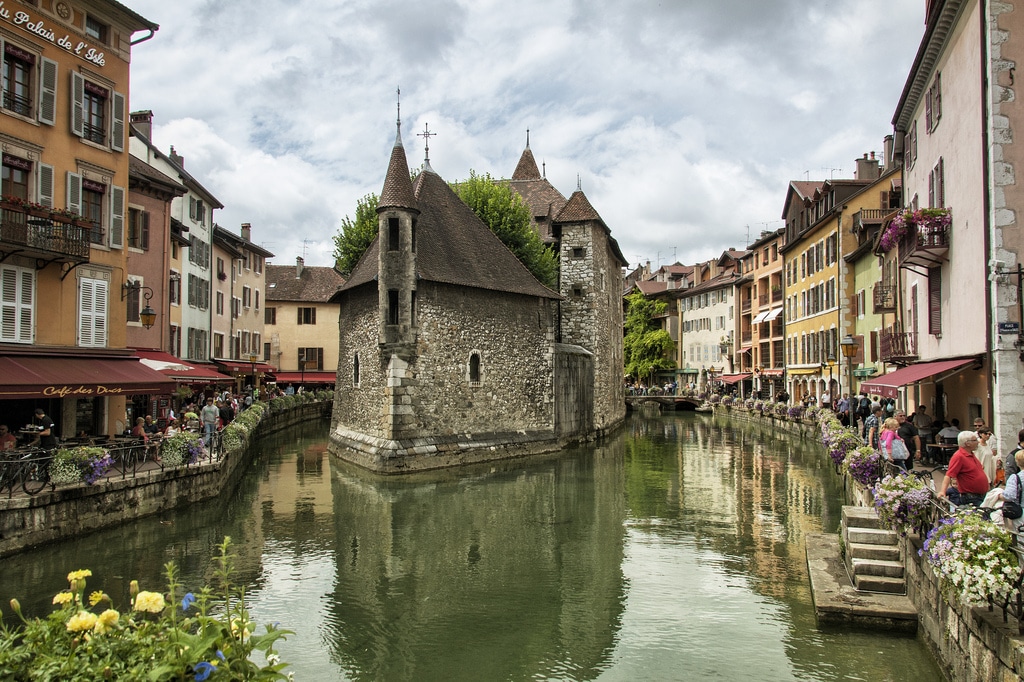 Anyone who has looked up Annecy on the internet has seen Palais de l'Isle. This iconic landmark comes to mind when many people think of Annecy. But what exactly is that pointy building on the river? It used to be a prison. The structure has been standing for around 800 years and is now a history museum. Today, Palais de l'Isle is home to a wealth of information about Annecy's history. Most travelers stop to capture photos of the outside of the building because it is again one of the most photographed places in France. However, travelers are also more than welcome to go inside and see the interesting exhibits. The surrounding streets, canals, and buildings enhance the 12th-century building's appeal. We highly recommend coming to Palais de l'Isle, if only to take your own photo of this iconic landmark in Annecy France.
6. Gorges du Fier
Hoping to get outdoors during your trip to Annecy? A popular area to hike is Gorges du Fier. Double knot your best walking shoes and set off on an adventure through the rock formations. This natural gorge has well-maintained bridges that are wonderful to see in person. However, if you are traveling with young kids, a trip to Gorges du Fier may not be the best idea for you. The area is not stroller friendly, so unless you don't mind carrying your small children the entire hike, we recommend only visiting the Gorges du Fier with adventurous kids that are up for the challenge. Other than that, older children and adults will find the Gorges du Fier to be the nature escape they need while in Annecy France.
7. Eat the Local Food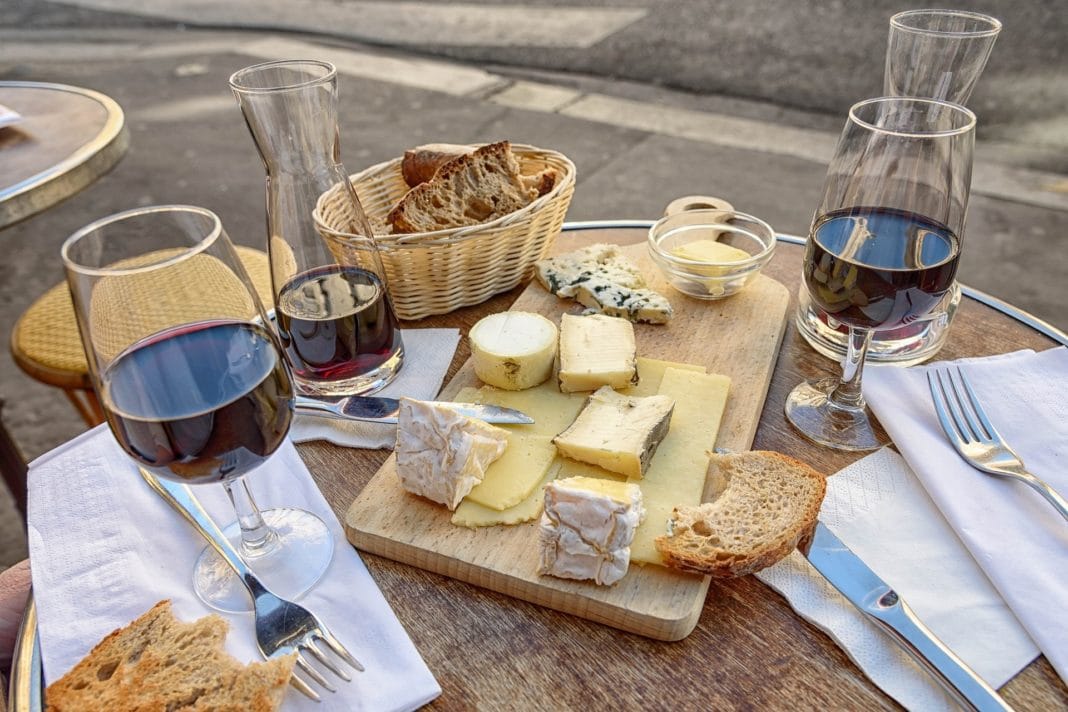 Those who love all things cheesy, you (and your taste buds) will be jumping for joy during your trip to Annecy France. Cheese fans can make an afternoon out of touring from one cheese shop to the next, tasting all of their familiar favorites and discovering new favorites. One spot we recommend popping into is Fromagerie Pierre Gay where you can purchase some cheese to take home with you, or take on an afternoon picnic. At the back of the shop, you can also stand on a glass floor and observe the cheeses aging below.
Other local Haute-Savoie dishes that travelers must try when in Annecy include tartiflette and fondue. You can find exquisite, mouthwatering fondue in many restaurants scattered around town. And if you are curious what tartiflette is, it is a local dish consisting of potatoes, cheese, onion, onion, and bacon. A winter is incomplete without a warm dish of tartiflette. Also, since Annecy has many markets in town, travelers can also pick up fresh foods to eat.
See the Mountains, Walk Along the Canals, Enjoy the Tasty French Treats, Come to Annecy France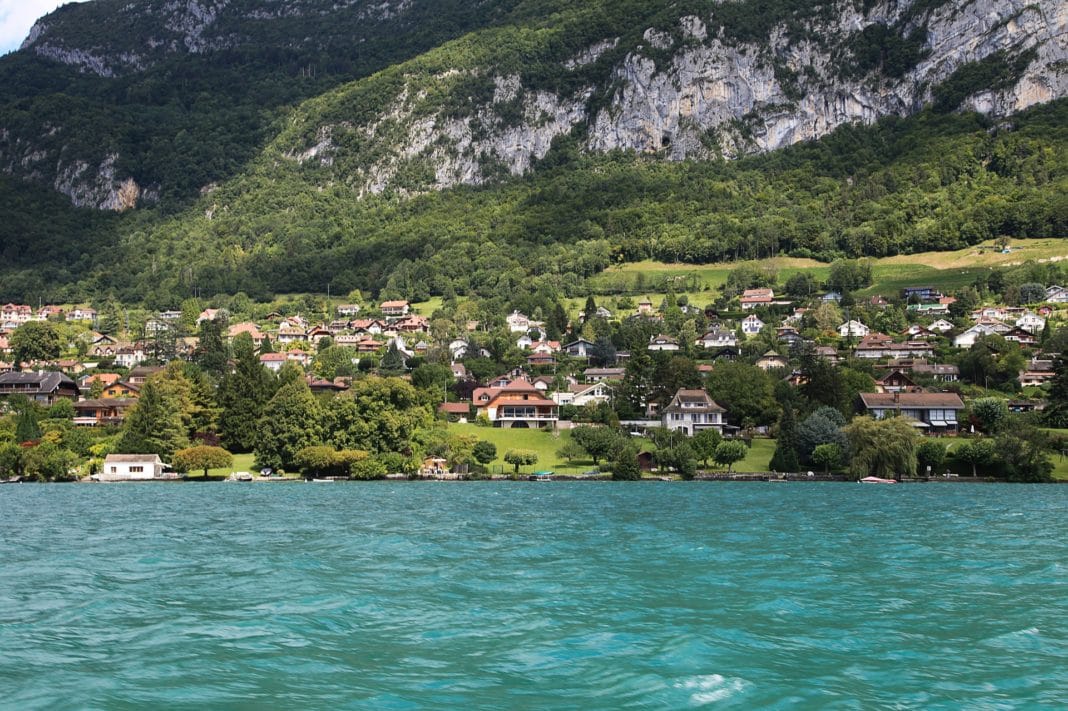 The lake displays its aquamarine color. The mountains gently rise in the background. The cafés wait to serve you a platter of locally made cheese and fine wine. The landscape invites you to admire its magnificence. Even with overcast skies in the cold of winter, Annecy sits complete with splendor. We highly recommend venturing through this old city wrapped up in beauty. Again, you are bound to fall head over heels for the old-fashioned town of Annecy. Making Annecy France your next vacation spot is a must, especially if you already have travel plans to Geneva. The short 45-minute drive makes for a great day trip to Annecy, or you can plan to stay longer and soak in more that the area has to offer.
Have you traveled to Annecy France before? Let us know your favorite things to do and places to visit in the area! The comments section is awaiting your reply.
Related Article: Why Lyon, France Should Be Your Next Travel Destination