We dug up the best beach quotes for your Instagram travel post.
When it comes to vacations, there's nothing better than sun and sand. You don't have to be a copywriter to come up with a good Instagram caption. Why? We've done the work for you. Whether you are heading off for a day of sun and sand or you're island bound for the holidays, it's always fun to share your experiences with your friends and family through social media. Below, we've drawn up a list of the best beach quotes sure to fit your posts of the sun, sand, surf, and that perfect selfie by category. Sometimes, you've just got to turn to the greats to encapsulate the most beautiful beaches.
Here Are Our Picks for the Best Beach Quotes
Beach Quotes Puns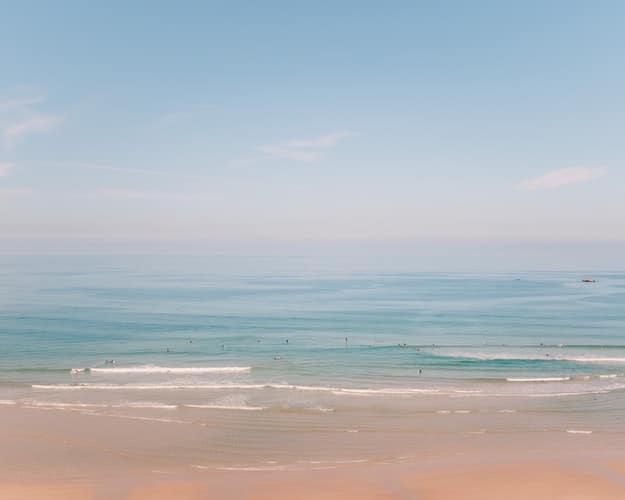 Who doesn't want a little more dad jokes in their life? Puns are a great way to show your fun side and avoid taking life a little too seriously. You're on vacation. Why not act like it? You do you.
1. "All I need is some Vitamin Sea" *insert wave emoji*
2. "Water you doing right now?"
3. "Keep Palm and Carry On."
Cute Beach Quotes
Beach quotes can be more than just punny and less than dramatic. If you're in the mood for a cute post, these one-liners have got you covered. It's only natural when vacation time rolls around that our mind begins to wander to sandy shores. With this, comes a long internet search to find the best possible captions for our well-curated Instagram feeds.
After all, everyone wants to become a travel blogger these days. We decided to round up our favorite cute beach quotes and quips. Whether you're looking for adventure or simply to catch up on your R&R, there's no denying the beauty of a spectacular sunrise. 
4. "Sea more of the world, one beach at a time."
5. "Nothing but blue skies."
6. "Eat. Beach. Sleep. Repeat."
7. "Salt on my skin and sand in my hair."
8. "Salty but sweet."
9. "Sea you soon."
10. "Life's a beach. Find your wave."
11. "Some of the best memories are made in flip flops."
12. "The tans will fade but the memories will last forever."
13. "You are the pina to my colada."
Clever Beach Quotes
14. "Sun of a beach."
15. "Happy as a clam."
16. Happier than a seagull with french fry." — Unknown
17. "You haddock me at hello." — Unknown
18. "That little sun of a beach." — Unknown
19. "I love you to the beach and back." — Unknown
20. "If there's a heaven for me, I'm sure it has a beach attached to it." – Jimmy Buffet
21. "Tropic like it's hot." — Unknown
22. "Party like a lobstar." — Unknown
23. "Aloha beaches!" — Unknown
24. "Life is a beach, I'm just playing in the sand." — Lil Wayne, "Right Above It"
25. "Please excuse my resting beach face."
26. "High tides and good vibes."
27. "I'm going to change the world, but today I'll just be a mermaid."
28. "There are a million fish in the sea, but I'm a mermaid."
29. "All you need is a little vitamin sea."
30. "Feeling fintastic."
31. "Seas the day."
32. "Don't get tide down."
33. "'Tis the sea-sun."
34. "Don't worry, beach happy."
35. "Catch you on the next wave."
36. "Ocean air, salty hair."
37. "Sea you real soon."
38. "Keep palm and carry on."
39. "No one likes a shady beach."
40. "For shore."
41. "Seek to sea more."
41. "Shell we dance?"
Poetic and Contemplative Beach Quotes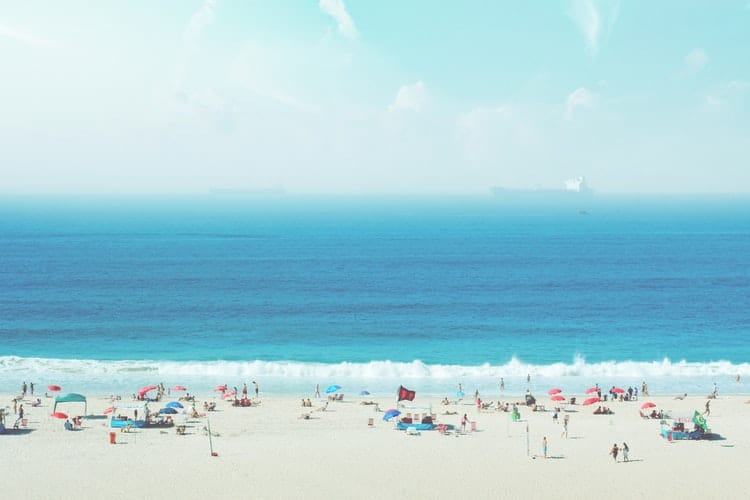 42. "There was a magic about the sea. People were drawn to it. People wanted to love by it, swim in it, play in it, look at it. It was a living thing that was as unpredictable as a great stage actor: it could be calm and welcoming, opening its arms to embrace it's audience one moment, but then could explode with its stormy tempers, flinging people around, wanting them out, attacking coastlines, breaking down islands." – Cecelia Ahern
43. "Because there's nothing more beautiful than the way the ocean refuses to stop kissing the shoreline, no matter how many times it's sent away." – Sarah Kay
44. "Ocean, n. A body of water occupying about two-thirds of a world made for man — who has no gills." – Ambrose Bierce
45. "She loves the serene brutality of the ocean, loves the electric power she felt with each breath of wet, briny air." – Holly Black
46. "To escape and sit quietly on the beach – that's my idea of paradise."  – Emilia Wickstead
47. To go out with the setting sun on an empty beach is to truly embrace your solitude. – Jeanne Moreau
48. "I could never stay long enough on the shore; the tang of the untainted, fresh, and free sea air was like a cool, quieting thought." – Helen Keller
49. A beach is not only a sweep of sand, but shells of sea creatures, the sea glass, the seaweed, the incongruous objects washed up by the ocean.  – Henry Grunwald
50. I love the beach. I love the sea. All my life I live within – in front of the sea."
– Rafael Nadal
51. "We need the tonic of wildness…At the same time that we are earnest to explore and learn all things, we require that all things be mysterious and unexplorable, that land and sea be indefinitely wild, unsurveyed and unfathomed by us because unfathomable. We can never have enough of nature." – Henry David Thoreau
52. Every time I stand before a beautiful beach, its waves seem to whisper to me: If you choose the simple things and find joy in nature's simple treasures, life and living need not be so hard.  – Psyche Roxas-Mendoza
53. Come walk with me, take off your shoes, let's walk the beach with only the moon to light the path and waves to hear you tell me you love me. Why does the ocean rock the moon to sleep every night? So the sun will wake and kiss the beach. – J. Henson
54. Beach Rules: Soak up the sun. Ride the waves. Breathe the salty air. Feel the breeze. Build sandcastles. Rest, relax, reflect. Collect seashells. Bare-feet required.    
55. Come to the beach, Where the sea is blue, And little white waves come running at you. A wave comes splashing, Over your toes. You just stand still, and away it goes. We'll build a castle down by the sea, and look for shells if you'll come with me.      
56. I read and walked for miles at night along the beach, writing bad blank verse and searching endlessly for someone wonderful who would step out of the darkness and change my life. It never crossed my mind that that person could be me.   – Anna Quindlen
57. My dream is to have a house on the beach, even just a little shack somewhere so I can wake up, have coffee, look at dolphins, be quiet and breathe the air.  – Christina Applegate
58. No words can express, The depth of her contentment, As she walks along the beach. As the waves lap against the shores, They create the rhythm of her life. Balmy breeze kiss, Her sun-bronzed skin, And she wonders… Could there ever be a greater destiny, Than to be born with a love, For the treasures of the sea? Here, she is home.  – Suzy Toronto
59. Our memories of the ocean will linger on, long after our footprints in the sand are gone.
60. If there's a heaven for me, I'm sure it has a beach attached to it. – Jimmy Buffett
61. "Don't grow up too quickly, lest you forget how much you love the beach." — Michelle Held
62. "For whatever we lose (like a you or a me), It's always our self we find in the sea." — E. E. Cummings
63. "The cure for anything is salt water: sweat, tears, or the sea." — Isak Dinesen
64. "Live in the sunshine. Swim in the sea. Drink in the wild air." — Ralph Waldo Emerson
65. "At the beach, life is different. Time doesn't move hour to hour but mood to moment. We live by the currents, plan by the tides and follow the sun."
66. "To me the sea is a continual miracle; The fishes that swim–the rocks–the motion of the waves–the ships, with men in them, What stranger miracles are there?" – Walt Whitman
67. "At the beach, life is different. Time doesn't move hour to hour but mood to moment. We live by the currents, plan by the tides, and follow the sun."
68. "At night, when the sky is full of stars and the sea is still you get the wonderful sensation that you are floating in space." – Natalie Wood
69. "In every outthrust headland, in every curving beach, in every grain of sand, there is the story of the earth." – Rachel Carlson
70. "In the waves of change, we find our direction."
Are you Ready for Your Vacation? Use These Beach Quotes for Your Instagram Posts
It's time to take a beach vacation. You don't have to trek away to far off stretches of sand. If you're lucky enough to live close enough to the shoreline, spend a morning by the sea. Wake up early to catch the first morning light and that warm glow from the sunrise.
Pictures frame memories and we know how special it is to share them with the ones you love. These beach quotes offer just the right words to say for each occasion. Do you have any favorite beach quotes that we didn't share?
Related Article: Adventure Quotes for Each Step of You Next Great Journey