You will soon need to add something to your packing list for in-country travel.
Travel within the United States used to only require a driver's license. Many individuals possess this form of licensure, so domestic flights were a minor hassle. Numerous U.S. citizens have only flown within the country in their lives and correspondingly have never thought to apply for a passport. But beginning in 2018, certain states are increasing their air travel requirements. Check out the details of this anticipated change in the coming year.
Is your state on the list of those that will be enforcing the new rule?
A recent procedure by the United States government is cracking down on ID's used for air travel. The days where you could simply use your license are fading fast. In the upcoming year, many states are initiating stricter ID requirements from their domestic travelers. Now you will need a TSA-approved ID, such as a passport, green card, or military ID if you want to book a flight.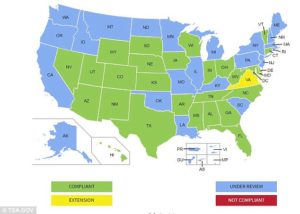 The initial nine states to enforce this new policy are Kentucky, Maine, Minnesota, Missouri, Montana, Oklahoma, Pennsylvania, South Carolina, and Washington. If you reside or travel within any of these states, you will be unable to fly there without a passport, beginning January 22, 2018. Other states will likely follow suit, so don't get too comfortable if your state isn't on the list.
It is important to keep in mind both inbound and outbound flights when booking. You might be able to fly into one state without a passport or other TSA compliant ID, but flying out might be a different story. Check the specific state's policies before booking your trip so that you don't run into any unexpected challenges.
This kind of travel transition isn't all bad. The good news is, now that you will have a passport the door for international travel is open to you. Now when you get the urge to journey abroad, your trip planning will be much simpler with your passport already in hand.
If you are a U.S. citizen, order your passport as soon as possible. As January 2018 fast approaches, there will likely be an influx of people scrambling to get their passports. Beat the crowd and give yourself a peace of mind by getting yours now. You will thank yourself later.
Related Article: American Airlines to Expand US Flight Offerings