Dive right into the culture by sampling the best Venezuelan food.
We've said it before and we'll say it again. One of the best ways to understand a culture is by exploring their culinary scene. Well, we've got good news for you. Not only is Venezuelan food delicious but traveling in this beautiful country is affordable too. Here, the diversity of flavors reflects an eclectic blend of social and historical influence. Come along with us as we take you on a journey to explore all that this South American gem has to offer.
Here Are Our Picks for the Top Types of Venezuelan Food You Need to Try
1. Arepas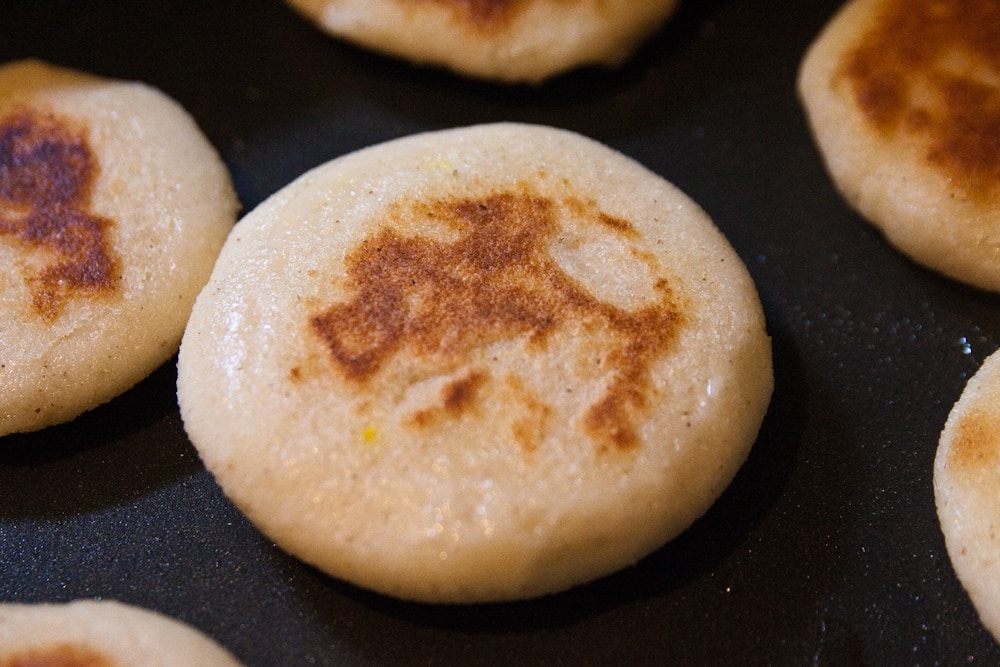 Credit: Flickr
First things first. Try out arepas. As the ultimate favorite type of Venezuelan food, you can't miss out on eating this dish during your visit. While many of the country's dishes are notably rich and diverse, the saying "There's nothing more Venezuelan than an arepa" carries a lot of weight.
These small pitas are made from corn flour and stuffed with a variety of mouth watering ingredients. Beans, cheese, rice, pork, and eggs are among the most common additions. What kind of arepa you get will vary according to the region you're in and even down to the preferences of the cook. Treat yourself to some arepas as a main dish or enjoy smaller ones as a midday pick me up.
2. Pabellon Criollo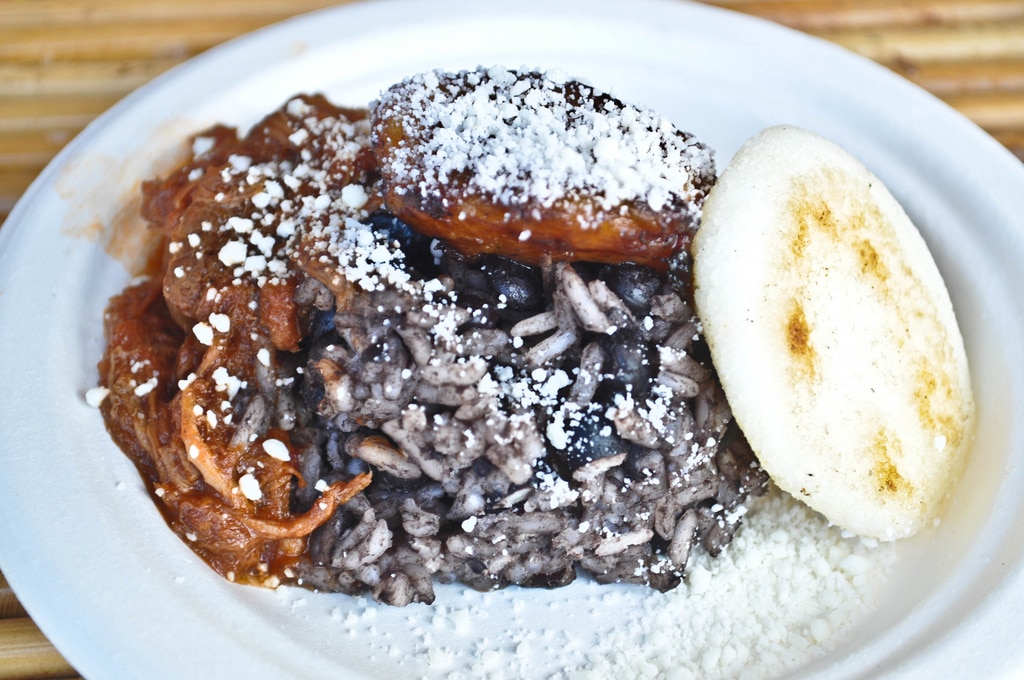 Credit: Flickr
As popular as arepas are, there are plenty of other types of Venezuelan food to try. Pabellon criollo is the quintessential national meal. Think juicy beef, spicy rice, and black beans. If you really want to indulge in the local flavor, try it out with plantains and a fried egg on top.
Travel along the Caribbean coast during the Catholic fast of Lent. You'll get an entirely different experience. For example, on the island of Margarita, locals often swap out the beef for shark meat (cazon). While this might sound exotic, this two-meter long school shark is so popular on the island, it is often served up as filling in empanadas.
If you're really feeling brave, you can also swap out your beef for capybara meat during Lent. Many Catholics are forbidden from eating meat during this fast but fish and capybara are considered appropriate substitutes. Consequently, it's a popular Easter dish across the country as well. Whatever meat you choose to get (or if you decide to go veggie), this mouth watering recipe is certainly one for the books!
3. Cachitos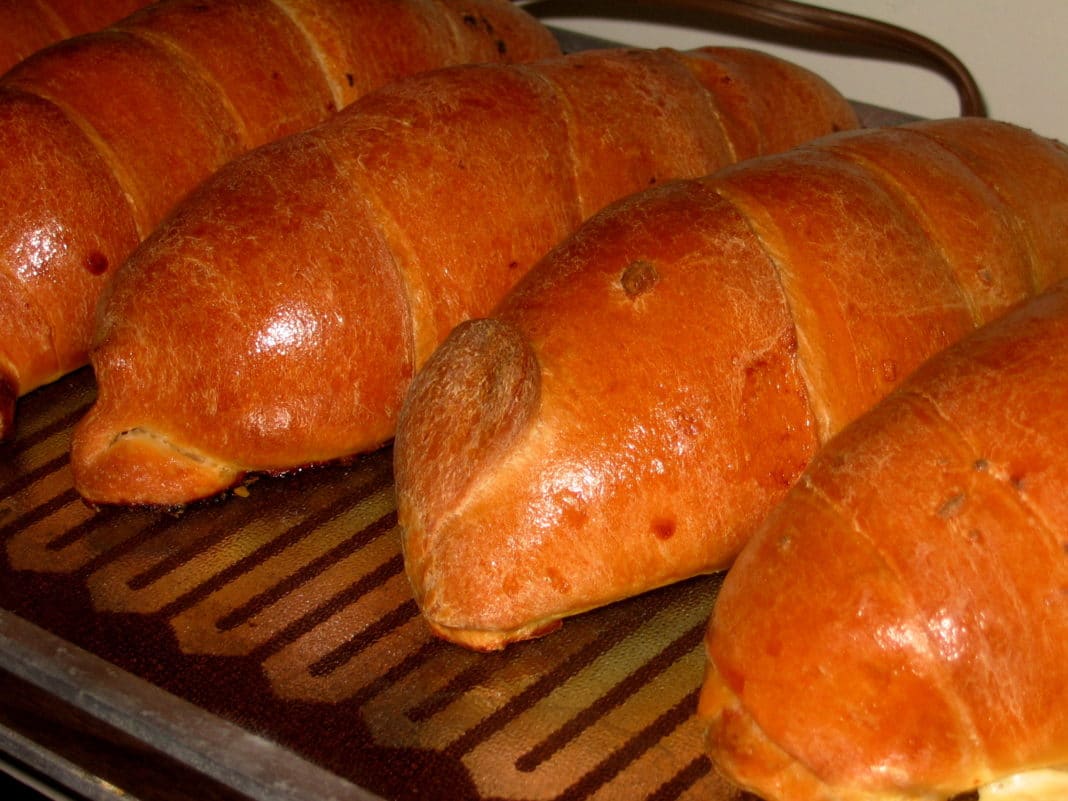 Credit: Wladimir Labeikovsky
Cachitos are basically the croissants of Venezuela. These crescent shaped rolls are to die for. Stuffed with rich ham and creamy cheese, they make the perfect breakfast on the go or a great snack for a quick bite when you are on the go. Venezuelans eat them for breakfast. Now, all you need is a hot cup of coffee and you're good to go. We can't think of a better way to start out the morning.
4. Mandoca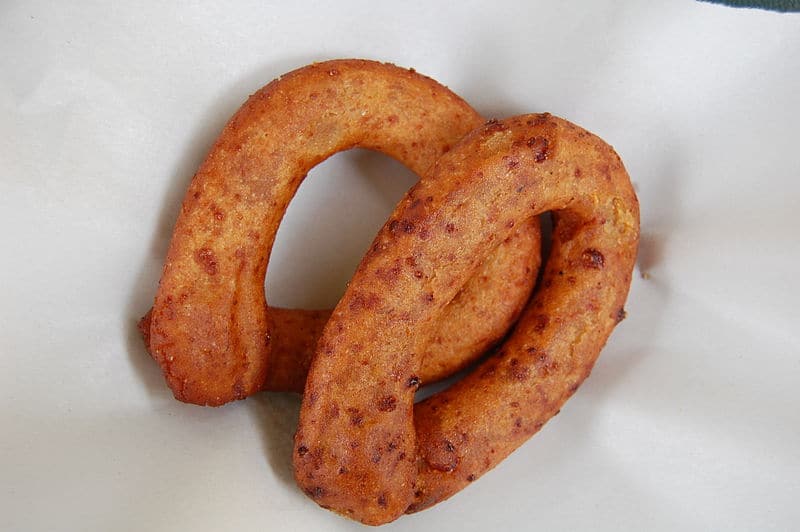 Credit: ​Wikimedia Commons
You can eat healthy later. You're traveling! Treat yourself to a Mandoca. We're convinced they're one of the best types of Venezuelan food. These deep fried treats offer sweet and salty flavors to please every type of palette. Made from cornmeal and plantains, they are stuffed with cheese and butter. It's easy to see why they have worked their way in to become a local classic. Plus, they're so rich and filling that eating just a few will keep you satisfied for the day.
5. Perico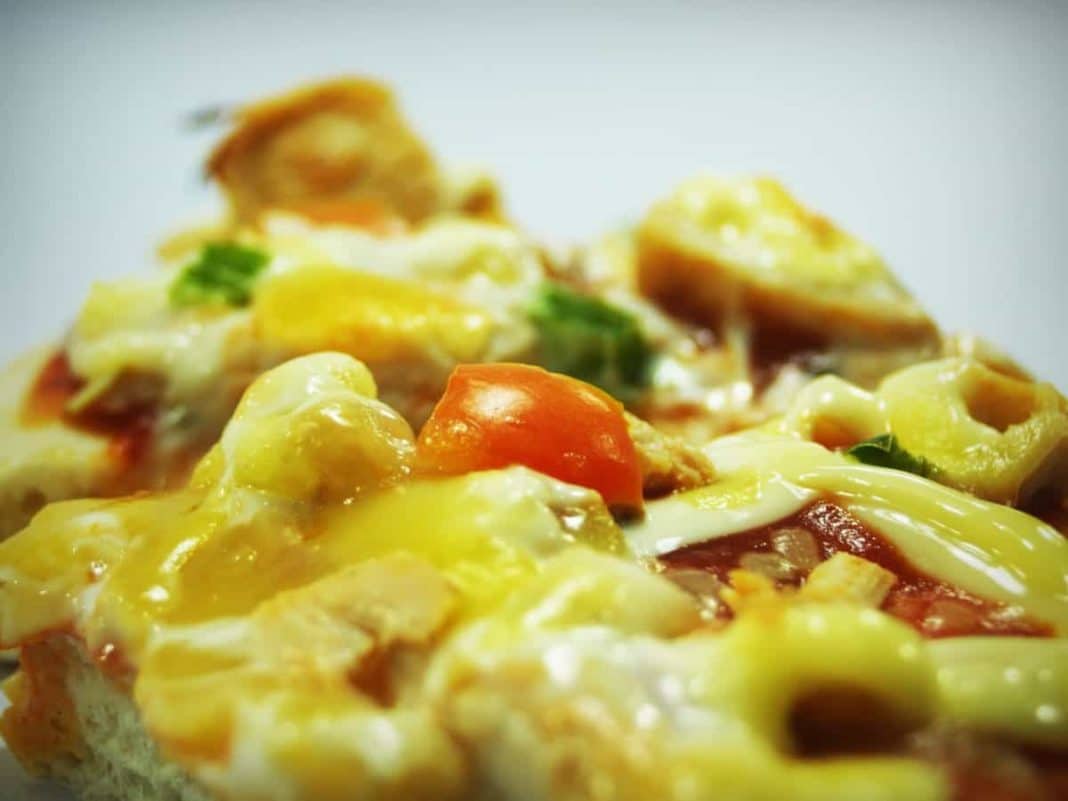 Try out some scrambled eggs with a twist of Latin American flavor. Perico is yet another delicious breakfast favorite. Can you tell that we're breakfast people? This type of Venezuelan food combines South American influence with a good old classic. By adding in some tomatoes, onions, and green peppers, an otherwise simple dish takes on new form and flavor. If you're looking for a more meaty dish, feel free to add in some bacon or ham.
Traditionally perico is eaten inside of an arepa or a bun. But if you'd rather go light and enjoy it on its own, you can do that too. Rumor has it it's one of the best foods to cure that post-flight jet lag feeling. But don't just take our word for it. Go try out some of this goodness.
6. Pastichio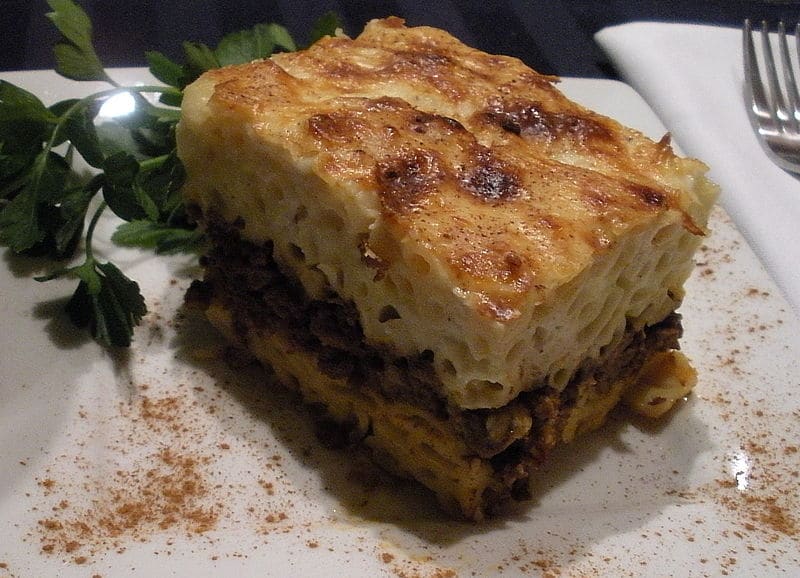 Here, Venezuelan food meets the culinary style of Italy. Pastichio is basically a South American spin on lasagna. Made with thin layers of pasta, meat, tomato sauce, and cheese are all artfully added in. You're probably thinking – okay, this is your typical lasagna. But here's the twist. The spices make all of the difference. With a kick of flavor and some extra creamy bechamel sauce, what would otherwise be a simple pasta dish breaks the mold.
7. Cocada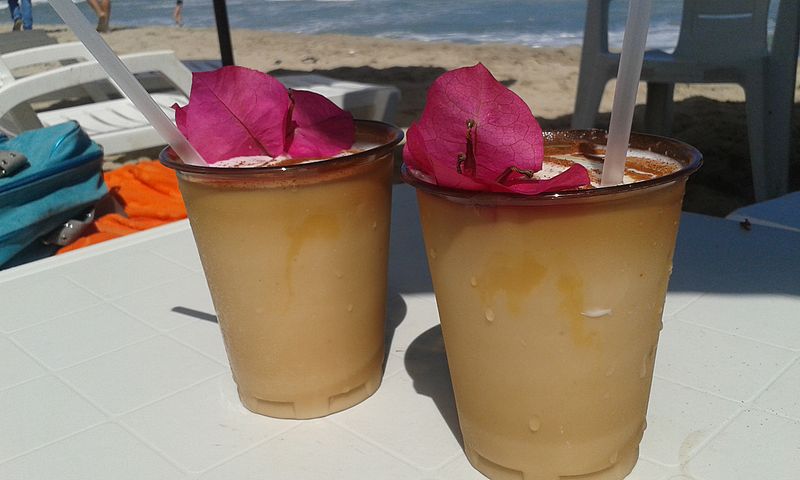 Credit: Wikipedia Commons
Go ahead. Treat yourself to some cocada. It's hands down one of our favorite Venezuelan beverages. Think of it as part smoothie and part decadent dessert. This drink can be found in many classic street side stalls. So how do you make one? Well, opinions vary.
Some people say that a true cocada is only made from soft coconut pulp and coconut water. Others like to add in a bit of milk for that extra creaminess. Our favorite way to drink it is with some vanilla ice cream and condensed milk – we like it super sweet. We've tried out several of these versions and they are all delicious. Garnish it with a pineapple leaf and some cinnamon. Then, you're good to go!
8. Tizana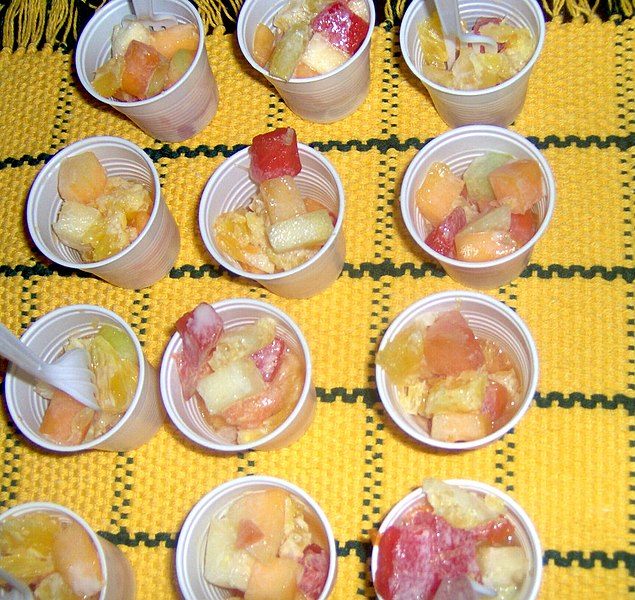 Credit: Wikimedia Commons
Fight the warm weather with the best cold drink, tizana. This fresh, fruity concoction is one of our favorite things to try while in Venezuela. Similar to a fruit punch, you can buy one at almost any roadside stall or try making it at home. What kind of fruit you drink depends on your creativity and preferences.
Typically, tizana contains watermelon, apples, plums, melons, and peaches cut into cubes. These fruit chunks are mixed in with pineapple, orange, grapefruit, and lime juice. Then, you will add in some sugar, crushed ice, cinnamon, and grenadine (non-alcoholic bar syrup). If you'd like your drink with a little bit of a kick to it, you can add in some rum. And there you have it – the perfect Venezuelan cocktail.
9. Dulce de Leche
Credit: Kai Hendry
Sure you've heard this name before. But you've probably only had it in ice cream. Well, you've never quite lived until you've had dulce de leche in Venezuela. There's nothing quite as delicious as South American milky caramel. While it's hard to explain to foreigners, this creamy spread is put on a lot of Venezuelan food. Think of it as the Latin American nutella (but better).
It's made from condensed milk cooked until it gets a thick, brown consistency. You can spread it on toast, waffles, or eat it directly from the mix with a spoon. It's often eaten with a little bit of lemon juice. While this might sound like an interesting combination, the mixture of sweet and tart tastes is absolutely fantastic. Make sure to try out this sweet treat while you are on your travels.
10. Quesillo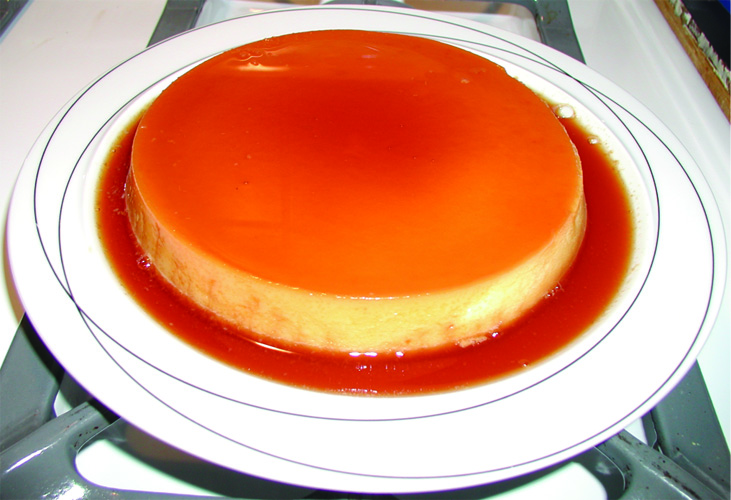 Credit: Wikimedia Commons
We love the classic Venezuelan food as much as the next guy. But we're a sucker when it comes to their desserts. How could you say no to this creamy, caramel treat? So what is quesillo? It's similar to Spanish and Mexican styles of flan. The difference is that quesillo uses the whole egg instead of just the egg yolk. The result is a creamier, fuller dish. It has a texture similar to pudding but it just a little firmer. But that's not all. It is also covered in a delicious caramel sauce makes our mouth water just by thinking about it.
Plan Your Trip and Indulge in the Best Venezuelan Food
Venezuelan food is incredibly diverse. With so many tasty dishes and drinks to choose from, it was hard to narrow down our list to the top ten favorites. While you're there, make sure to sample as many dishes as you can. Seek out authentic places to try the dishes. Ask for the local's recommendations. Or when you're feeling creative, put your culinary abilities to the test and try to cook up some Venezuelan recipes on your own. If you're looking for more places to visit, check out our picks for the best places to travel in November.
Related Article: 17 Amazing Puerto Rican Food Styles You Need to Try