When it comes to camping gear, comfort is king. One of our favorite new pieces of travel ware is the Kelty Galactic Sleeping Pad.
This 2.5" thick self-inflating pad offers the ultimate warmth and comfort in one small lightweight package. Meanwhile the poly pongee shell and included carrying sack ensure you're all ready to go for your next big trip. It's no wonder the Kelty Galactic Sleeping Pad is a favorite buy among outdoor enthusiasts.
Kelty Galactic Sleeping Pad Features & Benefits
Alright, let's dive right in. We're going to be taking an in-depth look at its design, durability, size, warmth, comfortability, and other important factors.
Design
Credit: Kelty
Escape to your happy place without sacrificing the comfort of home in the Kelty Galactic Sleeping Pad. It's built to keep you comfortable and warm, wherever you choose to rest your head. This self-inflating pad can fit even the tallest of campers. That's right. If you're 6'6" or under, Kelty has you covered. This pad pairs perfectly with any of their rectangular sleeping bags. Buy this to get a great night's sleep while camping.
The dual brass valves help this luxurious pad inflate and deflate with ease. At two and a half inches thick, it will help you sleep comfortably throughout the night. With a 6.9 R value, it will keep you warm and insulated from the chill of the ground too. This pad features a durable poly pongee polyester shell and its carry sack makes it easy to pack away after a good night's rest. We guarantee you'll wake up a happy camper.
Durability
Blow up uncomfortable nights on the trail and get true rest with this top-notch sleeping pad. This rugged, easy-to-carry option is ready to adapt to any kind of adventure. Whether you're a backpacker, camper, or just an old-fashioned adventurer, this is an optimal choice.
Constructed using some of the most sturdy resources available (akak the pongee polyester shell), the Kelty Galactic Sleeping Pad is made to last. Purchasing this item will not only help you sleep better when you're in the great outdoors but also provide an item that will give you lots of use for years to come.
Size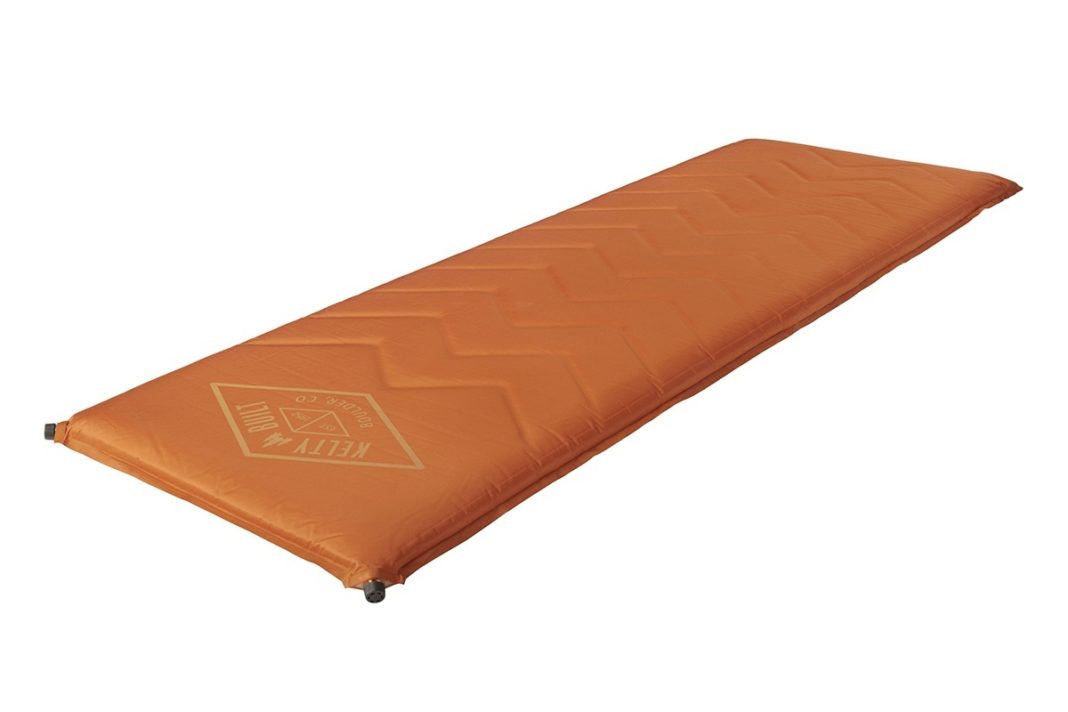 Credit: Kelty
The Kelty Galactic Sleeping Pad is small enough to carry on a hike and spacious enough to stretch out in. Plus, it will fit inside the other Galactic Sleeping Bags! Let's take a look at the size. Since it's two and a half inches thick, we know it provides optimal warmth. And since it can fit campers up to 6'6" in height, you don't have to worry about not getting enough coverage to keep you warm during those cold forest nights.
The pad measures 78 inches by 25 inches by 2.5 inches. So, you'll get a nice, long fit from top to bottom and a snug enough fit in the width to retain the insulation that you need. Keep in mind that this camping pad was made for moderate temperatures, so don't take it out in the winter and expect full coverage. It was given an R-value of 6.9.
Warmth
Take the Kelty Galactic Sleeping Pad out for the spring and summer months. Is it just us or is Yosemite calling your name? Since it is a thick pad, measuring 2.5 inches in depth and offers an R-value of 6.9, you know you can take it out and it will fare well. Plus, you can always pair it with your Kelty rectangular sleeping bag or another favorite bag you use for your go-to. Reviewers have praised this company and the quality of the bag for its top-notch performance.
Tech Specs:
Self-inflating rectangular sleeping pad

Double brass valve

2.5″ thick

check

Carry sack included

check

Fits to: 6'6"

check

Total weight: 4 lbs. 15 oz. / 2.24 kg

check

Dimensions (LxWxH): 78 x 25 x 2.5 in / 198.12 x 63.5 x 6.35 cm

check

R-Value: 6.9

check

Shell material:

check

Polyester Pongee
What Travelers Are Saying About the Kelty Galactic Sleeping Pad
Overall, travelers loved using the Kelty Galactic Sleeping Pad. It's so much more comfortable than a typical camp rest pad. The thickness really does go a long way. Users love how easy it is to set up since it's self-inflating. It's also easy to stow away. While it weighs a little over 4 pounds, it is not too heavy to be taken on backpacking trips. It's perfect for its intended use and makes it great combo with a warm, high quality rectangular sleeping bag.
Alternative Sleeping Bags
Are you looking for some sleeping bags to pair with the Kelly Galacting Sleeping Pad? Perhaps you are also interested in checking out some other high quality sleeping pads on the market. Whatever it is you're looking for, we've got you covered. Check out these other top choice picks for camping gear. We have a feeling you're going to love them just as much as we do.
Chillax Ultralight Air Sleeping Pad
A lot of hikers struggle with getting good sleep in the wilderness. This is just one of many reasons why you need to get a top notch sleeping pad. Sleeping pads like the Chillax Ultralight Air Sleeping Pad provides the comfort your body needs to get some good rest. When you're exploring, energy is essential.
Measuring 2.5 inches thick, the Chillax Ultralight offers the same thickness as the Kelty Galactic Sleeping Pad. It also offers a generous size. But there is so much more to it than comfortability. If you're seeking a super warm sleeping bag, then this is the one for you.  With a 21 R-valued insulation, the Chillax Ultralight Air Sleeping Pad is sure to keep you extremely warm.
It's here to insulate you from the cold ground and pair with your perfect sleeping bag. Instead of waking up with an aching back from that rock or feeling that annoying stick poking through your bag, you'll wake up feeling refreshed. The conversations over your morning coffee have never been better.
WellaX has been listening to your needs. They created the ultimate comfortable sleeping pad which will keeping you snoozing soundly in the wilderness for time to come. Get your Chillax Ultralight Air Sleeping Pad now and will make you feel like you've slept on your own bed at home.
Tech Specs:
Compact and Lightweight: The Chillax Ultralight Air Sleeping Pad has a single layer of air cells to give you the lightest and smallest packed-volume mat (10"x3.5") without compromising comfort. The lighter your backpack, the more comfortable your hiking trips will be. Inflated size is 78" x24" x2.5", perfect for any outdoor activity like backpacking, traveling or camping.

Revolutionary Design: Laminated 20D ripstop Nylon and the TPU Layer provides a good balance between low weight and durability. It is virtually silent, waterproof, abrasion / tear resistant and reflects back radiant heat to the sleeper. No more crinkly or squeaky noise, your perfect pad for using in your tent, in/under your sleeping bag, in your hammock, or any floor or hard surface.  

Easy to inflate and deflate: Advanced inflation technology features 2 flat valves: 1 for inflation and 1 for deflation, making it quicker to inflate (only 4-6 breaths) or deflate. Say goodbye to your old sleeping pad that required either a pump or lots of breaths and effort to inflate. The Chillax Ultralight Air Sleeping Pad  has a R-value of 2.1, making it the perfect 3 season mat.

check

It's a no risk purchase: Making you a happy customer is their main goal. Just try it, and if you don't absolutely love it, you can send them a message and they will refund or replace your purchase, no questions asked.
Teton Sports Universal Camping Pad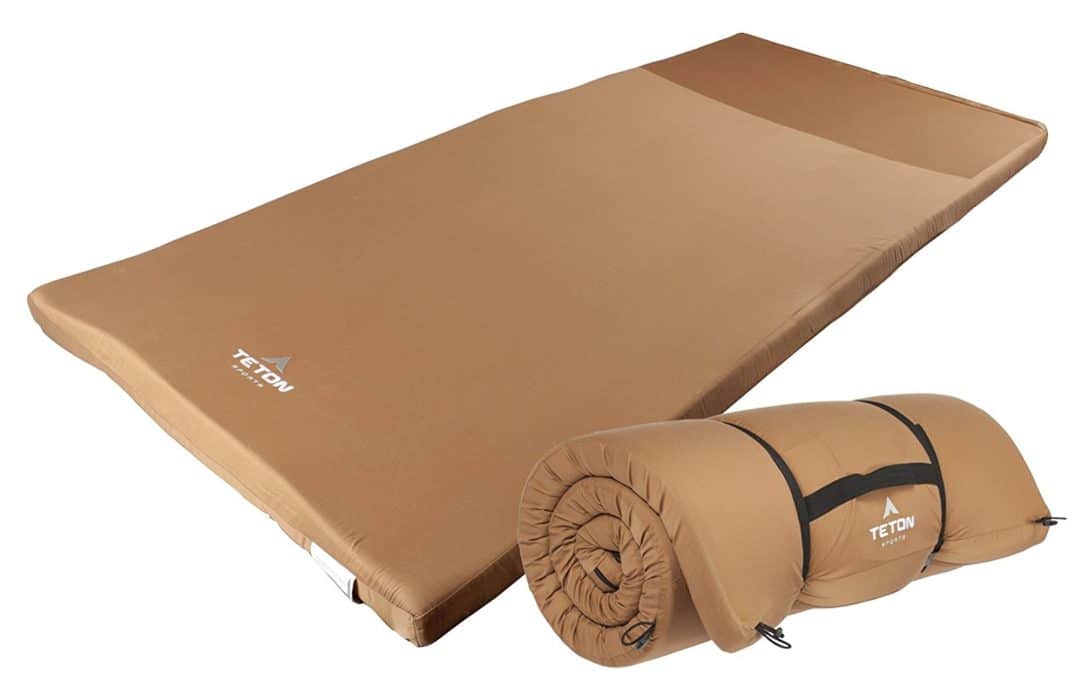 Bring the comfort of your home to the campsite. You can get a relaxing night's sleep after hiking all day. There's no inflation necessary. This pad comes in three different sizes to fit any preference. This two inch plus thick pad compresses well for easy storage. However you roll it, tuck it, or tie it, the open-cell polyurethane foam maintains shape and cushion.
Portable pads unroll to cover matching Teton sports cots or any cots with bars. These pads are also perfect for car camping, offering built-in compression straps for easy roll-up, soft removable cover, and pockets for valuables and pillow. They can easily double for extra mattresses for guests as well.
Tech Specs:
Camping pad provides another layer of insulation from the cold, hard, uneven ground or uninsulated cot surface; Stay warm in your sleeping bag with our camp pad as an extra layer of comfort and warmth

Easy to carry to the campsite; Built-in roll assister and roll-up straps with compression buckles make storage of your pad quick, compact, and easy

Use as a stand-alone ground pad, with a cot, or as an extra bed for guests; Each camping pad fits perfectly on the Teton Sports Universal Cot; Canvas outer shell slips off to make cleaning easy

check

Your satisfaction is guaranteed
Invest In the Best Sleeping Pad for Your Next Outdoor Adventure
We hope you enjoyed reading our article on the Kelty Galactic Sleeping Pad. As you can see, this camping gear offers great support for those seeking a little extra comfort and warmth in the great outdoors. Whether you're a backpacker, hiker, camper, or just an outdoor enthusiast, we're sure you'll soon find it an essential.
If you're looking for some other great camping gear, make sure to check out our picks for the best backpacking tents and free places to camp across the country.
Related Article: Best Sleeping Bags For This Year's Adventures