Get the inside scoop of flying with this Delta Comfort Plus Review.
Before we get into our Delta Comfort Plus review, let't talk about traveling. Traveling was once a luxury for only the rich and famous or those who saved up plenty of money for a once in a lifetime adventure. With today's access to everything, flying has become something that is no longer luxurious, but standard. From business meetings to weekend getaways, everyone flies. Any one can do it, and you don't need wads of cash to do it either. From the days of finding a travel agent to today's era of booking your own, standards of luxury have unfortunately taken a back seat. There is some exciting news though. More and more airline carries have been stepping up their game to provide luxurious flying experiences for everyone on board.
One such carrier that is ramping up their flyer experience is Delta. For an added dose of luxury while flying in the air, this Dela Comfort Plus review will explore how far Delta has come. Today, we are going to take an in depth look at what flying with Delta on their Delta Comfort Plus experience looks like. In this Delta Comfort Plus Review, we will take a look at booking and check in, seating experiences, prices, as well as overall customer experiences. Let's jet set on this Delta Comfort Plus review!
Booking Your Delta Comfort Plus Flight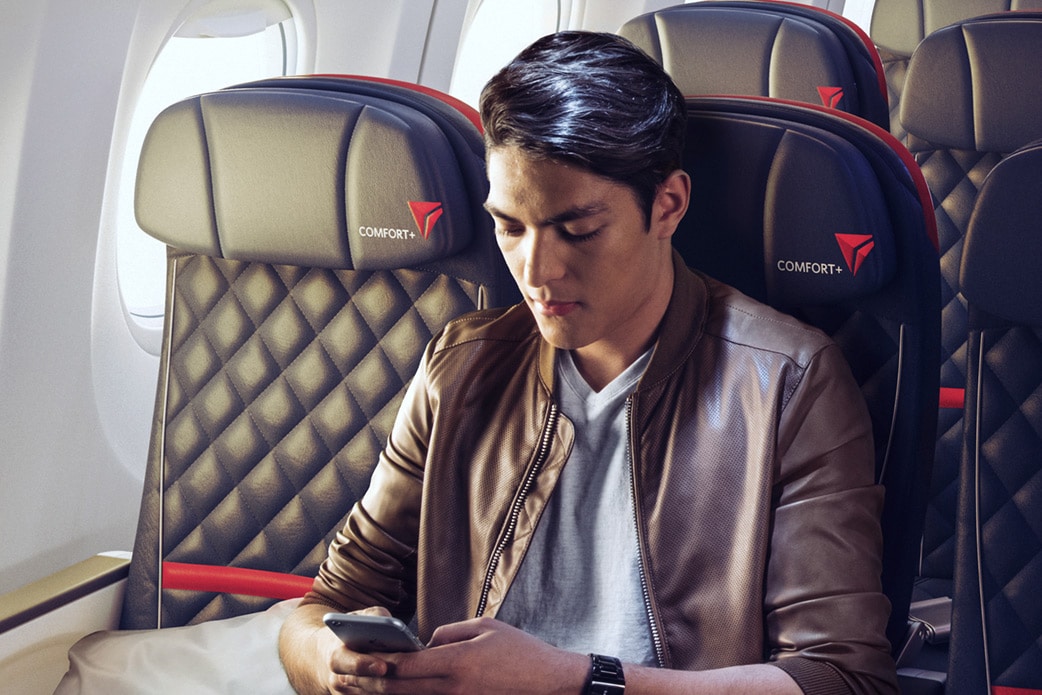 Credit: Delta
Booking your Delta Comfort Plus flight is easy and effortless. You can book your flight directly on their website, or in person at any airport. Customers that have flown with Delta Comfort Plus have reported that it is not uncommon to snag amazing deals when you are booking in person at the bookings counter. For an added ease of access, be sure to download the Delta App
Upgrades
We love that when you book with Delta, you have the freedom of choice. If you were to book a standard ticket with Delta, you have the option of upgrading your seating arrangements to Delta Comfort Plus later on. In fact, you can buy a Delta Comfort Plus add on as close to three hours before your departure. The awesome thing is you don't need a new ticket when getting a Delta Comfort Plus add on. Simply go to the counter and they will make an adjustment to your ticket.
Whether you book a Delta Comfort Plus ticket to begin with or add it on later, you can be sure that paying for it is as easy as showing up to board. You can pay for your Delta Comfort Plus booking with any major credit card online or with cash in person. If you are changing your Delta ticket to a Delta Comfort Plus, you can enjoy the fact that you don't have to use the same payment method as your first transaction.
Boarding
Credit: Delta
When it comes to boarding, we love that Delta offers priority boarding with Delta Comfort Plus bookings. While you're waiting in line to board your flight, you can rest assured that you will have priority boarding. This gives you enough time to settle into your seat a little sooner than everyone else. If you are traveling with children, this is especially helpful because it will give you the time you need to settle the kids down for the flight.
Leg Room, Please And Thank You!
Long domestic flights and international flights can be tedious and lengthy. The last thing any traveler needs is not enough leg space. When you are flying Delta Comfort Plus, not only do you get a luxurious experience, but you get extra leg room to wiggle your toes. In this Delta Comfort Plus review, we love that you can expect three or more inches of legroom on domestics flights and up to four or more inches of legroom on an international flight. If you are traveling with children or large parties, having that extra legroom is an absolute must. Really, it is a necessity that you don't know you need until you need it. If there is one thing any Delta Comfort Plus review can agree on, it is that the extra legroom on a Delta Comfort Plus flight is one that we can nod our heads to.
The cherry on top with the extra legroom in seating is how far back your seat can recline. This is another necessity that you do not know you need until you need it. What we love in this Delta Comfort Plus review is that all Delta comfort plus seatings come with up to 50% more recline space than the main cabin seating. It should be noted however that this is only available on long-haul international flights and select the domestic flights. One thing is certain though, whether you are flying across the country or across the globe, everyone can appreciate a seat that reclines back comfortably.
Extra Storage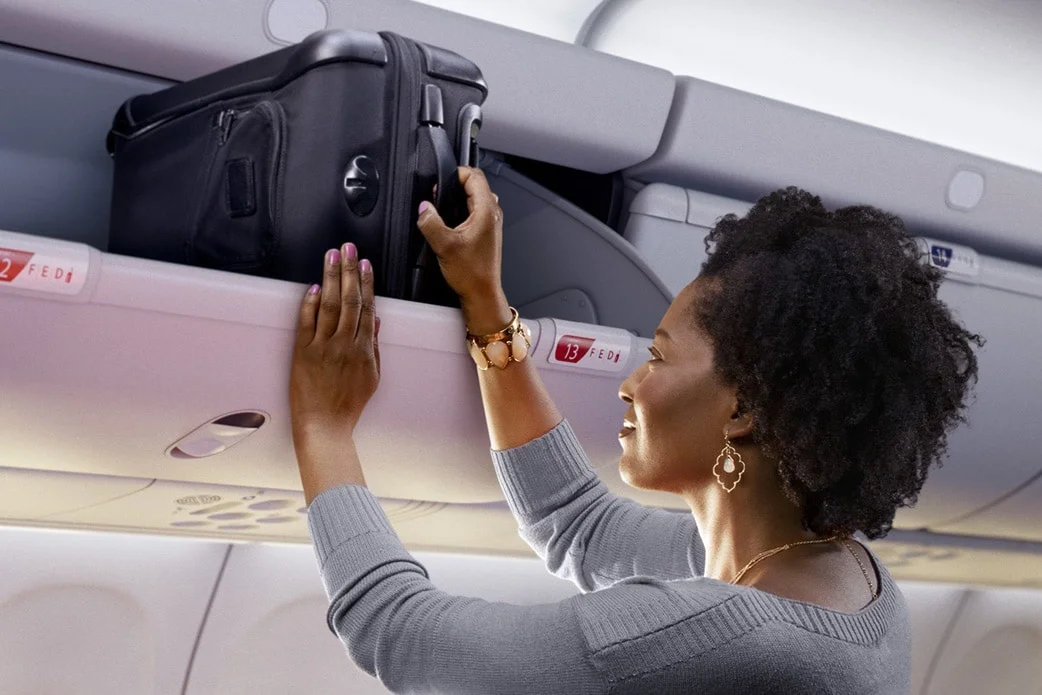 Credit: Delta
Speaking about having enough room for your legs, we love that Delta Comfort Plus offers dedicated bin space. Our Delta comfort plus review appreciates the fact that there is dedicated overhead bin space available right above your seat. You don't have to worry about figuring out where you are going to put your luggage or whether or not it's going to fit. If you've got an extra carry-on or a laptop bag, there is space for that too.
It Is The Little Things That Matter
In this Delta Comfort Plus review, we really appreciate that Delta thought to include all of the little things. Delta Comfort Plus goes the extra mile to provide a pillow, blanket, and complementary headset (on international flights). We especially love that they offer an amenities kit complete with a mini toothpaste, a mini toothbrush, and a sleeping mask. With this helpful amenities kit, you can rest a sure that your flight is one that is full of comfort.
Travel With Entertainment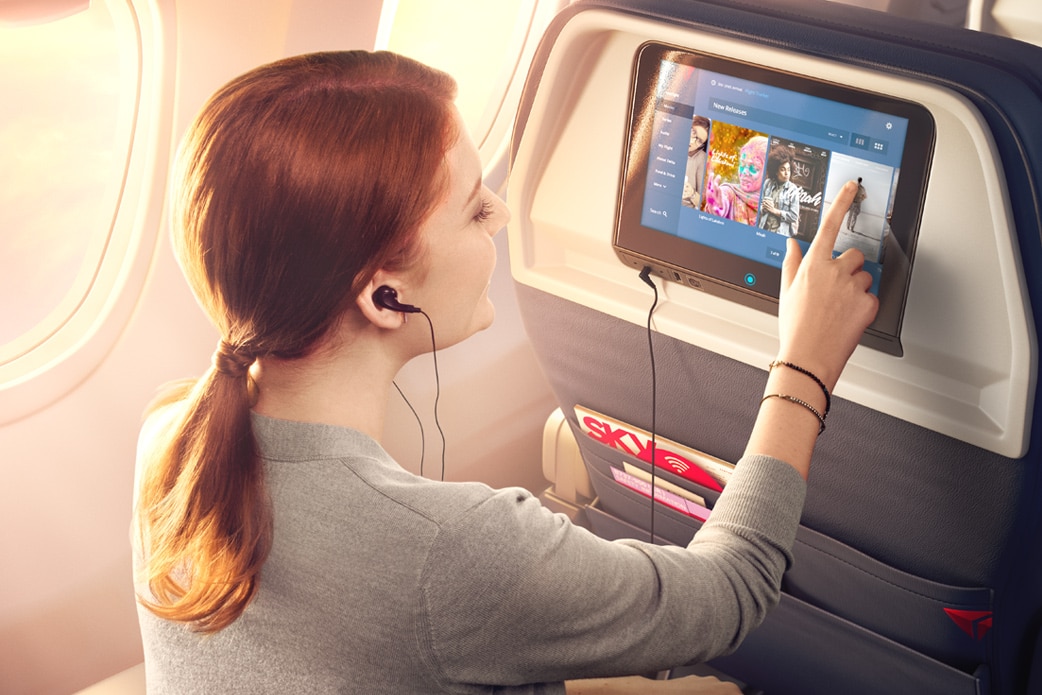 Credit: Delta
If you're traveling nationally, or are on a flight that longer than a couple of hours, then you will be happy with this next reveal on the Delta comfort plus review. All Delta Comfort Plus flights come with a personalized TV screen are up to 9 inches for your entertainment. You don't have to worry about your personal TV screen not working either. These personalized touchscreens are effortless and easy to use. The little features on a Delta Comfort Plus flight are noticed and appreciated in this Delta Comfort Plus review. We love that the IFE TV screens allow users to dim the brightness or turn them off if they would rather get some shut-eye. not only that, but the interactive map on the IFE screen gives you interesting information such as your plane's altitude, your miles out from your destination, and your estimated time of arrival. We love that Delta has thought out all the fine details and included them for your disposal. Delta does a great job with upkeep and the screen's high-quality resolution are perfect for an enjoyable experience.
Sit back and enjoy a large collection of films from a range of networks. You can surf HBO, Showtime, pre-stored films, and standard television. If you would rather sit back and relax, you can enjoy their large selection of music available for your enjoyment too. For video game enthusiasts there are even games for you to kill the time with. Not only that but where available, you can even stream entertainment on your own personal device if you prefer. All Delta Comfort Plus seatings come with Wi-Fi for purchase as well as power outlets. However, the availability of the power outlets does vary by aircraft.
For The Foodies
Foodies, you will enjoy this one. While airline food is not really the type of food you would like to photograph on a daily basis, Delta has made an impression. Not too long ago, Dela began offering one meal on its transcontinental flights and select domestic flights in the main cabin as well as Comfort Plus. The food selection is actually quite impressive too. There are usually three selections to enjoy; a fruit, cheese, and the main course like a sandwich or wrap. (The main course is a loose term of course). For dessert, you can expect delectable goodies such as Häagen-Dazs ice cream and Godiva chocolates. As far as airline food goes, Delta delivers.
If you would like to take a little bit of the edge off while flying, rest assured that all Delta Comfort Plus flights come with a complimentary beer, wine, and cocktail selection. And as always, Delta Comfort Plus flights come with complimentary snacks as well as complimentary non-alcoholic beverages. For coffee lovers, you will be pleased to know that your complimentary nonalcoholic beverages also include Starbucks beverages. So coffee lovers, bottoms up.
Flight Crew
Credit: Delta
We absolutely love the flight crew in this Delta Comfort Plus review. While occasional stories will pop up here and there about disgruntled Delta employees, there are bad apples in every batch. Customers collectively agree that flying Delta Comfort Plus is especially enjoyable with the Delta crew. Aboard most Delta Comfort Plus flights, you can expect crew members to ease the plane into relaxation by turning off the lights about 60 minutes into your flight. This gives flyers a great opportunity to put on their face masks and get some shut-eye during their flight.
Delta Sky Miles
If you are a frequent traveler and find yourself on Delta Airlines quite a bit then it would be worth your while to become a member of Delta Skymiles. If you join Skymiles not only will you be able to collect points towards your next flight, but your miles never expire. You can use your miles towards over 1000 destinations. What we love in this Delta Comfort Plus review is that your acquired miles never expire and there are no blackout dates so you can be sure to use your points whenever you want. To get more information on Skymiles or to join for free today, click here to add this card to your travel wallet.
Final Thoughts
Delta Comfort Plus is a step above economy and coach and a step below business and first class. If you are looking to switch up your travel accommodation, consider giving Delta Comfort Plus a go. They have all the amenities you can want if you are looking for a comfortable travel airline. Overall, Delta Comfort Plus delivers and is an airline experience that should not be ignored.
Related article: Delta Sky Club: Everything You Need to Know