Sturdy, reliable, lightweight, and attractive: everything you're looking for in carry on luggage.
When it comes to finding your go to carry on luggage, it can take quite a bit of research. Lucky for you, we've put quite a bit of time and effort into finding the best of the best. The Samsonite Omni PC Hardside Spinner easily makes the top of our list. Providing you with a protective outer layer, a sleek design, and easy mobility, you'll breeze through the airport. Without the worry of lugging a duffel bag or damaging precious goods, your trip will be less stressful. This enjoyable future of travel is yours with just a simple switch to the Samsonite Omni PC. Seriously, you'll be amazed. So, without further delay, let's dive into why we love this lightweight piece of carry on luggage.
Samsonite Omni PC Hardside Spinner Features & Benefits
Protective Hardshell & TSA Lock
Do you tend to travel and bring back gorgeous, yet fragile, souvenirs? Some of the most beautiful art, pottery, and gifts come from across the pond. These things need to be well protected, and frankly, that just won't happen with soft-sided luggage. Thankfully, the Samsonite Omni PC has an incredibly firm outer shell made from polycarbonate. This will protect your valuables from shifting in flight and being tossed around. The textured outside is micro-diamond to be incredibly scratch resistant. This keeps your luggage looking great long after its maiden journey. So, for a protective carry on suitcase, the Samsonite Omni PC Hardside Spinner fits the bill.
In addition to protection, the Samsonite Omni PC provides an extra line of security. The side-mounting TSA lock locks zippers in without extra keys to carry around. By using a combination and being mounted on the suitcase, you can't lose the lock or the combination. This allows you to be confident in your valuables making it all the way from check-in to arrival even if you have to gate check it. So, add the TSA lock as one of our favorite perks to why the Samsonite Omni PC Hardside Spinner is a phenomenal suitcase.
Retractable Handle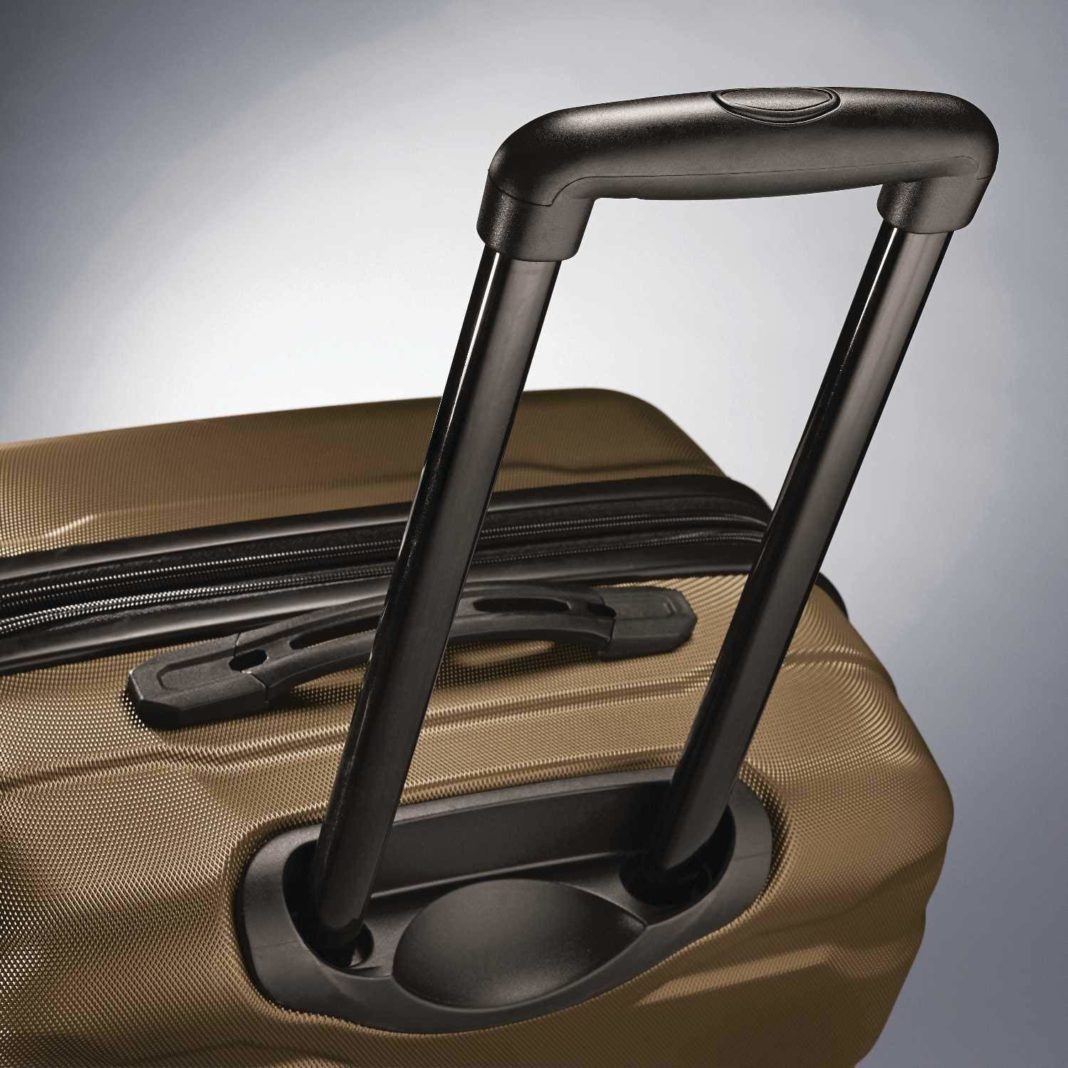 The ability to pull your things around the airport greatly relieves back pain. The ability to slide that handle right back into the suitcase to hide it avoids excessive inches that could have been used for packing. The Samsonite Omni PC Hardside Spinner has a sliding handle that locks at multiple points depending on the height of the user. In addition, the pull handle has a wider, ergonomic grip allowing for extra comfort. The handle is made of aluminum, allowing this suitcase to stay incredibly light. Don't fret about not being able to lift this suitcase above your head either. With the solid side carry-handles, tossing it into the overhead bin is a breeze.
Lightweight Spinner Wheels
Gone are the days of pulling a suitcase behind you and catching it on corners. The Samsonite Omni PC will ride along beside you. Using lightweight spinner technology, it glides with ease every day. The wheels rotate a full 360 degrees, making corners, tight spaces, and bathroom stalls effortless to navigate. Rather than pulling or lugging this around, you can lightly push and the lightweight spinner wheels do all the rest. So, don't worry about getting tuckered out with this suitcase by your side.
Full Zip Interior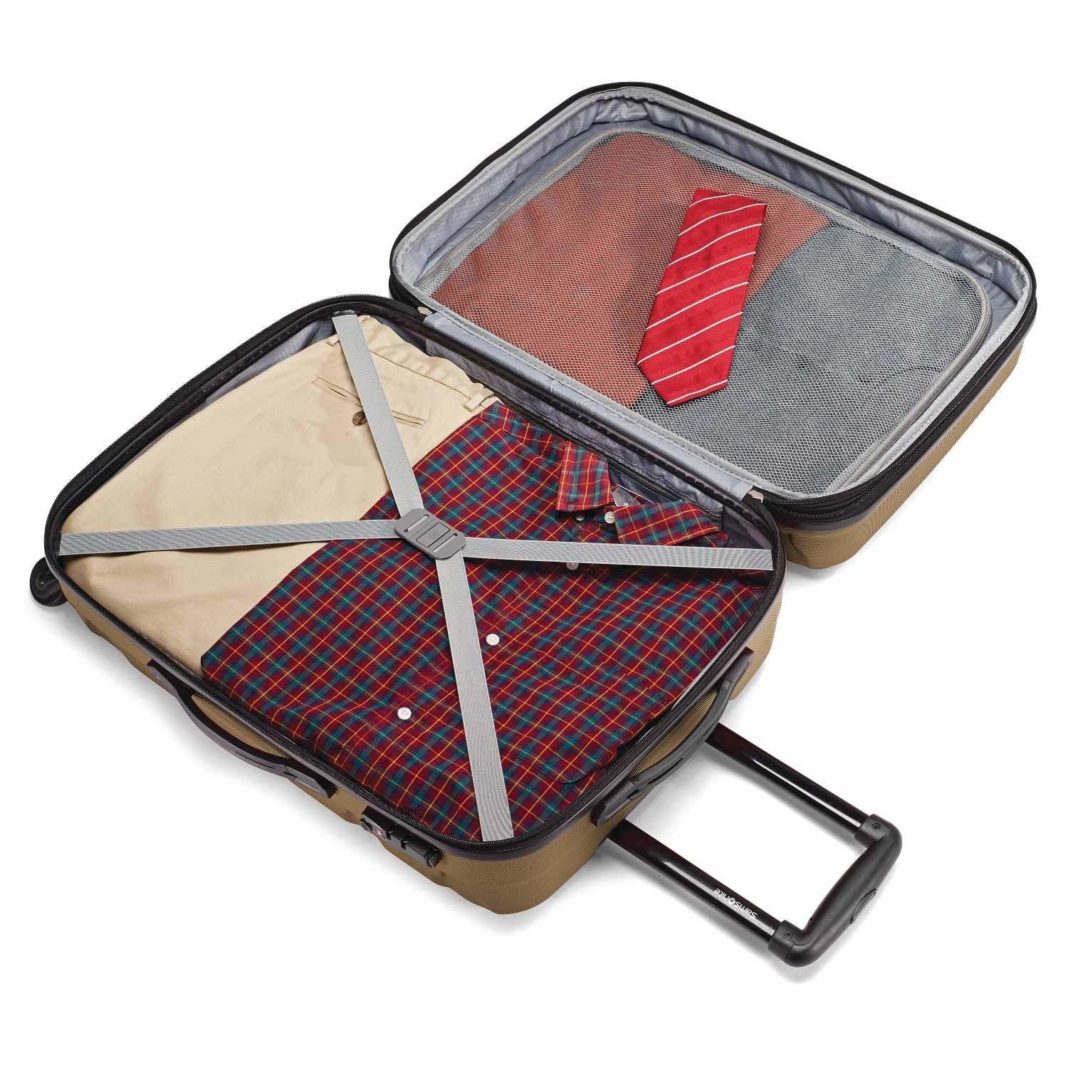 The full-zip interior pairs quite nicely with the polycarbonate outer shell on the Samsonite Omni PC. With the sturdiness of the outside, the interior gets to shine. As the top of the suitcase opens up, you will have a full mesh pocket on the lid. For easily visible and accessible things, toss them in here. In the deep and roomy main compartment, you will find another pocket along the back. This allows for the perfect amount of organization of important things without being excessive. On top of that, there are straps which hold everything in place. Making an 'X' over the main compartment, this helps keep the clothes neatly folded and the souvenirs in place. Because of the combination of the hard shell and interior design, your things are incredibly safe and sound in the Samsonite Omni PC.
Common Carry On Dimensions & Weight
A great piece of luggage wouldn't be exceptional without meeting simple standards. The body dimensions of the Samsonite Omni PC are 19 by 14.5 by 9.8 inches. This comes in at a standard size for almost every airline carry on regulation. So, you won't be smacked with extra fees or issues because of this. The hard shell also makes it easy and simple to slide in and around the overhead bins with ease. Additionally, many carry ons are supposed to be limited to less than 35 pounds. With the Samsonite Omni PC coming in at a low 6.8 pounds, you have plenty of wiggle room for extras. So, pack this lightweight suitcase without worrying about the regulations. Samsonite knew what they were doing when they made this stellar luggage.
What Travelers Are Saying About the Samsonite Omni PC Hardside Spinner
Accruing 4.3 out of 5 stars, the Samsonite Omni PC Hardside Spinner suitcase is clearly a great option for a lightweight carry on. Most reviewers and travelers tend to comment on the durability of the outside shell. Having used it for many a trip, they remark that the sleek style has withstood the long travel days again and again. In addition, the TSA-lock is a perk that many did not expect. To be specific, this lock is easily opened by TSA, but no one else unless they have the combination. So, this takes the stress out of those random searches. One traveler loved the hard shell when they were caught seatless on a bus, The Samsonite Omni PC Hardside Spinner is so solid, they used it as a seat for the full 45 bus ride! So, for a durable and multi-use luggage option, check this out.
The one downside we were able to find to this bag is that the wheels tend to degrade quickly, as any would, when being rolled outside. Hard pavement and asphalt tend to rub the wheels down quickly and eventually cause jams. This being said, if you're not rolling the Samsonite Omni PC Hardside Spinner around the city streets often, you should be set. Coming in at 99 dollars for the suitcase, it is truly hard to beat.
Alternative Lightweight Carry On Luggage You May Like
IT Luggage World's Lightest 8 Wheel Lightweight Spinner
Not all carry ons are built alike, and there are multiple things that set this one apart. The IT Luggage World's Lightest 8 Wheel Lightweight Spinner's first noticeable difference is the handle. The wide, aluminum slides down into the corners and sides of the suitcase, rather than the middle. This makes the bottom of the main compartment a smooth surface. This, in turn, decreases wrinkles in your clothes and wasting space. Secondly, this suitcase has eight wheels, allowing for even more maneuverability. Finally, the tough fiberglass interior allows this suitcase to weigh in at 4.96 pounds. Being the lightest alternative out there to the Samsonite Omni PC, the IT Luggage World's Lightest is a great option if you're needing something a little different. Read more about the IT Luggage brand here.
Kenneth Cole Reaction Out of Bounds
Coming in at slightly over half the price of the Samsonite Omni PC, Kenneth Cole's Reaction suitcase is quite tempting. This suitcase has all the features of our Samsonite aside from the TSA-lock. It has the hard shell exterior with a fully zippered interior. The wheels allow you to roll it alongside you with ease as well. It scores the same as far as reviews go, averaging 4.3 out of 5 stars from its users. With a solid track record and a lower price, the Kenneth Cole Reaction gives the Samsonite Omni PC a run for its money. But, it will be up to you to see if the colors and extra security of the Samsonite are worth the splurge.
Eagle Creek Expanse International Carry-on Luggage
For a soft-sided suitcase that still provides durable protection, look to the Eagle Creek Expanse International Carry-on Luggage. While it is more expensive than the Samsonite Omni PC, it does boast a few unique features to set it apart. The self-repairing zippers are quite unique themselves, lengthening the lifespan of this suitcase exponentially. In the front compartment, there is a tablet sleeve. This allows quick access to it on a long flight even if it's in the overhead bin. Additionally, Eagle Creek has built in an expansion if you need to stretch this suitcase a little larger while still staying within the baggage size limits. Do note that this is a pull-behind suitcase rather than the rolling next to you kind. All in all, this is a stellar alternative to the Samsonite Omni PC.
The Samsonite Omni PC Hardside Spinner is a delightfully reliable suitcase that is dying to go on your next adventure.
Between its hard shell and myriad of color options, this is a spectacular choice for any traveler. If you're wanting a spunky red that's easy to spot or need a sleek color for business, this will do the trick. Do you often carry valuables? The TSA-approved lock makes that a breeze without the hassle of keys. Finally, those wheels just glide. You won't even notice the weight of everything you've brought with the lightweight technology that's in this bag. This budget-friendly luggage option is truly a steal. So, jump on in and grab a Samsonite Omni PC Hardside Spinner today if you're ready for the luggage of your dreams.
Related Article: ​​Best Lightweight Carry On Luggage (Plus How to Make the Best Choice)​​​