This isn't your basic backpack. It's the Teton Sports Explorer 4000. 
There's a reason why this continues to be the top-selling internal frame backpack on Amazon. For all the included features, you are getting a great price. What's a better way to kick off 2019 than gearing up for the great outdoors? The Teton Sports Explorer 4000 offers comfort that you can customize and durability you can count on.
Teton Sports Explorer 4000 Features and Benefits
This bag is built for whatever travel throws at it and it won't break the bank. The design is well thought out with your comfort in mind. If you've ever traveled with a regular backpack, you will appreciate the internal frame in this style so much. The Teton Sports Explorer 4000 is built to shift the weight of your pack off of your back and shoulders. In fact, it is completely adjustable in the torso, waist, shoulders, and chest. Get the perfect fit for your next adventure.
Internal Frame
Credit: Amazon
This strong internal frame is built so much better than most competitor packs. After all, it is composed of aluminum. You'll be pleasantly surprised by just how durable it is. Besides its structural integrity, there are plenty of other features that make it a great find. Pass through side pockets are perfect for storing tent poles and accommodating a hydration bladder of up to 3 liters.
5-Star Features
There are just some features about this backpack that completely blow us away. Teton Sports went above and beyond with the Explorer 4000 style. Did you know that it comes equipped with a sleeping bag compartment, multi-directional compression straps, and several compartments for internal organization? 
We really can't say enough good things about this backpack. Did we mention that there is also an integrated rainfly? This handy feature is sewn-into the bag and can be tucked away into a special storage compartment when it is not needed. It's perfect for keeping your gear dry. There is a lot going for the Teton Sports Explorer 4000 that makes it stand apart from the competition.
Adjustability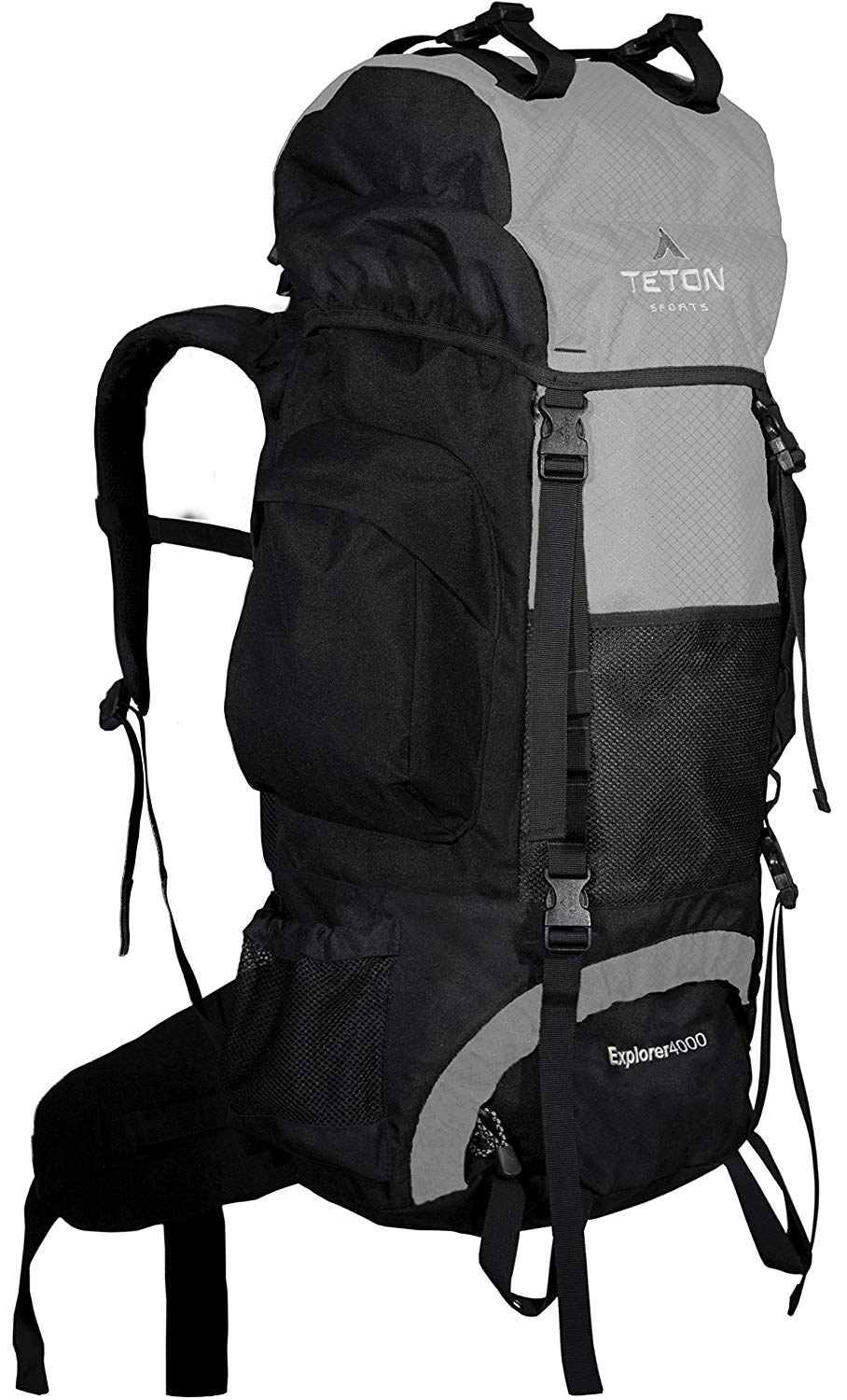 Credit: Amazon
You'll be hard-pressed to find a backpack with the incredible adjustability that the Teton Sports Explorer 4000 has. Many travelers have a difficult time finding a backpack that fits their particular body shape. You won't have that problem here.
Whether you plan on using this bag for yourself, or you're a parent searching for the best travel backpack for your kids, it will work out great. The adjustability makes it perfect for teens. While the bag is unisex in design, petite women do not have to worry about it fitting too large. There is plenty of room in the shoulder straps, hip belt, and torso to fit all body sizes.
Storage and Organization
Loaded up with various pockets and pouches, there are plenty of ways to stay organized with the Teton Sports Explorer 4000. Not including the main compartment, there are six total pockets throughout the interior offering a 65-liter capacity. An additional three mesh pockets offer extra storage. While floating pockets may be confusing to those who are unfamiliar with them, you can store plenty of useful gear in them. Tools, trekking poles, tent poles, and gear with clips are just a few of the options.
We have noticed that even when the backpack is fully loaded, you can still cinch it down with the four compression straps. This handy feature makes moving a breeze. The compression straps also double for storing your sleeping bag, tent, and rain jacket. Finally, there is a built-in rainfly in the special bottom pocket. Instead of taking up space and packing away your rain cover in one of the pockets or pouches, you can keep it out on its own. Not only does this provide easy access should you be caught in a storm but it's also a space saver. That sounds like a win-win to us.
Comfortable
Walking around, you'll find out just how comfortable the Teton Sports Explorer 4000 is. Various features contribute to this light as a feather feel. Molded back panels support the natural curvature of your spine without putting too much pressure on your back and shoulders. In addition, they are designed for maximum airflow. The padding continues throughout the back and the hip belt.
An open-cell foam style padding is used in the Teton Sports Explorer 4000. We love this material since it's durable and won't break down, even after consistent use. We all know what kind of wears and tears the ups and downs of travel can bring. Luckily, this bag is made to stand up against the elements. The dual aluminum internal frame helps you to carry a load comfortably and safely, while also being bendable. These lumbar support panels help you maintain a healthy and proper posture, even while hiking.
Tech Specs:
Top-selling internal frame backpack on Amazon

65-liter capacity

Highly adjustable

Great lumbar support

Durable open-cell foam for breathability

Spacious interior with 6 standard pockets in addition to the main compartment and 3 mesh pockets

Dual aluminum internal frame

Padding throughout the back and hip belt

Compression straps

Sewn-in rain fly

Sleeping bag pouch

Floating pockets

Versatile (fits a large spectrum of heights and body shapes)
What Travelers Are Saying About the Teton Sports Explorer 4000
All in all, travelers absolutely love the Teton Sports Explorer 4000. One of the main concerns people had before they bought the bag was how it could accommodate such a diverse range of traveler heights and body shapes. After their purchase, multiple users noted that the bag did more than just adjust to them, it was very comfortable to wear. One of the reviews that stuck out to us the most was from a 6'3" user who shared the backpack with his 5'4" wife. It fit both of them.
Besides the height,  this pack is more than adequate for capacity. There are many positive reviews about the sleeping bag pouch. Some users were even able to fit a  summer sleeping bag, tent, stakes, and a tent rainfly in the pouch with room to spare. You cant strap my tent poles on the side, which has straps specifically for that purpose. Fitting a large winter bag which would be snug, but keep in mind that you could also strap that on the outside with all the extra straps this pack has. This pack has hidden pockets just about everywhere, which is nice when you have lots of gear you want to get at without unpacking everything.
Let's be honest though, the real reason many users purchased this pack initially was for the price. All we can say is wow. It's a great buy for the money. You could easily compare this with a $300+ backpack from REI and not be able to tell the difference. We hope that Teton Sports keeps their prices low and continues to make such great travel products.
Alternative Internal Frame Backpacks You May Like Better
Are you still looking to shop around a little before you settle on your purchase? Check out some of our other favorite internal frame backpack styles.
TETON Sports Oasis 1100-2 Liter Hydration Backpack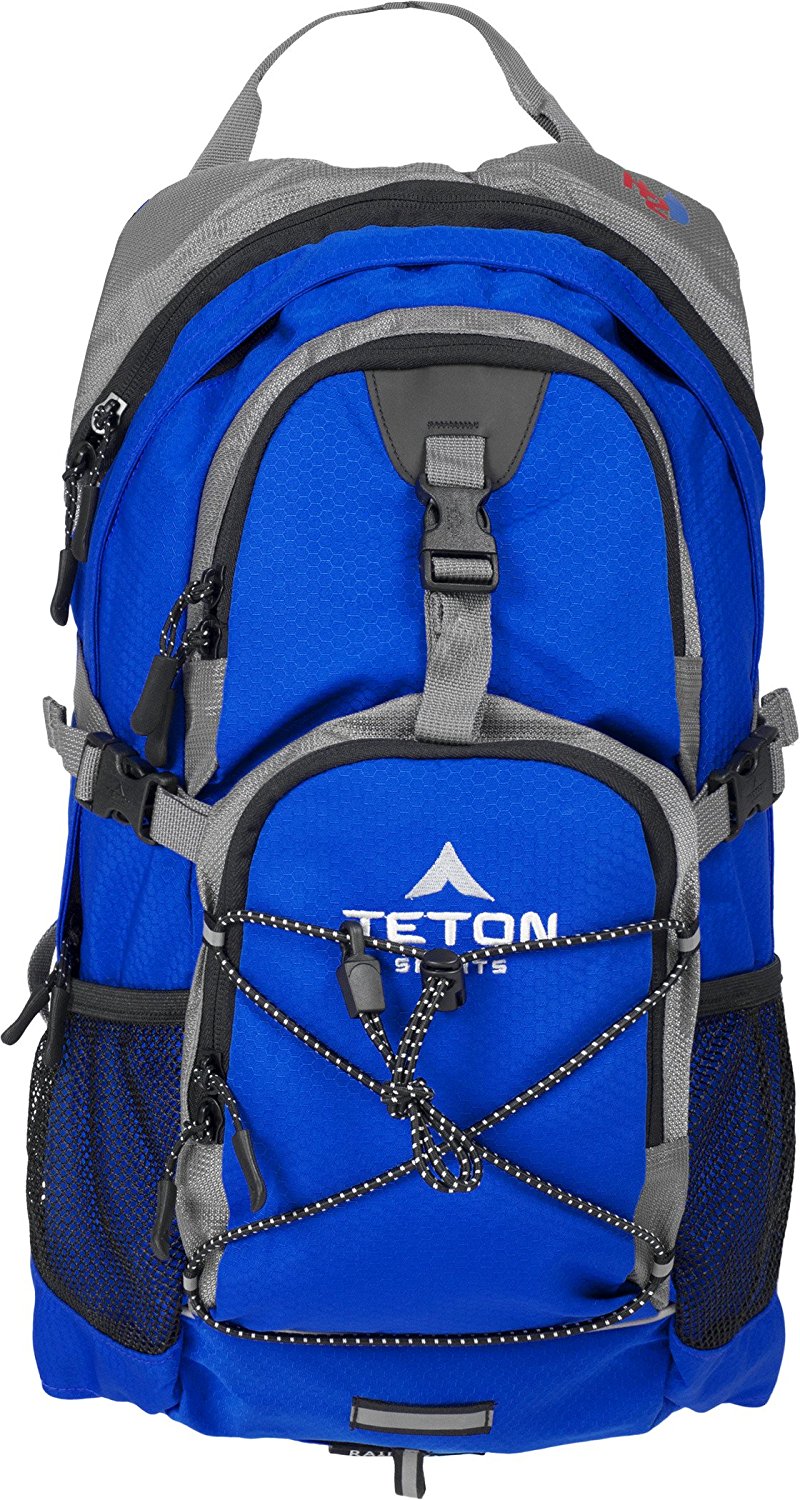 The Teton Sports Oasis 1100 is perfect for all your day hikes. This 18-liter daypack comes with its own 2-liter hydration bladder and so much more. Since it's designed with a low-profile cut, it fits comfortably just like the Teton Sports Explorer 4000 does. If you're looking for a lighter bag, this is the style you need. The shock absorbing chest strap works with the rest of the design to reduce bouncing of your pack. Take this little day pack hiking, camping, backpacking, bicycling, or simply exploring a new city. It's geared up to become your favorite.
Tech Specs:
2-liter hydration bladder included

Compression straps

Sewn-in rain cover

Comfortable to wear

18-liter storage capacity

Durable, kink-free sipping

Plenty of internal space
Mountaintop Internal Backpack Hiking Cover 5822III
Here's yet another great backpack under the $100 mark. One of our favorite things about it is its water resistance. It's sturdy, durable, and extremely comfortable. With this backpack, you will get about 65 liters of storage capacity. While the fabric is thin, this mountain hiking style is a perfect quality product. We can't believe it only weighs 3 pounds. It's ideal for outdoor activities, offering highly breathable fabric, a light structure, and a good amount of storage space.
Tech Specs:
Weighs 3 pounds

65-liter capacity

Durable design

Highly breathable fabric

Water resistant

Zippers open and close with ease
Invest in the Teton Sports Explorer 4000 for Your Next Adventure
As you can see, the Teton Sports Explorer 4000 is a great buy for your next trip. Offering a durable design, 65 liters of storage space, and plenty of internal pockets for organization, you will have no problem fitting in all of your gear. Even if you pack the bag to the fullest capacity, you won't have to worry about it hurting your back. It's equipped with lumbar support and highly breathable fabric to keep you cool and comfortable while you're on the trail. You're set. Now, make a packing list and hit the road!
Related Article: 7 Backpacking Trips For the Outdoor Adventurer