Looking for the best long underwear? Check out the Duofold Originals Men's Thermal Pants.
Get the warmth without all the bulk. That's one that is hard to find – winter clothes that don't weigh you down. Thanks to the Duofold original technology, two fabric layers are combined to create the feel of a single layer. Here is the best part; you will get the warmth of three. With the Duofold Originals Men's Thermal Pants, you get nothing but complete comfort.
Duofold Originals Men's Thermal Pants Features and Benefits
With a 100% cotton inner layer, you will get the softness you want closest to your skin. The merino wool in the outer layer provides the necessary natural insulation that you need. With the Duofold Originals Men's Thermal Pants, you can stay warm and cozy in extremely cold weather. The pants are tag-free too, so you don't have to worry about that annoying chafing. Flat-lock seams and a convenient front fly make for the perfect combination.
Different Materials of the Best Thermal Underwear (and how warm they are)
Whether you're hitting the slopes for ski season or somewhere cold for New Year's Eve, you're going to want the best thermal underwear. Our picks on this list are made from durable materials, offer moisture-wicking properties and thermal insulation from the elements. More often than not, these thermals are made from merino wool or a combination of cotton and polyester. Personally, we appreciate thermals with a bit of stretch to them. This makes them fit more comfortably underneath your mid-layer.
Why You Need the Best Thermal Underwear for Your Travels
So here's the question. Why should you invest in the Duofold Originals Men's Thermal Pants? Buying the right thermals is critical to staying warm and comfortable on the go. Take it from us. If you have ever been on a winter trip and tried to brave the cold in just jeans, you'll freeze. Layering is necessary when you are on the go during colder seasons.
If you're traveling in the summer season, you won't need thermals. Generally speaking, investing in the best thermal underwear is primarily for a winter trip. However, some areas still have chilly weather in the fall or spring. It's better to come prepared than be cold on your trip. If you've ever been on a cold weather trip, you know that it takes a bit of extra planning and thought.
Length and Stretch
Credit: Amazon
Since there is elastane in the material, the Duofold Originals Men's Thermal Pants can stretch to fit your height. It's an all-around great base layer. They stay in place, wicks away moisture while you are working, and warms you up when you stay in place. So what distinguishes this layer from the rest? The comfort and fit are unparalleled. Even the tallest of users managed to keep their legs covered by the thermal pants. It manages to look good on a variety of different users.
Unlike many of the other base layers, it doesn't cling to your muscles. The lightweight fabric is particularly lightweight when compared to the competition. Despite having some of the lightest fabric overall, these pants kept users warm and insulated in every temperature, even down to 20 degrees Fahrenheit. Talk about quality.
Breathable and Moisture Wicking
Since the fabric is thin, sweat and moisture evaporate easily. Vapor escapes easily with movement, particularly in comparison to other synthetic layers that we tested. Some users noted that even after running or hiking on the trail, vapor escaped quickly with movement. In fact, it dries with uncharacteristically fast speed. Since it breathes and wicks moisture away so effectively, the Duofold Originals Men's Thermal Pants can even be worn as a base layer on some warmer days. Whether you're skiing in Colorado, hiking in the PNW, or roaming European streets in search of the best holiday markets, they'll get the job done.
Tech Specs:
Exterior material: cotton and nylon

Interior material: cotton, merino wool

Flatlock seams for invisibility under your clothes

No annoying chafing

Tag-free elastic waistband

Retains your natural body heat
What Travelers Are Saying About the Duofold Originals Men's Thermal Pants
We appreciate that the Duofold Originals Men's Thermal Pants from Champion have a cotton and merino wool combo. Pure merino wool thermals are both itchy and expensive. In addition, they typically cost two to five times or more what one pair of Duofold leggings cost.
What can be said for the Duofolds then? The lower price of the Duofolds is a big factor in their favor. They do a great job of providing insulation and wicking moisture away from your skin. Plus, they dry fast and are not bulky. These thermal pants really do pull their weight. When it comes to material, we can't complain.
The inner surface of the bottoms is cotton and a soft merino wool layer on top of that. There is no problem with itching or skin irritation. You can wear these all day or complement your pajamas at night with them. They are also of a manageable thickness so you don't have to buy larger pants, or pajamas, to accommodate the. They do what you want, which is keep to keep you warm and comfortable.
Travelers highly recommend this product. Just make sure to buy a size larger than your normal size because there is some initial shrinkage even if you wash with cold water and dry on cool. Wear your socks on top of the bottoms so the bottoms don't ride up your leg with movement. For most cold days and nights these mid-weights are perfect. We have to give the company kudos on a great product.
Alternative Thermals That You May Like
Are you looking for some thermal underwear pants too? Check out these styles that are sure to keep you warm and cozy.
Carhartt Men's Base Force Wicking Cotton Super-Cold Weather Legging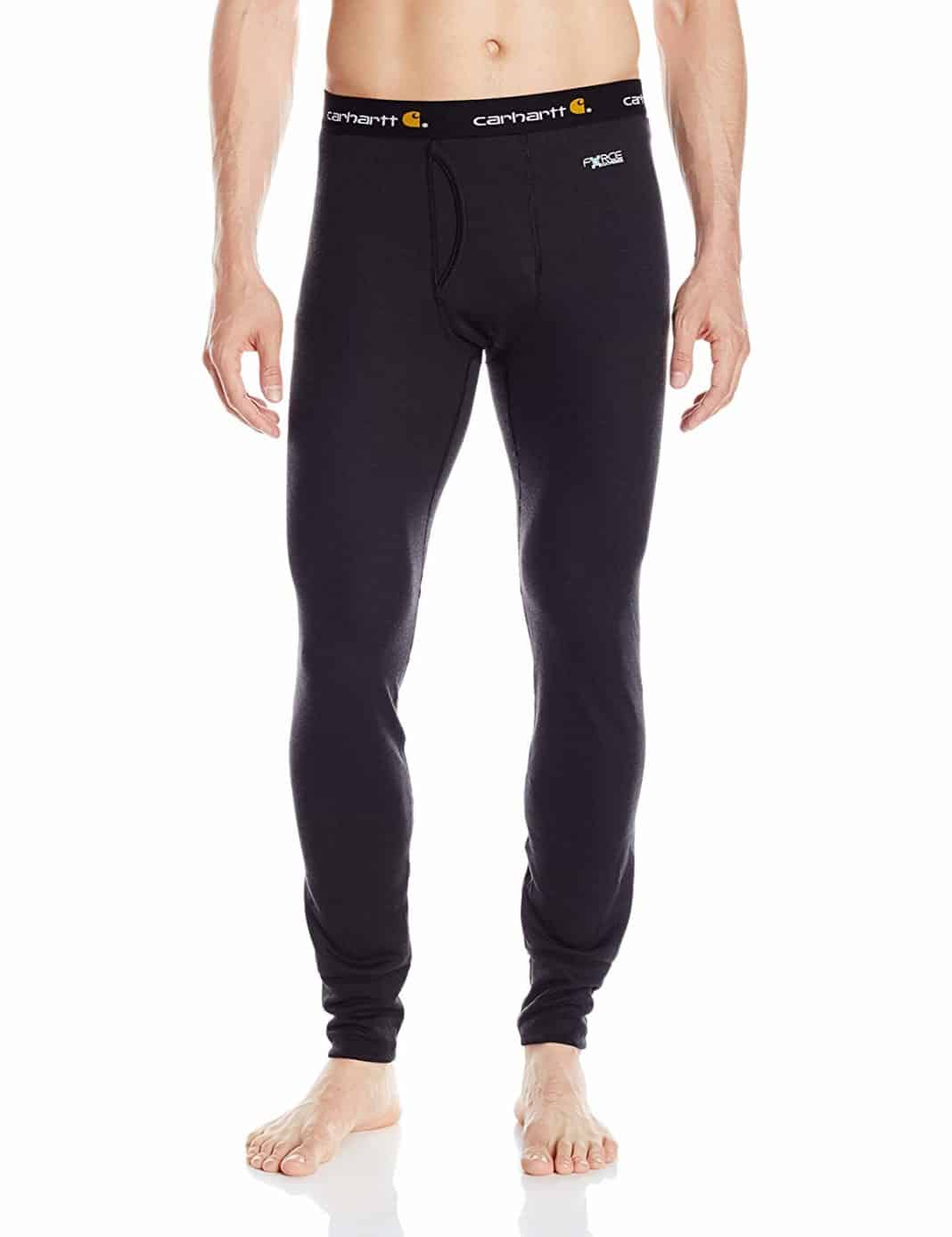 This style from Carhartt is created for men on the go and made to last. Composed of 100% cotton, it will keep you warm and help to get rid of sweat. Reinforced stitching and sturdy cuffs help to seal in body heat no matter what activity you may be doing. In this underwear, you will be prepared to take on even the harshest cold without worries. Stain breaking technology helps to release stains when you throw them in the wash.
Tech Specs:
100% cotton material

Reinforced stitching at points prone to wear and tear element

Sturdy cuffs

Stain breaking technology

Heat retention

​

Moisture wicking
First Lite Allegheny Full Length Bottom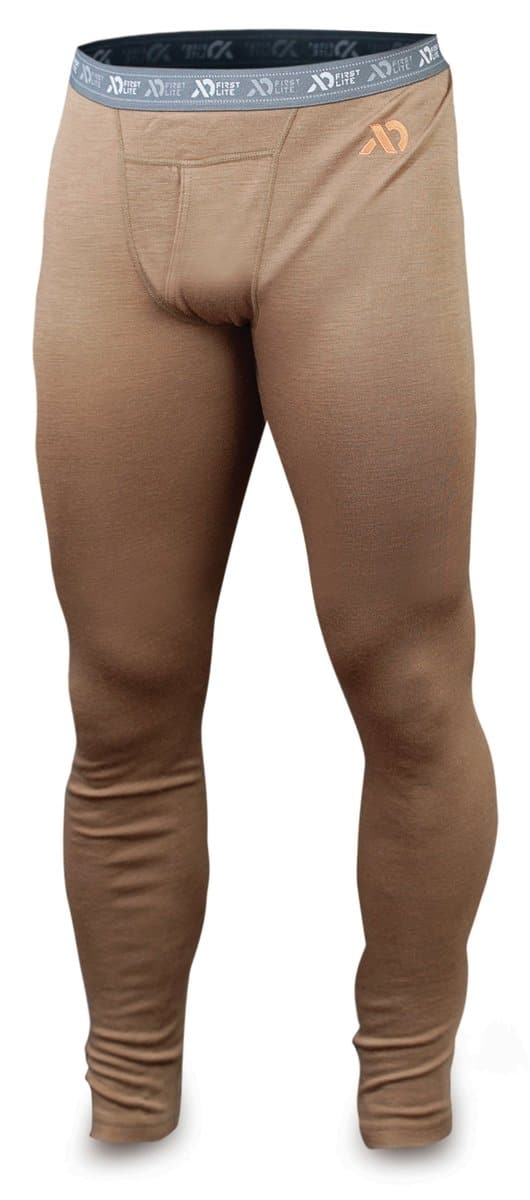 More often than not, people don't think seriously enough about their base layers. By investing in something like the First Lite Allegheny Full Length Bottom, you are investing in long-term comfort. This is perfect for travelers. Whether you are hiking, camping in the backcountry, jogging in the winter, or exploring a new city, they will help to get you by.
The First Lite Allegheny Full Length Bottom offers an affordable, practical way to do just that. What we wear against our skin really matters. After testing out various products on the trails and in the gym, we are happy to report just how well this style holds its own. Let's take a closure look at its features and benefits to see if it is the right fit for you.
We have touched a little on this but it is worth exploring a little more. Before you try Merino wool you might assume what most people do – wool is itchy. Well, you would be wrong. In this case, wool isn't what it used to be. In fact, merino wool is one of the most comfortable fabrics to wear on the market. Thanks to the stretchy fabric and snug fit, you feel like you are wearing the coziest of pajamas.
In order to wick away sweat and moisture, the fabric has to be touching your skin. So make sure you read the size guide and purchase the right fit. The wool and nylon blend do a fantastic job of pulling away sweat and keeping you cool and dry. We love the First Lite Allegheny Full Length Bottom.
Tech Specs:
Pure 100% merino wool

18.5 micron

Merino wool is naturally antibacterial, so you won't have to wash them as often when you are on the road

Naturally fire resistant

Covered by the First Lite Warranty

Weight 7 ounces

Provides both warmth and breathability
Stay Warm on Your Travels with the First Lite Allegheny Full Length Bottom
If you're looking for a way to stay warm on your next cold weather trip, the First Lite Allegheny Full Length Bottom is the way to go. Not only does the Merino wool and nylon blend insulate you by helping to retain your body's natural heat but it is moisture wicking and odor resistant as well. At a good price point, what more could you want in a pair of thermals? Pair them with a good pair of hiking socks, some sturdy shoes, and bulk up on your outer layers. You'll be good to go.
Related Article: Best Thermal Underwear Styles For Men And Women