Be ready to travel anywhere with the Freegrace Hanging Toiletry Bag.
Keep your personal items organized and easily accessible. This isn't your ordinary single compartment bag. You won't have to rummage around for the items you need. Instead, the Freegrace Hanging Toiletry Bag provides multiple storage compartments so you can find what you need easily.
This hanging kit makes the perfect choice for long-term travel, business trips, summer vacations, and out of town holiday excursions. It's a perfect size. You will have plenty of space thanks to this large size dopp kit. However, it still packs down to a portable size without taking up any space at all. All in all, it will only take up the amount of space as a pair of jeans.
Freegrace Hanging Toiletry Bag Features and Benefits
Design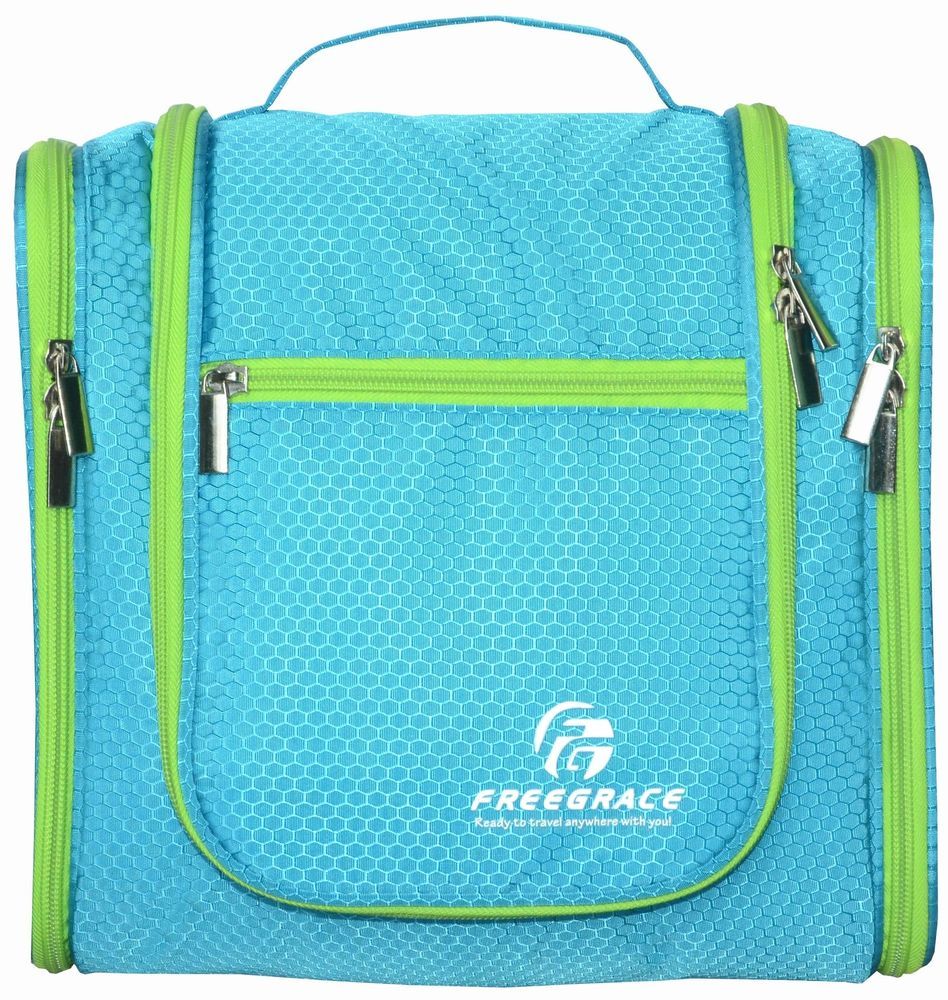 Credit: Amazon
The simple square design makes it easy to fit this bag inside of a suitcase. Those who like options will be happy to know that it comes in six different colors: black, aquamarine, dark blue, fluorescent green, purple, and sexy pink (yes, that's the actual color name). It has an easy to carry handle on the top, as well as a hook that makes it easy to store in the bathrooms.
External Features
On the outside of the Freegrace Hanging Toiletry Bag, there are plenty of handy features for storage and organization. At the front, you will find a front zippered pocket where you can keep jewelry, your phone, and even necklaces. On the ride side, there is an additional pocket which provides the perfect space for grab-and-go items. The backside offers a second grab-and-go pocket. Finally, there is a top carry handle. This makes it easy to pick up your bag and take it with you to the hotel bathroom or hang it in the closet when you're getting ready in the early am.
Interior Features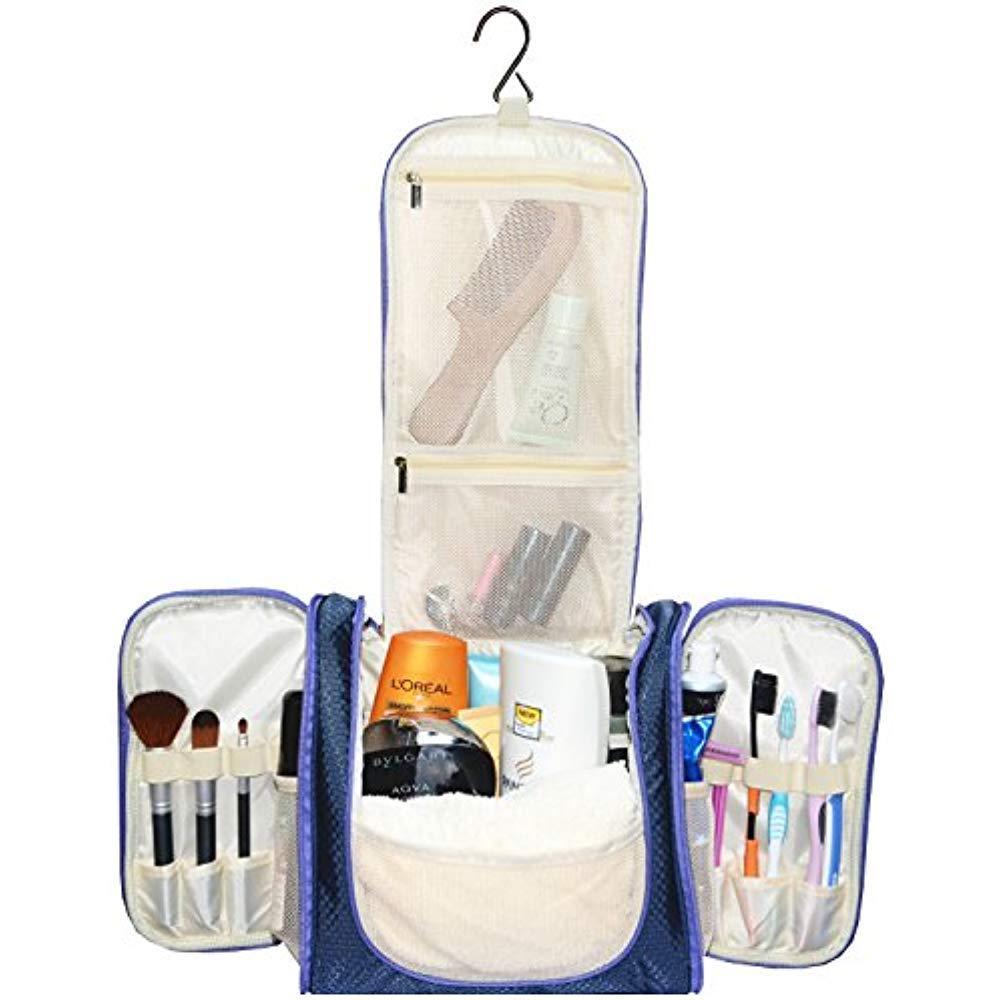 Credit: Amazon
Inside, you will find that the Freegrace Hanging Toiletry Bag is divided into one main compartment and two side ones. The center section offers ten mesh pockets and plenty of storage room. This is great for compartmentalization. The left and right side compartments each have a large mesh pocket and eight small pockets.
Metal Hanging Hook
We love that the Freegrace Hanging Toiletry Bag comes with a sturdy metal hanging hook. When you're in a hostel, it's easy to forget items going back and forth from your room to the bathroom. Instead of making multiple trips, simply pack what you need away in the bag and take it along with you. Hang it on the shower rack, doorknob, or in the shower as a caddy. Since it's both waterproof and tear resistant, you can rest easy knowing it will last you for years to come.
Order with Confidence
It's clear that the folks at Freegrace have done their best to bring you a travel accessory of the highest quality. If for any reason you are dissatisfied with the Freegrace Hanging Toiletry Bag, you can take advantage of their 90-day money-back guarantee.
Tech Specs:
Compact, lightweight body

Easy to store

Intuitive design

Made from honeycomb nylon fabric

90-day money back guarantee

Waterproof

Tear resistant

Top notch quality
What Travelers Are Saying About the Freegrace Hanging Toiletry Bag
This is the perfect toiletry bag. With 4.6 out of 5 stars and more than 1,300 reviews, the Freegrace Hanging Toiletry Bag speaks for itself. Travelers seeking a no-fuss toiletry bag have found what they're looking for. It can hold all of the toiletries, medications, and makeup that you need.
You fit a full-size shampoo, condition, bottles of body wash and loofahs in the main compartment nicely with plenty of space leftover. There are a lot of pockets to hold your toothbrushes, full-sized toothpaste, combs, brushes, q-tips, etc. You'll be pleasantly surprised to discover just how much space was in this bag. As far as construction, this bag is well made. The zippers don't catch and move smoothly on both the interior and exterior openings. The fabric is durable.
Having different compartments so that you can separate, say, make-up from shampoos, lotions, etc. is very handy. It also contains a hook so that you can hang the bag, a big plus when we are traveling in countries with tiny sinks and no counter space in the bathroom. There are a number of zippered compartments not only on the outside that you can see in the picture but also inside. We like the material which is easily washed (it suggests just using water, no detergents) and the sturdiness of the bag. It's a good price for what you get.
Alternative Travel Toiletry Bags You May Like More
eBags Pack-it-Flat Hanging Toiletry Kit for Travel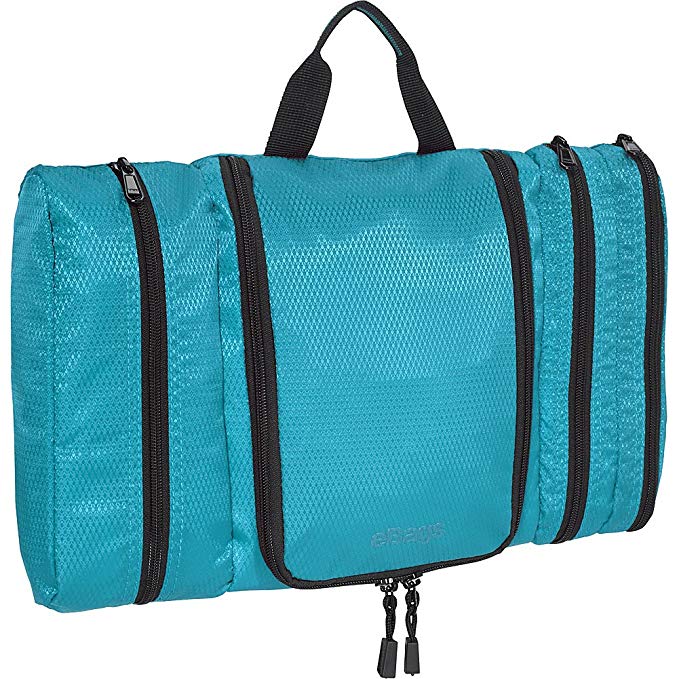 We can't say enough good things about this hanging toiletry kit from eBags. The eBags Pack-it-Flat Hanging Toiletry Kit is made from dynamic nylon fabric and features a slim style that separates into four compartments. The exterior webbing grab handle is great for those times when you need to grab it and go. There is also a center section with a mesh retainer.
This is useful to keep your items in place while the kit is hanging. To the left, you'll find a clear section made to hold those prone to leak items. The right section holds your dental care items. Finally, there are two zippered mesh pockets and an elastic pocket made for storing all sorts of small items. The overall product dimensions are as follows: 2.2″ x 14″ x 9.2″ and the four separate compartments each measure 2.25″ x 9.25″. The center section is 7.75″ wide. This is easily one of the top picks for the best travel toiletry bag. If you're interested in even more storage tricks, check out their packing cubes.
Tech Specs:
TechLite Diamond Nylon Fabric

Superior quality build

Self-healing zippers with corded pulls

Slim silhouette build

Wear-resistant

Web grabbing handle

Removable pocket mirror

Hanging hook

Four separate compartments, center mesh retainer, left section lined with clear material
Mossio Hanging Toiletry Bag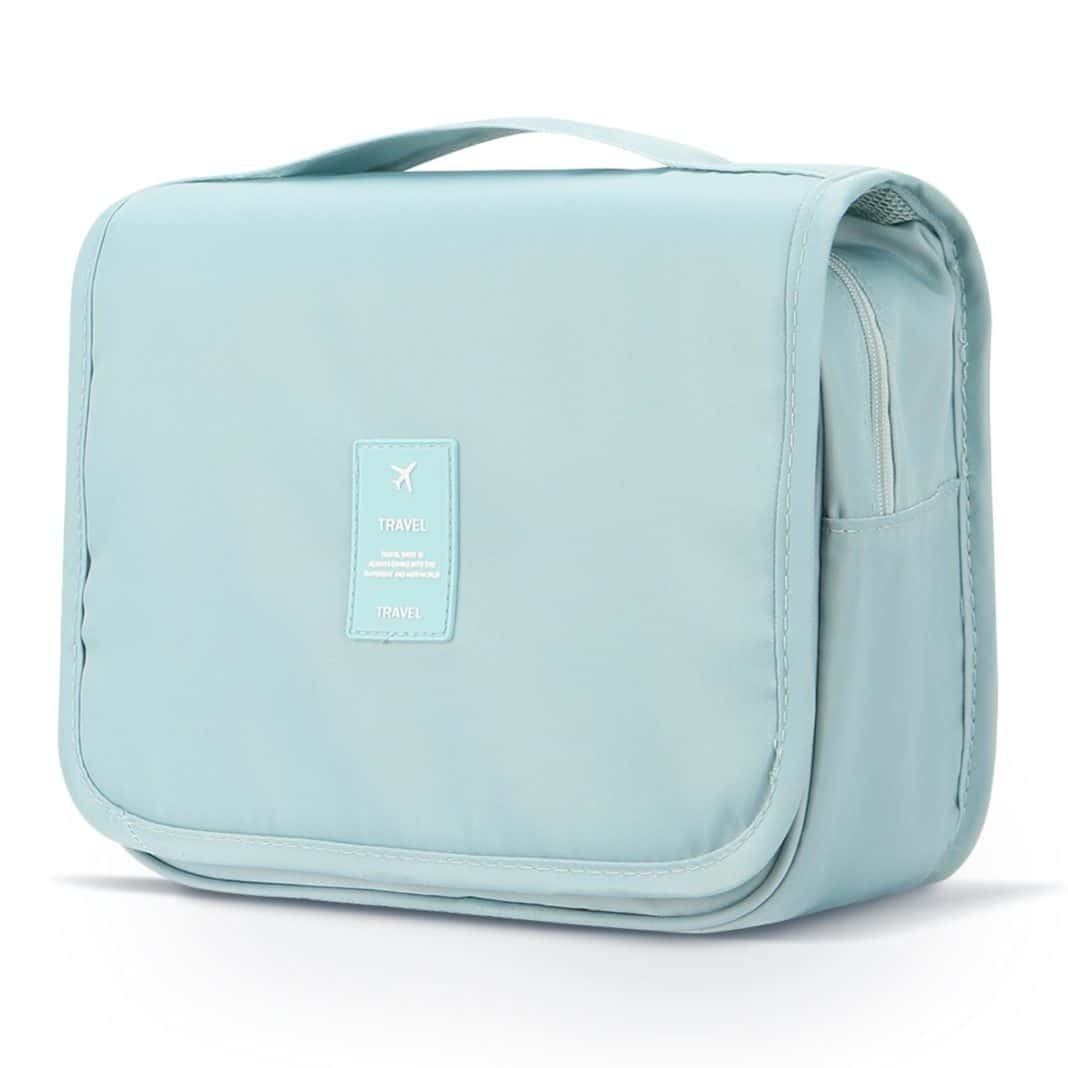 Travel in style with the Mossio Hanging Toiletry Bag. This high-quality bag is made from a durable, water-resistant fabric with antimicrobial mesh. It's everything you need in a travel accessory. Stop annoying bottle leaks now; the lining is designed to prevent that and the stitching is well sewn at stress points.
Take whatever you need. You don't have to choose between sacrificing your dry shampoo or moisturizer. Bring both. There's plenty of space for what you need. Store your makeup, shampoo, toothbrush, toothpaste, and more all in one space. You can travel comfortably, knowing all of your necessities fit in the bag. The dimensions measure: 9.45″L x 7.48″ W x 3.74″ H.
Did we mention there are multiple compartments for organization? The large outside pockets hold additional items for easy access when the bag is closed. Inside, three main compartments keep your items in place and a front zipper pocket provides easy access storage. Compact, sturdy and lightweight, this is the perfect choice to put in your suitcase for any kind of trip.
Tech Specs:
Water-resistant polyester fabric

Antimicrobial mesh

Well sewn at normal points of wear and tear

Attached hanging hook

Large capacity

Dimensions: 9.45″L x 7.48″ W x 3.74″ H

Multiple compartments

Stylish design

Sturdy, portable, and lightweight

Lined to prevent leaks
MelodySusie Large Hanging Travel Toiletry Bag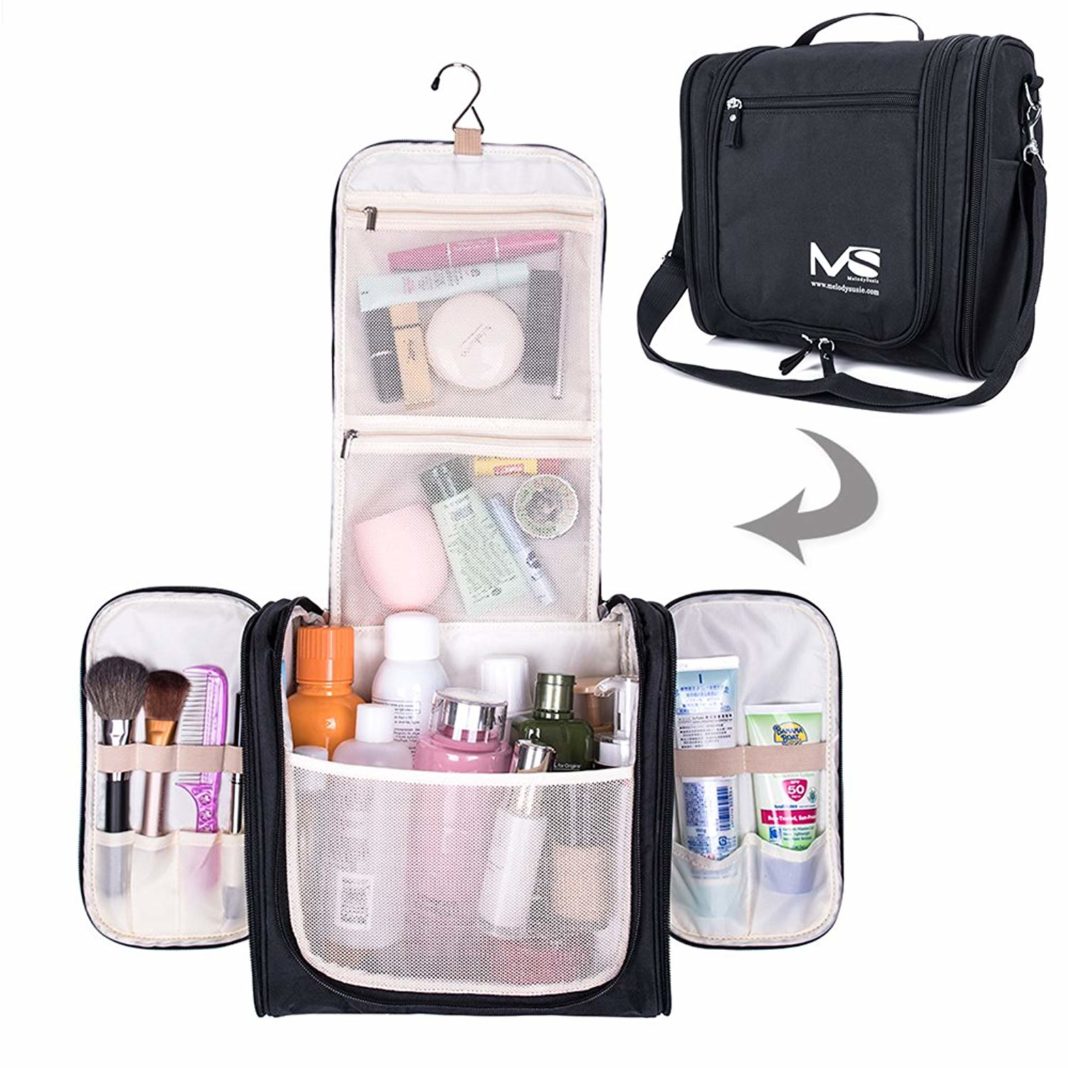 Stay organized and comfortable on the road with the Large Hanging Travel Toiletry Bag from MelodySusie. It has an excellent capacity to meet all of your storage needs. With dimensions of 10.6 x 6.3 x 11 inches, it's suitable for a family, couple, or solo travel. You can store all of your items in one easy place.
Thanks to the multi-functional hanging hook, you can easily bring it with you and hang it on the bathroom door, a shower rod, or a towel rack. The durable carrying handle and removable shoulder straps are convenient to carry and hang up. It can also be folded easily and thinly when it's not in use. Portability is a big plus on the road. Multiple compartments come in various sizes, making the bag highly functional. Even if you have some glass bottle items, you don't have to worry about them breaking. The extra cushion provides great shock absorption. Finally, an elegant design and lightweight body make it the perfect buy.
Tech Specs:
300D durable polyester material

Large capacity

Dimensions: 10.6 x 6.3 x 11 inches

Convenient hanging hook

Durable carrying handle and removable shoulder straps

Portable (packs down to a thin, small size)

Multiple compartments

Lightweight and waterproof

Anti-bacterial inner lining

12-month quality guarantee
Stay Organized with the Freegrace Hanging Toiletry Bag
When you're on the go, organization is key to having smooth travels. The Freegrace Hanging Toiletry Bag offers an affordable, convenient solution for your storage needs. Not only is it durable and water resistant but it offers multiple pockets for compartmentalization and is easily portable. All in all, this is a great buy. We highly recommend this travel accessory.
Related Article: Best Travel Toiletry Bag: Top Picks