The Men's White Sierra Trail Convertible Pants are all you need for comfort on the trail.
Are you looking to take a trip to the mountains soon? With fall in full swing, there's no better time to hit up the trail. Not only are tourists far and few between but you will also get to enjoy a kaleidoscope of lovely seasonal colors. Since the weather's going to be a bit colder, you're going to need to invest in some good gear. The Men's White Sierra Trail Convertible Pants are one of our favorite outdoor styles.
Just take a look at the tech specs. White Sierra is known for making great travel gear but these pants go above and beyond expectations. Of all the styles we've tested, these ones offer a great feel and some of the best protection from the elements. For example, they are UVA and UVB radiation protective. We also appreciate their competitive price. All in all, the Men's White Sierra Trail Convertible Pants succeed in a number of activities and conditions.
The Men's White Sierra Trail Convertible Pants Features & Benefits
Wondering how to pick the right hiking pants? Read on. As we said, the Men's White Sierra Trail Convertible Pants check all of the right boxes. Composed of 100% nylon, these are some of the lightest hiking pants on the market. The fabric proves to be both durable and breathable – a dream come true for avid hikers. On warmer days, they are the perfect go-to option. In windy days, they won't offer as much heavy duty protection as styles like the Prana Stretch Zion but they still manage to hold their own. Let's take a deeper look at the durability, style, and features of these pants from White Sierra.
Comfort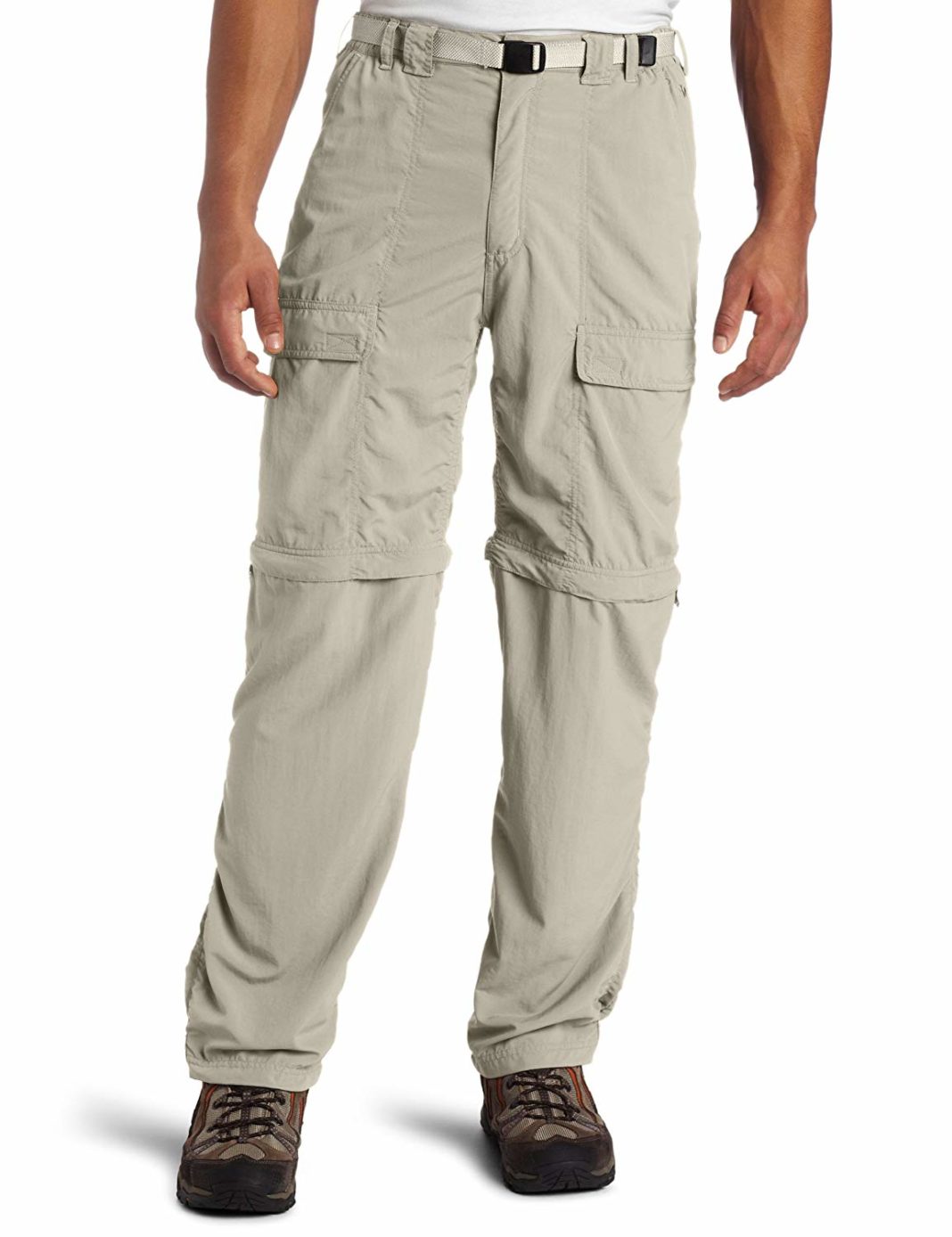 When it comes to what you wear in the great outdoors, comfort is key. The kind of clothes you wear can either make or break a trip. Take it from someone who has tried to hike in jeans. Denim doesn't have the stretch you need and they certainly aren't breathable. Many brands claim to provide comfort and quality while their products fail to live up to those expectations. Luckily for us, we know and love White Sierra.
The Men's White Sierra Trail Convertible Pants are made from a high-quality nylon fabric. As a result, they offer UPF30 sun protection, have a water resistant finish, and are quick to dry. Instead of settling for average no-name hiking pants, buy a pair that won't let you down on your adventures. They're so comfortable, you'll never want to take them off.
Durability and Special Features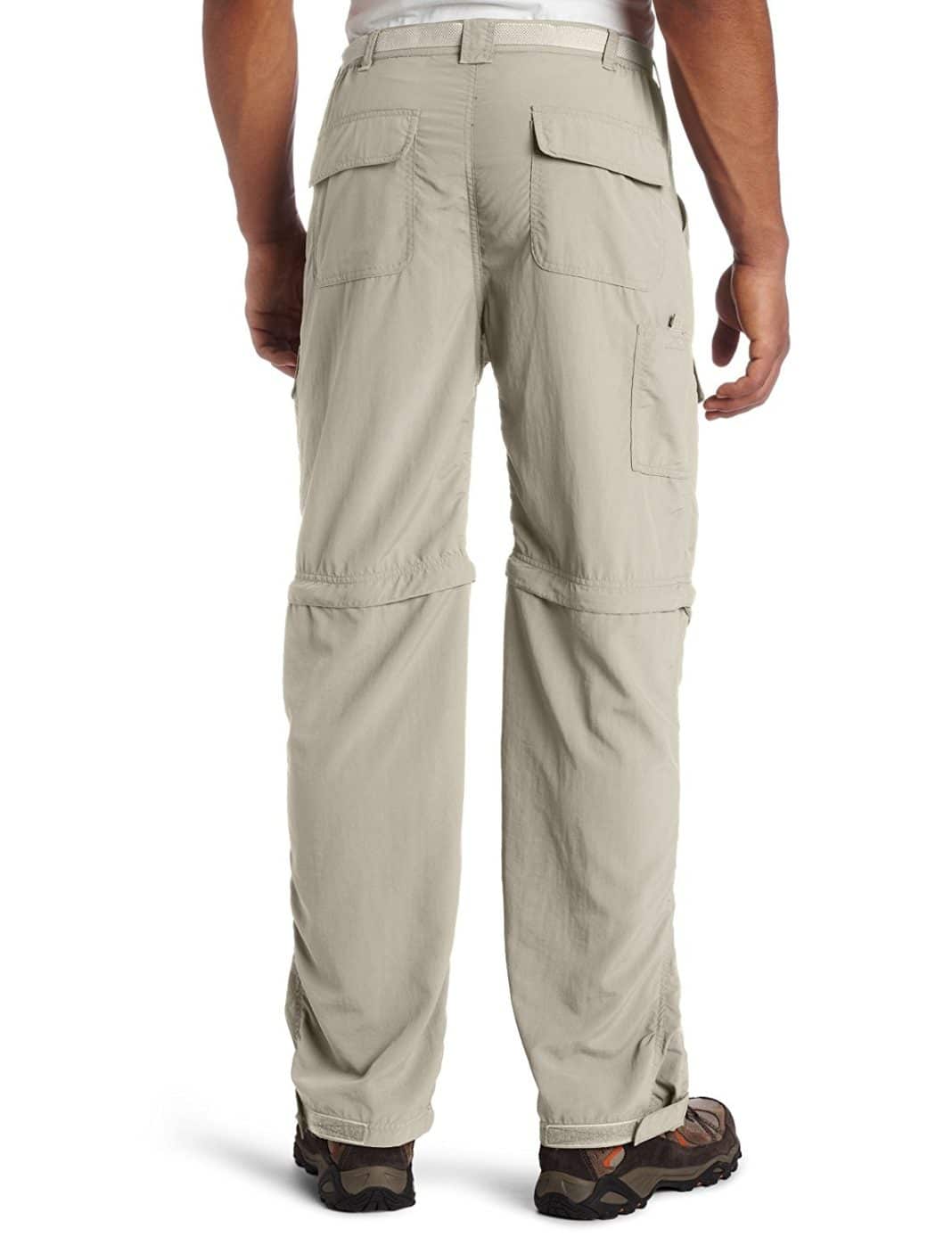 Take these pants everywhere. From cool mountain trails to blazing desert hikes, these convertible trail pants have got you covered. They convert from pants to ten-inch inseam shorts when the conditions change. Crafted from a durable UPF30 sun protection woven nylon, these pants are quick drying and equipped with a Teflon fabric protector. The flat front offers an elasticated side waist and a webbing belt. You will also find two slash pockets at the front and two side cargo pockets to hold all of your gear.
Convertible Style
It's all in the name. The Men's White Sierra Trail Convertible Pants offer a convenient solution if you get too hot on the trail. Zip-off leg pants make it easy to change from pants to shorts. So whether you are traveling in rain or shine, you can enjoy peace of mind knowing you will be comfortable. Is this a style your dad would rock? Sure. But it doesn't mean you can't too.
Water Resistant
We briefly touched on this feature but it's worth another look. Men's White Sierra Trail Convertible Pants repel water well. Thanks to the nylon fabric, you won't have to worry about getting caught in a drizzle and hiking in uncomfortably damp pants. We wouldn't recommend wearing them in heavy rain without waterproofing them first though.
Good waterproof sprays can keep you dry even in bad weather conditions. Just spray it on your clothes at least 24 hours in advance of your trek and let it dry out. Taking a look at the plus side, we also noticed that the Men's White Sierra Trail Convertible Pants dried out very quickly. When you're on the go, that is always something you can appreciate.
Storage Pockets
Not all outdoor pants offer good storage. After all, types of hiking pants vary by utility and season. If you have some extra items you want to carry, it's handy to have easy access pockets. After all, you don't want to store it all in your backpack. Items like your cell phone, map, compass, and a small snack are convenient to keep on hand. The Men's White Sierra Trail Convertible Pants has two front slash pockets; this simple design will make your travels so much easier. You won't have to take extra carrying cases.
Overall Features
All in all, the Men's White Sierra Trail Convertible Pants have useful features and function very well. We love the two front slash pockets, breathable fabric, and moisture wicking properties
Furthermore, they come with 30+ UPF rating. So, you can rest easy knowing that you will have protection from the sun. One of the best features that these pants have to offer is the adjustability factor. These features can be employed when you are crossing streams, during rain, or simply if you just want to cool down some more.
Best Use
As we previously mentioned, the Men's White Sierra Trail Convertible Pants can be used for various types of climbing, hiking, and backpacking. Since they are comfortable and light, they are a great choice for travelers. For $65, you really are getting a lot of bang for your buck. We love them.
What Travelers Are Saying About the Men's White Sierra Trail Convertible Pants
Travelers who purchased the Men's White Sierra Trail Convertible Pants are very happy with their decision. With 4.2 out of 5 stars, these pants really do speak for themselves. Those who used the pants in the summer season appreciated the nylon fabric's breathability in times of humidity, protection from harmful UV rays, protection from bug bites, and quick drying and moisture wicking capabilities.
Others yet appreciated their durability and the convenience that you can convert the pants to shorts without even taking off your hiking boots. In addition, they are easy to clean, even on the trail. Taking a look at size, they match up to the chart perfectly. There are no surprises in length and width. The inseam is perfect.
If you're looking for a looser fit in the legs for full mobility, you have it in the Men's White Sierra Trail Convertible Pants. This also makes it easy to layer them with thermals when the weather gets colder. After all, the fabric is pretty lightweight. All in all, the stitching is good and so are the zippers and velcro at the cuffs. The fabric also feels nice against your skin.
Tech Specs:
Converts from pants to shorts or vice versa

Vertical side zippers

Lightweight nylon

check

UPF 30

check

Water resistant finish

check

Elastic waistband and removable webbing belt

check

2 front slash pockets, 2 side ones, one back pocket

check

Secure ankle cuffs to keep legs safe from mud and debris
Alternative Men's Hiking Pants You May Love
Eddie Bauer Men's Guide Pro Pants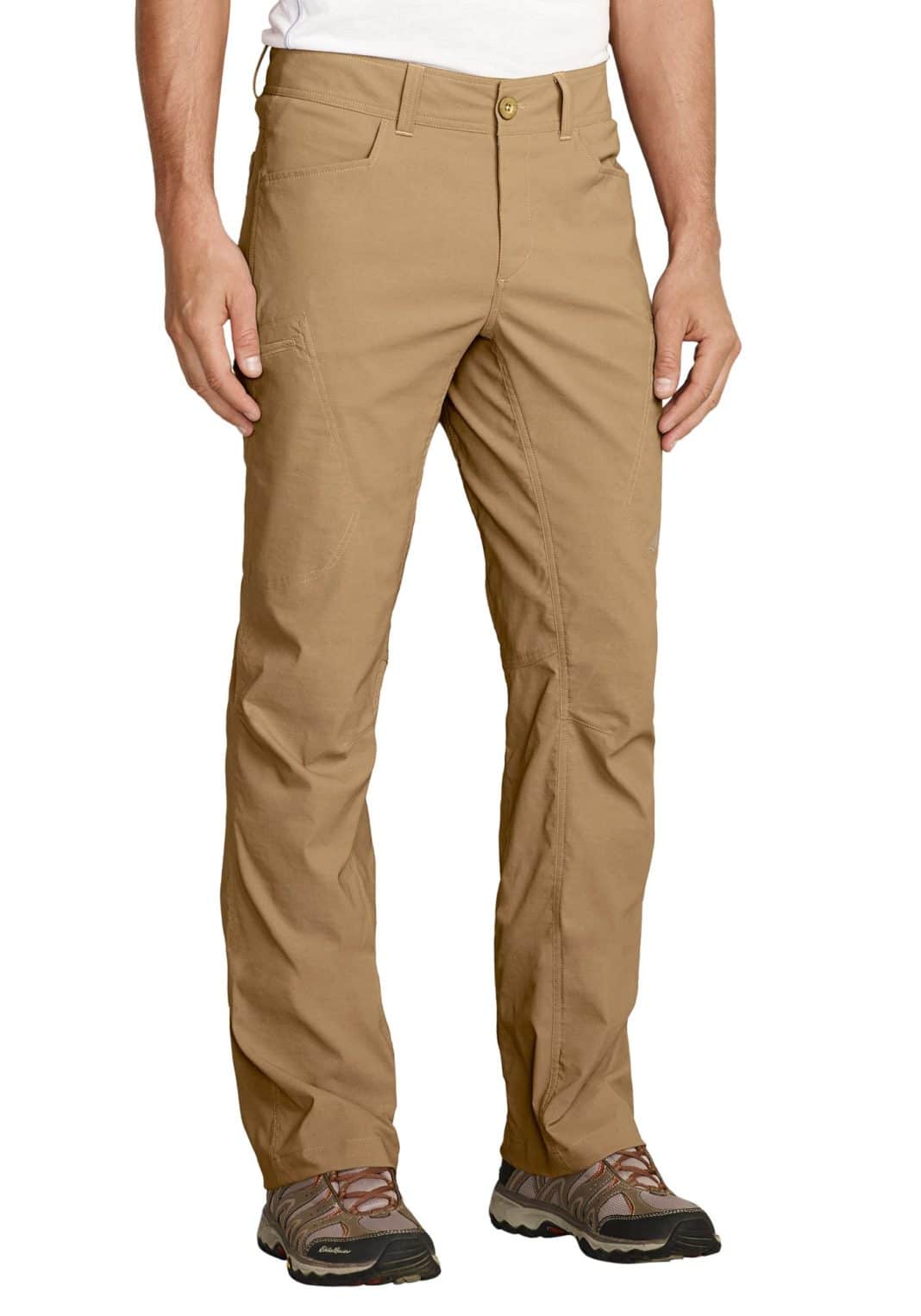 The Men's Guide Pro Pants from Eddie Bauer offer three different styles based upon your fit preferences. First, decide if you want an active and slim fit, a classic fit, or a relaxed one. Consider the Guide Pro Pants as an upgrade to the original technical guide pant. This style is made for performance, versatility, and equipped with great fabric for breathability.
With a streamlined fit and articulated kneed, they offer a low-profile option to hold all of your essentials. When it comes to use, you can take this style anywhere. While these are some of the best hiking pants for men, they are also great for scrambling, climbing, and general active use. This is Eddie Bauer's most athletic fit yet. The pants fit close to your body without restricting your range of motion.
Tech Specs:
100% nylon fabric

Performance hiking pants

Streamlined fit

check

Flexion stretch woven tech

check

Stormrepel DWR Finish
MIER Men's Convertible Pants Quick Dry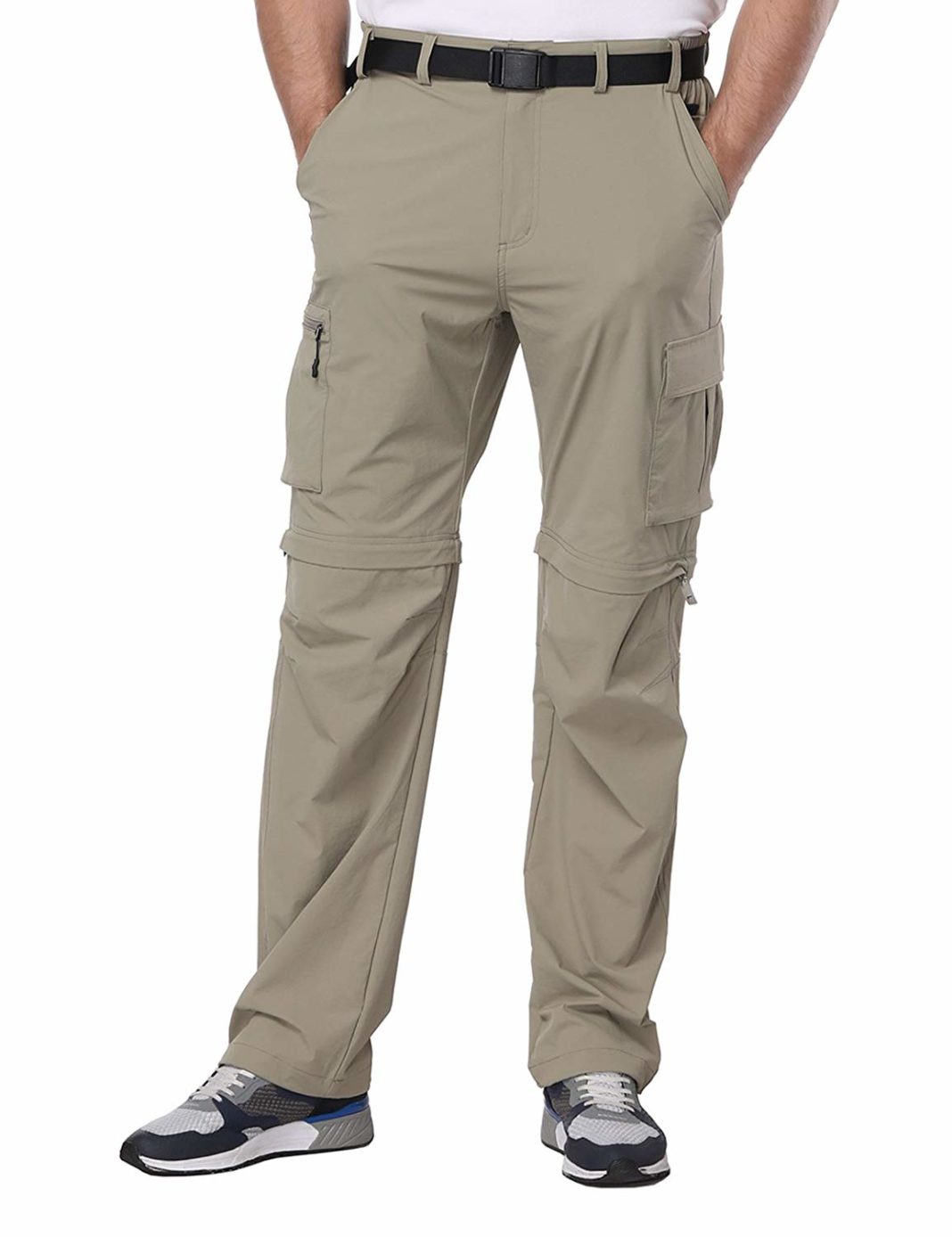 Versatile, classic, and durable these convertible quick dry pants could be just the thing you need. Thanks, MIER. Equipped with high performance fabric, a lightweight structure, and smart features, these are easily some of the best hiking pants for men. They are quick drying, water resistant, have a zip off feature, multifunctional pockets, an elastic drawcord, articulated knees, and removable waist belt. Needless to say, these pants cover all the bases. They make a great travel accessory for spring, summer, and fall hiking and camping trips.
Tech Specs:
Removable waist belt

YKK zipper and metal button

Articulated knees for added range of motion

check

Water resistant (DRW finish)

check

Stretch fabric

check

Zip off feature

check

Multifunctional pockets

check

Elastic drawcord

check

Stretch fabric made of nylon and spandex

check

Fade, shrink, and wrinkle resistant

check

Drawcord hems
Invest In the Men's White Sierra Trail Convertible Pants for Your Next Adventure
These are some of the highest performing hiking pants we have tested out. Enjoy a full range of motion, stay comfortable, and dry in this highly breathable outerwear style. As you can see, these pants offer a lightweight, breathable fabric that is perfect for keeping you cool. At a fairly low price point, they present an excellent and affordable option for the avid hiker and outdoor enthusiast. You'll stay cool and comfortable on the move.
We hope you enjoyed reading our article on the Men's White Sierra Trail Convertible Pants. With a versatile design and dynamic fit, you have comfortable outerwear for all of your adventures. If you are facing colder temperatures, make sure to double up with a base layer. We highly recommend this style for spring and summer hikes. If you're looking to wear them in the fall and winter, make sure to layer up with thermals and consider using a walking stick. Happy travels!
Related Article: Best Hiking Pants For Men: Summer To Cold Weather Styles