Prepare for your next adventure with the Hartmann Century Extended Journey Expandable Spinner.
Whether you're traveling abroad, taking a week-long trip to see family for the holidays, or sharing luggage with a travel companion, this is a perfect, roomy option. The Hartmann Century Extended Journey Expandable Spinner is strong, easy to handle, and has great organizational features. A removable trifold suiter helps keep your clothes in place, the smooth mesh zippered panel keeps your belongings neatly packed. The quality will not let you down.
About Hartmann
Ever since their founding in 1877, Hartmann has been a leader in the travel accessories industry. Today, they are widely known to produce some of the best luggage on the market. Fine quality leather and luggage are here to meet your ever-changing travel needs. For the folks over at Hartmann, luggage should be both practical and a fashion accessory. Their beautiful yet ergonomic designs are the choice of discerning travelers everywhere. The finest materials and functionality come together in a way that truly reflects traveler's needs and the brand's American heritage.
The Hartmann Century Extended Journey Expandable Spinner Features & Benefits
Design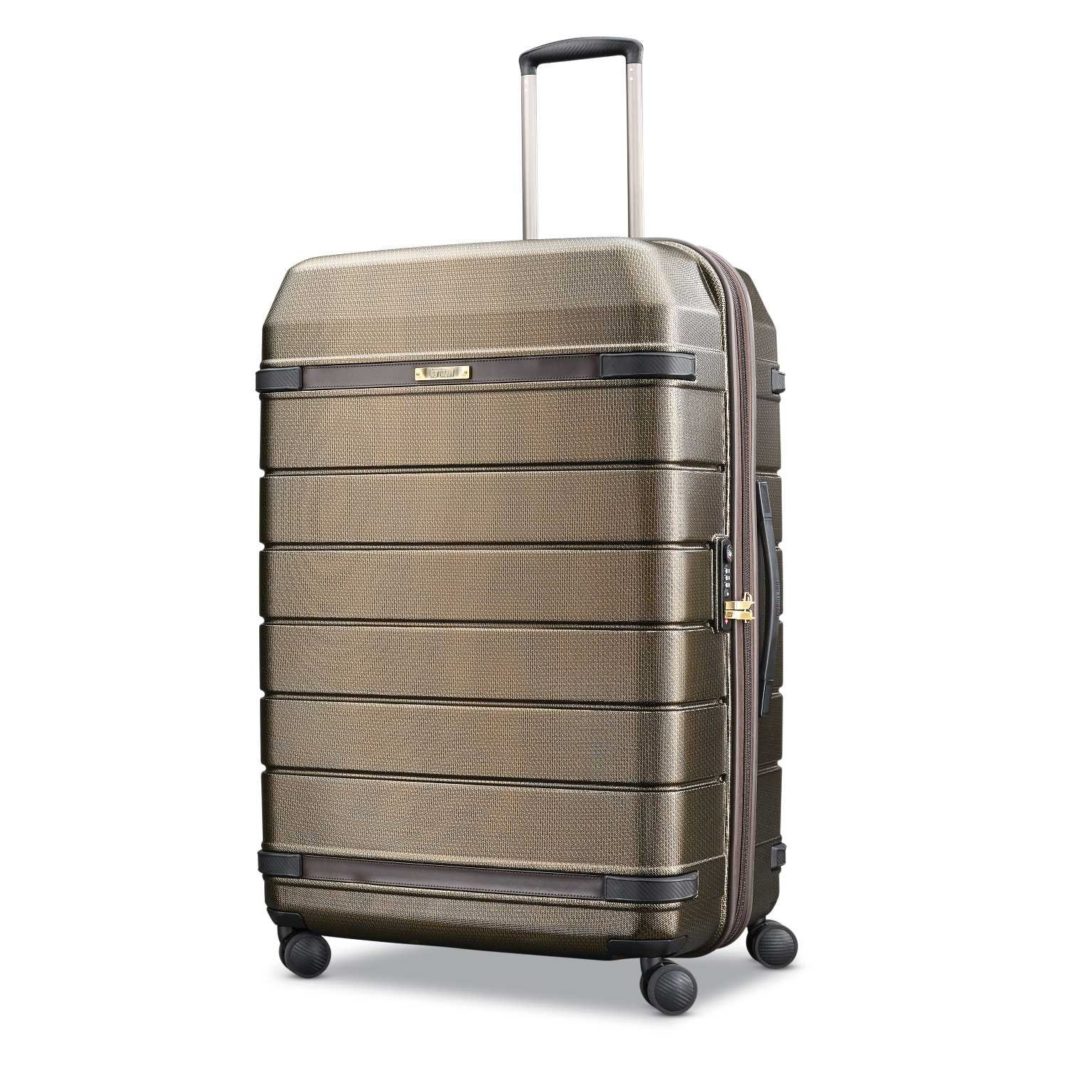 Credit: Amazon
The Century Extended Journey by Hartmann offers just the type of tailored aesthetic and sophisticated craftsmanship that travelers need. Inside, padded trifold suiters and soft lining ensure a seamless packing experience from start to finish. Taking a look at the exterior, you will find that it is made from a hard polycarbonate shell. For those of you who appreciate variety, you will be happy to know that it is available in two colors, bronze monogram/espresso and graphite/espresso.
When it comes to maneuverability, the aluminum handle makes rolling this bag a breeze. It will never feel too heavy to handle. Ball-bearing wheels ensure smooth travels. Whether you're looking for an extra carry-on bag or just a solid piece of good luggage, we're convinced that the Hartmann Century Extended Journey Expandable Spinner will become your go-to choice for the years to come.
Zip-Out Expansion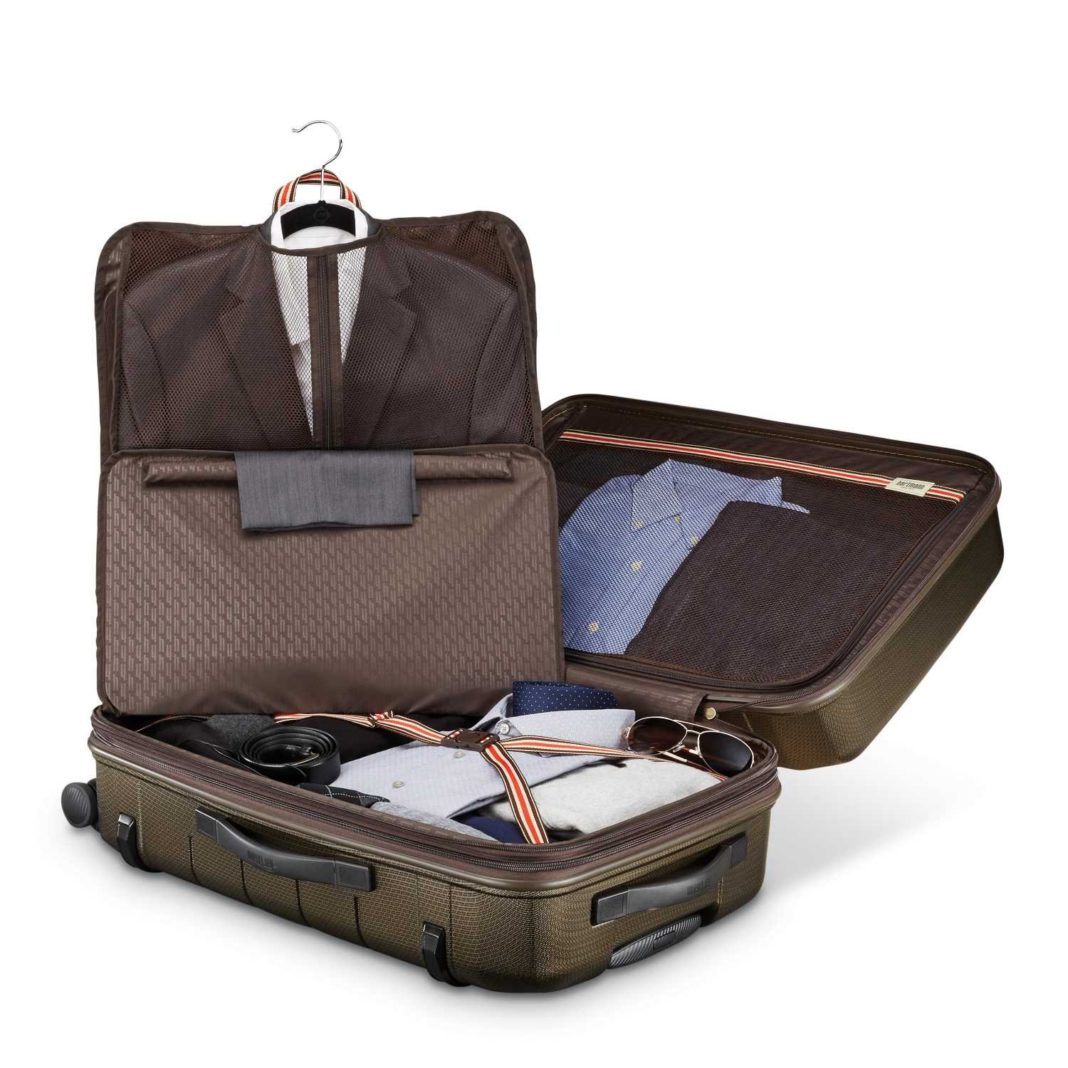 Credit: Amazon
Enjoy hassle-free extra space with the zip-out expansion feature. Whether or not you're an over-packer, you have to appreciate this feature. After all, who doesn't want a little more space inside their luggage? If you find yourself needing to squeeze an extra few shirts and a pair of shoes inside, that's no problem. Don't sweat the small stuff. The Hartmann Century Extended Journey Expandable Spinner is made to accommodate your needs.
You can fit at least one week's worth of clothing in this suitcase. This is perfect for long weekend stays with the family, business trips, and even international trips. If you're a minimalist, you can pack a lot into this bag and make it last for up to an entire month. The expansion feature really does make all of the difference.
Integrated TSA Lock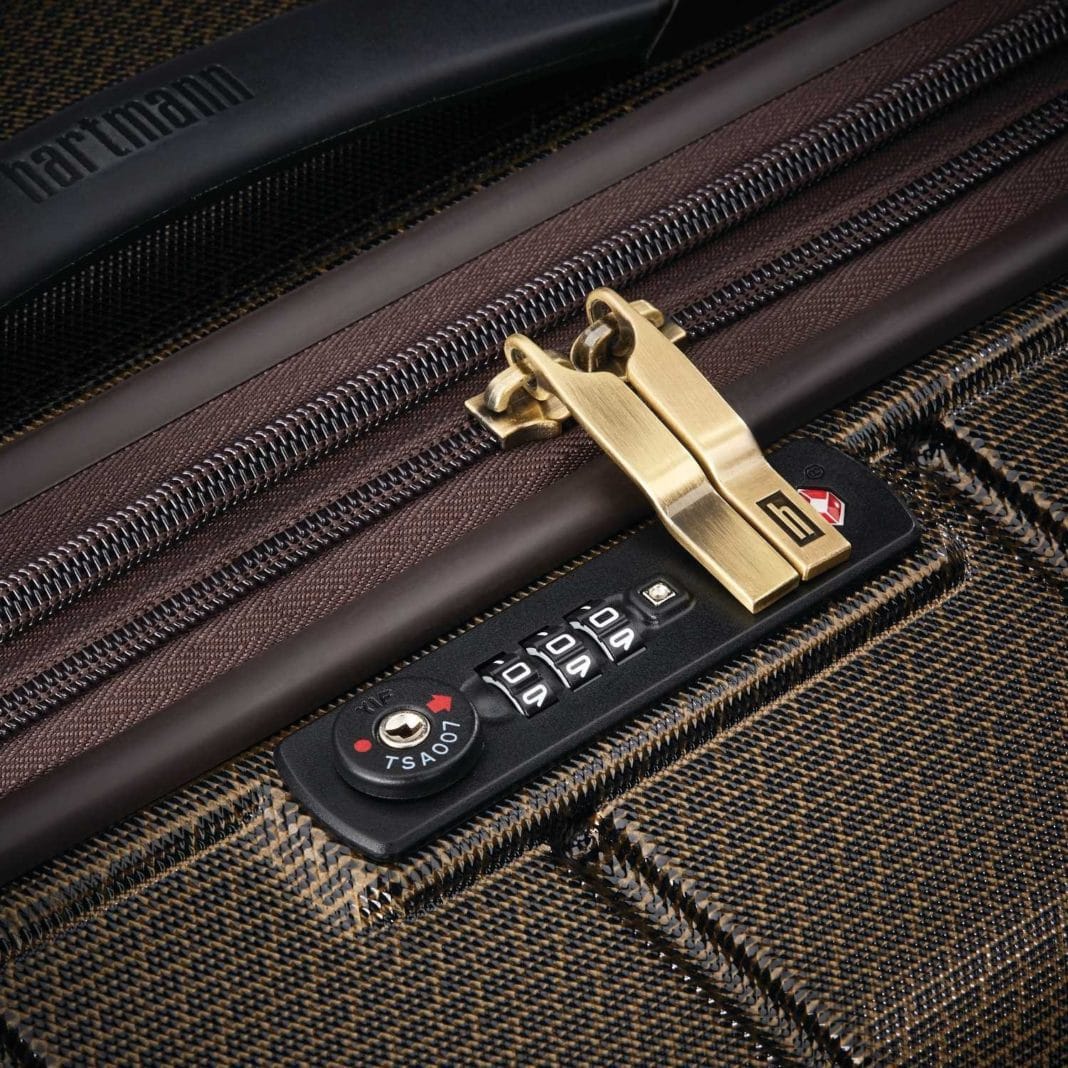 Keep your belongings safe and secure while complying with travel standards. With the integrated TSA lock, you can prevent item loss and petty theft. You will have a unique combination lock and key to access your belongings. And you don't have to worry about airport security having to break into your bag.
Aluminum Pull Handle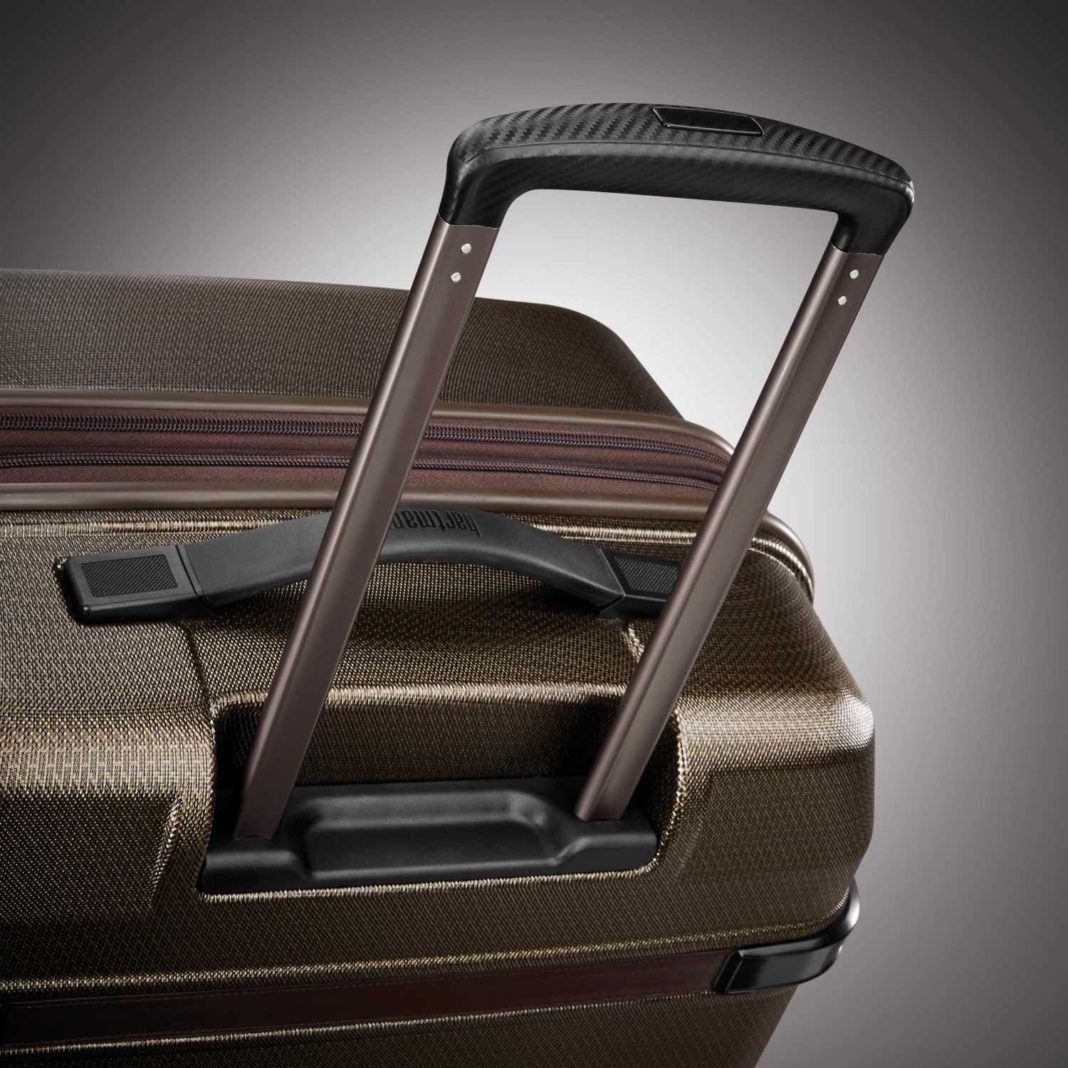 Credit: Amazon
Airports are stressful. Traveling doesn't have to be. That's why the Hartmann Century Extended Journey Expandable Spinner is equipped with features that make maneuverability easy. The aluminum pull handle helps to evenly distribute the weight of your bag and move it from point A to point B. You don't have to struggle to pull your bag anymore.
Ball Bearing Wheels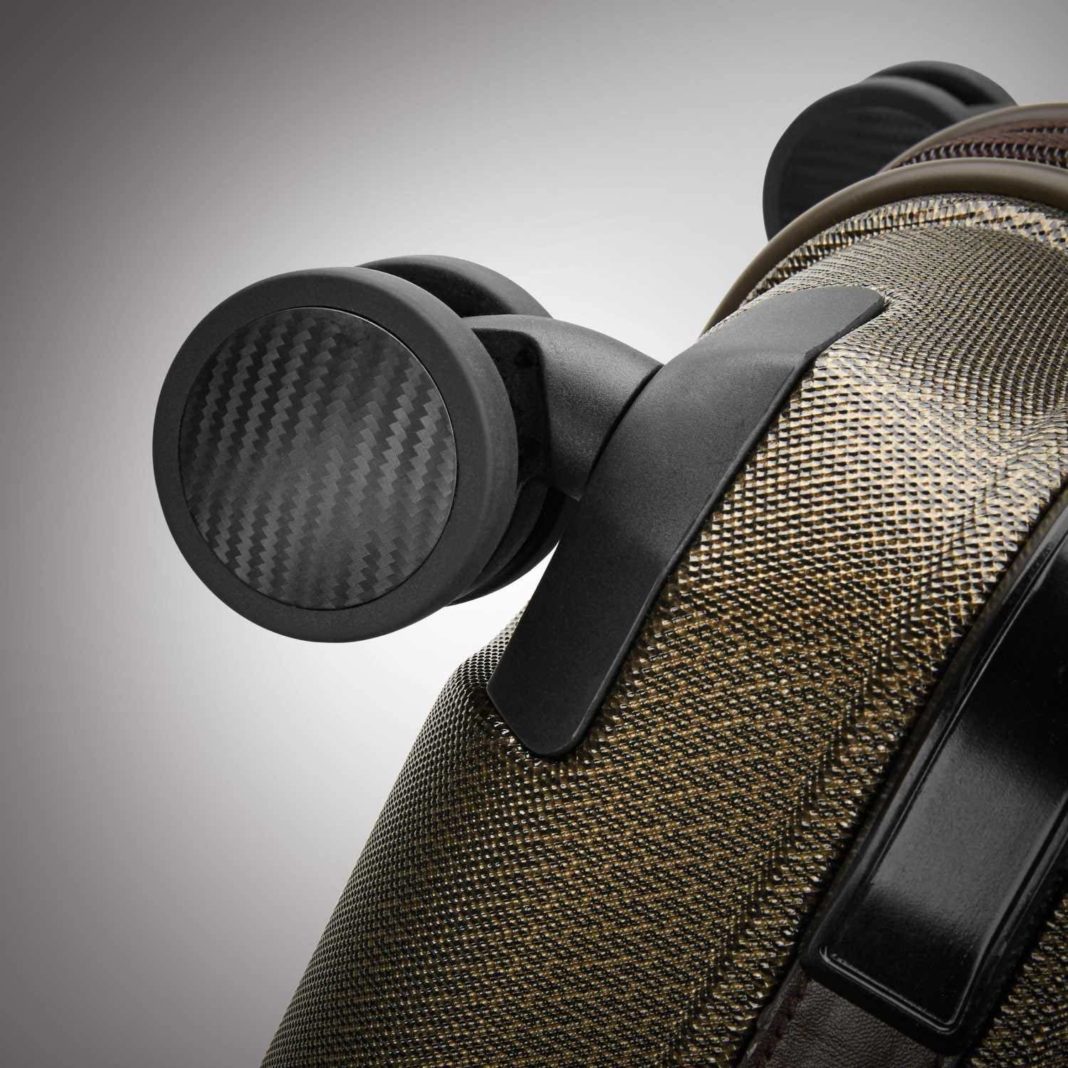 Travel smoothly for years. We appreciate the thought and quality that was put into this design. The spinner's four ball bearing wheels make it easy to move the bag around through crowded places with minimal effort. So the next time you find out your flight gate is on the opposite side of the airport, you won't even stress about it. This design takes the weight off of your back so you can travel for longer distances even with a heavier load. When it comes time to carry it up a flight of stairs, the built-in top and side handles make it easy to lift.
Tech Specs:
Textured 100% polycarbonate shell

Zip-out expansion for hassle-free space

Removable, tri-padded suiter

Interior smooth mesh zip panel

Integrated TSA-approved combination lock

Ball-bearing wheels

Interior Dimensions: 29.5 inches x 21.0 inches x 13.5 inches

Exterior Dimensions: 31.5 inches x 21.5 inches x 14.0 inches

10-Year Limited Warranty
What Travelers Are Saying About the Hartmann Century Extended Journey Expandable Spinner
Travelers who purchased the Hartmann Century Extended Journey Expandable Spinner couldn't say enough about the durability and lightweight structure. This bag has it all. What really stuck out in reviews, however, is that the exterior and overall construction. Users found the expansion feature to be particularly useful. Packing cubes are definitely useful in getting everything to fit well.
Users also found the bag easy to maneuver and had no problem changing directions with it. The handles on the top and side function well as does the integrated TSA lock. We really like the external appearance. Since it is hardshell, it is able to withstand the bumps in the road that come with travel. The aluminum handle functions smoothly. Many users bought this bag because of its dimensions. It works well as a carry on for some major airlines. However, when traveling internationally, you will need to be mindful of more strict airline policies on smaller airlines. Hartmann really stands behind their product. All in all, this is a great, durable style that will last you for years to come. We can't wait to see them come out with additional sizes and new offerings.
Alternative Spinner Luggage That Might Be More Your Style
Eagle Creek Expanse International Carry On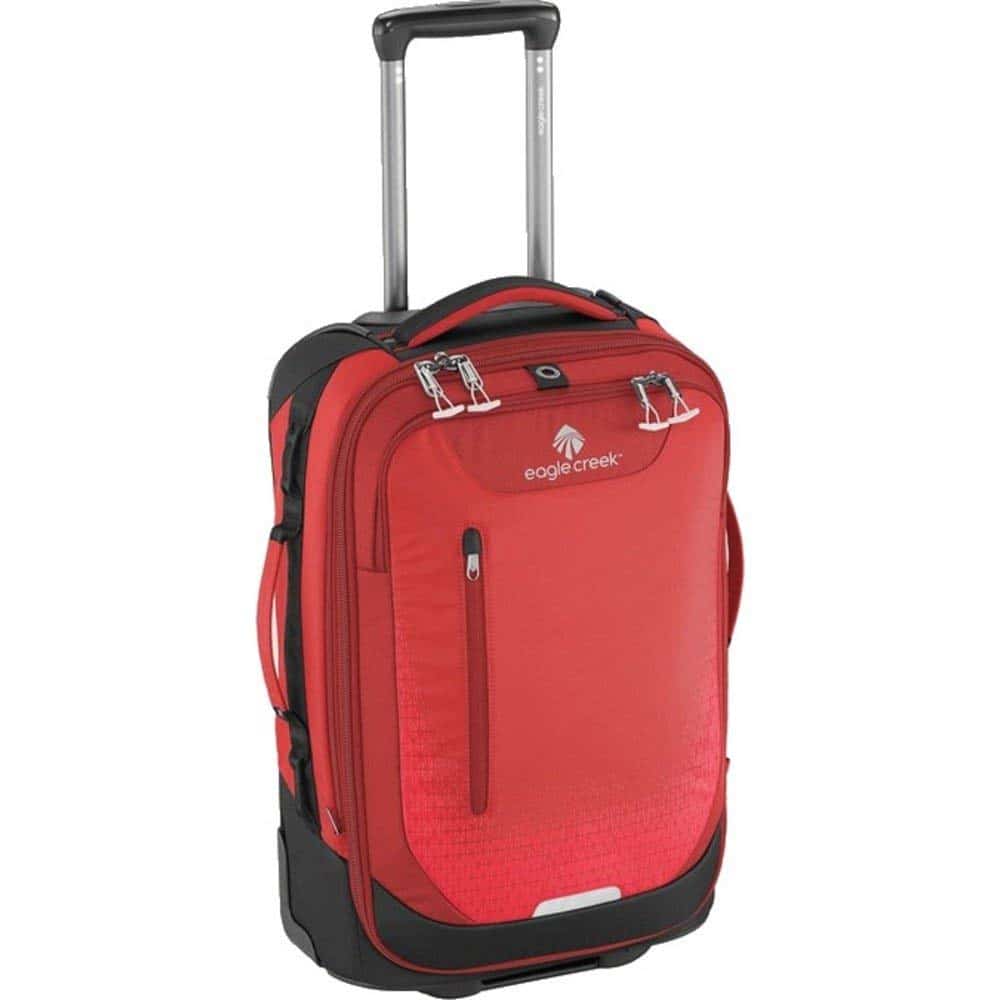 Are you looking for luggage that's just a little bit smaller and more lightweight? Enter the Expanse International Carry On from Eagle Creek. Offering 33.5L of storage room and 36.5.L at an expanded capacity, it's easy to move and still has plenty of space for your things. This bag was made for the road. Thanks to the Bi-Tech Armor Lite, it has a damage-resistant exterior. In addition, it is also strategically equipped with more durable material on areas of high wear and tear. Heavy duty wheels enable it to travel smoothly even on rough surfaces.
Tech Specs:
Bi-Tech Armor Lite damage resistant exterior

33.5L of storage room at normal capacity

36.5L of storage room at expanded capacity

Padded tablet sleeve

Durable construction

Heavy duty wheels

Easy to maneuver

Travels smoothly even on rough surfaces

Extra durable material in areas of wear
Victorinox Lexicon Hardside Large Travel Case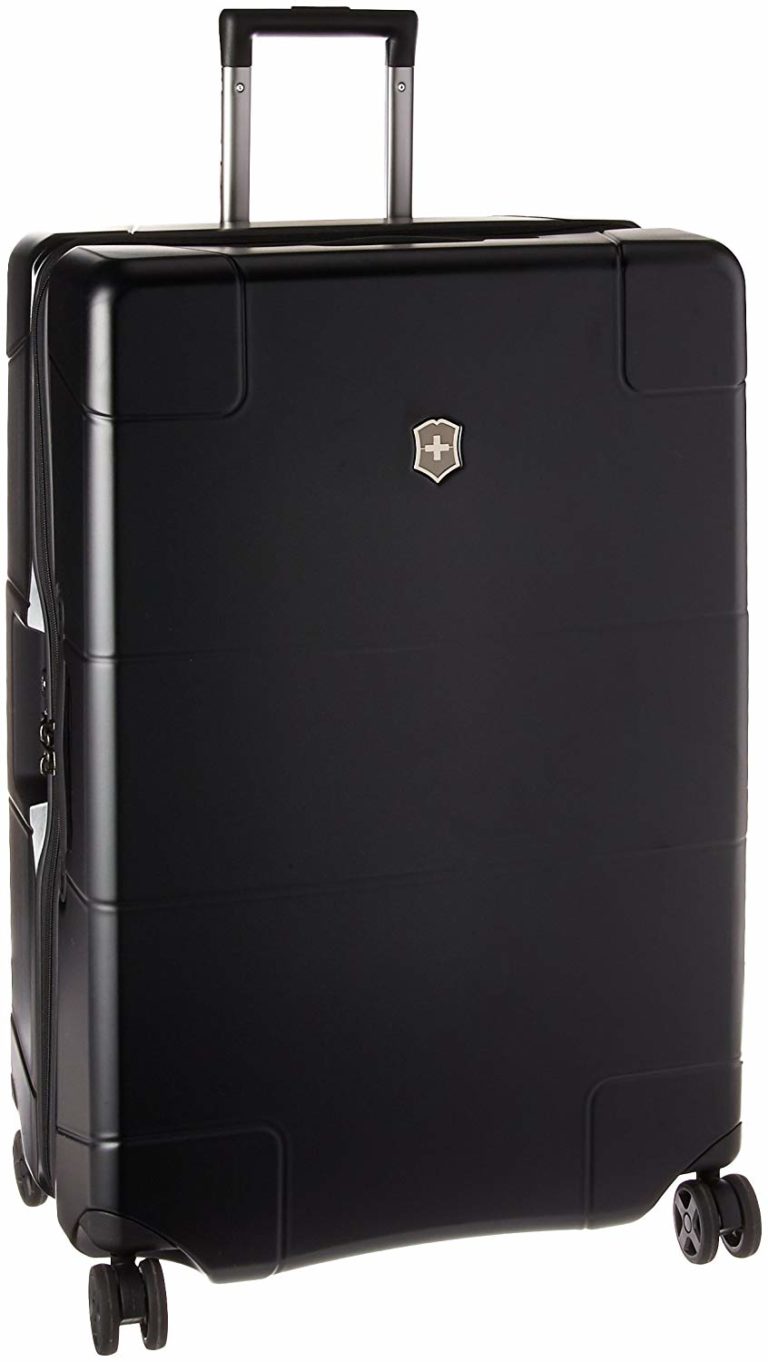 When you need a large travel case you can count on, this style from Victorinox is it. Break-resistant, scratch resistant, and strong, it delivers when you need it the most. Like the Hartmann Century Extended Journey Expandable Spinner, it is also made out of pure polycarbonate. With an external shell this strong, you can rest easy knowing your belongings are safe and sound. Puncture proof zippers and a TSA-approved combination lock add extra protection. Airport security can easily get into your bag. Then, you can simply relock it after inspection.
In terms of maneuverability, we've never seen a bag that's easier to get around. The large 60mm wheels rotate with complete ease. It gets better. They're ergonomically designed. In order to maximize your packing space, the wheels are recessed. Looking towards the bottom of the bag, you will find two mesh pockets that maximize available space between the trolley poles. X-shaped compression straps allow folded items to stay place during transit. At the top of the bag, you will find a zippered dividing wall. You can use this handy feature to separate your dirty clothes from clean ones. In addition, there is also a removable full suiter where you can keep your hanging clothing with the hanger still on. When you remove it, you can use it as an additional organizational pocket.
Tech Specs:
100% virgin polycarbonate structure

60mm smooth-rolling dual caster wheels

TSA-approved combination lock

Puncture proof zippers

X-shaped compression straps to keep items in place

Two zippered mesh interior pockets

Zippered divider wall

Removable full suiter (can also be used for additional storage)

Swiss Tracker Bag Tracking Program (find your bag if it is lost or stolen)

Aluminum handle with 3 different height settings
Invest in the Hartmann Century Extended Journey Expandable Spinner for Your Next Trip
We hope you enjoyed reading our article on the Hartmann Century Extended Journey Expandable Spinner. As you can see, this dynamic travel case offers both style and durability. If you're looking to take a longer trip, you will have plenty of space in your bag to pack what you need and stash some souvenirs on the way back. All in all, this style is high quality and well worth the purchase in our book. We highly recommend this luggage piece.
Related Article: 8 Best Spinner Luggage Styles For Frequent Travelers