Be adventurous in the men's outdoor Ecco Cheja sandals.
Check out the Ecco Cheja sandals, featuring a camel leather upper and rugged sole. While the sole definitely reduces shock from pounding the trail, extra shock absorption and heel support are an added bonus for many hiking enthusiasts. Keep in mind that these shoes are sold with European sizing, so make sure to double check your country's size with EU sizing before you buy them.
About Ecco
ECCO is a European shoe company founded in Denmark in 1963. Today they own and operate factories throughout Europe and Asia. They produce all the leather used in making Ecco shoes, taking measures to protect the environment at the same time. Their sole aim is to make a comfortable walking shoe.
Men's Ecco Cheja Sandals Features & Benefits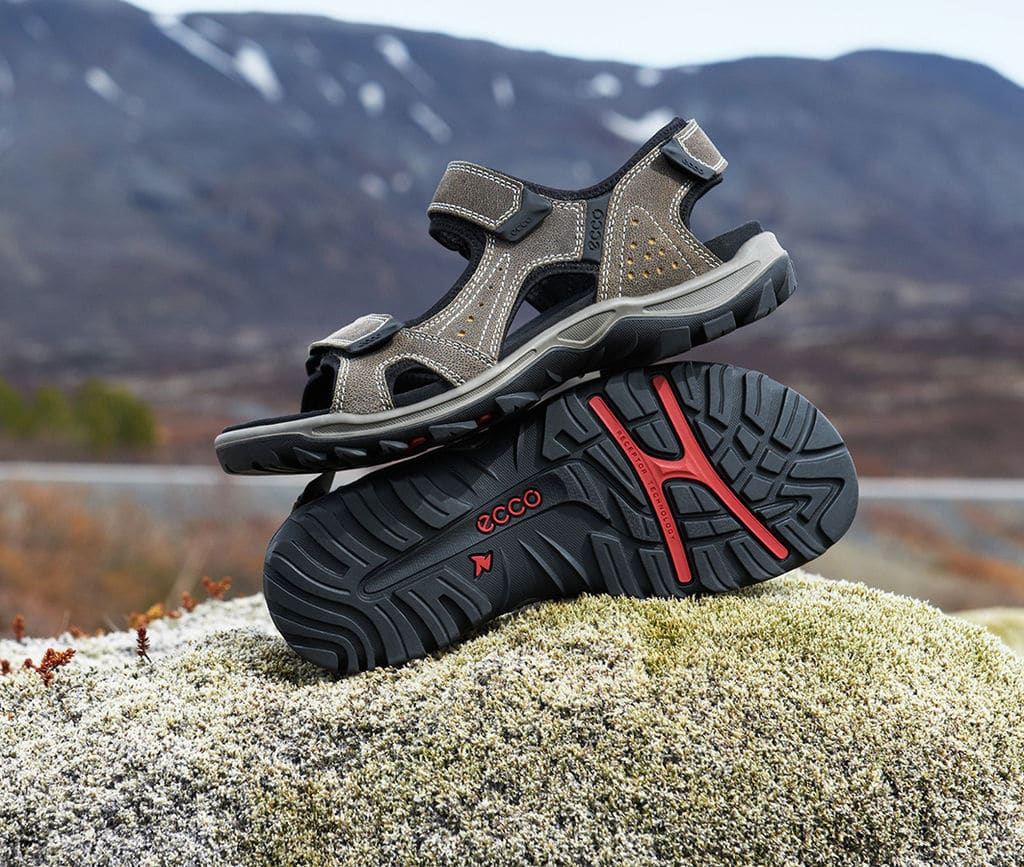 Credit: Ecco
The Ecco Cheja sandals are amphibious shoes with plenty of flexibility. A rugged outsole provides great grip and traction for outdoor use and slippery surfaces. Thanks to the midsole, the wearer can also enjoy great flexibility and shock absorption. These sandals feature a direct-injected PU midsole, a cushioned microfiber footbed, and receptor technology.
How the Men's Ecco Cheja Sandals Are Different From the Rest
While conventional shoes fit across your feet at the toes, restricting your feet when you walk. The Ecco Chejas sandals freedom fit is completely different. You will enjoy a roomy toe box and a good medium with across the shoes from heel to instep. This allows your toes to spread naturally and support your weight evenly for a comfortable experience. Enjoy comfort straight out of the box.
Tech Specs:
Leather

Imported

Rubber sole

check

Sporty sandal featuring leather upper with mesh lining and adjustable hook-and-loop closures at counter, ankle, and toe

check

Lightweight molded EVA footbed with foam layer for comfort

check

Direct-injected PU midsole foam

check

RECEPTOR Technology for stability and support

check

Durable rubber outsole for grip and traction on varied terrain
What Travelers Are Saying About the Men's Ecco Cheja Sandals
With a 4.6 out of 5 star rating, the men's Ecco Cheja sandals speak for themselves. Travelers loved the excellent construction. Throughout many reviews, users praised them as being great for hiking and easy to slip on and off. Customers who tried out various brands of sandals found that they Cheja met and exceeded their requirements.
Pros
plus Fully adjustable velcro straps
plus

Flexible leather upper

plus

Thick, shock-absorbent soles

plus

Extra shock absorption and heel support
Cons
close Heavy

1 color available
Other Comfortable Sneakers That Are Perfect for Traveling
Teva Men's Omnium Closed-Toe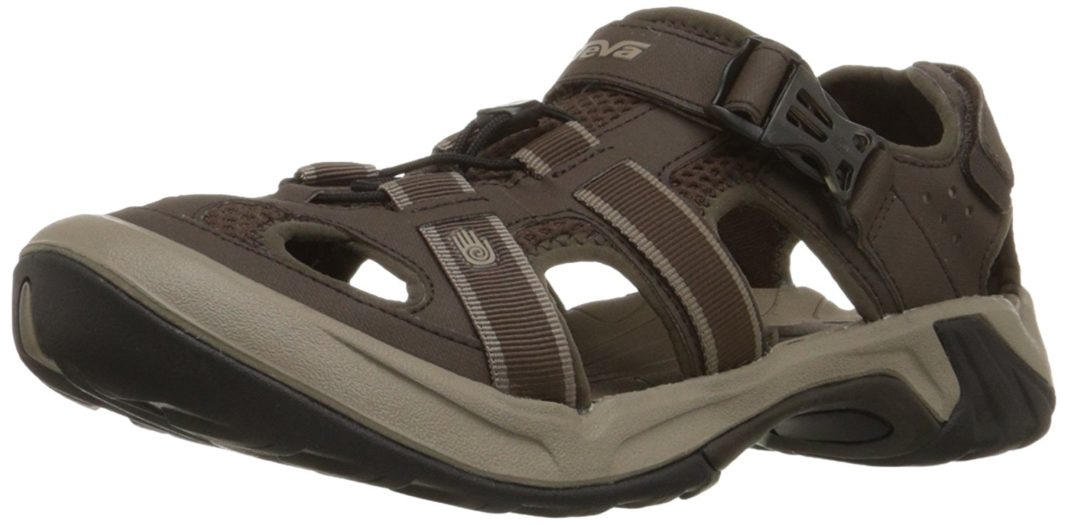 Are you looking for a great pair of unisex hiking sandals? We've got just the thing. To be honest, you won't find better than the Teva Omnium Closed-Toe. Thanks to openings along the top and sides of the shoe, these Tevas offer optimal air flow. The thick heel strap provides more ankle support than many other types of hiking sandals. When it comes to finding your perfect fit, Teva offers this style in both regular and wide.
Chaco Men's Z/2 Unsweep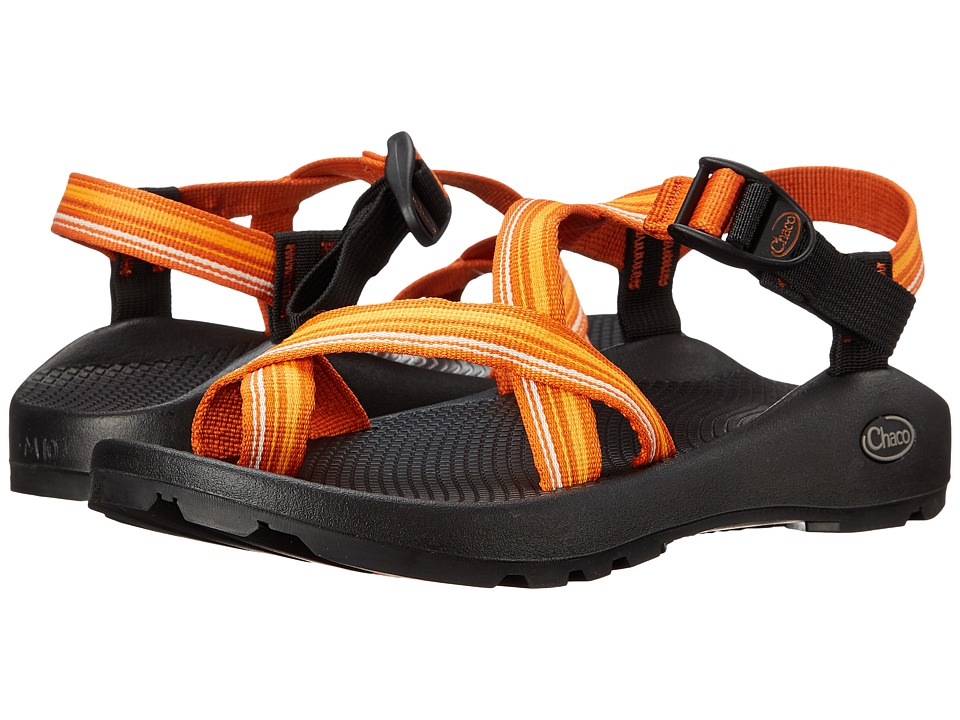 Just try these sandals on and you'll fall in love. Besides being stylish for summer, they are so comfortable! Needless to say, we absolutely love the Men's Z/2 Unsweep. If you're looking for the best hiking shoes for men, you found them. The solid base is water resistant, so your shoes will stay lightweight and dry quickly. Non-slip soles give you all the traction you need to climb across slippery rocks and up moss-covered trails.
Here's A Pro Tip:
We highly recommend getting a professional fitting if this is your first pair of Chacos. The brand tends to make products that run different than a regular shoe size. When you are ready to choose a pair from the Z/2 Unsweep, there are nine color and pattern combos to choose from.
Teva Original Universal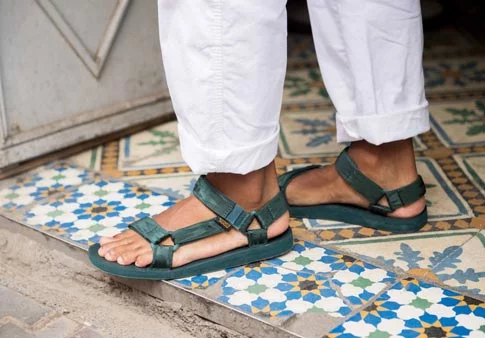 Have you been scoping out the best unisex sandals on the market? Enter your new travel buddy – the amphibious Teva Original Universal. Not only are these shoes stylish but they are super comfortable too. The sole adds a cushioned step without absorbing water or adding extra weight. Furthermore, Teva's clever adjustable strap system allows for a more secure fit. Now, you'll never have to worry about trekking around with an annoying loose fit again. Keep in mind that Tevas are best-suited to those with wider feet.
MOHEM Men's Poseidon Walking Shoes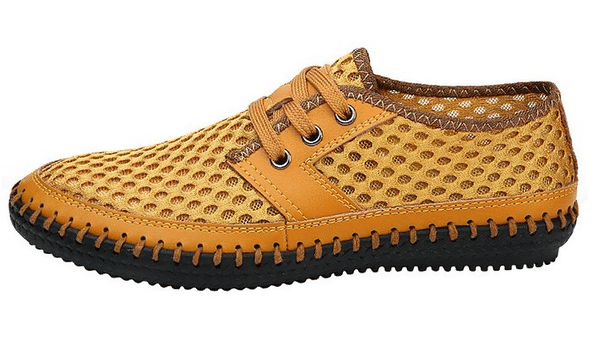 Here's another solid option for men's traveling shoes. They're completely waterproof and provide great arch support. When you're spending the day exploring a new city, it's easy for your feet to tire out. Add in getting caught in the rain with soaked shoes and you're miserable. Avoid the hassle with the MOHEM Men's Poseidon Walking Shoes.
What We Love About Them
Moreover, these just might be our favorite men's travel shoes yet. These are the most comfortable sneakers on the market for summer and hot weather. Let's just say we can't recommend them highly enough. They are extremely lightweight and very minimalist. What more could a man ask for?
These shoes are durable, waterproof, and take up next to no room for packing. We'll definitely be getting a pair in black for some more formal nights. Heck, we're going to buy one in every color. Ranging from $19.99 – $35.99, these shoes are an absolute steal.
Dreamcity Men's Water Shoes
Here's yet another pair of awesome water-resistant shoes. We can't say enough about the Dreamcity Men's Water Shoes.
Furthermore, they are not only are they comfortable to walk around in but they dry out very quickly. A well-designed light mesh fabric allows your feet to breathe and the Solyte midsole provides excellent bounce back and durability. Another thing we like is they're super easy to pack.
Pro Tip:
You can take an extra pair since they don't take up that much luggage space. We say wear one and pack one. It does take a little bit of getting used to the mesh pattern underneath your feet but after all day of walking, you'll be happy your feet don't ache. Maybe it's just us but we swear it feels like you're getting a foot massage when you're walking. It really doesn't get any better than that.
Rockport Men's Eureka Walking Shoes
Are you the kind of person who thinks dress shoes are one thing and walking shoes, another? We did. But we've never been so happy to be proven wrong.
A latex footbed provides a soft cushion to walk on for hours, while moisture wicking and mesh lining offer ultimate breathability. In addition to a sleek stylish outer design, the rubber outsole provides great durability. You can literally take these shoes from the streets to a classy dinner and nobody would know. This is a style we can get behind.
Brooks Addiction Walker
This clean style sneaker is perfect for those with minimalist fashion and who prefer functionality above style. A slip-resistant sole makes this shoe a great choice for nurses and those in the medical profession.
Furthermore, it's great for everyday wear. The minimal design makes for easy pairing with jeans, shorts, sweatpants, you name it. The shoe is offered in brown suede, white, and black.
About Brooks
Brooks has always been associated with its high-tech footwear. This is also true for the Brooks Addiction Walker. Putting aside the leather upper, two other notable features include the skid resistant and eco-friendly HPR Green Outsole. In addition, this shoe is also well known for its durable and adaptable BioMoGo DNA MoGo midsole.
The Shoes
Equipped with support for your low arches and control for your overpronation, this casual yet contemporary walking shoe feels great whenever and wherever your everyday takes you! Supple full-grain leather or velvety nubuck upper affords durability and comfort. Fabric lining with removable sockliner for your convenience.
Technology
Supreme HydroFlow® technology enhances midsole cushioning and shock absorption with the added placement of dynamic gooey fluid units in the heel and forefoot. Full-length innovative MoGo midsole compound provides a soft yet stable cushy feel that offers increased cushioning and energy return.
Invest In the Ecco Cheja Sandals for Your Next Adventure
When you're on the go, there's nothing more important than investing in a solid pair of travel shoes. The men's Ecco cheja sandals offer a great buy. They're durable, comfortable, water resistant, super lightweight, and offer great breathability. We're sure you'll see them all over this summer. This trending style is certainly a steal.
Questions and Comments
Do you have any questions or comment for us? Perhaps you have a favorite travel shoe you'd like to tell us about. Feel free to leave a message for us below. We love hearing from you and will be sure to get back with you soon.
Related Article: ​​Best Hiking Sandals for Your Adventures​​​