Guys, summer's coming up fast and that means you need versatile travel shoes. We found just the thing. Have you heard about Dreamcity men's water shoes?
These are some of the best water shoes for men. By this, we mean they're quick drying. Go cliff jumping. Get them wet. Step in a puddle on purpose. You won't believe how quickly you can take these bad boys from the beach to the store to grab a cold one. You'll also love that you can wear them as regular walking shoes. The Dreamcity men's water shoes are just that comfortable.
Dreamcity Men's Water Shoes Features & Benefits
Okay, it's time to get to the good stuff. It's easy to see that style meets functionality in the Dreamcity men's water shoes. This pair of water shoes boasts a host of great features like a breathable mesh upper, a rubber sole with holes for maximum airflow, and a well-made solyte midsole. Let's dive in and take a look at the tech behind the magic.
Fit and Size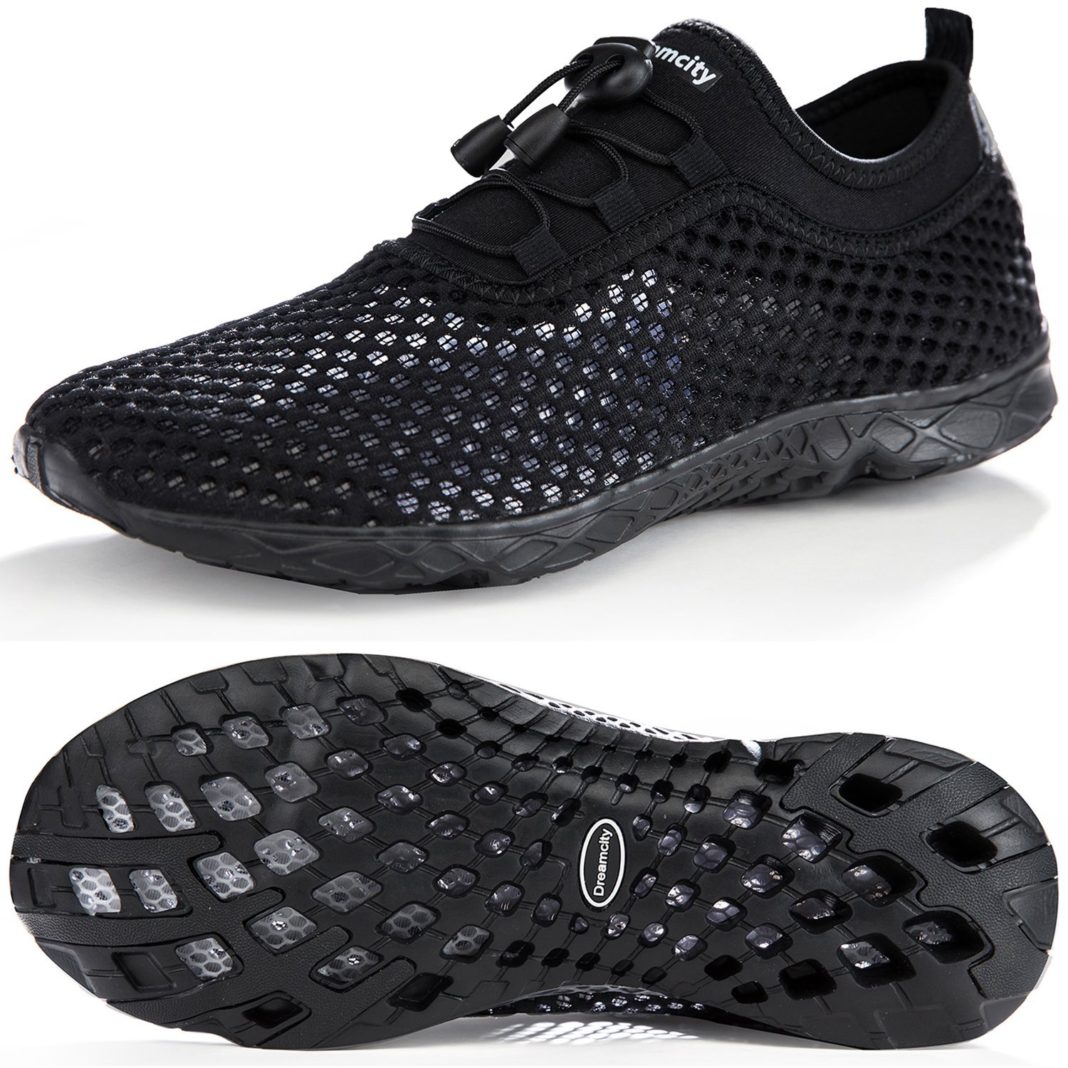 Credit: Amazon
Have you noticed that these shoes are similar to the Aleader Men's Quick Drying Shoe? While most water shoes make you look like you've suddenly grown a pair of gills, these shoes actually look stylish. Sporting a tennis shoe design, these shoes offer a secure lacing fit for a feel just right for you. In addition, they come with a lightweight ComforDry sockliner that adds extra cushioning for your feet.
Easy to Wear
Slide it out and slide it in. The removable ComforDry liner increases the hygiene of the shoe, making it less likely to trap funky smells and mildew. Furthermore, a large mesh square on top of the shoe allows moisture to escape for a quick dry. This also provided superior breathability factors, making it one of the best summer men's shoes on the market.
Outsole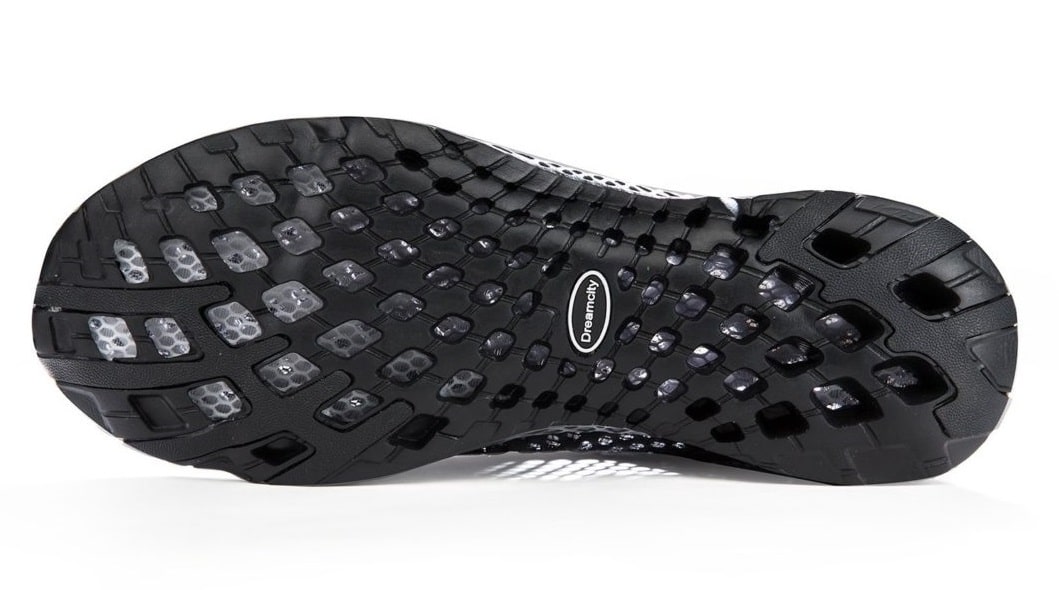 Credit: Amazon
An excellent water grip outsole provides superior traction on slippery surfaces.
Midsole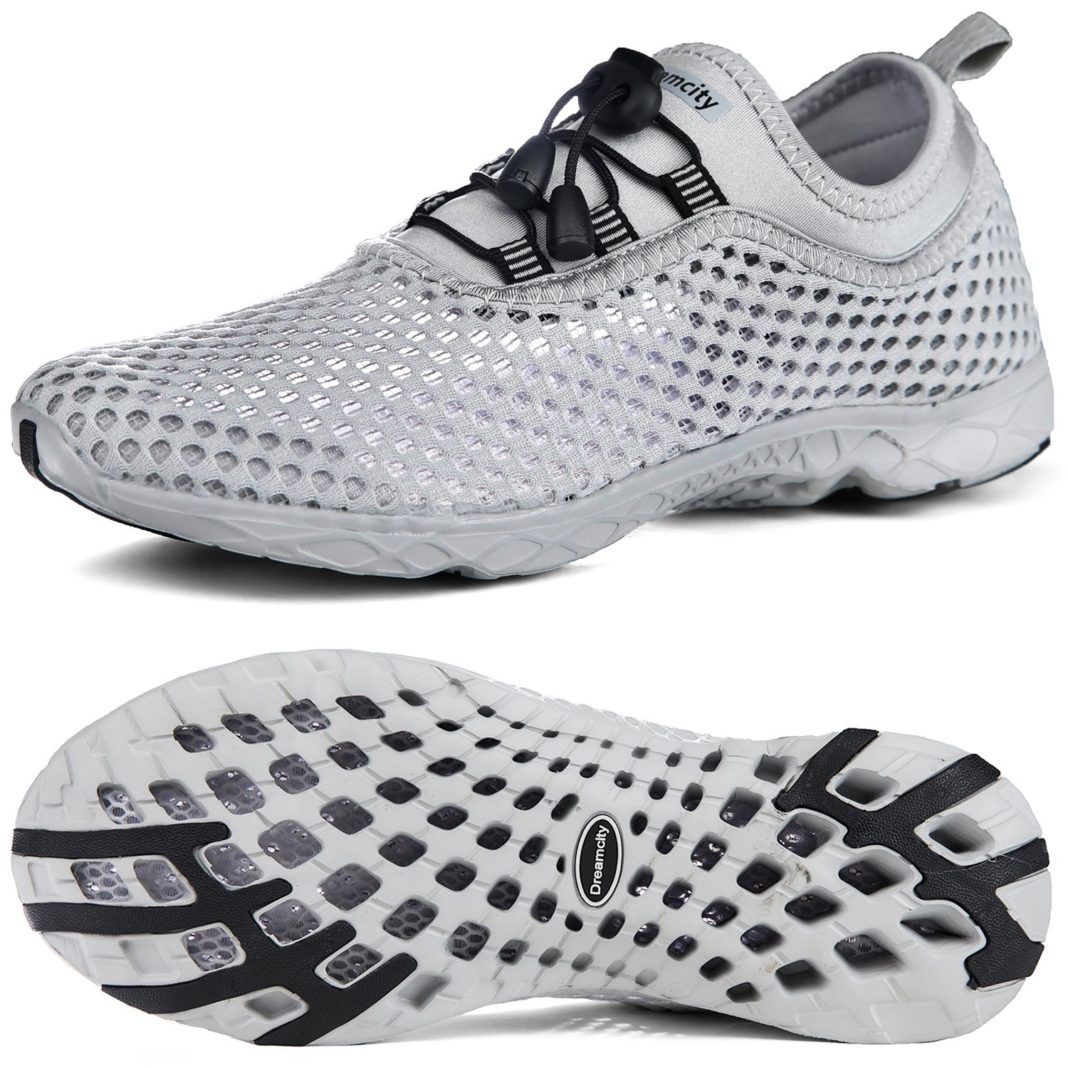 Credit: Amazon
Check out the solyte midsole. This feature is what allows the shoes to be so lightweight (they're only 5 oz!). It also provides an excellent cushion for your foot as well as shock absorption. Prepare yourself for a spring in every step.
Pros and Cons
To help you get a better idea of the shoe, here is a list of pros and cons travelers have given in reviews. In the light of their opinions, you will get a holistic view of the product.
Pros:
90% fabric

Keeps feet cool with breathable mesh fabric

Quick drying

check

Solyte midsole provides an exceptionally lightweight midsole with excellent bounce-back and durability

check

ComforDry sockliner provides the optimum cushioning performance that creates a cooler, drier and healthier shoe environment.

check

Open mesh on the upper and hole on the sole provides for superior breathability and quick drying

check

Several colors to choose from

check

Affordable price

check

Durable for price range

check

Great traction on slippery and wet surfaces

check

Heel tab prevents ankle from rubbing and blistering
Cons:
The shoes run a little large but this problem can be solved by going down a half size
What Travelers Are Saying About the Dreamcity Men's Water Shoes
Travelers love the Dreamcity Men's Water Shoes. As an affordable water shoe option, this perfect pair can be taken from the beach to the streets in a matter of a few hours. Let's not overlook the incredible $25.99 price tag. Overall, reviewers found them way more lightweight, flexible, and comfortable than other water shoes they owned from more expensive brands. And they have squishy insoles!
Where to Wear Them
Wear these inside the pool, in the salty ocean, or just to walk around. They're comfortable enough to wear for long periods of time in and out of the water. Reviewers had no complaints. After getting your shoes wet, we highly recommend leaving them out in the sun to dry after. This will help them to dry even more quickly than they would normally.
Why Travelers Love the Dreamcity Men's Water Shoes
As to be expected, there are a couple of cons to having open air, breathable mesh fabric. Needless to say, if you wear them to the beach, you'll get sand in them. When you're exploring a creek bed, you can get tiny rocks in them too. But this is typical of most shoes. Just shake it out and shake it off, right?
Why They Beat Out Their Competitors
Travel reviewers who try to go cheap on shoes rave that they beat any water shoes from Target and Walmart they've ever bought. While they look like they have laces, they are more for show, as they are elastic (aka you don't really need them).
Last but certainly not least, the bottom rubber sole has great traction. Furthermore, you can take these shoes on all your adventures without having to worry about whether or not they'll hold up.
One Review That Particularly Stood Out to Us
One Amazon review that stood out to us in particular, was from a man who had just returned from a trip to Costa Rica. Of course, he took his Dreamcity men's water shoes with him (If he didn't, what would the point to this story be?).
Throughout his trip, he tested them out in a variety of environments. From small mountain hiking to zip lining, exploring waterfall locations, horseback riding, and jet skiing, the shoes stood up to the terrain and protected his feet. No complaints here.
As with any new pair of shoes, we highly recommend taking them on a trial run before you go on your big trip. Nothing is worse than breaking in a new pair of shoes and finding out they don't fit right or hold up when you're trying to go on the adventure of a lifetime. Skip the stress and test them out a week or two before you go. You can thank us later.
Other Comfortable Sneakers That Are Perfect for Traveling
Are you interested in checking out some other budget-friendly alternative styles that are perfect for traveling? If so, you'll love these alternative shoe styles we've picked out for you.
Men's MOHEM Poseidon Mesh Walking Shoes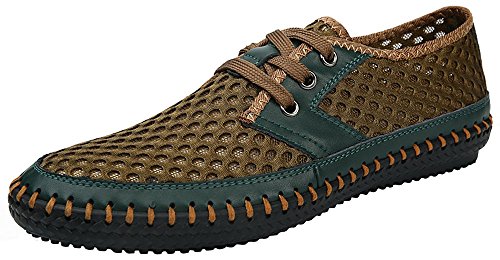 Credit: Amazon
Here's another great pair of men's water shoes for your viewing pleasure. Like the Dreamcity men's water shoes, the MOHEM Posiedon also stylish practical, and affordable. Whether you're at the beach, boating, hiking, camping, cliff diving or whatever – they'll keep you cool, comfy, and dry in the heat of the summer to come.
Furthermore, they're durable. For a price range of $25.99 – $35.99, you might not expect it. We always say before you buy a product read as many reviews as possible. Be thorough. Before we recommend a product, we try them out and scan the web for as many reviews as we can find. Feedback matters people.
Similarities to Dreamcity Men's Water Shoes
These shoes are made for adventure. Lace them up and go kayaking. Get them soaking wet crossing shallow streams and creeks. Use them for cliff diving. When you're traveling in a foreign country, you need shoes you can count on. Whether you're hiking or backpacking during the heat of a European summer or exploring jungles in Costa Rica (a great budget-friendly destination), these shoes will get the job done.
Why They Beat Out Competitor Brands
In another similarity to the Dreamcity men's water shoes, they beat out other competitor brands in their price range. And even some above. Forget those Target brand types and cheap Walmart buys. They just won't hold up when you need them to. Who wants to buy a pair of brand new shoes and have them last only a month? Not us. And we're betting you don't want to either. While the idiom 'you get what you pay for' is generally true, these shoes break the rule.
They're Comfortable
They're also super comfortable. Put them on barefoot and splash around, they won't rub and cause blisters. We don't recommend going barefoot for all day use though. The other thing is they dry very well; you can easily romp around the water with these and then wear them in the city a few hours later. While the company's tech specs don't specifically note it, the shoes feel like they offer pretty good shock absorption too.
Choose From A Wide Selection of Colors
Shop the style on Amazon and you'll find a wide selection of colors to choose from. This variety of tones makes it easy to pick just the right pair for your style needs. There are twelve different colors to choose from, in varying shades of black, brown, blue, gray, yellow, and green.
Adidas Prophere Shoes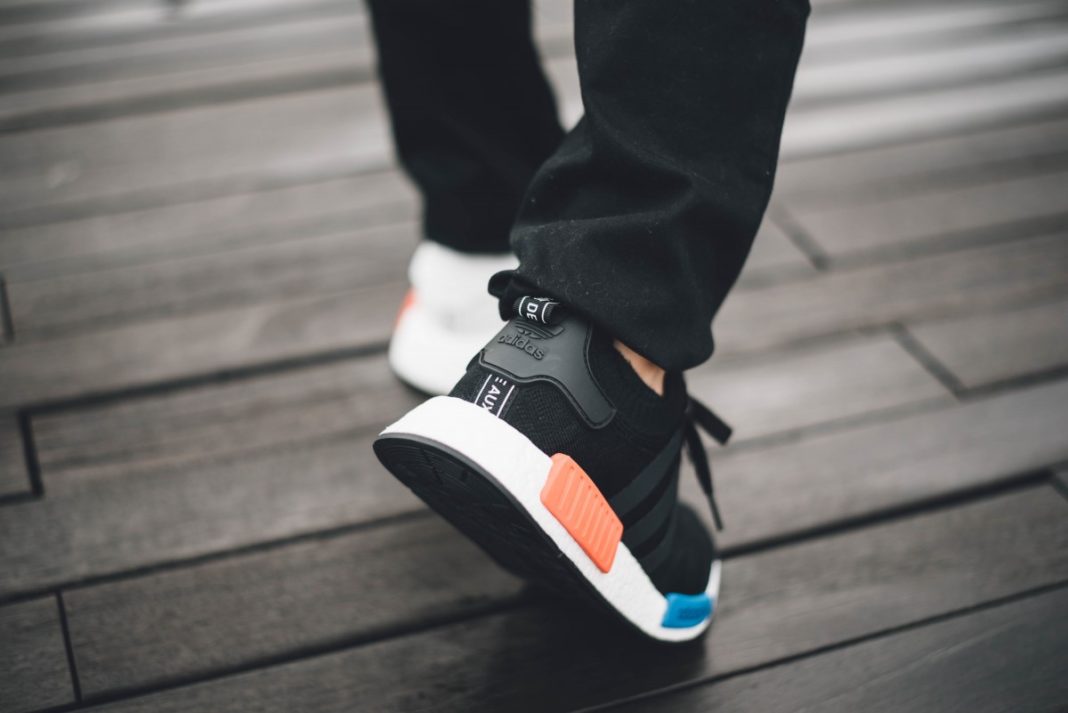 Credit: Adidas
Okay, the Adidas Prophere shoes are going to cost you a bit more. While they have a durable construction and sleek fashionable style, they're not water shoes by any means. And they are more in the moderate price range than budget-friendly. Now that we've cleared the air, let's go explore why these shoes are a great buy for travelers seeking comfy sneakers.
They're Comfortable
These shoes are great for all-day wear. And they look great too. The upper part of these Adidas shoes is constructed from a flexible knit material. Due to this adaptive fit, the shoe moves and flexes with you for max comfort. A slip-on design makes it easy to put on or take off.
Tech Specs
Furthermore, at the back of the shoe, you'll find a leather heel cup. A class Adidas trio stripe pattern links to the laces for a very adjustable fit. At the front of the shoe, you will see a toe box complete with an antimicrobial liner.
In addition, the knit upper fabric and adaptive fit ensure breathability in these sneakers. If you ask us, it's one of the most important factors in choosing a good pair of travel sneakers. When you've been walking all day on a hot summer day and your feet get sweaty, there's nothing as great as good ventilation in your shoes.
Invest In Shoes That Will Last for All of Your Adventures
Choose shoes that are made to last. When you're on the go, you want something comfortable and durable. With the Dreamcity men's water shoes and our alternative shoe picks above, you'll get just that.
Do you have any questions or comments for us? Perhaps you have a favorite style of travel sneakers you'd like to share. Either way, feel free to leave a message for us in the comment section below! We love hearing from you and will be sure to get back with you shortly.
Related Article: Most Comfortable Sneakers For Fashion-Conscious Travelers