If you're into running at all, you've heard of the company Brooks. For many years, they've been recognized for their high-performance, durable running shoes. The Brooks Addiction Walker offers nothing less.
Brooks has always aimed to create the best footwear on the market. The Brooks Addiction Walker was made with the same goal in mind. They didn't stop there though. They decided to make shoes for every shoe type. Seeking to create casual footwear for everyday use with both the fit and style of a running shoe. Think more support and durability.
Enter the Brooks Addiction Walker Style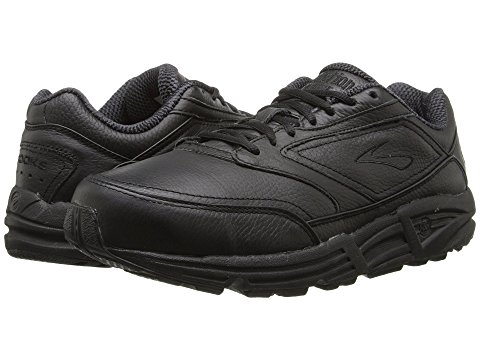 First things first. Let's talk about the style. This clean style sneaker is perfect for those with minimalist fashion and who prefer functionality above style. A slip-resistant sole makes this shoe a great choice for nurses and those in the medical profession.
Furthermore, it's great for everyday wear. The minimal design makes for easy pairing with jeans, shorts, sweatpants, you name it. The shoe is offered in brown suede, white, and black.
Fit and Sizing
The upper part of the shoe is constructed from full grain leather. The Addiction Walker provides the wearer with a great deal of support. On Amazon, Men's sizes range from a US 7 to US 15. Different sizes are also sold for those with narrow, medium, or wide feet.
Notable Features
Brooks has always been associated with its high-tech footwear. This is also true for the Brooks Addiction Walker. Putting aside the leather upper, two other notable features include the skid resistant and eco-friendly HPR Green Outsole. In addition, this shoe is also well known for its durable and adaptable BioMoGo DNA MoGo midsole.
Brooks Addiction Walker Features & Benefits
Loaded with support for your low arches and control for your overpronation, this casual yet contemporary walking shoe feels great whenever and wherever your everyday takes you! Supple full-grain leather or velvety nubuck upper affords durability and comfort. Fabric lining with removable sockliner for your convenience.
The HydroFlow Tech and Cushsole
HydroFlow® technology enhances midsole cushioning and shock absorption with the added placement of dynamic gooey fluid units in the heel and forefoot. Full-length innovative MoGo midsole compound provides a soft yet stable cushy feel that offers increased cushioning and energy return. Extended Progressive Diagonal Rollbar (PDRB®) presents a robust, dual density.
A durable, energy-efficient S-257™ Cushsole offers a flexible cushioned ride. The engineered MC Pod Configuration enables the midsole and outsole to set the foot up in an efficient and balanced position offering maximum motion control and flexibility from heel strike through toe-off. Last but not least ,the durable HPR Green™ outsole is comprised of environment-friendly silica compound and offers premium wet-dry traction for skid-resistance.
Tech Specs
Leather

Imported

Shaft measures approximately 2.4″ from arch

check

Loaded with support for your low arches and control for your overpronation, this casual yet contemporary walking shoe feels great whenever and wherever your everyday takes you.

check

Synthetic Sole
What Travelers Are Saying About the Brooks Addiction Walker
With a four and a half out of five-star rating, the Brooks Addiction Walker shoes speak for themselves. In the reviews, travelers praised the durable construction, arch support, and shock absorption. What particularly stood out to us was the number of reviewers who said the shoes helped to alleviate symptoms of plantar fasciitis. The following reasons listed below describe why travelers say you should buy the Brooks Addiction Walker shoes.
The Brooks Addiction Walker is very durable and able to everyday use according to a large number of satisfied users

Some users with weight issues who suffered from chronic feet and leg pain wrote that the shoe cushioning helped to ease their pain

Users who need artificial devices for their foot reported that their orthotics fit the inside of the shoe very well and the shoe remained comfortable

check

Several users reported they were pleased that the shoe's leather upper provided great support

check

The shoe is podiatrist and chiropractor recommended

check

It is a good value for the purchase

check

The Brooks Addiction Walker shoe is very lightweight

check

The shoes match a variety of colors and styles

check

Wearers like the shoe's simple design and minimalist colors
Other Comfortable Sneakers That Are Perfect for Traveling
When you're traveling and walking long distances, it's important to have a sturdy, durable pair of walking shoes. The Brooks Addiction Walker offer just that. However, if you want to look around a little bit longer before you make your purchase, we've added in a few other top-rated shoe styles that are perfect for travel.
MOHEM Men's Poseidon Walking Shoes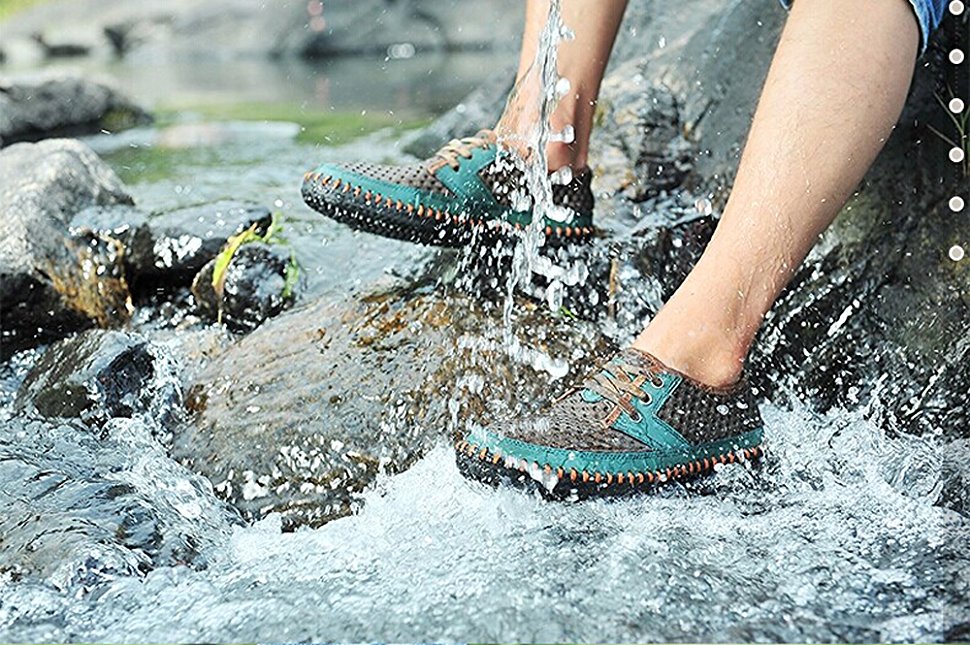 This is another great option for men's traveling shoes. Why? Well, they're waterproof and provide great arch support. When you're spending the day exploring a new city, it's easy for your feet to tire out. Add in getting caught in the rain with soaked shoes and you're miserable. Avoid the hassle with the MOHEM Men's Poseidon Walking Shoes.
Moreover, these just might be our favorite men's travel shoes yet. These are the most comfortable sneakers on the market for summer and hot weather. Let's just say we can't recommend them highly enough. They are extremely lightweight and very minimalist. What more could a man ask for?
The Mohem Men's Poseidon Walking Shoes are durable, waterproof, and take up next to no room for packing. We'll definitely be getting a pair in black for some more formal nights. Heck, we're going to buy one in every color. Ranging from $19.99 – $35.99, these shoes are an absolute steal.
Dreamcity Men's Water Shoes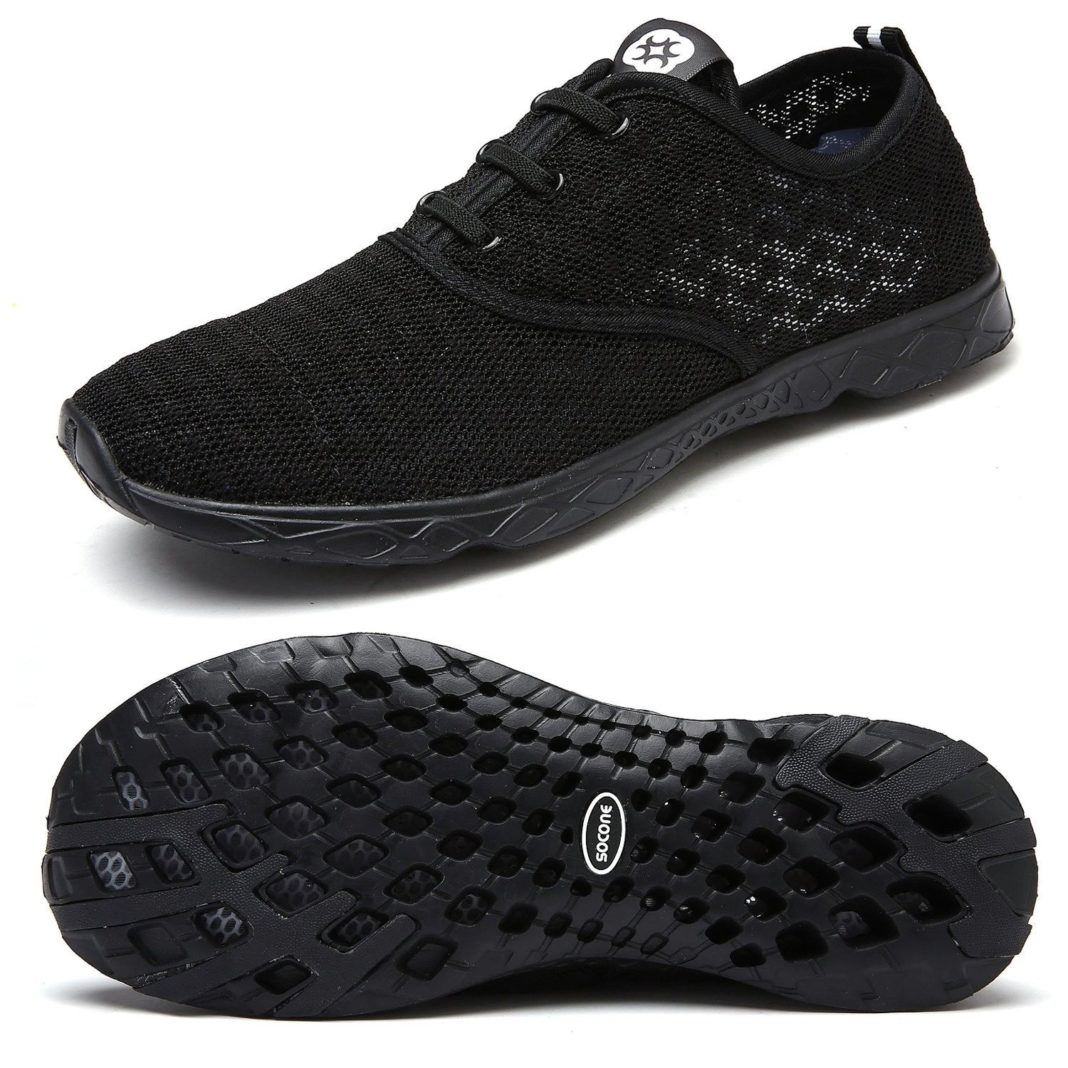 Yes, we're showing you another pair of water-resistant shoes. Waterproof or water resistant shoes are one of the most important aspects of travel shoes. We can't say enough about the Dreamcity Men's Water Shoes.
Furthermore, they are not only are they comfortable to walk around in but they dry out very quickly. A well-designed light mesh fabric allows your feet to breathe and the Solyte midsole provides excellent bounce back and durability. Another thing we like is they're super easy to pack.
Pro Tip:
Here's a pro tip: You can take an extra pair since they don't take up that much luggage space. We say wear one and pack one. It does take a little bit of getting used to the mesh pattern underneath your feet but after all day of walking, you'll be happy your feet don't ache. Maybe it's just us but we swear it feels like you're getting a foot massage when you're walking. It really doesn't get any better than that.
Mio Marino Men's Dress Shoes
Okay, so you're probably thinking 'how are these good travel shoes? It says "dress shoes" in the title!' Hear us out. The Mio Marino Men's Dress Shoes are designed for both style and comfort. First off, they're super comfy. You get to pamper your feet with an amazing pair of men's oxford shoes. The construction offers the utmost comfort, the sole is made from an oh so good high-quality rubber and best of all – there's a sweat-free breathable insole.
Take these shoes from exploring the streets to a fancy Italian dinner. It's the new dress code. This is the modern makeover of stiff dressy shoes that need to "break in" while suffering, match these business casual shoes for men with your formal attire and party wear. Be daringly in style.
They Won't Kill Your Feet
Furthermore, walking around all day in these shoes won't kill your feet. They're custom tailored. The Mio Marino Men's Dress Shoe is constructed with man-made leather material. There are a variety of colors to accommodate your style. Last but not least the Mio Marinos is made in half size to ensure a perfect fit. Please keep in mind that Marino shoes run just a bit larger than usual.
They're the Perfect Travel Gift
Mio Marinos make a great travel gift for that special someone. They're presented with care. Gift lovingly with the men's casual dress shoes! All shoes are mailed in a reusable travel bag, so you can travel with ease and explore 'places' – a signature gifting experience.
It's A Risk-Free Purchase
It's a risk-free purchase. Mio Marino's mission is for you to be fully satisfied with your purchase. That's why they offer 45 days for free exchange and returns. In addition, all our their items have 180 days warranty.
NIKE Men's Tanjun Sneakers
Combine style and comfort with the simplicity of the NIKE Men's Tanjun Sneakers. Fans of the Nike Roshe will love these. The lace-up front and Swoosh branding hold true to the classic style. A sleek minimal look makes it easily transferable from the streets to more formal settings, and the coloring makes it easy for styling.
A padded collar and tongue prevent ankle rubbing while the textile lining and cushioning insole bring shock absorption and cushioning for your arches into the mix. Travel reviewers described them as light, cool, comfortable, and maybe even flawless.
Invest In A Great Pair of Travel Shoes For Your Next Adventure
We've said it before and we'll say it again. Investing in a great pair of travel shoes is critical for being comfortable on your trip. This article covered details about the Brooks Addiction Walker shoes and also provided some information about alternative men's travel shoes on the market.
We hope you enjoyed reading about the Brooks' style. If you are interested in finding more information on the Nike Air Max 97 Ultra LX and other women's and unisex travel shoes, click here. For information on the best men's and women's hiking sandals, click here.
Related Article: Most Comfortable Sneakers For Fashion-Conscious Travelers