Last year marked the 20th anniversary of the iconic Nike Air Max 97, a uniquely-styled trainer way ahead of its time. Now, Nike is bringing the 90s nostalgia back with a remastered original design and lightweight construction for everyday comfort. Enter the Nike Air Max 97 Ultra 17 LX, a comfortable travel sneaker.
Introducing the Nike Air Max 97 Ultra 17 LX is nothing short of creative genius. The idea, spearheaded by Nike Sportswear Senior Designer Dylan Raasch, decided to move with a moderately-tweaked version of the forward-looking original model. This anniversary integration included some great modern tech updates like cutting a great deal of weight from the body of the shoe.
Leagues ahead of its time, the original Nike Air Max launched in the Fall of 1997. When the design concept for this model was first presented to the executives of Nike, they thought it was far too futuristic for the era. But they missed the whole point. The Nike Air Max isn't supposed to look like your average running shoe. Its intent was to stand out.
The original color Nike Air Max is in metallic silver. A whole new palette of colors was dropped with the Nike Air Max 97 Ultra 17 LX. Glittery renditions including the Silver Bullet and Metallic Gold were introduced with hints of Varsity Red. Other tones include Black/Anthracite, Triple Black, Platinum/White, Midnight Navy/Cool Gray, Rose Gold, and Light Orewood Brown.
Nike Air Max 97 Ultra 17 LX Features & Benefits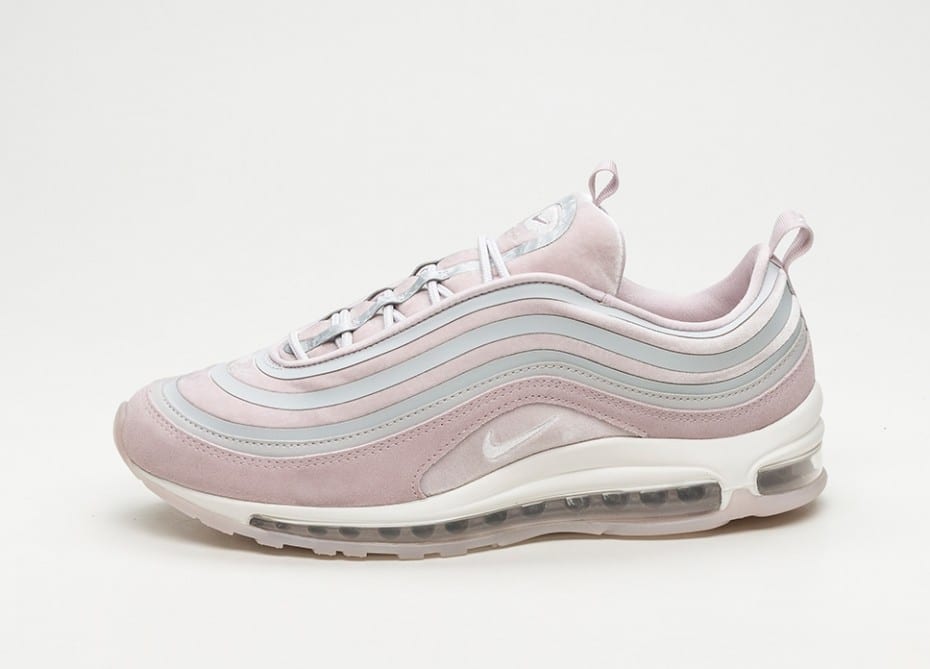 Credit: Nike
Comparing the New Nike Air Max 97 Ultra 17 LX to the original model, you can easily distinguish that both silhouettes have a futuristic touch to them, they belong to different eras. The Ultra uses synthetic materials attached to the upper to keep it clean and sleek. The older model featured a heavily-stitched multi-layered element. Last but certainly not least, the new Nike Air Max style sports reduced volume in the midsole, putting your feet closer to the ground.
The upper body of the Nike Air Max 97 Ultra 17 LX is made from a jacquard fabric. The material's woven texture design has a much more intricate appearance than your standard printed fabric. An interlaced solid pattern makes the upper shoe very durable.
Hidden lacing system offering a secure fit

Slip-on feel with pull tabs located on the tongue and heel

Removable insole for additional cushioning

check

Visible Air Bladder insole which helps to cushion the impact

check

Air unit patented cushioning technology; shock absorbing

check

Minimalist and lightweight
Nike Air Max 97 Ultra 17 LX Review
Senior Designer Dylan Raasch and his creative team crafted a sleeker more minimal look from the original Air Max model. The new rendition completely eliminated the suede, leather, and mesh detailing from older generations. Keeping the 20th-anniversary edition simple while staying true to the original style was no easy task. Overall, a streamlined design adds a little bit of pizzazz to any casual outfit.
Fit and Sizing
It's important to note that the Nike Air Max 97 Ultra 17 LX is a little larger than standard Air Max traditions, fitting those with wider feet. If you have standard or narrow foot measurements, we recommend you go down a half size to get the full use of this sneaker. This shoe is available in men's US size 8 to 14. Nike also introduced coolways exclusively for women ranging from US size 5 to 11.
What Travelers Are Saying About the Nike Air Max 97 Ultra 17 LX
Nike came up with an amazing rendition for one of its iconic models with the introduction of the Nike Air Max 97 Ultra LX. They managed to keep the aesthetically pleasing synthetic upper material and retain the reflective qualities of the original model. Besides that, a lot has changed.
The sole is retooled, the amount of air in the signature high sole has been removed, and a good deal of weight has been cut down from the original silhouette. Overall, sneakerheads are satisfied with the degree of comfort and flexibility they are getting from this modified model. While they debuted at $160, they are now being offered by most retailers at more discounted prices.
Reasons to Buy the Nike Air Max 97 Ultra 17 LX
Wider than earlier versions and fits people with both wide and narrow feet

Well-padded offering ease to all angles of the foot

Stylish reflective synthetic material on the upper body of the shoe

check

Soft and flexible upper

check

A good number of those who bought the Ultra 17 are pleased with the fit and comfort it provides

check

A little less than a handful of buyers said they have plantar fasciitis and the Air Max Ultra 17 puts their feet at ease

check

Aesthetically pleasing and functional

check

Buyers are happy retailers are offering this updated sneaker at marked down prices

check

The Ultra 17 is much lighter in weight than previous Air Max versions

check

Synthetic upper prevents water, dirt, and grime from easily getting into the shoe
Other Comfortable Sneakers That Are Perfect for Traveling
When you're traveling abroad, it's so important to have the right pair of travel shoes. The Nike Air Max 97 Ultra 17 LX is a great buy. But if you want to shop around a little and compare styles, prices, you name it, we've got you covered. Some things to look for in a good pair of sneakers include:
Style

Comfort

Good Fit

check

Breathable Fabric

check

Arch Support

check

Waterproof Material

check

Durability

check

Memory Foam Insoles

check

Shock Absorption

check

Versatility
Versatility matters too. Make sure you pick at least one pair of sneakers that could be dressed up or down as needed. Before you settle down on your purchase for the most comfortable sneakers, there are a few questions you should ask yourself. Are you going for more comfort or style? How much are you able to spend? Do you have any favorite brands? What qualities are you unable to live without?
Women's Travel Sneakers
Adidas X Stella McCartney X Parley Ultraboost X Women's Shoes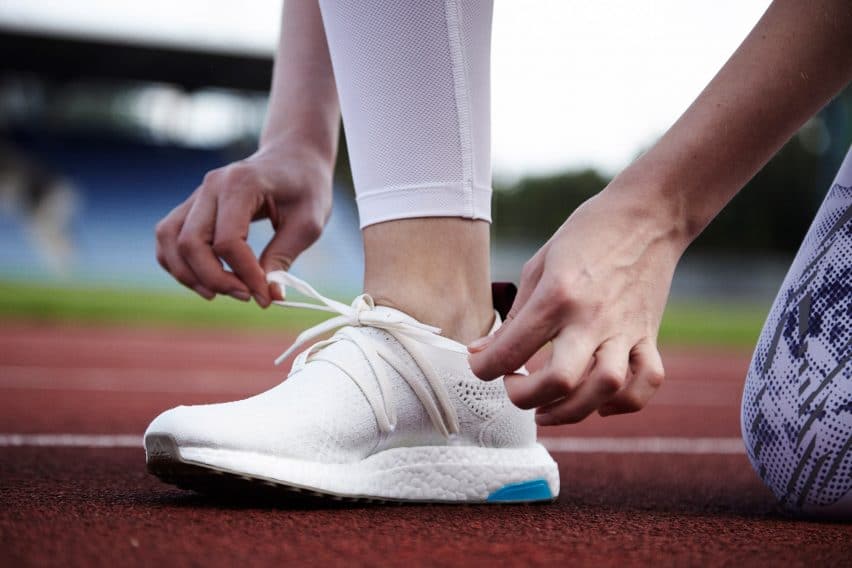 Credit: Stella McCartney
When you're traveling in Europe you want to look stylish; everyone there is perfectly dressed. But you also want to be comfortable. Factor in the expensive price of public transit and you're in a pickle. How can you find cute, comfortable shoes that you can pound the pavement in? Lucky for you, Adidas and Stella McCartney paired up for an ultimate dream team. While they're a little pricey, the max arch support, padded cushioning, and shock absorption makes them a great pick for long days on your feet. And come on. When you're talking sneakers, it doesn't get any more stylish than this.
Adidas Original Prophere Shoes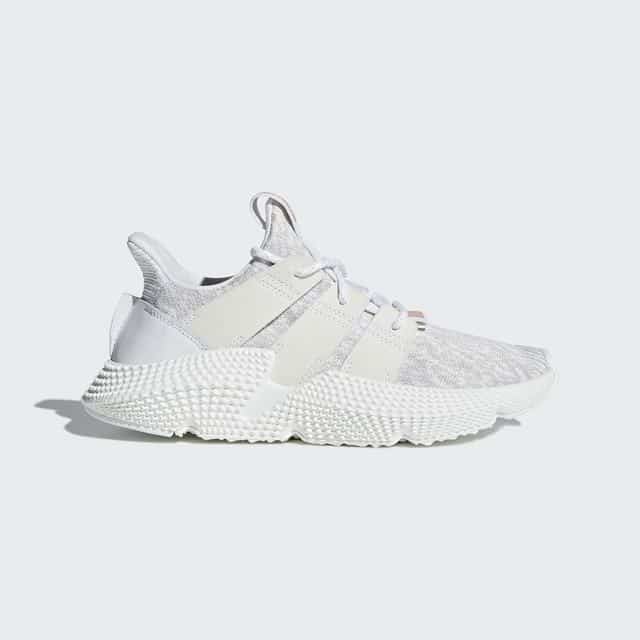 Credit: Adidas
If you've ever been to London, Paris, Prague, or Berlin, we're sure you've seen sleek tan pea coats paired with well-tailored jeans and stylish athletic shoes. It's called the athleisure style. To fit in with the locals and treat your feet, opt for the Adidas Original Prophere Shoes. Why should you have to look sloppy just because you want to be comfortable? For more tips on and examples of European streetstyle, click here.
We mean it. We've surveyed some of the trendiest cities across the globe just for you. When you're picking what to wear, think minimal, neutral colors and a nice fit. Besides style, these shoes are also very practical. The price isn't too steep and you know Adidas is a top-name brand you can rely on for quality. The shoes feature a comfortable OrthoLite sock liner, a knit upper fabric that adapts to the shape of your foot and ankle, and a durable rubber outsole.
Tiosebon Women's Athletic Shoes Casual Mesh Walking Sneakers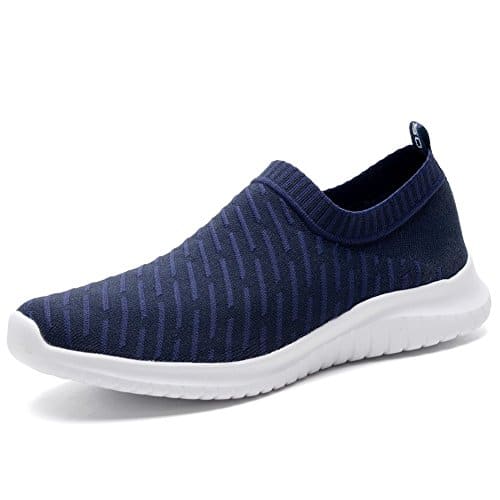 Okay ladies, if you're looking for a budget deal look no further. The Tiosebon Women's Athletic Shoes offer up a great deal. Even at first glance, you can tell a stretchy upper fabric makes the Tioesbon a very comfortable shoe.
It's sleek and sophisticated-looking too. Since they don't have a zipper, you might need a finger to slide them on. You might even need to go up a half a size. This is a wonderful shoe and at only $19.99 – $29.99, you can't beat the price. We would wear these anywhere on vacation. While this breathable fabric isn't a good pick for a cold winter, they'll be amazing for spring through fall travels. The only downer about them is that they won't be as durable or sturdy as top-notch brands. Make sure to wear some good thick socks with them too. Since they have a low cut, they could potentially rub a little and give blisters.
Men's Travel Sneakers
MOHEM Men's Poseidon Mesh Walking Shoes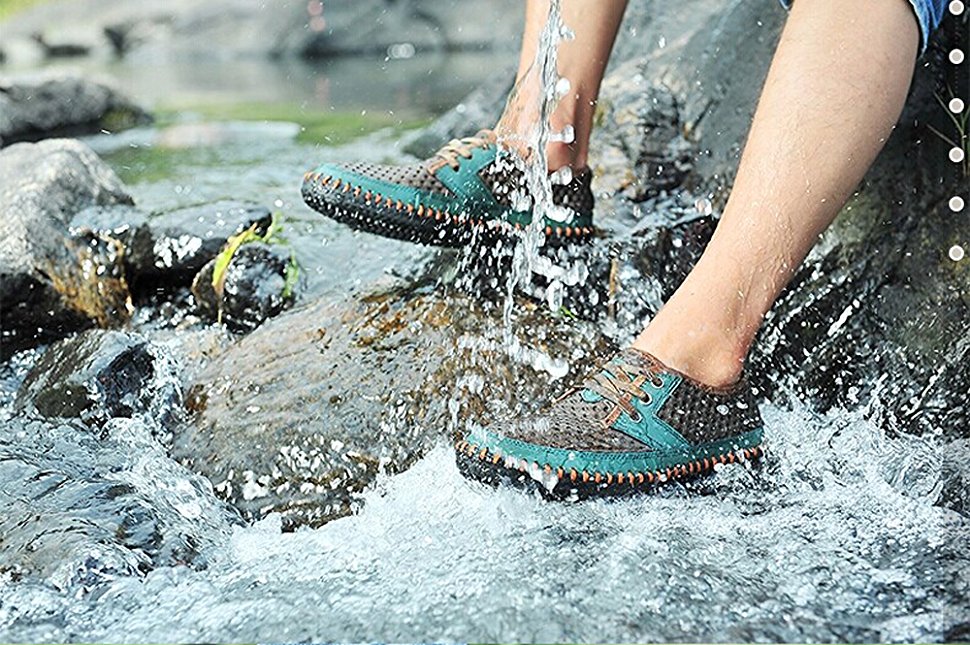 Alright, there's no ifs ands or buts about it. You won't find any better than the MOHEM Men's Poseidon Mesh Walking Shoes. These just might be our favorite men's travel shoes yet. These are the most comfortable sneakers on the market for summer and hot weather. Why you ask? Well, we'll tell you. Let's just say we can't recommend them highly enough. They are extremely lightweight and very minimalist. What more could a man ask for?
The Mohem Men's Poseidon Walking Shoes are durable, waterproof, and take up next to no room for packing. We'll definitely be getting a pair in black for some more formal nights. Heck, we're going to buy one in every color. Ranging from $19.99 – $35.99, these shoes are an absolute steal.
Brooks Men's Addiction Walking Shoes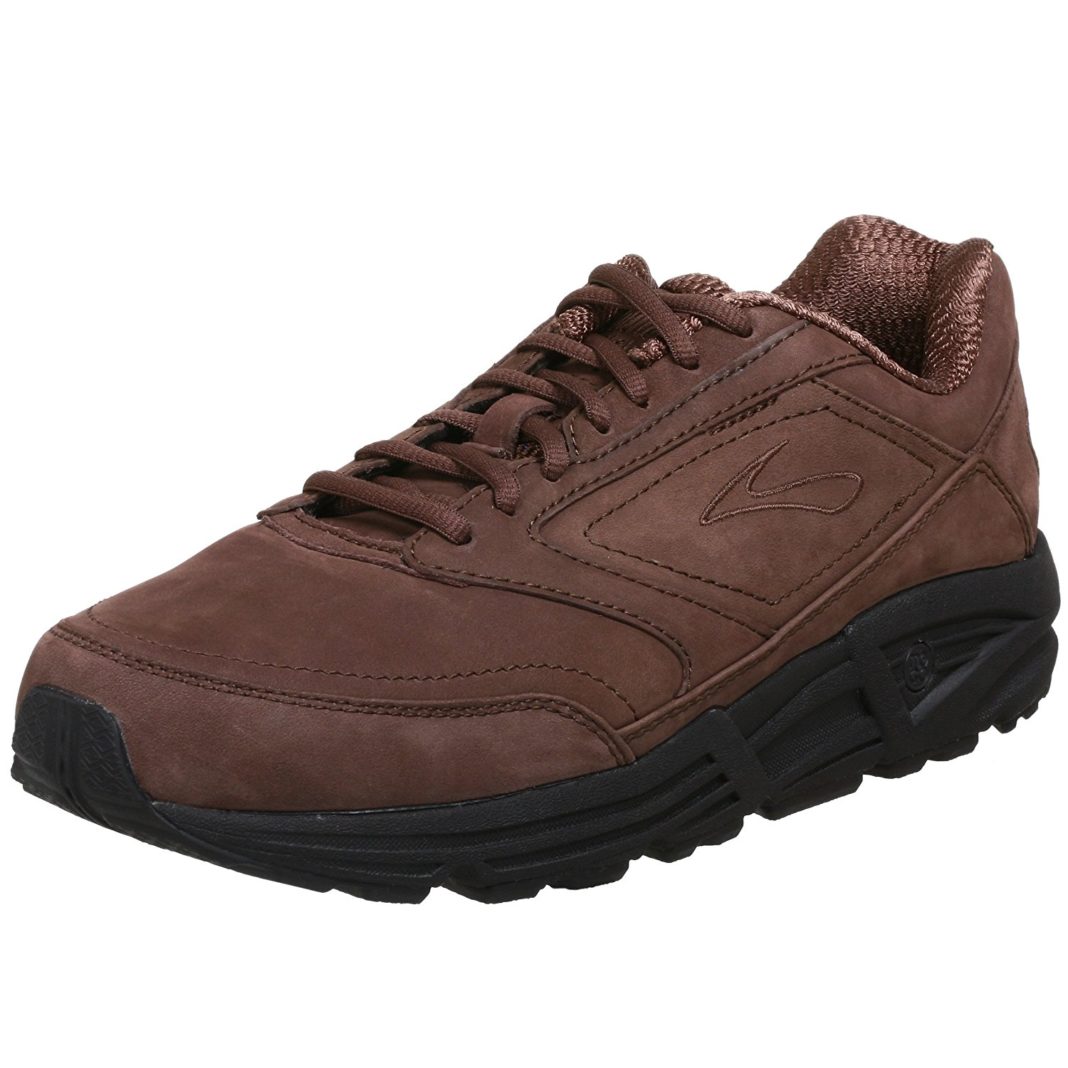 We're just going to go ahead and say it. There's a reason why these shoes are called "addiction." They're the most comfortable walking shoes you'll ever own. Besides the stylish design and comfortability, they're also very durable. So you don't have to worry about splurging on a pair of walking shoes and then dumping them after they tear from a month of use.
Just keep in mind that they do run a little on the narrow side, so keep this in mind when you're deciding on sizing and the fit. We also recommend waterproofing the shoes with spray, since the suede finish is easy to scuff or stain. Overall, they're a lot more comfortable than wearing traditional walking or running shoes. An added plus is they'll keep your feet a lot warmer in cold weather conditions too.
Dreamcity Men's Water Shoes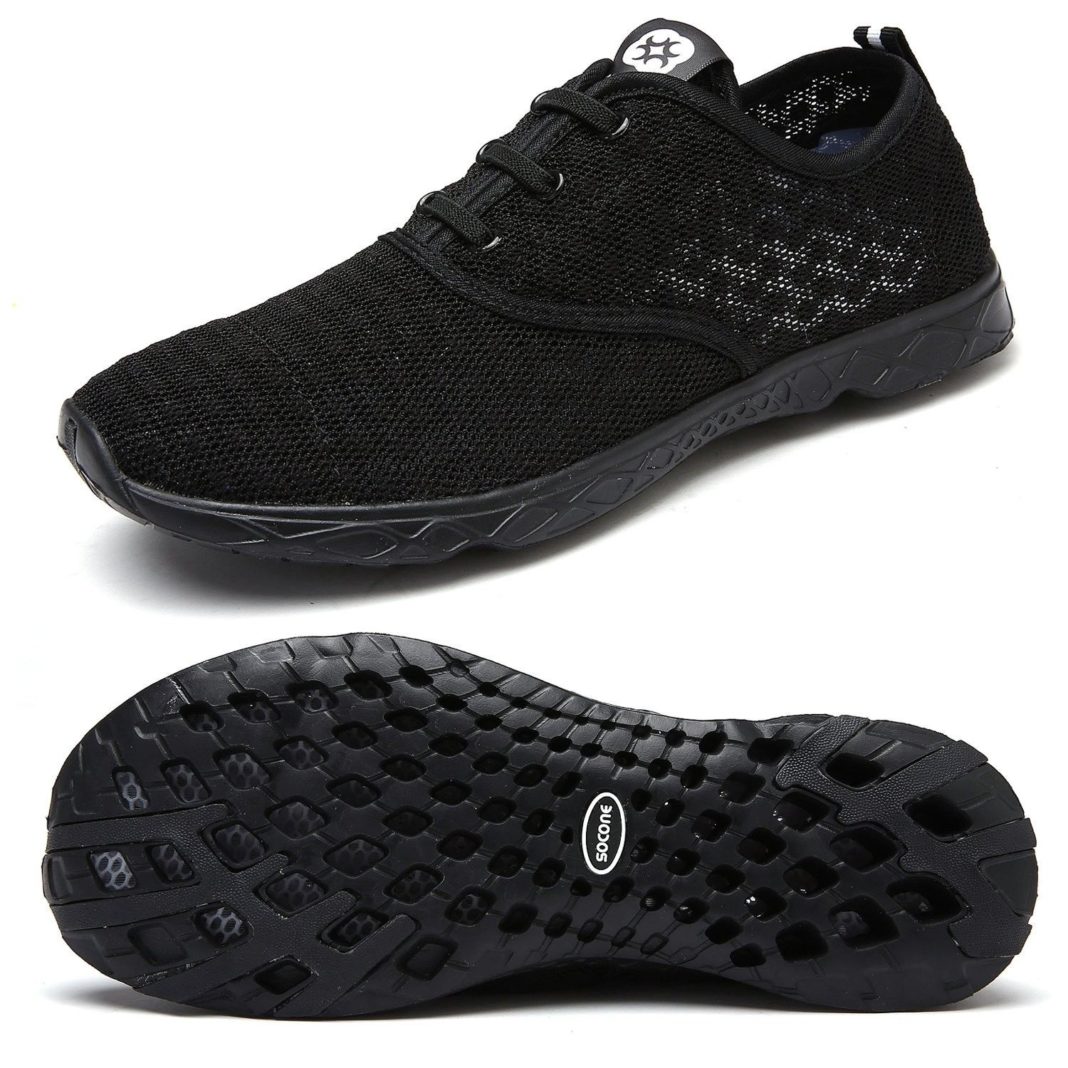 We can't say enough about the Dreamcity Men's Water Shoes. Not only are they comfortable to walk around in but they dry out very quickly. A well-designed light mesh fabric allows your feet to breathe and the Solyte midsole provides excellent bounce back and durability. Another thing we like is they're super easy to pack.
Here's a pro tip: You can take an extra pair since they don't take up that much luggage space. We say wear one and pack one. It does take a little bit of getting used to the mesh pattern underneath your feet but after all day of walking, you'll be happy your feet don't ache. Maybe it's just us but we swear it feels like you're getting a foot massage when you're walking. It really doesn't get any better than that.
Invest In A Great Pair of Travel Shoes for Your Next Adventure
When you're going through your list of must-haves for your next big trip, make sure you bring at least one pair of versatile sneakers. From the Nike Air Max 97 Ultra 17 LX to the Adidas Original Prophere Shoes and Men's MOHEM styles, there's truly something on our list for everyone (budget-friendly options included).
We hope our picks for comfortable travel sneakers will help you out when you pack for your next adventure. If you're interested in finding trendy sandals for other globetrotting adventures, click here. For chic luggage to match your new shoes, click here. Happy globetrotting!
Related Article: Most Comfortable Sneakers For Fashion-Conscious Travelers