The Loren at Pink Beach emphasizes tranquility and luxury in this new, modern hotel.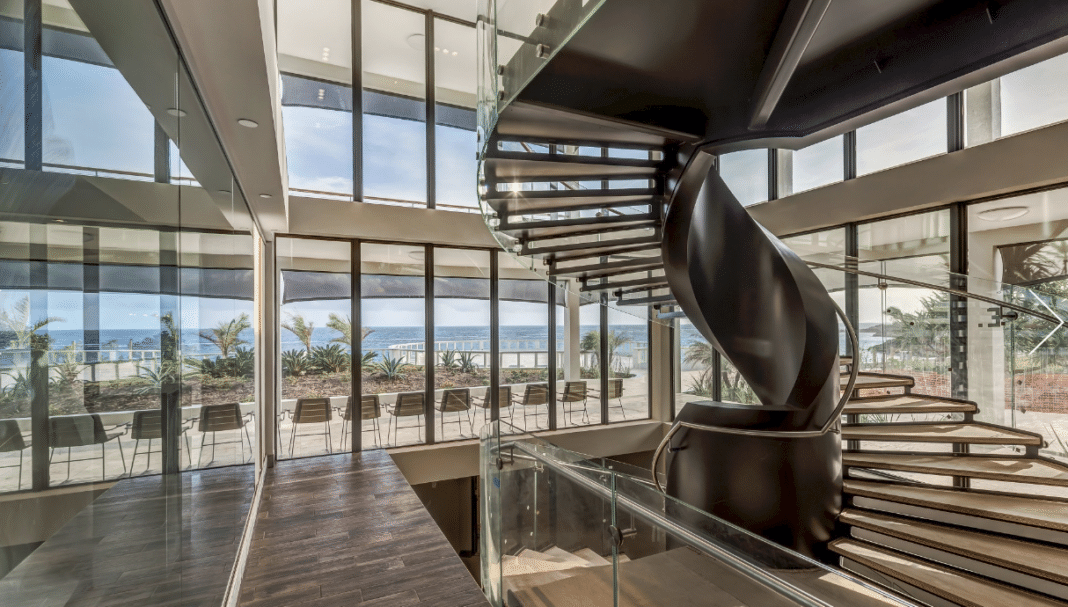 Credit: Loren
With its driftwood accents and architecturally impressive grand staircase, the Loren at Pink Beach is both tranquil and beautiful. The serene color scheme offers shades of grays and whites. These simply highlight the beauty of the cerulean waters and pink sands outside panoramic windows. European inspiration joins a sleek, modern look inside the lobby and dining areas. Inside any of the rooms, suites or villas, you'll find little luxurious details. This chic hotel had its grand opening in 2017. The architecture and decor push away from the sometimes tacky island, theme. Instead, you'll find clean lines, soft hues, and delicate accent of color.
The Loren presents 45 suites, all with spectacular, sweeping views of the ocean. Resting right on top of a cliff, the crystal waters and soft sands below offer the perfect spot to spend your island days. While you're not on the beach, you'll get to take in the beautiful sunsets and scenery of Bermuda. All this is possible through the balconies, the windows, or your dining table. The tranquil atmosphere both inside and out at the Loren at Pink Beach could be the vacation destination you've long desired.
Let's Talk Accommodations
Suites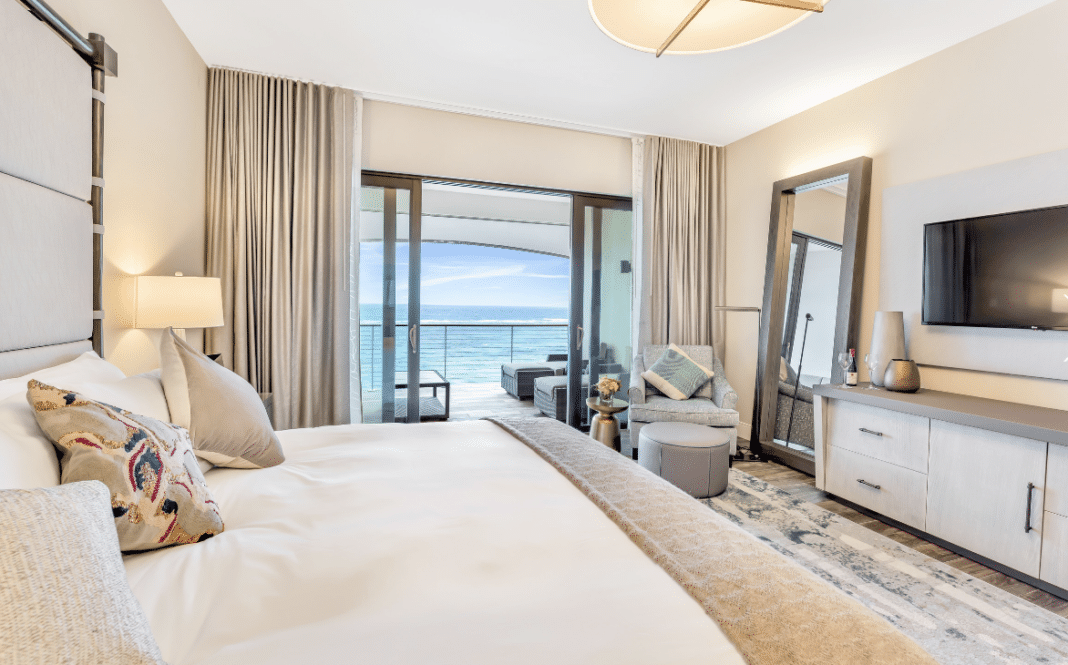 Credit: Loren
The King Suites, Junior Suites or Grand Suites are all fully equipped for a truly luxurious experience. The plush, pillow-top beds are plumped up with some fine linens, and you can cozy up in the bathrobes and slippers provided. Enjoy the premium bath essentials in your lovely bathroom. Relax in the soaking tub in your bathroom, complete with marble counters and double vanities. Flat-screen TVs, Bluetooth speakers, hairdryers, ironing boards, and complimentary shoe-shining proves that The Loren at Pink Beach is thorough in their services. The decor inside these suites at Loren Hotel in Pink Beach is modern and uncluttered, yet well-furnished. Lastly, these beautifully decorated suites feature a private terrace with ocean views.
The King Suite offers about 600 square feet of space, while the Junior Suite is 1,500 square feet with two bedrooms. The Grand Suite includes a living room and master bedroom. It also features two additional bedrooms, with a total measurement of over 2,000 square feet. Additionally, the two or three bedroom options for penthouses rest on top of the highest point. These offer two private balconies for taking in panoramic views of the Atlantic Ocean.
Villas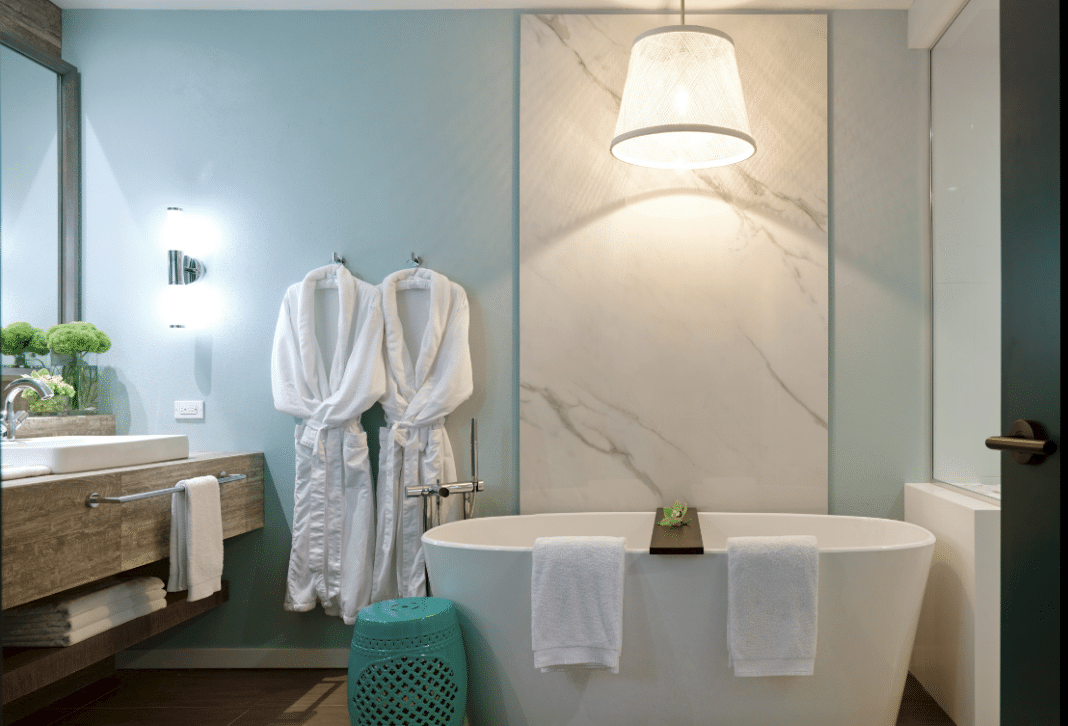 Credit: Loren
Both options within the Villas accommodations at Loren Hotel at Pink Beach offer the ultimate seclusion and luxury. You'll get to relax in a residence that's truly a home away from home. The Loren Hotel features seven Villa Residences. These spacious, standalone villas provide a great space for a vacation gathering with family and friends. In one of the Villa Residences, you'll enjoy over 3,500 square feet of beautifully decorated and well-furnished space. There are two levels, with three bedrooms and bathrooms plus a full kitchen, dining room and living room. Lastly, you'll get to enjoy your very own pool, deck and grill area.
For a spacious suite villa with expansive views and a private pool, you'll want to book one of the exclusive Villa Penthouses. These offer 2,000 square feet of luxury, with beautiful decor and furnishings to contribute to your complete relaxation. Your own terrace is over 300 square feet, and you'll get a chef's kitchen, dining room and living room. The modern and large bathroom features a separate powder room and rain spa walk-in shower. The plunge pool features a deck for sunbathing and a grill area.
Let's Talk Dining
Credit: Loren
The Loren at Pink Beach prides itself on the fantastic dining experience provided by the culinary team. Headed by Chef Tim Sullivan, the culinary team brings experience from New York. They seek to pull together fresh ingredients from trusted sources for the restaurants at The Loren at Pink Beach. Choose any setting to enjoy a well-prepared meal: from an elegant, comfortable yet open dining room, to a casual, poolside meal. 
Maree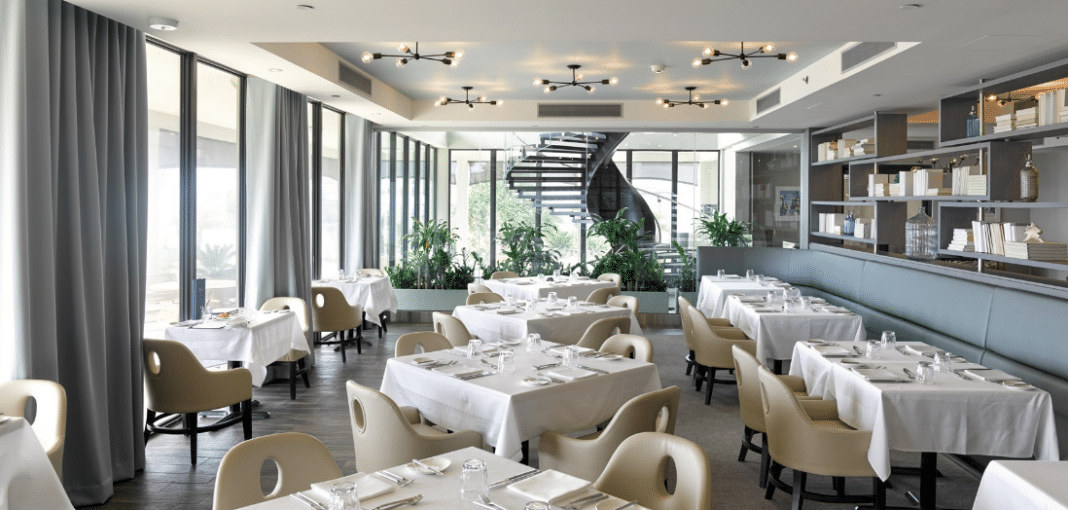 Credit: Loren
Maree offers a spectacular dining experience. The atmosphere, view, and food quality contribute to this lovely culinary event. Full-length windows and a cozy, yet modern interior draws your attention. The service attentively awaits to create a personalized experience for you. And of course, Chef Tim Sullivan works his wonders. The menu is a compilation of ingredients which are sourced locally or come from trusted partners in New England. In fact, you can see the list of their sources on the Maree menu. Seasonal cuisine comes from local farmers. The elegant dining room and beautiful views make your meals here a totally romantic experience. Maree's summer menu includes Loren Fish Chowder as a starter. Then try the Corn and Pepper Poussin Ballotine Whipped Potato, Chicken Demi-Glace as a first course. For dessert, try the Lemon Olive Oil Cake with Preserved Blueberry Jam, and candied pecans. 
The Pink Beach Club
Credit: Loren
The Pink Beach Club at the Loren offers a more casual atmosphere to enjoy some still-impressive culinary delicacies. As with most of your time at the Loren at Pink Beach, you'll get to enjoy the beautiful ocean views. The menu is seasonal, and offers some fresh items. Enjoy a two-course Sunday brunch plus dessert. Options include buttermilk waffles, the Loren omelet, a Poke bowl, or Cavatelli pasta with local mushrooms. You'll pay a cover charge, plus tip for this Sunday brunch. The summer menu includes a delicious assortment of salads, sandwiches and burgers for lunch, and the same for dinner. The dining deck is beautiful. Here, you'll find high-top tables and chairs on a patio where you can catch the breeze, and stay sheltered from the sun. 
Let's Talk Amenities
The Loren Spa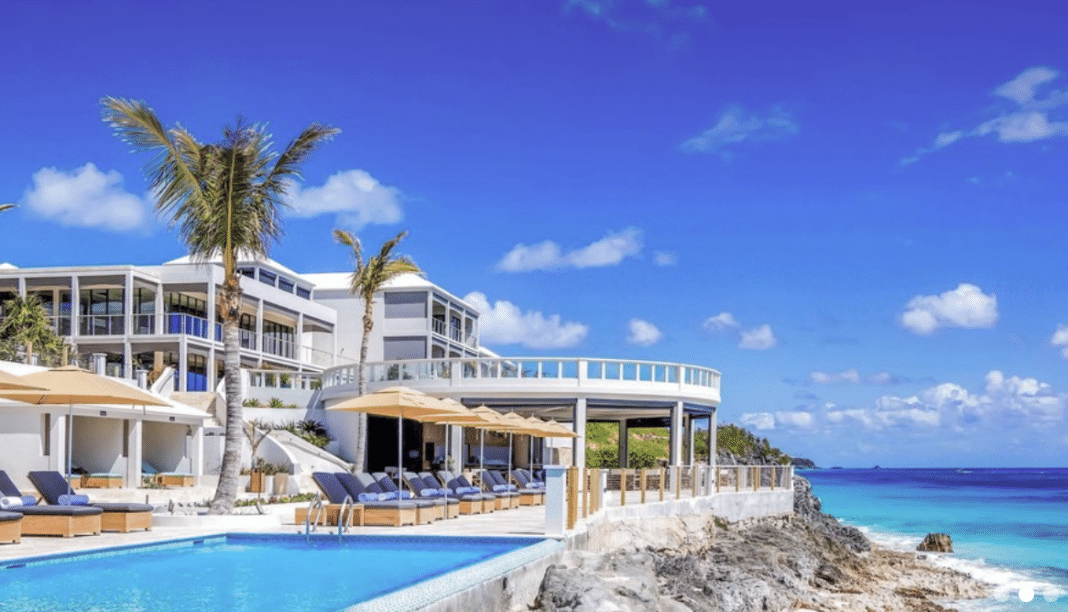 Credit: Loren
The spa at the Loren at Pink Beach promises relaxation and replenishment. With relaxation rooms, spectacular views, talented therapists, and a beautiful setting, it's easy to see how. Choose among many services on the Loren Spa menu. These include various massages, facials, full body therapies, manicures, pedicures and haircuts. Find more information about the Loren Spa here. 
Relax Outdoors by the Pool or on the Beach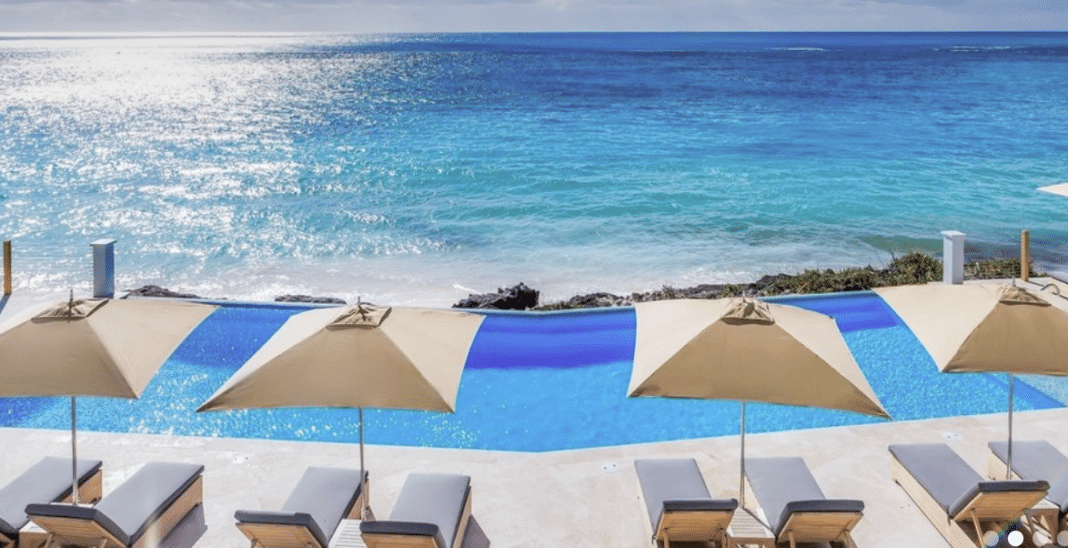 Credit: Loren
The Loren at Pink Beach rests upon eight acres of property, with beautiful landscaping and outdoor seating. Choose to spend your afternoon relaxing poolside, lounging under an umbrella. Gaze out across the blue waters of the Atlantic. Staff is attentive, and will readily bring you towels. Alternatively, you can head down to spend some time in the sand and light waves. The beach is a nice private sort of alcove, sectioned off by rocks. The Loren is perched right above you. The Loren's private beach has sand tinted pink from the crushed coral. Swim in the waters, and you'll likely get to see some neat marine life if you look underwater. The rocks and cliffs provide a neat backdrop for this beautiful section of beach.
What Other Travelers Are Saying About The Loren at Pink Beach
Even those who are well-traveled and experienced with luxury hotels find the Loren at Pink Beach to be impressive. Consistent comments note the friendliness and attentiveness of the staff. Guests find the staff ready to deliver personal attention and cater to specific needs. Additionally, travelers appreciate the little details that help the Loren at Pink Beach to surpass other hotels. These include the bath luxuries, plentiful and cozy towels and linens, and ease of check-in.
Due to the modern, European style of the decorations and architecture, guests find the whole atmosphere to be tranquil. The glass spiral staircase and indoor decor help to provide some sophisticated character. The hotel is new, as it was opened in 2016. In fact, it had been the newest hotel on the island in many years. Guests appreciate that it is close to the airport and easy to access other points on the island. Additionally, other guests at the Loren at Pink Beach find the pool and surrounding views of the pool area to be totally relaxing. 
Lastly, the pink sand beach and turquoise waters lure guests down to the private beach. These guests have enjoyed using goggles to see the marine life around the corner of the rocks. Despite some slow service in the restaurant, guests consistently leave raving reviews about the Loren.
The Loren Hotel at Pink Beach is Truly a Luxurious Destination in Bermuda
Credit: Loren
Its modern, sophisticated architecture sets this chic hotel apart from its brightly-colored island counterparts. Your stay in a suite or villa means that you'll have access to a little slice of heaven. Additionally, you'll get to enjoy delicious, multiple-course meals. Or, you can sip drinks and enjoy sandwiches poolside. Treat yourself to the Loren Spa. Spend some meal times at the Maree, where the cuisine is a delectable experience. Attentive service, plush rooms, and elegant gathering areas make the Loren Hotel a wonderful experience. You'll likely want to return, as many already desire. For your Bermudian getaway, the Loren at Pink Beach offers a romantic, tranquil vacation.
Related Article: ​10 Best Bermuda Hotels for 2018​​​