Escape
With the year's shortest month just right around the corner, February might just be the right time to take that long-awaited vacation. While most don't choose this month for a big vacation, that simply gives you the advantage. Imagine your favorite beach or resort, but without the stress of all the people. Imagine not having to wake up in the morning knowing that you'll have to face the bitter cold. Imagine waking up in the Southern Hemisphere where the sun doesn't stop shining and the sun's warm rays absorb into island waters. While all of these destinations may not be warm or happen to sit under the equator, here are our picks of the best places to travel in February.
1. Singapore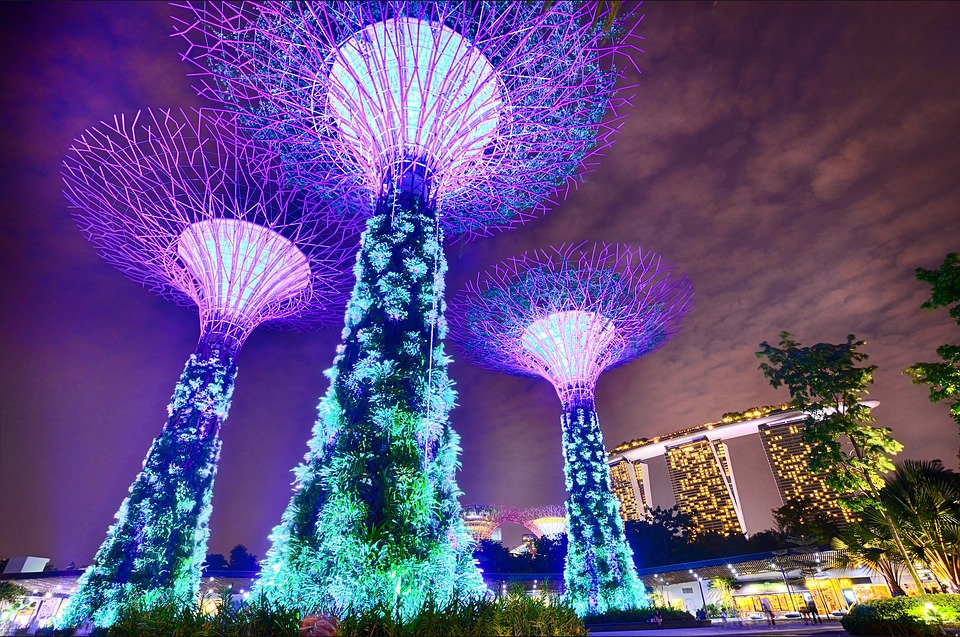 Is it a city? Is it a country? Well, it happens to both. With a population of almost 6 million in a radius of 278 square miles, Singapore is huge, yet tiny! Despite its size as a country, that doesn't hold it back from also being the third richest nation in the world (per capita). For example, when I passed through last December, the base-priced Uber I ordered that picked me up was a Porsche Panamera. Supercars on every block and endless streets of high-end shopping malls populate Southeast Asia's most affluent city. It also happens to be the cleanest in the world.
Aside from its glamor, February is the perfect time to visit this city-state as monsoon season has passed, and general tourist rates, such as accommodation, are more affordable. Singapore has an endless amount of things to do, ranging from its very own Universal Studios to its massive award winning Botanical Gardens. If you happen to be in town on February 16, one of the world's largest Chinese New Year celebrations is held here. You can expect to see the streets filled with lanterns, parades, and a plethora of shops selling delicious treats that will make you wish you lived in Asia. Singapore makes the top of the list it offers an insane amount of fun, culture, and experiences. You won't want to pass up Singapore as it is one of the best places to travel in February.
2. Kokopo, Papua New Guinea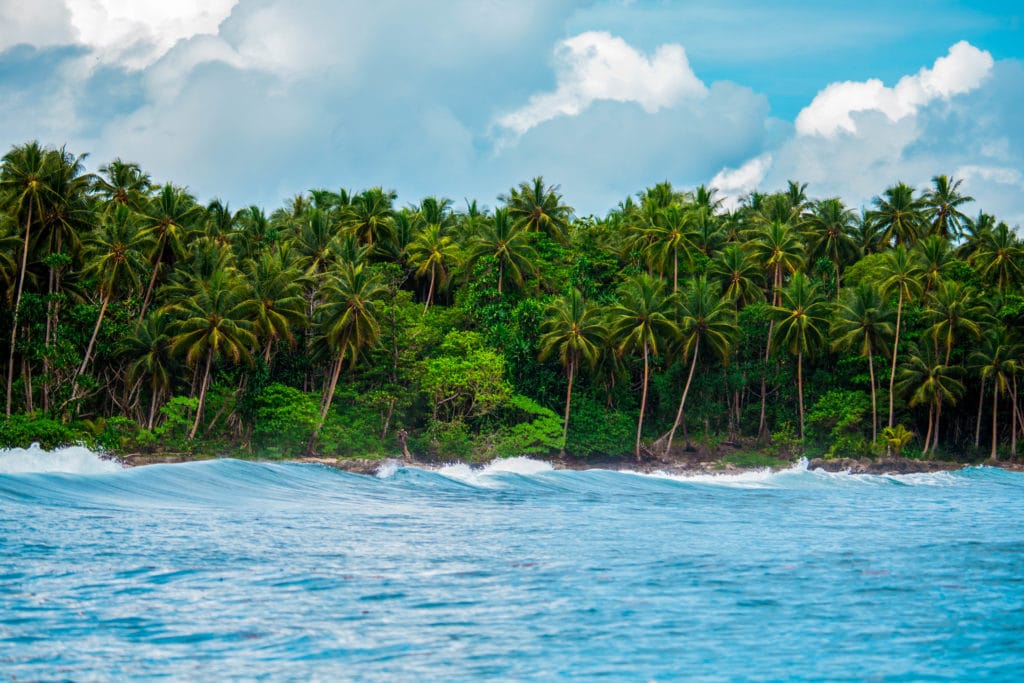 Credit: Micah Trostle
While many places look amazing in a magazine, but quite over-embellished in person, I can assure you that Kokopo is not the latter. While its mother city, Rabaul, was once dubbed, "Jewel of the Pacific", this volcanic island Paradise is for those who are in need of a tropical getaway. The town of Kokopo and Rabaul is growing in the tourism scene as its icon, Tavurvur, Papua New Guinea's most famous and active volcano, continues to bring travelers in. Don't worry though, as a volcanic observatory is present to warn of any eruptions. February makes one of the most ideal travel times to the islands as being right on the equator, it falls right in-between the cooler and warmer seasons.
Kokopo is also home to some of Papua New Guinea's most renowned resorts, ranging from luxury hotels to idyllic island bungalows. Just off the coast of the main island lies a slew of untouched islands that will make you wonder why you haven't heard more about Papua New Guinea. Adding to its unmatched island charm, Papua New Guineans are some of the nicest and most hospitable people that you could possibly find on earth. Whether you fancy climbing a volcano, exploring World War II bunkers, or even just an afternoon swim with dolphins in pristine turquoise waters, Kokopo's got it. For one of Papua New Guinea's best tropical island resort experiences, make sure to stay at Rapopo Plantation Resort, which offers the best accommodation and seafood in town.
Since you will have to fly through Papua New Guinea's capital to get to Kokopo, stay at the Sanctuary Hotel Resort & Spa.  This is one of my personal favorites as the facilities are one of the nicest in country, and will truly start off your expereince in Papua New Guinea well. While its tropical climate calls for the utmost adventure, consider Kokopo Papua New Guinea as one of the best places to travel in February.
3. Rio de Janeiro, Brazil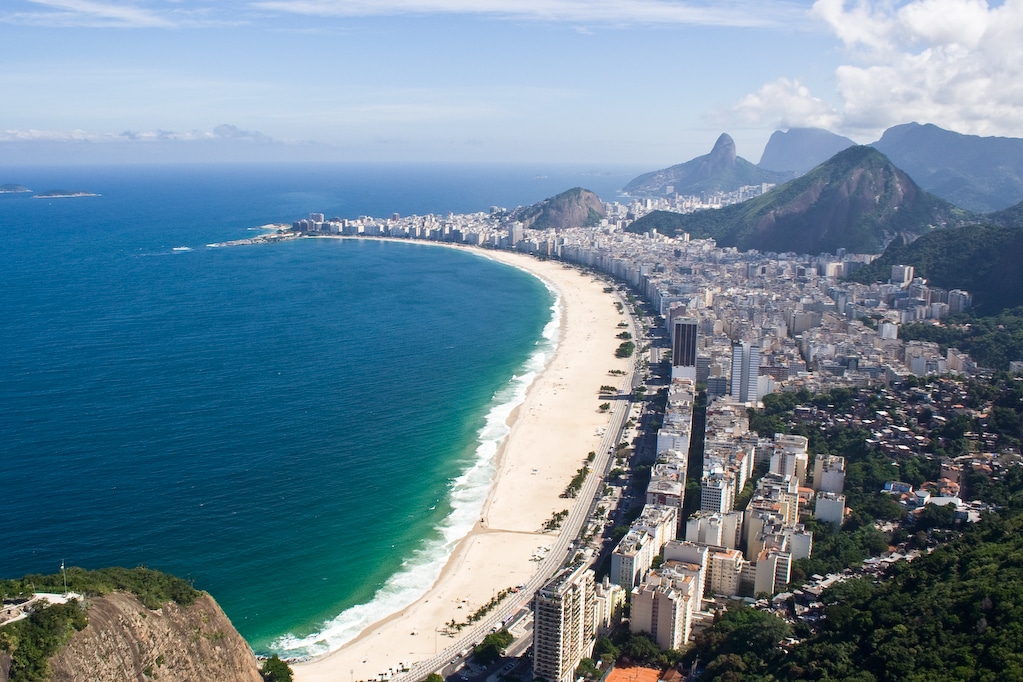 Credit: bisonlux / Flickr
Home to the world's largest Carnival celebrations, Rio de Janeiro is nothing short of a party. The hands-down best time to visit this cultural Mecca is next month, as Carnival takes place from Feb. 9 to 14. Being one of the best places to travel in February, the Carnival celebration takes place in Sambadrome, so you're bound to find a party wherever you end up. While its beaches stay sunny and warm all year round, you won't want to miss an opportunity to party in Samba's finest.
4. Baja California, Mexico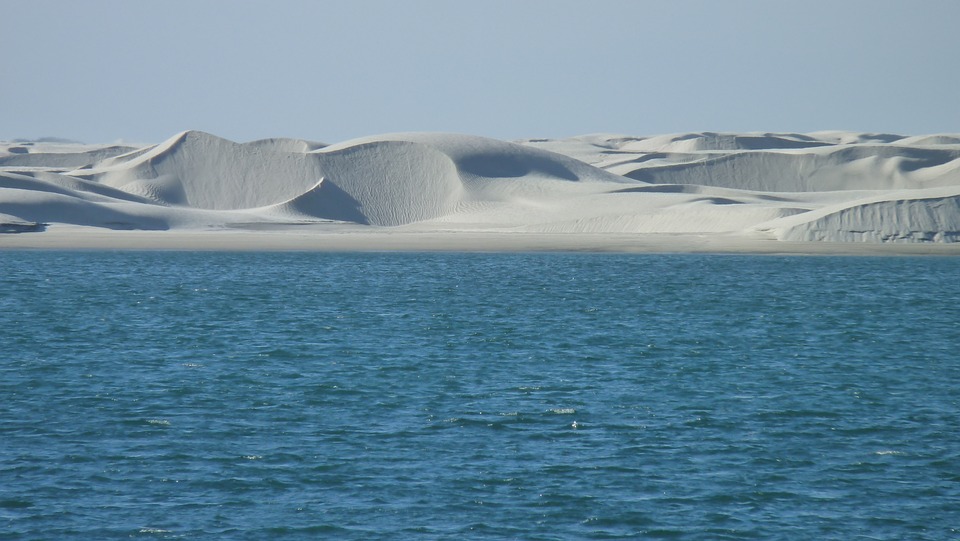 Known for much more than its off-road racing, the Baja offers a spectacular sight that you won't find many other places on the planet. Whale-watching brings tourists from all over to witness this fascinating feat. In February as the peak season, you can see anything from blue whales, orcas, Bryde's whales, humpback whales, to the friendly grey whales of the protected lagoons of San Ignacio. While access to the lagoons is limited by the government for the safety of the whales, you can still see them up close and personal. The friendly grey whales have proven to love human contact and will swim up to the boats where you can touch them. If whales and sunny beaches are your thing, you might just want to head out to the Baja to see just why it's one of the best places to travel in February.
5. P
​

​

yeongChang, South Korea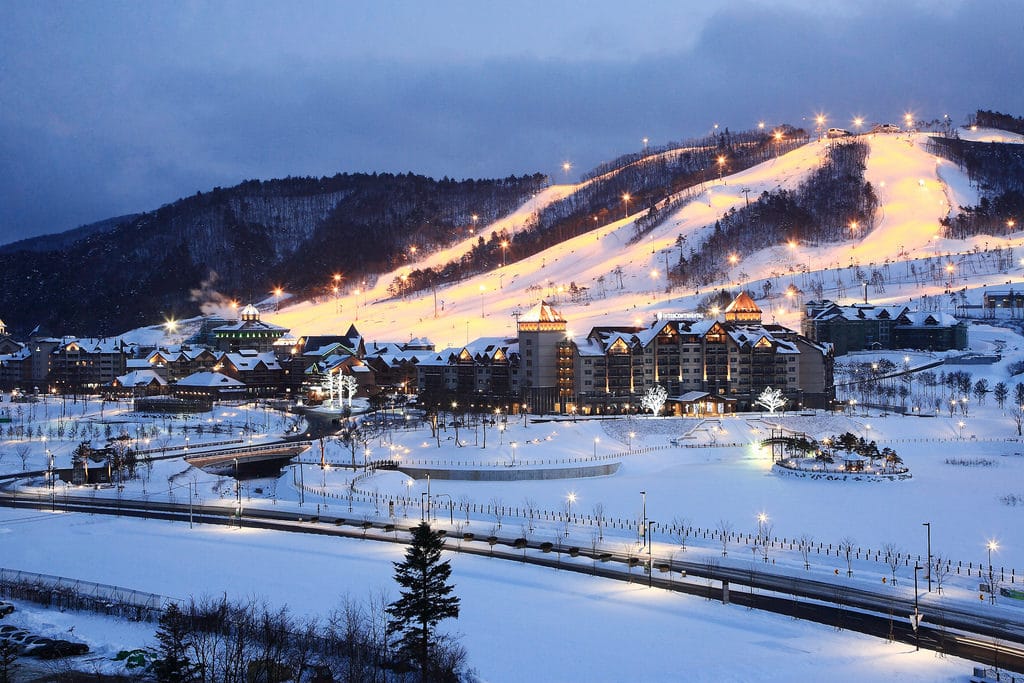 Credit: Republic of Korea / Flickr
While it may not make for a warm island getaway, PyeongChang brings a new flavor to the menu. Resurfacing in South Korea, the Winter Olympics will be held here from Feb. 9-25. Skiers, skaters, and everyone who loves sports and snow will visit this east coast hub to either witness or take part in Korea's first Olympic's since 1988. Sochi, a ski hub in the Taebaek Mountains, 80 miles away from Seoul, will host this exciting event. So if you don't mind braving the cold and wish to witness one of the greatest sporting events on earth, PyeongChang might just fit your niche.
6. Abisko, Sweden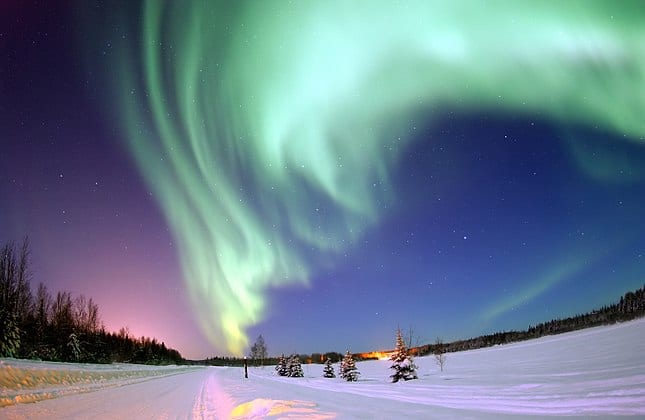 Another great destination for those who enjoy braving the cold is Abisko Sweden. In February, the dead of winter, Abisko appeals to those who are looking for a rather unconventional getaway. Its night temperatures are known to hit below zero, and the sun only shines for a few hours each day. To add to its unique list of winter features, Abisko is just about as far north that you can go in Europe. Possibly the most compelling reason to visit this icy Swedish town is for its breathtaking Northern Lights. Here you'll find yourself stargazing for hours on end. But the adventure doesn't end there as Abisko is home to national parks, hiking trails, and even an ice hotel! If the Northern Lights are your thing, and you don't mind the cold, Abisko might just make for the perfect expedition.
7. Willemstad, Curaçao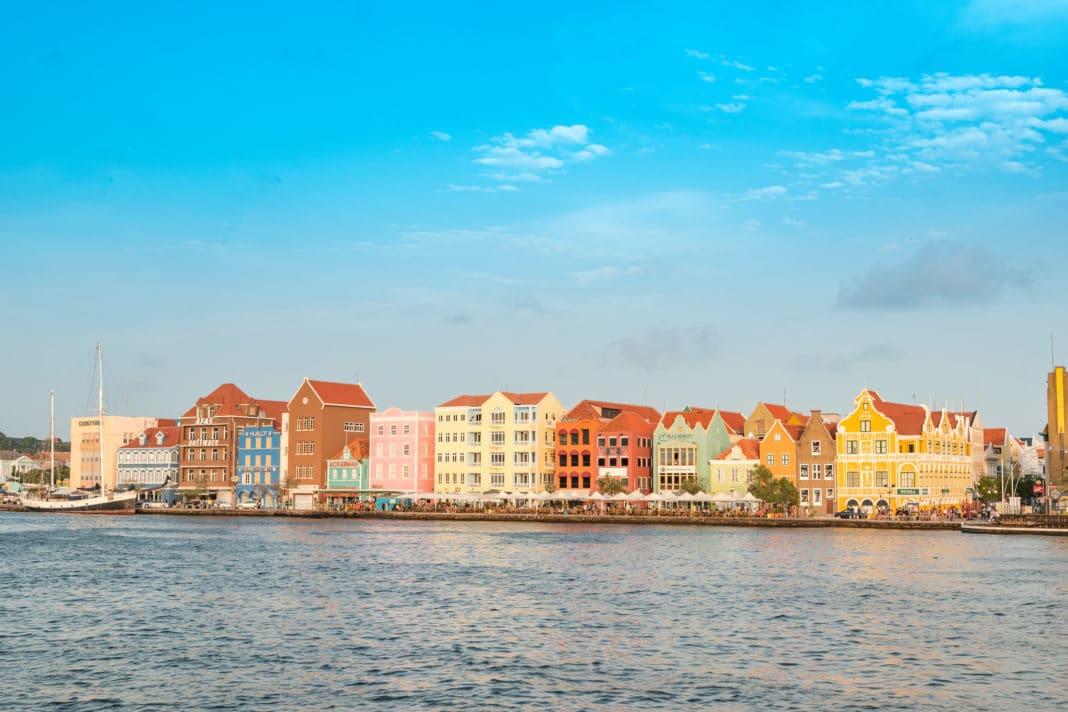 Credit: dronepicr / Flickr
Off the coast of Venezuela lies a Dutch-Caribbean Island that you've likely never heard of. Curaçao is a hybrid between a Dutch City and tropical paradise, as its architecture and vibe are that of Dutch influence, but its location says otherwise. It's capital city, Willemstad, was established as a trading settlement in 1634. The City boasts a vibrant cultural scene, with its restaurants, bars, canals, and even a floating market. Being one of the most affordable Caribbean destinations, Willemstad, Curaçao makes for an excellent getaway to escape for those looking to escape the dull February weather.
8. Sicily, Italy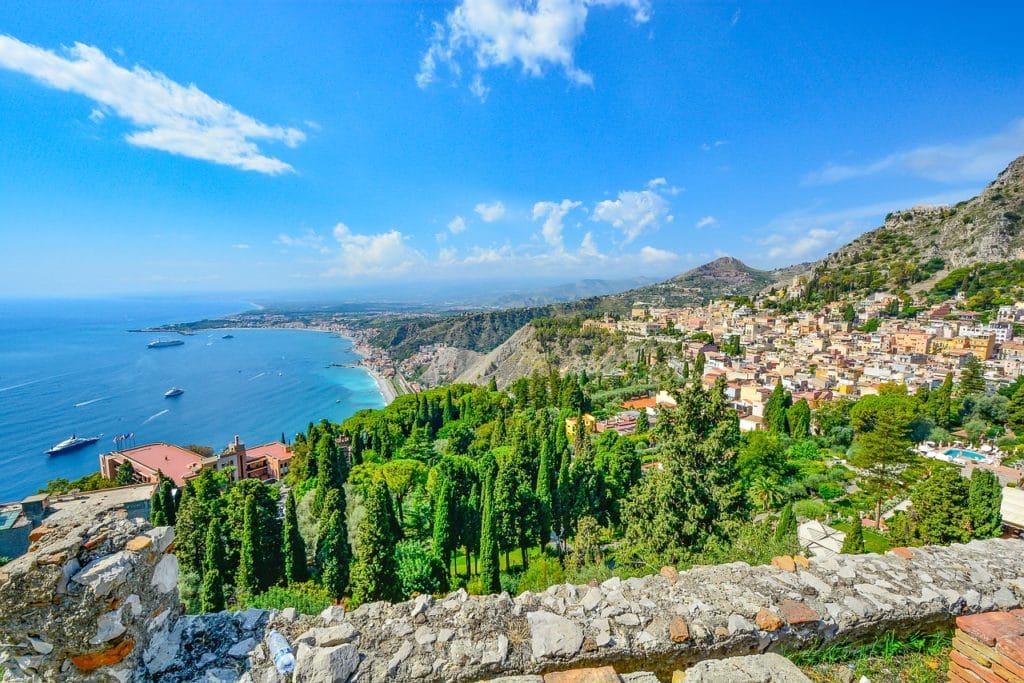 Known for its candy-sweet oranges and mouth-puckering lemons which bloom in February, Sicily is a lush land with fun opportunities. While it certainly isn't like its canal packed sister city of Venice, Sicily offers a more laid-back vibe to the vacation scene. One of its premier landmarks is its 43,000 square foot spa at the Verdura Resort which lies between green meadows and olive vineyards. If you stick around, you might be able to attend the local Almond Blossom Festival and the Carnival of Sciacca, the oldest festival in Sicily. If you're out for a more high-end yet laid-back getaway, Sicily might be the right option for you.
9. Cape Town, South Africa
Where the mountains kiss the sea, Cape Town, South Africa is a land truly of its own. With various wildlife, excellent surf, and sugar white beaches fit for sunbathing, Cape Town has something for everyone. February is a popular time for travelers looking to visit the South African paradise, as the wine farms harvest throughout the month. Boulders Beach is a popular spot for those who love wildlife and more specifically and African penguin colony. Cape Town certainly is one of the best places to travel in February and the proof is in the pudding.
The BEST Places to Travel in February.
With the sky as the limit of all the places you could go on a getaway, these best places to travel in February will certainly top them all. Each of them offers something special and unique to the month, so don't wait until your time is too late to plan your dream trip!
Decided on a favorite destination? Let me know in the comments below!
Related Article: Best Winter Coats for Women (Plus How to Choose Yours) – trekbible