If you're looking for a pair of comfortable mesh sneakers, Tiosebon has you covered.
You've probably noticed we've included a short description of these lovely mesh sneakers in several of our travel shoe reviews lately. Now, we've decided to give them a spotlight of their own. We can't believe what great quality these are for the price. The Tiosebon women's casual mesh walking shoes are a complete steal!
About the Brand
Tiosebon pursues the simple and natural. Their shoes reflect nothing less. We particularly love the fashionable look and environmentally-friendly appeal of their designs. The mesh sneakers offer a natural and convenient slip-on design with a thick sole for shock absorption in every step. Rubber soles keep you grounded wherever you roam. They're perfect for human body engineering.
Good Selection, Great Prices
All in all, despite the budget prices, Tiosebon offers a good selection of good material and breathable, lightweight, and comfortable shoes. They are also great shoes to aid in the effort for weight loss, toning, posture correcting, and muscle sculpting.
Tiosebon Women's Casual Mesh Walking Sneakers Features & Benefits
Let your feet breathe easy in the latest iteration of upper fabric. Tiosebon has created a simple, natural, comfortable, environmental shoe. The Perfect accord with human body engineering, these casual mesh walking shoes sport a green, healthy concept design.
Great Budget Deal
This is an amazing budget deal. Even at first glance, you can tell a stretchy upper fabric makes the Tioesbon a very comfortable shoe. They're sleek and sophisticated-looking too. Since they don't have a zipper, you might need a finger to slide them on. You might even need to go up a half a size. This is a wonderful shoe and at only $19.99 – $29.99, you can't beat the price.
Wear Them Anywhere
We would wear these anywhere on vacation. While this breathable fabric isn't a good pick for a cold winter, they'll be amazing for spring through fall travels. The only downer about them is that they won't be as sturdy as top-notch brands. Make sure to wear some good thick socks with them too.
Breathable Running Shoes – Five Color Choices
The mesh walking shoes by Tiosebon features a mesh upper, elastic topline, pigskin insole, and MD outsole. They're lightweight and comfortable. You can easily style them with capris, cropped jeans, skinny jeans, a jean skirt, or a sundress. Let's be honest. They look adorable with just about anything.
Soft Shoes Mouth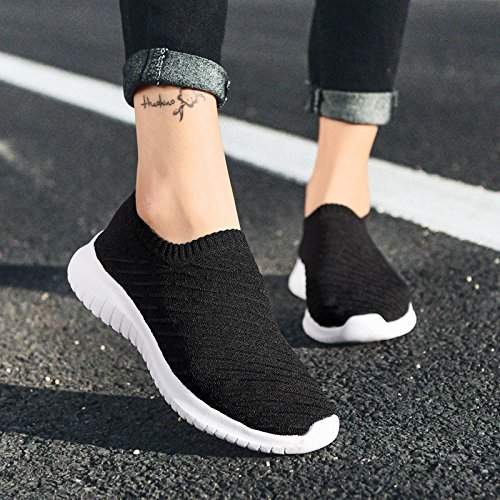 These slip-on fashion sneakers feature an elastic topline for easy wear. Slide them on or off with ease. They're great for when you want to look pulled together on the go. Style them with tailored jeans and a cute cargo jacket for a look that seems nothing short of effortless. The soft shoe mouth is great for fit fashion and doesn't grind against your feet when you walk.
Flyknit Material
Flyknit material makes for comfortable, breathable wear. Let's face it. When you're roaming the streets of Italy in the heat of the summer, you're going to want breathable moisture-wicking shoes. A breathable and durable air mesh upper allows the foot to breathe easily and dry quickly.
Pigskin Damping Latex Insole
The classic pigskin latex insole adds ultimate comfort. The lining is breathable and a latex arch insert is added for extra support. In addition, the ComforDry sockliner provides the optimum cushioning experience for a cooler, drier shoe and a healthier shoe environment.
Outsoles
One of the best features of the Tiosebon women's casual mesh sneakers are the outsoles. The solyte midsole provides an exceptionally lightweight fit with excellent bounce back and durability.
What Travelers Are Saying About the Tiosebon Women's Casual Mesh Walking Sneakers
The Tiosebon mesh sneakers are incredibly comfortable. Travelers praise the easy slip-on style. They're very comfortable and great walking shoes. These would be the perfect sneakers to slip on for a bar hopping and foodie excursion around Chicago. The shoe's knit upper does feel very sock-like which does take some getting used to. But this means you probably won't have any blistering or rubbing anywhere.
Pro Tip:
We don't know about you but that sounds like a good deal to us. You won't have to break these shoes in. Some reviewers say they are even good enough to wear without socks. Last but not least, order up a half size. Reviewers said these shoes tend to run a little bit small.
Other Comfortable Sneakers That Are Perfect for Traveling
While the Tiosebon mesh sneakers certainly are a steal for their price, we understand if you want to shop around a little longer. Investing in a good pair of travel shoes is an important part of any trip. You want to make sure you are safe and comfortable. These shoes are a steal for the price and for short trips.
Pro Tip:
But if you're going to be walking around in these while backpacking for a month or so, you might want to splurge a little and invest in something more durable. We've also included some cheap options for fashion's sake. Check out our suggestions below for comfortable sneakers for traveling.
Superga Women's 2750 Cotu Sneaker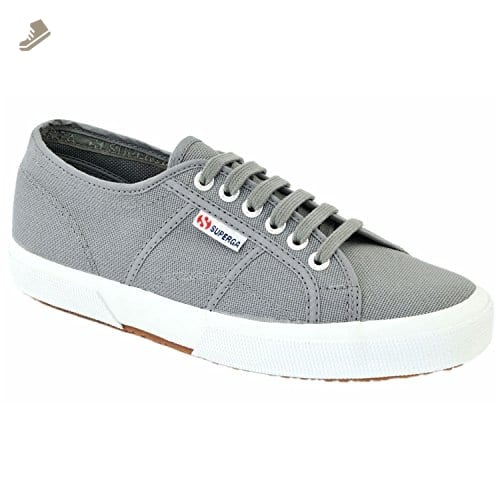 Are you looking for affordable, comfortable sneakers for everyday wear? If so, consider the Superga Women's 2750 Cotu Sneaker. This Cotu sneaker brings together style and practical function in a myriad of colors and patterns. The lovely pair features a textured rubber sole, cotton and leather upper construction, and logo eyelets. These are perfect for day trips or throwing together a cute outfit for a meal out.
Adidas Original Prophere Shoes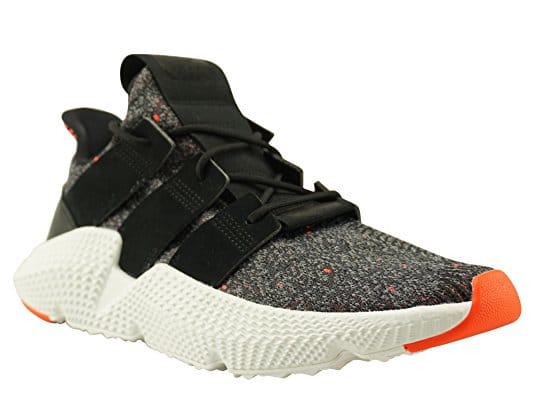 Here's a heads up. These shoes are more durable than the Superga 2750 Cotu sneaker and the Tiosebon mesh sneakers. Obviously, that means they're a bit pricier too. While they're not the most comfortable sneakers on the planet for fitness, they are great for style and do the job if you're walking around the city and exploring for the day.
What We Love About Them
We particularly love pairing them with a pair of tailored jeans, a t-shirt, and long coat for the European athleisure look. The price isn't too steep and Adidas is another top-name brand you can rely on for quality. The shoes feature a comfortable OrthoLite sock liner, a knit upper fabric that adapts to the shape of your foot and ankle, and a durable rubber outsole.
Nike Air Max 97 Ultra LX
We've talked about the Nike 97 Ultra before but it's worth another mention. When you compare this new model to the classic one, you can see a few notable differences. The Ultra is much more lightweight and durable, using synthetic materials for the upper. In addition, it also features reduced volume in the midsole, putting your feet a lot closer to the ground. The upper body of the Nike Air Max 97 Ultra LX is made from a jacquard fabric. An interlaced solid pattern makes the shoe very durable.
The following features make this shoe a great fit:
Hidden lacing system offering a secure fit

Slip-on feel with pull tabs located on the tongue and heel

Removable insole for additional cushioning

check

Visible Air Bladder insole which helps to cushion the impact

check

Air unit patented cushioning technology; shock absorbing

check

Minimalist and lightweight
Adidas X Stella McCartney X Parley Ultraboost X Women's Shoes
Credit: Stella McCartney
Do you want the best of both worlds? Fashion and quality don't always come easily when you're talking travel shoes. Seeing that these shoes have both Adidas and Stella McCartney in the title, you know they're not going to be cheap. But in this case, you get exactly what you pay for – stellar style and quality.
Fashion and Quality
These are great fashionable shoes. You'll fit in perfectly as you stroll through the streets of Europe. You're going to walk anywhere and everywhere in these sneakers. They look and feel that good. You've got arch support, cushioning, and shock absorption. We also particularly love the eco-friendly design; these shoes are made from recycled yarn sourced from Parley Ocean Plastic.
Something to Consider When Buying A Good Pair of Travel Sneakers
Versatility matters too. Make sure you pick at least one pair of sneakers that could be dressed up or down as needed. Before you settle down on your purchase for the most comfortable sneakers, there are a few questions you should ask yourself. Are you going for more comfort or style? How much are you able to spend? Do you have any favorite brands? What qualities are you unable to live without?
Make Sure to Purchase the Most Comfortable Sneakers for Your Travels
Budget and comfort matter in travel. A lot. Make sure to consider both when picking the best sneakers for your travels. We hope this article helped to narrow down your selection as you go to choose a good pair of travel sneakers for your next big trip. We made sure to include both budget and higher-end shoes to choose from, so you would have a good selection.
If you have any questions or comments for us, please feel free to leave us a message below. We love hearing from you!
Related Article: Most Comfortable Sneakers For Fashion-Conscious Travelers