Enjoy fresh air without the bugs in the Coleman Evanston Screened 8 Tent.
The Coleman Evanston Screened 8 Tent is perfect for families. With a simple setup and easy carrying, it's perfect for car camping and long camping trips. Did you know the tent even comes with a fully screened porch? If it rains, you can count on it to hold up under the weather. Insta-Clip Pole attachments have equipped it to stand up to high wind and adverse conditions.
The WeatherTec patented floors and inverted seams keep the interior nice and dry. Snag-free pole sleeves are easy to use. All in all, they reduce the setup time to just fifteen minutes. For a tent this size, that is amazing. Inside, the space measures fifteen feet by twelve feet. This is large enough to fit two queen size air mattresses. Before you get ready to turn in, make sure you attach the rain fly for protection. If you're sure it's going to be a dry night, the mesh room offers some pretty amazing views for stargazing.
Coleman Evanston Screened 8 Tent Features & Benefits
WeatherTec System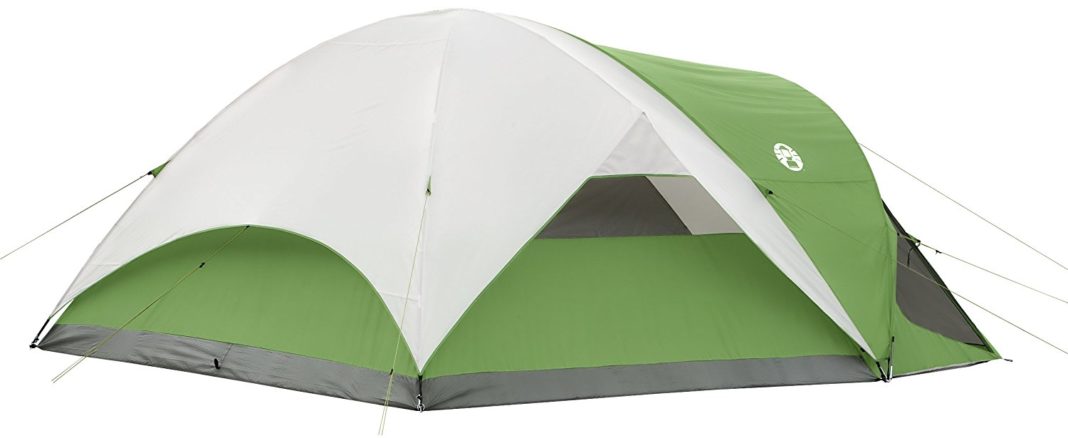 Staying dry can make or break a camping trip. Luckily, the Coleman Evanston Screened 8 Tent is equipped with a great WeatherTec System. What does this entail? Well for starters, patented welded floors ensure that even if it's pouring outside, no water will leak in through the tent. With this said, we still always recommend laying down a tarp before you set up your tent. Second, the inverted seams are made to keep you dry. For extra coverage, the tent also comes with a durable rain fly, sure to hold up in stormy conditions. Just make sure your stakes are driven well into the ground.
Spacious Interior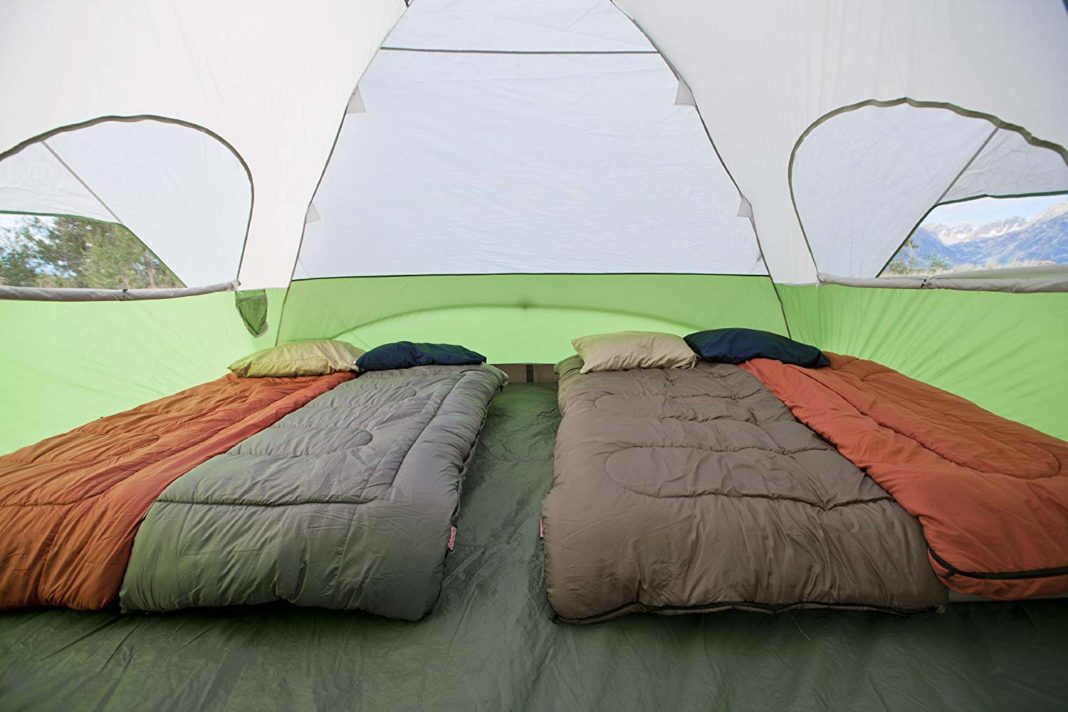 Measuring one hundred eighty square feet with a six-foot center height, the Coleman Evanston Screened 8 Tent offers a spacious interior. If you truly want to stretch the capacity of this tent to fit eight people, you should leave your gear outside or in your car. However, if you fit six people inside, you can easily store your gear in the tent as well. It's spacious enough to fit two queen sized mattresses inside. In addition, the fully screened porch offers a fun place to relax and maybe even nap under the stars. When it comes to breathability, the screened windows offer ventilation without letting bugs inside. It's a win-win situation.
Mesh Windows for Good Ventilation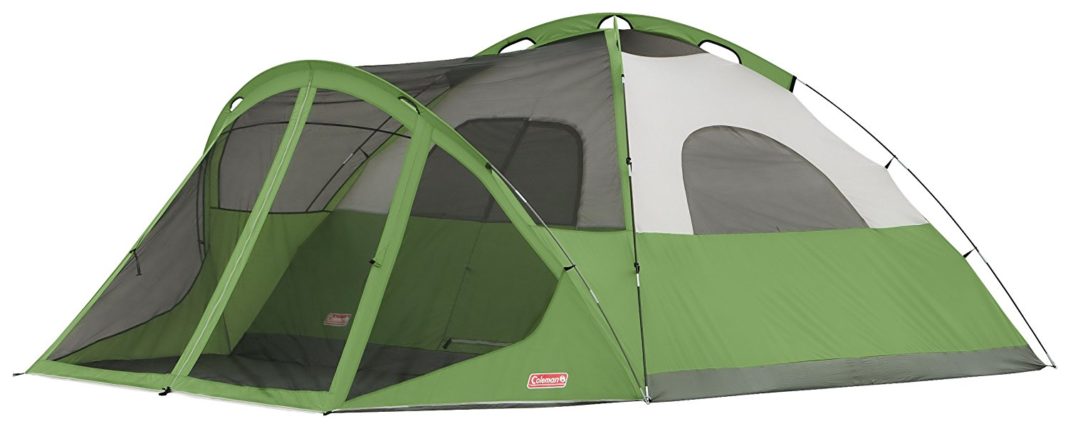 Two large no-see-um mesh windows provide optimal airflow without letting insects in. The mesh roof provides additional airflow and a beautiful view of the stars overhead. If it rains, you can use the rain fly to cover the ceiling but you won't have to worry about closing up the windows. Extended awnings let you keep them open whenever you'd like without letting in any rain.
What Travelers Are Saying About the Coleman Evanston Screened 8 Tent
Coleman continues to impress us with their affordable outdoor equipment. There's always a fine line between cost and reliability with products, and when you're in the wilderness you don't want to be left out in the cold. Travelers have come to depend on Coleman products for this reason. A good rule of thumb when buying a tent is to look at the number of people it says it's for, and subtract by 2. Many travelers chose this one simply for the "porch" feature, which we'll expand on below.
When it comes to set up, the Coleman Evanston Screened 8 Tent is as easy as any tent. Do yourself a favor and mark with colored tape the tent poles so at a glance you'll know which ones are which next time you set up. It can be set up by one person if necessary, but two people is optimal for ease of use. Clean up and tear down is a little bit trickier because of the ridge pole holding the porch section. Use a towel or shirt to brush away the debris that inevitably tracks in.
Travelers loved the large porch area. After all, the usefulness here is two-fold. It served to keep some items away from the elements and to trap the dirt from entering the tent. The biggest problem is that the rain fly doesn't cover the mesh covering, so heavy rain will get in if you don't use your rainfly. Overall, we would highly recommend this tent for those seeking a relaxed and enjoyable experience.
In short, here's what we like: It sets up quickly, tears down just as fast, and you can still get everything back in the carrying bag it came with without giving yourself a backache from overexerting. With the rainfly off, you get good ventilation for those hot summer nights. It's roomy. We love using the screen porch as an entry to kick shoes off in. That greatly minimizes the amount of sand and dirt that ends up inside the tent itself and therefore inside my sleeping bag. The price. For $130, you can't go wrong.
Tech Specs:
Polyester fabric

Spacious 8-person tent

Easy setup

check

WeatherTec patented floors

check

Porch screen

check

Good ventilation
Alternative Car Camping Tents You May Like
Hui LingYang Outdoor Instant 4-Person Pop Up Dome Tent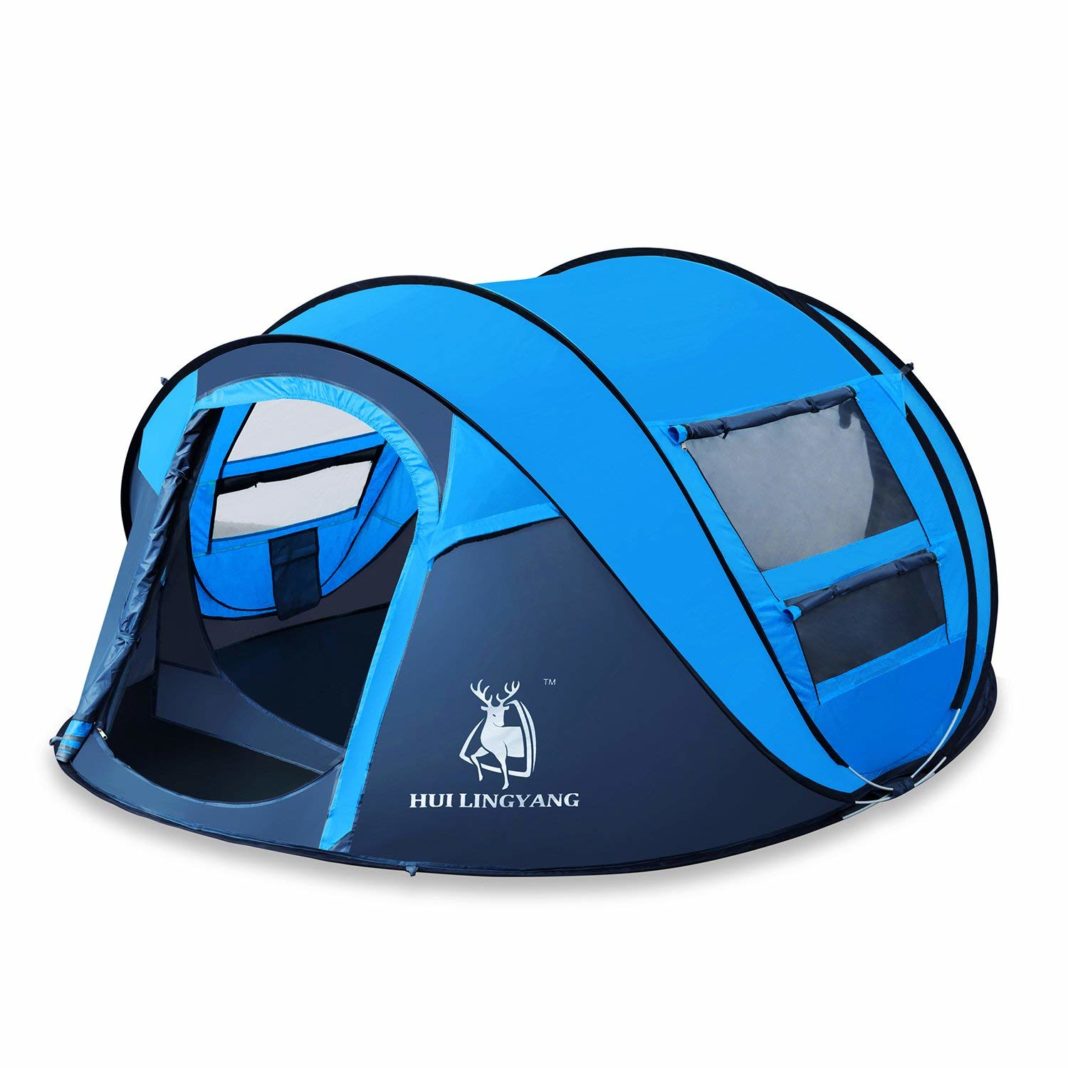 Are you looking to get a cheap pop-up tent for under a hundred dollars? If so, then the Hui LingYang Outdoor Instant 4-Person Pop Up Dome Tent is a great option. It has enough room to accommodate up to four people comfortably and sets up instantly. While it's by no means an all-weather or all-season tent, it is good for fair weather camping. Whatever you want to use it for, it will hold up well.
Tech Specs:
Instant, free-standing tent

Mesh windows

Double doors

check

Can fit up to 4 people

check

Quality construction

check

Multi-purpose
Winterial 2 Person Instant Pop Up Tent
This pop-up tent by Winterial fits two people comfortably. Measuring 90 inches by 50 inches by 42 inches, you would have enough room for a full mattress if you wanted. It folds down into a small bag, weighing about five pounds. This makes it very easy to take it anywhere and set up anywhere you would like to. Composed of durable polyester fabric, you can bring it to the beach, backyard, or wherever you want. It comes fully equipped with two mesh windows and a door for ventilation. Stakes are included. If you're looking for a smaller, dynamic tent, this is a good choice.
Tech Specs:
Instant tent pop-up

Can fit two sleeping bags

2 windows and 1 large door

check

Portable (carrying bag included)

check

Durable polyester fabric
Kodiak Canvas Flex-Bow Deluxe 8-Person Tent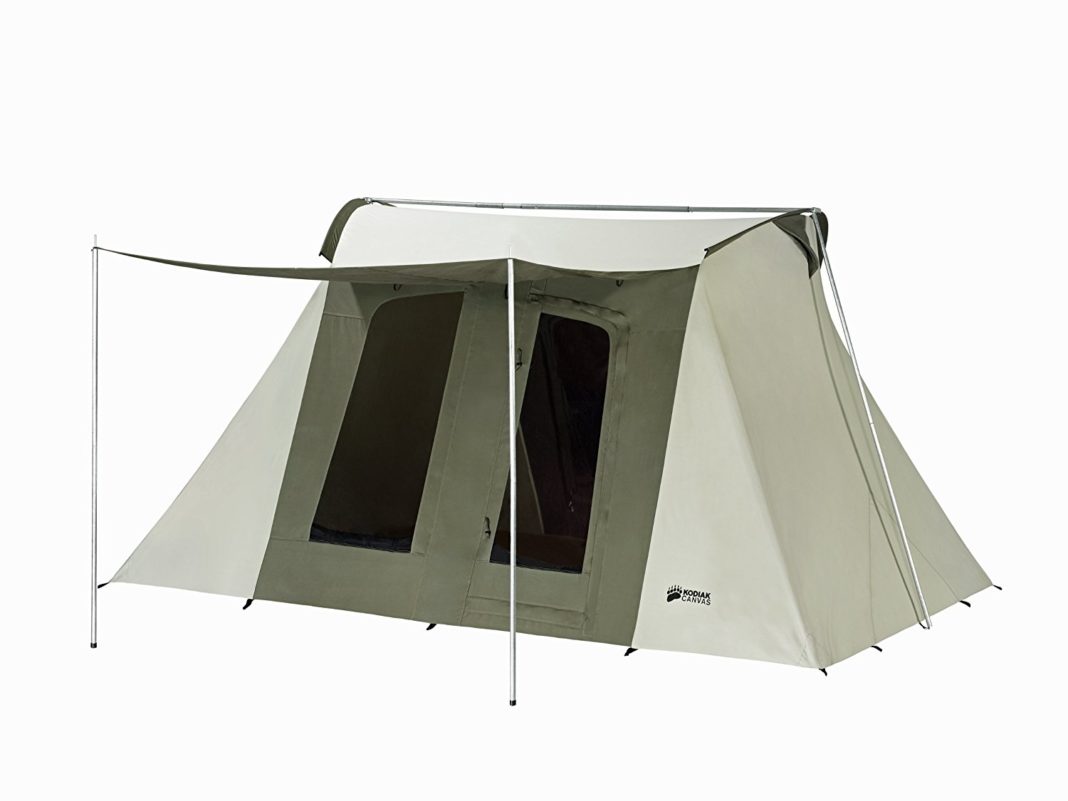 Are you going camping at the beach or the desert? The Kodiak Canvas Flex-Bow Deluxe 8-Person Tent can hold up under fierce winds. The floor offers a heavy-duty, tear-free vinyl that will keep water out. We appreciate that despite its heavy frame, the setup only takes a few minutes from when you've staked it out. High walls and a 6'6" ceiling provides plenty of room for you to walk around inside with ease.
When it comes to camping, comfort is king. First and foremost, let's talk about the windows. With four windows and two air vents, you will enjoy ample air flow. And let's be honest, if you're sharing an enclosed space with this many people, you're going to need it. Furthermore, these windows and vents are equipped with no-see-um screen mesh, which keeps out the smallest bugs. In the heat of the day, a generous awning offers plenty of shade as well as a covered entryway.
Ease of setup is also an important factor. Luckily, the Kodiak Canvas Flex-Bow Deluxe 8-Person Tent offers just that. With this in mind, you might want to consider some tent camping tips. One of the best pieces of advice we got is to practice setting up before your trip. This is especially important when it comes to using new gear.
Make sure the tent is well staked out. Two, work with the tensioned poles and sliding metal bars. Lastly, prepare yourself for a bit of a workout. The Kodiak Canvas Flex-Bow Deluxe 8-Person Tent is no joke. We're not gonna lie – it's very heavy. All in all, it's best suited for the outdoors person with a solid amount of camping experience. You will want to know exactly why you want this tent, what the benefits are specific to your trip, and overall use. Last but certainly not least, the benefits should outweigh the cost of purchase. After all, you're going to be using it for years to come.
Tech Specs:
Hydra-Shield water resistant fabric

100% cotton duck canvas

Breathable fabric

check

8-person tent

check

High 6'6" ceiling

check

Four large windows and two vents

check

No-see-um mesh screens for windows and vents

check

Two large D-shaped doors

check

Large awning covering entryway
Invest in the Coleman Evanston Screened 8 Tent for Your Next Outdoor Adventure
We hope you enjoyed reading about the Coleman Evanston Screened 8 Tent. Before your next trip to the great outdoors, make sure you have a great tent to shield you from the elements. If you're looking for a durable one that can fit the entire family, you've found it in this model from Coleman. While it's true that not all tents offer sufficient protection from the elements, you can rest easy knowing you're covered here.
With Coleman tents, you'll have a great, spacious place to sleep and plenty of ventilation too. The Coleman Evanston Screened 8 Tent remains an ideal option for campers who want to travel with the whole gang and enjoy their comfort too. Make sure you consider this product when planning your next trip to the great outdoors.
Related Article: The Best Car Camping Tent You Need For Your Next Adventure