Embark on a camping adventure with the Winterial 2 Person Instant Pop Up Tent.
Travelers who love camping know that finding the perfect tent can be a challenge. Features like a massive size, weatherproof designs, and easy-to-build structures include just some things to consider. If you're traveling in large groups, you need a tent that provides lots of space. However, those who will be moving in smaller groups or pairs only require a small tent. Any travelers new to camping may also not want a tent that's difficult to set up. Thankfully, with the Winterial 2 Person Instant Pop Up Tent, travelers can get every feature they desire. This tent remains ideal for pairs of campers who want a simple tent setup and a weatherproof structure. Read our article below to learn all about this awesome tent.
Winterial 2 Person Instant Pop Up Tent Features & Benefits
Compact Size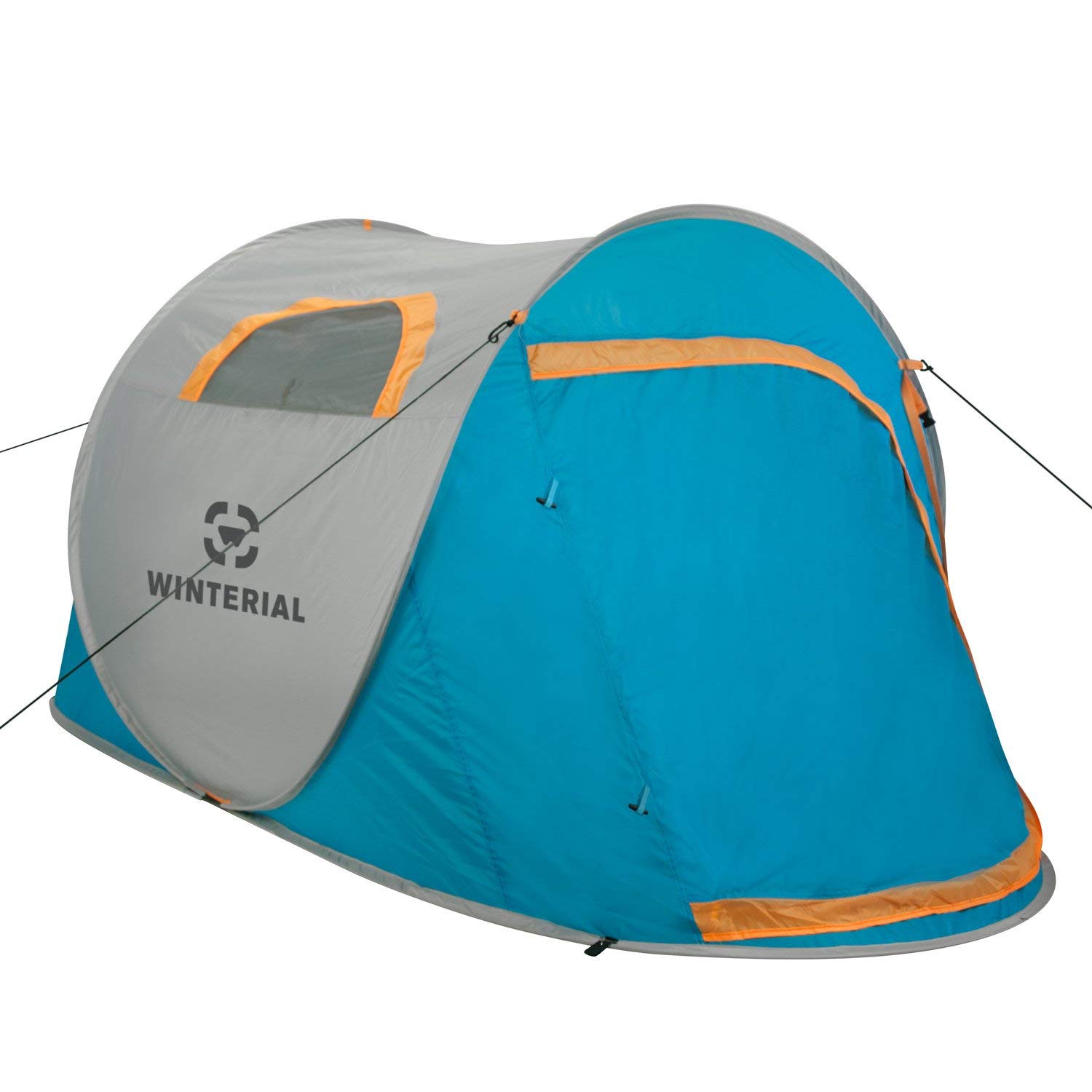 If you're a backpacker, you need a tent that doesn't weigh you down. Certain tents have heavier designs, making them uncomfortable to carry for long periods. Similarly, those who won't be traveling in large groups don't need a massive tent. Instead, smaller tents that can fit more easily in backpacks may be preferable. These kinds of tents will also be easier to stow in bags along with other outdoors equipment.
With the Winterial Instant Pop Up Tent, travelers will never feel strained as they move from place to place. This small tent doesn't weigh very much, so you won't have a lot of back pain from carrying it. Any solo campers or camping couples will also find this the ideal tent for sleeping comfortably. The two-person design means that you'll have the perfect amount of space for you and another traveler.
Simple Setup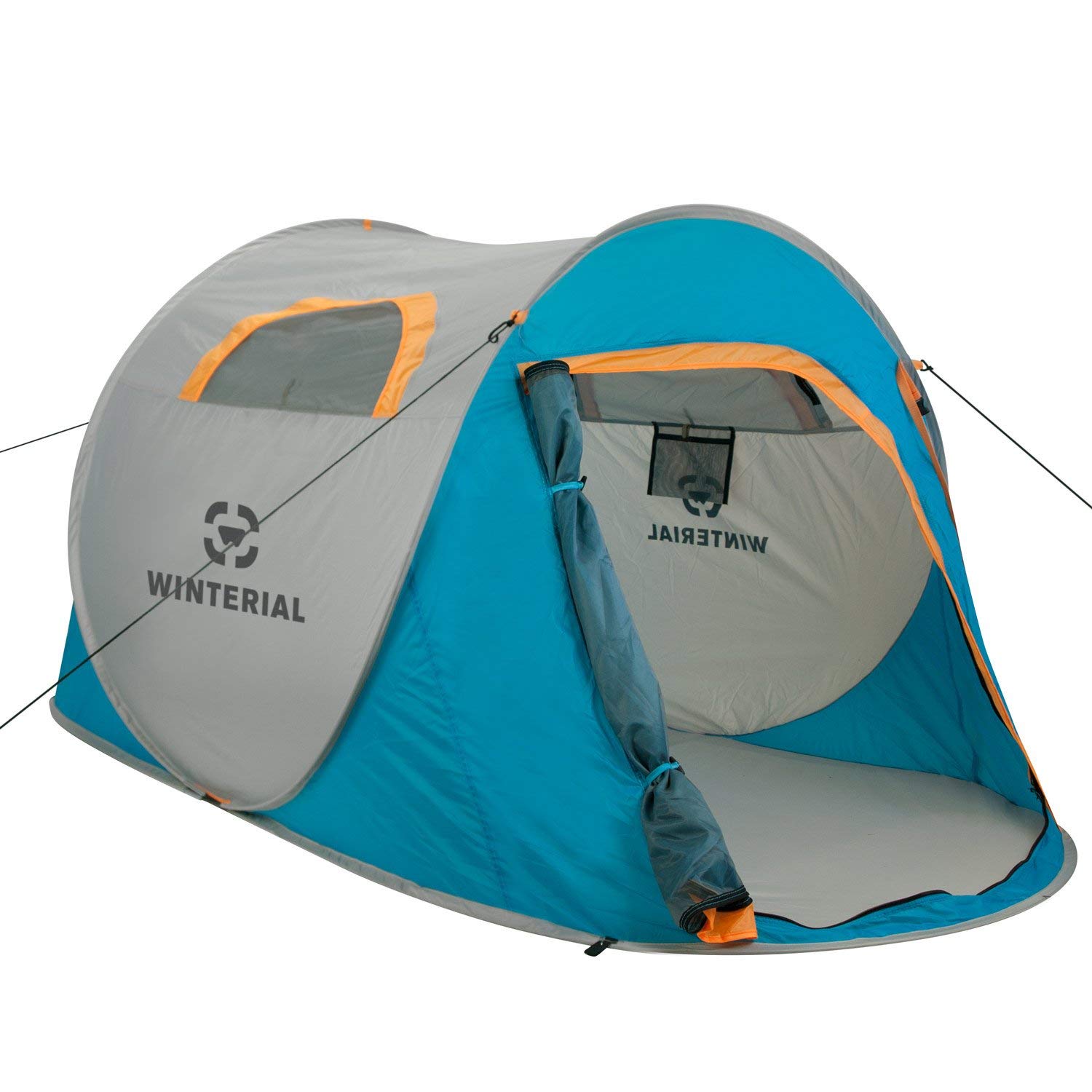 Travelers who don't have a lot of experience camping might want a tent that's simple to use. Many tents require tools to build and may be complicated to set up. This can lead to frustrations if you're not used to constructing tents. At the same time, more experienced campers may still desire a tent that doesn't take a long time to construct. They may want to throw their tent down and sleep, rather than worrying about building a complex shelter.
The Winterial 2 Person Instant Pop Up Tent has a design that enables a super-quick setup. This pop up tent doesn't require much building. Travelers simply have to place the tent on the ground and watch the product form into shape. The Winterial tent will unfold as soon as it leaves the bag and become your ideal outdoors shelter. Instead of wasting time putting up a tent, you'll get to spend more time exploring your environment.
Durable Design
When you're exploring the outdoors, the equipment you bring with you should maintain a durable design. Tents that feel flimsy or weak may not provide you with the protection you require while sleeping outside. Camping adventures can be ruined by rain-logged tents and shelters that fail to stand during windier days. You don't want to have frustrations while attempting to enjoy an outdoors adventure simply because your tent isn't durable.
Luckily, the Winterial 2 Person Instant Pop Up Tent utilizes a durable fabric to help withstand all kinds of weather. A 190T polyester construction ensures maximum resistance from the wind and rain, so you can stay dry and cozy. Even after multiple journeys outside, the tent will stay intact. Travelers won't find holes or tears in the fabric of this tent, despite countless outdoors expeditions. Hook stakes and fiberglass poles also provide greater stability while the tent stands. As you sleep on the beach, the wind won't knock your tent away.
Easy to Transport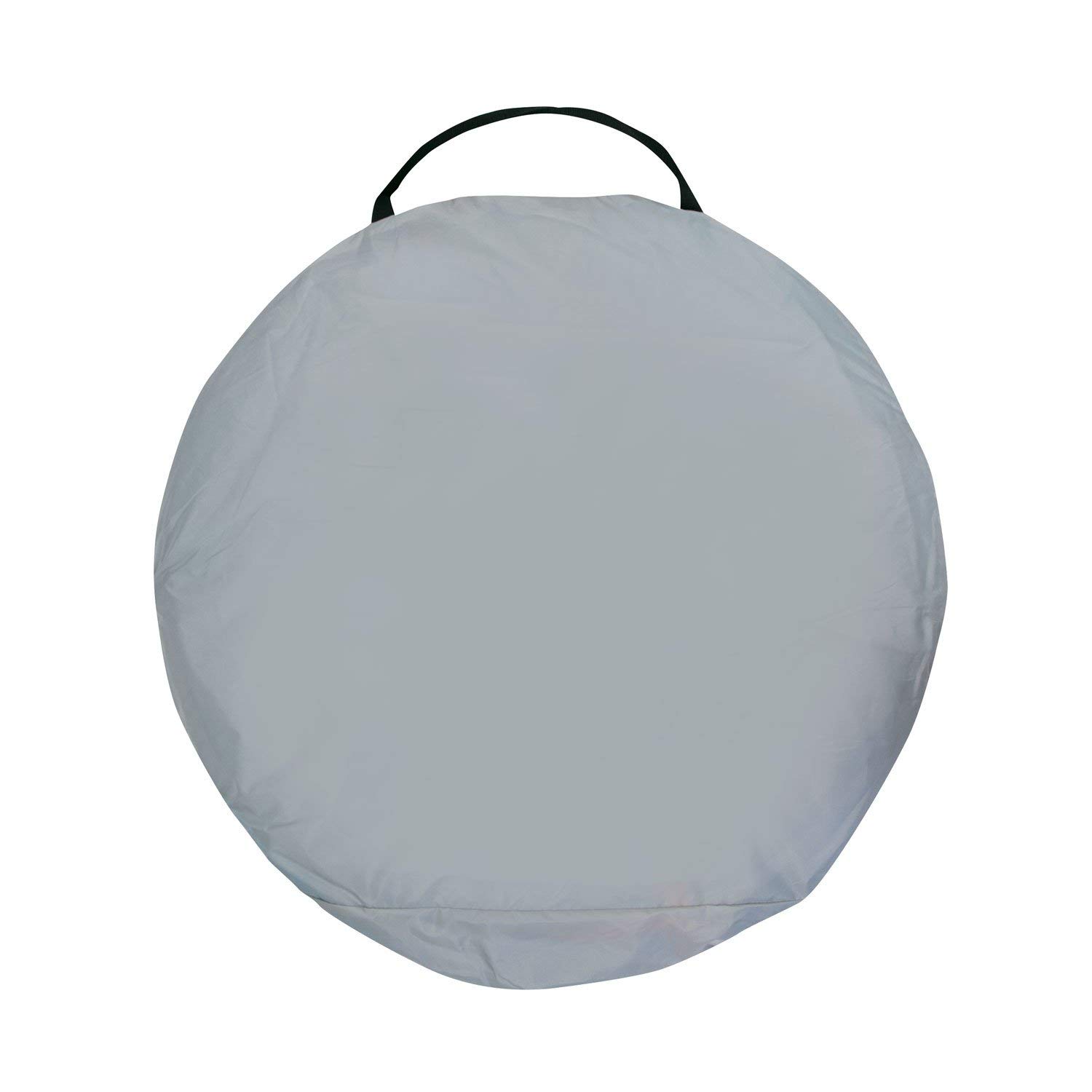 One of the more annoying parts about camping can involve carrying all your necessary gear. Extra clothes, shoes, compasses, and other equipment may feel like a burden when you're traveling. Tents only add to the extra weight, leaving you with less room to stow away other items. Bulky tents may also be difficult to pack, as they don't fold down well or fit inside bags.
When you purchase the Winterial 2 Person Instant Pop Up Tent, you'll also receive a convenient carrying case. This carrying bag provides the perfect place for you to store your tent as you travel. A shoulder strap lets you move hands-free, so you can hold even more items while you move. Travelers will not have to bring extra bags simply to carry their tents if they choose the Winterial Tent. This means your trip to Grand Teton or other outdoors places will be easy and stress-free. 
What Travelers Are Saying About the Winterial 2 Person Instant Pop Up Tent
Travelers who purchased the Winterial 2 Person Instant Pop Up Tent loved the tent's simple setup. Those who were not used to camping outdoors could build the tent in a cinch. People without much experience camping found that this product was easy to manipulate. Any reviewers who wanted a tent for a short weekend getaway outdoors thought this product was ideal. Additionally, campers could break down the tent and go whenever they wanted. Instead of wasting time trying to pack away the tent, travelers could continue their adventure without any hiccups.
Some reviewers found that the Winterial Instant Pop Up Tent was not as easy to put away as they'd hoped. When they first used the tent, the travelers struggled to break it down and pack it inside their bags. However, after a few uses, the reviewers could figure out how to take apart the tent. A few travelers also thought that the tent could have had a more waterproof design for rainy days. Overall, reviewers found that the Winterial Instant Pop Up Tent was a great tent for quick trips outdoors.
Other Pop Up Camping Tents You May Like
1. Coleman Pop-Up Tent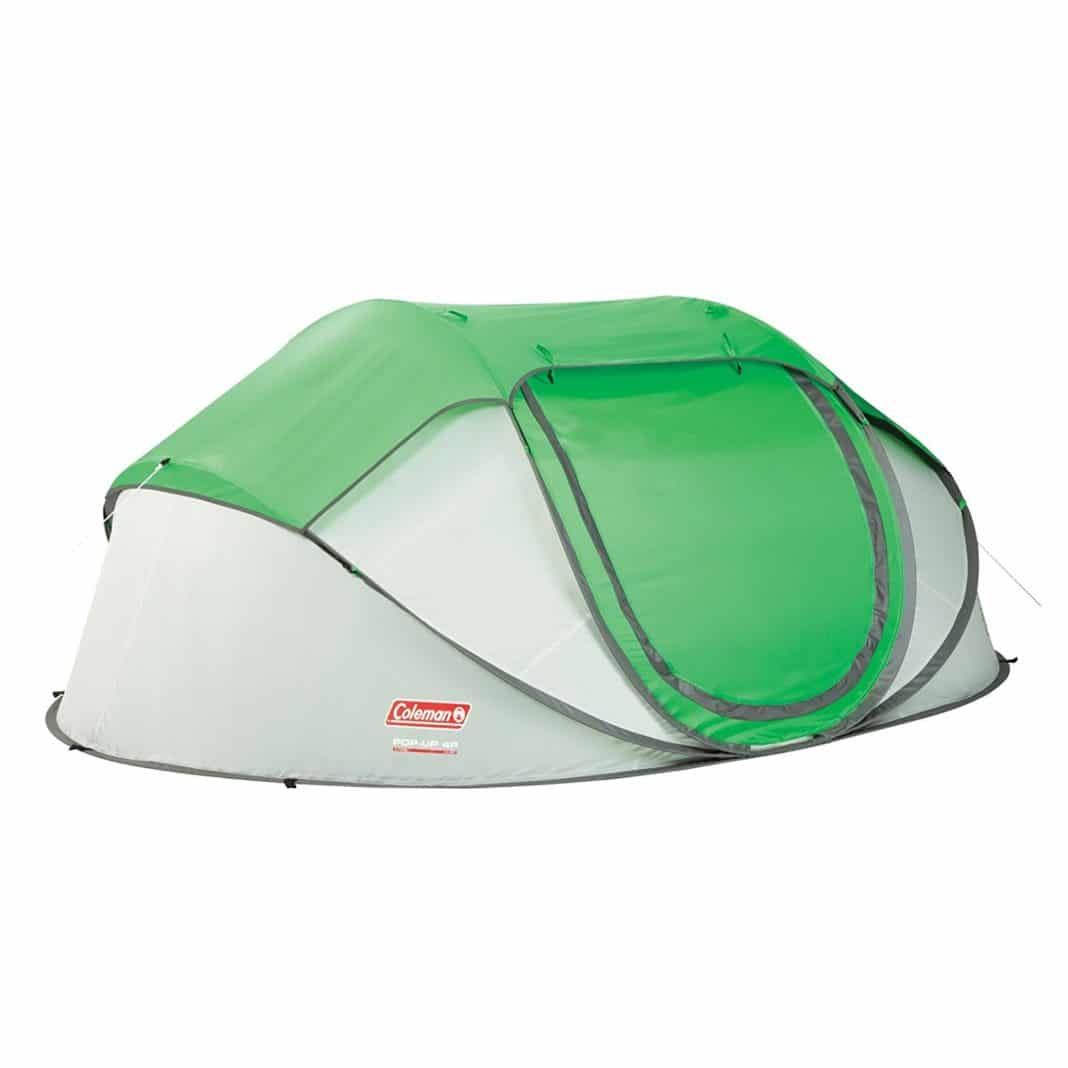 Those who weren't completely sold on the Winterial tent should consider the Coleman Pop-Up Tent. Like the Winterial tent, this product has a pop-up design that makes it simple to set up. According to Coleman, travelers can build their tent in under a minute. This means you'll have more time to enjoy the outdoors, rather than struggling to set up your tent. A wind-strong frame on this tent ensures you'll be able to sleep in extreme weather without the tent falling apart. Zipper cuffs also keep the wind and rain from entering the tent, so you'll always stay dry. Floors inside the tent even have a waterproof design, thanks to innovations inspired by welding. A multi-position rainfly provides ventilation as well as keeping you protected from stormy or snowy weather. With this weatherproof tent, you'll be able to withstand any kind of climate during your camping adventures.
2. FiveJoy Instant Popup Camping Tent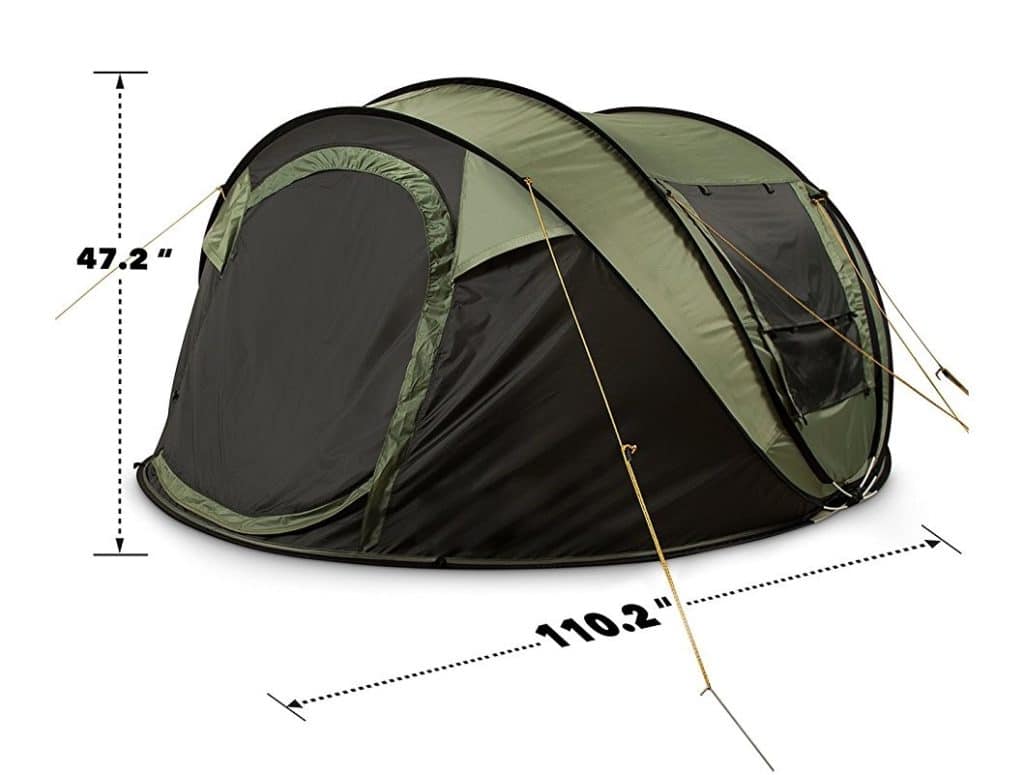 With the FiveJoy Instant Popup Camping Tent, travelers will get to have a stress-free camping experience. This instant, free-standing tent forms into a camping shelter in only a few seconds. You simply have to place the tent on the ground and it will pop into place. Similarly to the Winterial tent, the FiveJoy Popup Camping Tent remains ideal for first-time campers with its simple setup. Backpackers will also like the included portable carrying bag, as it enables easy packing up. Travelers won't have to worry about wasting precious time breaking down the tent or carrying extra backpacks. Those who will be traveling to warm and humid places may appreciate the ventilation features on this tent. Multiple openings on both sides of the tent help ventilation, so you can feel comfortable while you sleep. Water-resistant polyester on the exterior of the tent also ensures you'll stay dry during rainy weather.
3. Malamoo Mega 3 Second 4 Person Waterproof Tent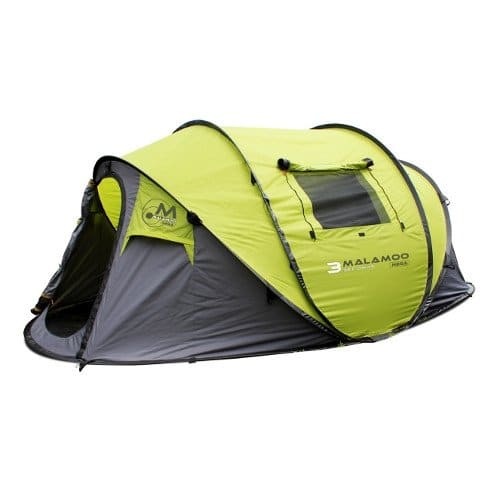 The Malamoo Mega 3 Second 4 Person Waterproof Tent remains ideal for groups of travelers who want an easy-to-use tent. As its name claims, this tent only takes around three seconds to build. This tent essentially builds itself, rather than forcing you to construct it. While the Winterial Tent only offers space for two, this tent lets multiple people sleep comfortably outdoors. An attached front vestibule offers storage for extra equipment, or maybe for your furry friend to sleep at night. The large window on the rear and front of the tent enables ventilation, so you can feel the breeze. Roll-up flaps on the windows also provide privacy when you're inside the tent. A 100% waterproof design additionally means that you and your friends will stay cozy and dry even if it rains. Make sure to consider this tent if the Winterial Tent isn't the ideal product for you.
Bring the Winterial Pop Up Tent on every outdoor expedition.
Outdoors travelers may have trouble finding the perfect tent to fit all of their needs. Some tents feel heavy and might be too big or take a long time to set up. Others may simply fail to provide you with a comfortable sleep when you stay outside. If you're looking for a two-person tent that's easy to build, consider the Winterial Pop Up Tent. This tent will let you travel from place to place without weighing you down. Pairs of travelers will have the ideal place to sleep when they go camping and use this tent. The next time you plan an outdoors expedition, make sure to bring along your Winterial Pop Up Tent.
Related Article: The Best Pop Up Camping Tent: 5 Top Options