Upgrade your outdoors adventures with the FiveJoy Instant Popup Camping Tent.
Spending lots of time outside means you'll need a decent shelter for sleeping at night. However, not all tents maintain the same quality of design and functionality. At the same time, different travelers require varying features on their tent. Those who will be traveling in small groups or backpacking across the landscape might prefer a popup tent. These tents remain simple and easy to build, and don't weigh you down while you travel. If you want an awesome popup tent, consider the FiveJoy Instant Popup Camping Tent. This product will make your camping adventures stress-free, as you won't spend lots of time setting up a bulky tent. Read on to find out more about this special tent and all of its features.
A Little About Fivejoy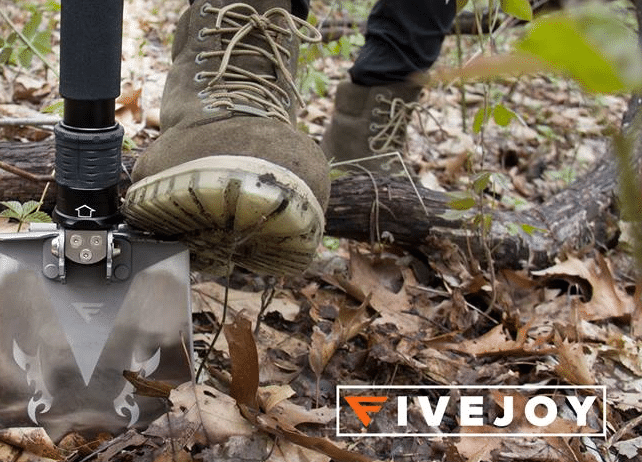 Credit: Fivejoy / Facebook
Fivejoy takes pride in their ability to create top-notch products for travel. The outdoors gear company focuses on producing items that customers truly desire. With high-quality, innovative designs, the products crafted by Fivejoy remain ideal for every consumer. Travelers will love choosing items created by Fivejoy to bring along on their travel adventures. From tents to shovels and other outdoors gear, the company provides many things travelers desire. Additionally, Fivejoy also maintains an interest in producing eco-friendly products. This means the company hopes to help both consumers and the environment. Be sure to consider Fivejoy when purchasing travel accessories for your next expedition.
FiveJoy Instant Popup Camping Tent Features & Benefits
Quick Setup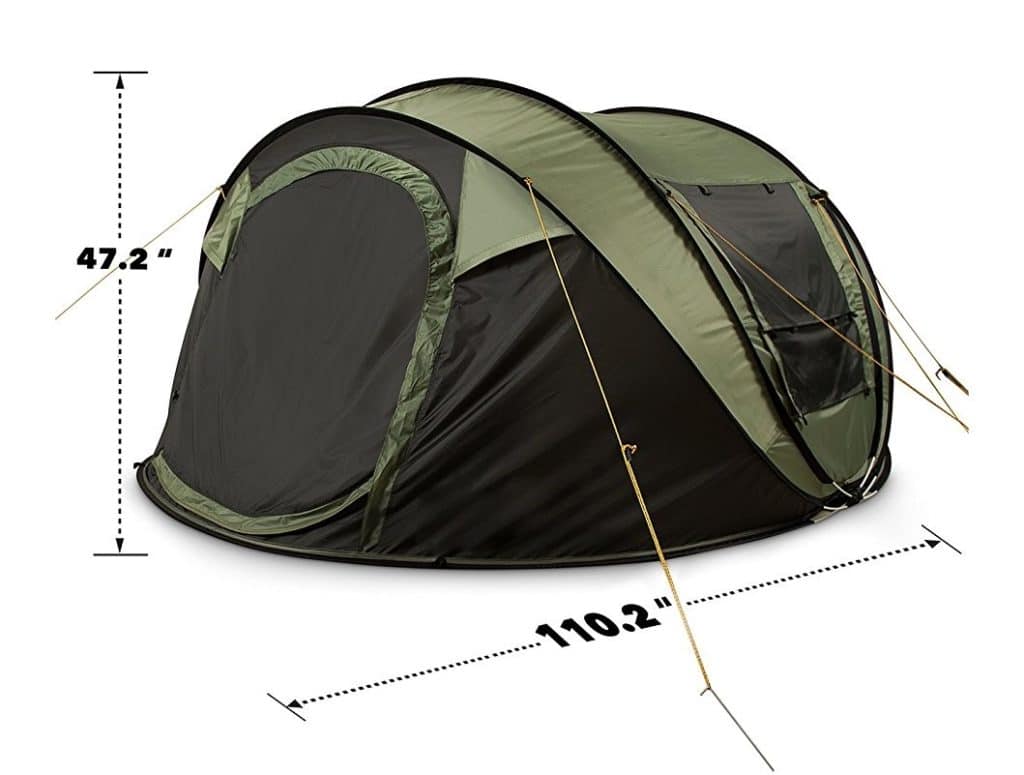 When you're looking at camping tents, the setup time should be a top feature to consider. Many tents have very complicated instructions, making them frustrating to build for some. Travelers without a lot of experience constructing tents might have additional trouble when setting up these kinds of tents. At the same time, experienced campers may simply want an easy-to-build tent to eliminate wasted time building tents. Luckily, pop up camping tents make it super simple to set up your tent and sleep in a cinch. You may place the tent on the ground and have it ready to use in minutes. Those hoping to go backpacking may appreciate the ease with which they can set up the tent. Backpackers will have the ability to create a place of rest or pack up and go quickly. Those in a hurry won't need to spend time trying to take down the tent when they want to leave.
With the FiveJoy Instant Popup Camping Tent, travelers can throw their tent on the ground and go. This tent will build itself, as the pop-up structure essentially forms on its own. Thanks to the simple setup, travelers won't need to waste valuable vacation time building their tents. Instead of frowning over complex instructions, you'll get to spend more time exploring the outdoors. Travelers may appreciate the ease with which they may take down the tent as well. You won't experience any more frustrations due to dealing with complex tent designs. The FiveJoy Instant Popup Camping Tent will ensure you have a stress-free camping adventure every time.
Lightweight Structure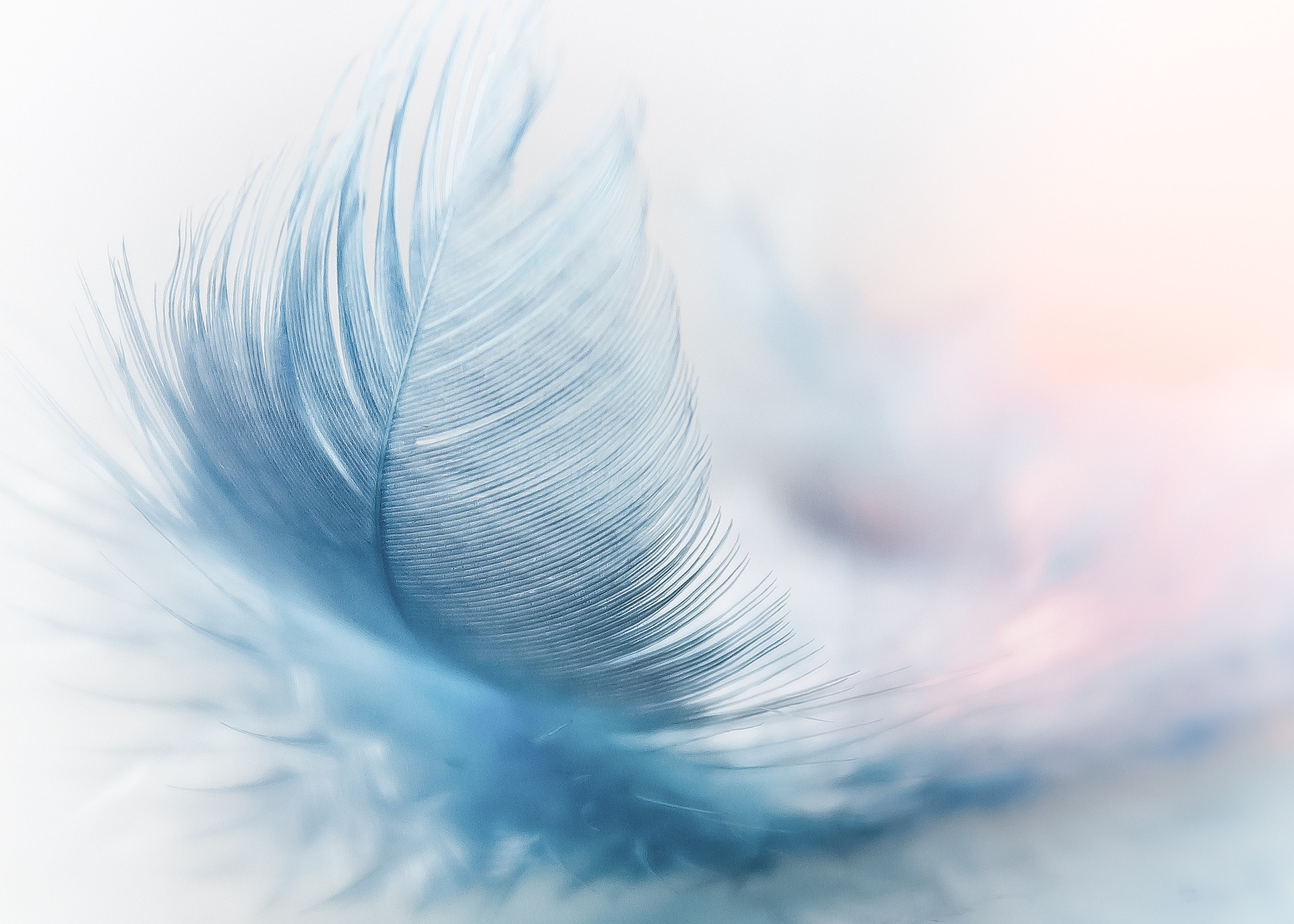 Backpackers and travelers who camp frequently know the importance of carrying lightweight gear. When you have to bring lots of equipment, your bags and backpacks get weighed down quickly. Add a bulky tent to the mix, and you'll end up walking around with back pain for hours. Sometimes, these massive tents may be necessary if you need shelter for lots of people. However, those traveling alone or in pairs only require a small tent that feels light. You don't want to heft along a tent that's way too big for your needs. At the same time, your tent shouldn't feel so small that you can't fit each of your belongings. In this manner, the tent travelers choose to bring should be the ideal size according to space needed.
The FiveJoy Instant Popup Camping Tent maintains a fairly lightweight structure, ensuring you won't strain your back while carrying it. Since the tent fits two people, you'll get to avoid hoisting a bulky tent over your shoulder while you move. A lightweight design also means you can bring other necessary items with you and still feel comfortable. You'll also find this tent the perfect size for those traveling in pairs. Couples embarking on a romantic camping journey may especially enjoy having the tent. The size will ensure travelers have enough space for sleeping and keeping their belongings safe inside the tent.
Portable Design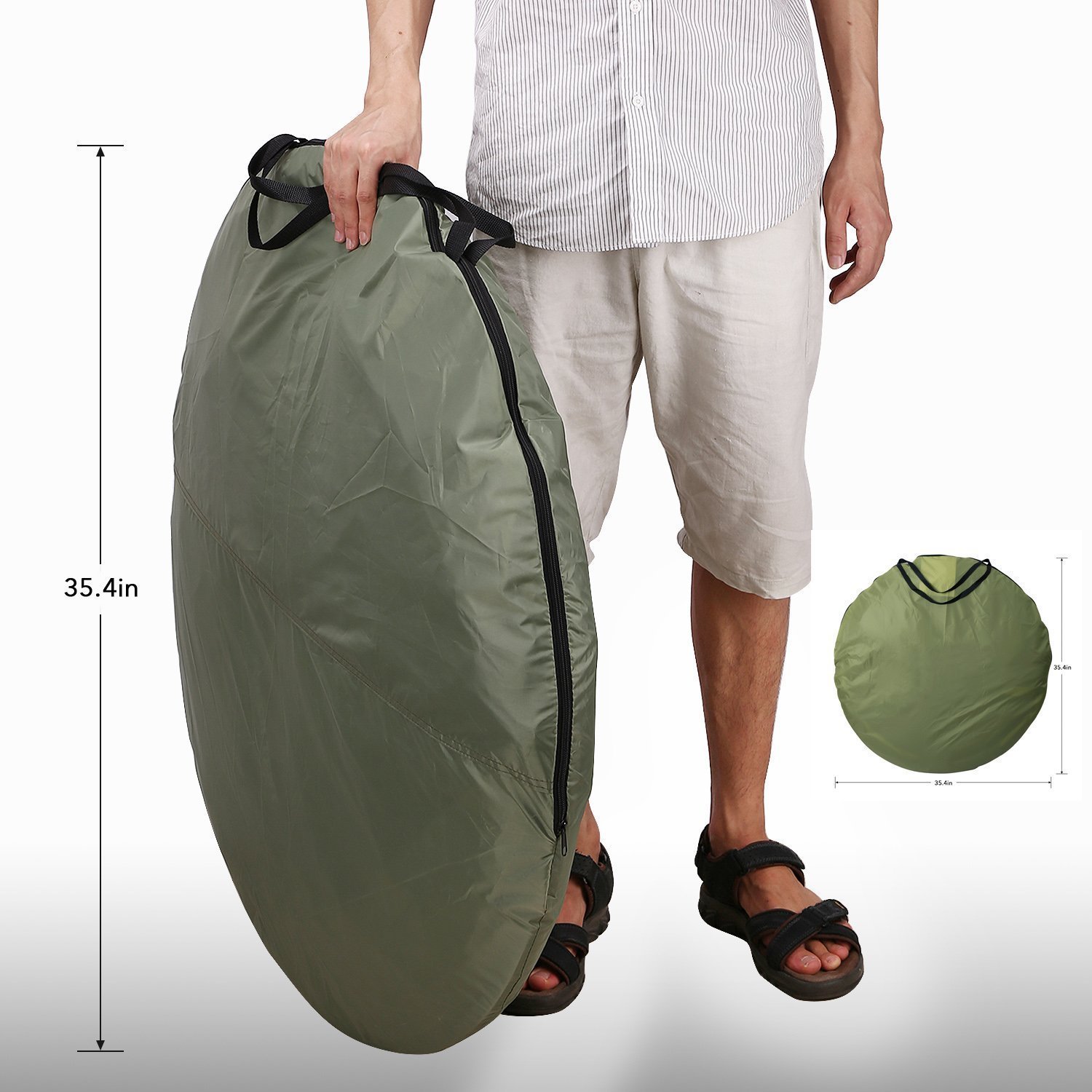 Any tent should be able to fold down and fit inside bags and backpacks. Travelers who enjoy camping require tents that don't take up tons of space or remain difficult to pack. When you're trying to figure out how to pack your camping essentials, squeezing in a tent presents a challenge. Many tents don't take into account the need to fit alongside other items in your bags. If you're going to be walking instead of driving to destinations, this portability remains even more important. Additionally, travelers who experience aches and pains may prefer gear that doesn't weight them down. These travelers won't want to bring along travel accessories that make it difficult to move without struggling. As such, the gear you choose to carry during camping adventures should also not cause more pain while traveling.
When you purchase the FiveJoy Instant Popup Camping Tent, you can feel confident knowing it will fit inside your backpack. This tent has an especially portable design, letting travelers fold it up easily and pack it in bags. An additional carrying bag even comes with this tent, so you can use your backpacks for other belongings. The carrying bag also has straps that help you bring it along during your travels. Instead of having to lug the tent around in your hand, you can walk with it on your shoulders. This makes it much more simple and straightforward to travel while bringing your FiveJoy Instant Popup Camping Tent. Travelers will remain at ease when they camp, as they won't struggle to transport travel gear.
Durable and Weatherproof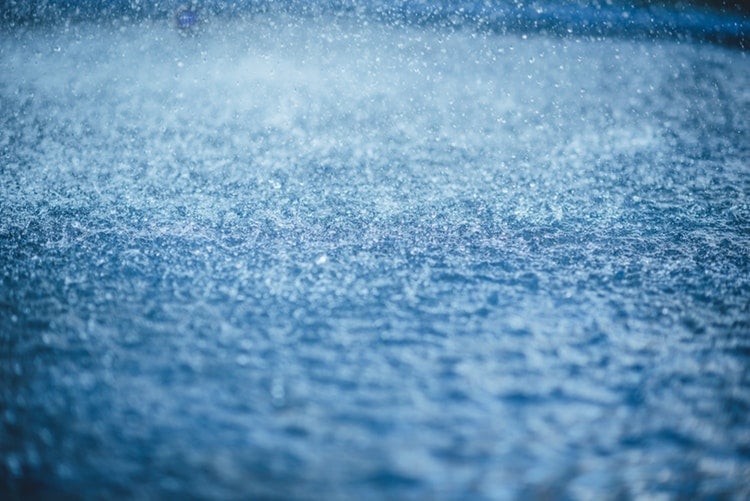 Outdoors expeditions will inevitably lead to encountering certain types of weather. Rain, snow, and other forms of weather may occur, depending on where you go. You can't avoid these types of weather, even if you look at the forecasts before traveling. This means that you need a shelter that can protect you from the elements in these situations. Similarly, your shelter should stay intact even after you've experienced harsh climates and spent many nights outdoors. Travelers will not want to deal with tents that fail to keep them dry during rainstorms. Your travel adventures may be cut short if your travel gear doesn't work as expected.
While the FiveJoy Instant Popup Camping Tent doesn't have an extremely robust design, it remains fairly weatherproof. The tent has special features that help its users remain dry during rainy or snowy weather. Using the tent poles and guy lines, travelers may turn the door of the tent into a rain tarp. This lets campers stay warm and cozy, instead of drenched and chilled by the rain. The door may also form a sunshade, so you don't get burned by the sun. Overall, travelers may have a more enjoyable camping experience if they choose to bring the FiveJoy tent.
What Travelers Are Saying About the FiveJoy Instant Popup Camping Tent
Travelers who purchased the FiveJoy Instant Popup Camping Tent raved about the product's easy-to-build structure. There was almost zero effort involved in building this tent, as it simply formed once opened on the ground. Campers didn't have to stress about using poles or following in-depth setup instructions in order to create their shelter. This left them with more time to enjoy the outdoors and explore their environments. Additionally, reviewers loved the tent's portable design, as they could pack it up and go whenever they chose. The included carrying bag ensured travelers would have more room in their backpacks to stow away other items.
A few reviewers thought that the FiveJoy Instant Popup Camping Tent could have been a little more waterproof. This meant that travelers required a tarp in order to ensure rain and water didn't flood the tent. Some reviewers also wished the carrying bag had a more durable design. However, the majority of travelers considered the FiveJoy Popup Tent an ideal product for quick camping getaways.
Other Pop Up Camping Tents You May Like
1. Coleman Pop-Up Tent
If you weren't amazed by the FiveJoy Instant Popup Camping Tent, consider the Coleman Pop-Up Tent. This product has comparable features to the FiveJoy tent, such as an extremely quick setup time. The instructions simply state to unfold the tent and secure it on the ground. In a matter of seconds, you can have your shelter built and ready for sleeping. The Coleman tent has features that make it slightly more weatherproof than the FiveJoy Instant Camping Tent. Inverted seams along the tent's fabric keep moisture from seeping in through cracks in the exterior. A frame that utilizes wind-strong poles also ensures your tent won't fly away in windy weather. Innovations on the floor of the tent, using welding-inspired technology, provide a stronger, more waterproof tent bottom. A multi-position rainfly even produces ideal ventilation and prevents rain from entering the tent.
2. Winterial 2 Person Instant Pop Up Tent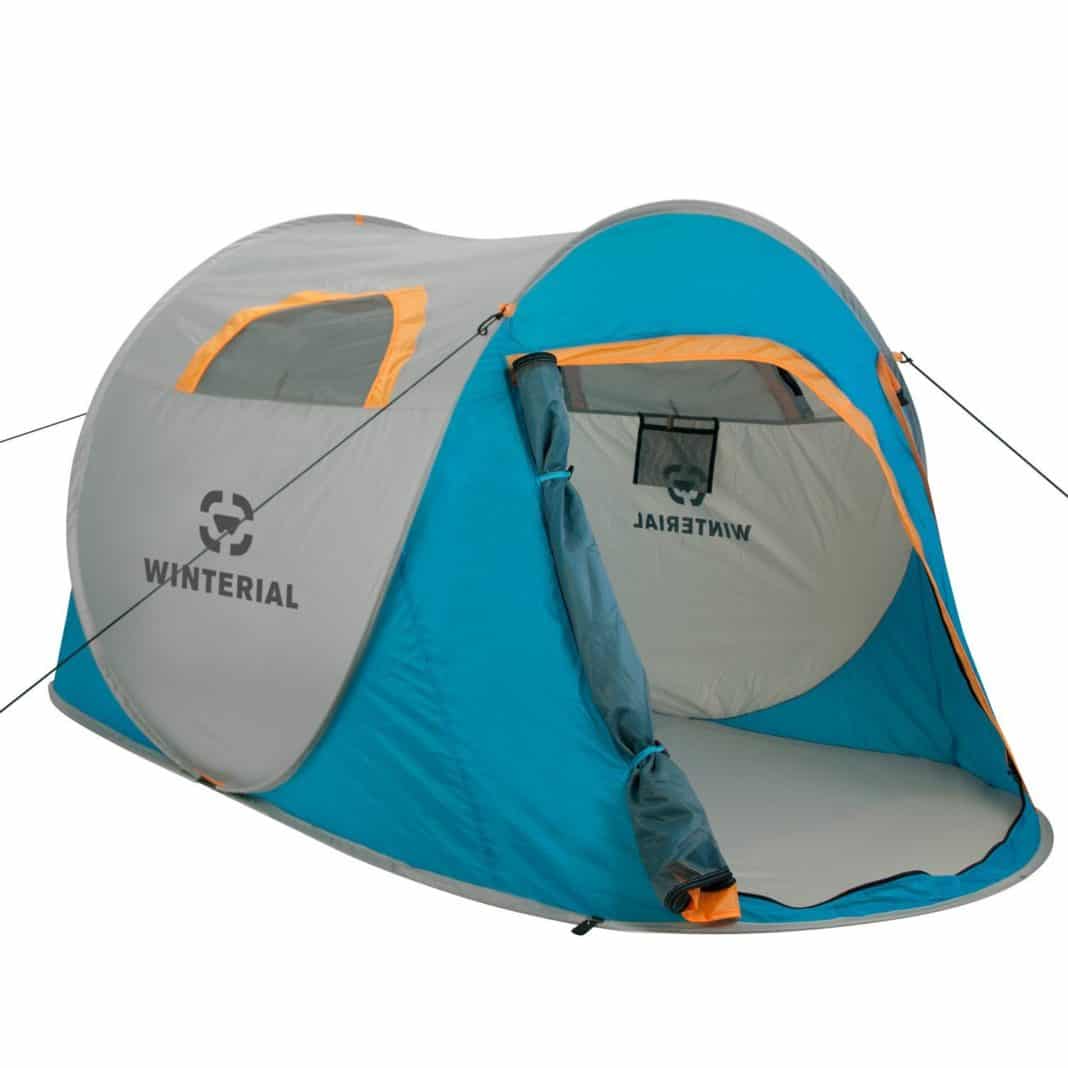 Travelers interested in a similar product to the FiveJoy Instant Popup Camping Tent should check out the Winterial Instant Tent. As a popup tent, the Winterial product enables quick and easy building for newbie campers and experienced backpackers. When you bring this tent along on camping adventures, you won't have to waste time building a complicated shelter. The size of this tent makes it ideal for couples or solo travelers, as it fits up to two people. However, you'll still have plenty of room to place sleeping pads on the floor of the tent. Travelers can sleep in comfort when they rest inside the Winterial 2 Person Instant Pop Up Tent. Additionally, this tent has been crafted with a durable polyester fabric, so it will remain intact throughout multiple expeditions. A carrying bag also comes included with this tent, letting travelers stow away the tent with ease.
3. Hui LingYang Instant 4-Person Pop Up Dome Tent
The Hui LingYang Instant 4-Person Pop Up Dome Tent remains a great alternative to the FiveJoy Instant Popup Camping Tent. With a pop-up design, this tent doesn't take long to set up. Simply throw the tent on the ground and watch it spring into form. Once you've purchased an instant tent like this one, you'll never want to go back to traditional tent setups. If you're traveling in larger groups, this tent will provide more room than the FiveJoy company product. Fit to let four sleep in comfort, the Hui LingYang Tent won't make sleeping outdoors a cramped situation. You'll have room to spread out and lay down sleeping pads when you utilize this tent. Similarly, the Hui LingYang Instant Pop Up Tent has mesh windows on either side, enabling greater levels of ventilation. Double doors also let you open or close the tent to make it feel larger or smaller.
Bring your FiveJoy Instant Popup Camping Tent on every camping trip.
Outdoors travelers spend lots of time sleeping in varying environments, from forests to mountaintops. This means they need a decent tent that doesn't feel complicated to set up or weigh them down during travels. While many tents may be available for purchase, the FiveJoy Instant Popup Camping Tent remains an ideal option for campers. When you use this tent, you won't have to worry about complex setup instructions or a bulky, inconvenient structure. Campers may build their tent in a cinch, and sleep under the stars in comfort. Consider taking home the FiveJoy Instant Popup Camping Tent before embarking on your next camping trip.
Related Article: The Best Pop Up Camping Tent: 5 Top Options