The Mobile Edge Sumo Laptop Messenger Bag is ready to keep your laptop safe and sound while carrying anything else you may need.
Finding the perfect laptop messenger bag can be difficult. You want it to be lightweight but to have enough padding that you're not concerned about your electronics. Having a good amount of organization and pockets without being overwhelming is usually a plus as well. The Mobile Edge Sumo Laptop Messenger Bag provides all of this at an attractive price point. On top of that, it also has a cool backpack design to keep some spunk in your style without being too out there for grad school or a professional city setting. So, if you're ready for an incredible messenger bag for your laptop, read on.
Mobile Edge Sumo Laptop Messenger Bag Features & Benefits
Padded Laptop Compartment
What is a messenger bag for if it doesn't have a padded space to hold your laptop? Well, thankfully, with the Mobile Edge Sumo Laptop Messenger Bag, we don't have to answer that question. The laptop compartment measures 15.5 by two by 11.5 inches. While it holds up to a 17-inch MacBook Pro, it has an adjustable velcro sleeve inside to hold smaller computers without letting them slide around. We love this feature in particular, as you can switch computers in here and they will both be just as safe. If you have a tablet you need to carry around, the Blue Camo Mobile Edge Sumo Laptop Messenger Bag has a tablet pocket as well. Overall, you can trust this messenger bag to get your expensive equipment from point A to B without any damage. 
Water Resistant Ballistic Nylon Material
If you're going to the lengths to protect your laptop and essentials on the go, you want your bag to stand up to mother nature too. The Mobile Edge Sumo Laptop Messenger Bag has soft but durable ballistic nylon that is water resistant. This material is rugged enough to keep everything inside safe without getting too heavy or making you look like an army ranger. You can easily wipe down the outside if you spill something on it, which is a huge advantage. 
The Mobile Edge Sumo Laptop Messenger Bag also comes in four colors of the nylon material. The pink, gray, blue, or red camo is made up of little sumo men, although most wouldn't notice the subtle design. That same color is used throughout the interior to accent the different zippers and materials inside. Overall, the material is incredibly sturdy, and that's why Mobile Edge backs their product with a Lifetime Warranty. That's something you can get excited about and why this is one of the best backpack brands. 
Velcro-free Closure
I'm guessing we have all tried to undo a velcro pocket or shoe quietly. How did that go for you? Yea, us too. That is why we are so thankful that the Mobile Edge Sumo Laptop Messenger Bag does not use velcro to latch itself closed. Instead, it has to easy plastic buckles which are located just under the front flap. This creates a sleek and smooth exterior, and a safer one. 
Variety of Pockets
Just like Goldilocks's soup, you want the number of pockets and space in your messenger bag to be just right. We can get behind the amount of organization available in the Mobile Edge Sumo Laptop Messenger Bag. It can truly hold everything you need in a laptop bag. There is one zippered interior pocket just inside the front flap to keep your wallet, pens, and phone easily accessible. On the side is a medium sized mesh pocket for a water bottle, which is incredibly handy. There is a rear exterior hidden pocket for sliding essentials in on the go. The main compartment has the laptop space, but also plenty of room for whatever else you may need. Whether it is a few books, folders, or a planner, it will all fit inside. The Mobile Edge Sumo Laptop Messenger Bag allows plenty of room for your things without being cumbersome. 
Adjustable, Padded Shoulder Strap
The shoulder strap can make or break a laptop messenger bag. The Mobile Edge Sumo Laptop Messenger Bag is made for both left and right-handed users by having two quick and adjustable shoulder strap buckles. It has removable padding to keep the weight in a good spot as you're on the go as well. The grab loop on top of the bag helps lift it off the ground with ease as well. All in all, the straps contribute greatly to the comfort of this bag. You can load it up with all your things and not feel burdened down by the weight, thanks to the innovative padding in here.
What Travelers Are Saying About the Mobile Edge Sumo Laptop Messenger Bag
This bag is undeniably loved by all who purchase it. With a perfect 5 out of 5 stars from all the travelers, commuters, and adventurers who use it, it is hard to find a flaw. The most admired quality of the Mobile Edge Sumo Laptop Messenger Bag is the fact it can hold a large laptop. One reviewer was impressed it held her 17-inch Toshiba laptop with ease. All who use it comment that you can pack it full and it still doesn't look or feel overwhelming. That's an impressive feat with any backpack, let alone a messenger bag. Coming in at 2.86 pounds, it doesn't add much weight when you balance that out with the amount of protection it provides as well as its carrying capacity, Overall, the Mobile Edge Sumo Laptop Messenger Bag is admired by all who use it, whether that's for commuting on the subway or speaking at conferences.
Other Laptop Backpacks You May Like
SwissGear Travel Gear 1900 Scansmart TSA Laptop Backpack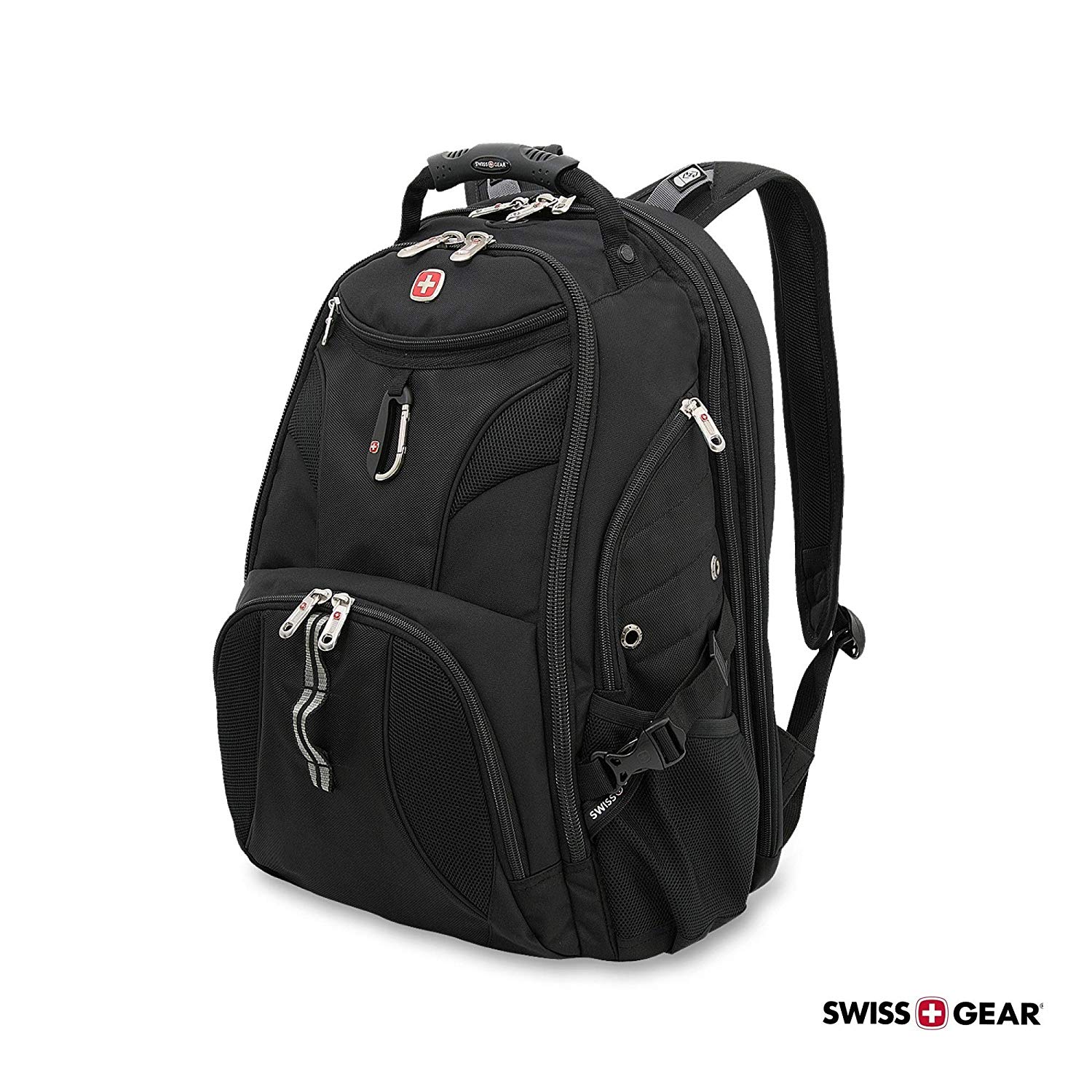 This first alternative to the Mobile Edge Sumo Laptop Messenger Bag will take a different approach to your needs. Being a regular backpack design, The SwissGear 1900 still has the durable and weather-resistant ballistic polyester of the Sumo bag. However, an added feature of this backpack is the ScanSmart lay-flat technology. It holds up to a 17" laptop and can open quickly at airport security, to ensure a hassle-free laptop-in-bag TSA scan. That's pretty exciting if you are a frequent flier. 
The laptop and tablet compartments can be accessed separately from the main compartment. In addition, there is an organizational pocket in the front for your pens, pocket notebooks, and keys. With extra pockets for storage and two breathable side pockets, this bag can hold just about everything. The contoured shoulder straps and side compression straps keep your equipment perfectly in place. Padded back panels with Airflow ventilation add extra support and comfort. Overall, this is a great alternative at an equal price point.
Timbuk2 Command Laptop Messenger Bag
The Timbuk2 Command Laptop Messenger Bag provides an alternative option in the same style as the Mobile Edge Sumo Laptop Messenger Bag. It is completely waterproof, though, so if you live in a rainy city, this might be worth bumping up your budget. The incredibly durable construction was developed by a bike commuter who started the Timbuk2 brand, one of the best backpack brands out there today. So, you can believe that this bag will withstand anything you throw at it. It has an external access zipper pocket on the side for quick access to your charging cords. An internal organizer just under the front flap awaits your pens, phones, and other small stuff. There is a Napoleon side-entry pocket for access to the inside without undoing the main flap, which is an ingenious innovation loved by reviewers. Finally, the Tricot-lined floating pocket protects sunglasses or your smartphone seamlessly. Coming in a variety of colors, you can't go wrong with the Timbuk2 Command Laptop Messenger Bag.
TYLT Energi Pro Power Backpack with Charging Station
If you're looking for an alternative to the Mobile Edge Sumo Laptop Messenger Bag with a few more features, check this out. The TYLT Energi Pro is the only backpack that can provide a full charge to your phone, tablet, and your next-generation laptop. With the incorporated battery and USB charging cords, your technology will never be low battery again. Each of the twelve pockets on this backpack is weather resistant, and its TSA approved with two trolley pockets. Built-in anti-theft RFID fraud protection lets you keep your wallet and phone in here without worrying about your identity getting swiped either. This backpack holds up to a 15-inch laptop and will do so comfortable with the padded ergonomic straps. TYLT stands behind this backpack and powers it will a one year warranty. So, if you're looking for a backpack that can keep you and your electronics going, this is it. 
A great combination of spunk, security, and size, the Mobile Edge Sumo Laptop Messenger Bag has been made to please.
If you've been looking around for the best laptop bag, look no further. With unparalleled reviews and an attractive price point, the Mobile Edge Sumo Laptop Messenger Bag is a great place to start. The roomy pockets, adjustable straps, and padded laptop compartment all contribute to the greatness of this product. So, go ahead and grab one today and let us know if you too fall in love.
Related Article: 12 Best Laptop Backpacks and Messenger Bags for the Efficient Traveler