When you're on the go, one of the worst things that can happen is running out of battery in your cell phone, laptop, or tablet.
Especially if you need the technology for school or work, running out of juice in your electronics can be frustrating. With everything you're supposed to remember in your backpack, a fully charged cell phone shouldn't have to be one of them. You often don't have time to sit in one spot with it plugged in. Or, maybe you don't feel confident leaving it by the plug while you go work on something else. But, with the TYLT Energi Pro Power Backpack, you can carry all your electronics easily while they charge. Yes, you read that right. This backpack has a built-in battery and charging ports so you can multitask. Head to work or class while your laptop refuels. So, if you often have long days that drain your battery or forget to plug them in overnight, the TYLT Energi Pro Power Backpack might just be the perfect backpack for you.
TYLT Energi Pro Power Backpack Features & Benefits
Lithium Ion Battery to Charge Your Electronics
Perhaps the most exciting part of the TYLT Energi Pro Power Backpack is its lithium-ion battery. It quickly charges multiple electronics at once. It has been made for the future, so it can charge both USB and USB type C devices at lightning fast speeds. This will keep you on top of your game while you're out and about. With this backpack and battery, you won't have those awkward low battery moments during a presentation or during class. This backpack comes with two USB charging cords and one USB type C charging cord. The battery itself charges seamlessly with a mini-USB charger. With all these cords, you can charge up to three things at once without batting an eye.
This may seem like a lot to fit into a backpack, but don't fret. The TYLT Energi Pro Power Backpack has laced the cords incredibly well. You don't open up the pockets to a mess of wires every time. The battery does add a little extra weight to this backpack, coming in at a total weight of just under four pounds. However, the trade-off of your electronics being fully charged at all time is simply undeniable. Overall, this is one of the best charging backpacks on the market today.
12 Weather Resistant Pockets for Organization
Pockets, pockets, pockets. Anyone who likes each item to have its place will be easily enthused with the design of the TYLT Energi Pro Power Backpack. With twelve different pockets, there is a space for just about everything you need. The top zipper pocket has the padded laptop sleeve inside, as well as space for a thin notebook or two. Three small pockets on the top provide ample organization for your cell phone, keys, sunglasses, and wallet. Two zippered side pockets can fit small water bottles or other essentials. In addition, there is a padded waist strap that has a pocket on it for quick access. The main compartment is opened through the front of the bag, rather than being completely top-loading. This is a unique feature, but inside it has plenty of mesh sleeves to help keep that space in order.
RFID Fraud Protection
You're carrying a lot of expensive technology in this backpack if it's fully loaded, along with your credit cards and other cell phone. With scammers getting smarter these days, many of us are nervous about having our bank accounts and Apple Pay access stolen. The TYLT Energi Pro Power Backpack has alleviated this concern by putting RFID Fraud Protection into the backpack. This effectively blocks and attempts to scan your personal information to use against you. So, not only will your electronics be fully charged in this backpack, they'll be fully safe, too.
Durable Material & Padded Straps
A solid investment should not only be functional and innovative, but also durable. The TYLT Energi Pro Power Backpack is made from tough 210D Polyester that is made to endure quite a bit of use. The padded, ergonomic straps are ready to be loaded down with all your gear and still keep you comfortable. Pair that with the waist and sternum straps and you can adapt this backpack to many different body types, even while fully loaded. Lastly, the zipper is stainless steel to ensure a durable and long life.
One Year Warranty
TYLT wants to instill confidence in their backpack. They back their TYLT Energi Pro Power Backpack with a one year warranty because they believe in the concept they have created. So, if one of the USB cords starts to fray or the battery doesn't charge like it used to, return it for a full repair. Or, if a zipper, pocket, or buckle breaks, TYLT will replace that as well. We are impressed with the TYLT Energi Pro Power Backpack durability, but in case of a small fluke in manufacturing, they have your back.
What Travelers Are Saying About the TYLT Energi Pro Power Backpack
Techies and travelers love the TYLT Energi Pro Power Backpack for a myriad of reasons. The first and foremost feature to be praised is the power, speed, and functionality of the charging battery. It is well made and durable, and can truly charge three devices at once. This is a great feat, and this backpack lives up to the expectations it sets for itself. On top of that, users enjoy the plethora of pockets that allow each piece of gear to remain protected and in its own space. While the bag is durable by all reviews, a few users comment that the color shows dirt fairly easily. That is probably compounded by the fact that this bag does not stand up on its own, but rather slouches over unless fully packed with sturdy things.
Overall, this bag averages a 3.9 out of 5-star rating by its users. Many adventurers comment that the reason the price is a bit higher on the TYLT Energi Pro Power Backpack is that of the technology and innovation put into the lithium-ion battery. So, while there are many solid features in this backpack, it's truly the battery and charging ports that set it apart. So, if you're needing the best battery pack backpack out there, look no further than this.
Other Laptop Backpacks You May Like
Targus CitySmart EVA Pro Checkpoint-Friendly Backpack for 15.6-Inch Laptop
If you're a business person hoping to find the best backpack for work, check out this alternative to the TYLT Energi Pro Power Backpack. The Targus CitySmart EVA Pro Checkpoint-Friendly Backpack for a 15.6-Inch Laptop has padded sleeves for both your laptop and tablet. The main compartment can fit a large item, such as a portable printer or projector if you spend time visiting clients around the city or giving presentations. If you'd rather fill it with notebooks and such, that works too. There is a semi-rigid impact-resistant top pocket for essentials like sunglasses, cell phones, or laser pointers. All of this gear could get heavy, though, so the padded shoulder straps keep the weight light. Finally, the front organizer can hold your day planner, pens, and any other small necessities. As one of the best-rated backpacks on Amazon, you can't go wrong with this one.
Timbuk2 Command Laptop Messenger Bag
If you're hoping for a more hip messenger bag style backpack for your laptop, read on about the Timbuk2 Command Laptop Messenger Bag. It is entirely weather resistant and durable, so everything inside will stay safe for quite some time. You won't have to worry about zippers breaking, as this bag cinches closed with a hook and loop system that can easily be worked with one hand. With a few small pockets in the main compartment, there is just enough organization for your personal items. But, the rest of the main bag is totally open for you to fill with whatever you need. This bag was innovated by a city bike commuter, so it's a fantastic option for those on-the-go people who tough it through any weather.
SwissGear Travel Gear 1900 Scansmart TSA Laptop Backpack​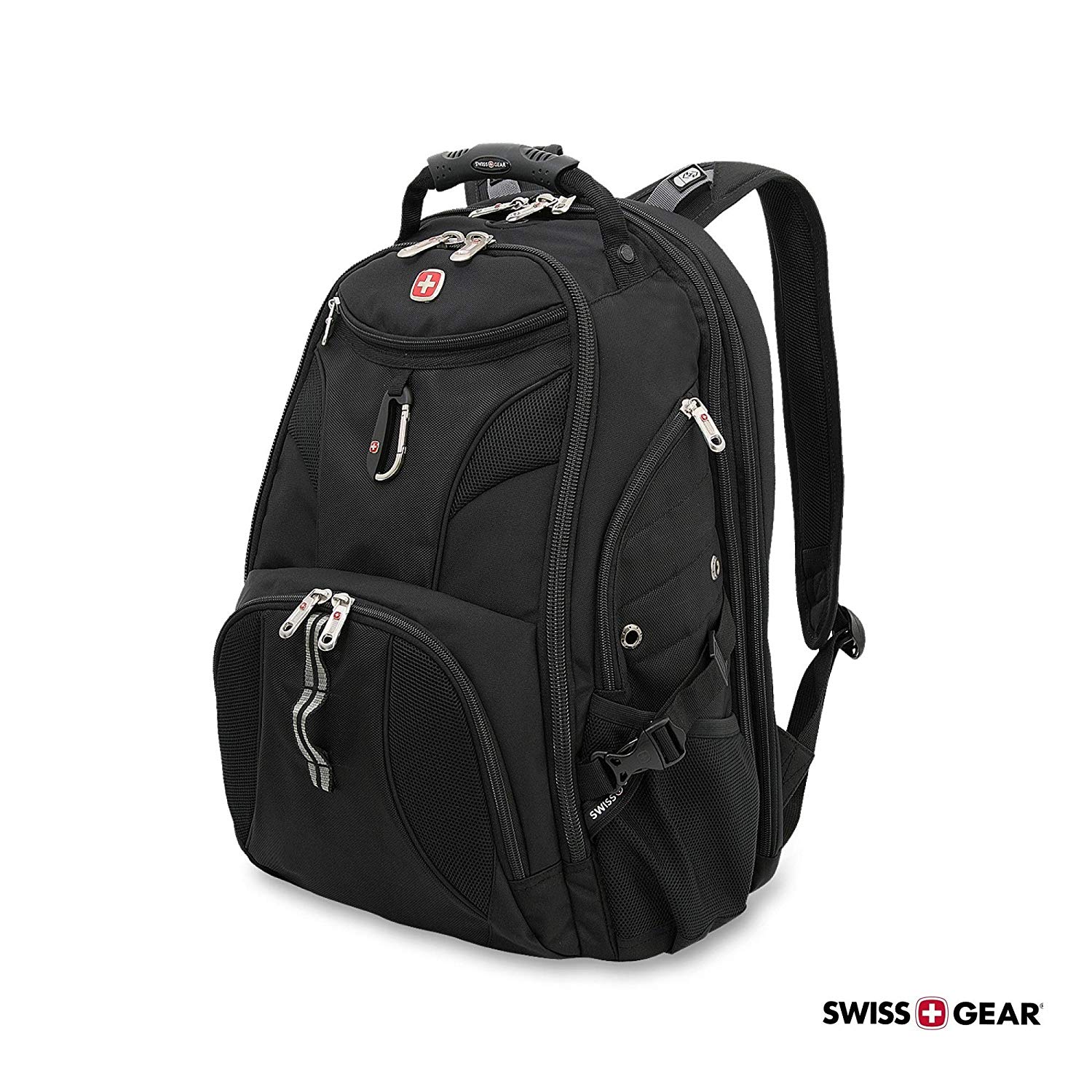 This next alternative to the TYLT Energi Pro Power Backpack is one of the highest rated laptop backpack options available today. The SwissGear ScanSmart 1900 backpack is made with weather-resistant 1200D ballistic polyester more maximum endurance in any weather. In addition, it features ScanSmart technology that allows you to go through a TSA scan without taking your laptop out of your bag. Speaking of the laptop, it holds up to a 17-inch laptop, as well as a tablet. The front organizational pocket can hold all your pens, pencils, notebooks, and other necessities. Two side pockets are available for an umbrella, water bottle, or a change of clothes.
All of this may get a little heavy, so SwissGear has included contoured shoulder straps with mesh fabric and adjustable side compression straps to keep your load in the right place. Lastly, the padded back panel has Airflow ventilation technology for added support and comfort. So, for one of the best all-around backpacks out today, keep the SwissGear Travel Gear 1900 Scansmart TSA Laptop Backpack in mind.
When it comes down to it, the TYLT Energi Pro Power Backpack is unsurpassed in its battery power and charging capabilities.
If you're truly on the hunt for the best charging backpack brand, you've found it. With the ability to charge three devices at once, and do so quickly, the TYLT Energi Pro Power Backpack takes the cake. So, if you're a techie on the go or tend to forget to plug your tech in at night, this is a great option for you.
Related Article: 12 Best Laptop Backpacks and Messenger Bags for the Efficient Traveler