The Fjällräven Duffel No.4 duffel bag takes on a classic with the same versatility, function, and design.
Sometimes, we need a non-conflicting bag that can travel anywhere and on any occasion. With the trend of "less is more" and minimalism growing in popularity, having pieces with multiples uses are imperative. Correspondingly, active lifestyles that run from the gym to an event should have pieces and parts that are seamless. People on the go also desire high functionality and durability in a bag that takes regular usage. The Fjällräven Duffel No.4 duffel bag provides these amenities, and they create each pack with its quality craftsmanship and intentionality.
About Fjällräven
Fjällräven says, "Forever Nature"! Åke Nordin founded this company in 1960 and since possessed a clear focus on the brand. Fjällräven develops durable, timeless, and functional outdoor equipment that stands for years of usage. Furthermore, they also hope to inspire people to enjoy and appreciate the outdoors in a sustainable manner. The arctic fox of Scandinavia, the mascot of Fjällräven, continues to live in severe threat of extinction due to overhunting of its sought-after fur coat. Since the beginning of the 1990s, Fjällräven cooperates with researchers in a variety of arctic fox projects that help spread info, supplies, and funds to research and supplementation. On top of providing substantial outdoor equipment, they are bettering the nature, economy, well-being, and societies of our world with equipment like the Fjällräven Duffel No.4.
Fjällräven Classic
Fjällräven Duffel No.4 bags are great, but Fjällräven does more than develop great gear. In 2005, Fjällräven created a concept of helping and inspiring more people to get outdoors into nature. The Fjällräven Classic began in northern Sweden; after many successful years, Denmark added a classic of their own. With a growing number of participants, more and more people discovered nature in their backyard. Correspondingly, the Fjällräven method of trekking became so popular that travelers can find the Classic in the United States and Hong Kong. Ambassadors that lead these Classics follow the 'Leave No Trace' principles and further educate participants on how to leave nature better than they found it.
The USA Fjällräven Classic partners with top-notch brands and suppliers that share the love of the outdoors. This year's American Fjällräven Classic took place at Copper Mountain Resort. Not to mention, there are multitudes of perks included with a ticket purchase; and there are rules to help guide you. You can find more details on the packing list, stamps, camping, littering, and the bear canister here. You could even get discounts on gear like the Fjällräven Duffel No. 4.
The Fjällräven Duffel No. 4
Credit: Amazon
Fjallraven's first duffel bag was the Sailor Bag 214, released in 1973. The development of the Fjällräven Duffel No. 4 moved in the same versatility, function, and classically clean design. The Fjällräven Duffel No. 4 is the smallest and most standard version of their Duffel collection. Although, this duffel can withstand everyday outdoor activity. Read on for more features and details on the Fjällräven Duffel No. 4:
Design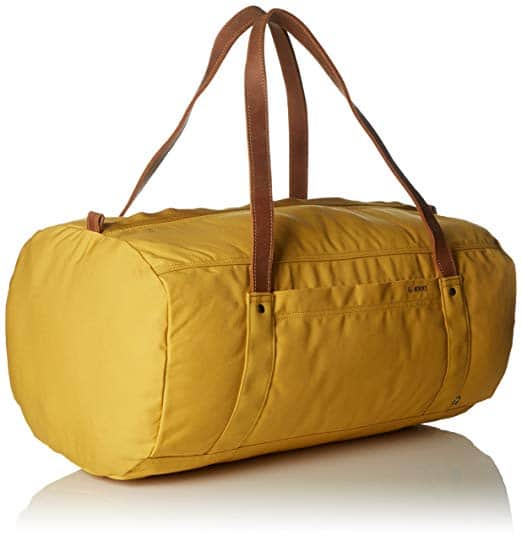 Credit: Amazon
You can purchase the Fjällräven Duffel No. 4 in a variety of colors: Black, Alpine Purple-Amethyst, Autumn Leaf, Blue Ridge, Dark Garnet, Dark Navy-Uncle Blue, Dark Olive, Green, Hickory Brown, Khaki-Sand, Navy, Ochre, Red, Redwood, and Sand. Uniquely, the design of the straps makes it easy to carry in hand, on the shoulder, or across the back. The dimensions of the Fjällräven Duffel No. 4 are 28 centimeters high, 48 centimeters wide, and 28 centimeters deep. It weighs about 660 grams. Additionally, a large zippered central opening with a smooth grip pull makes it easy to move items in and out when needed. Inside the Fjällräven Duffel No. 4, there is a safety pocket that holds smaller pieces. Also, there are two outer pockets- one zippered and one with a push button. Fjällräven Duffel No. 4 also doubles its layers of fabric on the bottom for reinforcement.
Build Quality
Credit: Amazon
The Fjällräven Duffel No. 4 sports a durable and robust version of their waxed G-1000 HD fabric. The G-1000 fabrics are tightly woven, hard-tested, and quick to dry. Comparatively, his original fabric by Fjällräven provides excellent ventilation along with top-grade wind and water resistance. Moreover, this fabric has globally-rated durability. Additionally, the leather straps match the strength of the rest of the bag so that you can expect nothing flimsy with this duffel. This duffel will stay with you for some time; it ages like fine wine.
Performance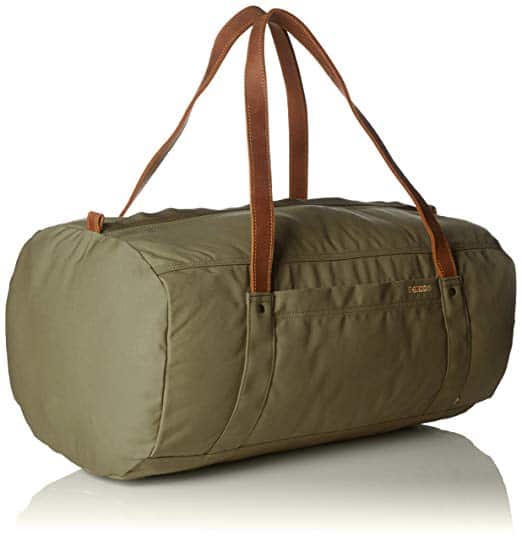 Credit: Amazon
This 30-liter Fjällräven Duffel No.4 holds everything you need for a short trip. The straps on the Fjällräven Duffel No. 4 are not adjustable. However, many trekkers have not had any issues using this bag as a carry-on piece. Go ahead and take the Fjällräven Duffel No. 4 on your next rugged adventure! This bag will last you through the next rough journey- even if it is just through an Airport Terminal.
What Travelers Are Saying About the Fjällräven Duffel No. 4
Overall, the Fjällräven Duffel No.4 received a 4.7/5 Star rating. There are plenty of cool features that we highlighted, but it is pretty easy to notice the overwhelming amount of 5-star reviews with this duffel. Here are some you may find helpful:
Top Review
5/5 Stars, I Love This Bag– "I love the Fjällräven Duffel No.4. It's versatile, stylish, well-built, and has held up well with heavy use. The little details like the cute little fox logo and the mini Swedish flag on the opposite side are great. The zipper pull is large, nice, and also has that cute little fox logo on it. I've used it as a carry-on, and it has more than enough space for short trips. There's a leather loop thingy on each zipper end that's made out of the same tough material as the straps. I pass my combination lock through the zipper pull and through the leather loop when I travel to secure my belongings. I've used the duffel for work and gym too. It has enough room to store whatever I need for work for the day and enough leftover room to bring my clothes and sneakers for the gym. The only thing I want is for Fjallraven to make a shoulder strap for the bag made out of the same tough and nice material as the hand straps. The loops on the hand straps are large enough that I can carry the duffel on my shoulder if I want to. I can also wear it like a backpack. But a real shoulder strap would be even nicer."
More Reviews
5/5 Stars, Beautiful, Durable, Practical, Clunky Zipper– "Excellent craftsmanship, premium materials, and beautiful design have made this one of my favorite possessions. The leather is supple, soft, and rich looking. The design is overall somewhat basic, but not in a wrong way. There are two interior pockets and two exterior pockets with no end pockets. Nonetheless, the bag holds an impressive amount of stuff without being one of those "huge" duffels. I would say that it is larger than a gym bag, smaller than a "suitcase" duffel, and about a carry-on size. However, my only complaint about the bag is the zipper. The metal pull tab for the zipper is somewhat stiff and cumbersome but could loosen with age. Often, it will not bend in the direction that it is being pulled, and has to be operated with two hands. Other than that the bag is absolutely beautiful and very high quality."
5/5 Stars, High Quality and Stylish Duffel Bag– "This is a really awesome duffel bag. The quality is superb, with really lovely durable fabric and thick leather straps. The zipper is heavy duty and has large rings that are easy to grab and open either direction. There is a front pouch with a small snap and a couple small zippered pockets inside. It's not quite as big as I was expecting (it's a duffel, not luggage), but that's okay. Fjallraven has apparently put out a high-quality product here, and while it might be more expensive than some other options, it's undoubtedly worth it. As a Minnesotan, I'd compare it to Duluth Pack, but with a bit more style and smaller price tag."
Other Weekender Bags You May Like
The No. 4 might rank high, but so do these alternatives. Check out these other fantastic duffels that have snatched the attention of travelers too:
Filson Duffel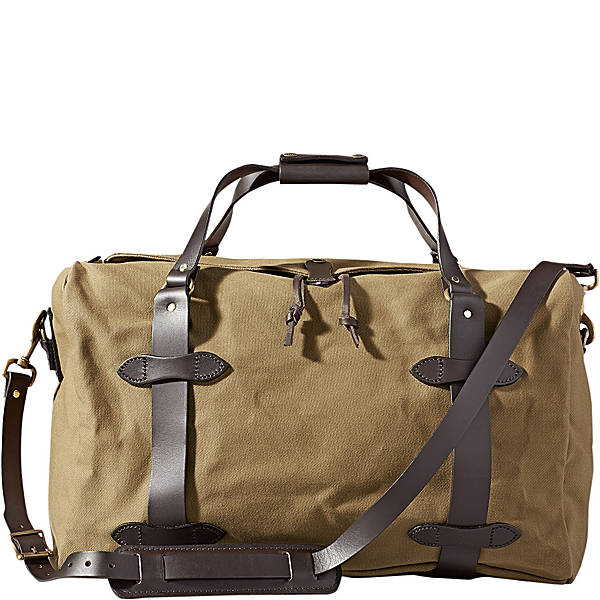 Credit: Amazon
The Filson Duffel bag undeniably looks luxe. However, it is not just a pretty luggage piece. This bag resists water and abrasions well so you will not have to worry about tossing it around in between flights. This bag will get better with time, alongside features that include brass hardware and a removable leather strap. Regardless, this bag covers the necessities.
Based in Seattle, Filson has a reputation of heavyweight materials and outstanding quality for their products. Since 1897, they have provided that standard for tradesman and outdoor enthusiasts. Their motto is, "Your satisfaction is the whole purpose of our transaction." They have essentially spoken that into existence.
Everlane Twill Weekender Bag
Credit: Amazon
This bag carries many similarities to the Fjällräven Duffel No. 4. The Everlane Twill Weekender Bag also provides plenty of space and two utility pockets for smaller belongings. Moreover, the design for this bag sticks well to the Everlane aesthetic, with shades of gray, black, and blue. However, each style is uniquely its own, yet all leaving complicated behind like the Fjällräven Duffel No. 4. The Everlane Twill Weekenders are 100% water resistant and contain a base that protects against wet and dirty surfaces.
Everlane also puts sustainability into practice. All of Everlane's products come from ethical factories where workers can earn a fair living. They definitely take a more fashion-forward approach, while the Fjällräven also highlights outdoor conservation. However, both speak profound truths to production and pricing of their products. People love their Twill Weekender bags so much that they are gifting it to their loved ones. The Everlane Twill Weekender not only provides fashionable function, but it also has its own company story to tell.
Herschel Supply Co. Novel Duffel Bag 1-Piece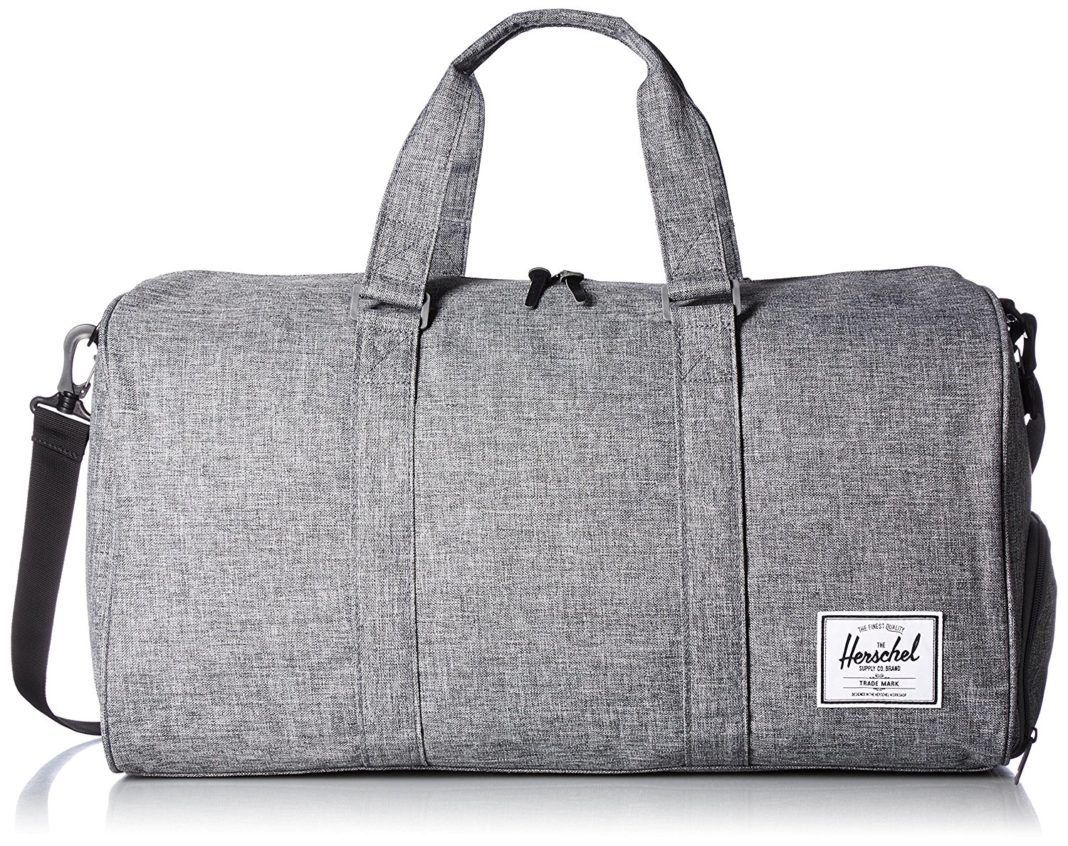 Credit: Amazon
The Herschel Supply Co. Novel Duffel Bag 1-Piece also feels like a classic, and it also comes in a variety of different colors and patterns to make it personal. This Weekender closes with a two-way waterproof zipper and contains Herschel's signature shoe garage. In the shoulder strap, you will find removable padded webbing. This duffel bag also features top handles with wrap-around bands. At the bottom corner, you will see the classic Herschel logo patch.
Albeit, Herschel Supply Company and Fjällräven do receive a lot of hype- but there is more to these beautiful bags. Similarly, the Herschel Supply Co. Novel Duffel Bag 1-Piece is created with quality materials, and they are super concise when it comes to detail. They even stand behind their products by providing a limited lifetime warranty. For packing your belongings, you can feel reassured knowing that your contents are safe in their signature striped fabric lining. It is possible to feel great all around with the Herschel Supply Co. Novel Duffel Bag 1-Piece.
For something full of quality and durability to last on your trips, cop a Fjällräven Duffel No.4.
The Fjällräven Duffel No.4 proves itself to serve and stand the tests of travel without the extra bells and whistles of other fancy duffel bags. Do you have the Fjällräven Duffel No.4? What are your thoughts on this duffel? Comment below!
Related Article:Best Weekender Bags for Travel in 2018