Looking for comfortable and durable hiking apparel? Consider the men's Eddie Bauer Guide Pro pants.
Are you looking for an all-season multi-sport pair of hiking pants? When it comes to travel gear, we are choosey. And there's nothing wrong with that. After all, when you're out on the trail, you not only want to be comfortable but you need gear that can hold its own. While there are many different types of hiking pants on the market, we love this style from Eddie Bauer. Easy moving and functional, the Men's Eddie Bauer Guide Pro Pants have quickly become one of our favorite items. They just might become your new adventure essential. If you're wondering how to pick the right hiking pants, read on.
The Men's Eddie Bauer Guide Pro Pants Features & Benefits
In multiple tests, these pants have held up tried and true. Take them hiking, camping, bouldering, scrambling and wherever you would like. There's no disappointment in their activity level. Equipped with a stretchy material and Freeshare 50+ sun protection, they are made to face the elements. With articulated knees and notching back fabric bulk in the calves, they turn otherwise complicated maneuvers into an easy step of comfort. Eddie Bauer is a brand we know and love.
Design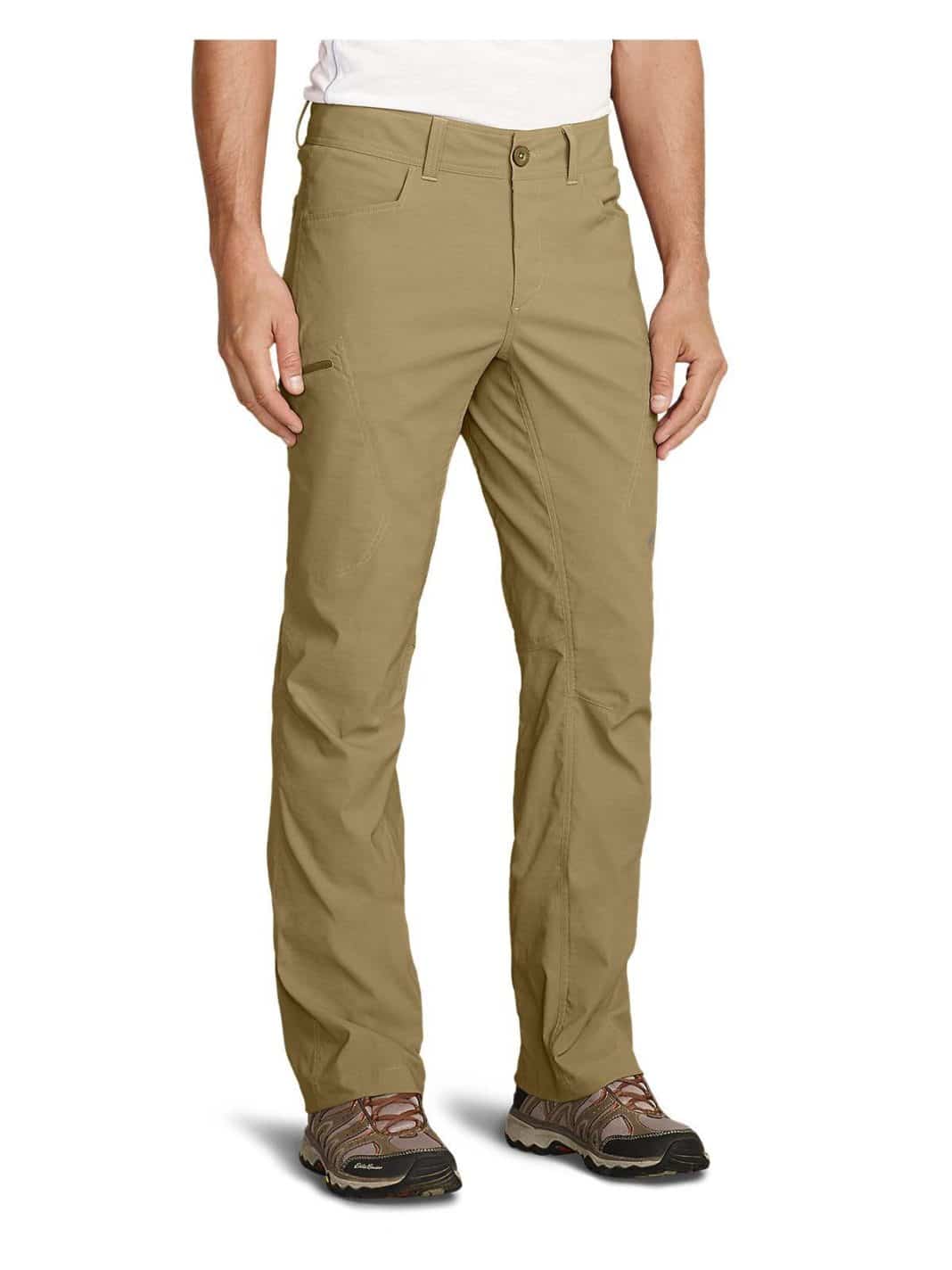 If you saw someone wearing these pants on the street, you would never know they were wearing athletic outerwear. Made with a combination of nylon and spandex, the material is both smooth and stretchy. You can thank the Flexion Stretch Woven Technology for that. In addition, the material is breathable and boasts other technologies that wick moisture away, repel odor, and provide protection from harmful UV rays.
Taking a closer look at the design, you will find a button waist with a zipper fly, sturdy belt loops, deep pockets, and two small standard back pockets with velcro tab closures. All of the stitching looks clean and minimal. We love that the pants feel lightweight; this is a huge plus for backpackers and hikers.
User Testing
Travelers who have used these pants frequently for months on their travels happily noted that they held up well. The Men's Eddie Bauer Guide Pro Pants do not easily snag or tear. One thing we can say with confidence is these are some of the most comfortable pants we have ever tested out. Made with an active fit, they fit a little more snugly than other hiking pants, for a slim look.
While this might seem to be restrictive, the stretch in the fabric provides just the right amount of comfort. The articulated knees help provide a good deal of flexibility too. Whether you're walking, hiking, climbing, or scrambling, you will enjoy a full range of motion. Last but not least, we like that the ankle holes are wide enough to cover your hiking boots, so you won't have that awkward scrunched up look.
Lightweight and Breathable Material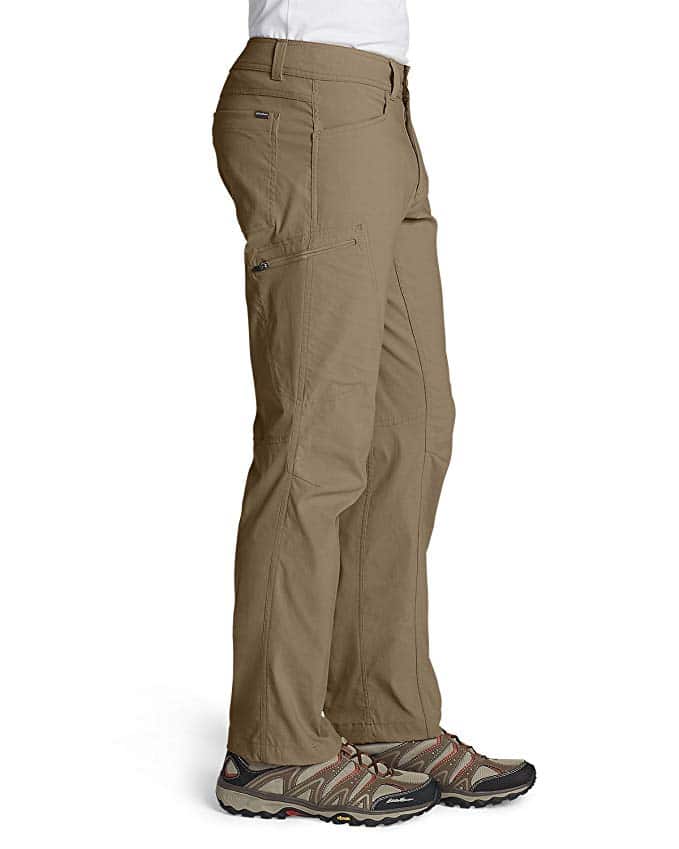 The Men's Eddie Bauer Guide Pro Pants will keep you cool with a lightweight and breathable material. Even in warmer temperatures, you will stay comfortable and dry. Since they have also been treated with a water repellent finish, even if you get a little wet, the droplets will just bead and roll right off. In fact, some users even went fishing in the rain wearing these pants and found they did quite well. With the built-in odor technology in the waistband, you won't have to worry about mildew smells either. Let's be honest. Outdoor adventures are often sweaty ones.
While the size of some pant pockets are disappointing (don't even get us started on fake pockets), the Men's Eddie Bauer Guide Pro Pants offer a good amount of storage space for your items. The upper pockets are deep enough for you to slide your hands in for those cold mornings. You can also fit in your keys, wallet, and iPhone. While we rarely use rear pockets, they offer a good amount of additional storage too.
Overview of the Men's Eddie Bauer Guide Pro Pants
These pants are so impressive that we want to buy some in just about every color. Users have spent a lot of time in these both on and off the water. We are impressed by their durability and the level of comfort that they provide. It's not every day that you find such a stylish pair of outerwear either. The Men's Eddie Bauer Guide Pro Pants truly are in a league of their own. While there is a myriad of options for sizing and style (e.g. tall and regular lengths), the size chart offers an easy and accurate way to gauge your size.
Tech Specs:
Nylon and spandex

Comfortable fit

Stylish design

check

Strong stitching

check

UPF 50 sun protection

check

Moisture wicking

check

Anti-odor waistband

check

Deep storage pockets

check

Come in a variety of lengths and sizes
What Travelers Are Saying About the Men's Eddie Bauer Guide Pro Pants
With the Men's Eddie Bauer Guide Pro Pants, you're getting a tremendous value. Comfortable and lightweight, these pants breathe well. The stretchy material offers just the right amount of space and flexibility. For the most part, they run true to size with a little bit of extra room in the waist. This makes it easy to wear for climbing and scrambling.
Overall, travelers love them. With a 4.5 out of 5 star rating, these pants really speak for themselves. Some users noted that they traveled out to the the Rocky Mountains for weeks of hiking and exploring. While the weather was a bit chilly (ranging from the mid 30s to mid 50s), they held up and blocked the wind well. Just pair them with a pair of thermals underneath and you will be warm and cozy. The extra space allows for it, so you won't feel restricted. Side zipper pockets offer a nice feature for small items. The back pockets have a small velcro tab.
The only complaint users seemed to have about these pants is that they are not silent enough and rustle a little when you walk. But as far as flaws go, that's very minimal in our book. All in all, we love the Men's Eddie Bauer Guide Pro Pants and highly recommend them to any traveler seeking comfort and quality for the road.
Alternative Men's Hiking Pants You May Love
Columbia Men's Silver Ridge Convertible Pant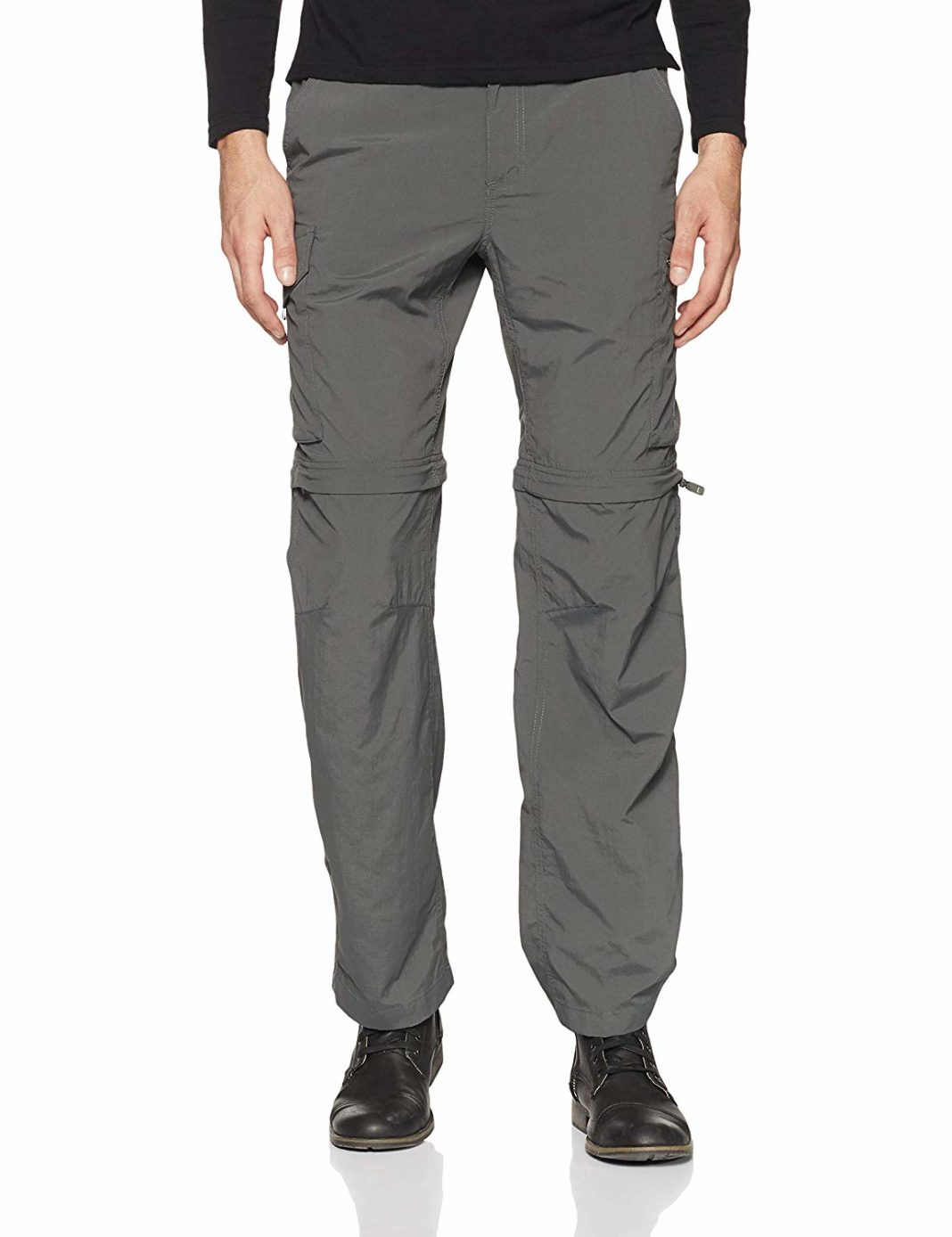 When it comes to brands you can count on, Columbia Sportswear is up at the top of our list. Whether you are going on a day hike or trekking out in the Rocky Mountains, the Columbia Men's Silver Ridge Convertible Pant will see you through it. Lightweight and durable, they are made to protect you from the elements. While it's great to have movement in your hiking pants, you don't want too much loose fabric. These straight leg pants offer just the right amount of room through the thighs and seat.
You will also get a great amount of storage thanks to the side cargo pockets. Another great feature they have is convertibility. If you've worked up a sweat and are overheating on the trail, simply zip off the lower pant legs to reveal a comfortable pair of cargo shorts. Combine this with moisture wicking properties, UPF 50 sun protection, and an adjustable waistband and you have a dream pair of outdoor pants right here.
Tech Specs:
Nylon and polyester blend

Slim fit

Convertible to shorts

check

UPF 50 sun protection

check

Moisture wicking properties

check

Adjustable waistband

check

Good pocket storage
Arctix Men's Snow Sports Cargo Pants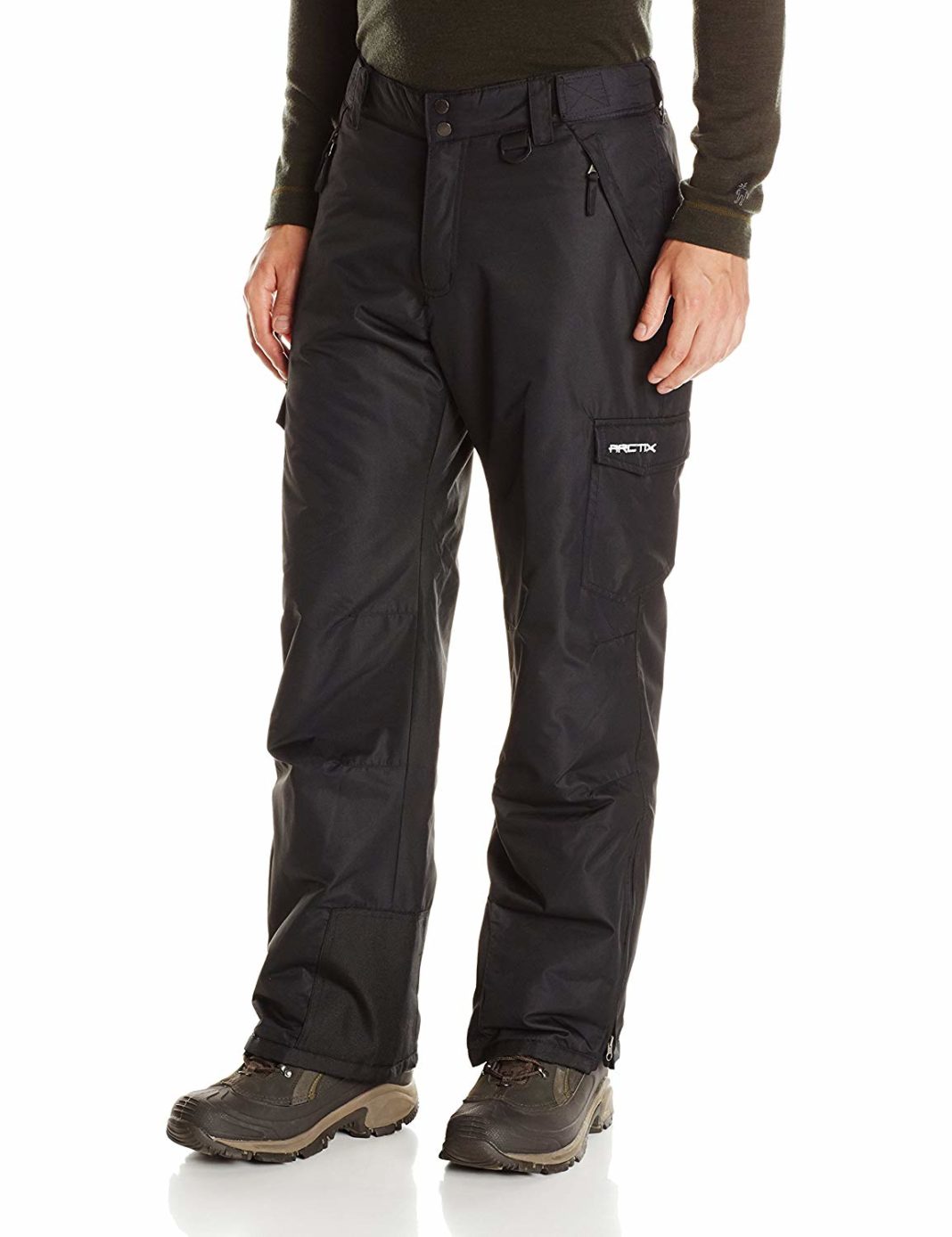 Ideal for all winter sports, the Arctix Men's Snow Sports Cargo Pants are just what you need to stay warm this holiday season. With a multi-layered construction, these pants feature a lightweight insulation with heat trapping technology. While they feel lighter to the touch, they offer much more warmth than traditional insulation does. The outer shell of the pants is sealed with a breathable high-tech material that wicks moisture away from your body as you exercise. Reinforced seams provide great wind resistance.
All in all, you will enjoy more flexibility with less bulk. Winter activities are so much more fun when you're wearing warm, comfortable outerwear. These pants from Arctix are made with flexible materials that offer stretch in multiple directions. When you're hiking in cold weather, make sure to layer up, wear weatherproof shoes with good traction for snow and ice, and consider using a walking stick.
Tech Specs:
100% polyester shell

Multi-layered construction

Heat retaining technology

check

Moisture wicking

check

Wind resistance

check

Flexible material without the bulk

check

Boot zippers for easy on and off

check

Cargo pockets

check

Reinforced 600 denier ballistic at ankles, scuff and hem guard to prevent daily wear and tear
Invest In the Men's Eddie Bauer Guide Pro Pants for Your Next Adventure
We hope you enjoyed reading our article on the Men's Eddie Bauer Guide Pro Pants. As you can see, this lightweight, durable style offers multi-season wear. With moisture wicking fabric, UPF 50 protection, and water repellent material, they have everything you need to face the elements. If you plan on wearing them in colder weather, simply layer with thermals underneath. We highly recommend this style.
Related Article: Best Hiking Pants For Men: Summer To Cold Weather Styles