Do you need a little extra help as you log those hiking miles? Take a walking stick along.
When you think of a walking stick, scenes from Lord of the Rings might come to mind. These fictional journeys certainly called for a little hiking assistance. While you likely won't be smoking a pipe with Gandalf or taking an enchanted ring to Mordor anytime soon, you can still enjoy the benefits of a walking stick. If you are interested in trying a walking stick out for yourself, you can find one at any sporting goods store. But where is the fun in that? Why purchase a generic walking stick when you can design your own? For some basic wood carving experience and to have your own personal hiking token, learn how to make a walking stick.
Use these easy steps and learn how to make a walking stick.
1. Check your supplies.
Before you rush into the woods to find the perfect stick, you need to check your supply list. This process is going to require a few extra tools, so make sure you have what you need before you begin. Don't worry if you do not have these supplies on hand. Fortunately, you can locate any of these at your local hardware store. Do a quick inventory and then get started with how to make a walking stick.
A pocket knife
A drill with a ¼ inch bit
Sandpaper
Wood stain
Urethane varnish (optional)
Rawhide lace or heavy cord
A straight tree branch (Approximately 55 to 65 inches long)
2. Locate the perfect stick.
If you are wondering what size stick you'll need, use your body as a guide. Stand and place your arms by your side and measure the stick against yourself. The ideal walking stick height should be no greater than 8 inches past your elbow. This walking stick should be straight and somewhat free of blemishes. As you seek out the perfect stick, remember the leave no trace guidelines for hikers. You do not want to take an axe into the woods and start cutting off parts of trees. Your stick of choice should already be on the ground.
3. Remove unwanted parts of the stick.
Before you start the artsy activities, you need to clean the walking stick up a bit. First make sure each end of the walking stick is free of any splits. With a sharp pocketknife, strip away the outer layer of bark from the stick. If there are any knobs or jagged points, carefully even it out and use sandpaper to round it off. Occasionally a stick contains an inner layer of bark as well. You will also want to remove this to prevent any discoloration as the stick dries. Once this process is complete, use a drill to make a ¼ inch hole directly above the grip area. This is for your wrist strap.
4. Decorate and personalize your walking stick.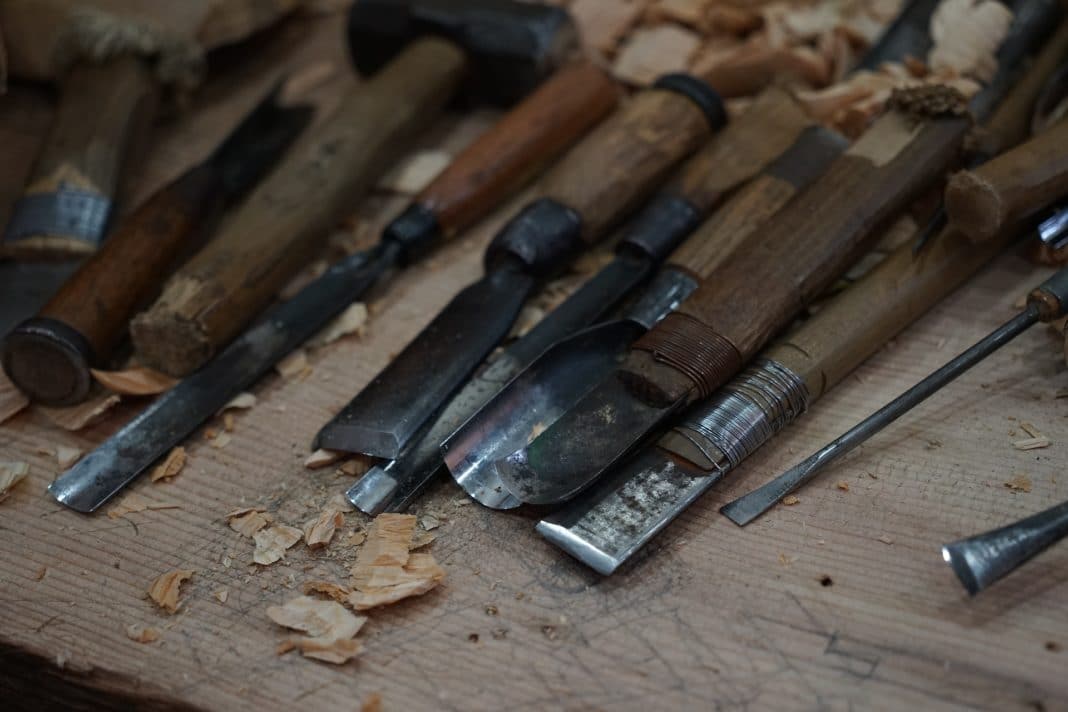 Now is the creative part of how to make a walking stick. Who's to say you can't have a little fun with this? Use your pocketknife and other woodworking tools to carve some designs into your walking stick. Here is a quick guide for woodworking basics to get you started. You can also try out various other art forms such as wood burning or painting to get your desired result.
Once you are satisfied with your walking stick's design, it is time to apply wood stain. This darkens the walking stick hue and gives it that finishing touch. It is best to apply two coats of wood stain, while allowing each coat to dry overnight. For an added sealant on your final product, apply several coats of urethane varnish. After these are dry, thread your piece of rawhide lace or heavy cord through the hole in the top of your stick. Knot this rope and then your walking stick is ready for use.
Once you master how to make a walking stick, try it out on a wilderness adventure.
Pick out your favorite pair of hiking pants and fill up your water bottle because now it's time to hike. The final test for your hiking stick is to actually take it outdoors and use it on an adventure. If it proves sturdy and serves as a valuable walking aid for you, then you know you've found the perfect match.
Related Article: Best Hiking Pants For Men: Summer to Cold Weather Styles