Get ready for winter weather with the Ceyue Men's Leather Snow boots.
If we didn't know better, we would swear that these are everyday footwear. The Ceyue Mens Leather Snow Boots come in a variety of colors. A synthetic exterior lends itself to a trendy aesthetic. Lace fastenings and the fleece lining give it a snug, comfortable feel that keeps heat inside and cold out.
We also love that the polyurethane leather upper allows you to walk in a snowfield without getting wet. With the cozy lining and soft insoles, your feet are prepared to handle the elements. Take it all in stride with the best winter boots for men. Pair it with any casual wear and you're good to go.
The Ceyue Mens Leather Snow Boots Features & Benefits
Don't let the cold prevent you from going outside and having a little bit of adventure. The Ceyue Mens Leather Snow Boots are designed for going off the grid. And they won't hurt your wallet one bit. While it can be hard to find the best winter boots for men and women, we've taken the guesswork out of it for you. If you're looking for an affordable seasonal buy, this could be the style you need.
We know how hard it can be to strike a balance between looking good and feeling good. But these little boots check both boxes. Rated one of the best pairs of snow boots for men on Amazon, this pair from Ceyu packs a punch. For only $35.99, you're getting a steal.
Waterproof PU Leather and Synthetic Materials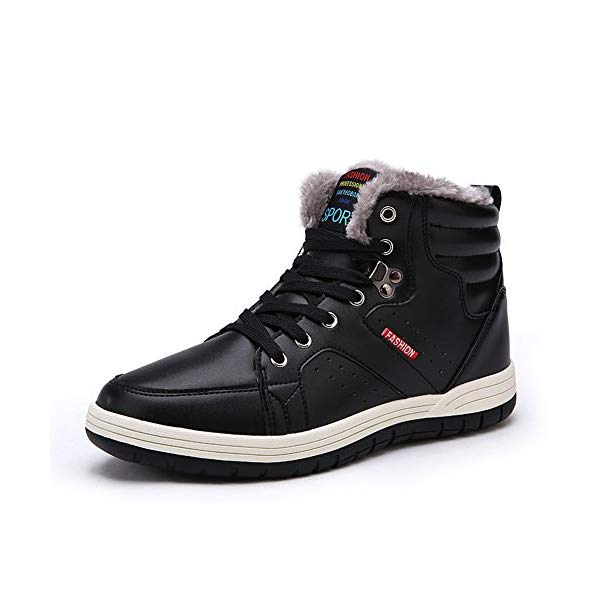 How do you find a good pair of winter boots? First, find out if they are waterproof. Thankfully, the Ceyue Mens Leather Snow Boots are. When you are out in the cold, the last thing you want is moisture leaking in through your boots. Made from high quality waterproof PU and suede leather, these shoes hold up well.
Thanks to the suede leather upper, snow has no chance of seeping into your shoes while you are on the slopes. Your feet will stay dry, comfortable, and warm. Furthermore, the seams are designed to keep your feet dry. The Ceyue Mens Leather Snow Boots are a product you can feel good about purchasing.
Warm Insulation
Warmth is another factor to consider when looking for the best winter boots. Find out what type of insulation the shoes offer. The Ceyue Mens Leather Snow Boots are fully fur lined inside. The insole is soft and comfortable, insulating body heat naturally to keep your feet toasty even in the freezing winter. Whether you're braving the streets of Chi-town or hiking mountains in Iceland, these boots are guaranteed to keep you warm. The great insulation properties of the Ceyue boots goes to show how well they are constructed.
Some boots have a lining built in and others don't. If you're looking for that extra layer of warmth, there are plenty of places where you can purchase a removable liner. Simply slide it in and out of your shoe. And make sure to get the right size of course. Something to consider when purchasing your winter boots is whether or not you want to or need to go a half size up. Remember, when you are wearing layers like wool socks an adding insulation, toe space can become cramped quickly.
Wear Resistant and Non-Slip
Equipped with a premium rubber outsole, these shoes are wear resistant and non-slip. Even after continuous use, they hold up well. The pattern of the bottom shoes has a good grip, ensuring you can walk safely on snow and ice.
A Myriad of Color Options
When it comes to fashion, more options is never a bad thing. That's why we can appreciate all the color choices we have in the Ceyue Mens Leather Snow Boots. As a winter wardrobe staple, you will want to pair them with your clothes every day. Thankfully, they come in six different color styles. Pairing these with a good pair of wool hiking socks adds an extra layer of coziness. So, if you're looking for a pair of high quality boots that doesn't sacrifice fashion for function, look no further than this style from Ceyue.
What Travelers Are Saying About the Ceyue Mens Leather Snow Boots
Overall, travelers love the Ceyue Mens Leather Snow Boots. From their style to warmth, complaints are far and few between. The best features that travelers point to are the style and warmth. These boots look much more like streetwear tennis shoes than winter wear but that's one of the things we love the most about them. It makes for easy pairing.
In addition, they have been tested out in the winter of places like Aspen, Colorado and Chicago during winter. They haven't let travelers down. These qualities have earned them a 4.1 out of 5-star rating on Amazon. You can make your purchase with confidence. The Ceyue Mens Leather Snow Boots will last for many adventures to come.
There were a few Ceyue Mens Leather Snow Boots that had some issues. While they are mostly loved all around, some customers thought the laces were too thin. In addition, others noted that the PU material began to peel after a few months of use. So, make sure to keep this in mind as you think about your preferences. But looking at the overall price and quality, Either way, Ceyue Mens Leather Snow Boots are a spectacular winter boot choice overall.
Tech Specs:
Two different options for soles (hard and soft)

Fur lining to keep your feet warm

Skid-resistant

check

Anti-slip

check

Wear-resistant

check

Flexible support

check

PU leather upper

check

Waterproof

check

Rubber sole for good traction
Alternative Winter Boots for Men You May Like
Arctiv8 Men's Nortiv8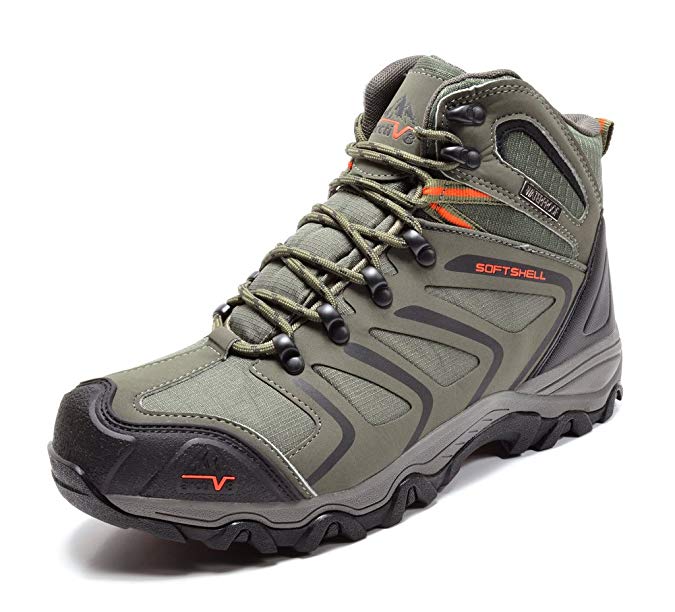 Are you're looking for the best winter boots for men? We're convinced we have found them in the Arctiv8 Men's Nortiv8. The entire design is geared towards braving the elements. These shoes work well in both wet and cold outdoor conditions. Thanks to weatherproof protection, microfiber, and heat reflective lining, your feet will stay toasty even if it's cold outside. Enjoy all the comfort all day long. A rubber outsole lets you walk in the winter wilderness, even on slippery surfaces.
In addition, the all-weather protection is designed to retain heat to temperatures of -25 degrees Fahrenheit. In addition, the shoes have a water and oil resistant upper. With a shaft height of six inches and a cushioned EVA footbed, it's easy to see why they are a good buy. Arctiv8 carries boots for all kinds of terrain, seasons, and activities. Whatever you need, they've got you covered.
Tech Specs:
Synthetic material

13" boot opening all around

Durable rubber outsole

check

Multi-directional lugs for traction on various types of terrain

check

Waterproof shell

check

Thermolite insulation rated to -25 degrees Fahrenheit

check

Cushioned EVA footbed

check

All-weather protection

check

Premium waterproof, oil-proof, and slip resistant
Timberland White Ledge Men's Waterproof Boot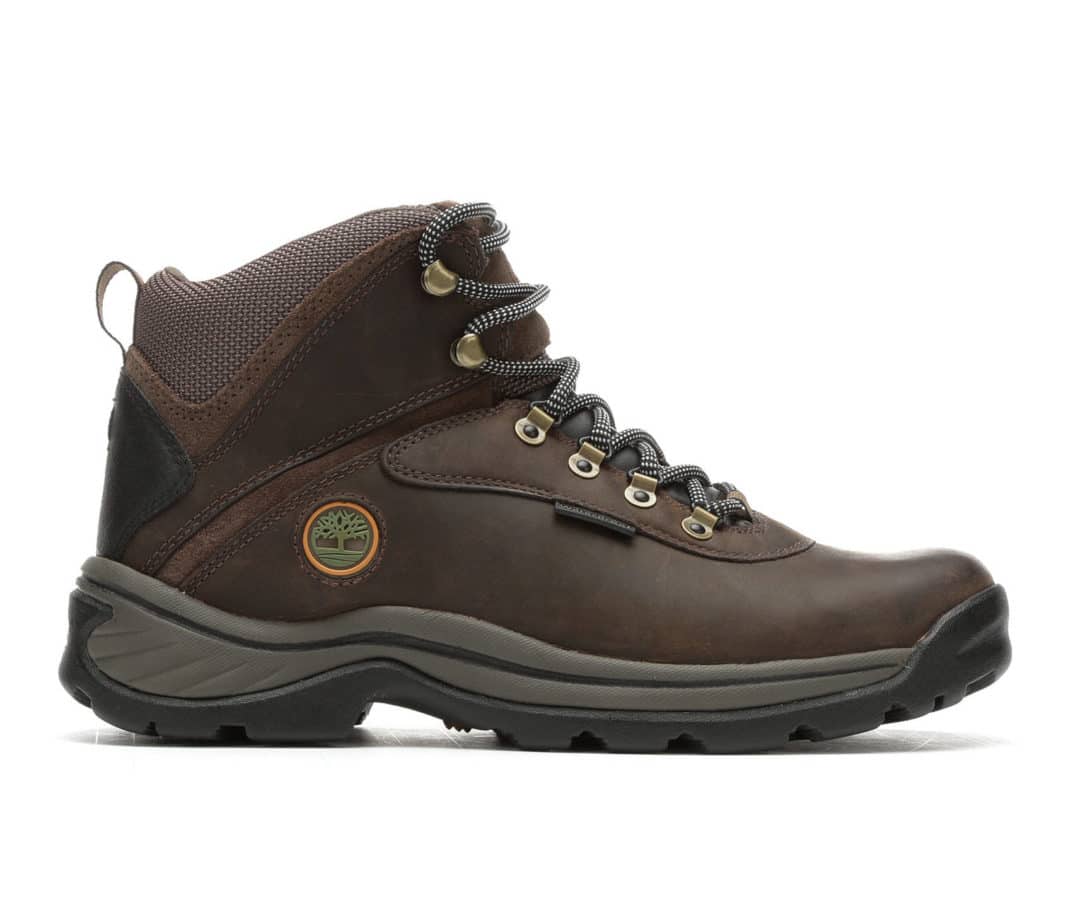 Go ahead and hit up the trail. Whether you are traveling in rain or shine, these waterproof hiking boots from Timberland have got you covered. After all, these shoes are made for any terrain. Offering sturdy construction and durable fabric, these shoes and their rubber outsoles keep you warm and comfortable.
In addition to offering protection from the elements, they are so comfortable to wear. Thanks to the perforated EVA footbed, you can enjoy air circulation for breathability when you need it most. A durable rubber outsole and lugs follow the natural motions of your foot. You can break, flex, and propel with ease. You're the master of the terrain in the Timberland White Ledge Mid Waterproof. These are some of the best winter boots for men.
Take them wherever you would like – on day hikes, weekend adventures, and simply wherever. With a full-grain waterproof leather and seam-sealed protection, you're safe from raindrops and water crossings. Add in those multi directional lugs we talked about and you can get around with ease. A padded collar and tongue keep your ankles comfortable as you move about.
Tech Specs:
Waterproof full grain leather upper

Padded collar and tongue provide great ankle protection

Perforated breathable EVA footbed

check

Multi directional lugs for traction

check

Imported

check

Rubber Sole

check

Weatherproof

check

Speed lace hardware
All in all, the Ceyue Mens Leather Snow Boots are a durable winter boot at a great price point.
If you have been searching for a men's winter boot that can take you from the streets to the trail, these will work out perfectly. From their stylish, classic appearance to their great insulation properties, the Ceyue Mens Leather Snow Boots have you prepared for winter weather. Whether you are looking for a new pair of winter boots for school, hiking, road trips, or that European Christmas trip, they will keep you warm and happy. Ceyue takes great pride in their products. So, rest assured that you'll be joining in on the best outdoor gear when you snag a pair of these shoes. The Ceyue Mens Leather Snow Boots are ready to take you wherever you want to go.
Related Article: 9 Best Winter Boots For Men: Stylish, Functional Finds