This Ban.do getaway duffel bag is available for weekends, last minute vacays, and everything in between.
Girls, if you need a vacation, there was never a better reason to get out of town than this insanely cute Ban.do Getaway Duffel Bag. Pack some cat PJs, fuzzy slippers, face masks, and download a killer playlist. It will all fit. This duffel is huge! Featuring a silver leatherette and vacation pattern, it's equally as cute.
We're loving this bag for two main reasons. First, it's big enough to fit everything you need for a long trip. Second, the adorable kitschy striped interior brings some serious sleepover vibes. All in all, it's perfect for that girls' weekend getaway you've been craving.
About the Company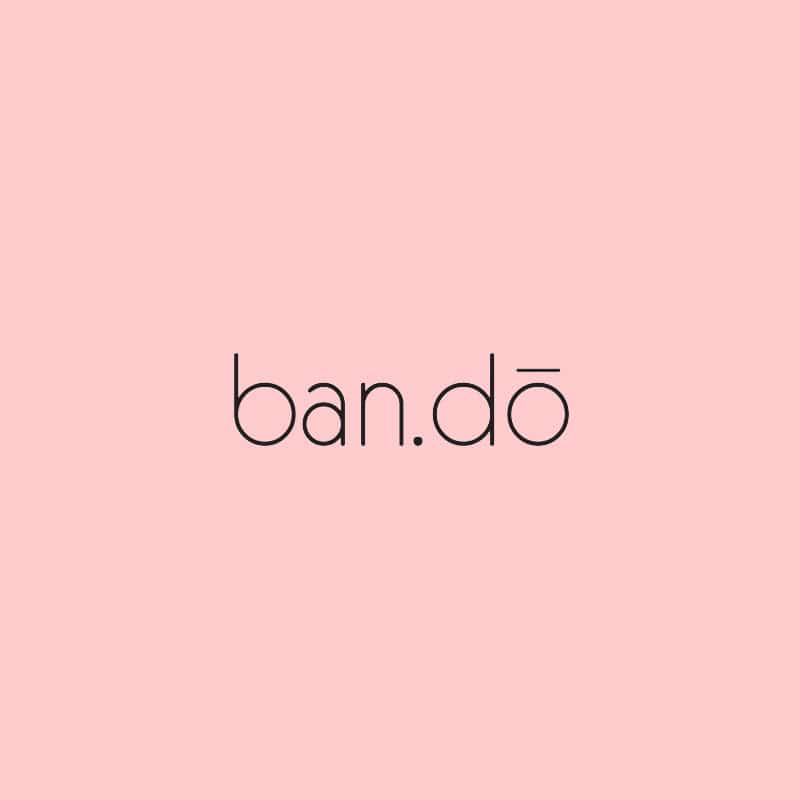 Credit: Ban.do
The LA-based lifestyle brand Ban.do designs clothes, accessories, gifts, stationary, and more. They're inspired by friendship, kitschy patterns, 80s and 90s nostalgia, and all things fun. They are also strong believers in supporting their community of customers, fellow artists, and like-minded brands. A little style really does go a long way.
Tech Specs:
12.5 in. x 21.5 in. x 12.5 in.

heavyweight 16 oz. canvas

surface design by Maddy Nye

check

metallic sangria foil

check

leatherette handle cover

check

adjustable canvas shoulder strap (47 in.)

check

leatherette bottom panel

check

full cotton lining

check

gold hardware

check

double zipper

check

interior pocket with screen print (9 in. x 6 in.)
Material
Sporting a heavyweight canvas material, this bag offers a durable construction for its size. You can pack a lot into it without having to worry about it bursting at the seams. Canvas bags typically hold up for years. That's why other big names like Everlane, Herschel, and FjallRaven use it for their products. A foldable and anti-wrinkle heavyweight canvas body makes this duffel easy to store when it's not in use.
Putting the durable quality aside, the duffel features such a fun print. Gold hardware adds subtle but charming touches to the style. Adjustable and removable straps offer max comfort, featuring a surface design by Helen Dealtry and typography by Katy Jones.
Design
This Ban.do Getaway Duffel Bag offers a fun, kitschy print sure to brighten up any vacation. Ban.do is known for their quirky, offbeat style. We absolutely love this fun tote. Wherever you're going, you're sure to make a statement. A leatherette handle cover and bottom panel keep things structured while adjustable and removable straps offer maximum comfort.
Durability
We've tested out this bag and it holds up tried and true. In fact, it's been our go-to for some of our last big vacations and it's held up so well. There's no tears, stains, or snags. The canvas material is top-quality and the seams are stitched tight. For only $58, you won't believe what type of a bargain you are getting. Ban.do makes high quality products and that's a fact. Where else will you find this type of quality and bargain?
Spaciousness
Do you see all the space in this bag? It's ridiculous. You can fit all the clothes you need for a three day weekend, several pairs of shoes, an entire makeup and toiletry kit, and more. Plus, there's plenty of space leftover for souvenirs – chocolate, anyone? Measuring 12.5 inches by 21.5 inches by 12.5 inches, this is the perfect weekender or carry on bag. You'll love how easily it slides into the overhead compartment. By consistently bringing the Ban.do Getaway Duffel Bag on the plane when you travel, think about all the money you'll be saving.
What Travelers Are Saying About the Ban.do Getaway Duffel Bag
Credit: Amazon
We've searched the web and asked around. Travelers absolutely love the Ban.do Getaway Duffel Bag. Word around the street is, it's even better in person than in the pictures. You'll be thrilled by how large this bag is. The main compartment is large enough to fit all of your important possessions and it still feels sturdy.
Other Weekender Bags You May Like
Vera Bradley Iconic Weekender Bag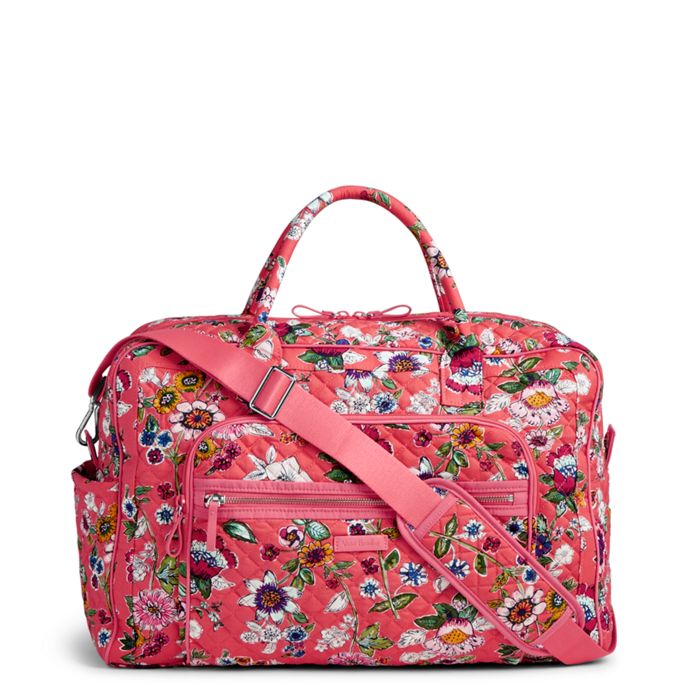 Credit: Vera Bradley
We swear Vera Bradley has thought of everything. Just take a look at the Vera Bradley Iconic Weekender Travel Bag. This spacious, carry-on compliant duffel has everything you need for your next adventure. The Vera Bradley Iconic Weekender Travel Bag is the fashionable solution for storing your travel essentials, packing efficiently, and avoiding checked bag fees – measuring 12.5 inches high, 18.5 inches wide, and 7.5 inches in diameter.
Let's take a look at the inside of the bag. The interior of the Vera Bradley Iconic Weekender Travel Bag features five mesh pockets. So you can skip the extra carry on and take advantage of these pockets to organize your cosmetics, hair products, jewelry, and other toiletries. The interior compartment fits about four to six outfits – perfect for the quick getaway. The exterior features one slip pocket, a charger pocket, and two zip pockets that are convenient for stowing your travel essentials – wallet, phone, boarding passes, reading material, and snacks.
We love that your personal items will be easily accesible. Keep your most important items at your fingertips with pockets positioned for quick access while staying soundly fastened for your flight. The Vera Bradley Iconic Weekender Travel Bag keeps you hands-free so there is plenty of room for adventure. With a 6.5 inch strap drop and a 52.5 inch adjustable, removable strap, you can grab the dual straps on the go, throw over your shoulder for hands-free attention, or utilize the trolley sleeve to attach it to your luggage handle. When quality material meets precise craftsmanship, you get a bag made to last through all of life's journeys.
Everlane Twill Weekender
Credit: Everlane
Do you like to travel light? Well, you're going to love the Everlane Twill Weekender bag. While it's not as flashy as the Ban.do Getaway Duffel Bag, it still offers plenty in the way of function and style. This lovely little bag has consistently ranked at the top of the best travel list and not just because it's an easy carry on. Let's take a look at just what makes it so special.
First things first. Let's take a look at the storage. Everlane's Twill Weekender has one large zip-up compartment as well as a smaller zip-up pocket in the interior. This bag is effortless to use and pair. The inner extent feels spacious enough for those who like to compartmentalize a bit more. The exterior is well-built too.
At the base of the bag, gunmetal feet protect your contents and prevent the bag from scraping the ground. Overall the dimensions of the Everlane Twill Weekender measure 22 inches long, 8.5 inches wide, and 12 inches tall. The shoulder straps drop 12 inches. Everlane kept it straightforward with this weekender.
The Twill Weekender offers nothing less than you would expect from Everlane's high quality, design, and fit. The outside of the bag is chic and minimal. If you're one of those people who do not enjoy big brand names across your item, the weekender has got you covered. Even the Everlane branding is cleverly tucked away in front of the interior zip pocket. While the logo might not be front and center, we'll bet everything people are wondering where you got it.
Last but certainly not least, the Everlane Twill Weekender Bag comes in five colors: reverse denim/black leather, navy/black leather, black/dipped black, reverse denim/dipped navy, and reverse denim/dipped black. The designers at Everlane are skilled at making minimal color palettes appear fresh and desirable.
Bluboon Women's Canvas Weekender Bag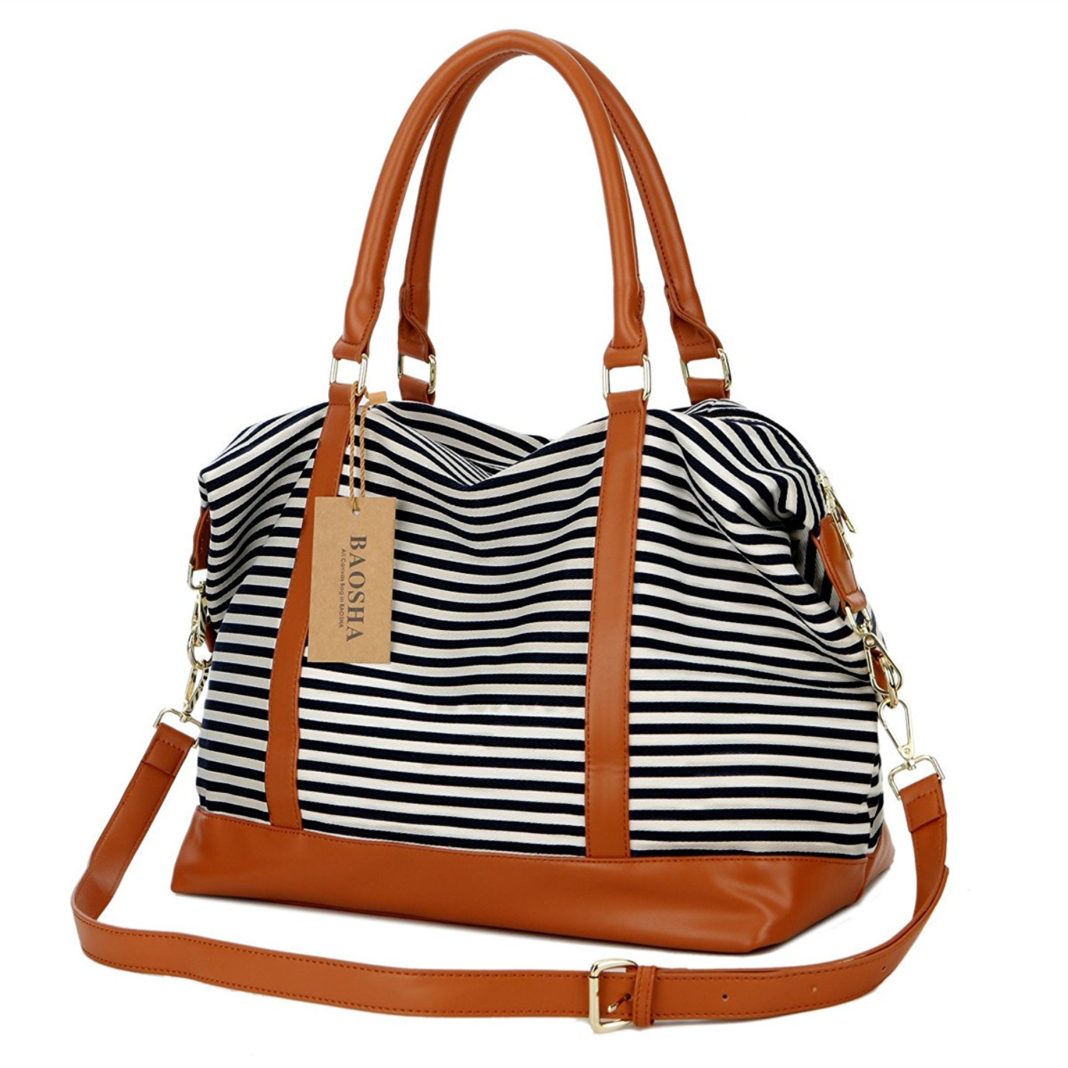 We've got to say it. We're in love with this convenient little canvas weekender bag. Want to know its best feature? We'll tell you right up front. There is a zip pocket specifically designed to slide over the handle of your carry-on suitcase. This means you don't have to be that person struggling to get out your passport while dropping all of your items. It's time to get your gear organized and Blueboon has got you covered.
The Bluboon Women's Canvas Weekender Bag is the perfect-size carry-on for most standard airlines. Second, it's super cute. Come on, take a look at that stripe pattern. It's a perfect day piece for all your accessory needs. That's not all. It's sturdy too, especially for its price point. You can easily pack in two to three days of clothing, accessories, and a laptop up to 15.6 inches.
Invest In A Fun, Smart Bag for Your Travels – Aka the Ban.do Getaway Duffel Bag
We hope you enjoyed reading our article on the Ban.do Getaway Duffel Bag. As you can see, Ban.do puts a lot of work and creativity into their products to create high quality, long lasting products. Where else are you going to find such a stylish, practical bag at a great price point. Fifty-eight dollars is such a steal for a bag that will last you for years of fun and memories to come.
Questions and Comments
Do you have any questions or comments for us? If so, we would love to hear them. Feel free to leave a message in the comment section below. We will be sure to get back with you soon.
Related Article: Best Weekender Bags For Travel In 2018