Are you looking for ways to step up your iPhone photography game? Enter the 11″ Arkon Tripod Mount.
Ideal for taking photos and streaming video, this eleven inch tripod includes a spring-loaded phone holder. It can hold a phone up to four inches wide. The bubble level keeps photos and live video from being crooked. The 11″ Arkon Tripod Mount also features 7 inch bendable legs with rubberized non-slip feet. Take it anywhere and set it up. You won't have to take those awkward arm selfies anymore or ask a random stranger to take your photo.
The vl Mount is a neat device to carry with you especially if you take a lot of photos on your iPhone. With a universal design, it should fit most smartphones as well as small to medium-sized DSLR cameras. Besides adjusting the screws, the kit is composed of all plastic and rubber. It's very lightweight and portable.
11″ Arkon Tripod Mount Features & Benefits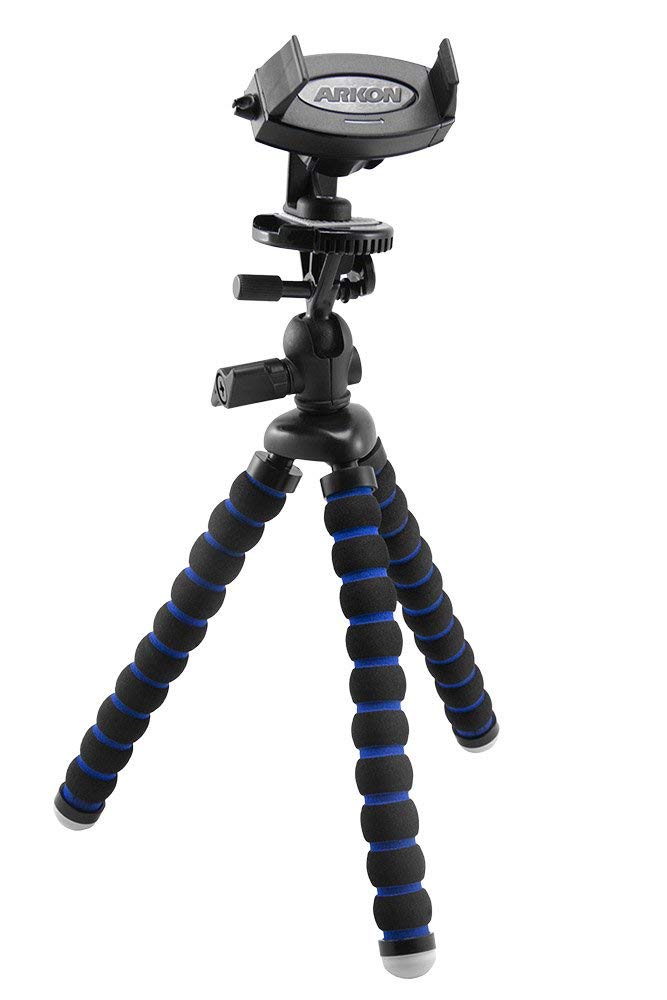 Credit: Amazon
Besides the spring load phone holder and bendable legs, a slew of other features make this phone tripod easy to use. The quick-release button on the side of the tripod detaches the mount plate with ease. A tilt level provides additional flexibility in positioning the tripod to get the type of shot that you need.
Composition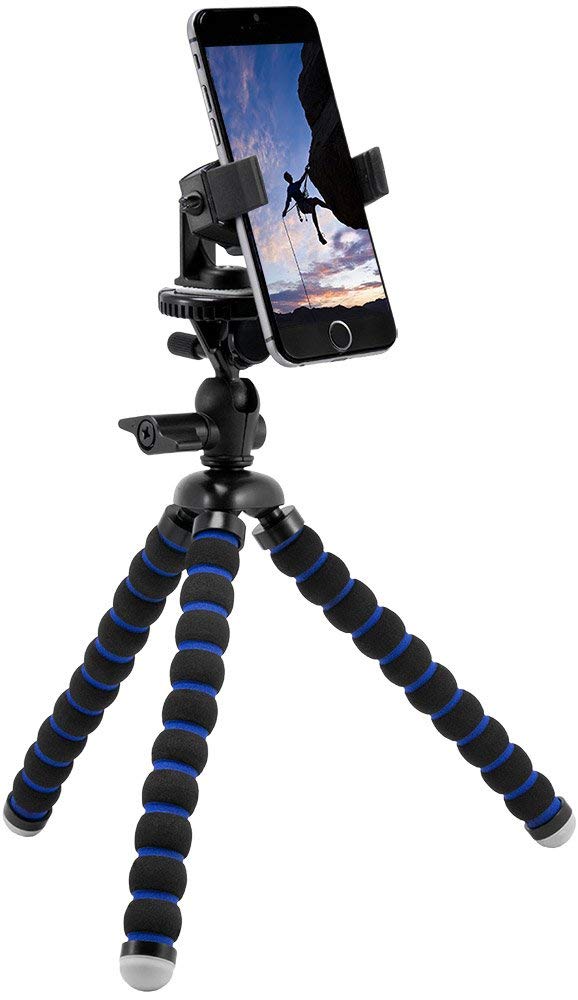 Credit: Amazon
This stand is made up of three pieces. With it, comes the tripod mount, mobile grip adaptor, and mobile grip holder. Put these pieces together and you have a nice little camera mount. Remember, you can also use digital cameras with the 11″ Arkon Tripod Mount too. Just make sure that they are compatible with the standard ¼" – 20 mounting pattern. Remove the two adaptors for this type of use.
This unit is highly adjustable and can be stored and included in a small carry pouch. This is not only great for still photography shots and video too. It also serves as a convenient holder for a device at your desk Use it to Skype or Facetime. Why not use it in any way you can and get your money's worth out of it. Overall, the construction quality is what you would expect from Arkon. We did not experience any defects or malfunctions. For $20, it is a more than worthy travel accessory.
Portable
Take the 11″ Arkon Tripod Mount with you anywhere. When you're ready to take that group photo or want to stream videos live on location, it is super handy. The sturdy legs of the tripod bend and stretch so that you can get just the right shot. In a nutshell, the Arkon Mount goes anywhere you want it to.
In addition, the phone holder attaches to a ¼" – 20 camera bolt. Put more simply, screw the spring-loaded phone holder on the tripod using the ¼" – 20 camera bolt. You can also use the tripod without the phone holder. Screw a small to medium sized DSLR camera directly on the bolt. It really is that easy.
Quick Release Button
For a quick release, unscrew the knob and press the quick release button. This will detach the plate at the top. It releases the phone holder and phone from the tripod with ease.When you're at an event and need to slip it away for a bit, simply fold up your 11″ Arkon Tripod Mount by closing the legs. The durable phone holder will keep your device from slipping.
Tech Specs:
Ideal for photo streaming and taking videos

Compatible with iPhones, smartphones, and DSLR cameras (small to medium-sized)

11" tripod with bending rubberized legs

check

4 ounces

check

2 year limited warranty

check

Lightweight, portable, and compact

check

Non-skid, rubberized feet

check

Compatible with any digital camera or video device with a ¼" -20 mounting pattern
What Travelers Are Saying About the 11″ Arkon Tripod Mount
Are you thinking about starting a vlog? The 11″ Arkon Tripod Mount is all you need for your next live broadcast. Choose whether you want to pair it with your iPhone, smartphone, or DSLR. Then, attach your device and find the perfect angle. Travelers loved the rubberized feet and knobby legs. They help to keep your device stable when taking that picture or video.
If you want to adjust the position of the Arkon Mount, it is so easy. Simply bend the legs. You can even unscrew the phone holder piece and attach it to a large tripod. This is a huge plus when you need to take a video of something and there is no table or flat surface around. Finally, the 11″ Arkon Tripod Mount comes with a carry bag for protection. At this price point, you can't go wrong with purchasing it.
Other iPhone Tripods You May Like
Are you looking to shop around a little more? No worries, we've got you covered. Here are a few of our other favorite iPhone tripods.
Manfrotto Mini Tripod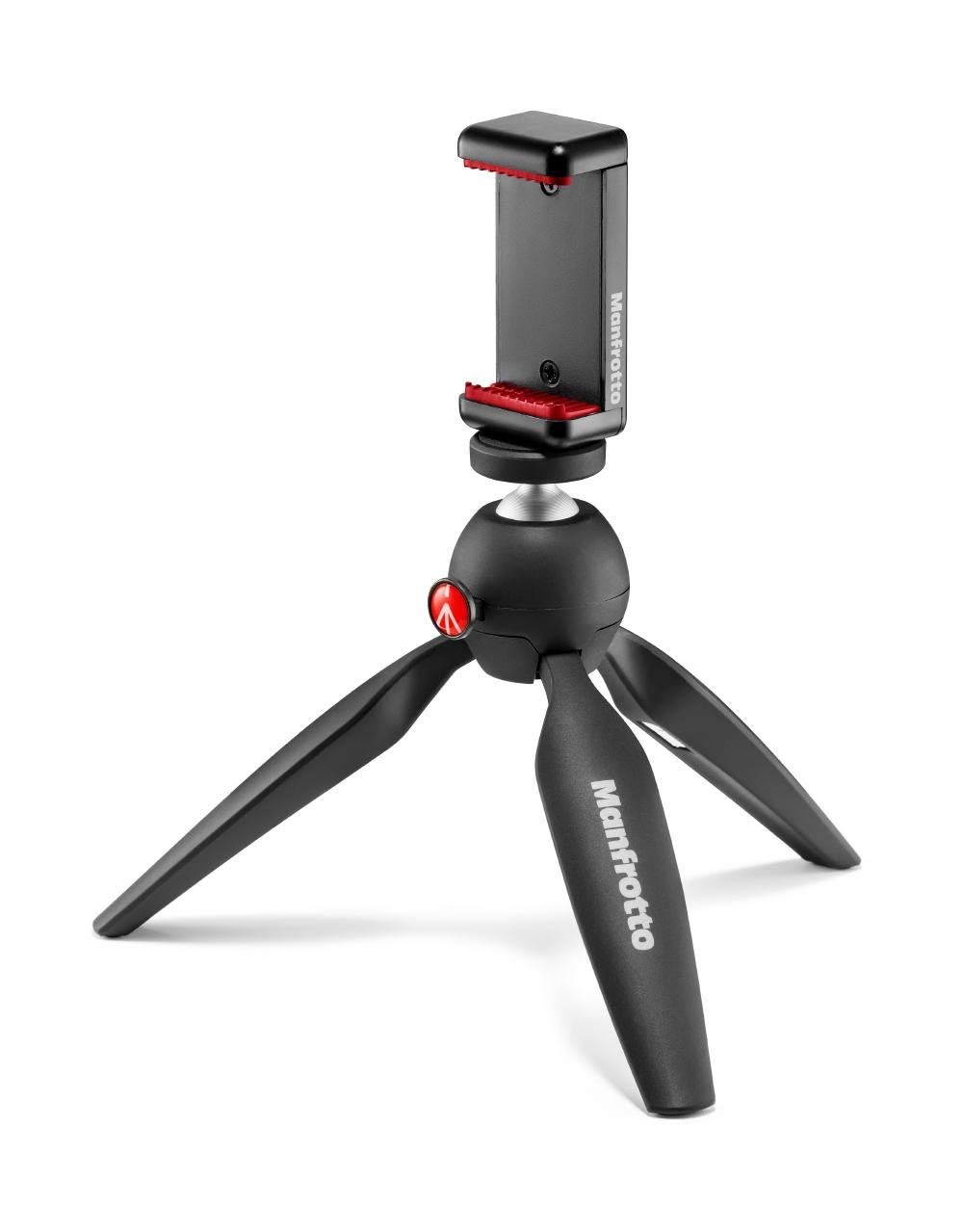 Credit: Amazon
With the Manfrotto Mini Tripod, small is beautiful. This versatile, lightweight, and portable tripod offers a wonderfully simple style. It's safe to say that it sets the bar for products of its kind. The support lends to wonderful, crisp images. If you're a sports enthusiast or simply trying to capture motion photos, this is a great pick.
Chances are, you've already heard of Manfrotto. An Italian-based company, it offers an extensive collection of camera tripods, heads, lighting stands, and accessories. Sold by its own distribution companies, you will find Manfrotto locations and products around the world.
Thanks to its solid construction and universal attachment, the Manfrotto Mini Tripod is compatible with almost any device. You can count on support whenever you need it thanks to the universal clamp's double attachment. The self-standing bracket on the back acts as a great stabilization base. A ¼" screw thread means that you can easily adjust the device and even use it with entry-level DSLR cameras.
Do you want to pair the Manfrotto Mini Tripod with a DSLR camera? Well, there are a couple of things that you should keep in mind. First and foremost, the camera should have a maximum weight of 1.4 pounds. Second, the focal length of the lens should not exceed 85mm. Finally, the total equipment load should not exceed 2.2 pounds.
With a camera like – say the Olympus E-420, you will enjoy perfect stability and find the Manfrotto Mini Tripod quite handy in these circumstances. It is a little easier to use with a smartphone though. We recognize that not everyone can afford a DSLR camera right off the bat these days. And they can take some time to figure out how to use them.
Having a simple tripod as an add on item is something everyone can benefit from. This style is easy to use and will result in overall crisper, cleaner images. You don't have to worry about shaky images from trying to take a selfie or video again. What we really love about using a tripod though is that your time lapse videos will come out flawlessly. This is where nothing really beats having a tripod on hand.
The device is made from a hard, durable plastic. At the top, is ¼" thread for the universal smartphone adapter. The space for the smartphone holder is able to stretch and fit any phone that you want to. There is also a small stand that you can detach and use on its own.
The red button at the front of the tripod allows you to alter the rotation and tilt of the camera on the tripod. This device is pretty rigid and strong so you don't have to worry about it too much on your travels. When you close it, an ergonomic design is easy to see. We've said it once but we'll say it again. This device is great for videos and panoramic shots.
Tech Specs:
Universal smartphone clamp

Use it as a tripod or a grip Element

Made from aluminum and technopolymer

check

Weighs in at 215 grams

check

20 cm in height

check

Lateral tilt of 35 degrees

check

Swivels 360 degrees
JOBY GripTight GorillaPod Stand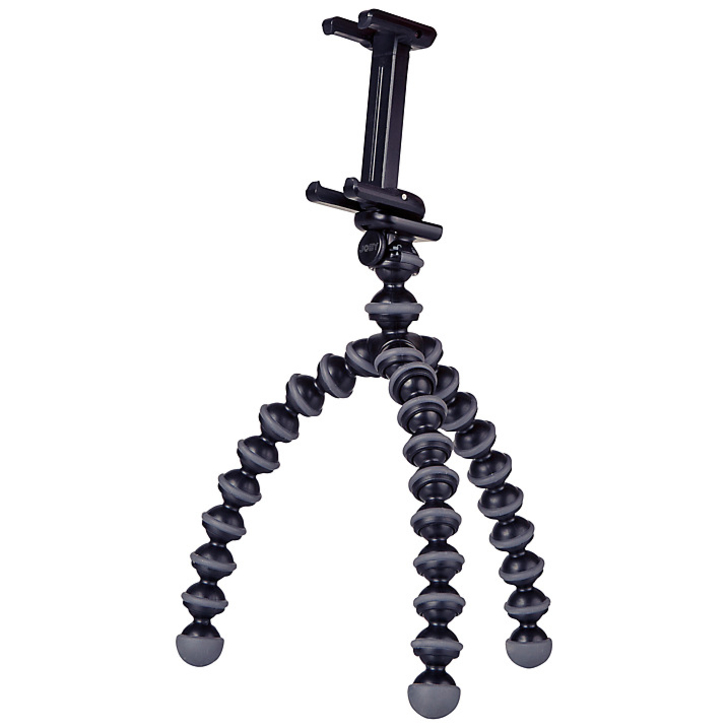 Step up your mobile photography game with the JOBY Griptight GorillaPod Stand. Flexible and secure, you can take all the pictures you want with precise control and composition. Enjoy stability on flat or uneven surfaces. The rubber foot grips stabilize smartphone for convenient media consumption and crisp photos.The rubber pads secure phone in place, even when turned sideways.
Position your smartphone in any place thanks to a premium clamping mount. See the world from a different point of view. Take your phone anywhere and capture any angle with the GripTight GorillaPod Stand by JOBY. The lightweight, compact design is easy to travel with, while giving you a super-secure mount and grip.
Unleash your creativity and get the best shot, at the best angle. The easy to maneuver and adjustable the TPE legs and rubberized foot grips onto almost surface, and the 150-degree tilt means you can get the shots you want.
The GripTight GorillaPod Stand by JOBY to be compatible with any cell phone, with or without a case, including iPhone 6, iPhone 7, iPhone 8, Nokia Galaxies, and Nokia Lumia's. Whether you're creating, viewing, or sharing, you will get a better experience with GripTight. Enhance your proficiency with your favorite apps. It's one of the best iPhone tripods on the market.
Tech Specs:
Reliable grip

Adjustable locking screw

Wrap around posable legs

check

Universal smartphone compatibility

check

Durable

check

A ¼"-20 thread standard tripod mount
Fotopro UFO2 Tripod
Thanks to the ​Fotopro UFO2 Tripod, your photos will never look better. This little travel accessory offers the utmost versatility. Bend and pose the tripod legs however you want to attach it to an object. The result is better creativity shining through in your photos.
Made with a durable material, it offers a waterproof and corrosion resistant exterior. Use it underwater or in wet conditions; this tripod maintains good performance and longevity. You also don't need to be afraid of breaking it. On the contrary, bend out the shape you want. The strong flexible legs can easily wrap around a tree branch, fence, bench, bicycle, allowing you to capture different angles on your trip. You can easily connect to it from your phone. You can start or stop recording videos as well as be taking pictures with ease.
Tech Specs:
Durable

High-density rubber coated legs

¼" screw

check

Compatible with DSLR cameras

check

Waterproof and flexible

check

360-degree shooting perspective

check

Light and easily portable

check

28 cm tall
Invest in the Best iPhone Tripods for Your Trip – aka the 11″ Arkon Tripod Mount
Thanks to the 11″ Arkon Tripod Mount, taking better pictures has never been more simple. Now, you can get the effortless looking vacation photos and vlog videos you want. Skip out on the selfies or asking people to take your pic. Style your photos the way you want to. The best iPhone tripods make it easy.
Since this tripod is universal, there is so much you can do with it. You can even pair it with a small DSLR if you'd like. The result is clearer, sharper images and great time lapse videos. We highly recommend the 11″ Arkon Tripod Mount for anyone who is looking to step up their iPhone photography game.
Related Article: The 7 Best iPhone Tripods To Buy In 2018