Stay warm on your rugged adventures with the SmartWool Merino 150 Base Layer Long Sleeve.
Whether you are running, hiking, camping, or simply exploring the backcountry, Merino wool is an ideal fabric for high-performance clothing. As one of nature's most advanced fibers, it keeps you warm by insulating your body heat, all the while wicking moisture away from your skin to keep you dry. Pair that with its natural ability to resist odors and you have yourself a winner. The SmartWool Merino 150 Base Layer Long Sleeve is a smarter, more capable product than competitors on the market. When you're comfortable, everything else about traveling seems so much better.
Different Materials of the Best Thermal Underwear (and how warm they are)
Whether you're hitting the slopes for ski season or somewhere cold for New Year's Eve, you're going to want the best thermal underwear. Our picks on this list are made from durable materials, offer moisture-wicking properties and thermal insulation from the elements. More often than not, these thermals are made from merino wool or a combination of cotton and polyester. Personally, we appreciate thermals with a bit of stretch to them. This makes them fit more comfortably underneath your mid-layer.
Why You Need the Best Thermal Underwear for Your Travels
If you're traveling in the summer season, you won't need thermals. Generally speaking, investing in the best thermal underwear is primarily for a winter trip. However, some areas still have chilly weather in the fall or spring. It's better to come prepared than be cold on your trip. If you've ever been on a cold weather trip, you know that it takes a bit of extra planning and thought.
SmartWool Merino 150 Base Layer Long Sleeve Features and Benefits
Let's be honest here. We don't take our base layers as seriously as we should. When was the last time you stopped to compare fabric, properties, and price of thermals like you do with your rain jackets? When it comes to outerwear like a down jacket, we are much more conscientious. But this underappreciated stage in layering is so necessary for staying comfortable on the go.
The Merino 150 Base Layer Long Sleeve from SmartWool offers an affordable, practical way to do just that. What we wear against our skin really matters. After testing out various products on the trails and in the gym, we are happy to report just how well this style holds its own. Let's take a closure look at its features and benefits to see if it is the right fit for you.
Soft Yet Durable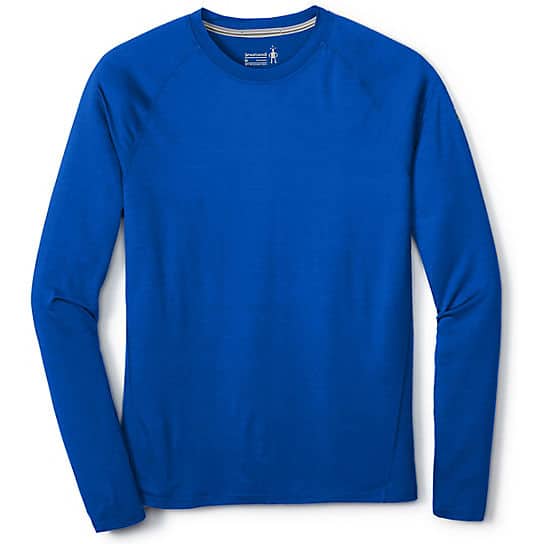 Credit: Amazon
The SmartWool Merino 150 Base Layer Long Sleeve has the softest yet most durable merino wool fabric. Merino wool is naturally very breathable and will keep you warm even if it gets a little wet. But even the lightest merino wool shirts can get worn out, thin, and eventually tear. However, with the Merino 150, SmartWool wraps the Merino fibers around a nylon core to make the fabric more durable. The amazing part is that this does not compromise the feel. The result is a layer you can wear comfortably in moderate or cold temperatures. You won't have to worry about it snagging or shedding prematurely.
Flatlock Side Seams
The offset shoulder and side seams make this base layer easy to pair. You won't have any bothersome bunching fabric or lines underneath your mid layers or under a pack you are carrying. Not only does the SmartWool Merino 150 Base Layer Long Sleeve feel amazingly soft against your skin but it also is light enough to dry quickly if it becomes wet.
Breathability and Fit
We have touched a little on this but it is worth exploring a little more. Before you try Merino wool you might assume what most people do – wool is itchy. Well, you would be wrong. In this case, wool isn't what it used to be. In fact, merino wool is one of the most comfortable fabrics to wear on the market. Thanks to the stretchy fabric and snug fit, you feel like you are wearing the coziest of pajamas. In order to wick away sweat and moisture, the fabric has to be touching your skin. So make sure you read the size guide and purchase the right fit. The wool and nylon blend do a fantastic job of pulling away sweat and keeping you cool and dry.
Odor Resistance
Now here is a feature we can't appreciate enough. We all know how grubby we can feel after days of backpacking without a shower and fresh, clean laundry. Thankfully, the SmartWool Merino 150 Base Layer Long Sleeve won't start stinking as your other base layers would. Since it is naturally odor resistant, you can stretch your clothing supply longer without worrying about the smell. The SmartWool's wicking properties keep the sweat off and the smells away. Every traveler needs something like this in their life.
Tech Specs:
Knit in Vietnam

87% Merino wool, 13% nylon core

Pull-on style

Flatlock shoulder seams

Garment weight: 6 ounces

Slim fit

Moisture wicking

Odor resistant

UPF 30 protection

Accommodates a variety of heights and body shapes

Stretchy fabric

Breathable

Works as a base layer for sun protection on warmer days
What Travelers Have to Say about the SmartWool Merino 150 Base Layer Long Sleeve
If you're worried about staying warm out in the elements, don't be. In fact, travelers said that the SmartWool Merino 150 Base Layer Long Sleeve kept them a little too cozy for their liking. But it's better to be too warm than cold, right? Make sure to layer smart and you will be just fine. The Merino 150 means that there are 150 grams of this wool per meter of fabric.
Even though travelers noted feel toasty, they raved that they never once felt sweaty or clammy when wearing this fabric. Isn't that interesting? The moisture wicking properties work so well. In addition, users appreciate that SmartWool is an ethical company. Aside from the warmth and comfort, their favorite part about wearing the base layers for a prolonged period of time is that they didn't stink.
Some users even wore them on a multi-pitch rock climbing route and stayed perfectly warm and comfortable. While you may think it is gross to wear your thermals multiple times, the anti-odor properties really do work wonders. In addition, washing them less preserves the material. According to SmartWool, their technology lasts longer than that of competitor brands.
The CoreSpun with the merino around the nylon core makes all of the difference. Even so, washing it in a mesh bag and hanging it out to try will ensure the material won't get eaten up in the laundry machine. All in all, travelers love their SmartWool base layers. We can't wait for them to come out with additional styles.
Alternative Thermal Underwear That Might Work Better for You
Are you looking for some thermal underwear pants too? Check out these styles that are sure to keep you warm and cozy.
Carhartt Men's Base Force Wicking Cotton Super-Cold Weather Legging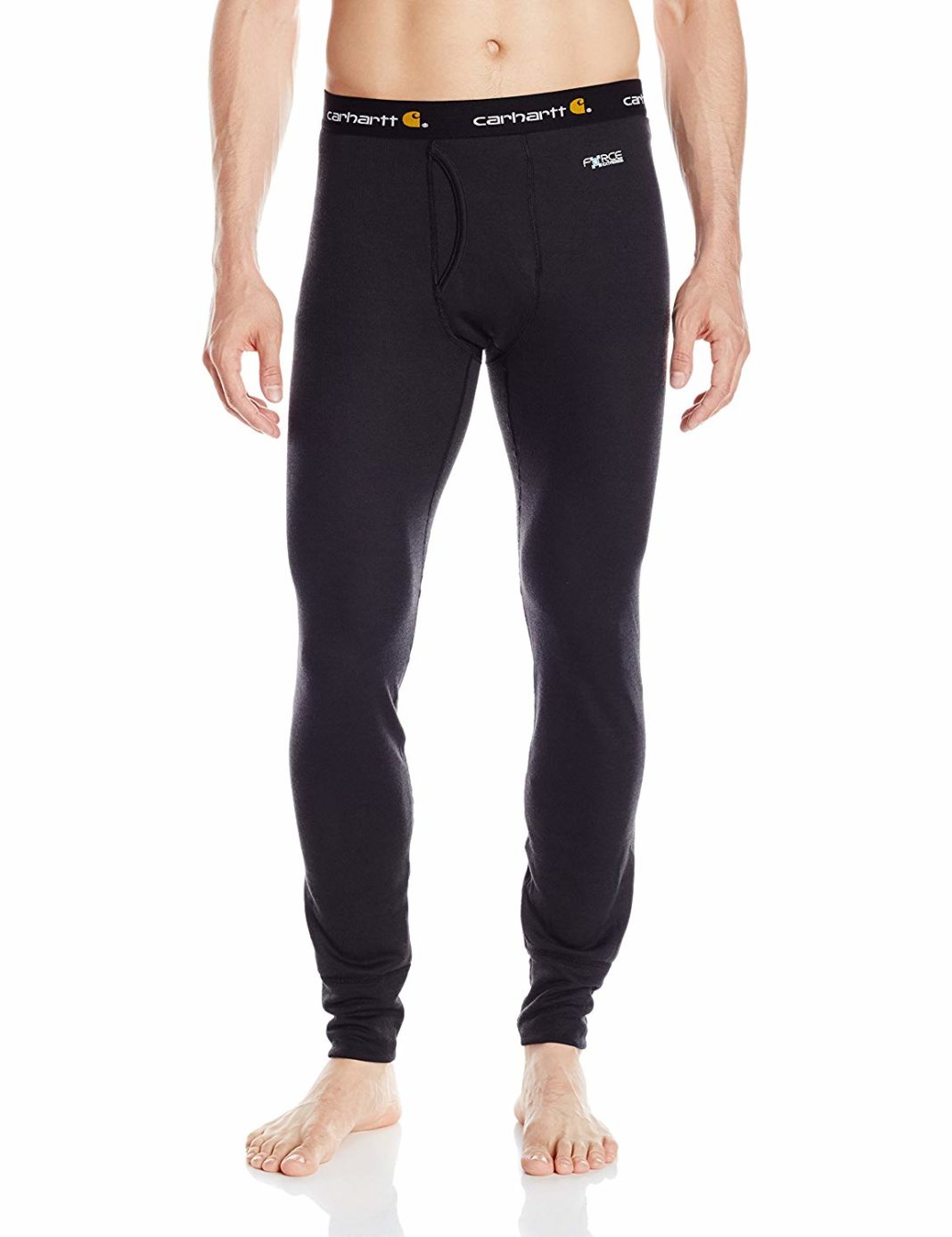 This style from Carhartt is created for men on the go and made to last. Composed of 100% cotton, it will keep you warm and help to get rid of sweat. Reinforced stitching and sturdy cuffs help to seal in body heat no matter what activity you may be doing. In this underwear, you will be prepared to take on even the harshest cold without worries. Stain breaking technology helps to release stains when you throw them in the wash.
Tech Specs:
100% cotton material

Reinforced stitching at points prone to wear and tear

Sturdy cuffs

Stain breaking technology

Heat retention

Moisture wicking
Duofold Men's Midweight Double-Layer Thermal Pant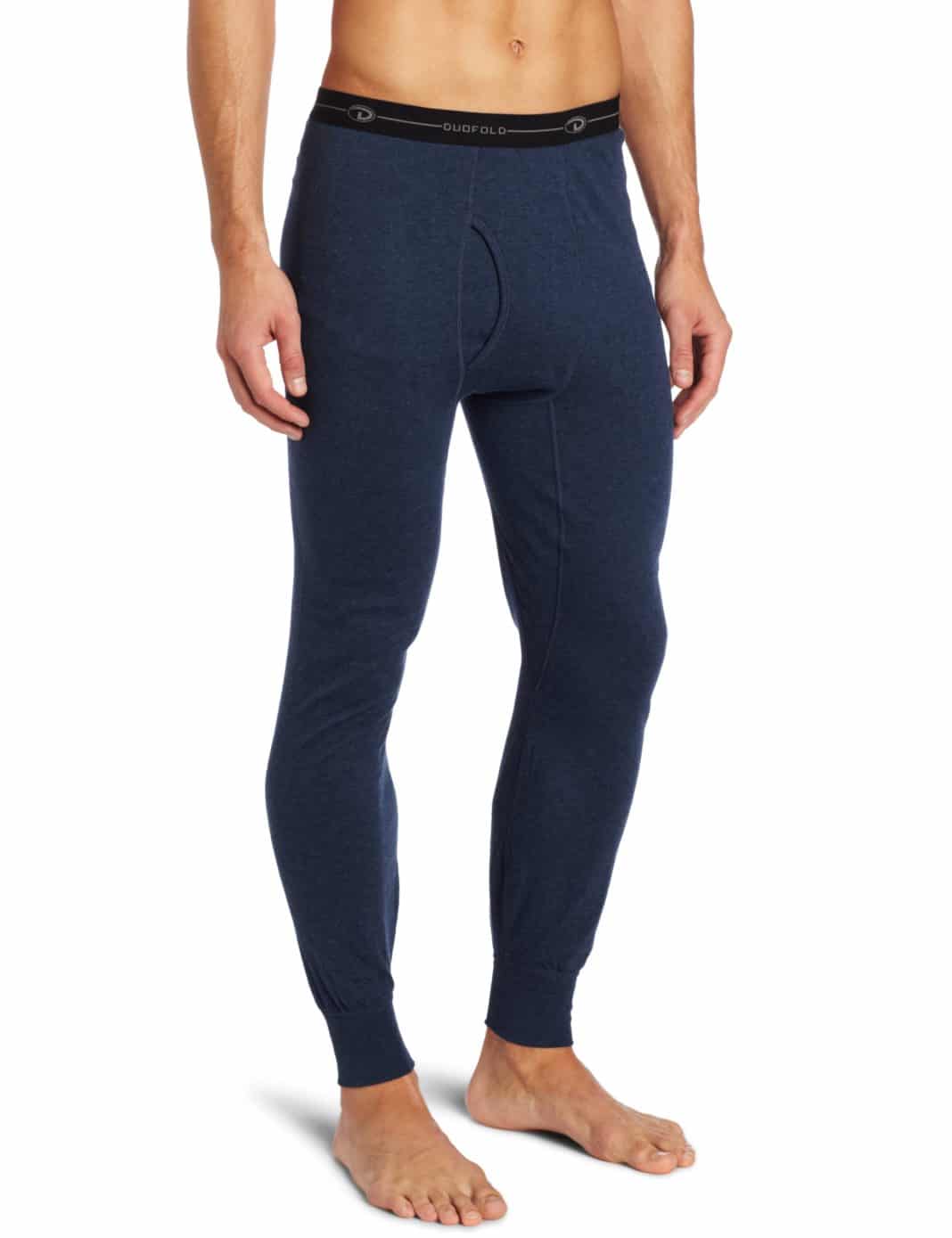 Are you looking for the best thermal underwear styles for extreme cold? Consider the Men's Midweight Double-Layer Thermal Pant from Duofold. The exterior layer of nylon and cotton material is super soft to the touch. The interior material is made from 65% cotton, 25% merino wool, managing to retain your natural body heat. Besides the material, flatlock seams make them invisible under your clothing and you won't have to deal with annoying chafing. To avoid any annoying itches, the elastic band is tag-free.
Tech Specs:
Exterior material: cotton and nylon

Interior material: cotton, merino wool

Flatlock seams for invisibility under your clothes

No annoying chafing

Tag-free elastic waistband

Retains your natural body heat
Stay Warm on Your Travels with the SmartWool Merino 150 Base Layer Long Sleeve
If you're looking for a way to stay warm on your next cold weather trip, the SmartWool Merino 150 Base Layer Long Sleeve is the way to go. Not only does the Merino wool and nylon blend insulate you by helping to retain your body's natural heat but it is moisture wicking and odor resistant as well. At a good price point, what more could you want in a pair of thermals?
Related Article: Best Thermal Underwear Styles For Men And Women