Go where you want to go with the Granite Gear Crown 2 60 Liter Backpack. 
What sets this style apart from other models on the market? The most obvious thing is that it doesn't have a wire frame. Instead, this style uses a compression mold for its structure which reduces the burden. This ergonomic design is perfect for hikers and backpackers who are looking to shave some weight off of their load. The Granite Gear Crown 2 60 Liter Backpack is a winner in our book.
Granite Gear Crown 2 60 Liter Backpack Features and Benefits
This bag is built for whatever travel throws at it and it won't break the bank. The design is well thought out with your comfort in mind. If you've ever traveled with a regular backpack, you will appreciate the frame in this style so much. The Granite Gear Crown 2 60 Liter Backpack is built to shift the weight of your pack off of your back and shoulders. In fact, it is completely adjustable in the torso, waist, shoulders, and chest. Get the perfect fit for your next adventure.
Design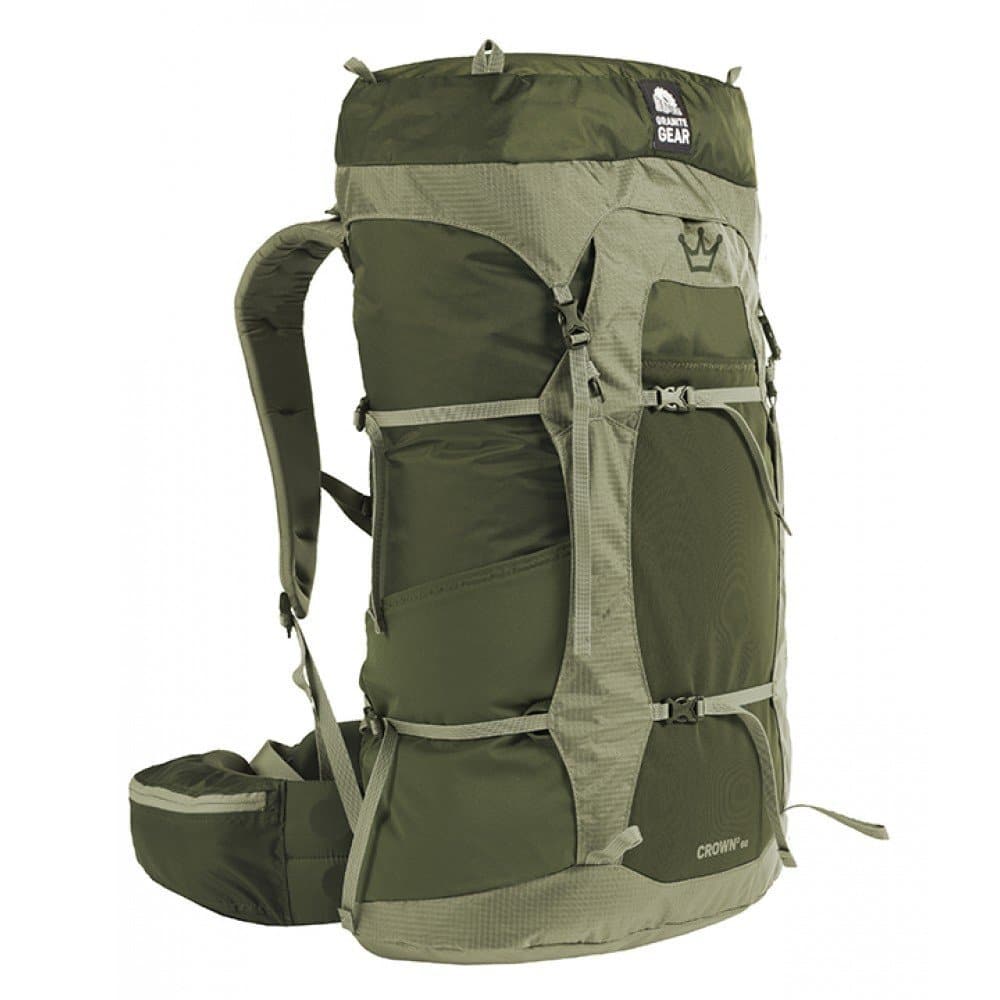 Credit: Amazon
If you haven't heard of the Granite Gear Crown 2 60 Liter Backpack before now, it's time for an introduction. Ultralight and comfortable, it has what you need for the perfect daypack. You'll soon see that it is new and improved upon its successor. It has a patent-pending fully adjustable hip belt, compression molded sheet with a foam back panel, and a removable bonus lid. Can you believe it all weighs in at only 2.2 pounds? For those looking to cut back even further, you can remove the frame sheet, bringing the weight down to a super lightweight 1.7 pounds. The pack comes with a fixed, non-adjustable torso length but is offered in three different sizes.
Adjustable Hip Belt
Similarly to Granite Gear's Lutsen Pack Series, the Crown 2 has also adopted the re-fit hip belt. Easily adjustable, it allows customization for all types of figures. This is one of our favorite features about this backpack.
Removable Lid with DWR Zipper
Here is yet another one of the features that sets the Granite Gear Crown 2 60 Liter Backpack apart from the pack. There is a top lid and a zippered compartment for easy storage and access. This new lid is perfect for packing away smaller items. If you want to lighten your load, you can take the lid out in addition to the frame sheet. All you have to do is unclip the back. Then, cinch the straps with the dual compression system and make sure to get a firm fitting.
Load Capacity and Comfort
Many reviewers say that the Granite Gear Crown 2 60 Liter Backpack comfortably carries up to 40 pounds of gear and we agree. The tensioned frame structure is what makes it so easy to carry. This frame distributes the weight of your gear with ease, transferring the weight from your back and shoulder to your hips. When you're on the go, this is an important feature to have in the bag, Hiking in the backcountry is strenuous enough. You want your backpack of choice to be as comfortable as possible.
Tech Specs:
Padded shoulder straps and removable sternum strap

A fully adjustable hip belt

60 L storage

Large hip belt pockets with DWR zippers

Roll top main compartment

Easy compression
What Travelers Are Saying About the Granite Gear Crown 2 60 Liter Backpack
We've been through our fair share of packs. And believe us when we say you won't find another one quite like the Granite Gear Crown 2 60 Liter Backpack. Travelers love it too, swearing it's by far the lightest pack they own.
Travelers love the Granite Gear Crown 2 60 Liter Backpacktoo. Even when the backpack is fully loaded, you won't feel tired and weighed down after walking with it on. The hip belt makes it very comfortable to wear and the hip pockets are in a good location for easy access to items you may need.
In addition to the durable quality, the interior is so spacious. With interior dimensions of 60 liters, you will have plenty of room for the gear you need to bring. If you are considering investing in a high-quality backpack for the great outdoors, this is it. It's not only highly adjustable but it also offers customization for nearly any physique.
Do you ever find yourself constantly readjusting the weight fo your pack to make sure shoulders and hips to stay comfortable? You won't have to do that here. The hip belt and internal frame shift the weight of the backpack off of your back and shoulders to your hips on its own. Another great thing about this pack vs. a duffle bag style is that with frameless packs, you don't need to use any padding between your pack and back. This offers you a lot more options for sleep pads and sleep systems. It's also nice knowing that you won't be sweating through the material of my pack because it doesn't ride directly against my back.
The ventilation of the mesh helps your back breathe better. You can easily fit all your gear, food, and water for the day in it. Anything over a hike's worth would require a resupply. For weekend backpackers, day hikers and car campers we could see where this pack could be sufficient. However, if you aren't a minimalist this pack isn't going to be big enough to get you through a day. We encourage people to consider buying a smaller pack challenge yourself to limit what you can fit in this pack.
Really experience nature, leave all the technology and comforts behind. Before you pack it, ask yourself am I really going to use this? Trust us. Overall,  travelers are happy with their purchases and consider this investment to be money well spent.
Alternative Daypacks That Might Work Better for You
Osprey Escapist 32 Daypack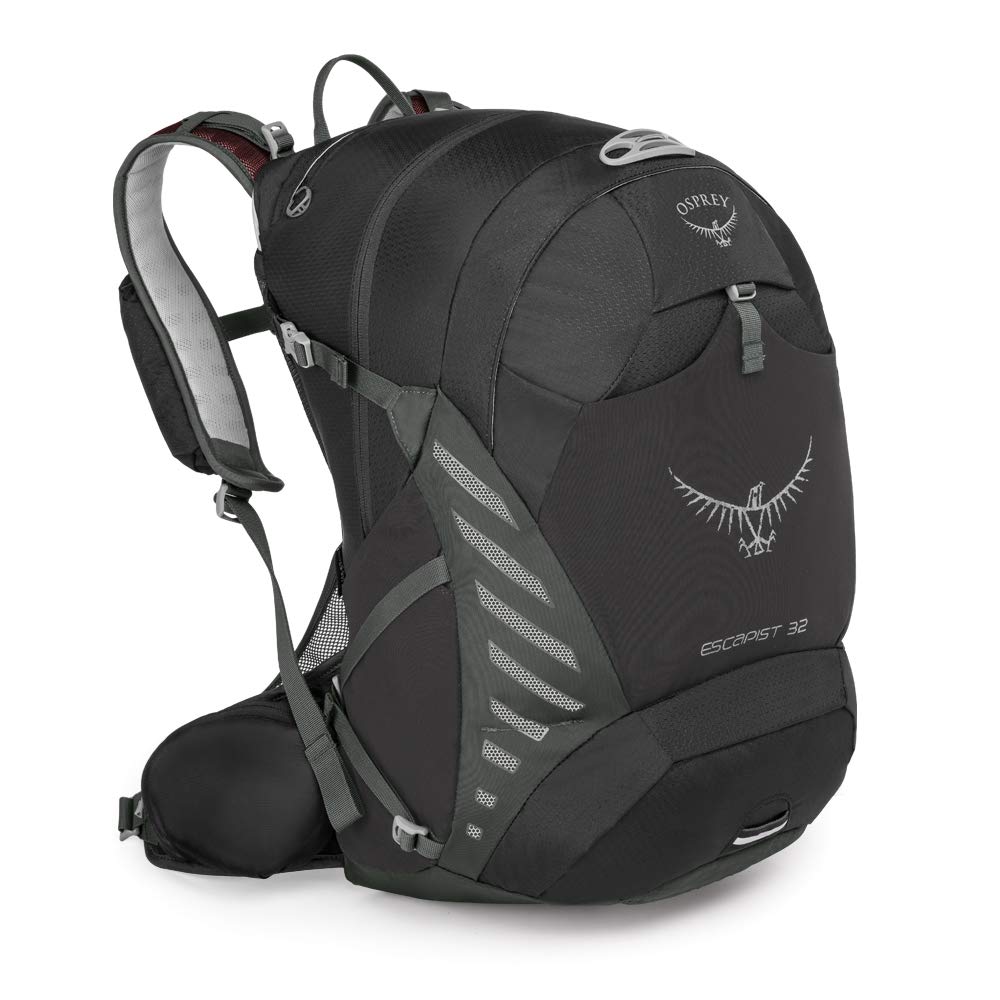 Looking for another great day pack? Check out this larger one from Osprey. With 32L, you will get much more storage room. But don't worry. That doesn't mean you need to be weighed down. Anchored by a bio-stretch harness and hipbelt, this low-profile pack is made to keep you balanced with a heavy load – even when descending the roughest terrain.  Thanks to the airscape mesh back panel, you'll stay cool and dry even when you're grinding up a mountain pass.
How do you access your gear? The main compartment has a convenient zippered front panel, so you can see all of your gear at once. In addition, a zippered divider at the base of the pack provides optimal storage. There are plenty of external storage options. Three handy stretch mesh pockets offer ample room for snacks and your electronics. The hip belt also offers twin zippered pockets. You'll never run out of storage room with this bag. That's not all. A zippered external front pocket is designed especially to keep valuables secure. You don't have to worry about scuffing up that favorite pair of sunglasses anymore.
While Osprey offers several Escapist models in varying sizes, we're convinced 32 liters of storage is the way to go. It's large enough for you to easily fit your sleeping bag, a bivy sack, a spare set of clothes, reusable water bottles, a large hydration bladder, energy bars, accessories, and electronics in it. And there's still ample space leftover.
When it comes to choosing a daypack, size matters. But it's not everything. A good pack should help you carry your essentials but you also need to know what qualities you're looking for. I'm happy to say that the Osprey Escapist 32 Daypack fares well in my book. There's a nice mid-sized compartment with multiple pockets for tools, bike pumps, and everything in between.
Tech Specs:
Durable nylon material

32L of storage space

32L of storage space

Airscape back panel

Sleeping bag compartment

Lidlock helmet attachment

Blinker light attachment

Scratch-free pocket

Zippered harness pocket
Don't Go Anywhere without the Granite Gear Crown 2 60 Liter Backpack
As you can see, the Granite Gear Crown 2 60 Liter Backpac kis a great buy for your next trip. Offering a durable design, 75 liters of storage space, and plenty of internal pockets for organization, you will have no problem fitting in all of your gear. Even if you pack the bag to the fullest capacity, you won't have to worry about it hurting your back. It's equipped with lumbar support and highly breathable fabric to keep you cool and comfortable while you're on the trail. You're set. Now, make a packing list, pack up your tent, and hit the road!
Related Article: What To Pack In A Carry On Bag