Are you looking for the best hotels in San Antonio?
You're in luck. Deep in the heart of the state, you'll find the second most populated city. Vibrant and bustling with a unique energy, you'll find there are so many fun things to do in San Antonio. One of the most important aspects of a vacation is figuring out where to stay. As a traveler, you want comfortable accommodations, good service, and close proximity to attractions. We're here to help you out with all of that. We traveled around and narrowed down our list to the best hotels in San Antonio. Here are some of our favorite places that will make your visit exciting and enjoyable.
Here Are Our Picks for the Best Hotels in San Antonio
Welcome to San Antonio. For those seeking a fun, simple getaway that isn't glitzy or glamorous, you'll love this city. For the locals, it has a particular charm and unique character. As you explore and dive into the culture, we know you'll think just the same. If you've never been to Texas before, don't believe the stereotypes. Well, at least not all of them. Southern hospitality is genuine and so is their hearty, comfort-food-oriented cooking.
While this Texas city doesn't get the hype of Austin or Dallas, it's a worthwhile visit in its own right. While tourists come to see the Alamo and Riverwalk, locals and more seasoned travelers dig a little deeper. At the heart of the city, San Antonio attractions showcase diversity and coexistence among cultures. There are so many places to explore. But how do you weed out the dud hotel from the hidden gems? Simple. We've taken the guesswork out of it.
Experience a little slice of Europe inside the great big state of Texas. There's no denying the popularity of the Riverwalk among the San Antonio attractions. This isn't your run of the mill place for a stroll. As you explore, you'll find charming canals and pedestrian streets that run like arteries through the heart of the city. For the best view, you can't beat going on the river cruise.
Perfectly manicured gardens and chic cafes line the shore near stone footbridges that jut out over the water. If you walk in the cool of the evening, you'll be able to find some scenic lookout points to yourself. In recent years, as part of an expansion project, you can now walk all the way to the King William District and even beyond there to the Spanish missions.
1. Hotel Valencia Riverwalk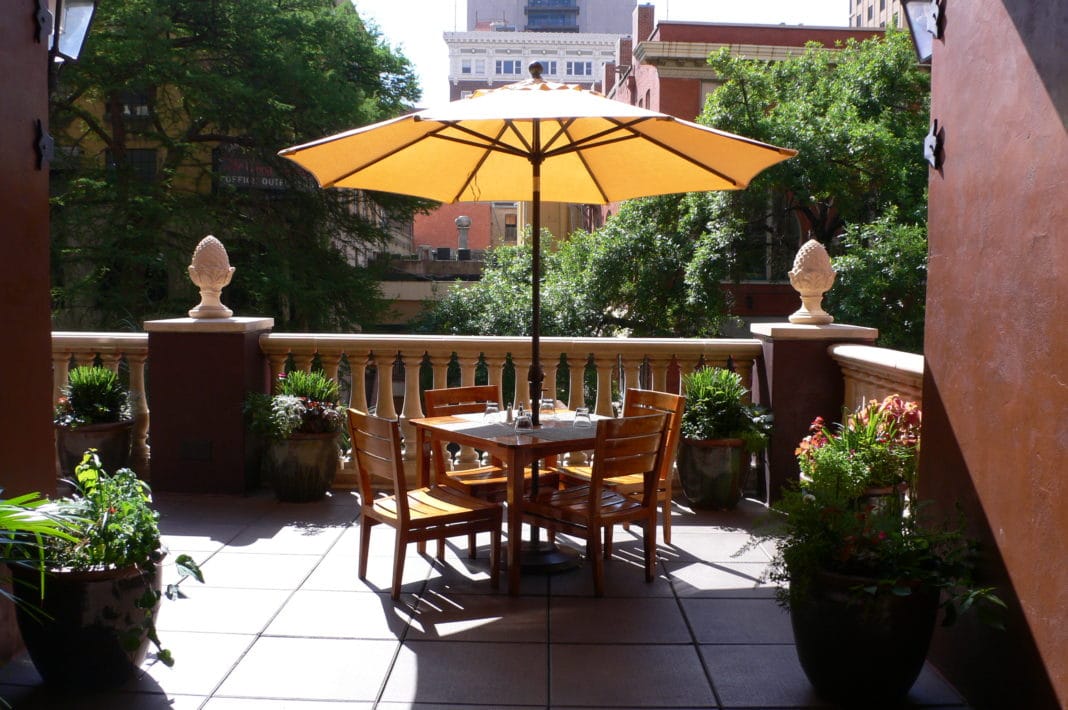 Credit: Hotel Valencia Riverwalk
Can you imagine waking up here and enjoying a morning cup of coffee under the shade of this umbrella? The city views here are nothing short of stunning. There's something to be said for waking up at the first light of day and watching the world go by before the city awakens. The Hotel Valencia Riverwalk offers a serene stay close enough to all of San Antonio's activities. Yet, you'll feel like you've been whisked to a world away. Come and get the rest and relaxation you deserve. This could be your fun winter getaway.
History and charm come together in Spanish colonial and modern Mediterranean designs. This hotel in downtown San Antonio is located on a beautiful and quiet part of the Riverwalk. We love that you can stay in the middle of the action without sacrificing your peaceful stay. Here, you have the convenience of great dining, shopping, and entertainment at your fingertips.
The romance of downtown architecture provides a unique environment. Take a tour by horse-drawn carriage or a river cruise. However you spend your time here, your vacation will be unforgettable. They take pride in delivering an experience that transcends what you could even dream of.  From the craftsmanship of the Hotel Valencia Riverwalk to the overall design, every element speaks to an elegant ambiance.
Throughout the Hotel Valencia Riverwalk, opulent amenities add just the right touch of luxury. From world-class dining to in-room spa services, you might find it difficult to leave the property during your stay. But when you do, excitement is just a few steps away. Hotel Valencia Riverwalk is one of the best hotels in San Antonio in our book.
2. Eilan Hotel and Spa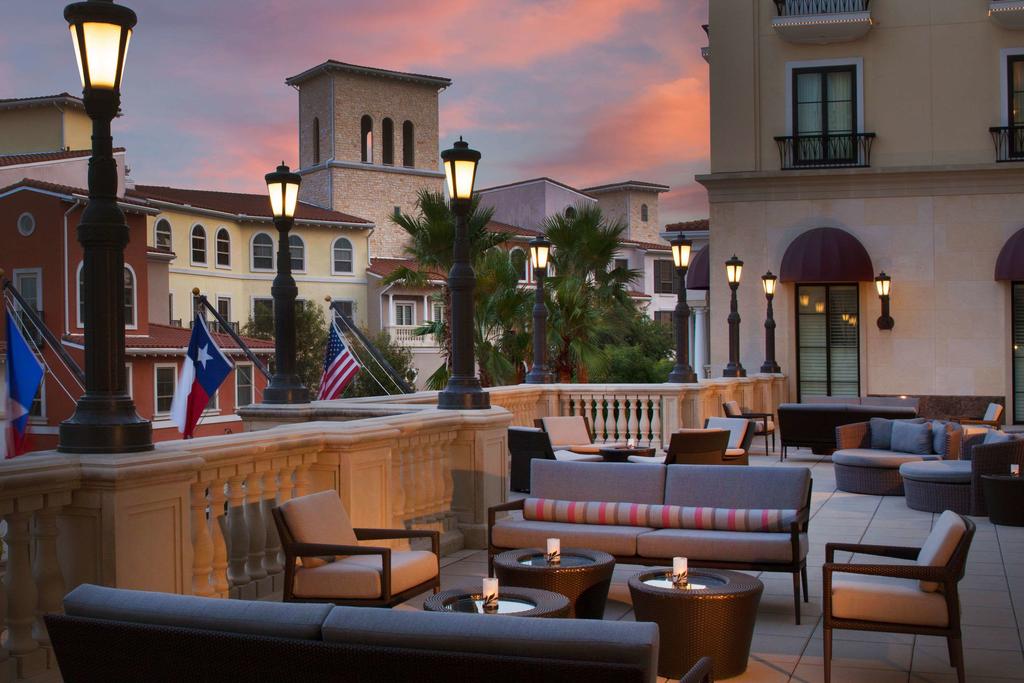 Credit: Eilan Hotel and Spa
Check out this luxury hotel in the San Antonio hill country. A 100-acre retreat, you'll find it nestled away into the beautiful foothills. As the only luxury boutique hotel north of the Riverwalk, it offers guests a tranquil escape further from the city's energy. Despite the distance, you will also find convenient dining and shopping options just nearby. As soon as you arrive, you will see a sun-soaked lobby, where modern art and Roman architecture beckon you to explore. This patio is the perfect place to wind down and enjoy some drinks and good conversation after a day of exploring the city.
Enchanting Tuscan vibes and unrivaled amenities greet you. From the sweeping outdoor patios and pools to private cabanas and a state of the art fitness center, Eilan really does have it all. There's no doubt about it. This is one of the best hotels in San Antonio. An unrivaled destination for family getaways, you'll find your peace here. Some of our favorite features include two full tennis courts, the virtual golf room, and an indoor junior olympic-size swimming pool.
3. The Hotel Contessa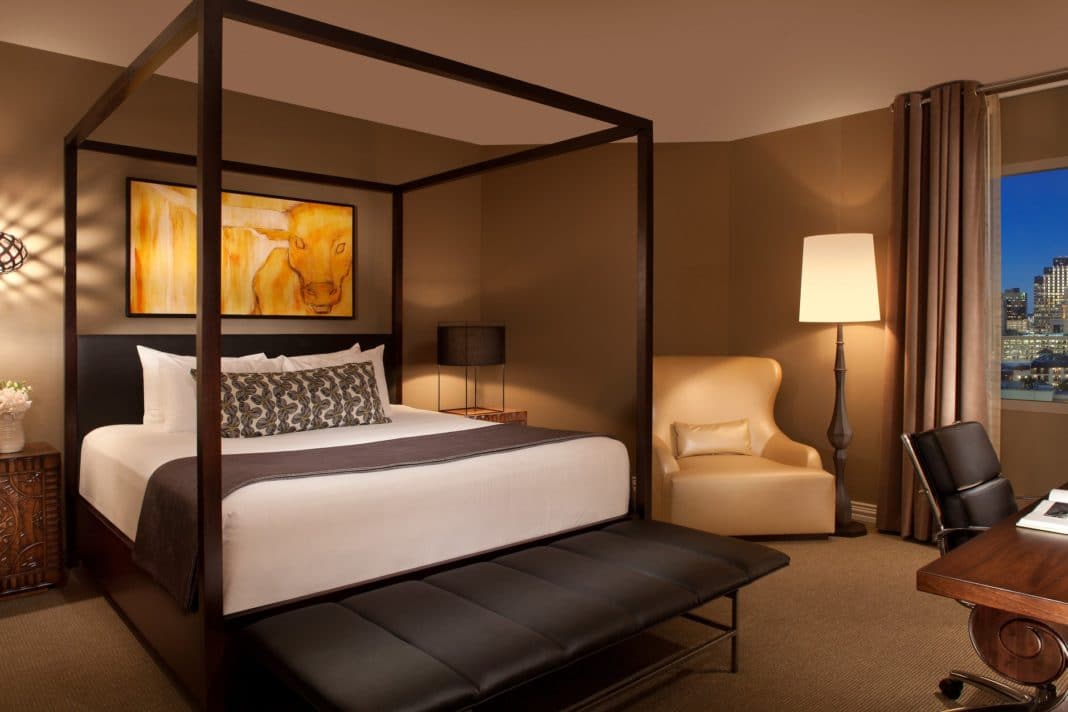 Credit: Hotel Contessa
How does a AAA Four Diamond stay sound to you? Spread out on king-size beds in a spacious suite. Contessa is one of the best hotels in San Antonio. Also located on the Riverwalk, it offers beautiful suites in a vibrant location. From the design to all the little elements of style, it is all inspired by 20th-century Spanish art. One of the most popular draws is their wedding package. Its proximity to downtown makes it a great place to set up home base. Come and enjoy local flavors with their on-site dining experiences or head over to the Woodhouse Day Spa for relaxation from head to toe.
4. Hotel Indigo San Antonio-Riverwalk
Credit: Hotel Indigo San Antonio – Riverwalk
Treat yourself to the perfect getaway. Located right between the financial and medical districts, this grand-style villa hotel is right on the water. Their artwork showcases the region's natural and architectural beauty. From the outdoor pool to the terraces and lovely guest rooms, you can enjoy views of both the river and neighborhood. Their event spaces offer 80 guest spaces.
Why not venture out and explore a little? Take advantage of the water taxis right behind the Hotel Indigo San Antonio Riverwalk and venture downstream. Since Indigo is located close to so many of the city's main attractions, including the Alamo, you will have easy access to all the adventures you want to go on. The Blue Line Trolley is also a great way to get around and make your most of the time in the city. This is one of the most romantic hotels for couples to stay at. We mean – come on. Just look at that view.
5. Hotel Havana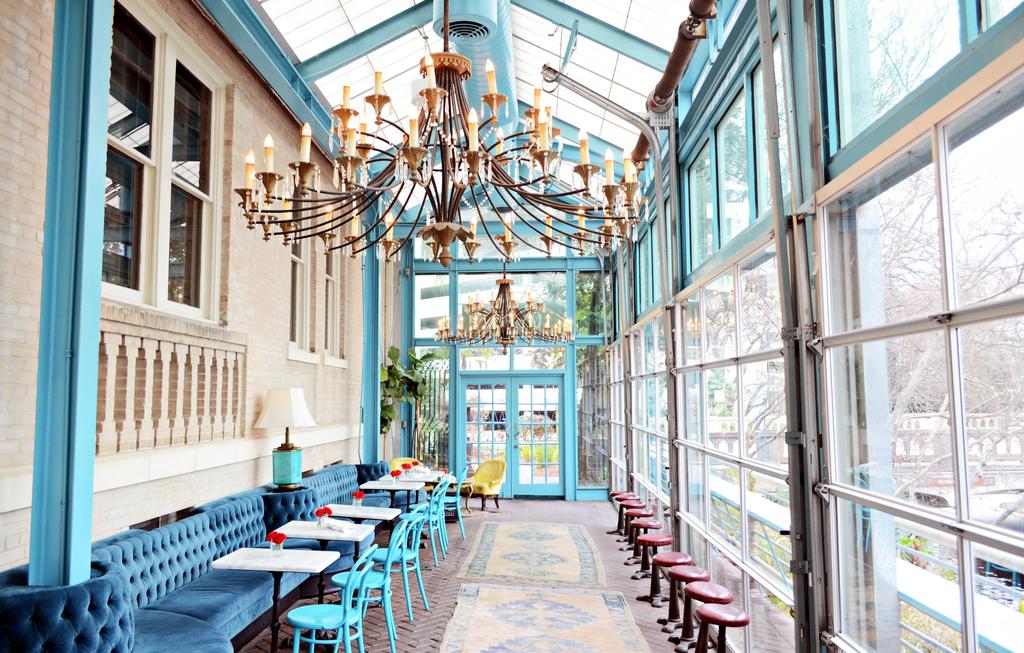 Credit: Hotel Havana
It's nothing but sunshine, cheerful colors and Cuban vibes here at the Hotel Havana. Step away from the crowds at this tranquil hotel near the Tobin Center. Listed in the National Register of Historic Places, it is one of the best hotels in San Antonio. You'll find it in the Museum Reach area. While Hotel Havana is much smaller than the other boutique stays, there are so many things that make it special. For one, its colonial design brings something unique to the table.
Built in 1914, it retains many elements of the old school Mediterranean design today. From the Bastrop pine floors to 20-foot ceilings, large shuttered windows, and sweeping colonial terraces, it certainly stands apart from the modern elements of the city.
6. Mokara Hotel and Spa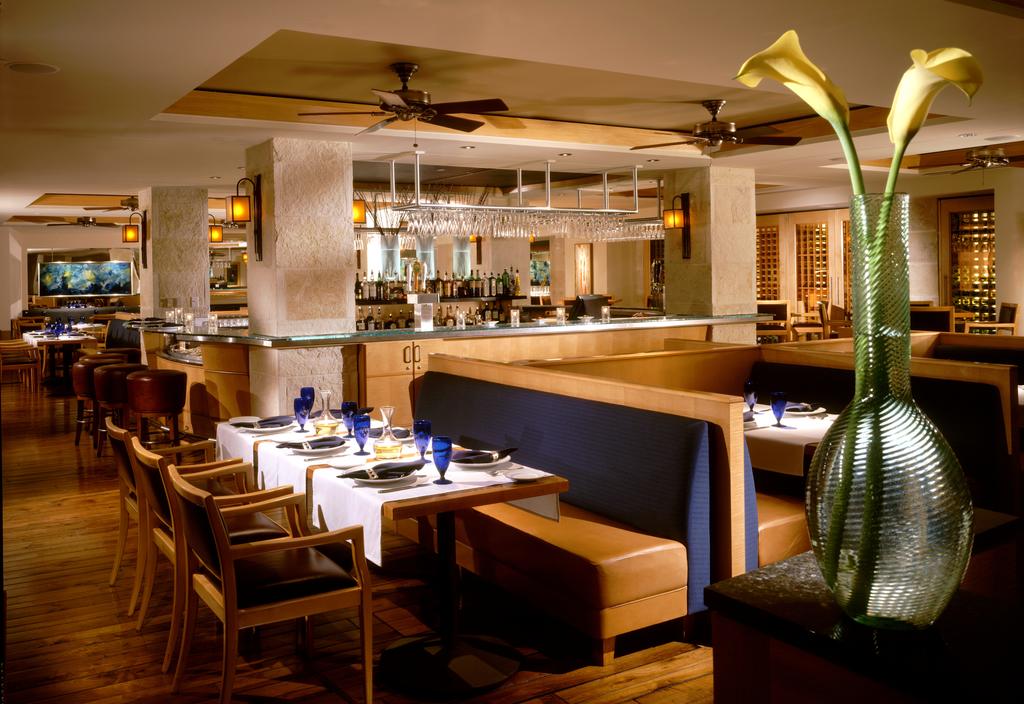 Credit: Mokara Hotel and Spa
While all of the hotels we have listed so far are top-notch, Mokara is leagues apart when it comes to luxury. If you're really looking for a treat, check out this stay in the heart of the Riverwalk area. This 99-room stay offers among San Antonio's finest accommodations. Swanky amenities include a rooftop pool, premium spa, fine dining, and an excellent location right on the water. Here, the rooms are bright and sophisticated. This is the perfect place to unwind and relax. The dining room is a perfect place for intimate gatherings with family and friends.
Mokara Hotel and Spa has established a reputation for excellence. As the city's only four-star hotel, it is the first choice for travelers seeking sophistication and elegance. This is an exceptional escape.
7. Grand Hyatt San Antonio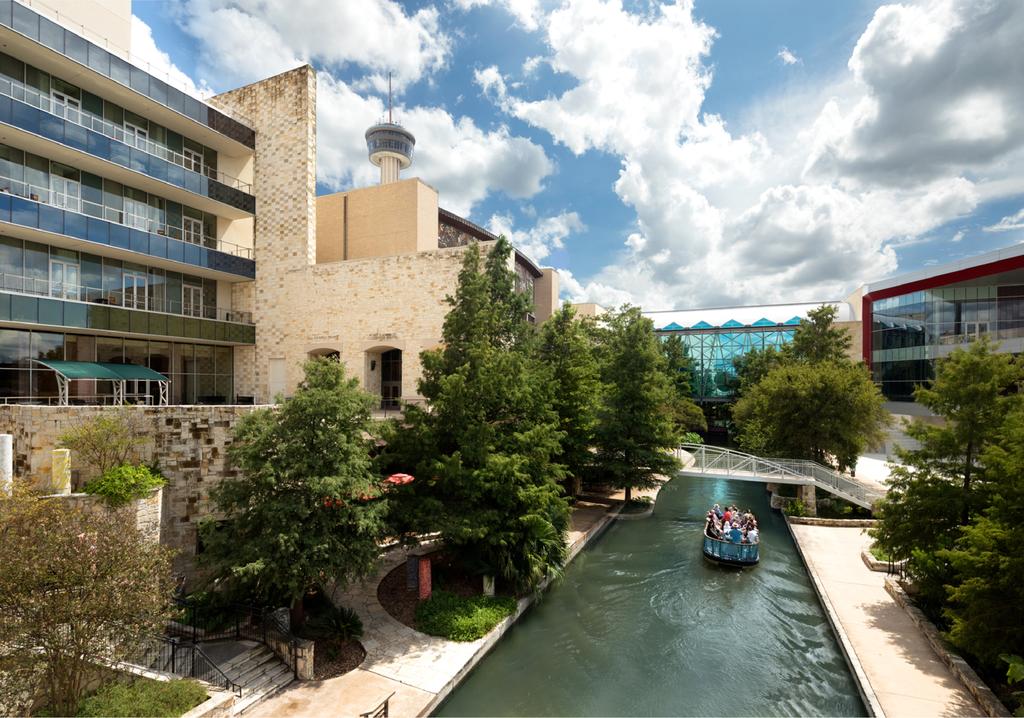 Credit: Grand Hyatt San Antonio
There's a reason why all the best hotels in San Antonio are on the Riverwalk. Grand Hyatt San Antonio offers another beautiful place to stay within walking distance from some of the city's top attractions and activities. From the lobby to the rooms, a soothing earth tone pervades throughout, and modern attractions and amenities fill your stay.
Convenient features include an on-site FedEx business center, spacious modern meeting areas, and work desks in rooms (freelancers, you'll appreciate this). Luxury comes in the form of a lap pool, spacious sundeck, modern fitness center, and impeccable on-site dining sure to suit the taste of every traveler.
Book Your Trip and Enjoy the Best Hotels in San Antonio
We hope you enjoyed reading our article on the best hotels in San Antonio. There is a whole world of options waiting to be explored. This city has a full culture and spirit. From touring historical sites to taking in some of the world's best art and exploring great restaurants, the options never run dry here.
These hotels are right in the middle of it all, offering not only a unique place to experience the local wonders but also a home away from home. Which one of the hotels on our list did you like the most? Let us know in the comment section below.
Related Article: Best Hotels In New Orleans: Your Luxury Guide