Heading to South Carolina for the holidays? Check out the best hotels in Myrtle Beach
Warm weather, sandy shores, and gentle waves make the Palmetto State a prime place to vacation on the east coast. Whether you're looking for to pamper yourself in a little luxury, catch up on that rest and relaxation, or sneak some adventure in, we've found just the thing. When you're traveling, it can be hard to narrow down where to stay. You want to be close enough to the city's main attractions yet far enough removed to have some quiet and get a good night's sleep. Luckily, we've taken the guesswork out of it for you and scoped out the best hotels in Myrtle Beach. There's something on this list to suit the tastes of every type of traveler. 
Here Are Our Picks for the Best Hotels in Myrtle Beach
1. Marina Inn at Grande Dunes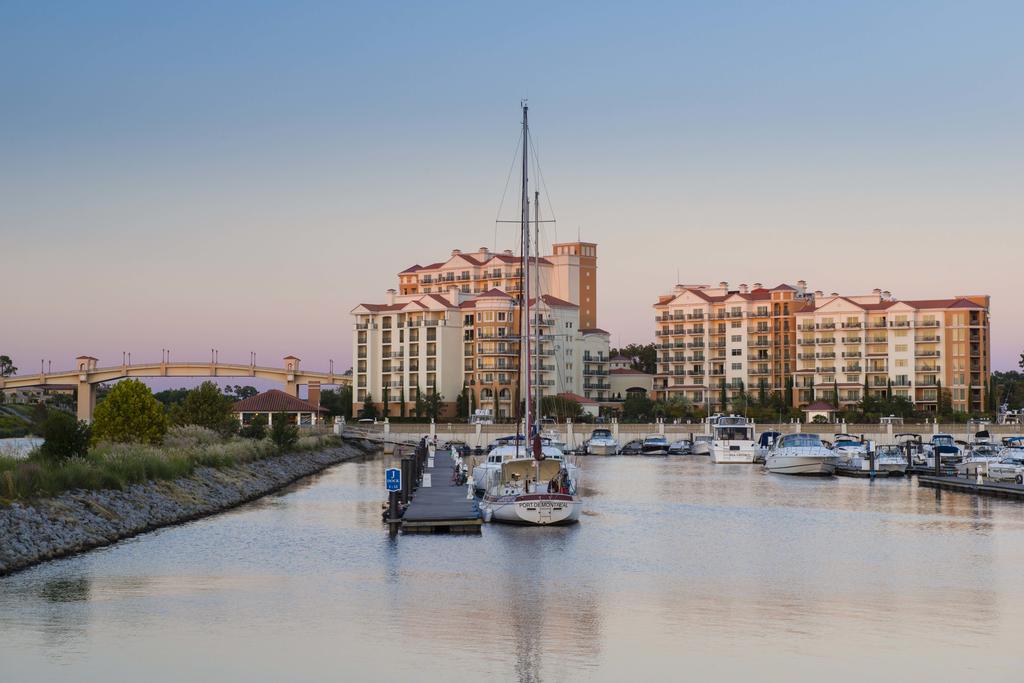 Credit: Marina Inn at Grande Dunes
You've found your sweet spot. Come stay at this premier luxury resort and enjoy outstanding amenities. You'll find Marina Inn tucked away in a peaceful and secluded location between North and South Myrtle Beach and in close proximity to the main attractions.
It's the perfect blend of casual and elegant, suited to meet any type of getaway. Are you booking a family trip? How about a lover's escape? From soothing couple's massages to a par 72 golf course and lovely outdoor pools, this hotel has it all. 
When it comes to rooms, we can't say enough good things. You'll have all the options. Choose between anything from a standard guest room for one or two to a sweeping four-bedroom suite. A contemporary environment, it offers warm, cozy surroundings all decorated in rich earthy tones. All of the accommodations offer great views right from your balcony. This is definitely one of the best hotels in Myrtle Beach.
Wake up, pour a cup of hot coffee, and enjoy all that this beautiful city has to offer. All of the rooms and suites include luxurious amenities such as a private balcony with sweeping views, a 47" LCD TV with premium channels, WiFi, a coffee maker, in-room safe, and more. There's a reason why guests continually award the Marina Inn at Grande Dunes with top recognitions such as the AAA Four Diamond, TripAdvisor Certificate of Excellence, and more.
2. Myrtle Beach Marriott Resort at Grande Dunes
Credit: Myrtle Beach Marriott Resort at Grande Dunes
Is this the tropics or one of the best hotels in Myrtle Beach? With the beauty of this oceanfront hotel, it's hard to say. Located just steps away from the soft white sand of North Myrtle Beach, the Marriott Resort at Grande Dunes features spacious guest rooms, family-style accommodations, and luxurious amenities. Do you want a private balcony? How about the beach and ocean views right from your room? Consider it done.
Indulge in delicious cuisine and hand-crafted cocktails on-site. You won't even have to leave the comfort of the hotel if you don't want to. After all, everything you need is right at your fingertips. Start the morning off right in the spa and get a facial at Hibiscus Spa.
You'll have your pick of wellness treatments to try out. After, feel free to explore the area. Championship golf courses, Barefoot Landing, The Pavillion, and plenty of other attractions are just a few minutes away. As one of the best hotels in Myrtle Beach, the Marriott Resort at Grande Dunes effortlessly blends comfort, convenience, and luxury. Enjoy an experience you won't soon forget.
3. Ocean 22 by Grand Hilton Vacations
Credit: Ocean 22 by Grand Hilton Vacations
It's like home, only better. Ocean 22 puts you within just minutes of Myrtle Beach's top attractions. Broadway at the Beach, beautiful golf courses, and country music hot spots are just a few minutes away. A luxurious all-suite hotel, your rooms are guaranteed to offer just what you need for the VIP treatment. Kick back, relax, and treat yourself to signature amenities, breathtaking views, and some of the best hotel service in South Carolina.
One, two, and three-bedroom suites come with a king-size bed and sleeper sofa along with flat-screen TVs. In addition, there are also full kitchens, a living area, washer and dryer, and balcony. But wait. That's not all. If you want to stay on top of your fitness game while you travel, the hotel also offers a complimentary fitness center, covered and outdoor pools, and a whirlpool. The kids will love that you also get complimentary access to Wild Water & Wheels Water Park.
Hungry? There are plenty of options for dining. Pick up some coffee and pastries in the morning before you explore the city. The grab-and-go deli offers convenient picks to take on your way to the beach. Sip cocktails as you soak up the sun by the pool or relax with a glass of wine in the classy lobby lounge.
4. Marriott's OceanWatch Villas at Grande Dunes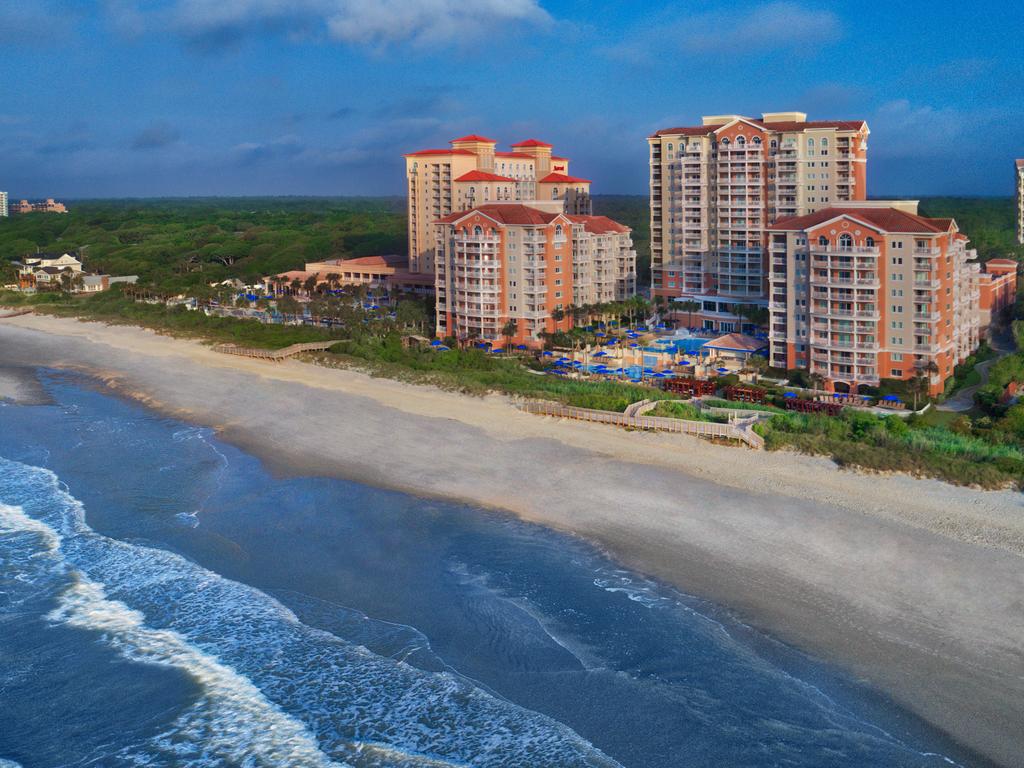 Credit: Marriott's OceanWatch Villas at Grande Dunes
Get your fair share of sun, surf, and sand at the Marriott's OceanWatch Villas at Grande Dunes. This beautiful vacation resort lies right on the shores of Myrtle Beach. Spacious villas and a myriad of recreational choices are designed to appeal to the entire family. Here, you'll enjoy two-bedroom condo accommodations, featuring separate living room and dining spaces, a fully-equipped kitchen, spacious bathrooms, upscale amenities, and beautiful views from your private balcony.
For those looking to lounge, you've found your paradise. Spend your days soaking up your vitamin D poolside or down on the soft stretches of sand. When you're ready to go exploring, all of the city's top attractions are nearby. Whether you're planning on staying for a weekend or mapping out an extended stay, we guarantee you will find OceanWatch to be one of the best hotels in Myrtle Beach.
5. North Beach Plantation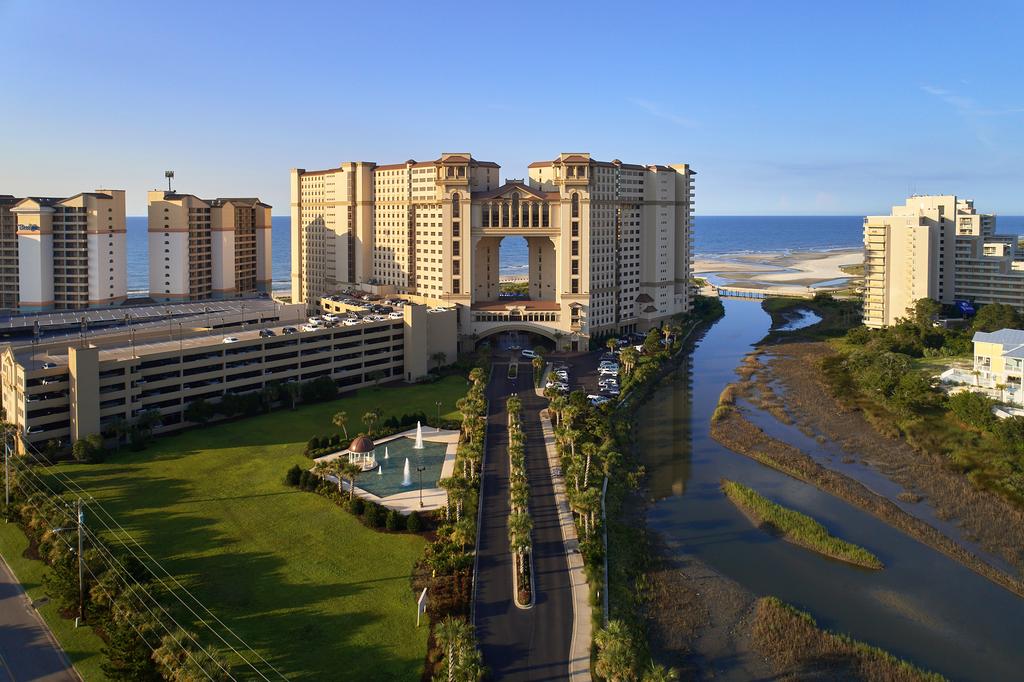 Credit: North Beach Plantation
Nestled between the Atlantic Ocean and Whitepoint Swash, North Beach Plantation sits on 7.5 acres of land with a captivating ocean presence. As soon as you arrive, you can't help but notice the Towers. Surrounded by a 2.5-acre water escape, you'll find an array of fun water activities including swimming pools, a lazy river, swim-up pool bar, and relaxing private cabanas. One of our favorite things about this hotel are the five-star amenities on-site.
Guests have the option of dining at 21 Main, the hotel's premier steakhouse and sushi bar or going out for a night on the town. If we were you, we'd try a little bit of everything. After all, this restaurant was voted for Best Entree of the Year by Myrtle Beach's main culinary event, Taste of the Town. The luxurious amenities don't stop there though. Head on up to your room and kick off your shoes. There's nothing quite like sinking into a comfortable bed with luxurious linens and falling asleep to the rhythmic sound of the waves rolling in and a balmy ocean breeze.
6. Breakers Resort Hotel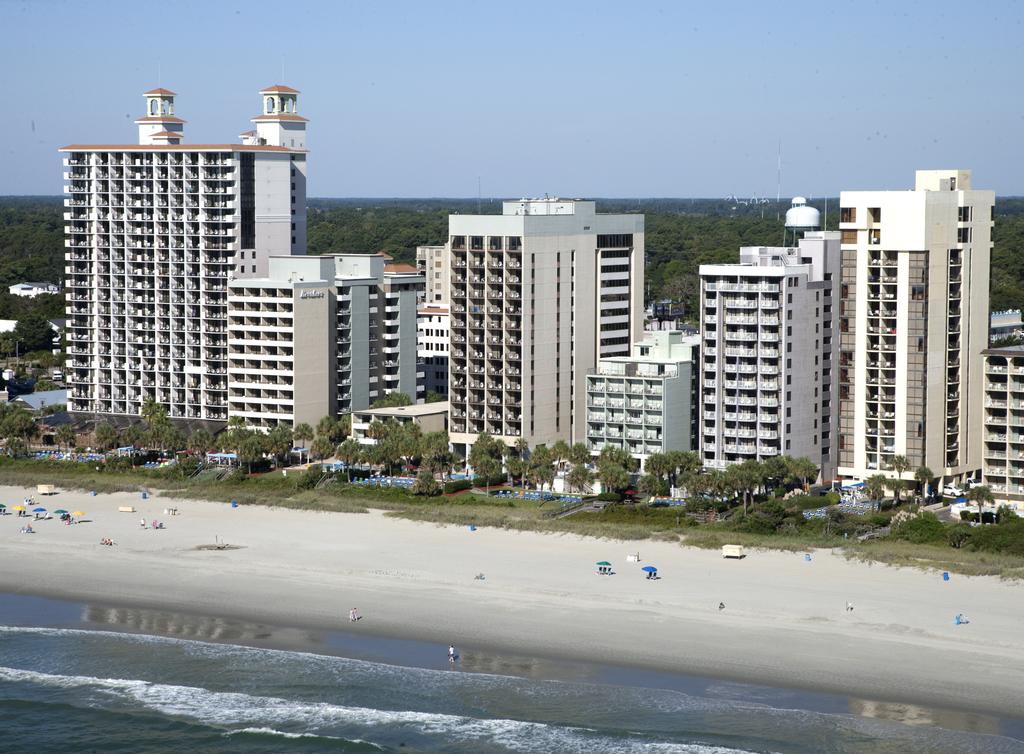 Credit: Breakers Resort Hotel
Are you trying to vacation without breaking the bank? Don't sweat it. We've found a great affordable option for you. Welcome to Breakers Resort Hotel, a unique stay right on the oceanfront. All five towers are in the heart of the Grand Strand. Seven hundred feet of sandy shoreline offer the perfect place to work on your tan and catch up on all those zzzs you've missed out on during the hectic work week and holiday season. 
With a variety of one, two, three, and four-bedroom suites to choose from, there's a perfect option for your needs awaiting. Want an oceanfront view? Just ask. The rooms offer everything you need to feel right at home. Amenities include flatscreen TVs, refrigerators, in-room safes, and private balconies perfect for taking in miles of the Atlantic coast.
Book Your Stay At One of the Best Hotels In Myrtle Beach, South Carolina
We hope you enjoyed reading our article on the best hotels in Myrtle Beach, South Carolina. As you can see, this city is such a unique place to visit, offering some of the most spectacular historical sites in the country; the scenery will leave you in awe. Whether you're seeking adventure, urban exploration coffee shop hopping, or simply some R&R, this city offers it all and more. Myrtle Beach, South Carolina is one of our favorite places to explore both the metropolis feel and get back to good old nature. The best time to visit all depends on what you want to see.
The best hotels in Myrtle Beach, South Carolina are right in the middle of it all, offering close proximity to either downtown or all the cultural attractions. Each one is truly unique and equipped with luxury amenities, sure to satisfy the needs of any traveler. Do you have any favorite hotels in Myrtle Beach that were not featured on our list? Perhaps, you have some questions or comments for us. Whatever's on your mind, we'd like to hear it. Let us know your thoughts in the comment section below.
Related Article: 10 Best Restaurants in Myrtle Beach for Your Foodie Cravings