Travel worry-free with the Eagle Creek Expanse International Carry On.
Flying can be stressful if you don't have the proper luggage. Most airlines have certain specifications when it comes to carry on bag guidelines. Since these guidelines tend to differ, it can be challenging to find the perfect carry on bag for every flight. At the same time, travelers also require luggage that offers enough space for their belongings. While the bag needs to fit in airplane compartments, it should be able to hold a decent number of items. Thankfully, many high-quality carry on luggage pieces, like the Eagle Creek Expanse International Carry On, remain available for travelers. With the Eagle Creek Expanse International Carry On, you'll be able to pack as many items as you want. This bag combines style, spaciousness, and airline functionality for a truly superb piece of luggage. Read our article below to find out more about this special carry on bag.   
Eagle Creek Expanse International Carry On Features & Benefits
Spacious Interior
When you purchase a carry on bag, sometimes the product doesn't provide sufficient space for your belongings. These bags cause frustrations, as you'll have to stuff everything inside or leave certain items at home. Other travel bags might appear to give you the room you need but end up leaving something to be desired. At the same time, you need a carry on bag that feels lightweight and compact for ease of transport.
With the Eagle Creek Expanse International Carry On, travelers will be able to pack everything they need inside one bag. This carry on luggage piece provides tons of room for all your important belongings. Heavy or bulkier clothing can be stuffed inside this bag, alongside things like passports, books, and electronic equipment. You won't have to worry about casting items aside due to a lack of interior space in your carry on. This bag remains the ideal carry on choice for frequent flying as well as short getaways.
Size Compliant with Airline Standards
One of the worst things that can happen at an airport includes discovering your bag is too big. You've probably spent hours carefully packing your luggage, only to realize that you'll have to repack. This often leads to leaving certain items out of your bags in order to decrease the size of the luggage. Or, you might even have to buy a new carry on in order to fit the airline's carry on standards. For travelers on a budget, having to pay for checked luggage can also be a huge frustration. You don't want to have to pay extra money to get your items shipped over to your travel destination.  
Thankfully, luggage such as the Eagle Creek Expanse International Carry On has been created according to airline carry on standards. This bag will easily fit in almost every airplane's overhead compartment. You'll never pay extra for checked luggage fees when you pack your belongings in the Eagle Creek bag. Once you learn how to pack for stress-free travels, you'll always feel calm and collected for every adventure. 
Durable Structure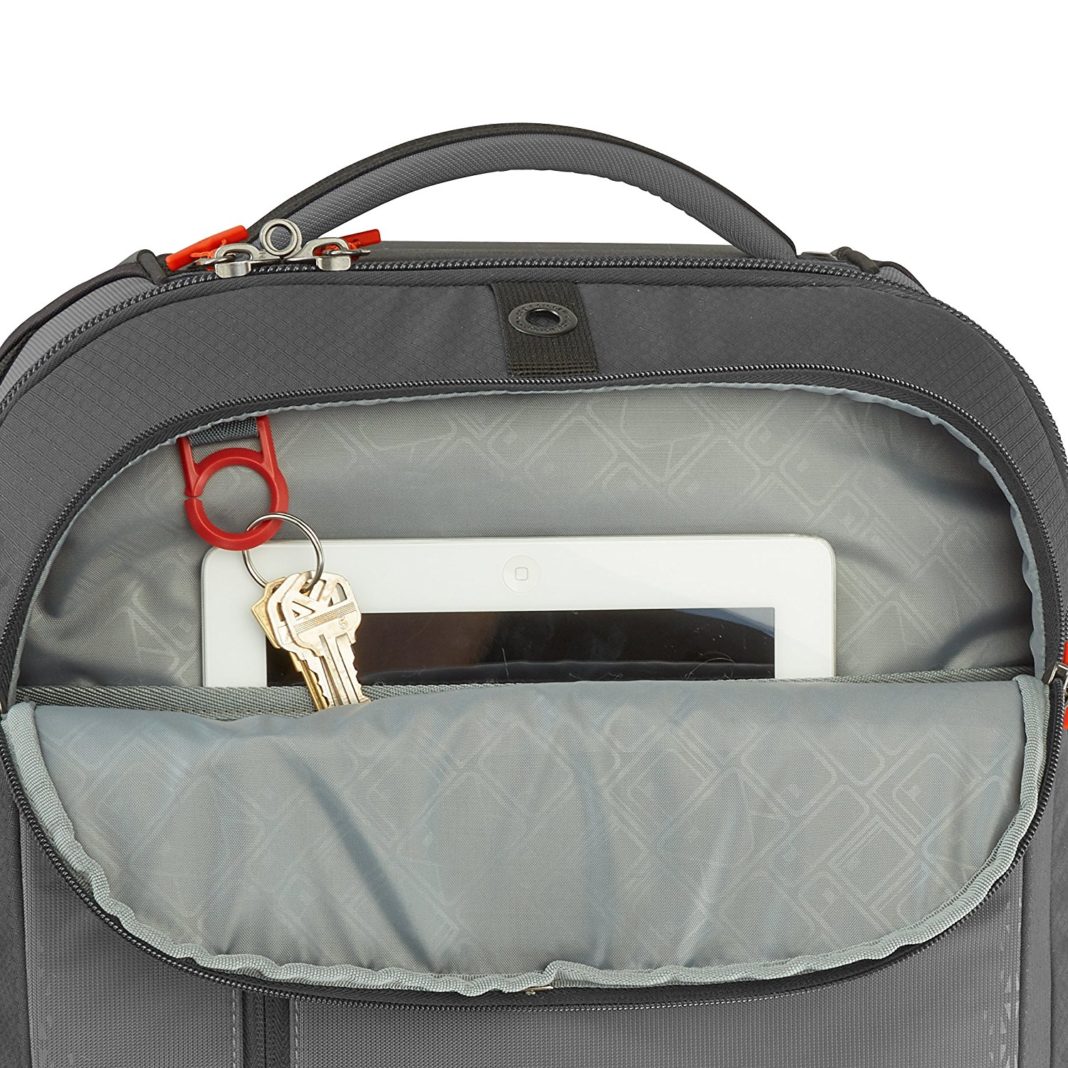 If you're someone who travels often, you need luggage that can withstand normal wear and tear. Your carry on bag can easily become damaged when you're in a hurry or moving quickly. Luggage that gets dragged along the ground may also be susceptible to tears and rips in the fabric. Travelers shouldn't have to treat their luggage delicately in order to prevent damage. The best carry on bags for flying will remain intact throughout countless adventures.
The Eagle Creek Expanse International Carry On maintains a highly durable structure, ensuring it stays undamaged during many journeys. Bi-Tech Armor Lite, utilized in high wear locations, prevents scuffing and tearing on the bag's exterior. Self-repairing zippers on the bag's main organizational compartments also prevent the zippers from getting stuck or falling apart. Water repellent fabric even keeps this carry on bag from getting soaked during rainy weather days.  
Easy to Maneuver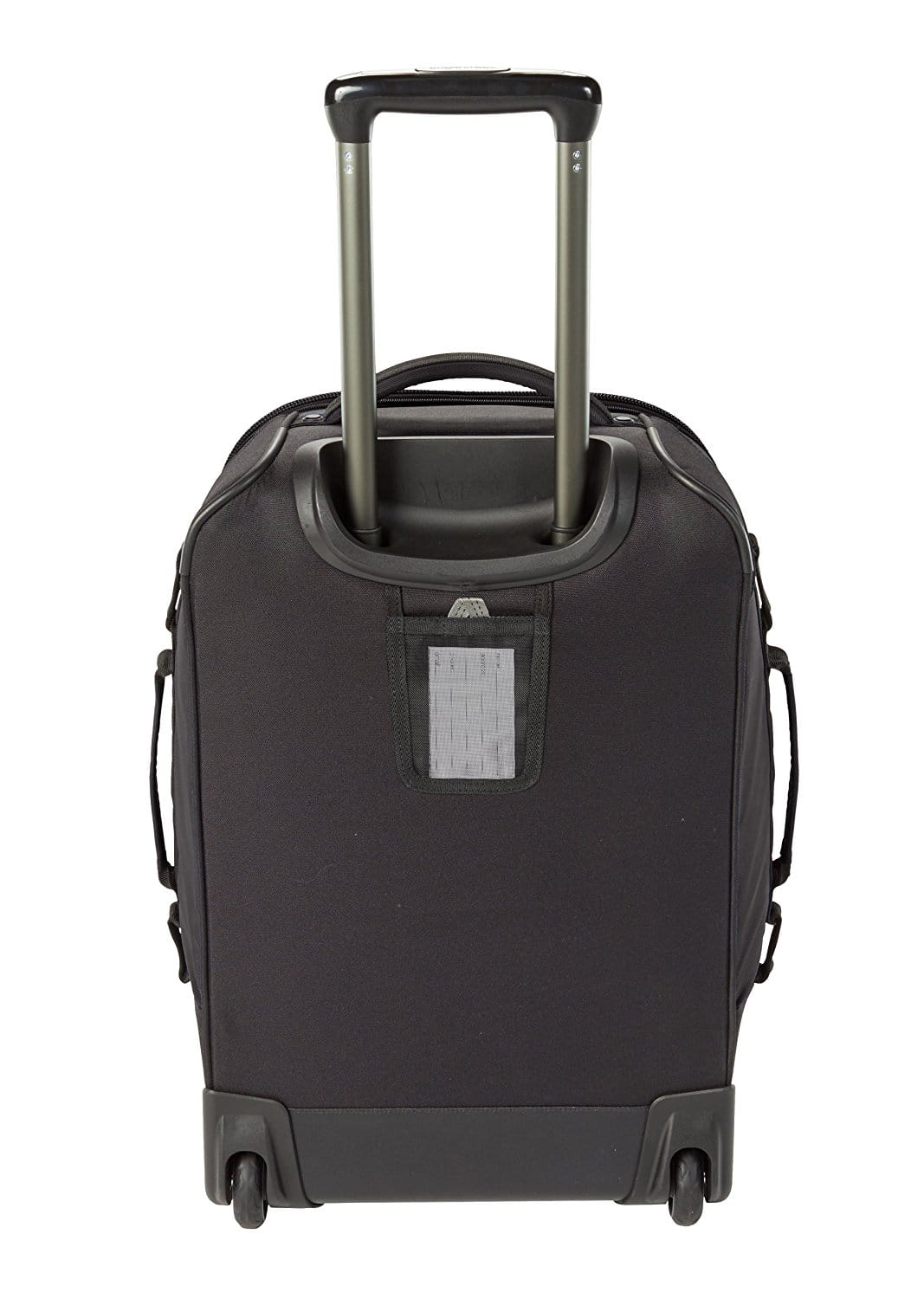 Many carry on bags can be annoying to transport from hotels to airports and other locations. Certain bags lack features that assist the user in carrying the luggage from place to place. Other carry on luggage pieces have wheels that don't spin properly to ensure ease of movement. This may be a hassle when you're trying to turn the luggage around in a hurry. Dysfunctional wheels prevent travelers from getting to where they need to be in a flash.
When you purchase the Eagle Creek Expanse International Carry On, you won't have to worry about ease of transport. This carry on bag comes equipped with heavy-duty wheels that ensure users may glide their luggage smoothly along the ground. Treading on the wheels additionally enables multi-terrain movement, so you can move throughout various kinds of landscapes. External lash points also let you attach other bags to the top of the carry on, helping you move hands-free.
Style Choices
Many carry on luggage pieces come in neutral shades, like black or gray. While these may be appealing to travelers with classic tastes, other users might be bored by these colors. A lot of frequent fliers like to stand out with more unique-looking bags. Similarly, since so many black carry on bags exist, you'll have trouble telling yours apart from others. You might even accidentally pick up another person's carry on bag if you're not paying proper attention.
If you want a more vibrant piece of luggage, consider the Eagle Creek Expanse International Carry On. This bag remains available in multiple different colors, including blue, red, and stone gray. Travelers may choose a shade that fits their tastes when they purchase this bag. You'll stand out from other fliers with a bright red or blue bag in your hand. Of course, those who prefer simpler carry on bag appearances can always pick the black shade.
What Travelers Are Saying About the Eagle Creek Expanse International Carry On
Travelers who purchased the Eagle Creek Expanse International Carry On loved the product's lightweight structure. Reviewers could go on backpacking adventures or run to flights without hurting their backs as they carried the bag. Many appreciated the spacious interior of the carry on bag, as it allowed travelers to bring all their necessary items. A lot of reviewers were amazed by how many things they could store in the bag and carry with them. Additionally, the bag was simple to maneuver, letting users roll it along the ground and turn with ease.
Some reviewers thought that the Eagle Creek Expanse International Carry On could have been a bit more durable. A few found that the fabric near the zipper on the bag tore after a few uses. Other travelers also had trouble keeping the bag upright when backpacks or purses were stacked on top. However, the majority of travelers thought the Eagle Creek Carry On was an ideal product for flights and short getaways.
Alternative Carry On Luggage You May Like
1. Hartmann 7R Global Spinner
If you're not satisfied by the Eagle Creek Expanse International Carry On, consider buying the Hartmann 7R Global Spinner. This carry on luggage alternative has many features similar to the Eagle Creek product, such as a spacious interior. Four, multidimensional spinner wheels let you roll the bag in multiple different directions. The Hartmann Spinner also has a retractable handle to assist in easier maneuvering of the bag. If you want to hold the bag in the air, a leather handle on the top offers more comfortable carrying. Woven polypropylene on the exterior of the carry on ensures the bag remains extremely durable throughout all your travels. Travelers should note that the Hartmann product costs a lot more than the Eagle Creek bag, at around $500. This makes it more of a luxury item in comparison to the Eagle Creek Carry On.
2. Kenneth Cole Reaction Out of Bounds
With the Kenneth Cole Reaction Out of Bounds bag, travelers will have a long-lasting, stylish carry on bag. This bag maintains a hard-shell exterior that keeps the carry on intact throughout every journey. At the same time, the carry on feels lightweight, so you can transport the bag with ease. Like the Eagle Creek Expanse International Carry On, this bag has wheels to enable easy maneuvering. Self-repairing coil zippers prevent the zippers from getting stuck or tearing the fabric after multiple uses. A large U-shaped zipper pocket on the front side of the bag enables greater organization when packing. Molded side feet additionally help the bag stay upright while standing on its side. The Kenneth Cole carry on also comes in a huge variety of colors, from blue to pink and rose gold. Travelers who like their luggage to match their personal style can easily find their perfect shade.
3. Samsonite Omni PC Hardside Spinner
The Samsonite Omni PC Hardside Spinner remains a great alternative to the Eagle Creek Expanse International Carry On. With a micro-diamond texture on the exterior, the bag resists scuffing and scratches that could occur during travel. Lightweight spinner wheels help users manipulate the bag on the ground and through airports. A divider and cross straps on the interior of the bag assists travelers with packing organization. Since the bag has a TSA lock, you can travel without fear of your belongings being stolen. The retractable handle on the carry on allows users to roll or pick up the bag whenever they choose. Multiple colors, such as silver, bronze, pink, and Caribbean blue, let users pick their favorite shade for their luggage. Traveler should note that this bag may not adhere to carry on airline regulations if the bag is overpacked. However, the bag has been designed to fit in most airline overhead compartments.
Fly across the globe with the Eagle Creek Expanse International Carry On by your side.
No matter what kind of traveler you are, you need a decent carry on bag to bring on flights. Lots of carry on bags either don't fit airline standards or leave little room for your belongings. Not having the proper size carry on luggage can lead to delays and frustrations during your travels adventures. When you buy the Eagle Creek Expanse International Carry On, you'll have the perfect bag for air travel. This piece of luggage provides enough space for every item, while adhering to airline compartment standards. If you purchase this product, you'll have stress-free flights every time.
Related Article:  Best Lightweight Carry On Luggage (Plus How to Make the Best Choice)